This post may contain affiliate links. By clicking and making a purchase through the links, I earn a small commission at no extra cost to you. See my disclaimer for more information. This allows me to keep the site up to date and expand on resources.
Looking for the best things to do in Puerto Vallarta, Mexico? Uou've come to the right place! With over eight years of living in this Mexican paradise, we've combed through every corner of the city to curate this ultimate Puerto Vallarta bucket lis.
Navigating a new destination can be overwhelming, especially when you're on a time crunch. The last thing you want is to miss out on the best experiences Puerto Vallarta has to offer.
Puerto Vallarta is a place where the Pacific Ocean meets golden sand beaches, framed by lush mountains that offer endless outdoor adventures. The city's rich history and welcoming locals add an authentic touch that makes it a standout among Mexican tourist spots.
So, why trust this guide? I've not only lived the Puerto Vallarta lifestyle but have also explored every nook and cranny of this incredible city. This bucket list is your shortcut to experiencing Puerto Vallarta like a local, even if you're short on time.
Whether you're a solo traveler, a digital nomad, or a family on vacation, this bucket list is tailored to meet a variety of interests and time frames. I've even thrown in some local favorites that you won't find in any tourist guide.
Ready to dive into the top things to do in Puerto Vallarta?
Things to do in Puerto Vallarta on the water
Puerto Vallarta has warm water temperatures that remain comfortable all year round, making it the perfect place to play in and around the ocean.
Here are the best Puerto Vallarta water activities to try on your trip.
1. Snorkeling
Grab your snorkel gear and explore the underwater world of Puerto Vallarta. I've seen some of the most vibrant fish and coral formations here. It's a must-do!
2. Scuba Diving
Puerto Vallarta offers fantastic dive sites. I've had some of my best dives here, surrounded by colorful marine life. Make sure to book with a professional dive shop for the best experience.
3. Luxury Yacht Cruise
Cruise around the Bay of Banderas in style. Between snorkeling stops, I loved sunbathing on the deck. Life truly doesn't get better than this!
We recommend this luxury tour that takes you snorkeling at the best hotspots on Banderas Bay while you can sit back and relax on the yacht.
4. Jet Skiing
With calm waters and scenic views, jet skiing here is a blast. You can rent a jet ski easily from the beach or join a guided tour.
5. Sunset Catamaran Tour
Take a catamaran tour at sunset for breathtaking city views. The sky turns into a canvas of colors, and it's a perfect way to end the day.
6. Ocean Swim
Don't underestimate the joy of a simple ocean swim. The water is warm, and it's a great way to relax and take in the scenery.
7. Kayaking at Los Arcos
Visit Los Arcos National Marine Park on a kayak. During one of my trips, I saw manta rays and sea turtles. It's a rich area for marine life.
8. Stand-Up Paddleboarding
Explore the ocean in a new way—on a stand-up paddleboard. It's both a workout and an adventure rolled into one.
9. Water Park Adventure
Visit one of these water parks for a day of water slides and fun. This is one of the best things to do with kids in Puerto Vallarta!
10. Banana Boat Ride
Hop on a banana boat at Playa Los Muertos. It's a silly, fun ride that will have you laughing all the way.
11. Surfing
Catch some waves at Punta Minta or Sayulita. I've had some great surf sessions here, and you can even join surf tours that provide lessons.
Want to surf in Puerto Vallarta? This tour takes you to the best surf spots with a guide to help you catch waves!
12. Deep-Sea Fishing
Puerto Vallarta is a world-class destination for sport fishing.
13. Parasailing
Soar high above the ocean while being towed by a boat. The views are incredible, and it's an adrenaline rush you won't forget.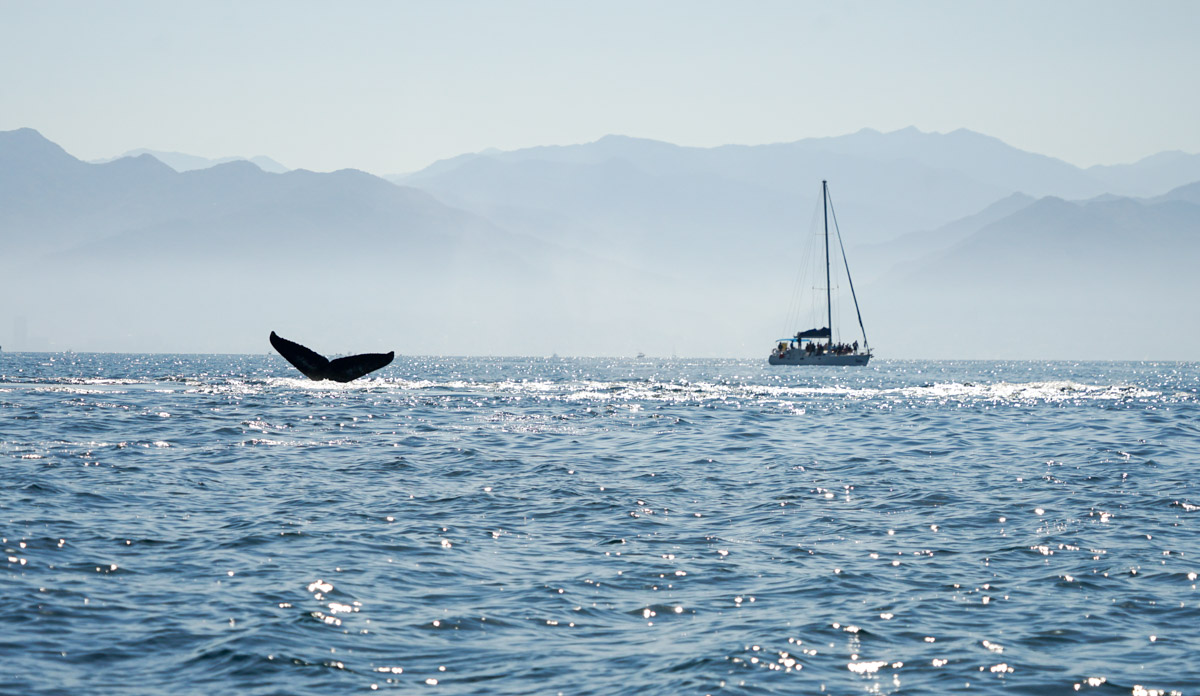 15. Whale Watching (Seasonal)
If you're visiting between December and March, don't miss the chance to see humpback whales. I've been whale-watching all over the world, and Puerto Vallarta is truly one of the best places!
This is the whale and dolphin watching tour we recommend as it's led by a biologist!
16. Swim with Wild Dolphins
Swim with free wild dolphins in their natural environment with this tour from Wildlife Connection. It's an intimate and respectful way to interact with these amazing creatures.
Outdoor activities in Puerto Vallarta
It's not just water sports; Puerto Vallarta is a hub for outdoor adventure with the Sierra Madre mountains so close by. Get immersed in nature in one of these outdoor activities.
17. Zip-Lining
Soar through the Sierra Madre mountains on one of these zip-lining tours. The adrenaline rush is as breathtaking as the views.
18. Horseback Riding
Ride through the beach, jungles, and the village of Higuera Blanca. It's a serene way to explore the outskirts of Puerto Vallarta.
19. ATV Tour
Rev up your engines for an ATV tour through the Sierra Madre Mountains. It's an adrenaline-pumping way to see the local scenery.
Ride along the Malecon towards the heart of the Sierra Madre mountains to explore the river trails alongside an expert guide on this highly-rated ATV Tour.
20. Skydiving
Jump from 10,000 feet for an exhilarating skydiving experience. The free fall is thrilling, and the parachute landing on the beach is just surreal.
21. Multi-Adventure Tour
Head to a tropical forest for a day packed with zip-lining, off-roading, and hiking. It's the ultimate adventure day outside Puerto Vallarta.
22. Las Caletas Beach Hideaway
Spend a day on this secluded beach, accessible only by boat on this guided tour. Las Caletas offers natural wonders that you won't want to miss.
23. Beach Volleyball
Join a game of beach volleyball. It's a fun way to socialize and stay active. The digital nomad community organizes games three times a week.
24. Visit Mismaloya
Take a boat to this small community and spend some time on the beach. It's a quieter alternative to the city's bustling beaches.
25. Party at Majahuitas Beach Club
Dance to world-class DJs in a tropical setting at Majahuitas Beach Club. It's one of my go-to spots for a weekend party vibe.
26. Boca to Las Animas Hike
Hike from Boca del Tomatlan to Playa Las Animas. Don't forget to take a dip in Los Colomitos along the way!
27. Palo Maria Waterfall
This waterfall is easily accessible and offers a refreshing swim. It's one of my favorite places to visit in Puerto Vallarta! You can go solo or opt for a guided trip.
Embark on a full-day adventure in this Puerto Vallarta jungle tour, which ends with an invigorating plunge beneath a beautiful waterfall.
28. Quimixto Waterfall
Take a water taxi and a short hike to reach this stunning waterfall. It's a nature lover's paradise.
29. Monkey Mountain Hike
For panoramic views of Banderas Bay, Sayulita, and Punta Mita, hike up Monkey Mountain. It's a day well spent.
30. Baby Sea Turtle Release
Participate in a turtle release during hatching season. It's a heartwarming experience that supports local conservation efforts. Follow this Facebook page for upcoming turtle release events.
31. Crocodile Spotting
Yes, you can actually see crocodiles in the river streams. I've spotted them near the hotel zone and Marina Vallarta.
32. Butterfly Sanctuary
Learn about Mexico's butterfly species at the butterfly sanctuary. You'll even get to release newly hatched butterflies!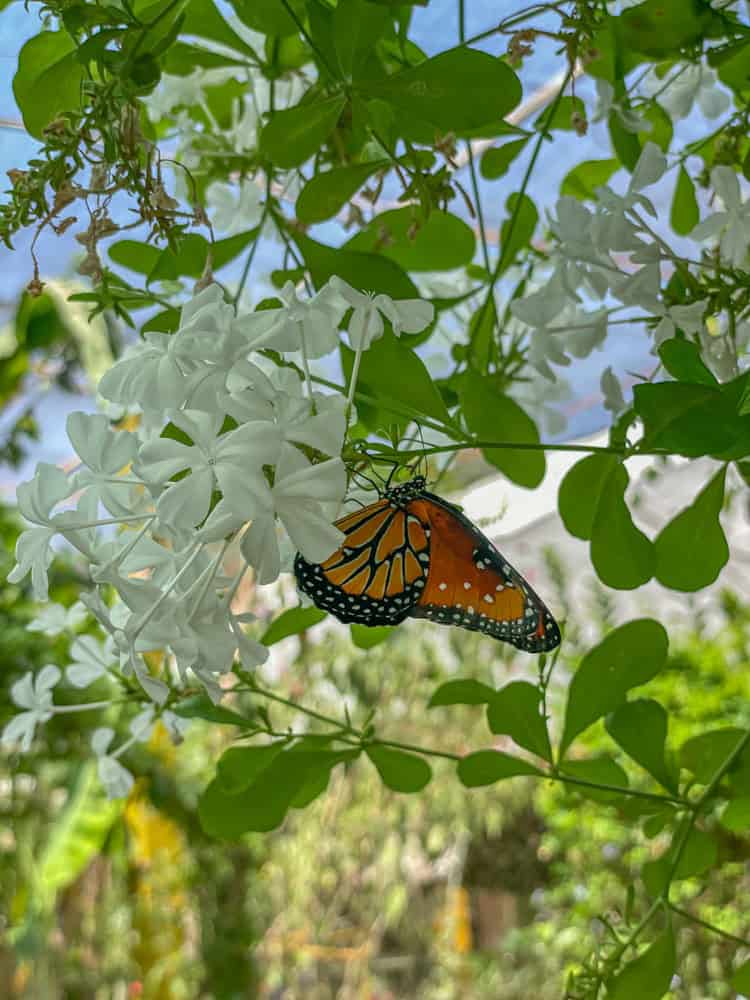 33. Birdwatching at Botanical Gardens
The botanical gardens are home to a variety of tropical birds, such as san Blas jays, yellow-winged caciques, woodpeckers, hummingbirds, and many other species of tropical birds. It's a peaceful way to connect with nature.
34. Canopy River Park (Jorullo Bridge)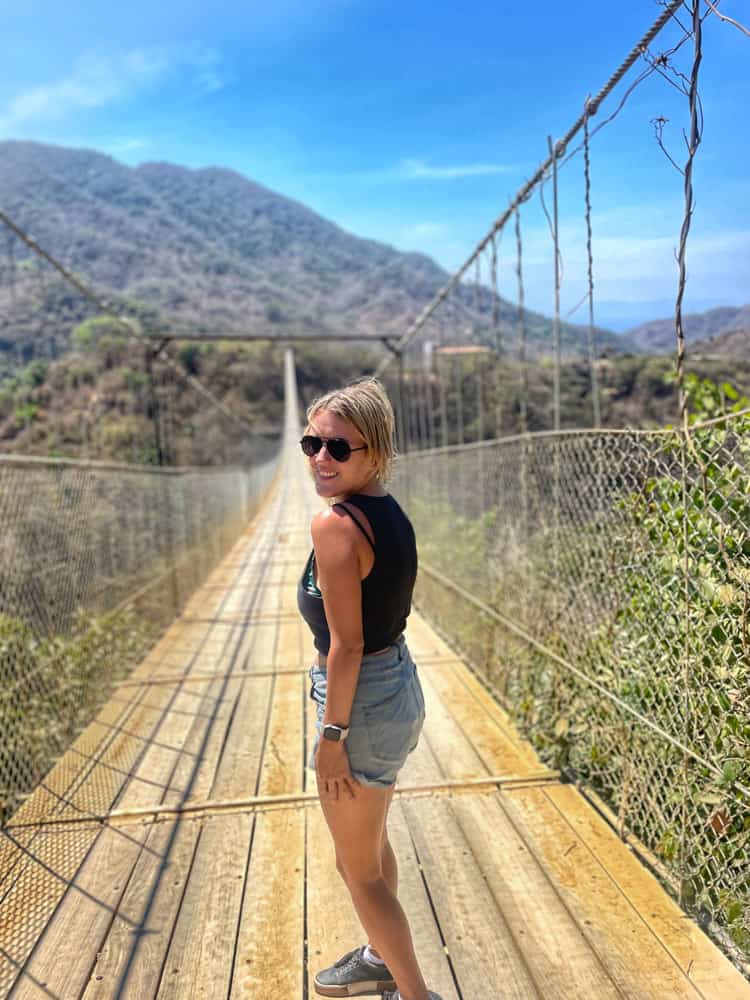 Experience the thrill of walking on the longest suspension bridge in the world, the Jorullo Bridge. Canopy River Park offers this and more, including zip-lining and ATV tours.
36. Hot Springs
Relax and rejuvenate in one of the nearby hot springs. Most people don't know about these, making this one of the most unique things to do in Puerto Vallarta!
Free things to do in Puerto Vallarta
Mexico is already a budget-friendly destination, but if you take part in some of these free activities, you can enjoy a trip here on a shoestring budget.
37. Walk the Puerto Vallarta Malecon
Stroll along this bustling boardwalk that stretches for about a mile. It's a people-watching paradise with street performances and musicians adding to the vibe.
38. Art Walk on Wednesdays
Join the art walk every Wednesday evening from 6-10 pm in Centro. It's a cultural feast as you explore the city's top art galleries and discover local artists.
39. Self-Guided Street Art Tour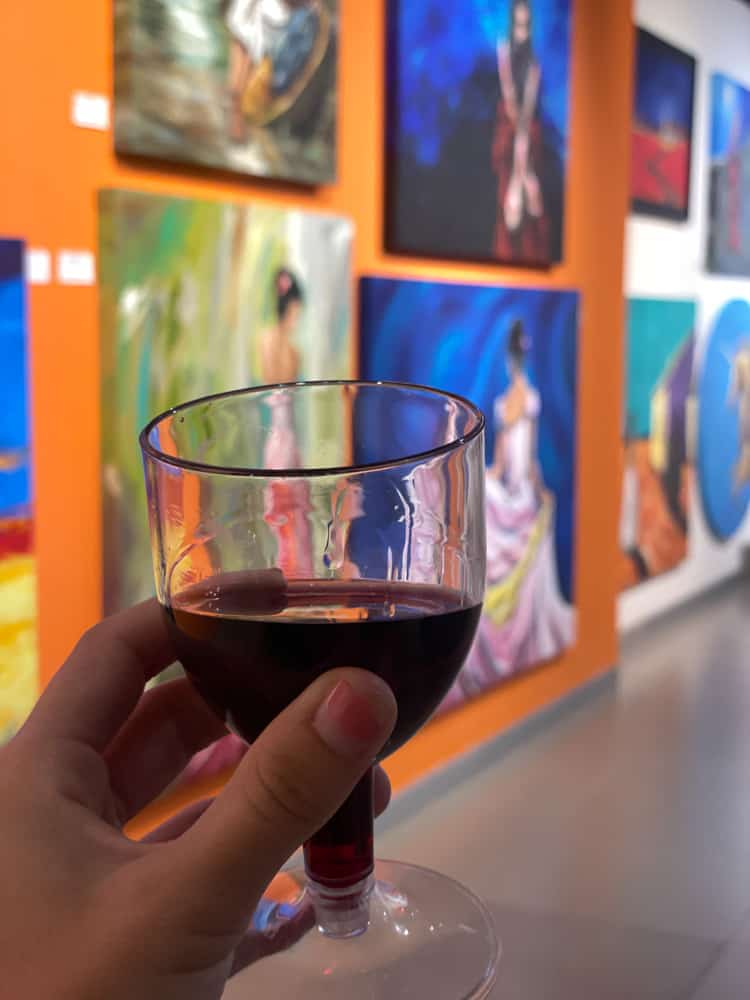 Wander through Centro and Zona Romantica to find vibrant murals. They're not just eye-catching but also great for getting Instagram-worthy photos!
40. Explore Isla Rio Cuale Markets
This traffic-free sand island hosts a flea market where you can window-shop to your heart's content.
41. Mirador Cerro de la Cruz Lookout
Hike up to this lookout for a panoramic view of the city. It's also a prime spot for sunset gazing.
42. Sunset Watching
Puerto Vallarta's sunsets are a spectacle you don't want to miss. Best part? They're free to enjoy!
43. Beach Time
You're probably here for the beaches, so grab a book and relax on the sandy shores. It's the best kind of free entertainment. Playa Palmares is one of my faves.
44. Free Walking Tours
Join a 2-hour walking tour on Tuesdays, Wednesdays, or Saturdays. It's sponsored by the Municipal Tourism Office and offers a local perspective.
45. Visit the Church of Our Lady of Guadalupe
Step into this iconic church in El Centro. It's free to enter, and the marble altar is a sight to behold.
46. Marina Vallarta Stroll
Walk along the upscale Marina Vallarta. It's a scenic area where luxury yachts are docked, and you can dine in style afterward.
which has a lovely area to walk along the water where you can see many yachts. Afterward, pop into one of the restaurants for a meal.
47. Explore Romantic Zone
Wander through the cobblestone streets of the Romantic Zone, also known as Old Vallarta. It's charming and offers plenty of photo ops.
48. Attend Free Cultural Events
Keep an eye out for free cultural events like dance performances and concerts, often held in public squares.
Top Things To Do in Puerto Vallarta at Night
Puerto Vallarta has a fantastic nightlife scene. Here are some of the best things to check out after the sun sets!
49. Fireworks at the Malecon
Every night, the pirate ship boat tour sets off fireworks around 10 pm. Just be near the water, and you'll catch this dazzling display for free. It's one of the most iconic things to see in Puerto Vallarta!
50. Salsa at La Bodeguita del Medio
Practice your salsa moves at this Cuban-style bar in the city center. They even offer a class where you can learn to make mojitos!
51. Yambak Dance Night
Dance the night away at Yambak, featuring live DJs and a vibrant dance floor on weekends.
52. Craft Beer Tour
Embark on a self-guided craft beer tour and explore the city's best breweries.
53. Sunset Drinks on a Rooftop
Catch the golden hour from one of Puerto Vallarta's rooftop bars. With a cocktail in hand, watch as the sun dips below the horizon, painting the sky in shades of orange and pink.
54. Live Music Venues
Puerto Vallarta's live music scene is buzzing. Check out shows at Roxy's, Captain Don's, and Meztizo.
55. Act II Stages Performances
Catch a comedy act, play, or tribute performance at Act II PV for a fun night out.
56. Drag Shows in Zona Romantica
Blue Chairs Resort and The Palm Cabaret and Bar frequently host fabulous drag shows.
57. Cocktails at Colibri
This speakeasy-esque bar is one of the top cocktail spots in the city. A must-visit for cocktail aficionados.
58. Clubbing on the Malecon
The Malecon's clubs are hard to miss with their loud music and caged dancers. It's a party you won't forget.
59. Aloha Bar Games
Head to Aloha Bar in Zona Romantica for some beer pong and other drinking games.
60. Pirate-Themed Boat Tour
This nightly tour offers fireworks, dinner, and an open bar. It's one of the top tourist attractions in Puerto Vallarta!
61. Rhythms of the Night
This show by the co-creator of Cirque du Soleil is a spectacle of acrobatics, costumes, and Aztec history. It's held at Caletas Beach, just a boat ride away on this highly-rated tour.
62. Tequila Tasting
Experience the authentic flavors of Mexico by attending a tequila-tasting session. Some bars offer free tastings, hoping you'll buy a bottle.
63. Open Mic at The Beatnik
The Beatnik in Versalles hosts open mic nights where both locals and tourists can showcase their talents. It's free to watch and participate.
64. Karaoke at Blue Bar
Unleash your inner pop star at Blue Bar, one of the city's popular karaoke spots. Even if you're not singing, it's entertaining to watch others take the stage.
65. Night Market at Marina Vallarta
Every Thursday, Marina Vallarta hosts a bustling night market. Shop for souvenirs, crafts, and local goods under the stars.
66. Astronomy Night
If you're a stargazer, some beaches offer a quieter atmosphere perfect for a night of astronomy.
67. Beach Bonfire
Certain beaches allow bonfires. It's a cozy way to spend the evening but always check local regulations first.
Things to do in Puerto Vallarta with food
Eating delicious Mexican cuisine is part of the experience of visiting Puerto Vallarta!
68. Sunset Dining at Rooftop Restaurants
Barcelona Tapas is my go-to restaurant for enjoying a meal with a view. As the sun sets, the city comes alive, and there's no better place to take it all in.
69. Street Tacos Extravaganza
Don't miss out on the street tacos. They're not just safe to eat but are some of the most delicious offerings in the city.
70. Vegan Delights at The Green Place
This café is a haven for vegans and also doubles as a cozy coworking space. It's one of my favorite spots to juggle work and pleasure.
71. Culinary Journey in Versalles
Versalles is quickly becoming the foodie hub of Puerto Vallarta. Take a stroll and choose from a diverse range of global cuisines. There's a reason I moved to this neighborhood!
72. Taco and Tequila Tour
Join Vallarta Food Tours for an intimate experience. You'll explore downtown, hit the best local spots, and end with a traditional tequila tasting.
73. Guided Food Tour
This 3-hour tour takes you to seven handpicked local restaurants to savor the regional flavors that make Puerto Vallarta unique.
74. Bike and Bites Tour
Pedal your way around the city, making pit stops for tacos, carnitas, ice cream, and more. It's a fun way to combine sightseeing and eating.
75. Chocolate-Making Class
Learn to make your own chocolate truffles using traditional methods. It's a sweet way to spend an afternoon.
76. Authentic Cooking Class
Start at a local market, learn about different products, visit a tortilla shop, and then enjoy a cooking class at a family restaurant.
77. Mezcal Tasting
Similar to tequila but with a smokier flavor, mezcal is another Mexican spirit worth trying. Some bars offer tasting flights.
78. Drag Brunch Extravaganza
For a brunch experience with a twist, don't miss the drag brunches held at various venues around the city. Enjoy your mimosa and eggs benedict while being entertained by some of Puerto Vallarta's most talented drag queens.
Festivals and Events in Puerto Vallarta
For an unforgettable vacation, time your trip to Puerto Vallarta with one of these yearly events and festivals.
79. Días Los Muertos (Day of the Dead)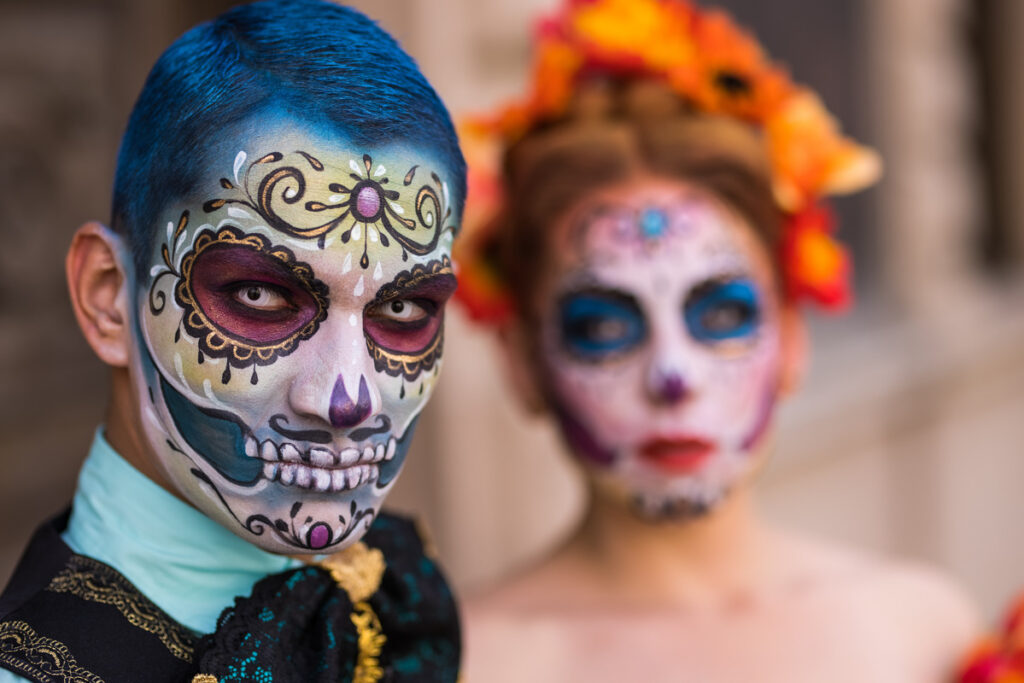 Held every November 1-2, this beautiful tradition gathers families to honor the deceased. Expect folkloric ballets, mariachis, and Catrinas contests. Dias Los Muertos It's a cultural spectacle you won't want to miss.
80. International Gourmet Food Festival
Taking place in November, this is a feast for food lovers. It's one of Mexico's most significant culinary events and a must-visit for any foodie.
81. Puerto Vallarta International Fishing Tournament
Also in November, fishermen worldwide compete for the biggest catch. If you're into fishing, this is your event.
82. Festival of Our Lady of Guadalupe
From December 1-12, this religious celebration is a big deal for locals. The festivities culminate in a grand street party on the 12th.
83. New Year's Eve Extravaganza
Puerto Vallarta knows how to throw a NYE party. The Malecon becomes a hub of wild celebrations, complete with fireworks.
84. Vallarta Cup Race Series
Held in January, this sailing festival is a must for anyone who loves to be out on the water.
85. Vallarta Bird and Nature Festival
Every February, celebrate the area's rich biodiversity at this festival held in the Vallarta Botanical Gardens.
86. Semana Santa (Holy Week)
One of the busiest weekends in Puerto Vallarta, the city turns into a massive party as locals from all over Mexico descend on Puerto Vallarta during Semana Santa.
87. Gay Pride Celebrations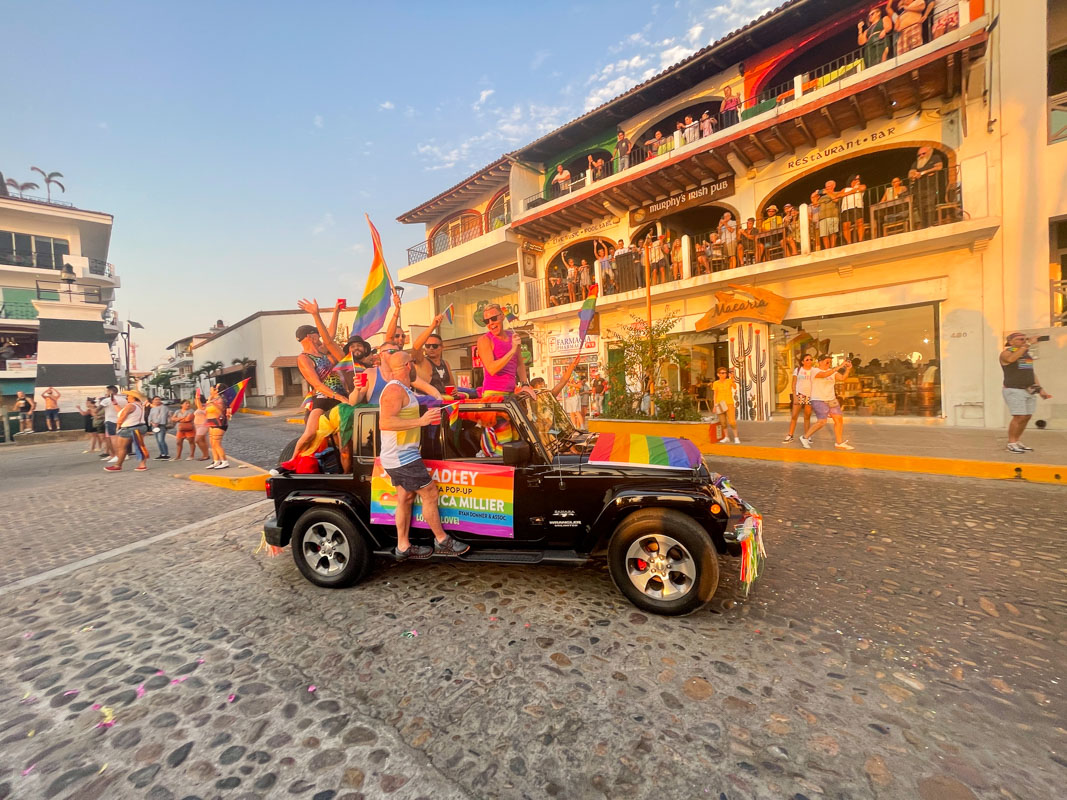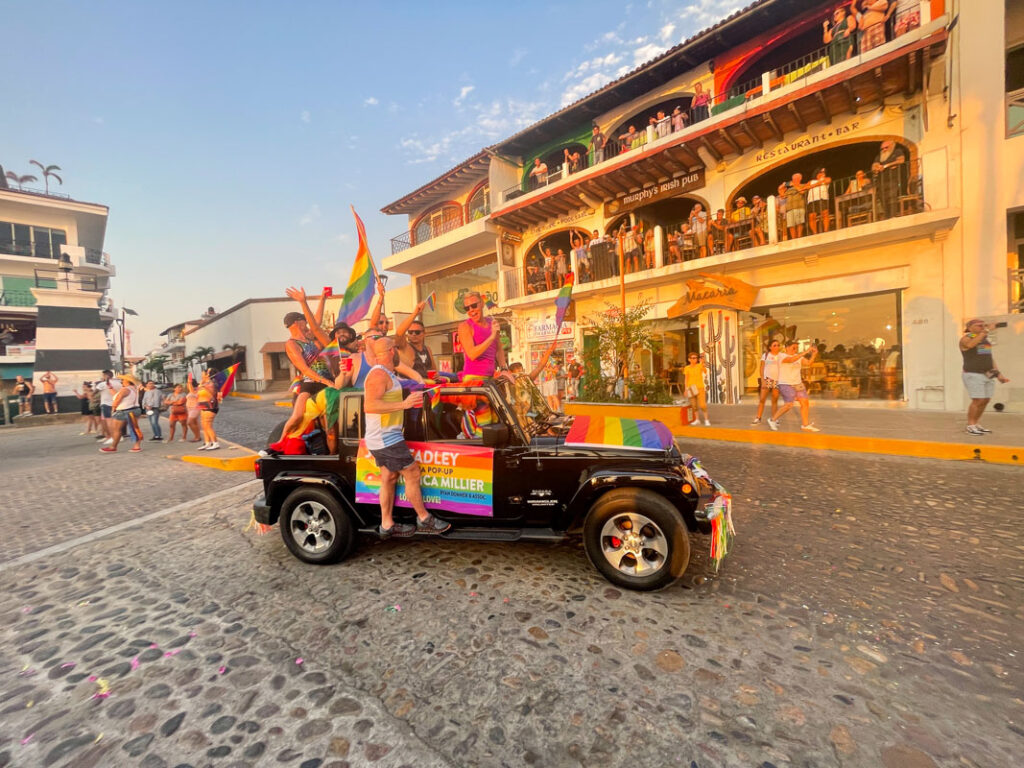 Puerto Vallarta is incredibly LGBTQ+-friendly. Visit during Pride Month in May for some unforgettable parties.
88. Puerto Vallarta Restaurant Week
From May to June, explore the city's culinary scene with discounted 3-course meals at participating restaurants.
89. Punta Mita Surfing Competition
Held at the end of May, this longboard competition takes place on a secluded beach about 30 minutes north of Puerto Vallarta.
90. Mexican Independence Day
A two-day party starting on September 15, this event showcases traditional Mexican culture and is a hit with both locals and travelers.
91. Mango Festival
Held in July, this festival celebrates all things mango. Expect mango-based food, drinks, and even some unique crafts.
Places to visit near Puerto Vallarta
The city is great to explore, but don't miss these other amazing Mexico destinations that can be easily visited as a day trip.
92. Sayulita
If the surfboard is calling your name, then Sayulita is the answer. Known for its vibrant party scene and surfing spots, it's a must-visit. An hour's drive from Puerto Vallarta, you can get there by local bus or Uber.
93. San Pancho
For a more laid-back vibe, head just 5 minutes down the road from Sayulita to San Pancho. The beaches are just as beautiful, and the surf is just as good, but the atmosphere is more relaxed. It's a haven for those who love a quieter, bohemian vibe.
94. Bucerias
This charming beach town has become a mini-Canada, attracting many Canadian expats. It's a lovely spot for a day trip, offering a different atmosphere compared to Puerto Vallarta.
95. San Sebastian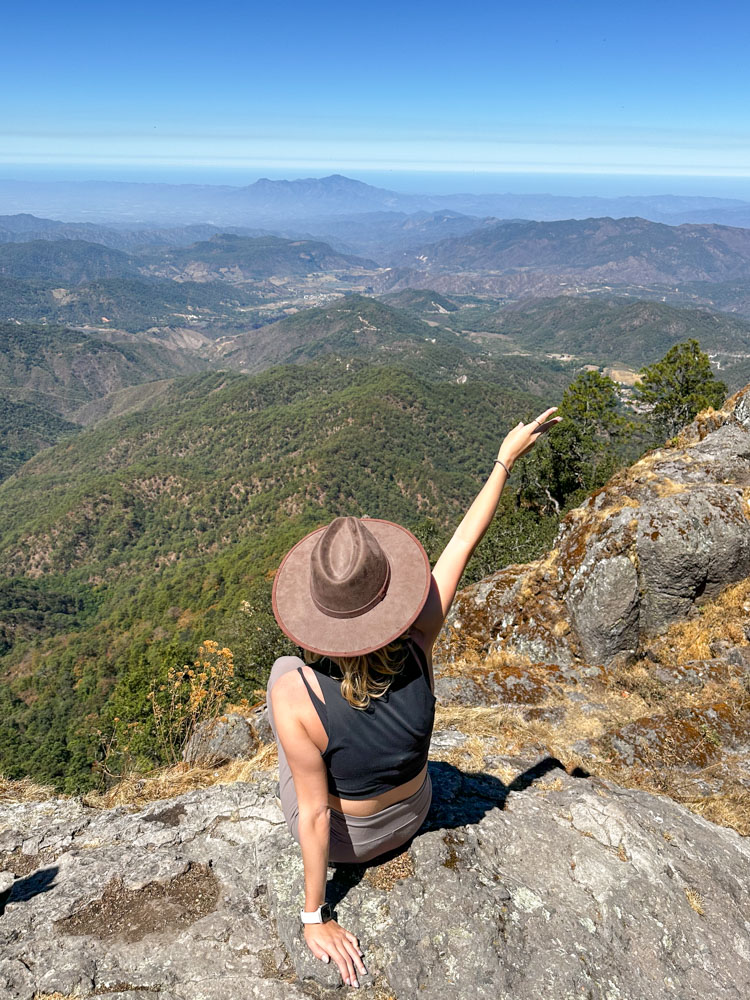 Two hours from Puerto Vallarta, this mountain town offers a refreshing change of scenery. It's a great spot for hiking and ATV rides, offering stunning mountain views. To visit San Sebastian, you can either drive there or join a guided tour.
96. Yelapa
A boat ride from Boca Del Tomaltan takes you to this idyllic village. You can hike to waterfalls, kayak, paddleboard, or snorkel. Equipment is provided if you opt for a guided tour.
97. Quimixto
This is one of my favorite beach day trips from Puerto Vallarta. The beaches are pristine, and there's a waterfall where you can take a refreshing swim.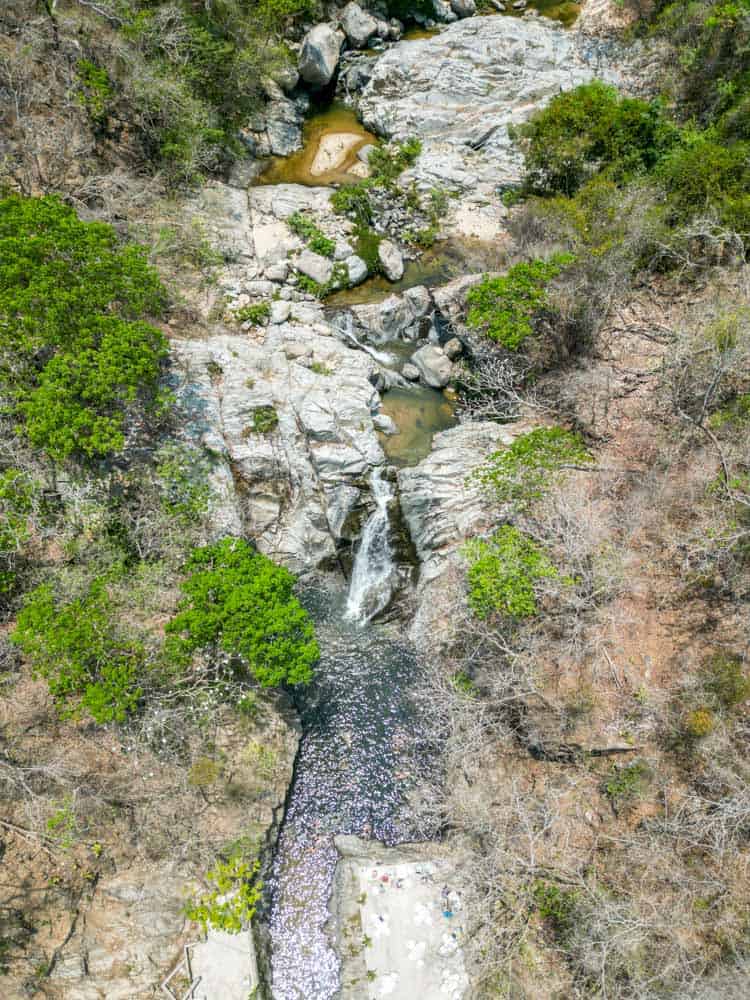 98. Islas Marietas and Hidden Beach
This is a must-do. You'll need to book a tour, which usually includes a boat ride, water activities, food, and drinks. Note: Permits for Hidden Beach are limited and should be booked in advance.
99. Nuevo Vallarta
Though adjacent to Puerto Vallarta, Nuevo Vallarta has its own unique, laid-back vibe. It's easily accessible by Uber or bus from Centro.
100. Tequila
Make it a weekend trip to visit the birthplace of, well, tequila! It's a 4-hour journey but well worth it for the tasting tours in this charming town.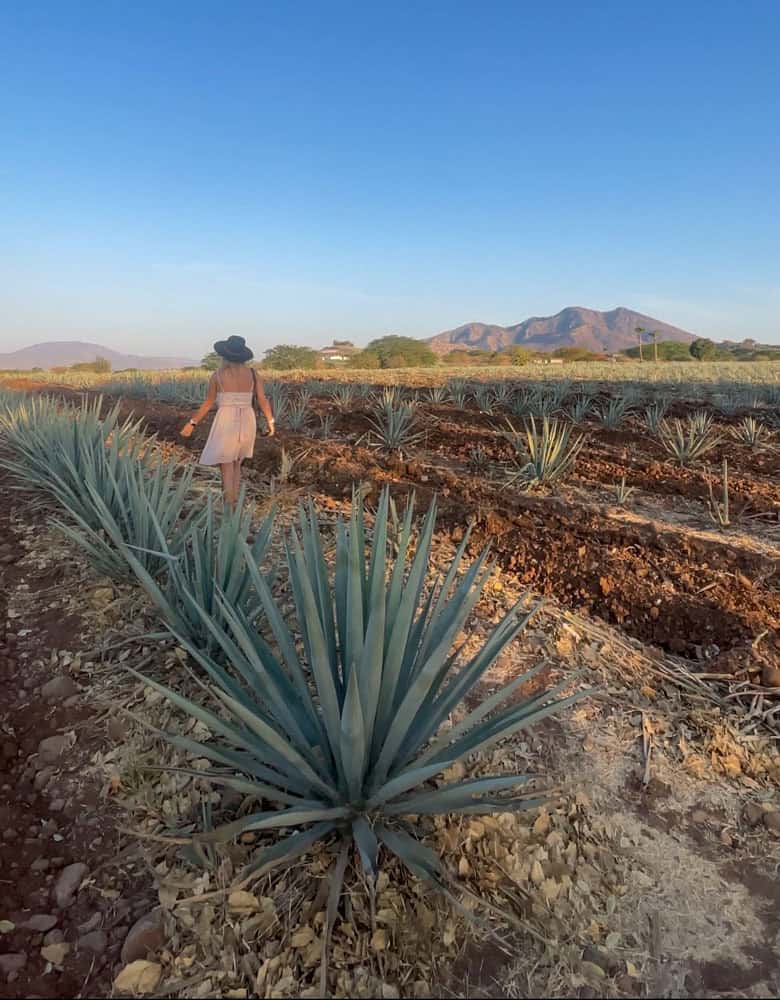 101. La Cruz Sunday Market in Huanacaxtle
If you find yourself free on a Sunday, this market is a must-visit. It was one of my favorite markets in Mexico, offering a variety of local goods.
Where to stay in Puerto Vallarta
Puerto Vallarta has endless accommodation options to choose from, and staying in an all-inclusive resort can be an activity on its own with so much to do there.
There are also plenty of charming boutique hotels you can stay in, such as Casa Kimberly, where Richard Burton and Elizabeth Taylor once lived!
This comprehensive guide has more information about the best areas to stay in.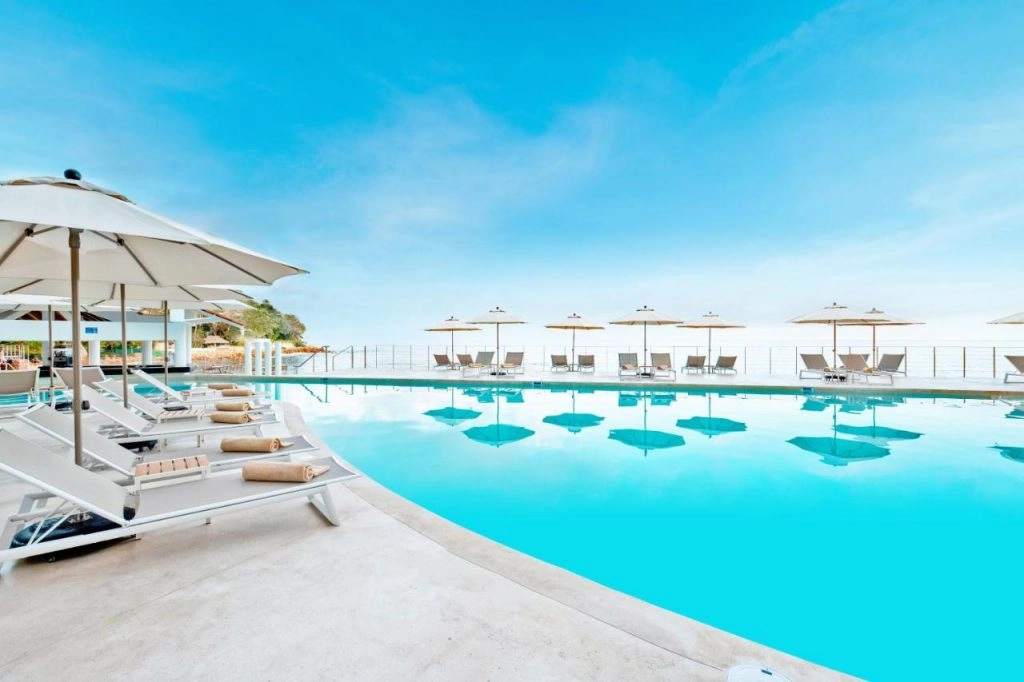 Getting around Puerto Vallarta
Navigating Puerto Vallarta is a breeze, thanks to its range of transportation options tailored to fit any travel style or budget.
1. Public Buses
For the budget-conscious traveler, public buses are a reliable and affordable way to get around. They cover most tourist areas and are easy to use.
2. Taxis
Taxis are abundant and relatively inexpensive. Just make sure to agree on a price before hopping in.
3. Uber
Yes, Uber is available and offers a convenient alternative to traditional taxis. It's often cheaper and allows for cashless transactions.
4. Car Rentals
If you're planning to explore beyond the city, renting a car gives you the freedom to travel at your own pace.
5. Biking
Puerto Vallarta is becoming more bike-friendly, with dedicated lanes and bike rental services popping up around the city.
6. Walking
The city is quite walkable, especially in the downtown area and along the Malecon. Just remember to wear comfortable shoes!
7. Boats and Ferries
For trips to nearby beaches, water taxis from Boca de Tomatlan are a scenic way to travel.
8. Tours
Many activities and attractions offer shuttle services, making it easy to get to your next adventure without the hassle of navigating.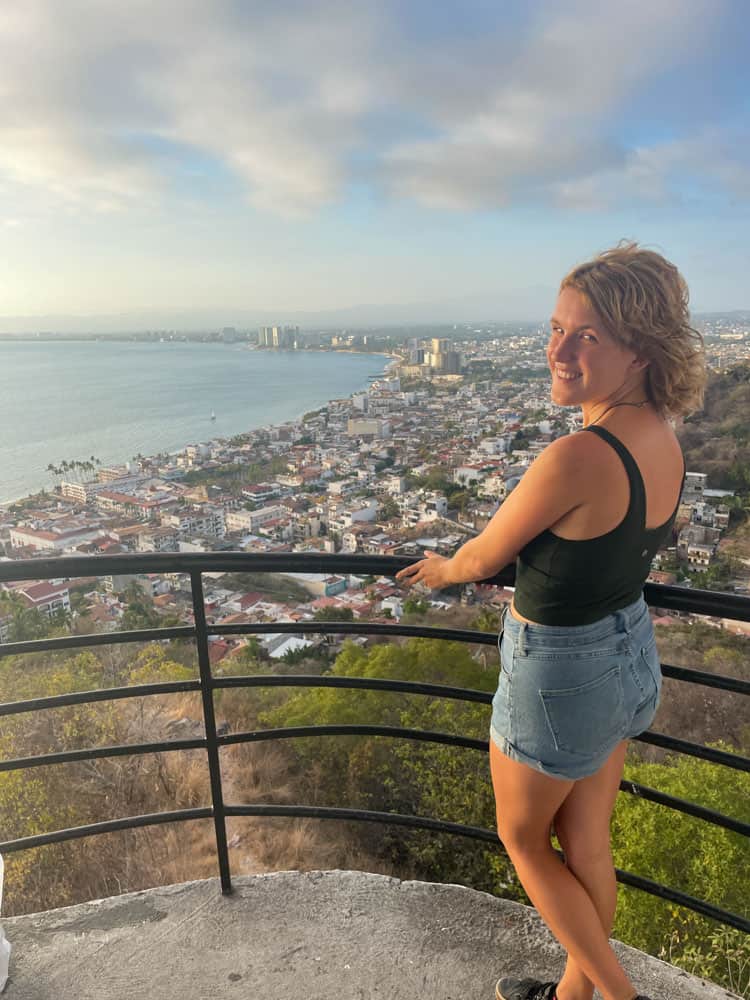 FAQ: Puerto Vallarta things to do
What is Puerto Vallarta best known for?
Puerto Vallarta is best known for its stunning beaches, vibrant nightlife, and rich cultural heritage, including art galleries and festivals.
Is Puerto Vallarta worth visiting?
Absolutely! Puerto Vallarta offers a mix of adventure, relaxation, and cultural experiences, making it a worthwhile destination.
Is Puerto Vallarta a walkable city?
Yes, Puerto Vallarta is a walkable city, especially areas like the Malecon and Zona Romantica.
Where do tourists hang out in Puerto Vallarta?
Tourists often hang out in the Zona Romantica, Marina Vallarta, and along the Malecon boardwalk.
How much money do you need in Puerto Vallarta?
You'll need around $100-$150 per day for moderate spending on meals, activities, and transportation.
How many days is enough in Puerto Vallarta?
A 5-7 day trip is usually enough to explore Puerto Vallarta's main attractions, beaches, and nearby day-trip destinations.
What month is best for Puerto Vallarta?
The best months to visit Puerto Vallarta are between December and April, during the dry season.
Why is Puerto Vallarta so popular?
Puerto Vallarta is popular for its blend of natural beauty, cultural richness, and variety of activities for tourists.
What to buy in Puerto Vallarta?
Popular things to buy in Puerto Vallarta include Mexican handicrafts, tequila, and local art.
Is Uber available in Puerto Vallarta?
Can you get around Puerto Vallarta without a car?
Final thoughts: Things to do in Puerto Vallarta
Puerto Vallarta is a destination that truly has it all; it's one of the reasons why I fell head over heels for this place.
From the endless water activities to the vibrant nightlife, there's never a dull moment. Whether you're a foodie, an adventurer, or someone who just wants to relax by the beach, Puerto Vallarta offers an array of experiences that cater to every kind of traveler. It's not just a destination; it's a lifestyle.
So, what are you waiting for? Come and discover the magic of Puerto Vallarta for yourself!