This post may contain affiliate links. By clicking and making a purchase through the links, I earn a small commission at no extra cost to you. This allows me to keep the site up to date and expand on resources. Thanks for reading!
The city of Puerto Vallarta has an unrivaled reputation for its spectacular beaches, marine life, water sports, and luxury hotel lifestyle. It's clear to see the attraction of the city's laid-back pace of life and vibrant nightlife, and why it attracts millions of tourists every year with so many exciting things to do.
Of course, mere sightseeing is hardly an attraction anymore. As a traveler, you will want to have some unforgettable experiences during your trip. Good thing there are many fun Puerto Vallarta activities to try during your trip! Use this guide to create your own Puerto Vallarta bucket list.
Top Puerto Vallarta Activities
Water Activities
Puerto Vallarta has warm water temperatures that remain comfortable all year round, making it the perfect place to play in and around the ocean. Here are the best Puerto Vallarta water activities to try on your trip!
Go on a guided snorkeling excursion to Los Acros National Marine Park to experience the amazing marine life underwater.
2. Go diving! Puerto Vallarta is also home to some fantastic dive sites to check out. Book a tour with a professional dive shop, as they will know all the best spots and can provide you with all the gear you need.
3. For a full day in the sun, check out this luxury yacht and snorkel day tour. You can explore the incredible world underwater while snorkeling at the best hotspots on Bandera Bay during the trip. The price also includes lunch and of course, the experience of sailing on a luxury yacht.
4. A ride on a jet boat is one Puerto Vallarta activity you should add to your bucket list. During the ride on the jet boat, you will not only be able to see Puerto Vallarta from a different perspective but enjoy an adrenaline-pumping experience as the boat can reach extremely high speeds!
5. Swim with free wild dolphins in their natural environment with this tour from Wildlife Connection. By swimming respectfully with these bottlenose beauties, you'll be participating in a research project that aims to better understand and protect these intelligent animals. Please do not swim with dolphins in captivity!
6. Puerto Vallarta is the perfect destination to try out jet skiing, with endless amounts of calm water and scenery to explore on this guided tour.
7. Take a catamaran tour at sunset for amazing views of the city.
Best Puerto Vallarta Tours
These Puerto Vallarta tours are bookable online, making it easy for you to plan your trip ahead of time!
8. Get a ticket for the hop-on-hop-off bus. You can hop on the bus at any of the 20 official stops and discover the city's highlights, such as the Malecon, Mismaloya Beach, and Marina Vallarta. A great way to see the main sights of Puerto Vallarta if you're short on time!
9. Las Caletas Beach Hideaway Experience. How about spending the day on a secluded beach? Only accessible by boat, you'll have the opportunity to explore Las Caletas and all of the incredible natural wonders it has to offer.
10. Join a cooking class. Starting at the local market, you'll learn about the ingredients that make Puerto Vallarta's cuisine a must-try. Once you have the ingredients in hand, you'll head to the chef's house for an interactive cooking class where you'll learn how to prepare Mexican cuisine!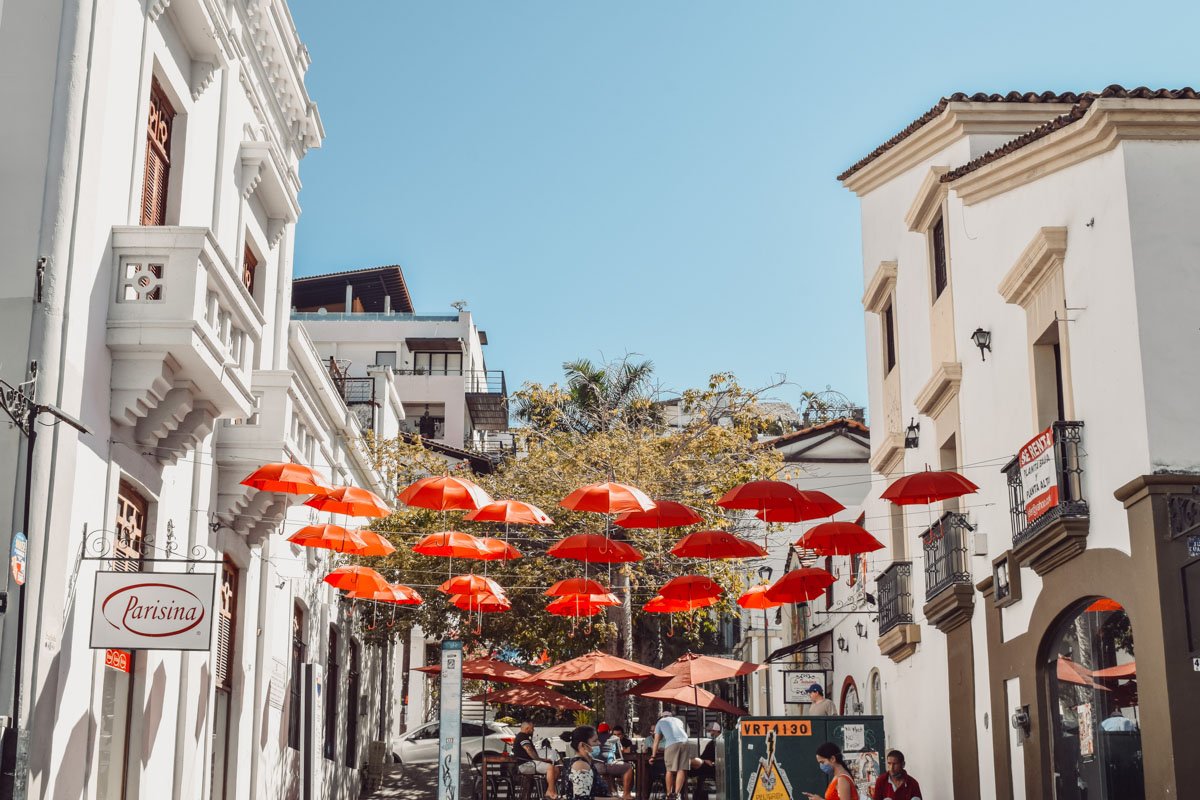 11. If you want to learn more about the city, check out this 6-hour city tour. You'll explore the best neighborhoods in the city, visit stunning beaches, and a final stop is a subtropical rainforest in the Sierra Madre Mountains. Before ending the tour, enjoy a complimentary tequila tasting session!
12. This unique Puerto Vallarta tour takes you around the city in a VW Beetle convertible through the city's most vibrant neighborhoods. You'll taste the flavors of the cuisine, meet the locals, and see a different side to Puerto Vallarta.
Day and Weekend Trips
The city is great to explore, but don't miss these other amazing Mexico destinations that can be easily visited as a day trip from Puerto Vallarta.
13. If you want to surf and party, then take a day trip to Sayulita. This hyped-up beach town is quickly becoming one of Mexico's top party spots, attracting surfers from all over the world.
14. For something a little quieter than Sayulita, head to San Pancho 5 minutes down the road. It boasts the same quality of beach and surf conditions but with a much tamer vibe. It's a hippy paradise!
15. Bucerias has become somewhat of a mini-Canada with so many Canadians moving there. It's a lovely beach town close by to Puerto Vallarta you can check out for the day.
17. San Sebastian is a charming mountain town two hours from Puerto Vallarta. This is a great place to go hiking, cool off from the heat, and ride ATVs up to the top of the mountains for incredible views. To get here, you can rent a car and drive or join this guided tour.
18. Just a little further out of Puerto Vallarta are the idyllic villages of Yelapa and Majahuitas. You can head there on your own via a boat from Boca Del Tomaltan or join this flexible tour where you can go hiking to waterfalls or try your hand at kayaking, paddleboarding, or snorkeling with all equipment provided.
19. Quimixto is one of my favorite beach day trips from Puerto Vallarta – there, you can find pristine white sand beaches and a waterfall that you can swim in. Use this guide to plan a day trip there.
20. Islas Marietas and Hidden Beach is a must-do while visiting Puerto Vallarta. To get there, you'll have to book a tour which typically includes the boat ride over, water activities, food, and drinks. Note that permits to visit hidden beach are sold separately and should be booked in advance as the beach is limited to 116 people a day.
21. Visit the botanical gardens. Their specialty is orchids, but they have more than 200 different types of plants and more than 300 animals and birds.
There are endless hiking trails to explore, a river to swim in, and a restaurant with a fantastic view. To get here, you can take a bus from Zona Romantica or join a guided tour.
22. Visit Nuevo Vallarta. Although they are right next to each other, Nuevo Vallarta has its own personality. It's a laid-back, relaxed city with more of an American feel to it. It's easy to reach from Puerto Vallarta; you can grab an Uber or bus from Centro and be there in just half an hour.
23. Visit the town of Tequila. This is at least a 4-hour journey, so I recommend making this one a weekend trip. It's a cute town that's the birthplace of Tequila – so enjoy some tasting tours at this Pueblo Magic, one of nine in the state of Jalisco.
24. If you're got a free day on a Sunday in Puerto Vallarta, take the time to visit the La Cruz Sunday Market in Huanacaxtle. It was one of my favorite markets in Mexico!
Outdoor Adventures in Puerto Vallarta
With access to the pacific ocean and Sierra Madre mountains, there's no shortage of great outdoor adventure activities to try while visiting Puerto Vallarta!
25. Admiring nature from above on a zip line tour belongs on any list of the best outdoor adventures in Puerto Vallarta. Not only do you get a breathtaking view over one of the most beautiful Mexican landscapes, but a good dose of adrenaline as you soar through the skies.
26. Take a coastal hike. There are many beautiful hiking trails near Puerto Vallarta that take you to secluded beaches. My favorite is Colomitos – the trailhead leaves from Boca de Tomaltan. You can also join a guided hike if you're not comfortable going on your own.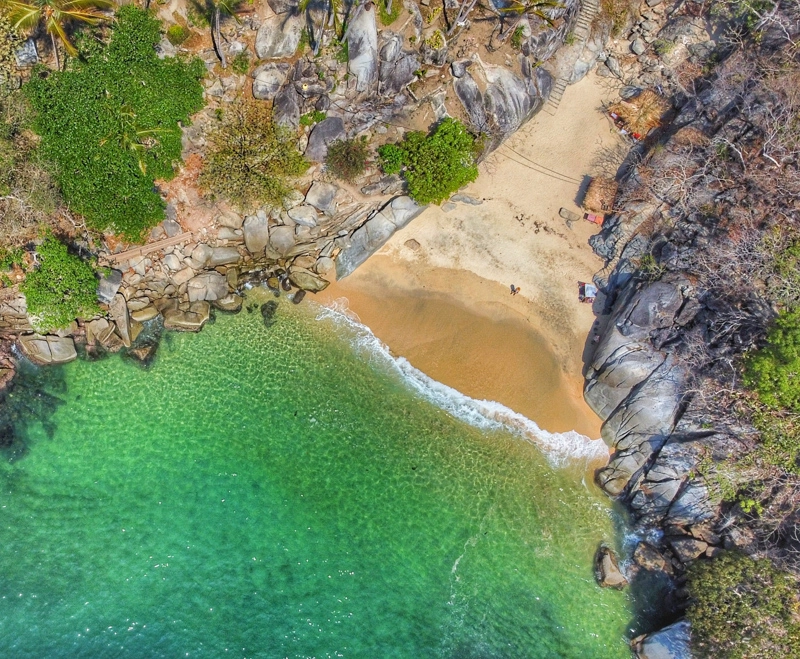 27. Get a birds-eye view of Puerto Vallarta on this parasailing tour. By taking off from the beach rather than the back of a boat, this experience allows you to fly much higher and see unparalleled views of the town, beaches, and mountains beyond.
28. Go horseback riding! Enjoy a fascinating, quiet horse ride through the beach, jungles, and village of Higuera Blanca just outside of Puerto Vallarta on this horseback riding tour.
29. Join an ATV tour! Leaving the city, you'll travel by ATV through quaint Mexican villages and along the Cuale River into the stunning Sierra Madre Mountains.
30. Extreme canopy tour. On this epic adventure, you'll head to a tropical forest outside of Puerto Vallarta for an action-packed day of zip-lining, off-roading, hiking, and other outdoor activities.
31. Go whale watching. If you're visiting during the season (December to March), you'll want to join a whale watching tour to see the magnificent pods of humpback whales that make Puerto Vallarta their home every winter. It's one of the best ways to see wildlife in PV.
Free Activities
Mexico is already a budget-friendly destination, but if you take part in some of these free Puerto Vallarta activities, you can enjoy a trip here for an extremely low cost.
32. Walk the Malecon – the stretch of boardwalk which runs for about 1 mile along the water. It's always busy and entertaining for people watching. There are often street performers and musicians!
33. Visit the Cerro de la Cruz lookout for an unbeatable view of the city.
34. Watch the sunset. Situated on the Pacific Coast, Puerto Vallarta enjoys spectacular sunsets every night. And they are 100% free to watch!
35. Hit the beach. That's probably why you came here anyways! Grab a book and head to one of the many spectacular beaches in Puerto Vallarta.
36. Take a free walking tour. Every Tuesday, Wednesday, and Saturday, you can join a 2-hour walking tour sponsored by the Municipal Tourism Office.
37. Take part in the art walk. Every Wednesday evening from 6-10 pm, you can participate in Centro in a free art walk that takes you through the cities top art galleries.
38. Go on a self-guided street art tour. Over the last few years, dozens of colorful murals have been painted throughout Centro and Zona Romantica. They make for great photos!
39. Explore the markets. Check out Isla Rio Cuale, a traffic-free sand island between Centro and Zone Romantica, where you can find a flea market selling everything you could ever want. It's free to look!
Things To Do in Puerto Vallarta at Night
Puerto Vallarta has a fantastic nightlife scene. Here are some of the best things to check out after the sun sets!
40. Grab a drink at Colibri – this speakeasy-esque cocktail bar is one of my faves.
41. Hit the clubs on the Malecon. Walk along this beach boardwalk, and you'll hear the pounding music coming out of the clubs – along with caged dancers.
42. Play drinking games at Aloha bar in Zona Romantica. They have beer pong!
43. Join the nightly pirate themed boat tour, which takes you back to the times of pirates and conquerors. Not only does it include a spectacular display of fireworks, but also a delicious dinner and open bar. It's sure to be an unforgettable evening!
44. Check out Rhythms of the night, a top-notch night show created by the co-creator of Cirque du Soleil. About half an hour on a boat is all it takes to get to Caletas beach, where the magic begins. Enjoy the show, which celebrates acrobatic skills, costumes, fire, color, and a breathtaking interpretation of Aztec history.
45. Watch the fireworks from the Malecon. Every night the pirate ship boat tour puts off fireworks which you can see for free by simply being near the water. The time isn't exact but usually happens around 10 pm.
Food Activities
Eating delicious Mexican cuisine is part of the experience of visiting Puerto Vallarta!
46. Try one of the amazing restaurants in Puerto Vallarta on the beach.
47. Is there any better way to taste all the many wonderful delicacies of Mexican cuisine than on a taco and tequila tour? You'll explore downtown Puerto Vallarta with a small group visiting the best local places for taco as well as a traditional tequila tasting.
48. For a broader range of the cuisines available in Puerto Vallarta, check out this 3-hour guided food tour.
You'll visit seven food-tasting spots carefully chosen to highlight the best regional flavors Puerto Vallarta has to offer.
49. This unique bike and bites tour takes you around Puerto Vallarta on bike, stopping to enjoy the city's culinary delights, including tacos, carnitas, ice cream, and more.
50. Take a chocolate-making class. On this tour, you'll get to make your own chocolate truffles using traditional local methods.
Festivals and Events in Puerto Vallarta
For an unforgettable vacation, time your trip to Puerto Vallarta with one of these yearly events and festivals.
51. Mexican Días Los Muertos (Day of the Dead), on November 1-2nd every year, is a beautiful Mexican tradition where families gather to remember friends and family who have passed away through folkloric ballets, mariachis, and Catrinas contests. It's an incredible sight to witness.
52. The International Gourmet Food Festival from November 12th-21st, 2021 is one of Mexico's most prominent culinary events, and it takes place in Puerto Vallarta. A must for the foodies out there!
53. Festival of Our Lady of Guadalupe from December 1st-12th is a significant religious celebration for the locals. It starts with a procession through the streets culminating with a street part on December 12th!
54. New Year's Eve – Puerto Vallarta is an ideal place to ring in the new year. For a city that has nightly fireworks, you can imagine they go all out on NYE. The parties on the Malecon will be wild!
55. Vallarta Cup Race Series. If you love sailing, you'll want to check out this festival during January.
56. Gay Pride. Puerto Vallarta is one of the most gay-friendly destinations in Mexico, and if you visit during pride month (May), you'll experience some great parties.
57. Punta Mita Surfing Competition. This yearly longboard competition takes place on a beautifully secluded beach around 30 minutes North of Puerto Vallarta – one of the best places to surf. It usually happens end of May.
58. Mexican Independence day, on September 15th, is a 2-day party where traditional displays of Mexican culture invite locals and travelers to celebrate together. 
There are many unforgettable things to do in Puerto Vallarta. Whether you prefer to explore the surroundings in peace, are more into outdoor adventure, or just want to eat your way through the Mexican cuisine, there is something for everyone here.
Planning a trip to Puerto Vallarta? Check out these posts!