This post may contain affiliate links. By clicking and making a purchase through the links, I earn a small commission at no extra cost to you. See my disclaimer for more information. This allows me to keep the site up to date and expand on resources.
Any trip to Puerto Vallarta would be incomplete without checking out the world-famous surfing in Sayulita. Located just a short drive north of PV, Sayulita is a unique and enchanting surfing village with clean water, friendly locals, and excellent beachside dining.
In this quick guide, learn everything you need to know about renting a board, scoping the waves, surf lessons, and the best surf spots in Sayulita.
How to Get to Sayulita from Puerto Vallarta
There are several options to get to Sayulita from Puerto Vallarta.
By car: Go North from Puerto Vallarta on the Mexico 200, which is the main highway going north out of the city. Follow this north for about an hour and a half (depending on traffic). Then turn right towards Sayulita on Av. Revolucion … You'll see the signs pointing you in the right direction.
By bus: Sayulita buses run every 20 minutes from PV to Sayulita, from 6:00 am to 10:00 pm. This is the most affordable way to get to Sayulita, and really convenient if you don't mind the slightly bumpy ride.
By taxi: Most taxi drivers are happy to take you as far as Sayulita, but be ready to pay between 700 and 1000 pesos for a 4-person taxi for a one-way trip. Uber also works in Puerto Vallarta, and you can book a ride to/from Puerto Vallarta to Sayulita.
Sayulita Surf Season: When is the Best Time to Surf?
The Northern hemisphere winter is the best time to surf in Sayulita if you're just getting started. This is generally true of the entire Pacific coast in Mexico. Waters are calmer, and waves are smaller, usually not getting much higher than 5 feet even along the more advanced breaks.
More advanced riders, on the other hand, will prefer the summer. The water is not only warmer, but there is a lot more energy in it. This means bigger waves, steeper breaks, and a higher thrill factor. This is when the pro surfers are in town, so it can be more difficult for beginners to find an open beach to practice.
Can Beginners Surf in Sayulita?
While its status as an international surfing destination can make it intimidating, Sayulita is actually a great place for beginner or intermediate surfers.
The main sandbar of the area creates mellow waves as small as 1ft high depending on the season and time of day. This makes it possible to practice your paddling, mounting, dismounting, and carving without having to worry about getting thrashed in big waves.
Even better, Sayulita is known for their friendliness and professionalism when it comes to surf lessons. Even if you've never set foot on a surfboard, the pros in Sayulita are happy to walk you through the basics and get you riding in no time.
What about Intermediate and Advanced Surfers?
The north and south point breaks of Sayulita's coast present much larger waves. This is especially true during the winter months of November, December, January, February, and March.
These larger waves are where more advanced surfers tend to go. It's not advised for beginners to try these areas. Fortunately, it's easy to see from the beach where the easier and more challenging areas are.
Don't hesitate to ask a local where the best place to wade in is. Everyone in town is super friendly and happy to help.
If you're looking to have your surfing lesson booked in advance, then we recommend going with an established / trustworthy site like Viator.com. This is a site that's owned and operated by Trip Advisor, which makes it a great place to compare instructors and read actual user reviews.
This highly-rated tour is organized by Wild Mex, and includes soft-top surfboards for beginners, a rashguard, a towel, and a qualified instructor to teach you the ropes.
I hope I spell your name correctly but I had a lesson with Rodrigo. He was such a great instructor. Super patient, great critique and a kind positive attitude. I really enjoyed my lesson with him. Thanks Rodrigo!! I also rented a board with the same company at another surf spot (La Lancha) super easy and had a good selection. Would not hesitate to go with them again. 🤩

– Janet (read more reviews here).
If you're already in Puerto Vallarta, you can check out Vallarta Surf Tours. They're located on the south end of the city, surrounded by great restaurants and shops. This is a good place to rent a board too, if you're looking to head out on your own.
Check out this post for more information about surfing around Puerto Vallarta.
Surfboard Rentals Sayulita
If you just happen to find yourself in Sayulita and don't have anything booked, not to worry. Sayulita has almost two dozen surf shops to choose from. They're hard to miss as you're strolling through town. We rented surfboards directly on the beach to go surfing in Sayulita.
Lunazul Surf School is a long-time favorite with plenty of positive reviews. But don't hesitate to shop around for the best prices. After all, the town isn't that big and it's not hard to visit a few different shops in a short period of time.
Sayulita surf spots
Sayulita Right: The "Right" is the main break of Sayulita. This one has consistent waves throughout the winter, featuring both a river mouth and a small reef. Great for both short boards and longboards. As the "main" surfing area, Sayulita right tends to have a big line of surfers and can be a bit crowded in the afternoons.
Sayulita Left: With a steeper break and faster takeoff, the Left break is a fun place to hone your skills, especially if you're "goofy" footed. The left break requires a higher swell in order to ride, which means that the waves are less consistent than other local breaks.
The Sandbar: Closest to town, the "Sandbar" is where most beginners go to learn to surf. It has the smoothest beach and mellowest waves, and is also easiest to get to. Because of this, it can also be crowded if you don't get there early.
San Pancho: This is an advanced break that's about a 10-minute drive North of Sayulita in the town of San Pancho. Not recommended for people who are just learning, but advanced surfers can have a great experience here with tall, steep waves and a rapid ride.
Punta Mita: Punta Mita is south of Sayulita by about 15 minutes. There are multiple breaks here that can accommodate all skill levels. One of the big draws to Punta Mita waves is the bigger reefs, which can lead to longer and smoother rides.
Sayulita Surf Camps: Lodging and Lessons Combined
If you're serious about learning to surf and you've settled on an extended stay in Sayulita, one of their world-class surf camps is the way to go. These are partial- or all-inclusive accommodation packages that include lessons, rentals, shuttles to nearby breaks, and a place to sleep.
Surf camps are a lot of fun, and are a great way to meet people. The instructors go out of their way to make sure you have a good time, which usually includes great food and a cold cocktail or beer right when you need it.
Most importantly, these camps pair you or your group with an experienced, bilingual instructor for multi-day lessons. This is hands down the best way to learn. And, on a day-to-day basis, you'll have a seasoned pro escorting you to the best waves for the conditions and/or your skill level.
WIldMex offers both beginner and intermediate camp options, with three choices of accommodation (dorms / basic / standard).
There are also a number of private surf camps offering a more high-end experience. These can include private villas, all-inclusive meals, yoga, and just about anything else you could want. Yantara is one of the more popular high-end surf camps, and more are popping up all the time.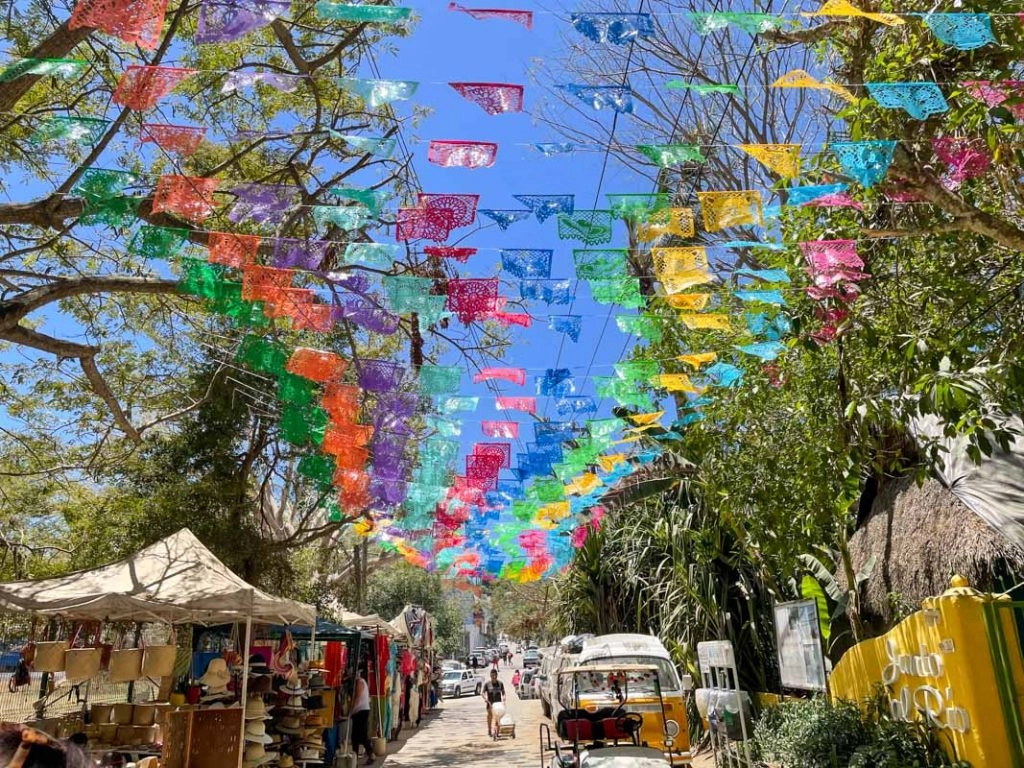 Othings things to do in Sayulita
Surfing might be one of the most popular things to do in Sayulita, but it's by no means the only one. This is an adorable, secluded beach town with a unique bohemian character. Over the years, it's developed its own style when it comes to shopping, art, and cuisine.
So when you've had enough of the waves, be sure to take a trip around town. It doesn't take long to explore the whole place, and you're guaranteed to find something that you didn't expect.
Surfing in Sayulita Frequently Asked Questions [FAQ]
Q: How big are the waves in Sayulita?
A: The waves in Sayulita can vary between about 1ft and 4ft depending on the season. Wave size is also dependent on which part of the beach you choose. For example, the main sandbar offers mellower waves, and point breaks to the North and South offer larger waves for more experienced riders.
Q: Can beginners surf in Sayulita?
A: Yes, Sayulita is an excellent place for beginner surfers. Not only are there smaller waves along the main sandbar, but the village is also home to a number of friendly, reputable surf instructors and rental shops.
Q: When is the best time to surf in Sayulita / Sayulita surf season?
A: The best time to surf in both Sayulita and the wider Bay of Banderas area is between November and March for beginners, and between April and September for more advanced riders.
In the winter months, the water tends to be a little calmer, with waves usually not much taller than head height. This makes it a great season to learn, and in general, there are fewer tourists along the beaches.
The summer months of April to September feature not only much larger waves, but also a higher number of advanced and professional riders.
Q: Can you swim in the ocean in Sayulita?
A: Yes, there is plenty of room for swimming in Sayulita and the water is very clean. While the beach is popular for surfers, it's possible to find open stretches of water with no surfers present.
Q: Can you rent surfboards in Sayulita?
A: Surfboards are available for rent all over town, as well as wetsuits, scuba gear, boogie boards, and lessons.
Q: Are there stingrays in Sayulita?
A: Sayulita water, like most beaches in Mexico, is home to a wide array of ocean creatures, including stingrays. Stingrays tend to be small and will not sting unless they're stepped on, which is why surfers are advised to shuffle their feet when entering the water.