This post may contain affiliate links. By clicking and making a purchase through the links, I earn a small commission at no extra cost to you. See my disclaimer for more information. This allows me to keep the site up to date and expand on resources.
Wondering how to visit from Puerto Vallarta to San Pancho, Mexico? Let me help! I live in Puerto Vallarta and visit San Pancho often on the weekends. It's one of the best-kept secrets on the Riviera Nayarit!
Situated on the breathtaking coast of the Mexican Pacific, the Riviera Nayarit is a region of idyllic beaches, thick, wild jungles, and a rich history intertwined with its local culture, arts, and cuisine.
Although Puerto Vallarta is undeniably a paradise and a great place to base yourself, there are many other beautiful places to explore in the surrounding areas of the Bahia de Banderas.
#1 PUERTO VALLARTA San PANCHO TOUR
⭐️⭐️⭐️⭐️⭐️
✅ Half-day tour to Sayulita and San Pancho.
✅ Meet other travelers in a group limited to 20 people
✅ A/C transfers, snacks, beer, and water are provided
While visiting, break up your stay by taking a day trip to some of the towns and beaches, which have retained a more traditional way of life and have been less influenced by tourism over recent years.
One place you don't want to miss is the quiet, sleepy town of San Pancho, Mexico – also called San Francisco.
Located just an hour's drive North of Puerto Vallarta, this unassuming Puebla makes the perfect day trip to experience the local small-town Mexican vibe.
A Puerto Vallarta to San Pancho day trip is the perfect way to experience the thriving eco-conscious and creative community, great restaurants and nightlife, and beautiful untouched beaches that San Pancho has to offer.
How to get from Puerto Vallarta to San Pancho Mexico
San Pancho is located on the Mexican Pacific coast, in the state of Nayarit, along Highway 200, just 1 hour North of Puerto Vallarta.
There are several options available to get to San Pancho from Puerto Vallarta.
San Pancho by Car
If you already have access to a vehicle or plan to rent a car, it may be worth your while to drive. The route is simple to follow as you stay on the same highway for the duration of the trip.
You can explore the scenic route at your own pace, making stops whenever you wish.
If you take Highway 200 North, out of Puerto Vallarta, you will pass the towns of Mezcales and Bucerias until the road converges into a two-lane highway that snakes through the scenic jungle.
It is worth noting that this section can sometimes become congested with traffic stuck behind slow-moving heavily-loaded trucks.
Overtaking can be dangerous on this narrow, winding road, so it is important to stay focused and take your time when you're unfamiliar with the route.
Upon approaching San Pancho, you will see a sign for 'San Francisco' – the town's official name on the map – you will not hear the town referred to this anywhere else!
Private Transfer
One of the easiest ways is to get a private transfer. This option offers the luxury of a door-to-door service and the flexibility to stop whenever you want, making the journey as comfortable as possible. The drive usually takes about an hour, depending on traffic.
You can book a car or shuttle that fits up to nine people online here, which is perfect if you're traveling as a large group.
By Taxi, Uber or InDriver
Taxis can easily be found in Puerto Vallarta, but it is important to discuss and agree upon a price before you depart.
Using a taxi rank directly outside the airport or hotels will cost you around 1000-1500 pesos; this can be harder to negotiate as they often have a fixed price within the taxi rank.
Alternatively, hailing a taxi on the street will give you more opportunity to haggle for a lower price – sometimes as little as 800 pesos. Knowing a little Spanish here can go a long way.
You can also use ride-sharing apps such as Uber or InDriver (a local ride-sharing app in Mexico) to get a ride from Puerto Vallarta to San Pancho. The price is almost always cheaper than a taxi. It depends on demand, but I know people who have gotten rides for as low as 400 pesos.
Puerto Vallarta to San Pancho Bus
Those who want to get immersed in the local experience can access San Pancho by bus.
The local bus service, Compostela, runs approximately every hour to San Pancho.
It is also possible to take the bus to the neighboring town of Sayulita and get a taxi from there, which runs approximately every 20 minutes.
The fare is around 50 pesos, which is just over $2, so perfect if you're traveling on a budget.
The route originates at Walmart and Sam's Club in the large waiting area opposite, where you can often find an official in the area who will point you to the right stop. There is also a stop over the footbridge from the airport.
You are looking for the retro-looking green and white bus' with 'Compostela' written along the side with the stops often charmingly hand-written on the windscreen.
Not all Compostela's stop at San Pancho, so it's worth confirming with your driver before boarding.
The trip usually takes about 1 hour 30 minutes due to regular stops.
Puerto Vallarta to San Pancho Tour
If you don't want to worry about getting there on your own, then you can join this highly-rated tour which takes you to visit two of the most popular beach town on the Riviera Nayarit.
You'll first head to Sayulita and admire the boutique stores along the streets, then keep going to San Pancho to enjoy the beach. It also includes beer, water, and the group setting is the perfect way to meet other travelers.

Abraham and Juan Carlos have exceptional service. We learned about the food, history, and the culture. Highly recommend booking with them. They both made us laugh and created a relaxing environment. – TripAdvisor (read more revews here).
The best things to do in San Pancho
San Pancho has one main street that stretches from the highway (where the bus drops you off) all the way down to the beach. The walk is a great way to get to know the charming Puebla.
It's the kind of town that is enjoyable to wander around and soak in its unique vibe. But there are a few things to check off your list on your San Pancho day trip.
Chill out on the San Pancho Beach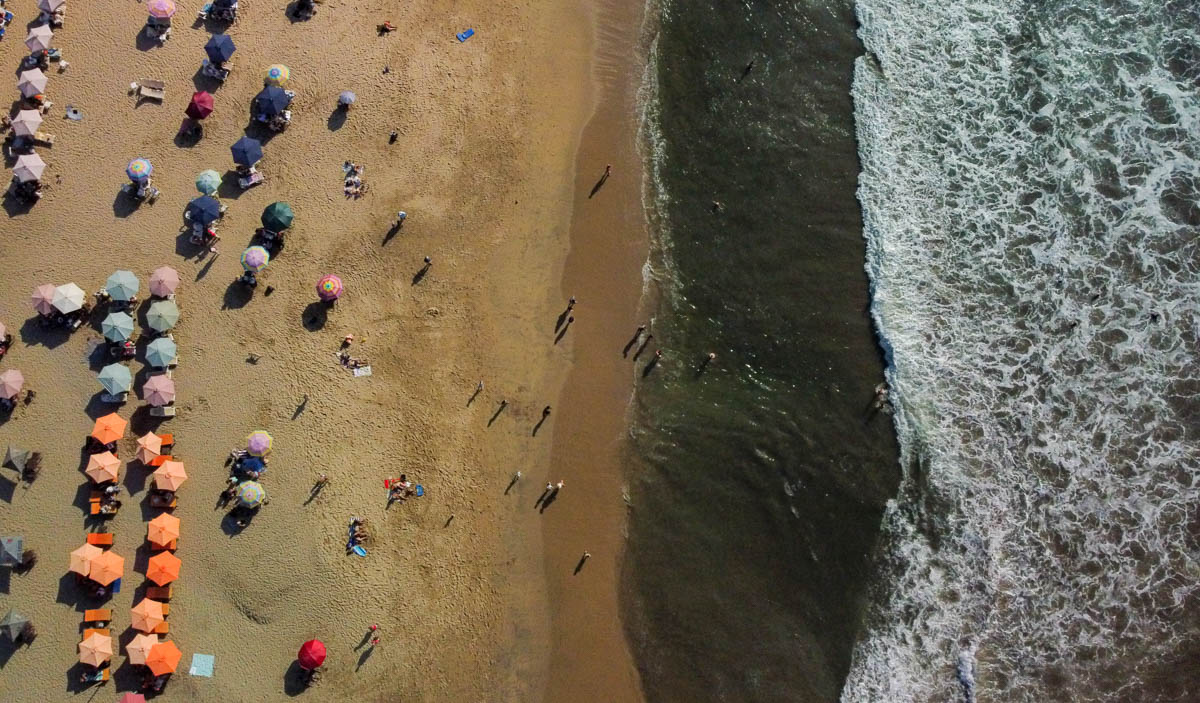 San Pancho is well known for its picturesque beach – far quieter and less developed than other better-known beaches in the area.
Its crashing waves and jungle surroundings make it the perfect place to relax and enjoy the Mexican way of life.
The beach is also a popular place to surf near Puerto Vallarta, and surfboard rental shops and lessons are readily available on the beach.
There are several restaurants on the beachfront that can provide sun loungers with shade and delicious Mexican cuisine – not to mention ice-cold beer and generously poured margaritas.
If you are looking for a more private experience – on the very far left-hand side of the beach, there is a small cove lined with protruding rocks and dotted with fishing boats.
There are often very few, if any, people there, and it is a perfect place to bring a picnic and have a dip in the calmer waters of the bay.
Grab something to eat at San Pancho Restaurants
San Pancho has a thriving culinary and drinks scene.
Restaurants in town offer everything from the down-to-earth local staples of tacos, tamales, and ceviche, sold out of food stands, to high-end modern Mexican cuisine and delicious local craft beers.
If visiting on a Sunday – a traditional Sunday brunch dish of Birria, a slow-cooked spicy stew of goat or beef, is served in El Gallo from 9 am – 3 pm. This is worth the trip in itself!
A modern take on Mexican cuisine can be found at Limbo, a trendy little restaurant by the beach that serves delicious and elegantly presented Mexican dishes and makes a perfect lunch stop.
If you want to try local seafood, San Pancho Marino offers whole-cooked fish that the staff often catch the very same morning in a relaxed surf-themed restaurant.
And, of course, you can't miss San Pancho's very own tap room at the Cerveceria Artesenal – the friendly staff will make you feel at home and take you through their selection of world-class craft beer. They also do an incredible burger and fries if you're craving a taste of home.
Visit the community center
The community center, Entreamigos, is the beating heart of San Pancho and is the pillar of the local community that drives eco-conscious activism and supports the creative arts within the town.
It is unlikely you will have time to volunteer at the center on your day trip. But it is worth a look around and chat with some of the locals involved. It is a truly inspiring concept.
Explore the jungle
Enjoy an awe-inspiring tour through the unspoiled nature of the Lo de Perla Jungle Garden.
There are many tours available from San Pancho, where you would meet and travel a short distance to Las Lomas and begin a 3-hour adventure through the untouched jungle and an impressive orchidarium. Alternatively, if you travel there yourself, you can enter for just 150 pesos.
If you are a more independent explorer, there is a manageable hike to a waterfall in San Pancho, just past the highway and some local ranches and into the jungle. Any local will happily direct you to the start of the route.
Enjoy a sunset
San Pancho is infamous for its incredible sunsets. It's a time for locals to gather together on the beach and watch the beauty unfold.
It's a perfect way to end the day – take a seat on the water's edge, buy a snack from a local beach vendor, and listen to the waves crash as the sky lights up in blues, pinks, and oranges.
I love spending sundays here with other digital nomads living in Puerto Vallarta, we always have a blast.
Where to stay in San Pancho, Mexico
You'll likely end up falling in love with San Pancho and want to spend more than just the day.
Luckily there are many amazing places to stay in San Pancho if you want to spend a night or two!
Hotel Maraico San Pancho is a gorgeous eco-friendly option with an outdoor pool, sun terrace, and ocean views.
Mari Hotel Boutique is a beautiful boutique hotel offering an outdoor pool and brightly lit rooms. Every room comes with AC, a desk, bed linen, and a terrace with a garden view.
FAQ: San Pancho Mexico
What is San Pancho known for?
San Pancho is renowned for its beautiful beach, vibrant arts scene, and community-driven projects that focus on sustainability and education.
Should I stay in Sayulita or San Pancho?
While Sayulita is known for its lively atmosphere and surfing, San Pancho offers a more laid-back vibe with unique cultural experiences. Each has their unique charm, and you should visit both if you have the time.
Is it safe to swim in San Pancho Mexico?
Yes, swimming in San Pancho is generally safe, but always be aware of the surf conditions and follow local guidance. I swam in the ocean but found the waves very large.
How to get to San Pancho from Puerto Vallarta?
You can travel from Puerto Vallarta to San Pancho by bus, car rental, taxi, Uber, or guided tour.
What airport do you fly into for San Pancho Mexico?
The closest airport to San Pancho is the Licenciado Gustavo Díaz Ordaz International Airport in Puerto Vallarta.
How much is a taxi from Puerto Vallarta to San Pancho?
A taxi from Puerto Vallarta to San Pancho typically costs around $60-80 USD, depending on the time of day and exact location.
Can you walk along the beach from Sayulita to San Pancho?
Walking between Sayulita and San Pancho along the beach is not generally advised due to the distance and changing tides, but there is a hike between the two towns that takes about an hour.
How much is an Uber from Puerto Vallarta to San Pancho?
An Uber from Puerto Vallarta to San Pancho can cost between $35-50 USD, although prices may vary depending on demand.
How far is San Pancho from airport?
San Pancho is approximately 45 kilometers (28 miles) from the Puerto Vallarta airport, and the journey usually takes around an hour by car.
Final thoughts: Puerto Vallarta to San Pancho
San Pancho is an unforgettable place, with a thriving, welcoming community of locals and tourists living in harmony.
It's the perfect place to absorb the natural beauty of Mexico and the relaxed, carefree atmosphere that San Pancho offers.
San Pancho is becoming more popular in recent years as nearby Sayulita becomes more overcrowded, so get there soon to enjoy it as it is.
Planning a trip to Puerto Vallarta? Check out these other day trips!