This post may contain affiliate links. By clicking and making a purchase through the links, I earn a small commission at no extra cost to you. This allows me to keep the site up to date and expand on resources. Thanks for reading!
Corona and Pacifico are great, but sometimes you want something other than a mass-produced lager. In this post, we'll look at some of the best Puerto Vallarta breweries.
There's actually quite a bit of craft beer in Puerto Vallarta. Whether you're looking for an IPA, a stout, or a sour, you can find it in this City by the (Banderas) Bay.
While there aren't a ton of breweries in Puerto Vallarta, the list has been growing steadily over the past few years. I've done lots of, um, let's call it "research" for this post, so let's tap the kegs and get this one flowing!
Breweries in Zona Romantica
Let's start things off downtown in the Romantic Zone. It may be the party hub of PV, but there are a few great breweries here as well.
Monzon Brewery Puerto Vallarta
Monzón Brewing Co: The team at Monzón has been leading the craft beer revolution in Puerto Vallarta for half a decade now. Founded by Seattlites Reid and Miranda, this brewery is definitely the jewel of the craft beer scene in PV.
What I love most about Monzón is that they always come up with fresh new brews. At the moment, they have a Hefeweizen, Saison, Sour Mango, Hazy NEIPA, and an Imperial Stout with toasted coconut. And that's only about half of the beers currently on tap!
Another reason Monzón tops the list of best breweries in Puerto Vallarta is the sense of community they foster. Their Drops in a Bucket program supports local charities, and during the pandemic, they helped serve thousands of hot meals to people in need.
Monzón also has lots of events, such as their weekly trivia and other fun events like beer pong tournaments and movie nights. It's also a great spot to watch the big game in their Mozaic Room upstairs.
All that craft beer might make you hungry, and they've got you covered at Monzón! Their food menu is always changing, and I've never had something there I didn't like. The mac & cheese is the stuff of legends, and they make some epic fish tacos as well.
Last but not least, you can join their Storm Chasers program to get great discounts and a free beer on your birthday.
Los Muertos Brewery Puerto Vallarta
Los Muertos Brewing: A few blocks from Los Muertos Beach, you'll find the brewery of the same name. This Puerto Vallata brewery is the OG, as they were the first to pour craft beer in the city.
On my first lap around the Romantic Zone back in 2017, I was beyond stoked to stumble upon this place. After a flight and a couple of pints, I also stumbled out of it!
Their classic lineup of beer includes a lager, wheat, chili ale, amber, IPA, American strong ale, and a stout. Grab a flight to see which one you like the best! Or go during their "Hoppy Hour" from 4-6 PM to get a pint of any beer for just 40 pesos.
My only real complaint with Los Muertos is that they never really mixed it up with the beer selection. However, it looks like they now have a few seasonal beers in addition to the classics. At the moment, they have a West Coast Juicy IPA and an Imperial Pilsner.
The best part about Los Muertos beer is pairing it with their awesome pizza. This is definitely one of the top pizzas in Puerto Vallarta, best washed down with a cold one.
They also opened a sister location around the corner called El Granero, where you can get the same beer. It's more of a trendy bar atmosphere, and the food menu is different as well.
Other Breweries in Puerto Vallarta
The craft beer scene is expanding in PV, and you can now find a few breweries on the other side of the bridge. Here are some options in other Puerto Vallarta neighborhoods where you can grab a pint.
Yambak Puerto Vallarta
Yambak: This place was such a hit in Sayulita that they decided to open a PV location as well. And I'm so happy they did! It combines three of my favorite things – craft beer, pizza, and live music.
They brew most of the beers on tap here and have several guest taps from other local breweries. On any given night, you have around 10-12 options to choose from.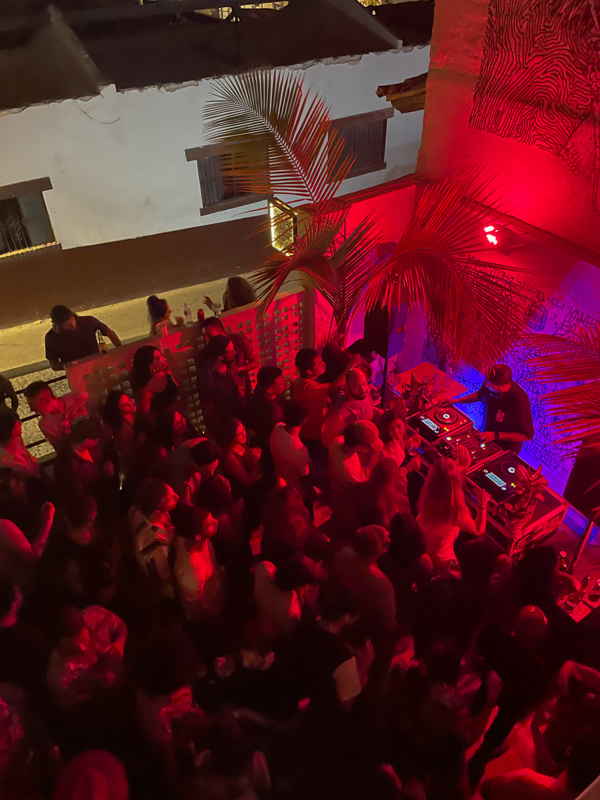 They also make some damn good wood-fired pizzas here that pair perfectly with the beer. Oh yeah, and there's a large outdoor terrace where they have house DJs several nights a week. Yambak is such a fun place to party and has quickly become one of my fave places to go at night in Puerto Vallarta.
It's hard to beat the location of Yambak – right off the main drag in El Centro, just a block from the Malecon and a short trip from Zona Romantica. This makes it the perfect spot to start (or end) your night out on the town.
Los Cuentos: It's pretty easy to miss this little taproom tucked in a corner off the highway in the Versalles neighborhood (click here for directions). This is one of the hidden gems in the craft beer Puerto Vallarta scene.
Los Cuentos beer has been around PV for a while, on tap at restaurants and in bottles at various stores, but their tap room is pretty new. Drop by to sample their lager, tropical IPA, and chocolate stout. This is a great place to try a flight as they give generous 6.75 oz pours of each.
Their little kitchen whips up some impressive plates as well, such as beef marrow tacos and a delicious shrimp broth. They usually give you a little taster plate for each beer you order as well.
El Terrible
El Terrible: Don't let the name fool you, as this local PV brewery is actually pretty good. It takes a bit of effort to get there as it's even past Pitillal (click here for directions), but it's worth it if you show up thirsty and hungry.
As far as beers go, they have German Pils, chocolate stout, blueberry ale, and a red ale. They also have hard seltzer and cider here if you're into that.
For food, you can munch on classic pub fare like fries, wings, and nachos. It's definitely a fun place to visit and escape the hordes of tourists downtown.
Rather go with a group? Check out this craft beer tour in Puerto Vallarta!
—
That does it for our rundown of the top breweries in Puerto Vallarta. Which one is your favorite, and what do you usually drink there? Leave a comment and let us know!
Planning a trip to Puerto Vallarta? Don't miss these posts!