This post may contain affiliate links. By clicking and making a purchase through the links, I earn a small commission at no extra cost to you. See my disclaimer for more information. This allows me to keep the site up to date and expand on resources.
There's no shortage of great food tours in Puerto Vallarta. While you can enjoy everything from street food to fine dining on your own, it's always fun to have a knowledgeable local guide.
In this post, we'll take a closer look at some of the best Puerto Vallarta food tours. But first, let's answer an important question…
Why Take a Food Tour in Puerto Vallarta?
If you're asking yourself that question, I totally understand. After all, there are plenty of travel blogs out there on places to eat in Puerto Vallarta. We even have several posts on specific foods that you should check out, such as the best tacos and best seafood in town.
There's also TripAdvisor, Yelp, and Google Maps. You can most definitely compile a pretty good list of places to eat and dishes to try without needing a tour. There – I said it.
That being said, there are still several benefits to going on one of the many Puerto Vallarta food tours. Whether it's a tour of the best taco carts in town or a cruise with dinner and a show, you've got lots of awesome options here.
Signing up for a street food tour is a good way to ensure you get to try the real deal local food and miss out on tourist traps.
Some of my absolute favorite places to eat in town are those that I discovered on a food tour. It's likely I would never have found some of these spots otherwise!
Going on a tour is also a fun social experience. In addition to having a helpful local guide, you'll also get to meet fellow travelers (or digital nomads, or expats).
Without further adieu, here are some of the top food tours in Puerto Vallarta…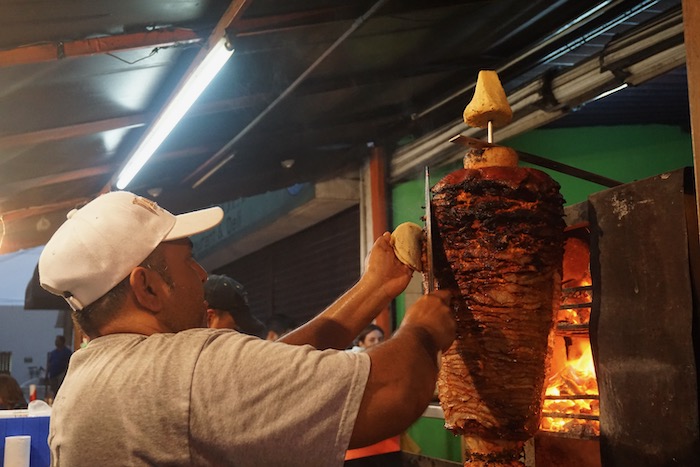 The Original Downtown Tour
If you're only going to take one food tour while in PV, this is the one. It's way more than taco stands, as you'll get to sample a wide variety of local favorites like ceviche, mole, and birria.
On this 3.5-hour walking tour with a small group, you'll explore downtown Puerto Vallarta with 8-10 stops along the way. Be sure to bring your appetite for this one, as there's a lot of eating involved!
You'll also get to try some classic local beverages like agua fresca and some handmade Mexican candies. This tour really delivers and is reasonably priced.
Rhythms of the Night Dinner Cruise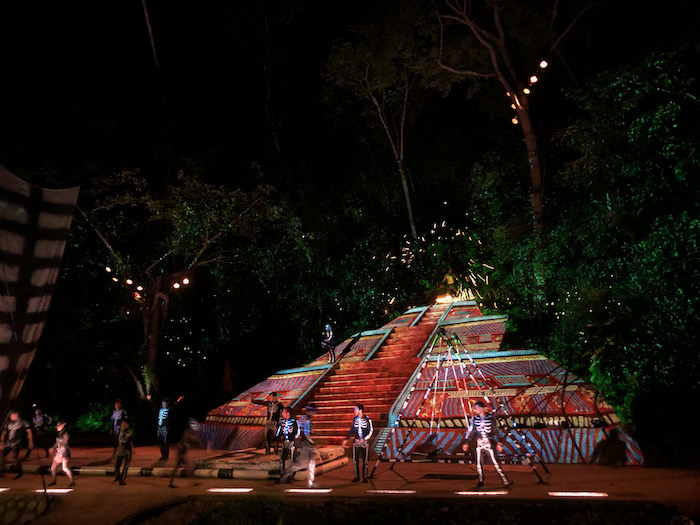 While this is more about the performance than the food, the Rhythms of the night dinner cruise is a solid tour overall and one of the top-rated experiences in Puerto Vallarta. It's up there with my favorite tours I've ever done, and it's always something I recommend to friends and family.
The tour starts with a cruise across the bay to the remote Las Caletas. It includes an open bar, by the way, so feel free to let loose!
Once there, you're treated to a gourmet buffet that you can enjoy by candlelight. I know what you're thinking, but hear me out – the food is actually really good, and you really can't beat this amazing setting.
After dinner (which includes more drinks if you desire), you get to take your seat for the incredible show. It's inspired by an Aztec legend, and it's got a Cirque du Soleil feel to it.
Click here to learn more and reserve your spot.
Mex-ology
For those who also want to learn about Mexican spirits and cocktails while enjoying some good food, this is the tour for you. Tacos & tequila are two of my favorite things, so this one is high on my list of the best Puerto Vallarta taco tours.
This jam-packed tour includes five food tastings and six different cocktails. I advise you not to pre-game for this one, as you'll likely catch a good buzz even with all of the food!
In addition to the beloved tequila, you'll also become acquainted with mezcal, raicilla, and pulque. Along the way, you'll get to bite into all kinds of mouth-watering tacos – carne asada, al pastor, and fried fish.
One of the best parts about this tour is that you get to visit one of my favorite bars in Puerto Vallarta for their jalapeño margarita.
Click here to learn all about this fantastic food tour.
Taco Adventure Evening Tour
I have a soft spot for this tour, as it's the first one I took back in 2017 when we first got to Puerto Vallarta. We were such newbs and didn't know much about the street food scene, and this tour helped us discover some of the best spots in town.
On this evening taco tour, you'll get to try some of Puerto Vallarta's hidden taco gems. Trust me when I say you'll never be the same again after sampling marlin tacos (marlin – the bacon of the sea!). I love that place so much that it's always the first and last spot I go to when we're in town.
In addition, you'll get to dig into some juicy tacos de cabeza. Yes, that means "face tacos," but don't get grossed out – it's actually very tender cow cheek, and it's amazing.
Last but not least, this tour hits one of the best places for taco al pastor in all of PV. You're guaranteed to leave this one full and happy. Check here for more details.
Craft Brew and Bites Tour
Finally, this tour is for you beer lovers out there. Be sure to come thirsty, as you'll be visiting four breweries and trying upwards of 15 different local craft brews!
To soak up all those suds, you also get to sample five different dishes. Your guide will school you on good food pairings for the different beers, and you'll learn a lot about the different flavors involved.
In preparation for this one, be sure to read our post about the best breweries in PV. Then go ahead and click here for more info on this awesome food and beer tour.
—
Whichever tour (or tours) you choose, get ready to enjoy some of the best food in town. These tours are all tons of fun, and they all come personally recommended.
If you have any questions or comments, feel free to reach out. Buen provecho!