This post may contain affiliate links. By clicking and making a purchase through the links, I earn a small commission at no extra cost to you. See my disclaimer for more information. This allows me to keep the site up to date and expand on resources.
Looking for the best tacos in Puerto Vallarta, Mexico? From corner taco stands to family restaurants, we've eaten our way through the city to find you the best Puerto Vallarta tacos.
There's no doubt that the almighty taco is the most famous Mexican dish.
A taco can be so many things, but I'll tell you what it's not – ground beef with lettuce, cheese, and sour cream in a flour tortilla. Head to a certain American fast food joint if that's what you're after.
If you're looking for some real-deal authentic Mexican tacos, however, you've come to the right place!
Read on for a detailed guide on where to find the best tacos in Puerto Vallarta. Whether you're a carnivore, pescatarian, or vegetarian, a taco is waiting for you!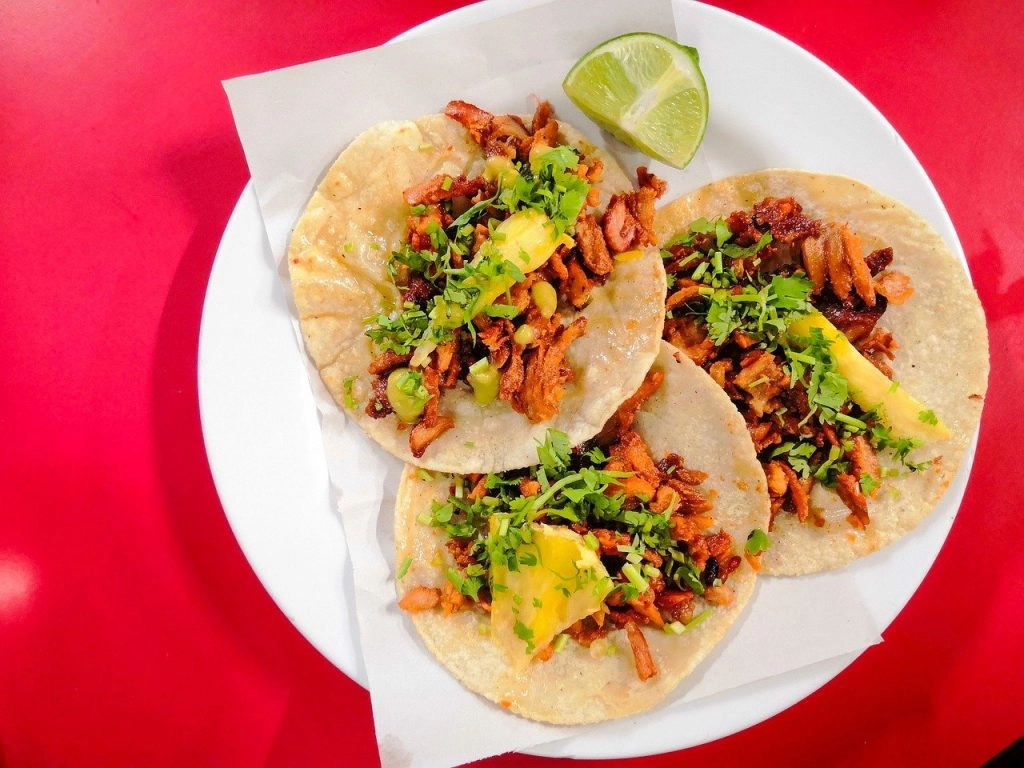 BEST PUERTO VALLARTA TACO TOUR
Short on time? Check out this Vallarta Eats street food tour that will take you to the best taco stands in the city so you can return to your newly discovered favorite spots during the rest of your visit!
Just about every corner in Puerto Vallarta has a taco stand, and that's one of the best things about traveling here.
There are only so many permits available for these, so they tend to get passed down from generation to generation. As such, many of the taco stands have quite a long history.
Ask any Pata Salada ("Salty Feet" – the name for someone from PV), and they'll give you their favorites. Of course, everyone loves their neighborhood taco spot. For me, that's primarily been the 5 de Diciembre area, so that's where we'll start.
The Best Tacos in 5 de Diciembre
I'll admit that I'm a bit biased here, as my favorite taco joint in town was right down the hill from our place for three years in a row.
That being said, it's also a stop on the excellent Vallarta Food Tours "The Street", and for a good reason.
Mariscos La Tia
Mariscos La Tía has been cooking mouth-watering seafood for decades and is where the locals eat in Puerto Vallarta. They've got some amazing shrimp tacos here, but the star of the show is definitely the marlin tacos. Marlin – the bacon of the sea!
The marlin is grilled in what looks like a mix of butter and soy sauce and then served on hot flour tortillas with lettuce and chipotle sauce. I seriously dream about these when we're not in Puerto Vallarta.
Pepe's Tacos
Pepe's Tacos is another PV institution with a loyal following. This place is famous for having the best al pastor tacos in Puerto Vallarta – marinated pork meat cooked on a rotating spit with a slice of fresh pineapple.
It's undoubtedly one of the most popular types of tacos in Mexico, and Pepe's makes one of the best in town.
While not technically a taco, their Vallarta quesadilla with shrimp and bacon is to die for. Best of all, they stay open super late if you need some food to soak up all the tequila after a long night out!
El Caboncito
Just down the street, El Carboncito also makes excellent al pastor tacos in the evenings. They've also got carne asada (grilled beef), arrachera (steak), chorizo (sausage), and chuleta (pork chop) tacos.
It's a simple Puerto Vallarta taqueria with plastic stools, but they also have a few tables inside for all you classy people.. Be sure to load up on their delicious salsas but be warned – some of them will light you on fire.
Speaking of unassuming taco stands, there are a few directly behind the Ley supermarket on this corner where you'll find some of the best street food in Puerto Vallarta. One has mouth-watering birria (stewed goat meat), while another has tacos de cabeza.
Don't be freaked out by the name that translates as "face tacos," because these beef cheek tacos are melt-in-your-mouth fantastic! Seriously, try them. It will change your life.
The star of this trio, though, is the fish and shrimp taco stand. You get three huge tacos on fresh handmade tortillas with an agua fresca for just 80 pesos ($4)! These are definitely some of the best street tacos in Puerto Vallarta.
On the other side of the supermarket, there are a few other 5 de diciembre taco all-stars worth mentioning. Birreria Liz is my go-to hangover cure. For those not in the know, birria is a delicious stewed goat and can also be lamb or beef.
Their tacos dorados (fried tacos) are one of my favorite things on the menu, but you can get soft tacos if that's more your vibe. Either way, you'll get a cup of their fantastic consomé to dip said tacos.
El Hidalguense
Just a few doors down is El Hidalguense, which specializes in barbacoa, which is also typically goat. The main difference between the two is that barbacoa is usually cooked in a pit covered with agave leaves, whereas birria is cooked in a pot.
Actually, all birria was once barbacoa. It just gets the extra step of being thrown in the pot with some sauceonal recommendation is that you try them both at these two 5D favorites. You know, for research.
Mama Caguama's
If your taco cravings are for gringo style, look no further than Mama Caguama's. That's literally what they call them on their menu. These hard-shell tortillas with ground beef, lettuce, tomato, and sour cream go nicely with an ice-cold caguama (32 oz. beer).
Their fish tacos are on point here as well. Oh yeah, and they have one of the most unique taco options in town with Korean bulgogi.
Restaurante Vegetariano Mary
For all the vegetarians out there, don't worry – there are delicious tacos in PV for you as well! A popular spot to check out in 5 de diciembre is Restaurante Vegetariano Mary. It's well-known as a vegetarian buffet, but they also have some pretty awesome tacos.
After 6 p.m., they offer their taco menu, which includes soy al pastor and mushrooms with spinach. But, of course, you can always make your own tacos with the offerings from the breakfast or lunch buffet.
Over in El Centro, there aren't that many taco spots to write home about. Much of the area is dominated by the oceanfront Malecon and all the shops, restaurants, and bars that line it. And I'm not going to send you to Señor Frogs to eat tacos in Puerto Vallarta.
Instead, your best bet is hopping off the Malecon and walking a block or two inland. That's where you'll find the best places like Taquitos Acapulcos – a no-frills taco joint that will fill you up without emptying your wallet.
Best Tacos Zona Romantica
It's time to cross the bridge and head to Old Town. As the center of nightlife in Puerto Vallarta, it should be no surprise that some of the best tacos are here.
Panchos Tacos Puerto Vallarta
Let's start with the reigning champion of al pastor – Pancho's Takos. This is one of the most famous taco joints in town, as there is almost always a line around the corner.
Is it worth the wait? I'll keep my opinions to myself. They make fantasticazing tacos here, that's for sure. My recommendation would be to try and get there right after they open when the line usually hasn't formed yet.
Tuna Azul
If you'd prefer seafood tacos and no wait, head around the corner to Tuna Azul. I finally tried their lobster tacos recently, and my only regret was not giving them a chance much sooner!
You get three tacos and a beer for 150 pesos, which is a pretty sweet deal. They also have plenty of other options, including their fantastic garlic shrimp.
Sonorita
Another solid alternative is Sonorita, which cooks up some excellent al pastor without crowds of tourists lined up out front. Grab some tacos here, then hit up the nearby Bar La Playa, which is one of the best local watering holes in Puerton Vallarta.
Memo's Grill
Speaking of shrimp, one of our go-to spots downtown is Memo's Grill for their unbelievable shrimp quesadilla. They're also well-known for their volcanes, which get their name from the melting cheese that resembles an erupting volcano.
Mariscos el Guero
If what you seek is a classic fish taco, there are a few notable spots. Mariscos el Guero always hits the spot and never breaks the bank. Mariscos Cisneros is another hidden gem with the best fish tacos in Puerto Vallarta at a budget price.
La Hormiga
One of the most legendary Puerto Vallarta taco stands is the string of taco carts in front of the Farmacia Guadalajara. Here you'll find La Hormiga, which took the bold move of labeling themselves "Best Taco Stand" on Google Maps.
In my experience, this local favorite named "The Ant" never disappoints. When I need a quick bite to eat downtown after a few too many Pacificos, I basically gravitate here like a zombie looking for brains.
Tacos Flako
Sometimes the party is too good to wander all the way down to the pharmacy corner. That's when you call on late-night standbys like Tacos Flako. These guys are churning out all the classics for all the hard-partying adults at nearby El Soñador, Roxy's, and Mr. Flamingo.
Marisma fish tacos
In Emiliano Zapata (the neighborhood Lora lives in), you'll find some of the best Puerto Vallarta street food if you're looking for fresh seafood tacos.
In between Calle Basilio Badillo and Venustiano Carranza, you'll see a bright orange taco stand that always has a few customers. This is Marisma fish tacos. I love the baja-style fish tacos and fresh ceviche, which is always served quickly. A great place to go for lunch if you're in a rush!
Te Quiero Verde Restaurante Vegano
If you're looking for vegan tacos in Puerto Vallarta, look no further than Te Quiero Verde. They have great food at really reasonable prices for the area.
Mezcal & Sal
One of the best restaurants in Puerto Vallarta's Romantic Zone is Mezcal & Sal. This colorful restaurant offers specialty cocktails and equally amazing Mexican cuisine food. This is the perfect place to go if you're looking for an elevated taco experience.
Taco tours Puerto Vallarta
If you're on a short trip, why not join one of these Puerto Vallarta food tours? This is a great way to get introduced to the best taco stands in Puerto Vallarta by a local tour guide, so you can have a truly authentic taco experience and make a list of places to return to!
This taco tour takes you around taco stands in Zona Romantica, where you'll get to try birria tacos, carnitas, and tacos dorado, as well as fresh-baked bread and hot off-the-grill corn tortillas. Save room for dessert, as you'll end this tour with Michoacán-style sorbet or ice cream!
For something a bit more active, check out this bike and bites taco tour. You'll pedal through the neighborhood of 5 de Diciembre, downtown, and Old Town with a small group by bike, stopping to try a stuffed seafood jalapeno taco and steak taco along the way.
At the end of the tour, you'll head to El Solar for a delicious cocktail – one of the best beach clubs in Puerto Vallarta!
Best tacos in Puerto Vallarta: FAQ
What food is popular in Puerto Vallarta?
In Puerto Vallarta, seafood dishes like ceviche, shrimp tacos, and grilled fish are popular due to the city's coastal location and abundance of fresh seafood.
What neighborhood in puerto vallarta has the best food?
The Romantic Zone in Puerto Vallarta is known for its vibrant food scene, offering a wide variety of i restaurants and street food stalls with tacos. In recent years, Versalles has become another popular neighborhood for food with many international restaurants.
Which part of Mexico has the best tacos?
While opinions may vary, many consider Mexico City to have some of the best tacos in the country, with a wide range of regional and innovative taco varieties available throughout the city.
What is the taco capital of Mexico?
Mexico City is often referred to as the taco capital of Mexico due to its diverse taco offerings, including traditional tacos as well as creative and fusion interpretations of this beloved street food.
What is the most popular taco in Mexico?
The most popular taco in Mexico is the al pastor taco, which features marinated pork cooked on a vertical spit.
—
My apologies if your keyboard now has a puddle of drool on it. There really are that many places to get excited about!
We've only just scratched the surface with this post. I've been living in PV on and off for five years now, and I still discover new taco joints all the time. It really is the gift that keeps on giving.
Planning a trip to Puerto Vallarta? Don't miss these posts!