This post may contain affiliate links. By clicking and making a purchase through the links, I earn a small commission at no extra cost to you. See my disclaimer for more information. This allows me to keep the site up to date and expand on resources.
Wondering how to visit Canopy River in Puerto Vallarta Mexico? I live 20 minutes away from Canopy River and often go to enjoy the beautiful views and amenities. In this guide, I'll cover everything you need to know about visiting Canopy River with or without a tour.
Nestled in the heart of the Sierra Madre Mountains, Canopy River is one of the best places to soak in Puerto Vallarta's breathtaking natural landscapes, drive on the world's longest vehicular suspension bridge, and enjoy adrenaline-pumping land-based activities.
Canopy river tours Puerto Vallarta
If you're visiting Puerto Vallarta without a car, the easiest way to get there is on one of these Canopy River tours.
🕕 5 hours | ⭐️ 5/5 | Check availability here
This highly-rated tour takes you Canopy River where you'll start the day with a thrilling ziplining tour over the rainforest.
Afterward, the group will hop on cute mules to take you a refreshing Tequila tasting where you'll get to learn about Jalisco's most famous drink for the rest of the tour.
Getting to Canopy River on your own
Canopy River is located about 20 minutes from Zona Romantica. The road is not paved, but motorbikes and cars do go there. However, not all Uber drivers/taxis will go because of the bumpy road conditions.
I tried to get an Uber there and ran into a situation where the driver decided he didn't want to go half-way and dropped me and my friend off in the middle of the road! Thankfully, there was a nice Mexican family in a truck who took us the rest of the way.
On the way back, we took one of the Canopy River trucks.
If you are driving here on your own, I would recommend having an AWD vehicle.
Activities at Canopy River
There's no "entrance fee" to Canopy River if you show up on your own, but you will need to pay for each individual activity. We paid to walk across the bridge, which was 280 pesos.
Jorullo Bridge
Canopy River's most impressive attraction is the Jorullo Bridge, the longest vehicular suspension bridge in the world.
Spanning an impressive 470 meters in length and 150 meters in height, this impressive bridge spans a picturesque canyon and offers stunning panoramic views of the surrounding mountains and river below.
You can ride RZRs or ATVs across the bridge or walk across the bridge on foot.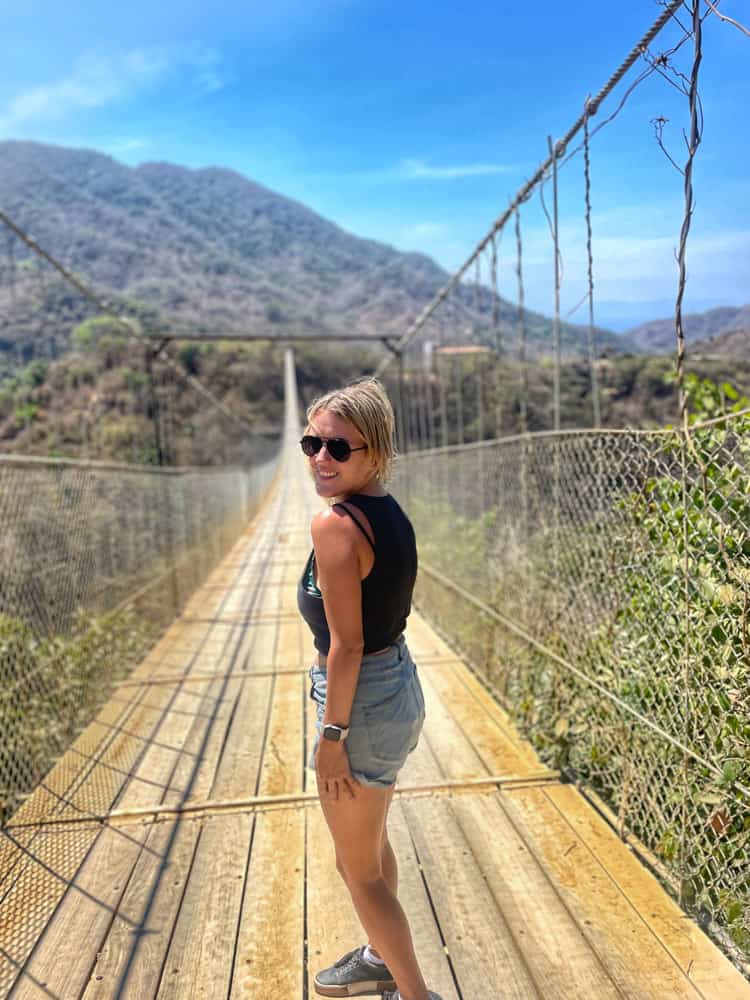 We decided to cross the bridge on foot, which only takes about five minutes. It's surprisingly sturdy, and the views are magnificent to soak in at the slow pace of walking.
On the other side of the bridge is a small bar where you can grab a cold cerveza or water. The views of the bridge are most impressive from this vantage point, so don't skip it!
Canopy River Zipline Puerto Vallarta
Canopy River offers some of the best ziplines in Puerto Vallarta.
On this 11-ziplines circuit, you'll soar through the treetops, gliding from one platform to another while getting an adrenaline rush and bird's eye view of the stunning vistas below.
They offer a special zipline tour for cruise ship passengers which includes pickup. For safety reasons, pregnant women and individuals with asthma, heart problems, and back problems cannot do this activity however. The maximum weight is 110 kg or 242 lbs.
Canopy River ATV or RZR Tours
Hop on an all terrain vehicle (ATV) or RZR and embark on an exciting off-road adventure. Traverse rugged terrain, cross rivers, and explore hidden trails that lead to stunning lookout points.
ATV tours at Canopy River also include a swim at a natural waterfall in Puerto Vallarta, perfect for cooling off from the heat.
Horseback Riding
Another way to immerse yourself in the charm of the Mexican countryside is on a leisurely horseback ride. Guided tours allow you to meander through lush jungles, cross rivers, and discover hidden gems.
River Tubing
If you're visiting Puerto Vallarta during the summer/rainy season, one of the most unforgettable experiences at Canopy River is to embark on a river tubing experience along the Cuale River on inflatable rafts.
The river water is so refreshing during the warmer months, and tubing down the river rapids is the perfect way to experience the majestic scenery. It's one of my favorite activities to do anywhere!
Hiking
Lace up your hiking boots and explore the network of natural paths that wind through the mountains surrounding Canopy River. Immerse yourself in the beauty of nature, discover hidden waterfalls, and witness breathtaking vistas along the way.
Relax by the pool
After the outdoor adventures, take some time to unwind and cool off by lounging by the pool at Canopy River. This gorgeous new infinity pool overlooks the stunning Sierra Madre mountains and is the perfect place to cool off from the heat!
Note that if you aren't on a tour you'll have to pay to use the pool.
Dine at the restaurant
There is a large restaurant at Canopy River which serves a variety of traditional Mexican dishes, as well as international cuisine, prepared with fresh and local ingredients.
The food here is pretty decent and there's even WiFi at the restaurant. I've coworked here! The staff are friendly and don't seem to mind as long as you buy some food.
They do take credit cards, however it's always a good idea to bring extra money (cash) as machines often go down in rural areas in Mexico, and for tips.
Canopy River Tequila Tasting
Delve into the rich flavors and cultural heritage of Mexico with a tequila-tasting session. Learn about the traditional process of tequila production, sample different varieties, and gain insights into the country's beloved spirit.
Of course, the best way to experience Canopy River is doing a combination of these activities together on a combo tour.
Useful Tips for Visiting Canopy River in Puerto Vallarta
Wear comfortable and light clothing suitable for outdoor activities. Don't forget to bring closed-toe comfortable shoes and apply sunscreen.
Carry a refillable water bottle to stay hydrated throughout your adventure.
Bring insect repellent to ward off pesky bugs you may encounter in the jungle.
Bring a camera or smartphone to capture the breathtaking views and memorable moments. I flew my drone over the bridge and didn't run into any issues.
Engage with the knowledgeable guides who accompany you on the tours. They can provide valuable information about the local flora, fauna, and history of the area.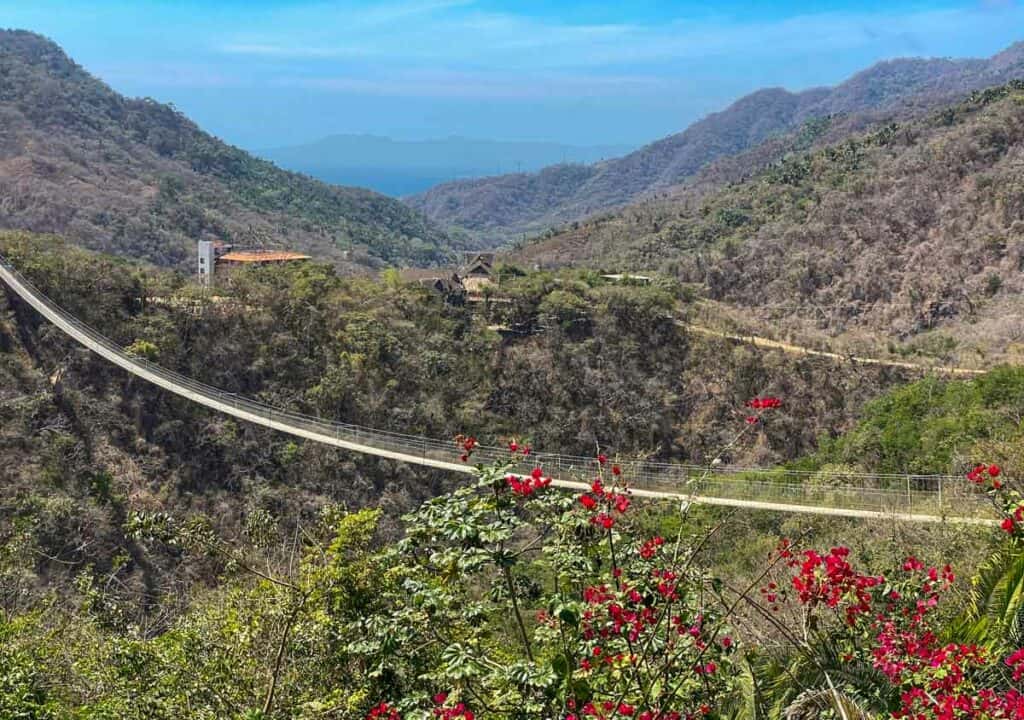 Final thoughts: Puerto Vallarta Canopy River
I can't believe it took me until my third year living in Puerto Vallarta to finally visit Canopy River. It is one of the best places to enjoy the thrilling outdoor adventures that PV has to offer, as well as the mountains.
From soaring through the treetops on exhilarating ziplines to exploring rugged terrain on ATV or RZR tours, this destination offers a wide range of activities that cater to everyone's adventure level.
Plus, the gorgeous pool and on-site restaurant offer opportunities to relax afterwards, making this is a perfect day adventure.
Planning a trip to Puerto Vallarta? Don't miss these posts!