This post may contain affiliate links. By clicking and making a purchase through the links, I earn a small commission at no extra cost to you. This allows me to keep the site up to date and expand on resources. Thanks for reading!
While Puerto Vallarta is most well-known for its stunning beaches and world-class resorts, it's also home to some fabulous waterfalls! If hiking through the jungle to pristine waterfalls sounds like your kinda fun, you'll want to check out these waterfalls in Puerto Vallarta.
Best Time to See Waterfalls in Puerto Vallarta
The best time to see these Puerto Vallarta waterfalls is at the start of the dry season in October when the falls will have a steady flow of water from the rainy season and the jungle will be lush and green.
As the months go on into the dry season, the volume of the water won't be as impressive.
That said, I visited most of these waterfalls in May and still found them wonderful! If you visit during the rainy season between June and September, the waterfalls will be more impressive, but it also means you might be hiking in the rain.
Read more: When is the best time to visit Puerto Vallarta?
Puerto Vallarta Waterfalls
Palo Maria Waterfall
Palo Maria is the closest waterfall hike in Puerto Vallarta. It's home to 12 waterfalls, but they get increasingly difficult to reach after the main one and require some rock climbing. Though well worth it, as the waterfalls are hidden in the luscious jungle of the Sierra Madre mountains.
Many people get a guide for the Palo Maria waterfalls hike, but you can also get here on your own by taking the orange bus from Basilio Badillo in Zona Romantica and getting off at Puente Palo Maria by the bridge.
It's just 1.5 miles (30 minutes) to the first waterfall, where most people go. If you're an experienced hiker or feel like an adventure, you can climb up to several more above!
Waterfalls Near Puerto Vallarta
Yelapa Waterfalls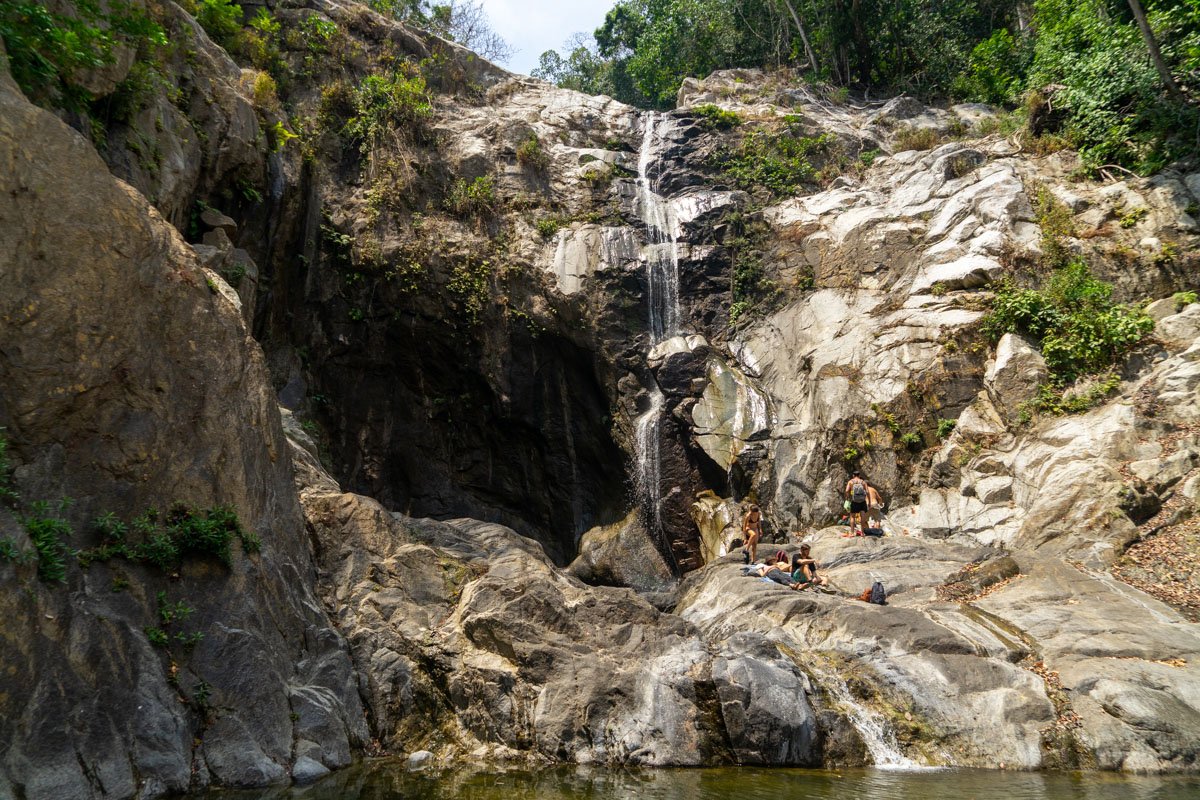 Yelapa is one of the best beach towns in Mexico. While you can visit as a day trip, I recommend making it a weekend getaway and staying at one of the fabulous eco-hotels.
Yelapa is only accessible by boat or a LONG hike, so you'll need to take a water taxi from Playa de Los Muertos or Boca de Tomatlan.
There are three different waterfalls you can visit in Yelapa. One is just a 10-minute walk from the beach, although it's not that impressive. Then there's another one further inland that takes about an hour to hike, which is what most people do.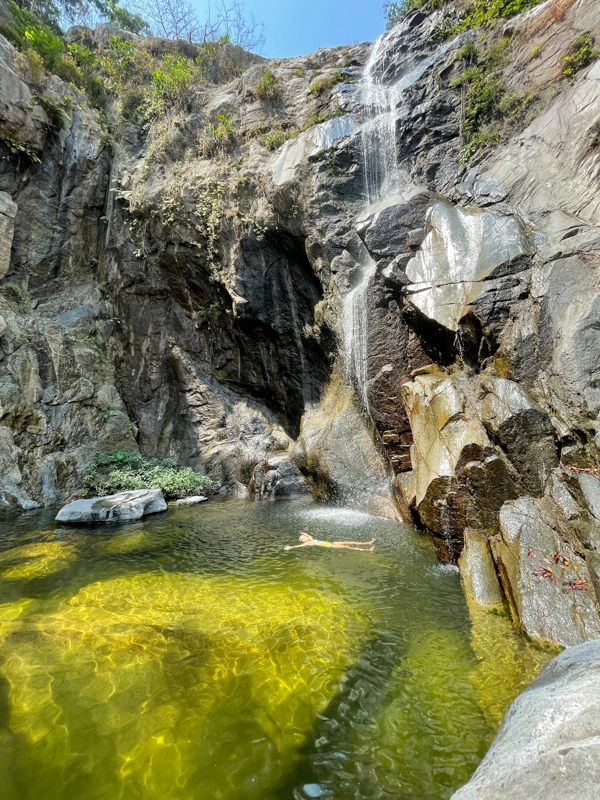 But if you really want an adventure, there's actually a third waterfall DEEP in the jungle. Like I'm talking 12-hour all-day hike.
This was one of my favorite adventures in Puerto Vallarta. It took us about four hours to get there, and then we spent several hanging out in the waterfall and natural pools above with no one else around but the macaws. It's incredible.
However, getting here involves nine river crossings, and the trail is not marked at all, so I definitely recommend going with a guide who knows the way (and pack lots of food and water). We went with one of the staff from Los Naranjos.
If you want to visit as a day trip, you can join this tour which takes you to Majahuitas for snorkeling and then over to Yelapa, where you'll get the chance to see the smaller waterfall and relax on the beach!
Quimixto Waterfall Puerto Vallarta
Quimixto is one of my favorite day trips from Puerto Vallarta.
Like Yelapa, there are no roads here, so you'll need to go via boat from Boca De Tomaltan. Once you arrive in Quimixto, follow the La Puerta river inland for about a mile – you should see signs pointing towards the waterfall trail. I have more detailed directions in my Quimixto day trip guide.
If you can't find it, ask any of the locals at one of the restaurants. They are friendly!
It's about half an hour hike to get to Quimixto Waterfall. The pool under the falls is large, so it's the perfect place to cool off from the heat and spend the day with friends.
There's also a restaurant right in front of the waterfall, offering good food and an incredible view.
After the hike, spend some time chilling in Quimixto. The beaches here are beautiful, and there are several restaurants as well as beach clubs.
Colomitos Waterfall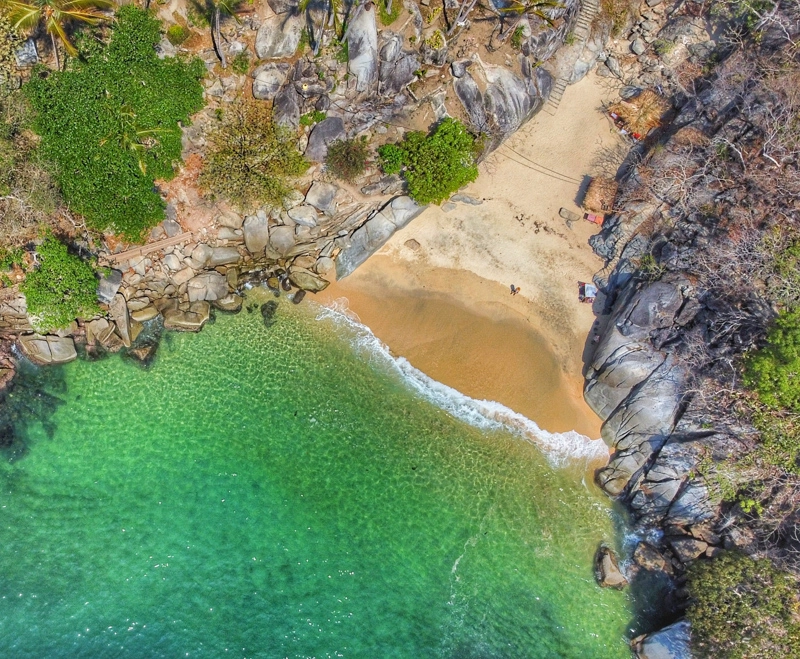 Playa Colomitos is my favorite beach in Puerto Vallarta. It's got emerald green water, golden sand and is secluded by palm trees and exotic flora and fauna.
As if that can't get any more dreamy, there's also a waterfall you can see there. However by the spring it's mostly dried up, so this is best done right after the rainy season.
The best way to get to Colomitos is by hiking, it's an hour from Boca de Tomaltan (follow the signs for Las Animas). You could also get a boat to drop you off at the beach.
This waterfall hike is uphill from the beach, off the trail from Boca de Tomatlan to Las Animas.
We didn't bother to go as it was dried up, but I've been told you can hire a guide from the local vendors on the beach if you can't find the trail. Either way, Colomitos is worth visiting on its own!
There you have it, the best waterfall hikes in Puerto Vallarta!
Planning a trip to Puerto Vallarta? Don't miss these posts!