This post may contain affiliate links. By clicking and making a purchase through the links, I earn a small commission at no extra cost to you. See my disclaimer for more information. This allows me to keep the site up to date and expand on resources.
Looking for the best waterfalls in Puerto Vallarta? You're in the right place! I live in Puerto Vallarta and love chasing waterfalls, so I've found all the best ones around the city to visit.
Does Puerto Vallarta have waterfalls? YES! It isn't just about golden beaches and stunning sunsets. Tucked away from its beachside are verdant jungles home to breathtaking waterfalls.
Chasing waterfalls in Puerto Vallarta is one of the best things to do here.
If hiking through the jungle to pristine waterfalls sounds like your kind of fun, keep reading to discover the best Puerto Vallarta waterfall hikes.
Puerto Vallarta Waterfalls
1. Palo Maria Waterfall Puerto Vallarta
🕛 Time to hike: 40 minutes | 🥾 Difficulty: Moderate | 💦 Swimmable: Yes | ✔️ Book tour here
Palo Maria Waterfall is one of the best waterfall hikes in Puerto Vallarta. It's home to 12 waterfalls, but they get increasingly difficult to reach after the main one and require some rock climbing.
Though well worth it, as the waterfalls are hidden in the luscious jungle of the Sierra Madre mountains.
The entrance to the trail is across the street from Hacienda Palo Maria, on the left side of the highway if you're coming from the city.
You get here on your own by taking the orange bus from Basilio Badillo in Zona Romantica or getting an Uber for about 200 pesos (10 USD).
Many people get a guide for the Palo Maria waterfalls hike, but you can also get here on your own by taking the orange bus from Basilio Badillo in Zona Romantica and getting off at Puente Palo Maria by the bridge.
The hike to the first waterfall at Palo Maria is relatively straightforward. It's a 2.7km out-and-back trail that follows along the river and takes less than an hour.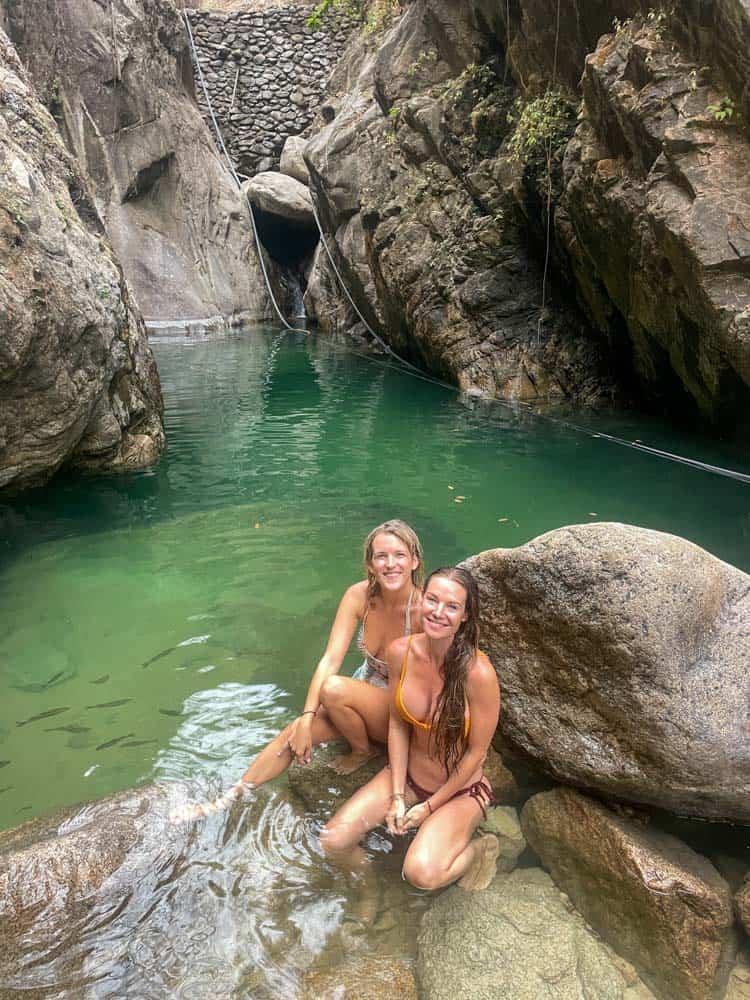 I visited the waterfall for the first time in April when it was mainly dried up, and then again in late June after the rain had started, which was a completely different experience. There was actually a waterfall to swim under! However, the swimming hole is a great place to beat the heat any time of year.
If you're an experienced hiker or feel like an adventure, you can climb up to several more above.
I love this tour to Palo Maria, which includes transportation, a local guide, bottled water, and snacks!
2. El Eden Waterfall
🕛 Time to hike: 40 minutes | 🥾 Difficulty: Moderate | 💦 Swimmable: Yes | ✔️ Book tour here
El Eden is an ecotourism park in the jungle where you can find waterfalls, natural pools, and endless adventures. It was used as a film set for Predator and is one of the top tours around Puerto Vallarta.
They offer canopy tours, zip lines, and natural waterfalls and pools to relax in afterward, as well as a riverfront restaurant.
There is a hiking trail that takes you from Mismaloya to El Eden de Mismaloya Park, as well as day tours that will take you straight to the park for a full day of adventure.
This fully customizable half-day tour takes you to El Eden, and you get to choose your own adventure. Swim in rivers, waterfalls, and enjoy the landscape exploring by ATV.
3. El Salto Waterfall Puerto Vallarta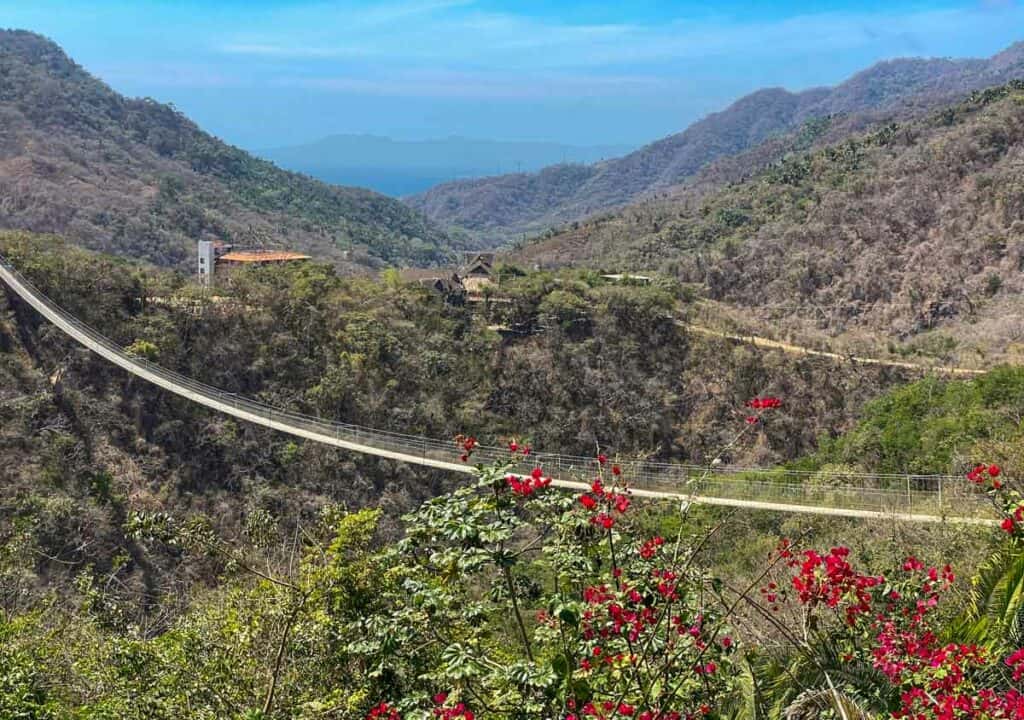 🕛 Time to hike: 40 minutes | 🥾 Difficulty: Moderate | 💦 Swimmable: Yes | ✔️ Book tour here
El Salto waterfall is a unique phenomenon. It completely disappears during the dry season and comes to life again once the rain starts.
Don't miss the chance to see it if you're here at the right time, as I've been told it's one of the most beautiful waterfalls in the region (I've yet to see it myself).
It's also one of the closest waterfalls to the city center, but the trail is a bit complicated, so you should be an experienced hiker or with someone who knows the way. It's in Canopy River Park.
This highly-rated tour takes you to El Salto waterfall and also includes an ATV ride on Jorullo Bridge, the longest suspension bridge in Latin America!
4. Yelapa Waterfalls Puerto Vallarta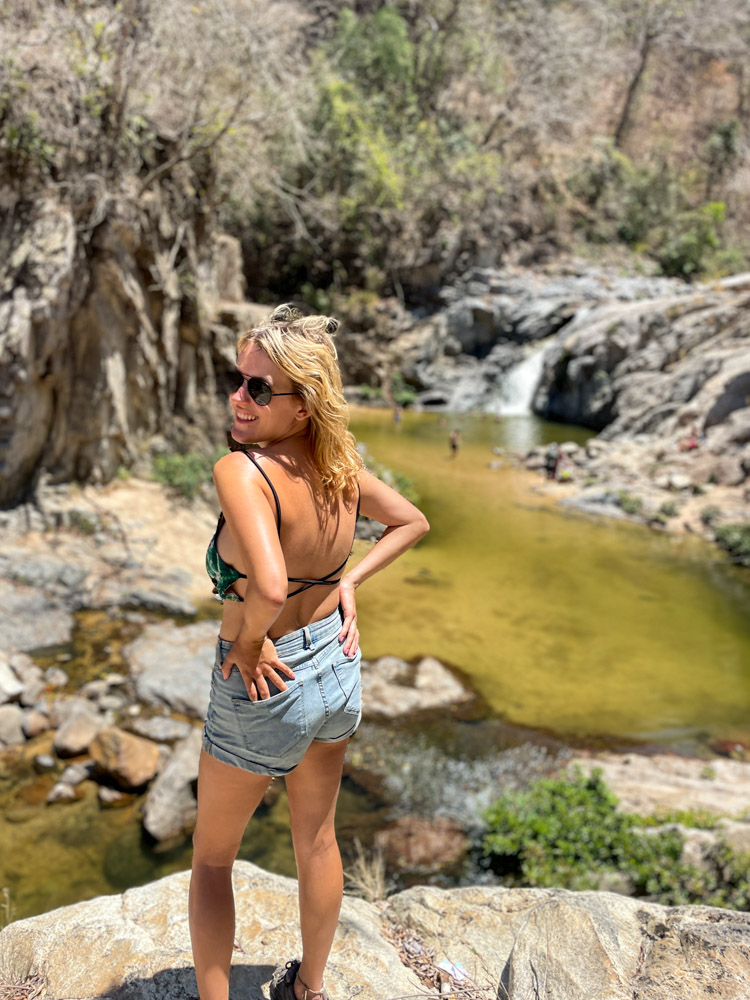 🕛 Time to hike: 15 minutes | 🥾 Difficulty: Easy | 💦 Swimmable: Yes | ✔️ Book tour here
Yelapa is the best place to chase waterfalls near Puerto Vallarta.
While you can visit as a day trip, I recommend making it a weekend getaway and staying at one of the fabulous eco-hotels. It's one of Mexico's best beach towns!
Yelapa is only accessible by boat or a LONG hike, so you'll need to take a water taxi from Playa de Los Muertos or Boca de Tomatlan. This guide has more information on visiting Yelapa from PV.
There are three different waterfalls you can visit in Yelapa.
One is just a 10-minute walk from the beach through town, which has colorful and photographic streets to explore along the way.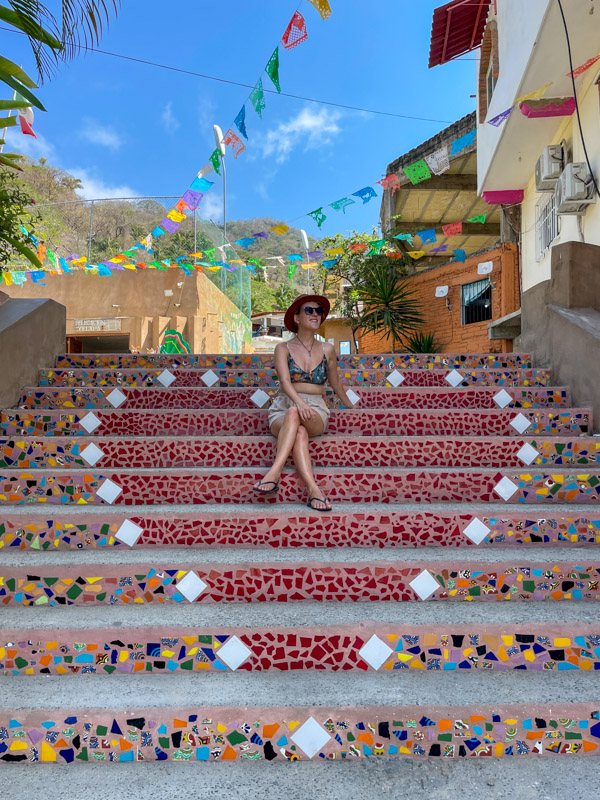 There isn't much to the waterfall during the dry season, so this is one you'll want to visit during rainy season.
There's another waterfall further inland that takes about an hour to hike to, which is what most people visit.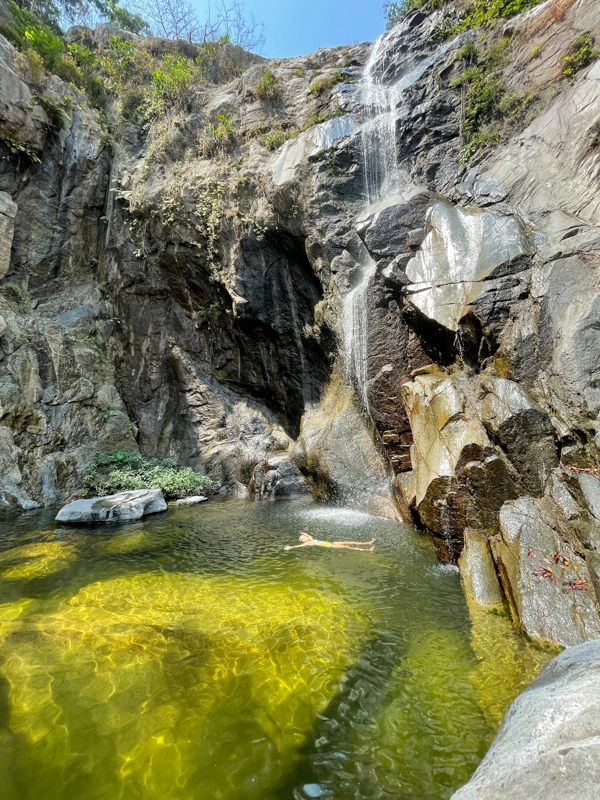 But if you really want an adventure, there's a third waterfall DEEP in the jungle. Like, I'm talking 12-hour all-day hike.
This was one of my favorite adventures in Puerto Vallarta. It took us about four hours to get there, and then we spent several hours hanging out in the waterfall and natural pools above with no one else around but the macaws. It was incredible.
However, getting here involves nine river crossings, and the trail is not marked at all, so I definitely recommend going with a guide who knows the way (and pack lots of food and water). We went with one of the staff from Los Naranjos.
I love this tour which takes you on a mega yacht to Yelapa to visit the waterfalls!
5. Quimixto Waterfall Puerto Vallarta
🕛 Time to hike: 30 minutes | 🥾 Difficulty: Easy | 💦 Swimmable: Yes | ✔️ Book tour here
Quimixto is one of my favorite day trips from Puerto Vallarta. Like Yelapa, there are no roads here, so you'll need to go via boat from Boca De Tomaltan.
Once you arrive in Quimixto, follow the La Puerta River inland for about a mile – you should see signs pointing towards the waterfall trail. I have more detailed directions in my Quimixto day trip guide.
If you can't find it, ask any locals at one of the restaurants. They are friendly!
It's about half an hour's hike to get to Quimixto Waterfall. The pool under the falls is large, so it's the perfect place to cool off from the heat and spend the day with friends.
There's also a restaurant right before the waterfall, offering good food and an incredible view.
After the hike, spend some time chilling in Quimixto. The beaches here are beautiful, and there are several restaurants and beach clubs.
Check out this great guided tour to Quimixto, so you don't have to worry about any of the planning and can just sit back and enjoy the scenery.
6. Chico's Paradise
🕛 Time to hike: 5 minute walk | 🥾 Difficulty: Easy | 💦 Swimmable: Yes | ✔️ Get directions here
The waterfalls at Chico's Paradise were one of the first places I visited after moving to Puerto Vallarta. The name is referring to a restaurant, but next to it are some beautiful waterfalls.
Bring a swimsuit and spend the day adventuring and sunbathing on the rocks here. It's a beautiful area!
To get there, you can either rent a car and head up Highway 200 or grab the local bus from Zona Romantica.
The waterfall is nearby to the Puerto Vallarta Botanical Gardens, so a great idea is to combine the two activities into a fun day trip.
7. Colomitos Waterfall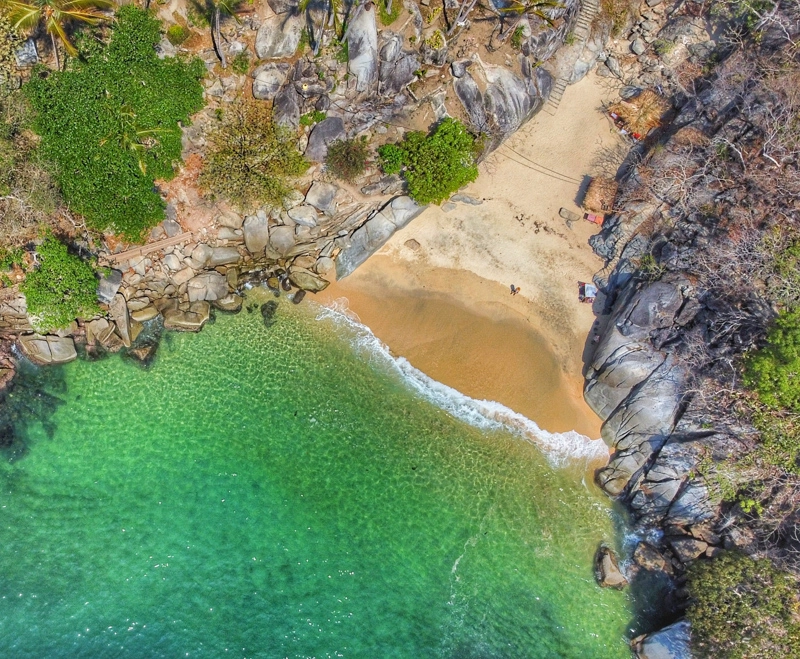 Playa Colomitos is one of my favorite beaches in Puerto Vallarta. It's got emerald green water, golden sand, and swaying palm trees.
As if that can't get any more dreamy, there's also a waterfall you can see there. However, by the spring, it's mostly dried up, so this is best done right after the rainy season.
The best way to get to Colomitos is by hiking; it's an hour from Boca de Tomaltan (follow the signs for Las Animas). You could also get a boat to drop you off at the beach.
This waterfall hike is uphill from the beach, off the trail from Boca de Tomatlan to Las Animas.
We didn't bother to go as it was dried up, but I've been told you can hire a guide from the local vendors on the beach if you can't find the trail. Either way, Colomitos is worth visiting on its own!
8. El Nogalito Waterfall
🕛 Time to hike: 1.5 hours| 🥾 Difficulty: Moderate | 💦 Swimmable: Yes | ✔️ Book tour here
Set amidst the lush tropical forest south of Puerto Vallarta is El Nogalito EcoPark.
One of the park's main attractions is a stunning waterfall that can be reached via a picturesque hiking trail. The hike to the waterfall is part of the experience, with beautiful views of the jungle and the occasional sighting of local wildlife.
The cascade tumbles into a clear pool, perfect for a refreshing dip after the hike. The surrounding rocks provide an ideal spot to sit and enjoy the soothing sounds of the falling water.
Besides the waterfall, El Nogalito EcoPark offers an array of outdoor activities for adventure lovers. From zip-lining through the jungle canopy to bird watching and nature walks.
I love this tour which includes hiking, swimming, lunch, and a drink!
Puerto Vallarta waterfall tour
Save the hassle of planning and stay safe on one of these guided Puerto Vallarta waterfall tours!
Best Time to See Waterfalls in Puerto Vallarta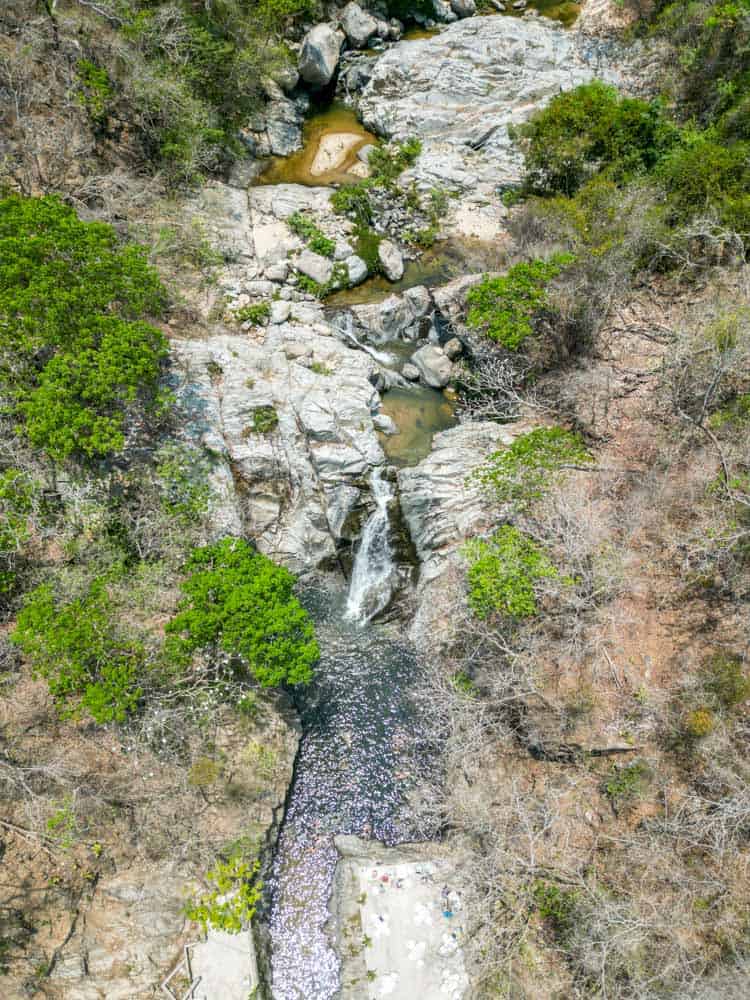 Puerto Vallarta's tropical climate means it's a year-round destination. However, when it comes to chasing waterfalls, timing matters.
The best time to visit Puerto Vallarta's waterfalls is during and immediately after the rainy season, which typically runs from June through October.
During these months, the region's rivers and streams are replenished, and the waterfalls run in full force. This is when they're at their most spectacular – gushing over cliffs and filling the air with a refreshing mist.
Visiting in the rainy season also brings other perks. The surrounding jungle is lush and vibrant, making the hike to the waterfalls even more enjoyable. I once got caught in a downpour hiking back from Palo Maria, and it was a truly magical experience!
The pools at the waterfall base are deeper, perfect for a cool, refreshing dip. And, since this is considered the low season for tourism in Puerto Vallarta, you're likely to have these natural wonders all to yourself!
As the months go on into the dry season, the volume of the water won't be as impressive. That said, I visited many of these waterfalls during the peak dry season and still found them refreshing.
Remember to stay safe during these visits. Paths can be slippery, and sudden rain can cause water levels to rise quickly. Always check the weather before you go, and consider hiring a local guide who knows the area well.
Final thoughts: Puerto Vallarta waterfalls
Visiting these waterfalls, you realize that Puerto Vallarta is more than just a beach destination – it's a gateway to a world of natural wonders and adventures.
So, on your next trip, don't just stick to the beaten path. Instead, venture into the vibrant green jungles, chase the cascading waterfalls, and discover a different side of Puerto Vallarta.
Planning a trip to Puerto Vallarta? Check out these other fun water activities!