This post may contain affiliate links. By clicking and making a purchase through the links, I earn a small commission at no extra cost to you. This allows me to keep the site up to date and expand on resources. Thanks for reading!
Living in Puerto Vallarta has been one of the happiest chapters of my life. Sun, beach, ocean, mountains, friendly people, fantastic food – you can't wipe the smiles off my face here.
If you're thinking about moving to Puerto Vallarta as a digital nomad or expat, or just curious what it's really like living in this beach paradise, this post will answer all your questions.
Why Live In Puerto Vallarta?
Puerto Vallarta may be touristy, but there's a reason so many people move here.
It's situated on Mexico's pacific coast on the Bay of Banderas, meaning it's home to some of Mexico's most beautiful beaches. Puerto Vallarta is where you can visit one of the most Insta famous beaches – Hidden Beach in Isla Marietas.
If you love the outdoors, then you'll love living in Puerto Vallarta. You can go on coastal hikes, swim in hidden waterfalls, try any water-sport imaginable (surfing and diving included), and even spot whales during the winter season!
Of course, you get all the other benefits associated with living in Mexico, like the incredible cuisine, a low cost of living, and a rich culture to experience.
For digital nomads, Puerto Vallarta hits all the boxes. It's got fast internet, tons of cafes and coworking spaces, and a growing digital nomad scene. You'll find it easy to make friends in Puerto Vallarta with regular meetups.
The nightlife in Puerto Vallarta is fantastic. I'm not going to lie; it's got a party atmosphere. However, if you want to lay low, you can do that too.
Puerto Vallarta has a big spiritual community, and there are ways to live a healthy, active lifestyle here too without getting caught up in the party scene. But, I wouldn't say Puerto Vallarta is a quiet place to live.
Puerto Vallarta makes a great base to explore other parts of Mexico. It's easy to take day trips to surf and mountain towns nearby, or you can grab a quick flight from the airport and explore an entirely new part of Mexico for a weekend like Tulum.
Since Puerto Vallarta has an international airport with regular flights to major cities in Canada and the United States, it's a good base if you need to regularly travel to and from the two countries.
And if you're an LGBTQ+ traveler, you'll be happy to know that Puerto Vallarta is one of the top gay destinations in Latin America!
Have I convinced you to live in Puerto Vallarta yet? Okay, let's get into the logistics of moving here!
Do You Need a Visa?
Short answer, no. If you work remotely, it's relatively easy to move to Puerto Vallarta as a digital nomad because many nationalities (including Canadians and Americans) are given a six-month tourist visa on arrival.
There's no limit to that either, so if you want to stay past six months you can do a visa run to a neighboring country like Belize or Guatemala and get another six months on arrival when you come back.
I also know many people who overstayed the six months and paid a fine when they left, although I don't advise doing that as they seem to be cracking down on it.
If you are interested in living in Mexico for more than six months without worrying about doing visa runs, you can apply for the Mexico Temporary Resident Visa.
The visa is initially approved for one year and can be renewed for another 1 to 3 years after that. After living in Mexico for four years, you can apply to be a permanent resident!
The Cost Of Living In Puerto Vallarta
One of the most attractive reasons to live in Puerto Vallarta is the low cost of living.
It's not as cheap as some other parts of Mexico, but still far below what your expenses would be in Canada or the U.S.
So if you're working remotely with a salary from abroad, you can live a pretty lush life in Puerto Vallarta and even save some money.
The exact cost of living will depend on your lifestyle.
I know some budget travelers who got by on less than $1000/month and others who spent 4x that.
I've written a more detailed post about the cost of living in Puerto Vallarta here that breaks it down by category but generally speaking, you can comfortably live in Puerto Vallarta for $1,200 – $2500 USD per month. 
Your biggest expense here is likely to be rent. I find the prices of apartments on Airbnb to be extremely overpriced.
If you can find a place outside of it, either through Facebook groups or by talking to locals, you'll save a lot. Here's more information on finding long term rentals in PV.
If you aren't sure where to start, book a place online for your first week and look for something here. If you plan to move here for the long-term, you can also look at buying real estate (I'm not an expert in this area – yet).
Puerto Vallarta isn't that big, so if you're staying somewhere central you'll probably be able to walk most places. There's also a pretty good bus system, which only costs 50 cents per ride. Ubers are stupid cheap (a couple of dollars for a 20-minute ride).
Food in the supermarkets is cheap, as are local taco stands (don't be afraid to try them)! You'll pay a premium to eat on the beach, but even that is relatively affordable when you consider the quality of food and the views.
Do You Need To Speak Spanish?
Short answer, no. But it will make your experience richer if you do. Since Puerto Vallarta is a touristy place, most locals speak English (which can be frustrating if you're trying to practice Spanish).
However, this doesn't mean that all of them do, and they will certainly appreciate your effort to learn the local language. If you can speak Spanish, you'll have an easier time integrating into the local community.
If you're living in Puerto Vallarta, it's the perfect opportunity to learn Spanish! I took group classes at Spanish School Vallarta, but there are also tons of private lessons available.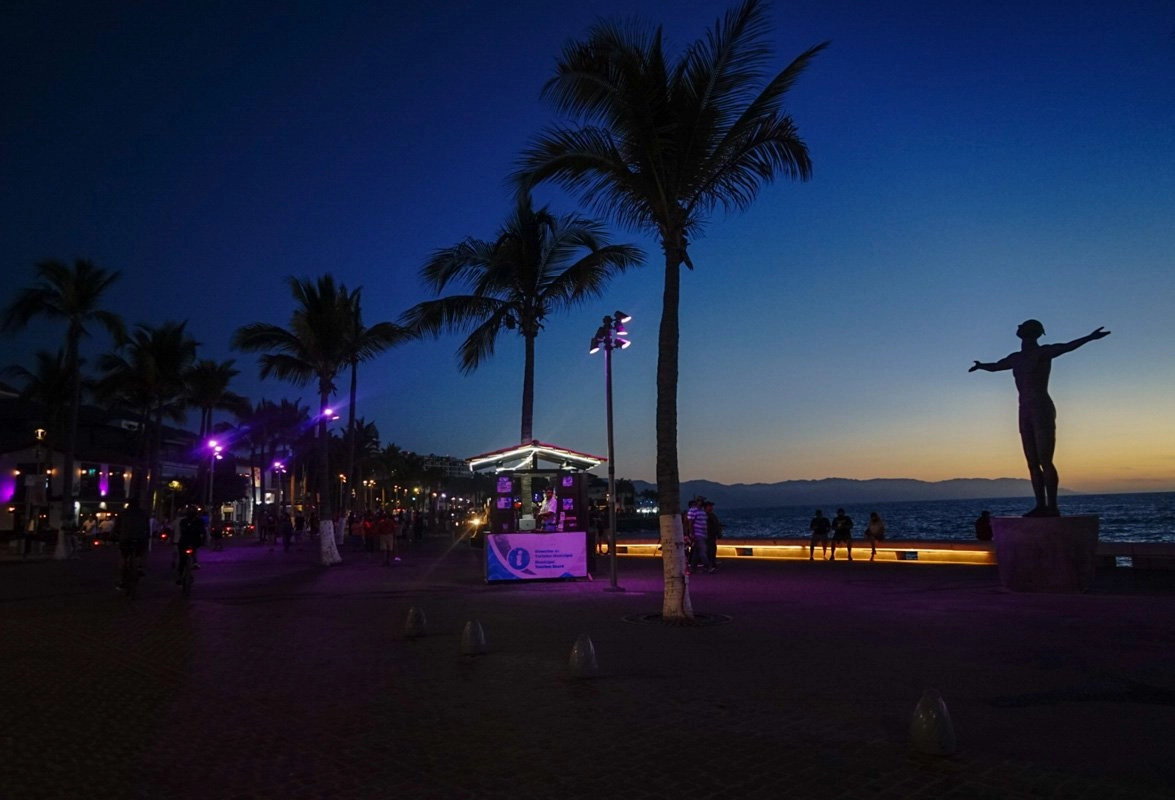 Is Puerto Vallarta Safe?
When I told my friends and family I was moving to Puerto Vallarta, many questioned if it was safe.
Unfortunately, the media has made many people feel that Mexico is a dangerous destination, and that isn't true for many places within the country.
Yes, there are areas of Mexico that can be dangerous, but Puerto Vallarta isn't one of them. Just ask the five million+ tourists that come here every year!
Of course, you should follow some basic safety precautions like you would in any foreign city. I've written a more comprehensive guide here to safety in Puerto Vallarta.
Where Should You Live In Puerto Vallarta?
Puerto Vallarta isn't a huge city, and most expats and nomads live in a handful of neighborhoods around the city center.
Zone Romantica is the gay neighborhood and unsurprisingly, one of the most fun. It's full of restaurants, bars and is close to the beach.
Right next to it is El Centro, which is the most convenient area to live in if you want to be near nightlife, shops, and restaurants.
These two neighborhoods tend to have the highest prices, so many nomads rent apartments in the hotel zone, Las Glorias, or Versailles, as rent tends to be considerably cheaper (and it's quieter). Versailles is also home to some of the best restaurants in Puerto Vallarta!
Integrating Into Puerto Vallarta
If you've decided to move to Puerto Vallarta, congrats! One of your best resources for getting started on your move, or meeting people once you're here, are Facebook groups.
This group is for digital nomads in Puerto Vallarta. It's a great place to ask questions and network with other nomads. They also host regular coworking, networking, and happy hour events.
'Young & Fun Expats of Puerto Vallarta' is a community of young people (20-40) who have moved to Puerto Vallarta. They host regular events, mostly party-oriented.
This group is for general questions about life in Puerto Vallarta. You can ask just about anything here, and someone will point you in the right direction.
—
I love living in Puerto Vallarta (there's a reason why I made an entire website about it)! Questions about moving or living here? Let me know in the comments below!
Read more: