This post may contain affiliate links. By clicking and making a purchase through the links, I earn a small commission at no extra cost to you. See my disclaimer for more information. This allows me to keep the site up to date and expand on resources.
Wondering about living in Puerto Vallarta? You're in the right place! I've been living in Puerto Vallarta on and off for the last three years and now have my temporary residency. After visiting 70+ countries, I decided to move to Puerto Vallarta permanently – yes, it really is that special!
This guide has everything you need to know about Puerto Vallarta living, including visa requirements, the best neighborhoods, finding apartments, building a community, and more.
Living in Puerto Vallarta has been one of the happiest chapters of my life. Endless sunshine, beautiful beaches, water spots, friendly people, and fantastic food – you can't wipe the smile off my face here.
If you're thinking about moving to Puerto Vallarta or just curious about what it's like living in this beach paradise, this post will answer all your questions.
Why live in Puerto Vallarta?
Puerto Vallarta may be touristy, but there's a reason so many people move here.
Puerto Vallarta offers a unique blend of modern city life and traditional Mexican charm.
With its beautiful beaches, accessible amenities, rich Mexican culture, and vibrant nightlife, it's an ideal destination for those looking to experience the best of both worlds.
Puerto Vallarta has excellent infrastructure, a low cost of living, and a welcoming atmosphere that makes it an attractive option for those looking to relocate.
The city is filled with modern amenities such as shopping centers, chain stores, restaurants, and entertainment venues that make living here easy.
Furthermore, the city is very safe and has a strong expat community, making it an ideal place for digital nomads to move to. Here are some reasons why you'll love life in Puerto Vallarta!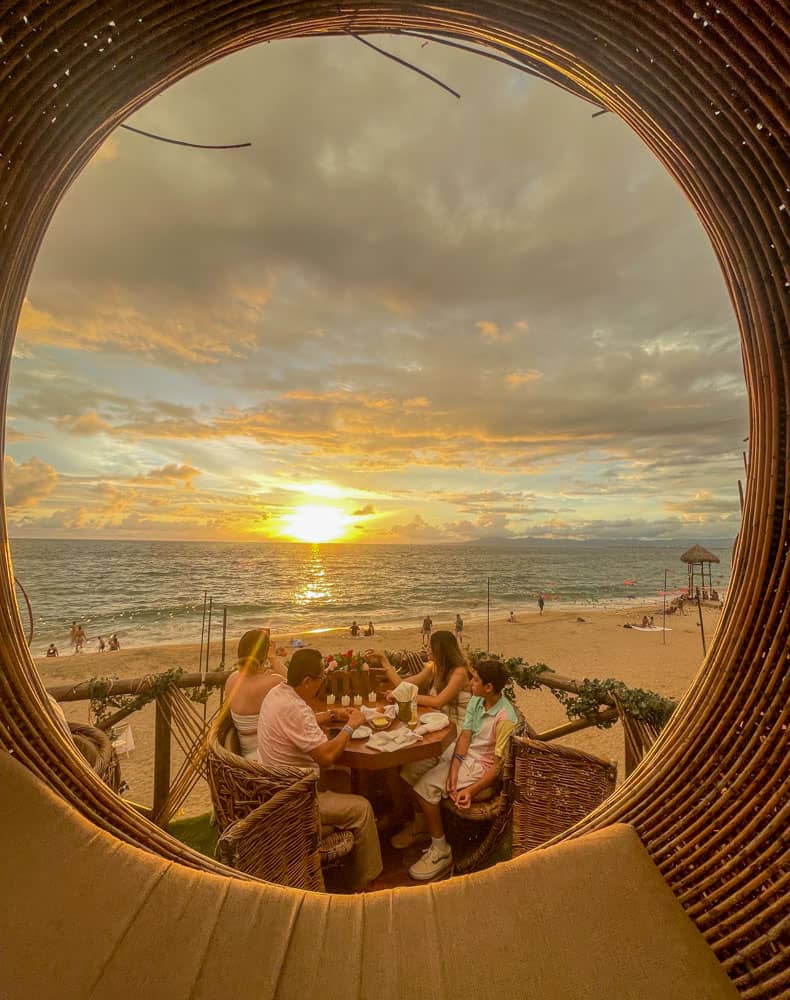 Breathtaking landscapes
Puerto Vallarta is on Mexico's Pacific Coast on the Bay of Banderas, meaning it's home to some of the most beautiful beaches in the country.
Nearby you can visit one of the most Insta famous beaches – Hidden Beach on Isla Marietas.
Outdoor Adventure
If you love the outdoors, you'll love Puerto Vallarta. You can go on coastal hikes, swim in hidden waterfalls, zip-line through the jungle, or ride ATVs up the Sierra Madre mountains.
With the Pacific Ocean right there, it's got incredible opportunities for water sports such as kayaking, diving, surfing, and swimming. You can even spot whales and dolphins during the winter season!
Great digital nomad base
For digital nomads in Mexico, Puerto Vallarta hits all the boxes.
It has fast internet, many cafes and coworking spaces, and a growing digital nomad scene. In addition, you'll find it easy to make friends in Puerto Vallarta with regular meetups hosted in the city.
Vibrant nightlife
The nightlife in Puerto Vallarta is fantastic. I'm not going to lie; it's got a party atmosphere.
The city is famous for its wild parties and big clubs along the Malecon, where you can dance until the early hours of the morning.
However, if you want to lay low, you can do that too.
Puerto Vallarta has a large spiritual community, and there are ways to live a healthy, active lifestyle here without getting caught up in the party scene. But I wouldn't say Puerto Vallarta is a quiet place to live.
Easy to get around North America
Puerto Vallarta makes a great base to explore other parts of Mexico.
It's easy to take day trips to small towns nearby, like Sayulita and San Pancho, via bus or road trip. Or you can take a quick flight from the airport and explore an entirely new part of the country for a weekend, such as Mexico City.
Puerto Vallarta also has an international airport with direct flights to major cities in Canada and the United States, so it's a good base if you need to regularly travel back home.
Booking flights? My go-to site for finding the best flight deals is Skyscanner, which searches both national and international flight companies to find you the best deal.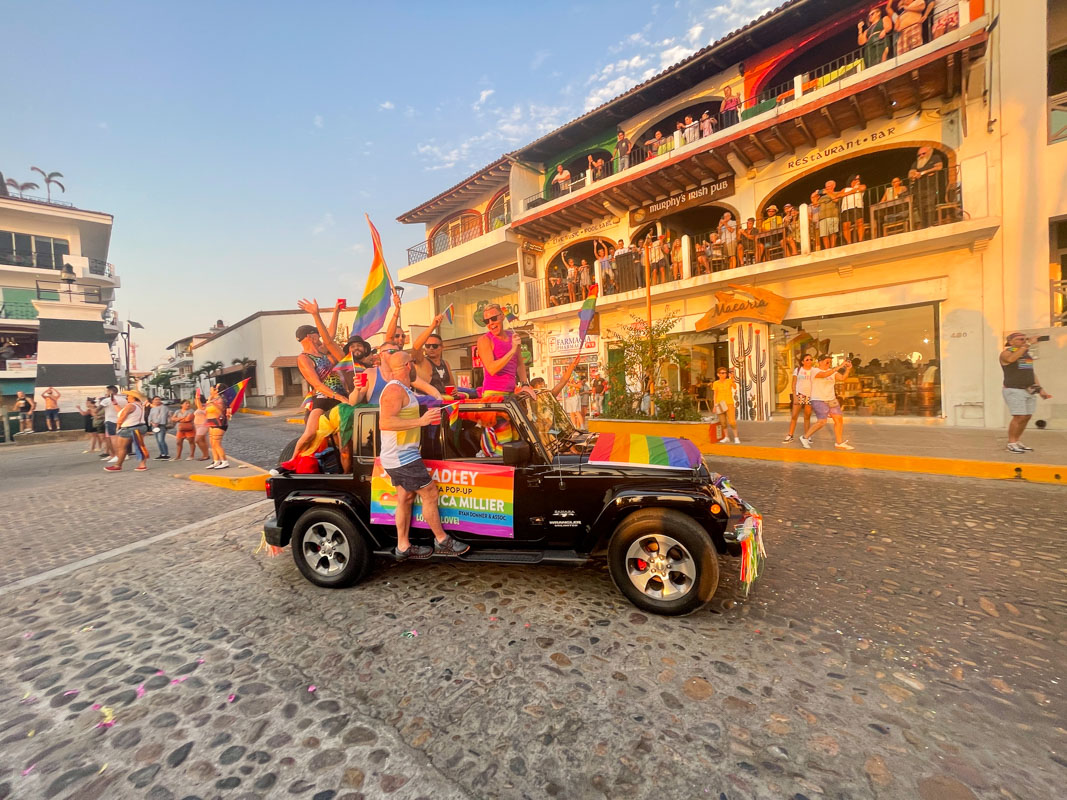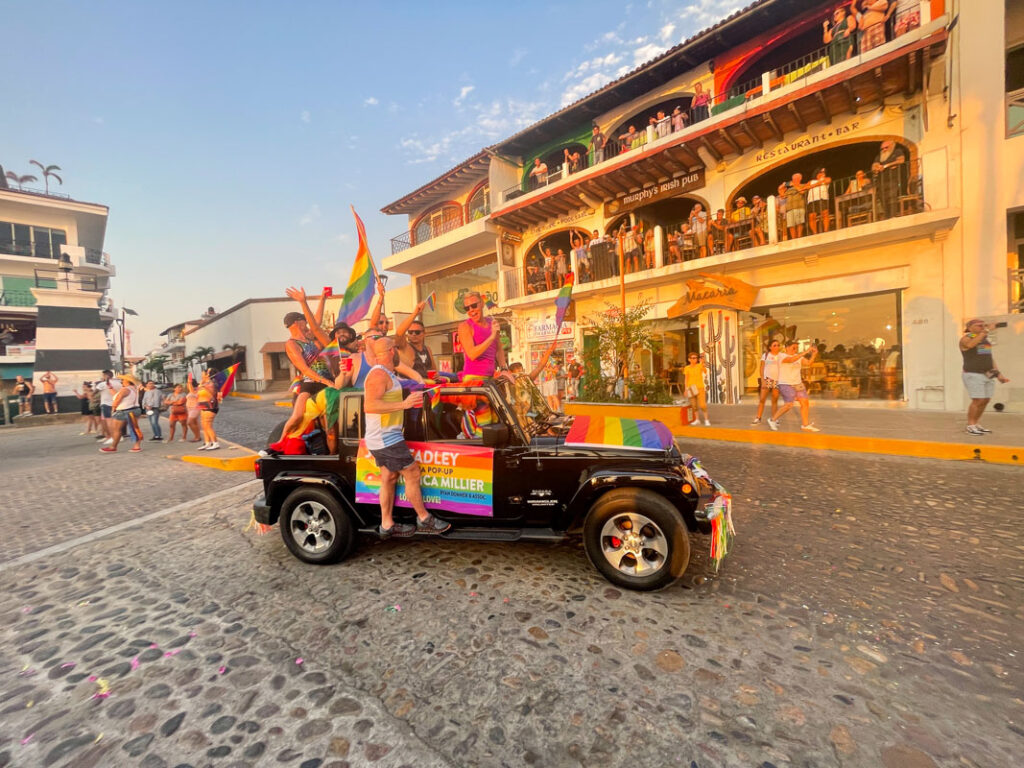 Friendly for LGBTQ+ travelers
If you're an LGBTQ+ traveler, you'll be happy to know that Puerto Vallarta is one of the most LGBTQ+ -friendly cities in the world!
One of the best things about living here is the welcoming community, and every May there is a huge Pride festival that takes over the city.
Pet friendly
One of my favorite parts about living in PV is how dog friendly it is! I've been fostering a pug and I am shocked at how I can bring him everywhere – from the beach to the bar, everyone loves dogs in PV.
Have I convinced you to live in Puerto Vallarta yet? Okay, let's get into the logistics of moving here!
Visa requirements
Do you need a visa to live in Puerto Vallarta?
If you work remotely and don't plan to stay longer than six months, moving to Puerto Vallarta as a digital nomad is relatively easy. Many nationalities (including Canadians and Americans) are given a six-month tourist visa on arrival.
That said, immigration officers in Mexico (particularly if you're flying into Mexico city) have been cracking down on this, with many travelers reporting only getting 30 days (or even less) when they arrive. However, those landing in Puerto Vallarta don't seem to have this issue.
You can get another tourist visa by leaving and re-entering the country. Many digital nomads will do a visa run to a neighboring country like Belize or Guatemala.
I also know many people who overstayed the six months and paid a fine when they left, although I don't advise doing that as they seem to be cracking down on this, too.
If you are interested in living in Mexico for more than six months without worrying about doing visa runs, you can apply for the Mexico Temporary Resident Visa.
I got mine in February 2023 through a special program started during COVID for people who overstayed their visas. I hired a lawyer, and it was a relatively easy process – one day at the immigration office and I ot my residency card for four years.
However, you can also get it through your home embassy. The visa is initially approved for one year and can be renewed for another 1 to 3 years.
After living in Mexico for four years with a temporary residency visa, you can apply to be a permanent resident.
It's the best option if you plan to live here in the long term, as you don't need to worry about tourist visas.
Cost of living in Puerto Vallarta Mexico
One of the most attractive reasons to live in Mexico is the low cost of living.
While Puerto Vallarta is not as cheap as some other parts of Mexico, it's still far below what your expenses would be in Canada or the U.S. and living cheaply in Puerto Vallarta is possible.
So if you're working remotely with a salary from abroad, you can live a pretty lush life in Puerto Vallarta and even save some money.
The exact cost of living will depend on your lifestyle.
I know some budget travelers who got by on less than $1000/month and others who spent 4x that.
I've written a more detailed post about the Puerto Vallarta cost of living that breaks it down by category, but generally speaking, you can comfortably live in Puerto Vallarta for $2000–2500 USD per month. Unfortunately, it has gone up considerably in the last fewyears.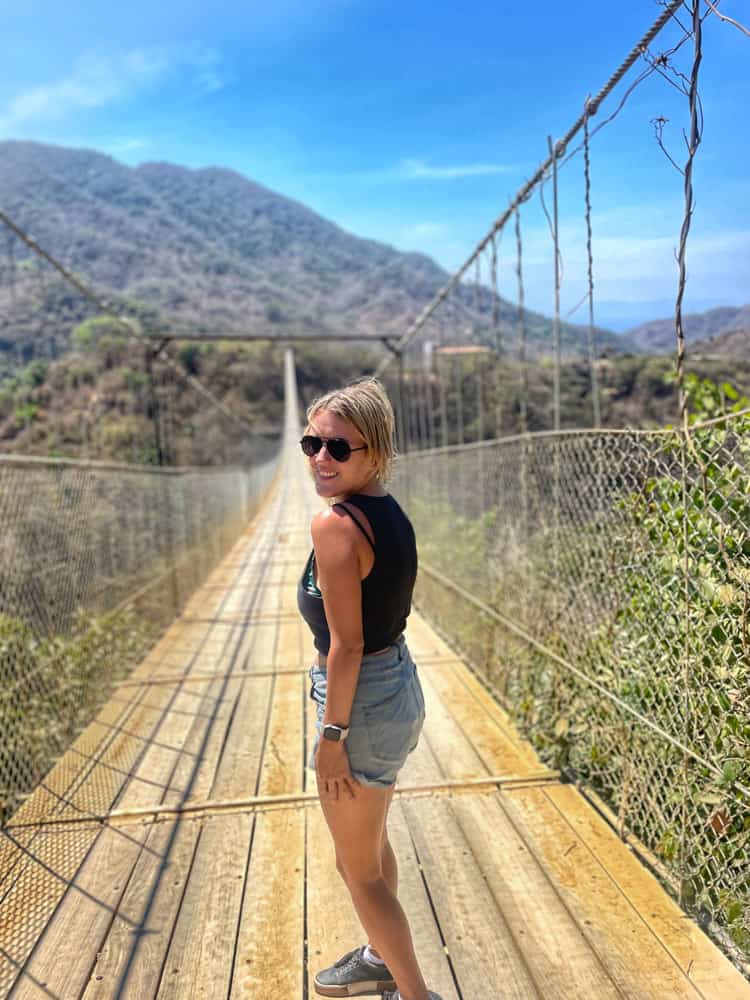 Rent and real estate
Your most significant expense here is likely to be rent. Prices vary significantly between neighbourhoods, with Old Town Puerto Vallarta being the most expensive. If you go on the outskirts of town or even in Fluvial, you can find much better prices.
The prices of apartments on Airbnb tend to be overpriced, and you can get much better deals by looking around on the ground.
If you aren't sure where to start, book a place online for your first week and look for something once you've arrived. There are many boutique hotels to stay in while you're searching.
Here's more detailed advice on how to find an apartment in Puerto Vallarta.
If you plan to move here for the long term, you can also look at buying real estate.
Mexico is very friendly to foreign investments. While property prices have increased in recent years, the real estate market is still quite attractive compared to what you would pay in the U.S. and Canada.
The city's growing popularity, combined with a stable economy and favorable real estate laws for foreigners, make it an ideal place to purchase property and get a good return on investment.
I bought a pre-build apartment in Versalles that I am waiting to be completed.
If you're wanting to invest in Puerto Vallarta real estate, contact me at [email protected], and I'll connect you with my local real estate agent. He knows the market very well and helped me find my dream property!
Getting around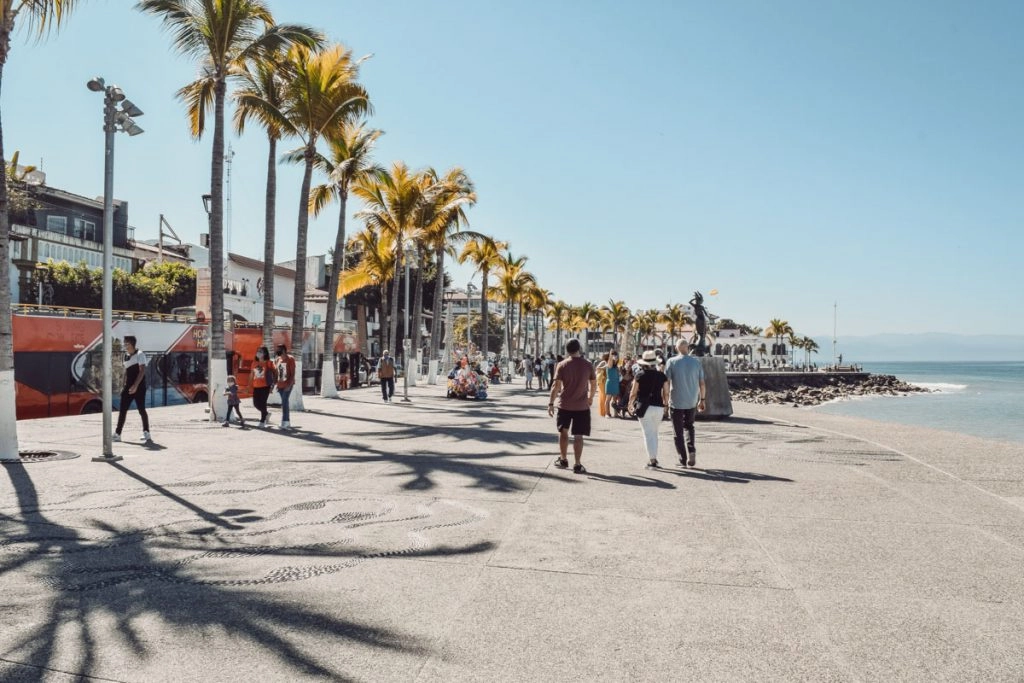 Puerto Vallarta isn't that big, so if you're staying somewhere central, you'll be able to walk most places. The Malecon boardwalk is a fantastic and scenic way to get around downtown Puerto Vallarta.
There's also a pretty good bus system, which only costs 50 cents per ride. Ubers are also very affordable (a couple of dollars for a 20-minute ride).
This guide has more information on getting around Puerto Vallarta.
Groceries and eating out
From local markets to large supermarkets, you'll find a variety of options where you can get everything you need.
La Comer, Soriana, and Walmart are among the popular chains where you'll find a vast selection of products, from fresh produce to household items and international brands. Puerto Vallarta even has a Costco!
One of the best ways to immerse yourself in the vibrant local culture is by exploring the traditional markets in Puerto Vallarta. The Emiliano Zapato Market, located in the Old Town, offers a lively atmosphere where you can find fresh produce and fruit.
Prices for eating out range from a filling meal of street food for a few dollars to a couple hundred dollars for some of the fine dining restaurants. Like any place, cooking at home will save you a lot of money.
Where do most expats live in Puerto Vallarta?
Determining the best neighborhoods in Puerto Vallarta largely depends upon what you are looking for in a living situation.
From luxurious beachfront condos with ocean views to peaceful residential communities, there is something for everyone.
Here are some of the most best areas to live in Puerto Vallarta, with links to a guide on each area so you can learn more about them.
Marina Vallarta – an upscale neighborhood on the marina, popular with families for its international schools.
Versalles – up-and-coming foodie area of PV, becoming more popular with digital nomads in recent years.
5 di Diciembre – a great neighborhood that offers a good mix of cafes, restaurants, and bars. Close to the beach with many apartments offering great views of the city.
El Centro – historic center of the city. Many beautiful buildings, art galleries, local markets, and restaurants are within walking distance.
Zona Romantica (Old Town) – the official 'gaybourhood' of the city, famous for its wild nightlife, live music, and Los Muertos beach. This is a good place to live if you want to be in the center of the action, but prices tend to be higher.
Conchas Chinas – nearby some of the most beautiful beaches in the city. Quieter area, will have to drive about 10 minutes to most shops and restaurants.
It isn't a big city, and most Puerto Vallarta expats live in a handful of different neighborhoods.
As the Romantic Zone and El Centro (downtown area) tend to have the highest prices, most nomads rent apartments in the hotel zone, Las Glorias, Versalles, or Fluvial, where rent tends to be cheaper.
Do you need to speak Spanish?
The short answer is you can survive without it, but you may find it makes your day to day life more frustrating. It will make your experience much richer if you do speak Spanish.
Since Puerto Vallarta is a touristy place, many Mexican people here speak English (which can be annoying if you're trying to practice Spanish).
However, this doesn't mean that all of them do, and they will certainly appreciate your effort to learn the local language. If you can speak Spanish, you'll have an easier time integrating into the local community.
If you're living in Mexico, it's the perfect opportunity to learn Spanish! I took group classes at Spanish School Vallarta, but private lessons are also available.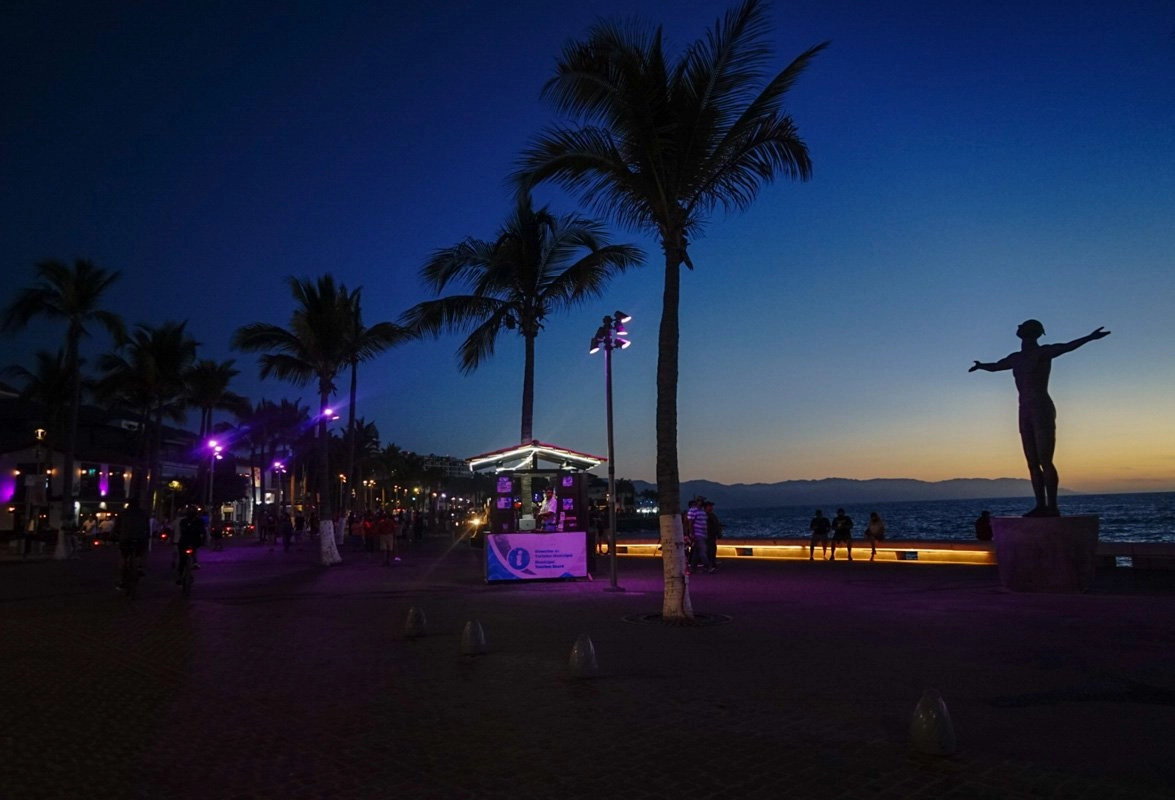 Is Puerto Vallarta safe?
When I told my friends and family I was moving to Puerto Vallarta, many questioned if it was a safe place to live.
Unfortunately, the media has made many people feel that Mexico is dangerous as a whole.
While there are some parts of the country with safety concerns, there are also plenty of places safe to live – with lower crime rates than major cities in the U.S.
Puerto Vallarta is one of those places. Just ask the five million+ tourists that come here every year!
Of course, you should follow some basic safety precautions like you would in any foreign city. I've written a more comprehensive guide here to safety in Puerto Vallarta with more tips.
Things to know about living in Puerto Vallarta
The Internet is great
Puerto Vallarta living offers reliable and accessible internet services. You'll find a variety of internet service providers offering different plans, with Telmex being one of the largest fibre internet providers.
In addition to that, there are a number of coworking offices and cafes with high-speed internet when you want a break from working at home.
You can drink the water
Contrary to some popular misconceptions, Puerto Vallarta has a well-maintained water infrastructure, and the tap water is generally safe to drink (I do). However, this is individual to each building and you should always check.
If you have concerns or prefer filtered water, bottled water is readily available at affordable prices.
You can get anything delivered
Perto Vallarta offers a range of food delivery services that cater to various cuisines. Whether you prefer local Mexican dishes or international flavors, apps like Uber Eats, Rappi, and DiDi make it easy to enjoy restaurant-quality meals from the comfort of your home.
You can also purchase most home supplies from Mercado Libre and Amazon.
Apartment hunting during high season sucks
Finding an apartment in Puerto Vallarta can be challenging, particularly during the high season when demand is higher. It's advisable to start your search well in advance (at least 3 months, ideally six) and be prepared to act quickly when you find a suitable place
Owning a car can be nice
While Puerto Vallarta has a well-connected and affordable public transportation system, having a car can make day trips and exploring the surrounding areas more convenient. With your own vehicle, you can easily visit nearby attractions, hidden beaches, and charming towns at your own pace.
It's a small place with big cty amenities
Despite its idyllic coastal setting, Puerto Vallarta offers a range of modern amenities found in larger cities. You'll find shopping centers, supermarkets, large shopping malls, movie theaters, fitness centers, and other essential services to cater to your day-to-day needs.
There are international schools
For families moving to Puerto Vallarta, there are reputable international schools that provide quality education for children of expats. These schools follow international curricula and offer a multicultural environment, ensuring a smooth transition for students.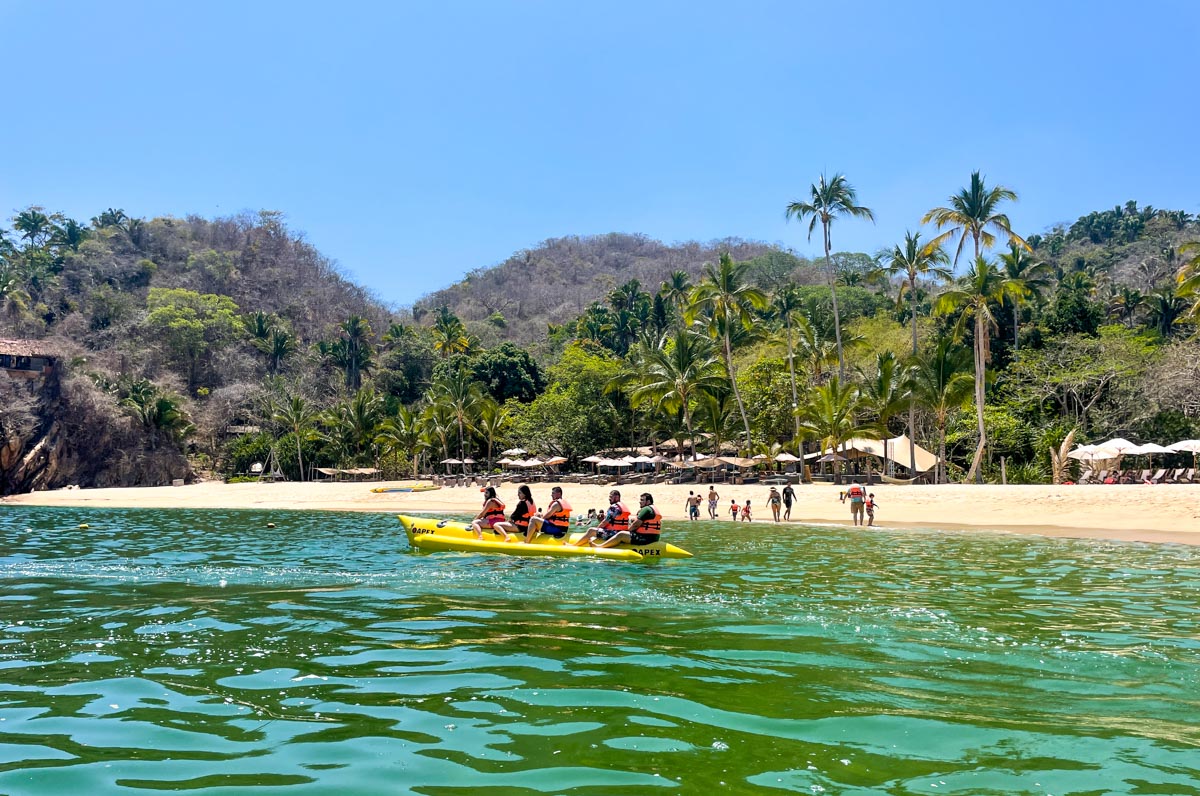 Climate in Puerto Vallarta
Puerto Vallarta offers an unforgettable stay no matter what time of year you come. That said, many people choose to leave during the summer months when it's rainy and hurricane season.
The rain typically starts at the end of June and goes until October. If you've living in Puerto Vallarta during the summer, you'll definitely want to have air conditioning in your apartment.
The high season (dry season) starts in October and goes until March, and is a perfect time to visit for those who are looking to escape the cold winter temperatures up north.
Temperatures rarely dip below 70 degrees, and there is plenty of sunshine and watersports to enjoy. From December, you can also enjoy whale watching as thousands of humpback whales migrate to Bahia De Banderas to feed.
Shoulder season (April to June) is also a great time to live in Puerto Vallarta, as the climate is still dry, but you'll enjoy much cheaper prices than during the peak tourist season.
You can read more about the best time to visit Puerto Vallarta here.
Meeting expats in Puerto Vallarta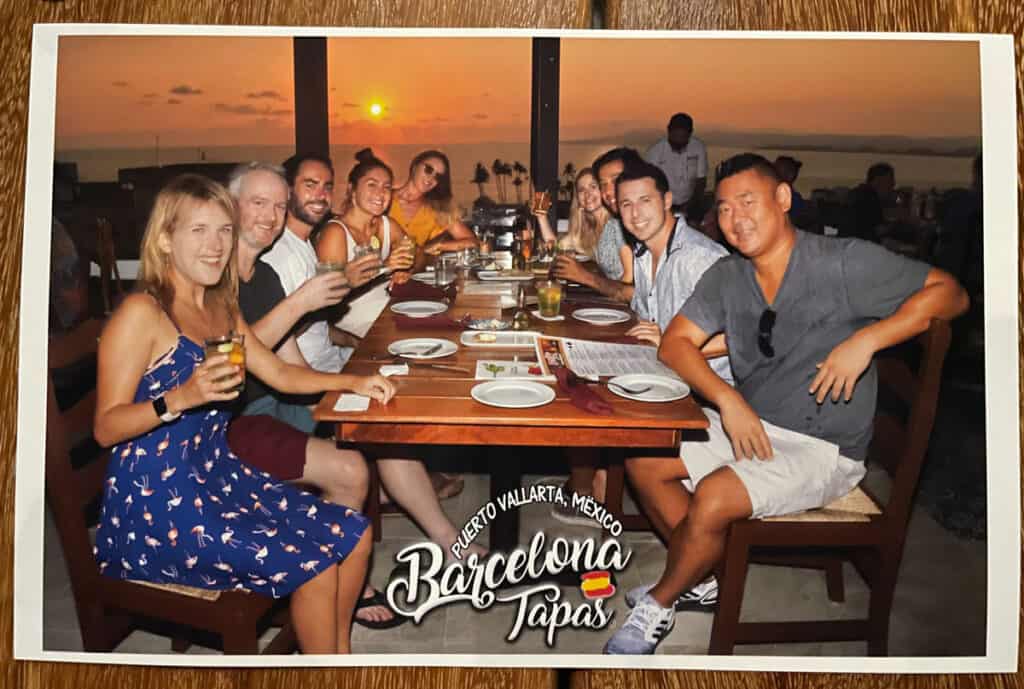 If you've decided to move to Puerto Vallarta, congrats!
One of your best resources for getting started on your move, or meeting other expats in Puerto Vallarta, are Facebook groups.
This group is for digital nomads in Puerto Vallarta. It's a great place to ask questions and network with other nomads. They also host regular coworking, networking, and happy hour events.
'Young & Fun Expats of Puerto Vallarta' is a community of young people (20-40) who have moved to Puerto Vallarta. They host regular events, primarily party-oriented.
This group is for general questions about life in Puerto Vallarta. You can ask just about anything here, and someone will point you in the right direction.
Another great way to meet expats in Puerto Vallarta is through volleyball. There's a group that gets together 2-3 times a week to play. I've met a lot of my friends through volley.
The expat community is wonderful in Puerto Vallarta, and you'll be quickly welcomed in once you get here. The city is full of friendly people to meet!
Health insurance for Puerto Vallarta
If you're moving to Puerto Vallarta, don't forget to protect yourself with health insurance. The city has great medical care and hospitals, but it's not free for non-residents.
I use and love SafetyWing, which is insurance built for digital nomads. It's a subscription-based service that only costs 42 USD/month, and you can easily stop and start it for when you're abroad.
I'm always surprised how easy it is to see a doctor in Puerto Vallarta – and you can get many prescription drugs at the pharmacy without a prescription.
FAQ: Living in Puerto Vallarta
Is Puerto Vallarta a good place to live?
Yes, Puerto Vallarta is considered a fantastic place to live, offering a beautiful coastal setting, vibrant culture, warm community, and a high quality of life.
How much do you need to live comfortably in Puerto Vallarta?
The cost of living in Puerto Vallarta can vary depending on your lifestyle and housing choices, but a comfortable living can be achieved with a monthly budget of around $2000 to $2,500 USD, including rent, utilities, groceries, dining out, and entertainment.
Do a lot of Americans live in Puerto Vallarta?
Yes, Puerto Vallarta has a large expat community, including many Americans who are drawn to the city's beauty, favorable climate, and welcoming atmosphere.
Is Puerto Vallarta good for retirement?
Absolutely! Puerto Vallarta is an excellent choice for retirement with its warm weather, stunning surroundings, affordable cost of living, excellent healthcare services, and a vibrant expat community.
What are the cons of living in Puerto Vallarta?
Some potential cons may include occasional high humidity, traffic congestion, constant tourists, and the challenge of finding rental apartments during the high season.
How much is a nice apartment in Puerto Vallarta?
The cost of a nice apartment in Puerto Vallarta will depend on factors such as location, size, amenities, and proximity to the beach. Generally, you can find rental apartments ranging from $500 to $2,500 USD per month. I pay $900 USD for a 2-bedroom apartment in Zona Romantica.
Is it safe to live in Puerto Vallarta?
Yes, Puerto Vallarta is generally considered a safe place to live. Like any city, it's important to take basic safety precautions and be aware of your surroundings, but the city has a lower crime rate compared to other major tourist destinations in Mexico.
Is it expensive to live in Puerto Vallarta?
Compared to many popular tourist destinations, Puerto Vallarta offers a relatively affordable cost of living. While some expenses, such as housing and imported goods, can be pricier, overall, the cost of living is still reasonable, especially when compared to cities in the United States or Europe.
What is living in Puerto Vallarta like?
Living in Puerto Vallarta is a delightful experience filled with stunning natural beauty, a vibrant culture, warm and welcoming locals, a relaxed pace of life, a range of amenities, and a close-knit community.
What are the benefits and drawbacks of living in Puerto Vallarta as an expatriate?
The benefits of living in Puerto Vallarta as an expatriate include a favorable climate, affordable cost of living, stunning surroundings, a sense of community, and the opportunity to experience a different culture. However, some potential drawbacks may include language barriers, the need to adapt to a different healthcare system, and occasional challenges in navigating bureaucracy.
I love living in Puerto Vallarta (there's a reason why I made an entire website about it).
From its stunning beaches and diverse culinary scene to its welcoming community and modern amenities, this Mexican paradise checks all the boxes for an exceptional quality of life.
Embrace the opportunity to immerse yourself in a rich culture, make lasting connections, and create unforgettable memories in this tropical paradise.
If you have any questions about living in Puerto Vallarta, feel free to DM me on Instagram!
Moving to Puerto Vallarta? Check out these posts!