This post may contain affiliate links. By clicking and making a purchase through the links, I earn a small commission at no extra cost to you. See my disclaimer for more information. This allows me to keep the site up to date and expand on resources.
Wondering about visiting Quimixto Puerto Vallarta? Let me help you! I live in Puerto Vallarta, and Quimixto is one of my favorite day trips. I've done it multiple times with and without a tour!
If you're planning a trip to Quimixto, this guide has everything you need to know about how to get there (with or without a tour) and the best things to do in Quixmito.
Quimixto is a hidden gem tucked away along the pristine shores of Banderas Bay, just south of Puerto Vallarta, Mexico.
With its secluded beaches, lush jungles, and warm hospitality, this idyllic destination is a must-visit for those seeking a serene and authentic coastal experience.
In this post, we will delve into everything you need to know about visiting Quimixto from Puerto Vallarta. From the safety of the village to hiking Quimixto waterfall, we'll provide you with essential information to ensure a memorable and enjoyable trip.
Quimixto Tours
If you're visiting Puerto Vallarta for the first time, the easiest way to get to Quimixto is on a guided tour.
Not only is this a great way to meet other travelers, but it means you can sit back and enjoy the scenery without worrying about the logistics.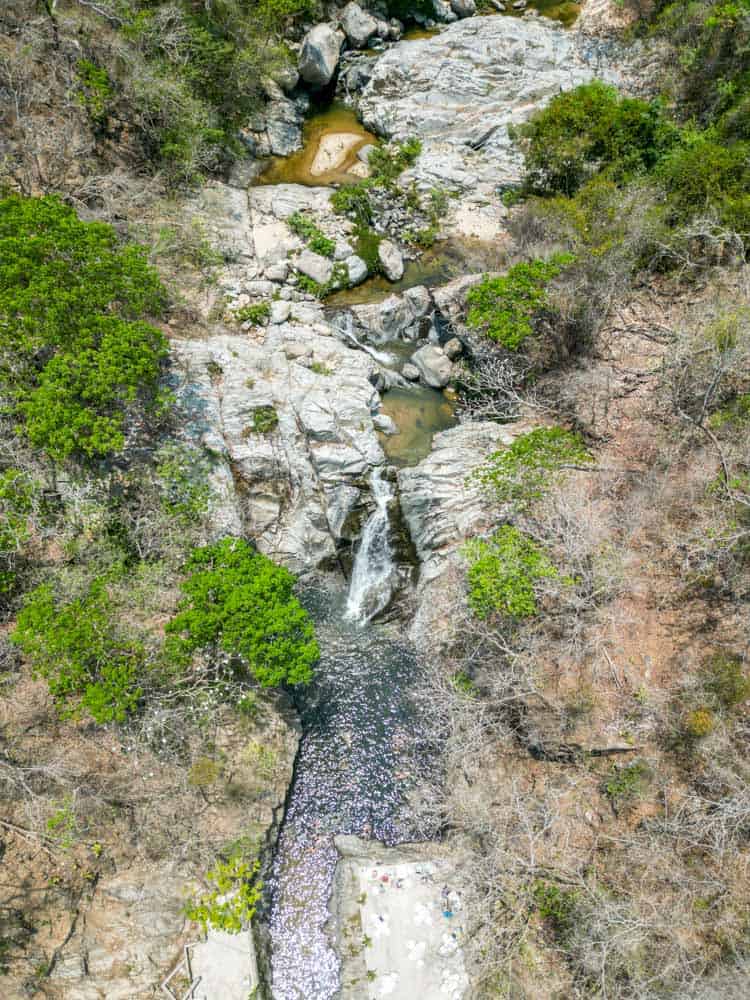 ⭐️ 5/5 Stars | 🕟 6 hours | ✔️ Book it here
This highly-rated tour meets in downtown Puerto Vallarta, where you'll take the bus together to Boca. Once there, you'll take a water taxi to Quimixto, passing by beautiful landscapes along the way – and maybe dolphins!
"The Waterfall and the hike to the falls was the best part of the trip. The path was nice to trek, it was not difficult to walk. A total distance of 1.5 miles. Our guide Rocco was very informative and helpful." – Dilli (read more reviews here)
Once you arrive in Quimixto, you'll walk through the town into the mountains and jungle to begin the half-hour hike to the waterfall.
There, you'll have time to relax and enjoy a refreshing dip in this 10m tall waterfall. Afterward, return to Quimixto for some delicious seafood and beach time before returning to Puerto Vallarta.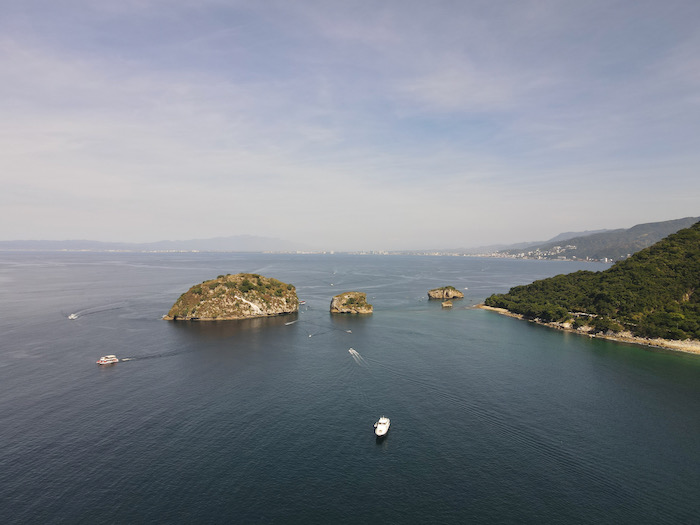 ⭐️ 5/5 Stars | 🕟 8 hours | ✔️ Book it here
This full-day boat tour takes you to three of Puerto Vallarta's top attractions in one day, including Los Arcos Marine Park, Las Animas, and Quimixto.
Traveling by boat, you'll enjoy a day at sea with views of the beautiful coastline alongboard a boat with an open bar and buffet lunch.
During the stops, you'll have the option of snorkeling, swimming, or kayaking. If you prefer to spend your time in the water, this Puerto Vallarta snorkeling tour is for you!
How to get to Quimixto from Puerto Vallarta (without a tour)
Quimixto Puerto Vallarta is a small, laid-back fishing village with less than 500 residents. It's one of the best places to get off the beaten path near Puerto Vallarta.
There aren't any roads here (at least not for cars), so you'll need to take a boat or hike. This video I made on TikTok shows one of my day trips to Quimixto!
You can get a boat to Quimixto from Boca Del Tomatlan, a small fishing village about half an hour from downtown Puerto Vallarta.
To get to Boca, you can get the bus from the Zona Romantica neighborhood or take a taxi/uber.
The bus leaves from the corner of Constitucion and Basilio Badillo every half-hour in front of the Oxxo – look for the ones headed to Bocas de Tomatlan/Mismaloya. It costs 10 pesos and takes about half an hour.
Once you arrive in Boca, walk down the hill towards the water and turn right to the pier, where you will see water taxis.
Someone will be selling tickets for the water taxis, which go to every beach down the coast. Just tell them you are going to Quimixto.
They depart once full, so you might have to wait a bit.
Along the way, you'll pass by many other scenic beaches along Banderas Bay, including Playa Colomitos and Las Animas. If you're lucky, you may even spot whales or dolphins! The boat ride takes around 15 minutes.
Make sure to tell the boat captain at what time you want to get picked up from Quiumixto to get back to Boca de Tomatlan. The last boat is usually around 5 pm.
If you're taking public transit, plan to spend at least an hour and a half getting from Puerto Vallarta to Quimixto. It may be a bit longer if you have to wait for the boat to depart.
Things to do in Quimixto Mexico
While there are less than 500 residents in Quimixto, there are still a few things to do here.
Quimixto Waterfall Puerto Vallarta
Quimixto Waterfall is one of the best waterfall hikes around Puerto Vallarta.
To get to the waterfall, walk up the main road in town and follow it until you see horse rentals and a bridge over shallow water.
Cross the bridge and follow the trail into the forest; you should see signs pointing toward the waterfall marked 'Cascada'
You can also find directions to the Quimixto waterfall hike here.
It's about half an hour to hike to Quimixto waterfall, and the trail is generally well-marked, with a bit of uphill trekking.
It does divide at points, but the paths are parallel and meet back up. Watch out for horse poop on the trail.
The last time I did the Quimixto waterfall hike in June 2023, they were doing construction along the trail. It looked like they were building a paved pathway to the waterfall, so the trail may look different now.
If you don't feel like walking, you can also get a horseback ride. However, I don't recommend this, as the horses don't look like they are kept in the best conditions.
I've only hiked to Quimixto waterfall during May and June when the weather was extremely humid, so I was a sweaty mess when we reached the waterfall. Thankfully, the water is so refreshing to get in!
Even though it was the dry season and the water volume was low, it was still a great place to swim.
As you approach the waterfall, you'll walk through a restaurant overlooking the falls. They ask that you buy something from there if you're entering the waterfall via the restaurant.
The food is tasty but overpriced, so get a beer and eat in town if you're visiting on a budget. They have shaded areas to sit down where you can keep your stuff while you get in the water. Quimixto is an enjoyable place to hang out with friends for the day!
Quimixto Beach Puerto Vallarta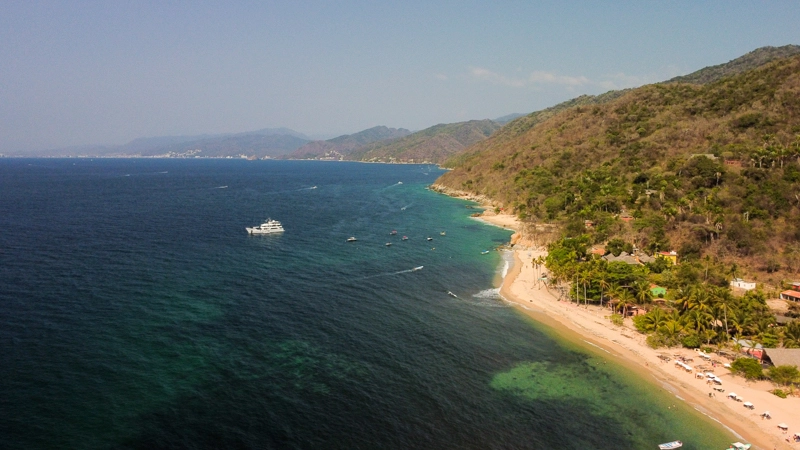 While there are beaches within the city limits of Puerto Vallarta, the ones outside of it are considerably better.
Playa Quimixto is one of the most beautiful beaches near Puerto Vallarta, even more so than Yelapa or San Pancho. However, most tourists don't seem to come here!
There are a couple of restaurants here where you can enjoy lunch on the beach. You can get cheap and tasty ceviche tostadas!
Unlike many other beaches around Puerto Vallarta, Quimixto isn't packed with vendors trying to sell you things, making this one of the most relaxing beaches to hang out on. There is a long stretch of beautiful golden beach you'll have almost to yourself.
Quimixto Surf
I was surprised to see someone surfing in Quimixto the last time I was there! The waves aren't as reliable as surfing in Sayulita, but it is possible with the right weather conditions.
Quimixto Restaurants
There are two restaurants on Quimixto Beach and a couple on the main road.
Last time we ate at Restaurante El Volador, which has great Mexican cuisine and a prime location right on the beach.
You can also get cocktails from the restaurants or pick up a few cervezas from a shop and enjoy them on the beach.
Quixmito Puerto Vallarta Itinerary
For a perfect day trip to Quimixto from Puerto Vallarta, I recommend leaving Zona Romantica by 9 am to arrive in Quimixto by 10:30. Then, hike to the waterfall (about half an hour) and spend an hour or so chilling there.
Arrive back in Quimixto Beach around 12:30 and enjoy lunch at one of the restaurants on the beach. Spend the rest of the afternoon relaxing on the pristine beaches. Enjoy lunch at one of the restaurants, or pick up snacks and drinks from one of the local shops in town.
Get the last boat back around 5 pm and enjoy the stunning sunset on the way back.
Quimixto Hotels
Maybe you want to spend more time in Quimixto. I don't blame you! There are a few wellness retreats here that are ideal if you want to spend a few days relaxing.
El Grullo Naturista is a Boutique Hotel & Wellness Retreat. This eco-resort features boho-style casitas facing the sea, a spa, wellness experiences, outdoor activities, and various wellness services.
Xinalani Retreat Mexico is a world-class yoga retreat center in Puerto Vallarta. With beautiful rooms, healthy Mexican food, eco-friendly activities, a spa center, and temazcal ceremonies, this is a great place to spend a few days. All rates include three meals and one yoga class per day.
Quimixto vs. Yelapa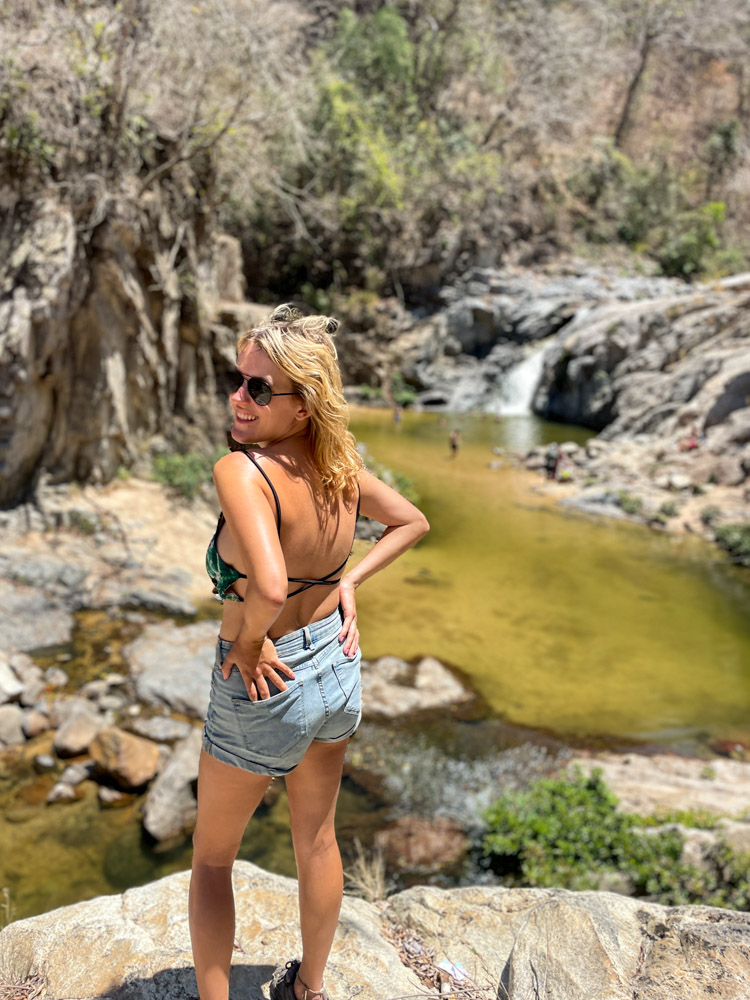 Quimixto and Yelapa are two picturesque coastal villages near Puerto Vallarta that offer a serene escape. While both destinations share similarities, they also have distinct characteristics that make them unique.
Quimixto is a tranquil and secluded village nestled in a lush tropical setting. It exudes a peaceful and laid-back ambiance, making it an ideal destination for those seeking relaxation and a break from the crowds.
Yelapa, on the other hand, has a slightly livelier atmosphere. It is known for its bohemian vibes and artistic community. The village has a charming and rustic feel with its cobblestone streets and street art.
Quimixto boasts stunning natural beauty with its pristine beaches and lush greenery. The surrounding jungle offers opportunities for hiking and exploring hidden waterfalls. The turquoise waters of Quimixto's beach are perfect for swimming and snorkeling.
Similarly, Yelapa captivates visitors with its scenery. The village is nestled in a picturesque cove, surrounded by verdant hillsides and many waterfalls to explore. Yelapa is also renowned for its stunning beach, ideal for swimming and sunbathing.
Both Quimixto and Yelapa can be reached by taking a scenic water taxi from Boca de Tomatlán, located south of Puerto Vallarta. The journey is the same, except Yelapa is further away and takes about 45 minutes to reach, whereas Quimixto only takes 15 from Boca.
FAQ: Quimixto Vs. Puerto Vallarta
Is Quimixto Safe?
Quimixto is generally considered safe for tourists; I've never had any problems visiting there. It's always advisable to exercise caution and be aware of your surroundings while visiting.
What's the best way to see Quimixto?
The best way to see Quimixto is by taking a water taxi or a tour from Puerto Vallarta.
Do you need to book in advance to visit Quimixto?
Booking in advance is not always necessary, but it's recommended during peak tourist seasons to ensure availability and a smooth visit.
How to get to Quimixto from Puerto Vallarta?
To get to Quimixto from Puerto Vallarta, you can take a water taxi from Boca de Tomatlán, about 30 minutes south of Puerto Vallarta.
How much is a water taxi from Boca to Quimixto?
The cost of a water taxi from Boca de Tomatlán to Quimixto can vary, but it is typically around $100-150 pesos per person for a one-way trip.
Can you swim at playa Quimixto?
Yes, you can swim at Playa Quimixto. The beach offers clear waters and is a popular spot for swimming.
How many people live in Quimixto?
Quimixto is a small village with a population of around 400 inhabitants.
Where is Quimixto?
Quimixto is a charming coastal village located south of Puerto Vallarta, Mexico. It is situated on the western coast of Banderas Bay, nestled amidst lush tropical vegetation and bordered by the turquoise waters of the Pacific Ocean.
Final thoughts: Quimixto Puerto Vallarta
Whether you choose to unwind on the golden sand beaches, surf the water waters, or embark on a hike to discover hidden waterfalls, Quimixto offers a little piece of paradise for everyone.
Immerse yourself in the warm hospitality of the local community, savor freshly caught seafood, and embrace the slower pace of life that Quimixto offers. It's the perfect escape from Puerto Vallarta!
Looking for more day trips from Puerto Vallarta? Check out these posts!