This post may contain affiliate links. By clicking and making a purchase through the links, I earn a small commission at no extra cost to you. This allows me to keep the site up to date and expand on resources. Thanks for reading!
Quimixto, Mexico is one of the most beautiful places to visit near Puerto Vallarta.
Spend the day in Quimixto hiking, swimming in waterfalls, or relaxing on the beautiful beaches.
Here's everything you need to know about visiting Quimixto from Puerto Vallarta and the best things to do there.
How to get to Quimixto from Puerto Vallarta (without a tour)
Quimixto is a small, laid-back fishing village with less than 500 residents. It's one of the best places to get off the beaten path near Puerto Vallarta.
There aren't any roads here (at least not for cars), so you'll need to take a boat.
You can get a boat to Quimixto from Boca Del Tomatlan, a small fishing village about half an hour from downtown Puerto Vallarta.
To get to Boca, you can get the bus from the Zona Romantica neighborhood or take a taxi/uber.
The bus leaves from the corner of Constitucion and Basilio Badillo every half-hour – look for the ones headed to Bocas de Tomatlan/Mismaloya. It costs 10 pesos (.50 USD) and takes about half an hour.
Once you arrive in Boca, walk down the hill towards the water and turn right to the pier, where you will see water taxis.
Someone will be selling tickets for the water taxis, which go to every beach down the coast. Just tell them you are going to Quimixto. A round-trip boat ticket should cost around 100 pesos ($5).
They depart once full, so you might have to wait a bit.
Along the way, you'll pass by many other scenic beaches, including Colomitos and Las Animas. The boat ride takes around 20 minutes.
Make sure to tell the boat captain at what time you want to get picked up from Quiumixto to get back to Boca de Tomatlan. The last boat is usually around 5 pm.
If you're taking public transit, plan to spend at least an hour and a half getting from Puerto Vallarta to Quimixto. It may be a bit longer if you have to wait for the boat to depart.
Quimixto Tours
If you're traveling Mexico solo or don't want to deal with the logistics of getting to Quimixto from Puerto your own, a great option is to join one of these guided tours.
This full-day tour takes you to three of Puerto Vallarta's top attractions.
You'll first stop last Los Arcos National Park for a snorkeling trip, followed by a stop at Las Animas beach for lunch at one of the seaside restaurants. The last stop is Quimixto, where yoortunity to hike to Quimixto waterfall.
QUIMIXTO TOURS
Things to do in Quimixto
Quimixto Waterfall Hike
Quimixto waterfall is one of the best waterfall hikes around Puerto Vallarta.
To get to the waterfall, walk up the main road in town and follow it until you see horse rentals and a bridge over shallow water.
Cross the bridge and follow the trail into the forest; you should see signs pointing toward the waterfall marked 'Cascada'
You can also find directions to the Quimixto waterfall hike here.
It's about half an hour to hike to Quimixto waterfall, and the trail is generally well-marked, with a bit of uphill trekking.
It does divide at points, but the paths are parallel and meet back up. Watch out for horse poop on the trail.
If you don't feel like walking, you can also get a horseback ride for around 250 pesos. However, I don't recommend this, as the horses aren't treated well.
I hiked to Quimixto waterfall in May when the weather was extremely humid, so I was a sweaty mess by the time we reached the waterfall. Thankfully, the water is so refreshing to get in!
Even though it was the dry season and the water volume was low, it was still a great place to go swimming.
As you approach the waterfall, you'll walk through a restaurant that overlooks the falls. They do ask that you buy something from there if you're entering the waterfall via the restaurant.
The food is tasty but overpriced, so just get a beer and eat in town if you're visiting on a budget.
Quimixto is an enjoyable place to hang out with friends for the day!
Quimixto Beach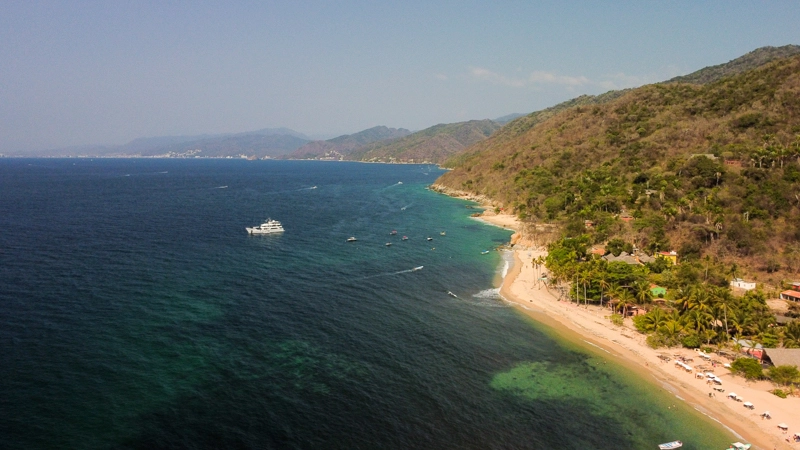 While there are beaches within the city limits of Puerto Vallarta, the one outside of it are considerably better.
Quimixto beach is one of the most beautiful I have come across, even more so than Yelapa or San Pancho. However, most tourists don't seem to come here!
There are a couple of restaurants here where you can enjoy lunch right on the beach. You can get cheap and tasty ceviche tostadas for only 30 pesos each!
Unlike many other beaches around Puerto Vallarta, Quimixto isn't packed with vendors trying to sell you things, making this one of the most relaxing beaches to hang out on. There is a long stretch of beautiful golden beach you'll have almost to yourself.
Eat and drink
There are two restaurants on Quimixto beach, as well as a couple on the main road.
We ate at one of the restaurants on the beach, which was fantastic. They had tasty ceviche tostadas for only 30 pesos (1.50 USD) each. 
You can also get cocktails from the restaurants, or pick up a few cervezas from a shop and enjoy them on the beach.
Quixmito Itinerary
For a perfect day trip to Quimixto from Puerto Vallarta, I recommend leaving Zona Romantica by 9 am to arrive in Quimixto by 10:30. Then, hike to the waterfall (about half an hour), and spend an hour or so chilling there.
Arrive back in Quimixto beach around 12:30 and enjoy lunch at one of the restaurants on the beach. Spend the rest of the afternoon relaxing on the pristine beaches. Enjoy lunch at one of the restaurants, or you can pick up snacks and drinks from one of the local shops in town.
Get the last boat back around 5 pm and enjoy the stunning sunset on the way back.
Quimixto Hotels
Maybe you want to spend more time in Quimixto. I don't blame you! There are a few wellness retreats here that are ideal if you want to spend a few days relaxing.
El Grullo Naturista is a Boutique Hotel & Wellness Retreat. This eco-resort features boho-style casitas facing the sea, a spa, wellness experiences, outdoor activities, and various wellness services.
Xinalani Retreat Mexico is a world-class yoga retreat center in Mexico. With beautiful rooms, healthy Mexican food, eco-friendly activities, a spa center, and temazcal ceremonies, this is a great place to spend a few days. All rates include three meals and one yoga class per day.
Villas en Quimixto are basic apartments you can rent. What do you need more than a hammock on the balcony?
Quimixto is a perfect day trip from Puerto Vallarta!
Visiting Puerto Vallarta? Don't miss these posts!