This post may contain affiliate links. By clicking and making a purchase through the links, I earn a small commission at no extra cost to you. This allows me to keep the site up to date and expand on resources. Thanks for reading!
Boca de Tomatlan Mexico is a quaint town just south of Puerto Vallarta.
While there are plenty of fun things to do in Puerto Vallarta to keep you busy, it's well worth it to visit some of the other towns in Banderas Bay.
Boca de Tomatlan serves as the main port for water taxis that will take you to secluded beaches along the bay, but the town is also worth visiting.
In this post, we'll take a look getting to Boca de Tomatlan and what you can do there.
An Introduction to Boca de Tomatlan
To be honest, Boca de Tomatlan is easy to miss. It's a small, quiet fishing village just off the highway heading south out of Puerto Vallarta. If you don't know it's there, you won't even notice when you pass it!
Heading south from PV, you'll pass by Conchas Chinas and Mismaloya before reaching Boca de Tomatlan. Both of those areas are worth exploring as well, but I recommend dedicating a day to each.
For the most part, Boca serves as a port for the water taxis that go between Puerto Vallarta and Yelapa.
It seems like most locals here have a boat and make a living by shuttling tourists around and/or fishing.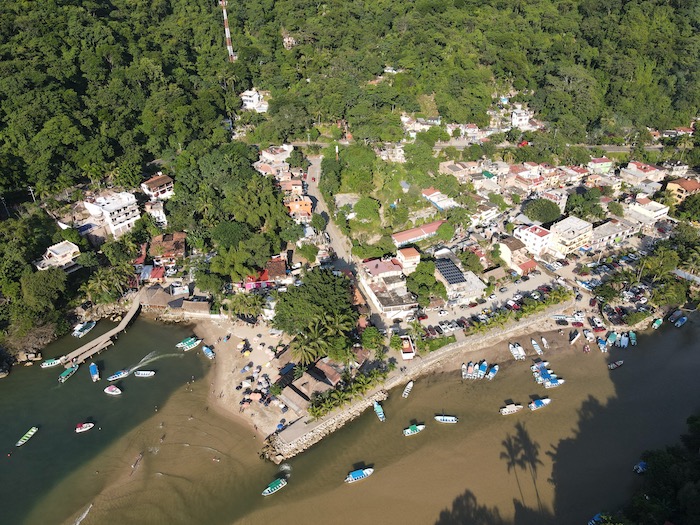 The town itself is just a few blocks between the highway and the sea. There are a handful of shops, restaurants, and a few guest houses, and that's about it.
You won't find any fancy rooftop bars or rowdy nightclubs here. That's not the reason to come to Boca. This is a place to enjoy on a day trip from PV or somewhere to disconnect if you want to stay a while.
It's a very chilled-out place where the most noise you'll hear is from kids playing in the river or roosters crowing.
I love that it's just a bus ride away from the chaos of downtown PV, which brings me to the next point…
Puerto Vallarta to Boca de Tomatlan
You have a few options for how to get there from downtown Puerto Vallarta. By far the cheapest one is catching the local bus to Boca de Tomatlan.
It picks up at this corner in the Romantic Zone and costs only 10 pesos. Just a fair warning that it is a very windy road and bus drivers tend to drive as fast as they can, slowing down for the multitude of topes (speed bumps) on the road.
While it can be terrifying at times, it is a beautiful ride down the coast on Highway 200 from PV to Boca! Once you get off the bus, it's just a short downhill walk into town.
Alternatively, you can catch a cab or order an Uber/InDriver. The latter is definitely the cheaper option. Just be warned that it's pretty tough to catch one in the opposite direction.
For this reason, we often take InDriver to get down there and then just hop on the bus on the way back.
Last but not least, you can take a water taxi to Boca de Tomatlan from Los Muertos Beach to get to Boca de Tomatlan.
It's a scenic trip for sure, but I never take it as it's way cheaper and more efficient to just hop on the bus or split a cab.
If you're going to or from Yelapa, however, it definitely makes sense to take the water taxi from Boca.
It's a lot cheaper than going there all the way from PV, and the bus ride is preferable to a boat on days when the water is choppy.
Things to do in Boca de Tomatlan
There's not a whole lot going on in Boca de Tomatlan, but that's the beauty of the place. Whereas PV can be sensory overload at times, this is a great place to clear your mind and just relax.
The main reason to come to Boca is to do the hike to Las Animas Beach. The trail hugs the coast, going up and downhill a bit and passing by some stunning beaches like Colomitos.
This is honestly one of my favorite things to do in Puerto Vallarta. It's always at the top of the list when we have visitors, and it's something I'm happy to repeat year after year.
Check out some highlights of this epic hike in our short video:
Other than that, the main thing to do in Boca is just kick it on la playa. There's a small beach here (or no beach at all in the rainy season sometimes) and a few restaurants overlooking it.
When I think of hanging out in Boca, I picture myself sitting at one of those places with a plate of ceviche, some fish tacos, and an ice-cold Pacifico. That's about all you need for a good afternoon, mis amigos.
While the local restaurants and taco stands are great, there's also a fine dining experience to be had over here.
The fantastic Ocean Grill is just around the bend from Boca, and reservations include the boat trip from town.
Speaking of boats, it's easy to hire one for the day here in Boca. If you have a group, it's definitely worth it to split a boat rental for a few hours to visit the beaches south of Boca and do a bit of snorkeling.
Sergio and his tours come highly recommended, and he charges a reasonable rate. Click here to check out his options.
The Vallarta Botanical Gardens are also just a 15-minute drive away, so you could visit them easily on the same day trip.
There's also this sunset boat ride tour which includes a 3-course dinner in Boca de Tomatlan with live music. Sounds like a great evening!
Boca de Tomatlan hotels
Most people just visit Boca de Tomatlan on a day trip from PV, so there aren't a ton of options for accommodation here.
I've walked around town a bunch and poked around on both Booking and Airbnb, so I at least have a few recommendations for you.
If you want to stick around for a night or two, I'd check out La Posada Pacifica. I walk by it every time we do the hike to Las Animas, and it looks like they have a really nice terrace there.
The Casa Cereza Apartments also look great. Their decorations are beautiful, and they have plenty of good reviews on Booking.
It's also worth it to check out the options on Airbnb. There are actually quite a few options in and around Boca, including full houses if you have a group.
That about does it for this guide to visiting Boca de Tomatlan.
Looking for more day trip ideas in Puerto Vallarta? Check out these guides!