This post may contain affiliate links. By clicking and making a purchase through the links, I earn a small commission at no extra cost to you. See my disclaimer for more information. This allows me to keep the site up to date and expand on resources.
Looking for Jalisco Pueblos Magicos? Let me help! I live in Puerto Vallarta and have visited almost all of the Pueblos Magicos in Jalisco. In this guide, I'm sharing how to visit each one from Puerto Vallarta.
Pueblos Mágicos (magic towns) are towns recognized by the Mexican government for their natural beauty, cultural riches, or historical relevance, often exuding a sort of magical charm.
There are over 130 pueblos currently on the list, and nine are in the culturally-significant state of Jalisco. After all, it is the birthplace of tequila and sombreros!
From Puerto Vallarta, you'll find yourself perfectly positioned to explore some of these enchanting towns.
There are twelve pueblos magicos in Jalisco to explore, and many can be visited as day trips from Puerto Vallarta. While others are suitable as weekend trips or day trips from Guadalajara due to their distance.
Here is a list of pueblos magicos in Jalisco and how to get to each one from Puerto Vallarta or Guadalajara.
Pueblos Magicos Jalisco Near Puerto Vallarta
The three towns below are close enough to be done as day trips from Puerto Vallarta.
1. San Sebastián del Oeste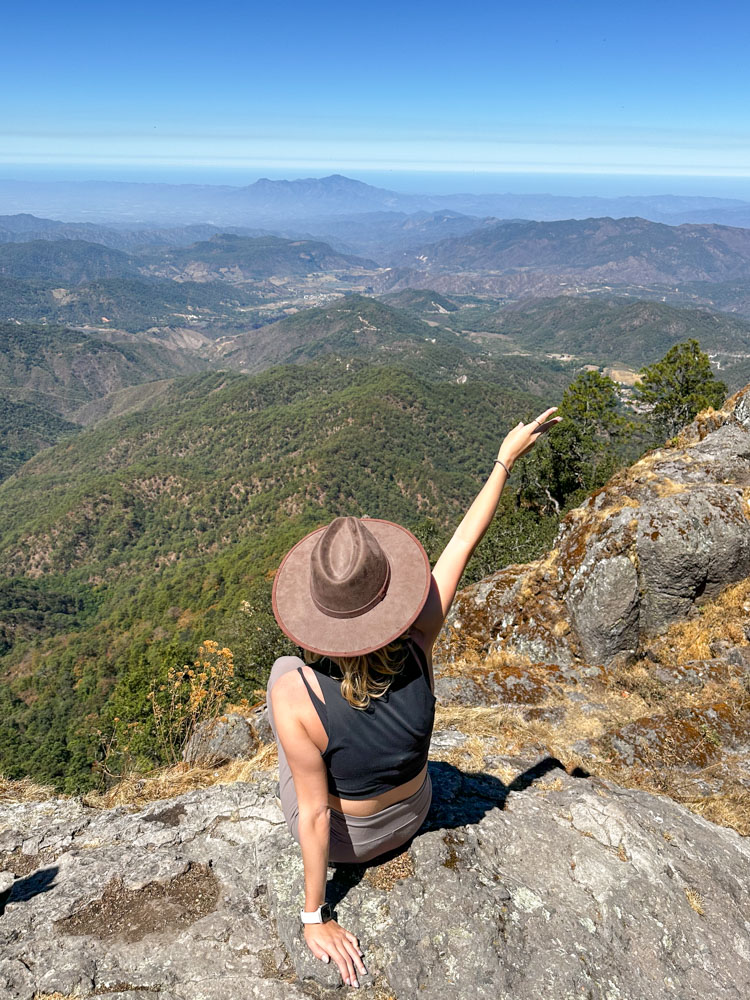 San Sebastian del Oeste is a quiet alpine village with around 5,000 people. It's got a cooler climate than Puerto Vallarta, making it a perfect escape if you're looking to beat the heat during the summer months.
Nestled in the mountains, this charming mining town takes you back in time with its cobblestone streets and colonial architecture. It's a peaceful place to explore local traditions and indulge in authentic Mexican cuisine.
This guide has everything you need to know about visiting San Sebastian from Puerto Vallarta.
Hikers and nature enthusiasts will enjoy La Bufa, a nearby mountain lookout.
Most visitors explore the spectacular viewpoint by renting a four-wheeler and driving to the summit, which you can rent from the town.
On a clear day, you can see as far as Puerto Vallarta. While we were visiting, there were clouds in the sky, but it was a mesmerizing feeling standing above them.
If you're interested in a challenging 14-mile (22-kilometer) hike, I recommend hiring a trekking guide for this trail.
In the town, sign up for a tour of the colonial haciendas and relax with a raicilla drink, tequila's sister, at the Rincon San Buenaventura.
The historic center is charming to walk around and is on the tentative list of new UNESCO world heritage sites in Mexico.
It's a quiet town, making it ideal for a relaxing one-night mountain stay if you want to stay longer. Villa Nogal Hotel Boutique is a good option, with gorgeous views of the mountain landscapes from the terrace.
How to get to San Sebastián del Oeste
Driving
The quickest way to travel to San Sebastián del Oeste is to rent a car from Puerto Vallarta and drive.
It's just 47 miles away, but it feels worlds apart. The drive takes about an hour and a half as you travel almost 1,500m on a scenic mountain road.
Unfortunately, there's no direct bus to San Sebastian, but there is one to Talpa de Allende.
San Sebastian del Oeste Tour
One of the best ways to visit San Sebastian from Puerto Vallarta is on a guided tour.
I really enjoyed this day tour to San Sebastian. It included a walking tour of the 18th-century church, a silversmith workshop, and an organic coffee farm, giving you a great taste of what San Sebastian has to offer.
2. Mascota
Like the neighboring village San Sebastián del Oeste, this sleepy pueblo sits in the Sierra Madre foothills.
Known for its greenery and coffee production, Mascota has been nicknamed la esmeralda de la sierra ("the emerald of the sierra").
The most visited attraction is the Templo Inconcluso de La Preciosa Sangre, a partially-constructed but unfinished church.
Another favorite building is El Pedregal, a house of stones owned by a local artist. However, no visit to Mascota is complete without a visit to a coffee farm such as Cafe Tercer Cielo.
For a luxurious stay, consider an overnight visit to Sierra Lago Resort and Spa.
This all-inclusive resort features Mexican-style luxury chalets with wooden floors, brick walls, and terraces overlooking the lake.
It's about an additional hour's drive up a very windy dirt road, so I recommend getting a 4×4 if you rent a car to make this trip. The resort is worth it, though; it's one of the most beautiful in Mexico.
How to get to Mascota from Puerto Vallarta
The quickest way to reach Mascota is to rent a car and drive from Puerto Vallarta. It's a 59-mile (or 95-kilometer) drive away and takes about 2 hours.
Mascota is an hour away from San Sebastian del Oeste, so the two can be done as a day trip together along with Talpa de Allende.
Mascota Tour
This highly-rated tour takes you on a day trip to Mascota and Talpa de Allende, including pickup and drop-off at hotels in Puerto Vallarta, breakfast, and lunch.
3. Talpa de Allende
Eighteen miles from Mascota is Talpa de Allende, a historic mining town 1,200 above sea level.
Known for the famous pilgrimage church, Nuestra Señora del Rosario, Talpa de Allende is a spiritual and vibrant town. The picturesque streets, filled with shops and eateries, make for an exciting exploration.
Like San Sebastian, Talpa de Allende was a silver mining town founded by the Spanish in 1599. The best thing to do here is simply wander the picturesque streets and enjoy food from the local street markets.
You can't miss the large 18th-Century European-style church. It receives thousands of pilgrims every year who come to visit Talpa's tiny Virgin statue.
If you're looking to go hiking, the Mable Forest near Talpa is a great place.
If you want to stay overnight in Talpa de Allende, the Doña Francisca Hotel Boutique is a great option. It's just a few meters from the Basilica of Talpa, with 22 rooms furnished with modern amenities in a historical setting.
How to get to Talpa de Allende from Puerto Vallarta
Renting a car is the best option to visit all three magic towns, including Talpa de Allende, but I recommend staying overnight at one of the towns in one if you do this. Otherwise, it would make for a very long day of driving.
There's also the option for this highly-rated tour that takes you to Talpa de Allende and Mascota.
Pueblos Magicos near Guadalajara
4. Tequila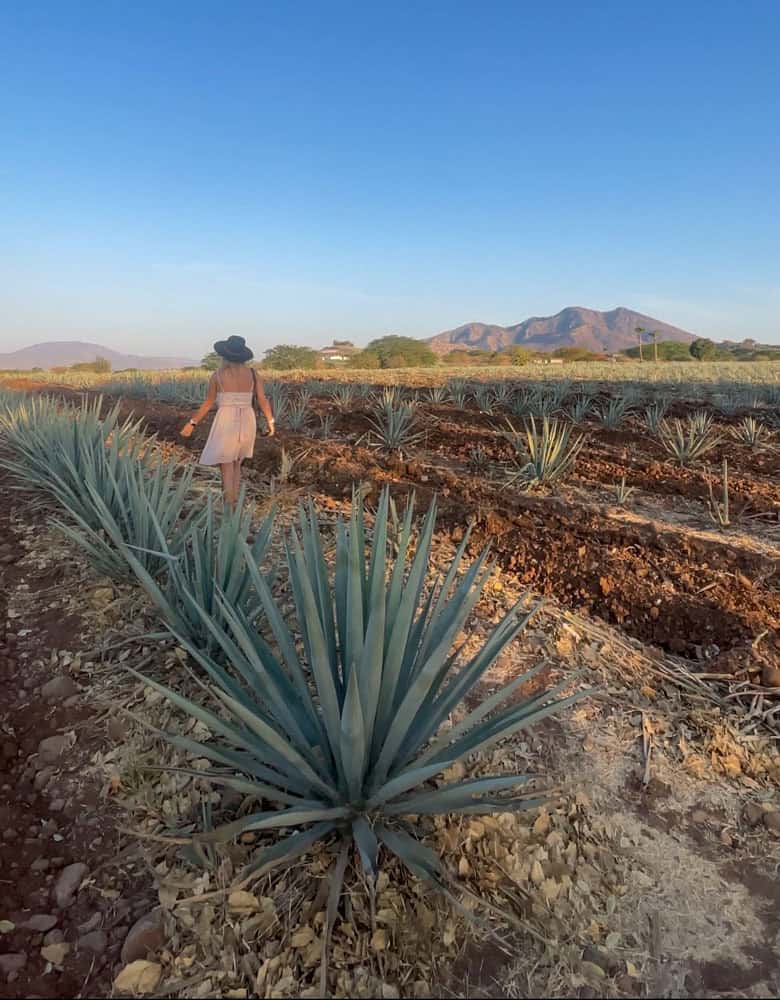 Yes, this town is the birthplace of the world-famous agave-based alcohol tequila. For this reason, UNESCO designated the Tequila Valleys region a "World Heritage" for its production of agave plants.
Established by the Mexican government as a pueblo mȧgico in 2003, Tequila is popular with tourists for its traditions, such as La Feria Nacional del Tequila ("The National Festival of Tequila"), held every December.
Enjoy sipping the best tequila in the world at locations like La Rojeña or Casa Sauza distilleries.
Finally, this is Native land, and one site of interest is the archaeological wonder Guachimontones, circular structures that the Teuchitlán people created. The sites are culturally significant and unique to the Tequila Valley.
Stay overnight: Matices Hotel de Barricas is one of the most unique places in Tequila! Their rooms are shaped like tequila barrels, located next to a factory that offers tours and tastings.
Getting to Tequila
You can also visit Tequila as a day trip from Puerto Vallarta, but I recommend combining it with a weekend trip to Guadalajara, as the distance between the two towns is about four hours. It's much more pleasant to visit as a day trip from Guadalajara.
For budget travelers who wish to commute comfortably, there's a two-hour bus ride from Guadalajara to Tequila.
Another popular but pricy choice is the Jose Cuervo Express from Guadalajara. I finally had the chance to take the Tequila train this year, and it was one the most bucket-list experiences I've had in Mexico. Check it out in this video below!
Lastly, a day trip is the easiest way to visit Tequila from Guadalajara. This VIP experience includes a tour of a Premium tequila artisan distillery with a private tasting of 6 different types of tequila and mezcal.
Afterward, you'll enjoy a delicious dinner in a restaurant inside an old tequila hacienda surrounded by beautiful gardens. Is there a better way to spend a day in Mexico?
5. Tlaquepaque
Tlaquepaque is conveniently located less than 10km southeast of Guadalajara, making it the perfect add-on to your itinerary if you're visiting for a weekend.
Tlaquepaque is an artisan town where you can find mansions turned into shops and galleries. The city is known for handicrafts, especially pottery, textiles, and handblown glass. It's an excellent place to pick up authentic souvenirs from Mexico.
Spend time wandering the town's colorful streets, central plaza, and historical monuments. The best way to visit is with a local guide, who can tell you about pre-Hispanic history.
Getting to Tlaquepaque
The best way to visit Tlaquepaque from Guadalajara is on this day trip to two Artisans' villages.
You'll visit the towns of Tonala and Tlaquepaque, known for their artisan crafts. In Tlaquepaque, you can see where mansions have been transformed into shops and galleries, wander around the central plaza, and visit the town's other structures and monuments.
6. Ajijic
The next closest pueblos magico to Guadalajara is Ajijic. It's a small town on the north shore of Lake Chapala surrounded by mountains.
It's one of Mexico's newest magic towns. However, that decision was somewhat contentious as, unlike most pueblos magicos, Ajijic does not have the centuries-old architecture that most other towns do. In fact, there are only three buildings left with historic significance.
Still, the town is home to Mexico's biggest expat population, so there's a reason to visit.
Given the proximity to Lake Chapala and the Sierra Madre Mountains, Ajijic is the perfect place to disconnect from the world and reconnect with nature. There, you can enjoy spending time in the lake and natural hot springs.
Getting to Ajijic
Renting a car and driving the 34 miles from Guadalajara to Ajijic is the quickest way, or you can get a direct bus.
Alternatively, you can join this guided tour to see the largest natural lake in Mexico without the hassle of figuring out transportation.
7. Mazamitla
Nestled between the lush forests and waterfalls of the Sierra del Tigre on the other side of Lake Chapala, you'll find the charming town of Mazamitla.
It was designated a magic town because of its traditions, community, and overall charm, so spend some time walking around the town to appreciate it. You'll find traditional Mexican markets here, where you can buy artisan crafts and enjoy excellent cuisine.
You can't miss the Church of San Cristobal, which has an eclectic architectural style with Chinese influences much different than most churches in Mexico.
This mountain town offers a cooler climate, so it's a perfect place for hiking by waterfalls.
Nearby to the town is an adventure park called Mundo Aventura, where you can soak in the incredible natural scenery. There you can find an 1150-long bridge you can cross at the park, offering stunning views.
How to visit Mazamitla
From Guadalajara, it's a two-hour drive. You can rent a car or join this guided tour below that takes you to the town and eco-park.
8. Tapalpa
With just under 20,000 inhabitants, the tiny town of Tapalpa was established in 2002 as Jalisco's first pueblo mȧgico.
Rural Tapalpa is a dream ecotourist destination with its highland forests, wild animals, and agricultural delights.
Notably, the Salto del Nogal region offers a refreshing swimming hole and the state's tallest waterfall (an easy 2-mile hike to the waterfall).
Other nature highlights include zip lining in the Ekopark or walking amongst Las Piedrotas in the Valle de Los Enigmas ("The Large Rocks in the Enigma Valley").
Don't forget to try the town's famous cajeta (caramel) candies and ice cream.
Stay overnight at Hotel La Casona, a gorgeous colonial-style building just a 10-minute walk from the center of town. Hang out on the terrace furnished with Fengshui-inspired decor and enjoy mountain views over a fireplace from your room.
How to visit Tapalpa
From the state capital of Guadalajara, it's a four-hour bus to Tapalpa or just under two hours of driving.
If you prefer the comfort of a tour, this one is a great option. You'll travel in private transportation through the Sierra Madre Occidental Mountains. At Tapalpa, choose from various activities, such as hiking, horseback riding, or even camping.
9. Lagos de Moreno
Last but not least is Lagos de Moreno, a charming city with photo-worthy architecture, particularly in the historic downtown.
Fans of neoclassical architecture will enjoy the Templo del Calvario, mimicking the St. Peter's Basilica in Rome.
Take photos on the grand staircase leading to the cathedral's entrance, and look over the downtown.
This high-altitude city sits in the foothills of the Sierra de Lobos ("Wolf Mountains"), so nature lovers will also enjoy visiting this pueblo for a horseback ride through the highlands with Cabalgatas Las Haciendas.
Stay overnight at La Casona de Tete, a boutique hotel on the main square of the historic center of Lagos de Moreno. The hotel is a beautifully restored 19th-century home with individual Mexican-themed decorated suites.
How to visit Lagos de Moreno
From Guadalajara, it's a direct four-hour bus to the town or a two-hour taxi drive.
A closer city is León, which is only 45 minutes to one hour's drive away. The nearest airport is 34 miles (or 55 kilometers) away in Aguascalientes (AGU).
2023 New Magic Towns
In June 2023, the government announced three new magic towns in Jalisco, bringing the total to 12. I haven't visited these three yet, but they are on my radar now!
10. Cocula
Cocula, known as the cradle of Mariachi, boasts a rich culture, traditional music, and stunning natural surroundings.
Must-visit places include the Main Square, where live music and local life thrive, and the Mariachi Museum, which showcases the musical genre's history. The natural landscapes with forests, dams, and springs offer various outdoor activities.
Located in the Valles region, Cocula is accessible by car or bus from major cities in Jalisco.
11. Sayula
Famous for crafting the best cajeta in Mexico and the renowned Ojeda knives, Sayula is a hub of tradition and partisanship.
Explore the Juan Rulfo House of Culture, the Museum of Sacred Art, and the historic center's cobbled streets and colonial churches.
The Main Square, surrounded by elegant historical buildings, reflects Sayula's rich history.
In the southern region of Jalisco, Sayula can be reached via a car or bus ride.
12. Temacapulín
Temacapulín is picturesque and known for its hot springs and colonial charm in the Altos de Jalisco region.
Key attractions include the Verde River, the old pantheon's ruins offering a panoramic view, the 18th-century colonial-style temple, and historic farms like the Royal Houses. The wooded environment adds to the town's aesthetic appeal.
Around 90 minutes from Guadalajara, Temacapulín can be reached by car or bus.
FAQ: Jalisco Pueblos Magicos
What are the magical towns in Jalisco, Mexico?
The magical towns in Jalisco include Tequila, San Sebastián del Oeste, Talpa de Allende, Mascota, Lagos de Moreno, Mazamitla, Tapalpa, and Tlaquepaque.
What is the most magical city in Mexico?
While "most magical" can be subjective, many consider San Miguel de Allende, with its stunning colonial architecture and vibrant arts scene, among Mexico's most magical cities.
How many Pueblos Magicos are in Jalisco?
There are twelve recognized Pueblos Mágicos in Jalisco.
What is Jalisco famous for?
Jalisco is famous for being the birthplace of mariachi music, tequila, and charrería, Mexico's national sport.
What is the largest market in Jalisco?
The San Juan de Dios Market in Guadalajara is the largest indoor market in Jalisco.
What are the indigenous towns of Jalisco?
Indigenous towns in Jalisco include Mezquitic, Bolaños, and Huejuquilla, predominantly inhabited by the Huichol and Cora people.
Is Tlaquepaque a magic town?
Yes, Tlaquepaque is recognized as a Pueblo Mágico, known for its artistic and cultural richness.
Are there pyramids in Jalisco, Mexico?
Yes, there are pyramids in Jalisco, such as the Guachimontones in Teuchitlán, which showcase the fascinating archaeological heritage of the region.
Final thoughts: Pueblos Magicos Jalisco
Jalisco's landscape of Pueblos Mágicos is as diverse as it is enchanting. With the recent addition of Cocula, Sayula, and Temacapulín, the state now boasts twelve magical towns, each offering a unique glimpse into Mexico's rich cultural tapestry and natural beauty.
Whether you're drawn to the rhythmic soul of mariachi, the artistry of traditional craftsmen, or the tranquility of hot springs and wooded landscapes, Jalisco's magical towns have something to captivate every traveler.
Planning a trip to Puerto Vallarta? Check out these other places to visit nearby!