This post may contain affiliate links. By clicking and making a purchase through the links, I earn a small commission at no extra cost to you. See my disclaimer for more information. This allows me to keep the site up to date and expand on resources.
Looking for towns near Puerto Vallarta to visit? I've lived in Puerto Vallarta for three years, and one of my favorite things is exploring the nearby towns on day trips! In this guide, I've rounded up my favorites.
Riviera Nayarit is one of Mexico's most idyllic tourist destinations and has offered visitors relaxation, fun, and adventure for decades.
Situated on the breathtaking coast of the Mexican Pacific in the Bay of Banderas – the region boasts stunning soft-sanded beaches, wild jungles, and a rich history intertwined with its local culture, arts, and cuisine.
Puerto Vallarta is the gateway and heart of the Riviera. The lively city offers impressive accommodation options, beautiful beaches, and a thriving nightlife.
The region's diverse collection of towns, dotted along the coast, offers an excellent opportunity to take day trips to discover these hidden gems and make your experience more diverse.
Here are a few towns near Puerto Vallarta you won't want to miss.
Beach towns near Puerto Vallarta
Sayulita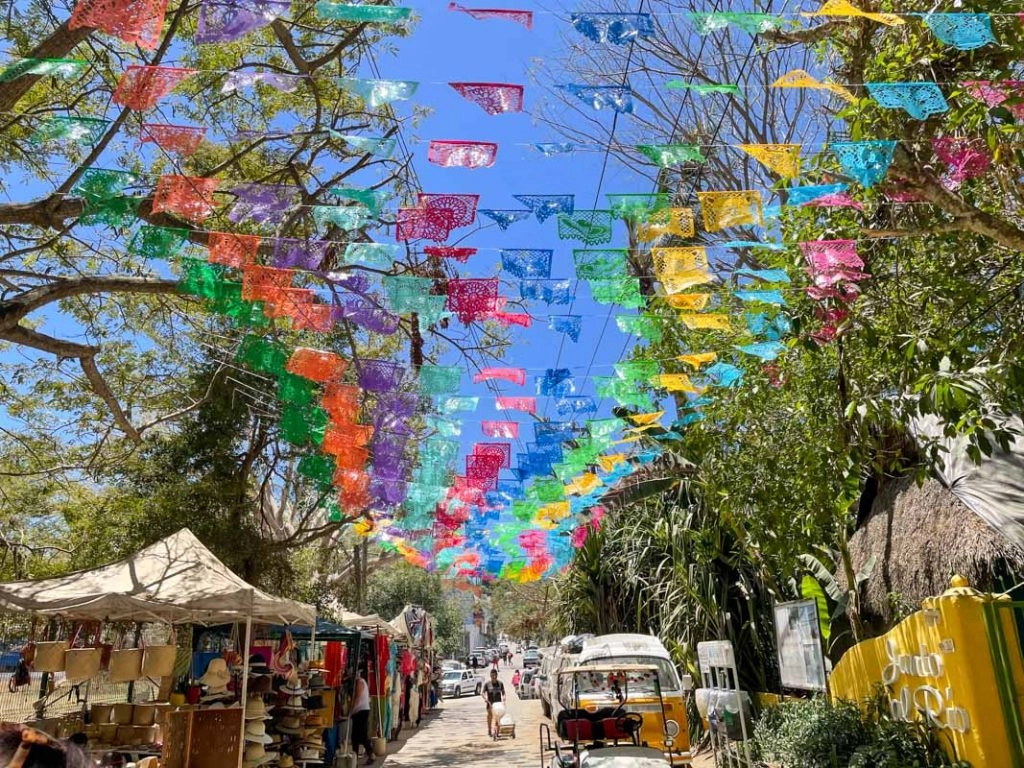 Another great town near Puerto Vallarta is Sayulita, a world-famous destination for travelers from all around the globe, which has gained a strong reputation for its unique surfing culture and picturesque location.
The town is recognized as one of Mexico's 'pueblos magicos' – a recognition from the government because of its historical & cultural richness and natural beauty.
Sayulita is a great day trip for those looking to rent a couple of surfboards and chill out on the beach for the day.
You can get to Sayulita from Puerto Vallarta by car or bus for 50 pesos, which will take about an hour, depending on traffic.
An easier way is to join this full-Day Sayulita and San Pancho tour. Perfect for groups, it will provide transport to and from your accommodation and is a great way to fit everything into one stress-free day.
Read more: Sayulita Vs Puerto Vallarta
San Pancho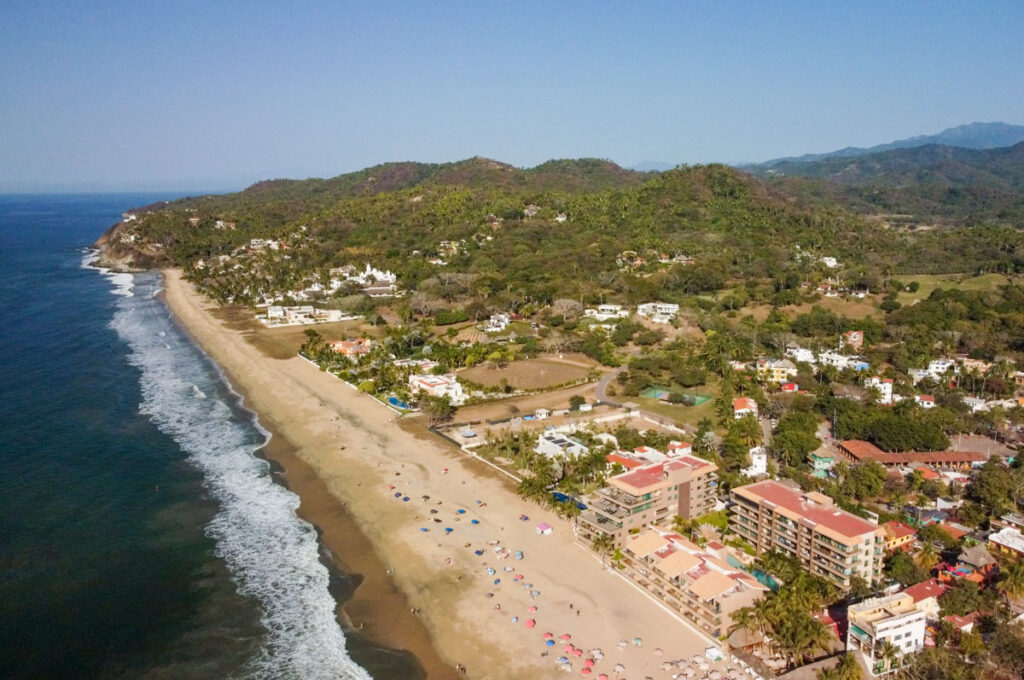 San Pancho, as it is unanimously known – but sometimes referred to as San Francisco – is a charming little surf town just 5 minute drive from Sayulita.
It is much less busy but still retains the same laid-back feel and has an outstandingly beautiful beach. It has a great selection of local shops, restaurants, and bars – a perfect little town to relax and enjoy the slow pace of life.
The beach is located perfectly to have the most photogenic sunsets over the ocean, and this is a great time to take your holiday snaps! You can hire a vacation photographer in San Pancho and make the most of the stunning natural beauty and capture the memories of your trip.
Yelapa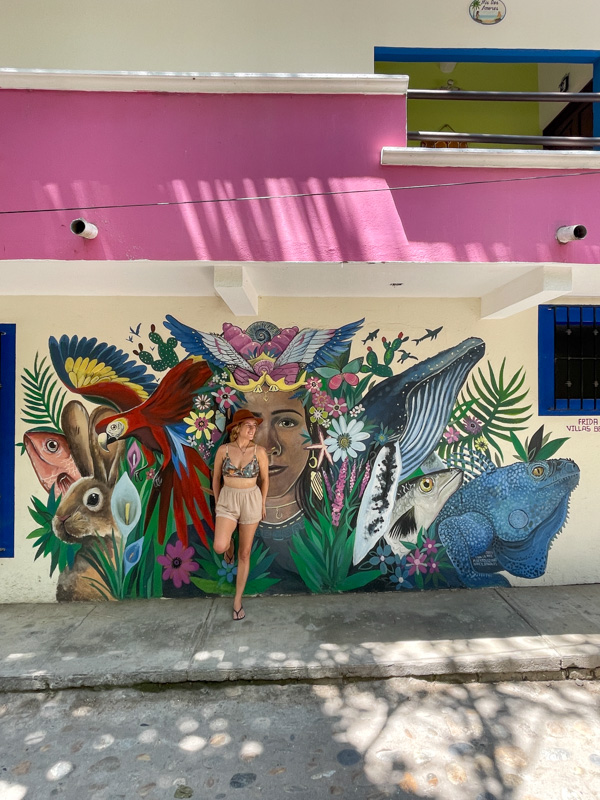 Yelapa is a beautiful small fishing village nestled into a lush tropical jungle with many waterfall hikes. It is only accessible by boat, making it a perfect day trip destination. It's one of the best beach towns near Puerto Vallarta!
The beach has beautifully clear and calm waters, perfect for snorkeling, and the town is surrounded by nature, including a waterfall that looks like it's straight from a postcard.
You can get to Yelapa from Puerto Vallarta by taking a water taxi from Los Muertos Pier or the Boca de Tomatlan Pier. The boat ride from Puerto Vallarta takes about an hour and offers stunning views of the coastline along the way.
An even better way to visit Yelapa is this all-inclusive Yelapa boat tour by Chico Locca. You'll get to cruise in style along a 100 x 40 ft Mega Yacht catamaran, with all your food and drinks included! It's one of the best catamaran tours in Puerto Vallarta.
Small towns near Puerto Vallarta
La Cruz de Huanacaxtle
La Cruz de Huanacaxtle is a small, charming town conveniently near Bucerias. It takes between 40 minutes and an hour to reach La Cruz from Puerto Vallarta, depending on traffic.
It's best known for its large marina, with plenty of fishing and whale-watching excursions available, and its infamous Sunday market.
The Sunday market is a popular attraction for people all over Riviera Nayarit, with stands selling artisanal products from local producers. Everything from jewelry, clothing, art, and local food. It is a fantastic destination to pick up gifts or simply browse and soak up the atmosphere.
The cheapest way to get to La Cruz is by bus. The local Compostella, destined for Guayabitos, will stop there and will cost you around 30 pesos. Alternatively, you can call a taxi that will cost you around 800 pesos.
San Sebastian del Oeste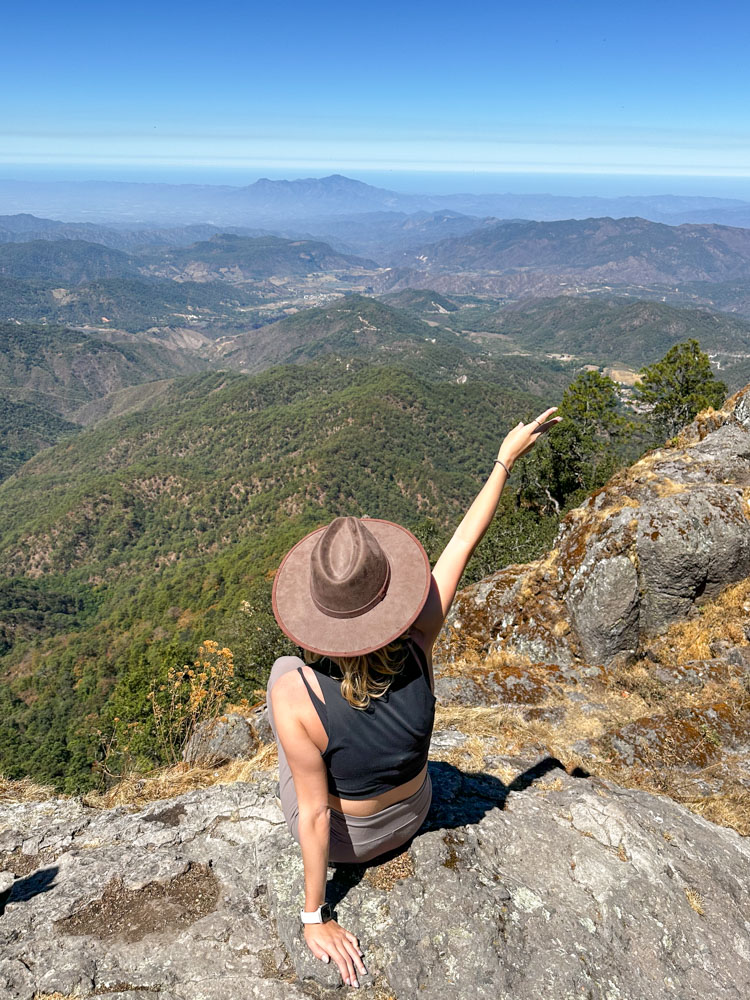 San Sebastian del Oeste is a quaint colonial town nestled in the hills of the Sierra Mountains. The town looks straight out of a time capsule, with beautiful colonial architecture and breathtaking mountain views.
It is a great way to journey away from the beaches and explore the different terrain Mexico offers.
The centuries-old buildings of this old mining town have aged gracefully, and simply walking through the cobblestone streets, alleys, and haciendas will give you a taste of what life looked like back in the 1800s.
San Sebastian is surrounded by mountains, trees, and rivers and offers a beautiful place to explore nature that differs from the soft golden sand beaches of Puerto Vallarta but remains distinctly Mexican.
San Sebastian is around an hour and a half from Puerto Vallarta and can be long and complicated to get to by bus, involving multiple changes. The best option if you are without a vehicle is on this San Sebastian day tour.
You will be picked up from your accommodation, shown around San Sebastian, and even provided with lunch. It's a great way to take the hassle out of your vacation and enjoy the beauty of San Sebastian.
Guayabitos
Rincon de Guayabitos, simply known locally as Guayabitos, is a beautiful little town with a relatively small amount of tourism compared to other locations near Puerto Vallarta.
It is a great destination to explore a more authentically Mexican town as the beaches are quiet, the businesses are run by local families, and it retains its natural, local, small pueblo charm.
The town has many quality restaurants with some of the tastiest and most fresh seafood in Mexico. There are also regular street markets in the town, which are frequented by the locals and have a real authentic feel.
A great hidden gem of the area is to Discover Rincón De Guayabitos with a visit to Coral Island. – A small island off its coast with warm, clear, blue waters that are perfect for snorkeling and relaxing on the soft-sand beach
Tequila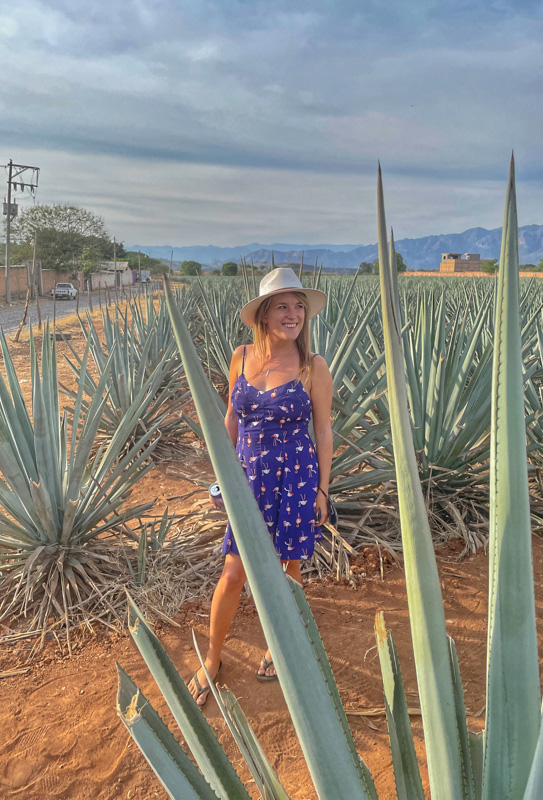 Okay, Tequila may not be super close to Puerto Vallarta but it's still worth mentioning on this list because it's so unique and can be visited as a day trip. Although it's best done in combination with a weekend trip to Guadalajara.
This small town is one of nine magic towns in Jalisco and is known for producing the world-famous drink that shares its name.
Tequila is a UNESCO World Heritage site and has stunning colonial architecture, as well as being home to some of the most iconic tequila brands, making it a must-visit destination for anyone who loves agave spirits.
In addition to touring a tequila distillery, there's plenty to see and do in the town of Tequila. The main square, Plaza Principal, is a great place to start.
Here you'll find the Church of Santiago Apostol, which was built in the 18th century, and the Casa Sauza Museum, which tells the story of the Sauza family and their role in the history of tequila production.
Getting from Puerto Vallarta to Tequila on your way isn't easy without a car, so a great way to enjoy everything Tequila has to offer in one day is to book a day tour to Tequila.
This 12-hour tour from Puerto Vallarta to Tequila includes hotel pickup and drop-off, a hearty breakfast, entrance fees, and a tequila tasting for a day-long immersion in authentic Mexican culture.
—
Puerto Vallarta is the gateway to an incredible region of Mexico. The surrounding towns offer a glimpse into different cultures and the diversity of the natural beauty of the country.
Taking a day trip offers a fantastic opportunity to explore a different side of Mexico and add more cultural depth to your vacation.
Whether you book yourself a guided tour or set off on the adventure on your own, the towns surrounding Puerto Vallarta are an experience you will never forget.
Looking for more day trip ideas? Check out these guides!