This post may contain affiliate links. By clicking and making a purchase through the links, I earn a small commission at no extra cost to you. This allows me to keep the site up to date and expand on resources. Thanks for reading!
While Puerto Vallarta is home to some fantastic beaches, they get even better if you leave the city limits and head down the coast. There are several beach towns you can visit as a day or weekend trip from Puerto Vallarta, and one that you don't want to miss is Yelapa.
While it's commonly mistaken as an island, Yelapa is actually connected to the mainland. However there aren't any roads there, so it's only accessible by boat or hiking trail, making it all the more special.
If you're looking for an escape from the city, look no further than Yelapa. It's got beautiful hiking trails that lead to secluded waterfalls, unique accommodation options that immerse you in nature, and a gorgeous beachfront to soak in the Pacific Coast sunsets. The overall vibe in Yelapa is wonderful, and some say it's Mexico's last authentic beach town.
This guide has everything you need to know about getting to Yelapa from Puerto Vallarta including the best things to do once you're there!
How to Get to Yelapa from Puerto Vallarta
There aren't any roads to Yelapa, so the only way to get here is by water taxi, hiking, or dirt bike (my friend rode his). Since it's a pretty long hike from Puerto Vallarta, most people opt for the water taxi.
Yelapa Water Taxi
Water taxis depart from Los Muertos Pier and Boca Del Tomatlan; you can see the schedule here. The water taxis run more regularly from Boca Del Tomatlan, and the ride is shorter. It's a small town outside of Puerto Vallarta, which you can reach by bus from Zona Romantica or a taxi/Uber. The water taxi from Boca takes about 30 minutes and costs 200 pesos roundtrip.
There are some water taxis that leave from Los Muertos Pier, but they run less frequently and are longer and more expensive (380 pesos round trip).
We ended up hiring a private boat to take us back from Yelapa to Los Muertos Pier as we missed the last public water taxi, which we paid 220 USD for. A costly mistake, but an amazing ride.
It's a nice boat ride, going along the edges of the southern part of Banderas Bay. It passes small beaches along the way sometimes stopping to pick up other passengers.
Another option is to join this tour that takes you to Majahuitas and Yelapa. The first stop is at Majahuitas Cove, where you'll go snorkeling in the turquoise water. From there, you'll head over to Yelapa to relax on the beach and explore the surrounding area.
Where To Stay in Yelapa
We stayed at this Los Naranjos, which was an experience in itself. It's about a 15-minute uphihll walk from the beach, or you can take ATVs up there. It's set in a beautiful jungle setting, but the accommodation is very rustic. The rooms don't have walls, so it truly felt like we were living in the jungle. However, they do provide mosquito nets, and there are clean bathrooms with running water.
You won't find any 5-star resorts or big brand names in Yelapa, which is part of the charm. However, if you're looking for something a bit more luxurious than open walls, there are some options right on the beachfront.
Casa Berita offers beautiful ocean views, hammocks to enjoy the breeze, comfortable rooms, and has fantastic reviews.
Find more accommodation options in Yelapa
Things To Do In Yelapa Mexico
Yelapa Waterfalls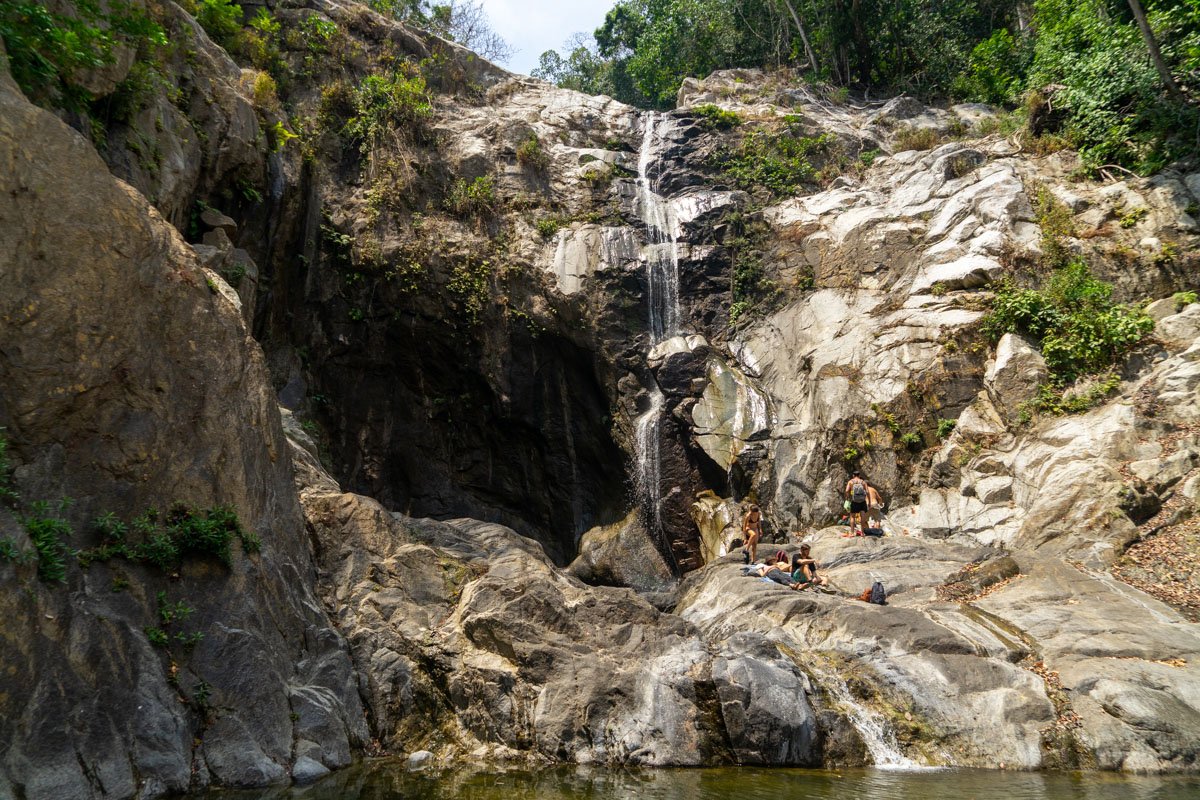 Yelapa is home to some of the best waterfalls near Puerto Vallarta.
There are a couple of waterfalls in Yelapa that you can hike to. One is just ten minutes away from town, and there's another more popular one that takes about an hour to reach. You follow the trail out of town, and there are signs from there.
We decided to go to an even further waterfall which was quite the adventure. It took us about 4 hours in total to get there, so you'll definitely want to pack a lunch if you're planning to do this hike.
The falls were so wonderful to swim in once we get there – there was no one else around, and we were surrounded by a completely pristine jungle with macaws flying above.
We ever climbed up even further to the top of the waterfall, where there were beautiful small pools to swim in. It took us even longer to get back due to a few wrong turns, so this was a 12-hour adventure!
This trail involves nine river crossings, so I do recommend going with a guide. We went with one of the staff from Los Naranjos. We also saw people riding horses on the trail, so that's an option.
Yelapa Beach
Yelapa feels like a secluded island, so one of the best things to do here is simply enjoying the beach and amazing sunsets over the ocean. Massages are also available on the beach, which is the perfect way to relax.
Eat Fresh Seafood
There are a few restaurants on the beach where you can order food to enjoy. One unique thing about Yelapa is that the only businesses in town are locally run – you won't find any chain restaurants here!
The quality of seafood is fantastic as the restaurants buy it directly from the fisherman. We ate at Yelapa Yacht club after our hike and the food was amazing. They also had some great live music.
Yelapa is famous for its beach pies, which local vendors sell along the beach for just a couple of dollars in the afternoon.
Water Activities
During the whale watching season (December to March), you can go whale watching from Yelapa, with great chances of spotting magnificent humpback whales.
The ocean is right there, so it's a great place to go for a swim or kayak/paddleboard. If you're feeling like more adventure, you can also go paragliding in Yelapa for a birds-eye view over the ocean.
Wander Around Town
Yelapa is home to charming winding streets decorated with colorful flags and graffiti. Take some time to wander around, petting the friendly dogs, talking to the locals, and supporting the economy. There's a cultural museum in Yelapa you can visit for only 50 pesos to learn more about the history of this town.
While you can visit Yelapa in one day from Puerto Vallarta, I recommend spending the weekend. It's the perfect place to relax and enjoy the natural beauty of Banderas Bay!
Planning a trip to Puerto Vallarta? Check out these posts!