This post may contain affiliate links. By clicking and making a purchase through the links, I earn a small commission at no extra cost to you. See my disclaimer for more information. This allows me to keep the site up to date and expand on resources.
Puerto Vallarta jet ski rentals and tours are one of the most fun ways to explore the beautiful Bay of Banderas that surrounds the city!
There's no better feeling than cruising along the coastline on a jet ski on a hot sunny day – I go jet skiing in Puerto Vallarta often!
⭐️⭐️⭐️⭐️
Puerto Vallarta Jet Ski Safari
✅ See the best views of the bay and swim with marine life
✅ Snorkel gear and life jackets provided
✅ Small-group with English speaking tour guide
Nestled on Mexico's stunning Pacific Coast, Puerto Vallarta offers a paradise for sun, sand, and water sports.
One of the best ways to explore the beauty of Puerto Vallarta's coastline is on a thrilling jet ski ride.
Jet skiing combines the thrill of speed with the refreshing splash of ocean waves. In Puerto Vallarta, this popular water activity takes on a whole new level as you navigate the sparkling blue waters of Banderas Bay, surrounded by great views of the Sierra Madre Mountains.
Best Puerto Vallarta Jet Ski Tours

⭐️ Rating: 4.5 out of 5 Stars | 🕟 Tour Length: 2 hours | Check Rates and Availability
Starting from the gorgeous Marina Vallarta neighborhood, this Puerto Vallarta jet ski safari takes you on a scenic ride around the Bay of Banderas, passing by the iconic Malecon and Romantic Zone (Old Town) as you head towards Los Arcos National Park – one of the best places to see marine life in PV.
Such a fun experience! Jet skis were top quality and FAST. Our guide Evar was great with a wealth of knowledge. Highly recommend! Would 100# do again if back in PV!

– Bridget (read more reviews here)
This tour isn't just riding jet skis – it's also combined with a snorkel activity where you'll get the chance to jump into the water and look for exotic wildlife such as dolphins, turtles, manta rays, and more. Snorkeling gear is provided!

⭐️ Rating: 4.5 out of 5 Stars | 🕟 Tour Length: 2 hours | Check Rates and Availability
Enjoy a thrilling ride over the waves of the Pacific Ocean on this two-hour guided jet ski tour from the Marina area.
After a safety briefing, you'll hop on the jet skis and head over the waves, passing by Los Muertos Beach all the way to the village of Mismaloya.
Armando was the best! Totally worth the price and way longer and more beautiful than expected! I would highly recommend.

– Rosa (read more reviews here).
Once you're on the water, let the thrill take over as you zoom along Puerto Vallarta's captivating coastline.
Feel the wind in your hair and the sun on your face as you zip past golden beaches, lush green hills, and picturesque coves.
This half-day tour also includes a stop to swim and snorkeling along the way, with life vests and a sightseeing guide included to ensure you have the best time.
Jet ski rental Puerto Vallarta
If you want your own jet ski in Puerto Vallarta, you can do so from the beach. I've rented them from Mango's beach club in 5 de Diciembre.
In June 2023, it was 1000 pesos (50 USD) to rent a jet ski for 30 minutes. However, it's important to note that the rental companies do not want you to go very far, so you won't be able to make it out to Los Arcos, where the marine life is. And they will come looking for you!
If you want to experience the best jet ski locations, it's best to book a guided jet ski excursion.
FAQ: Jet Ski Puerto Vallarta
Do you need a license to jet ski in Mexico?
No, a personal watercraft (PWC) license or boating license is not required to operate a jet ski in Mexico.
How fast does a jet ski go?
On average, most jet skis have a top speed ranging from 40 to 70 miles per hour (64 to 113 kilometers per hour). I was surprised how quickly we got to Los Arcos while riding jet skis – they are surprisingly fast at full speed.
What safety measures are in place during jet skiing activities?
Safety is a top priority. Jet ski rental companies in Puerto Vallarta provide life vests, and instructors will brief you on safety guidelines and proper handling of the watercraft. Following their instructions and wearing safety gear throughout the activity is crucial.
Can I go jet skiing in Puerto Vallarta if I don't know how to swim?
While it's advisable to know how to swim for safety reasons, you don't need to be an expert swimmer to enjoy jet skiing.
However, it's important to inform the rental operator about your swimming ability, and always wear a life jacket.
Can I ride a jet ski with a passenger?
Yes, most jet skis in Puerto Vallarta are designed for two people. Riding with a passenger allows you to share the experience and create memories. I love riding on the back with my friends!
Is it necessary to make a reservation for jet skiing in Puerto Vallarta?
It's highly recommended to make a reservation, especially during peak seasons or busy weekends. This ensures availability and allows the rental operator to prepare the necessary equipment for your adventure.
What should I wear while jet skiing in Puerto Vallarta?
It's best to wear a swimsuit or comfortable beachwear that you don't mind getting wet. Additionally, don't forget to apply sunscreen beforehand to protect yourself!
Do you have to wear life jackets while jet skiing in Puerto Vallarta?
Yes, it is a requirement to wear life jackets while jet skiing in Puerto Vallarta, whether you are renting a jet ski or going on a guided tour.
All tour companies should provide well-maintained jet skis, safety gear, and knowledgeable instructors to guide you through the experience, ensuring your safety and enjoyment.
What can you see while jet skiing in Puerto Vallarta?
Keep your eyes peeled for encounters with marine life as you jet ski through the bay. Dolphins often frolic in the wake of jet skis, adding an unforgettable touch to your adventure.
If you're lucky, you may even spot sea turtles gliding beneath the water's surface or a variety of colorful tropical fish swimming alongside you.
During whale watching season from December to March, there is a high probability that you will see humpback whales!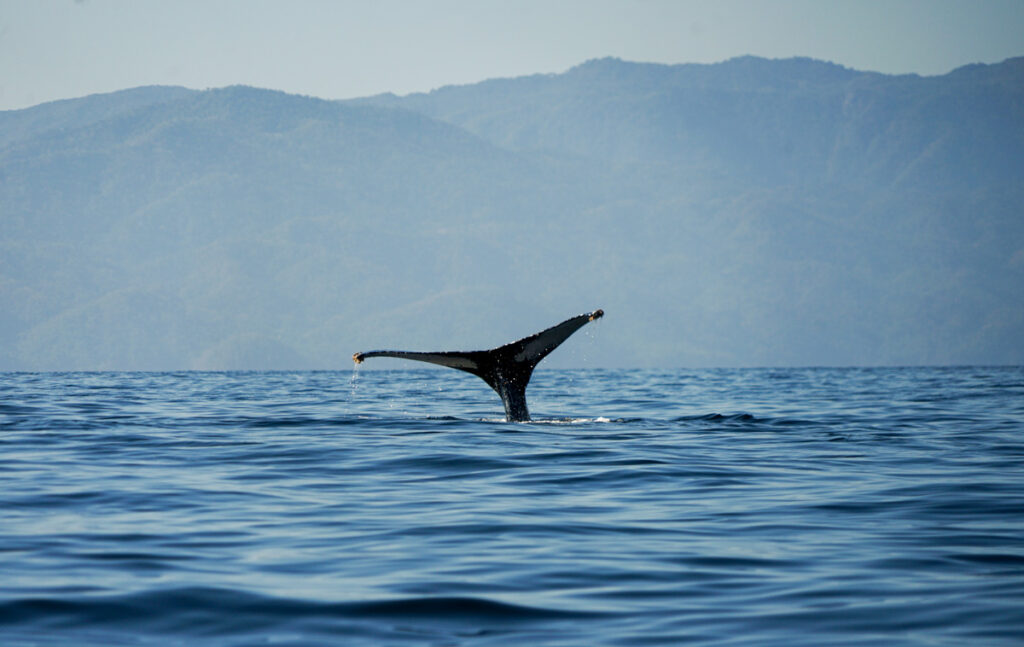 Is it safe to beach a jet ski?
Beaching a jet ski, also known as landing or docking, can be done safely, but it requires some caution and attention.
Most rental operators may have specific guidelines or restrictions regarding beaching jet skis, and it's always recommended to follow their instructions when returning your jet ski to avoid any damage.
How much does it cost to rent a jet ski in puerto vallarta?
Jet ski rental prices in Puerto Vallarta can vary depending on factors such as the duration of the rental, the type of jet ski, and the specific rental operator (and your negotiation skills).
We rented one in June 2023 for 1000 pesos for half an hour, but it's important to know prices may change.
How old do you have to be to drive a jet ski in Mexico?
The minimum age to operate a jet ski in Puerto Vallarta is typically 16 years old. Kids under the age of 16 must be accompanied by an adult.
Does Puerto Vallarta have blue water?
Yes, Puerto Vallarta is known for its stunning blue water. The coastal waters of Banderas Bay, where Puerto Vallarta is located, boast crystal-clear, turquoise-blue hues along the shores.
Is jet skiing in Puerto Vallarta suitable for beginners?
Absolutely! Jet skiing in Puerto Vallarta caters to both beginners and experienced riders. Rental operators offer thorough instructions and safety briefings to ensure a safe and enjoyable experience for everyone.
Are there restrictions on who can ride a jet ski?
Certain individuals may be restricted from riding a jet ski due to safety concerns. These restrictions can include age limitations, physical limitations that may affect safe operation, specific medical conditions such as heart problems, pregnant women, and being under the influence of alcohol or drugs. There may also be a maximum weight.
—
Jet skiing in Puerto Vallarta is an awesome experience that combines an adrenaline rush with the mesmerizing beauty of Mexico's Pacific Coast.
Whether you're a seasoned jet ski enthusiast or a first-timer, Puerto Vallarta is the perfect place to try it. While this article featured some jet ski tours, you might still be undecided — so let me help you!
This jet ski safari in Puerto Vallarta is the best option – with many 5-star reviews!
Other Puerto Vallarta tours
Looking for more things to do on your trip? Check out these activities!