This post may contain affiliate links. By clicking and making a purchase through the links, I earn a small commission at no extra cost to you. See my disclaimer for more information. This allows me to keep the site up to date and expand on resources.
Looking for the best water activities in Puerto Vallarta? Let me help! As a local resident and avid water enthusiast, I've explored every nook and cranny of this aquatic playground.
Puerto Vallarta is an ideal destination for water sports, thanks to its strategic position on the Bay of Banderas, warm waters, and an abundance of marine life.
But if you're visiting for the first time, the sheer number of water activities can feel overwhelming.
I know you're here to make the most of your time, and the last thing you want is to miss out on an incredible experience—or worse, choose the wrong season for your adventure. That's why I've put together this comprehensive guide.
I'll walk you through the best water sports in Puerto Vallarta, complete with insider tips on when to go for each one.
From snorkeling with vibrant marine life to sailing on luxury yachts, I've done it all. And let's not forget the seasonal gems like whale watching in winter and sea turtle sightings in summer.
Best Puerto Vallarta Water Sports Activities
1. Snorkeling
If you're new to Puerto Vallarta or just dipping your toes into the world of water activities, snorkeling is the perfect starting point. It's easy, accessible, and offers an instant reward—the chance to see Puerto Vallarta's vibrant marine life up close.
You don't need any special certifications, and it's suitable for all ages. Plus, Puerto Vallarta's calm and warm waters make it an ideal environment for first-timers. Just grab a mask, snorkel, and fins, and you're ready to go.
While there are multiple spots to snorkel around Puerto Vallarta, Los Arcos Marine Park is a standout.
This natural wonder features stunning rock formations that rise dramatically from the ocean, creating a maze of caves, tunnels, and coral reefs just waiting to be explored.
As it is a marine reserve, it's a sanctuary for marine life. You'll find yourself swimming alongside tropical colorful fish, sea turtles, rays, and sometimes mantas. I've been here multiple times and never get bored.
If you're looking to elevate your experience, this luxury yacht and snorkel trip is the perfect way to see Los Arcos.
2. Puerto Vallarta Diving
If you're looking to take your underwater exploration to the next level, scuba diving is the way to go.
The most popular dive site is Los Acros Marine National Park, where you can swim through undersea tunnels, caves, and reefs. When I went diving here, we saw sea turtles and manta rays!
You can opt for technical dives like El Morro or even experience the magic of a night dive at Los Arcos National Marine Park. Each offers its own set of thrills and is sure to satisfy even the most seasoned divers.
If you're not certified, no worries. Many operators offer PADI certification courses.
Ready to go? Book with this 5-star PADI Dive Center to ensure an amazing experience!
3. Jet Ski Puerto Vallarta
If you're in the mood for some high-speed fun, jet skiing is the activity for you. Imagine the thrill of zipping across the Bay of Banderas, wind in your hair, with the freedom to explore at your own pace.
I had an absolute blast renting jet skis from Playa Camarones and driving them all the way to Los Arcos. It was exhilarating, to say the least, but I wish we had them for a longer time.
Jet skiing in Puerto Vallarta offers a unique blend of excitement and freedom. You get to control your own ride, explore the bay at your own pace, and even discover secluded beaches that are otherwise hard to reach. It's an adrenaline rush that's hard to match.
If you're looking to make the most of your jet skiing experience, consider a jet ski safari. This tour combines the thrill of jet skiing with the beauty of Puerto Vallarta's landmarks.
4. Swimming with Free Wild Dolphins
If you've ever dreamed of swimming with dolphins, Puerto Vallarta is the place to make that dream come true. But please don't swim with captive dolphins! Instead, swim with wild dolphins in their natural habitat.
Having the privilege of swimming with these magnificent animals is something that stays with you. The feeling of being accepted and interacted with by a wild dolphin is indescribable. For a brief moment, you become part of their world.
These intelligent and playful creatures often interact with swimmers, providing a unique opportunity to connect with nature in an intimate way.
For the most enriching experience, the tour with Wildlife Connections is highly recommended. Conducted by a biologist, this tour not only offers a magical experience but also educates you about these incredible creatures and their habitat.
5. Parasailing Puerto Vallarta
Ever wondered what Puerto Vallarta looks like from the sky? Parasailing offers you that unique perspective. Imagine soaring high above the bay, with panoramic views of the mountains, beaches, and the sparkling ocean below.
Parasailing is more than just an adrenaline rush; it's a way to see Puerto Vallarta from a whole new angle. The experience is both exhilarating and serene, as you float above the landscape, taking in sights you can't get any other way.
Safety is paramount when it comes to parasailing. Make sure to choose a reputable operator that follows all safety guidelines, including harness checks and weather assessments.
By taking off from the beach rather than the back of a boat, this 5-star parasailing experience allows you to fly much higher and see more of the surrounding area.
6. Swimming in Waterfalls
If you're looking to escape the beach crowds and immerse yourself in nature, swimming in waterfalls is a refreshing alternative. Puerto Vallarta and its surrounding areas are home to a variety of stunning waterfalls that make for perfect day trips.
Some of my favorites are Palo Maria, Quimixto, and the waterfalls of Yelapa. Each offers its own unique setting and level of adventure, from easy hikes to more challenging treks.
Most of these waterfalls require a bit of a hike. Make sure to wear sturdy shoes and bring plenty of water. Some waterfalls also have guided tours, which can be a great way to learn about the local flora and fauna.
The best time to visit these waterfalls is during the dry season, from November to May. This is when the trails are most accessible, and you can fully enjoy the natural pools without worrying about heavy rains.
However, by the end of May, some will be getting quite dry, so the most optimal time is right after the rainy season ends in November.
Embark on a full-day adventure in this Puerto Vallarta jungle tour, which ends with an invigorating plunge beneath a beautiful waterfall.
7. Relax on a Yacht
If you book any tours in Puerto Vallarta, make it a luxury sailing trip. Nothing in the world feels as good as the fresh sea breeze around your face while sipping on a mojito in luxury.
A sailing tour offers the best of both worlds: the adventure of sailing and the luxury of being on a yacht. You'll get to see Puerto Vallarta from a different perspective, explore secluded beaches, and even enjoy onboard amenities like a bar and snorkeling gear.
My friends and I rent yachts and catamarans all the time, and it's such a fun way to spend a day. From the friendly crew to the incredible views, each trip is a unique experience filled with laughter, relaxation, and a bit of adventure.
Plus, these boat tours often come with snorkels, paddleboards, and swimming opportunities, making it a great way to enjoy many water sports in one day.
Ready for a memorable day? Cruise through Puerto Vallarta's Bay on this exclusive sailboat that is tailored to your needs.
8. Visit the Marietas Islands
If you're craving a taste of true natural beauty and adventure, a trip to the Marietas Islands is an absolute must. Tucked away in the azure waters of Banderas Bay, these islands are a hidden gem waiting to be discovered. This was the first tour I ever did in Puerto Vallarta and a big part of why I fell in love with the region.
The Marietas Islands are a paradise within a paradise. With their pristine beaches, hidden caves, and vibrant marine life, they offer a glimpse into the untouched beauty of nature.
My visits to the Marietas Islands was nothing short of magical. We saw dolphins on the way out, many birds, including blue-footed boobies, and the underwater world was mesmerizing. Not to mention the beautiful beaches!
To preserve this ecological wonder, access to the islands is regulated, and only authorized tour operators can take you there. These tours not only ensure your safety but also educate you about the importance of conservation.
You'll love this snorkeling tour to the Marietas Islands. This tour has a 97% chance of visiting the hidden beach, and you can also see dolphins, turtles, manta rays, and whales!
9. Deep sea fishing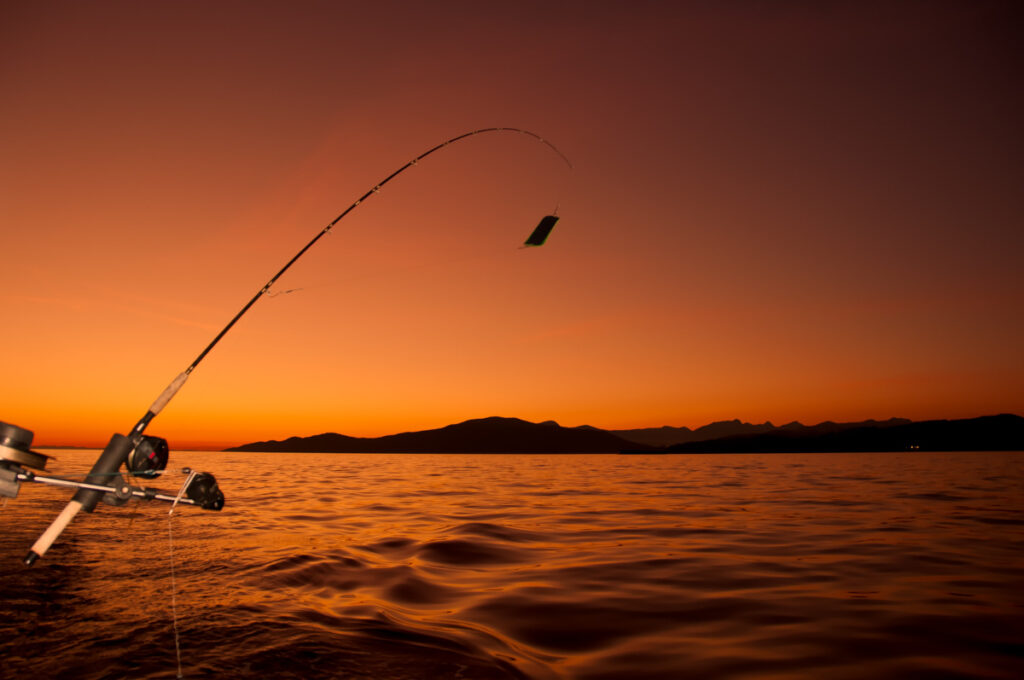 If you're an angler at heart or just looking for a different kind of adventure, deep-sea fishing in Puerto Vallarta is an experience you won't want to miss. The rich waters of Banderas Bay are teeming with marine life, making it an angler's paradise.
For an exceptional deep-sea fishing experience, this Private Inshore Fishing Adventure is the way to go. This private tour lets you personalize your itinerary, so you can fish and relax at your own pace.
The fishing season in Puerto Vallarta is year-round, but specific fish are more abundant at different times of the year. It's best to check with your tour operator for the most current information.
Best Time for Water Sports in Puerto Vallarta
If you're wondering when to dive into Puerto Vallarta's water activities, you're in luck. The city's tropical climate makes it a year-round destination, but some months offer unique experiences that shouldn't be missed.
Peak Season: December to April
Why It's Great: The weather is at its finest—warm but not too humid. It's the perfect time for almost all outdoor water activities in Puerto Vallarta, from snorkeling to jet skiing.
What to Expect: Expect crowds, especially around the holidays. Book your tours and activities in advance.
Insider Tip: This is also the whale-watching season. Don't miss the chance to see humpback whales if you're into snorkeling or diving.
Off-Peak: May to November
Why It's Great: Fewer crowds mean you get a more intimate experience. Plus, off-season rates are a steal.
What to Expect: The weather is hotter and more humid. Afternoon rains are common but usually brief.
Insider Tip: Sea turtles are more commonly sighted during these months, especially if you're diving or snorkeling.
Year-Round Activities
Swimming and Relaxing on a Yacht: These are great all year. The bay's waters are calm, making it ideal for a leisurely swim or a day on a yacht.
Jet Skiing and Parasailing: These activities are less dependent on marine life and more about the thrill, making them great options any time of the year.
FAQ: Outdoor water activities in Puerto Vallarta
Can you swim in the water at Puerto Vallarta?
Yes, Puerto Vallarta has many beaches that are safe and perfect for swimming. Always pay attention to local advisories and flags indicating water conditions.
Is there snorkeling in Puerto Vallarta?
Absolutely, Puerto Vallarta offers various snorkeling spots, including Los Arcos Marine Park and the Marietas Islands.
Where is the clearest water in Puerto Vallarta?
The clearest water for snorkeling can be found around the Marietas Islands, offering excellent visibility for underwater exploration.
Is there dolphin swimming in Puerto Vallarta?
Yes, you can swim with wild dolphins in their natural habitat, and there are tours available for this unique experience.
Can you see sharks in Puerto Vallarta?
Shark sightings are rare in Puerto Vallarta, and they are generally not a concern for swimmers or snorkelers.
Are there sea turtles in Puerto Vallarta?
Yes, sea turtles are commonly found in the waters around Puerto Vallarta, especially near coral reefs and marine parks.
What time of year are whales in Puerto Vallarta?
Whale-watching season in Puerto Vallarta is from December to March, when humpback whales migrate to the area.
Can you see orcas in Puerto Vallarta?
Orcas are rare in Puerto Vallarta, but there have been occasional sightings, usually during the whale-watching season.
Are there jellyfish in Puerto Vallarta?
Jellyfish are present in the waters but are generally not a major concern. The ones I have seen around Los Arcos are harmless.
Where in Mexico can you practice water sports?
Water sports can be enjoyed in various parts of Mexico, including Cancun, Playa del Carmen, and of course, Puerto Vallarta.
What are the average water temperatures in Puerto Vallarta?
The average water temperature in Puerto Vallarta ranges from 78°F to 82°F year-round, making it ideal for water activities.
Final thoughts: Puerto Vallarta water activities
From the thrill of jet skiing and the serenity of snorkeling to the awe-inspiring experience of swimming with wild dolphins, Puerto Vallarta offers a diverse range of water activities that cater to all tastes and skill levels.
Its unique geographical features, like the Bay of Banderas and the Marietas Islands, provide the perfect backdrop for unforgettable experiences.
So, when you're planning your itinerary, make sure to include at least a few of these incredible water sports in Puerto Vallarta.
Planning a trip to Puerto Vallarta? Check out these things to do in the water!