This post may contain affiliate links. By clicking and making a purchase through the links, I earn a small commission at no extra cost to you. See my disclaimer for more information. This allows me to keep the site up to date and expand on resources.
Looking to go surfing in Puerto Vallarta? Let me help! I live in Puerto Vallarta and love to surf – but unfortunately, there aren't waves in the city to catch. However, you don't have to go far to find some incredible surf spots near Puerto Vallarta.
Mexico is a world-class surfing destination, attracting travelers and digital nomads from all over the world. And some of the best surf towns in Mexico are less than an hour's drive from Puerto Vallarta!
The best part is that many of these places are suitable for beginners as well as more experienced surfers, so no matter where you are on your surfing journey, you can enjoy the waves around Puerto Vallarta.
Although the Pacific Ocean surrounds the city, you can't actually go surfing in the city centre. But don't worry! In this Puerto Vallarta surf guide, I'm sharing the best surf towns near Puerto Vallarta and recommendations for surf lessons that will take you there.
#1 PUERTO VALLARTA SURFING LESSON
⭐️⭐️⭐️⭐️⭐️
✅ Private surfing lesson in Punta Mita
✅ Completely customized to your experience
✅ Pickup and drop-off from hotel included
Best places to go surfing near Puerto Vallarta
1. Sayulita surf
Sayulita is the most popular surfing beach along the Riviera Nayarit and is just an hour away from Puerto Vallarta.
Known for its consistent waves, this gorgeous beach town is perfect for surfers of all skill levels. The bohemian vibe in the nearby village is a bonus!
The waves here are suited for all levels of surfers, and it can be crowded. You may want to go to one of the quieter beaches nearby if you're a beginner.
I went surfing at Sayulita Beach after not surfing for a while, and found it a bit overwhelming because there were so many other skilled surfers – it felt like you had to compete for the waves!
If you're new to the sport, I recommend hiring an instructor to help you gain confidence and avoid getting a surfboard thrown at your head (this actually happened to me).
You can book a lesson online here, which includes transportation from Puerto Vallarta, or hire an instructor at the beach. You can also rent surfboards on the beach.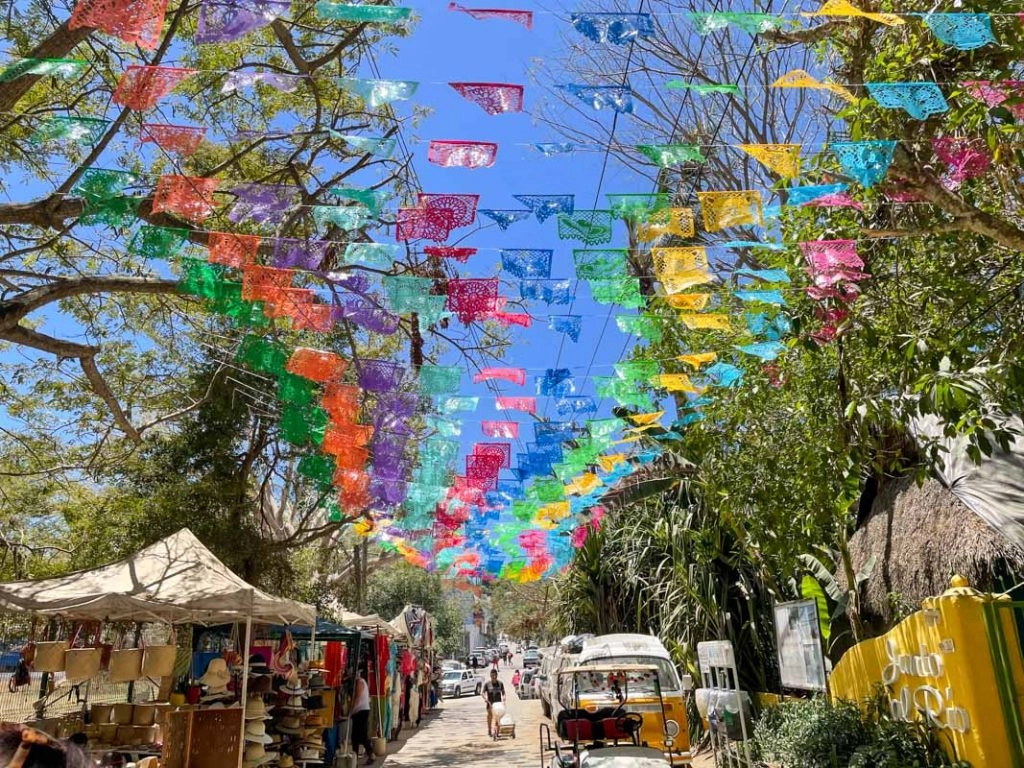 Getting to Sayulita from Puerto Vallarta is relatively straightforward, as it's just an hour away, and there are public buses.
In addition to surfing, Sayulita is famous for its nightlife and has become a popular spot for digital nomads in Mexico in recent years. Many people can't decide between Sayulita or Puerto Vallarta!
For me, I love living in Puerto Vallarta and visiting Sayulita to surf on the weekend.
2. San Pancho surf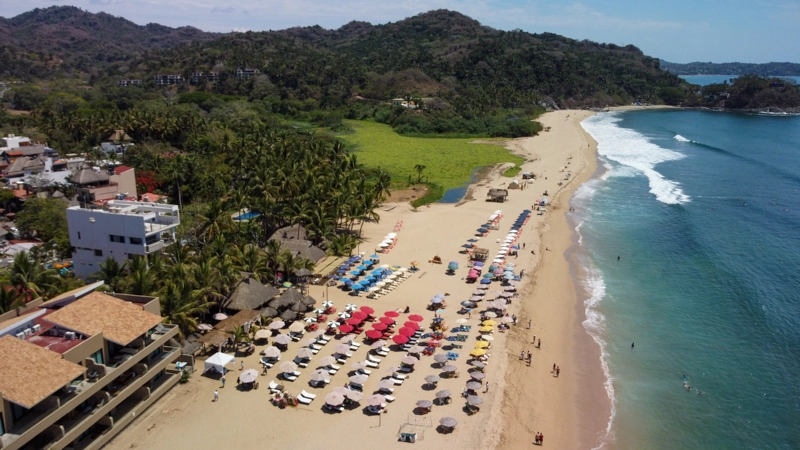 San Pancho is just 5 minutes from Sayulita, so the beaches and waves are similar. However, it has a much more relaxed atmosphere.
The beach is long, and the waves are well-formed, making it suitable for intermediate surfers.
Explore the quaint village for local cuisine and art after your surf session. If you would rather chill than party, this is the better place to go (although who knows how long that will last).
Punta Mita surf spots
Punta de Mita offers some of the best surfing near Puerto Vallarta. They even host an annual surf competition which is one of the top events to check out!
The waves here can cater to all skill levels, from gentle rides for novices to challenging sets for seasoned pros. Enjoy fine dining and high-end resorts after a day on the waves.
It's just a short drive from Sayulita but has much fewer tourists making it an ideal place to practice if you're learning to surf. You can easily find surf lessons here.
Here are some of the Punta Mita surf breaks:
3. Punta del Burros
A great place widely recommended by locals, but you have to walk through the jungle to get there. Since you will be far from commercial stores and businesses, be prepared with plenty of water, food, and sunscreen.
It is an ideal location to spend the whole day surfing waves in turquoise waters. It is a great place to practice surfing since few people visit.
4. El Anclote
El Anclote is a spectacular beach with golden sands and gorgeous sea views. It does not have much depth, so the waves are calm, constant, and slow.
This is the best option if you want to enjoy your stay and surf for a while. It is open for both; relax or dance with the waves. You can even go snorkeling or kayaking.
This beach is near the Marietas Islands, and there are boats that will take you there for a fixed fee.
You can find delicious seafood to eat in the surrounding area. It's an excellent place to satisfy your appetite after surfing!
5. Playa La Lancha
Playa La Lancha is one of the most highly recommended surf spots near Puerto Vallarta.
The beach is characterized by its entrance; you must cross part of a river. It is usually dry, but you may have to cross over mud in the rainy season. It has white sand and clear warm water, making it a great spot to take pictures and videos.
It is one of the best surf spots in Puerto Vallarta for beginners, as the waves are long and consistent.
You may even spot wildlife in the area, such as sea turtles and pelicans, in the winter season.
6. Los Veneros
Los Verneros is located at kilometers 9.5 on the road to La Cruz de Huanacaxtle. The waves break in different directions, so it will be a lot of fun. Depending on the weather is the type of waves you can face, but on average, it is accessible to amateur surfers.
The access is through Rancho Banderas, with a little hike, but nothing difficult. Another alternative is through the public beach of Destiladeras.
7. La Bahia (The Cove)
The Cove is widely considered one of the best spots in Punta Mita. To get to this beach, it is necessary to catch a panga (water taxi) that will take you 40 minutes.
Otherwise, you'll have to walk over rocks from El Anclote, which can be annoying if you're carrying a surfboard! There are collective options that leave every few hours.
This bay offers long rights and very fast left waves. You will usually find a medium to high tide. It's an excellent option for intermediate surfers who enjoy great surfing and have some experience that favors them in different situations.
The reef can be exposed during low tides, making it difficult for beginners.
8. Quimixto
For the adventurous surfer, Quimixto is only accessible by boat from Boca de Tomatlan. Well, you could hike from Boca – but who wants to carry a surfboard that far?
This secluded spot offers a wild and challenging surf experience with powerful waves and breathtaking scenery. It's best suited for experienced surfers, and lessons aren't readily available there. I had no idea you could even surf in Quixmito until I recently took a day trip there!
Puerto Vallarta surfing lessons
These surf lessons from Puerto Vallarta take you to the surf spots mentioned above. If you're visiting during the high season from November to May, book your lesson in advance to avoid any disappointment!
⭐️ 5/5 Stars (90+ reviews) | 🕐 5 Hours | 🏄‍♀️ Book it here
This private surf lesson includes pick-up from your hotel in Puerto Vallarta, where you'll head out for a scenic and easy drive to Punta Mita.
After a tailored lesson according to your experience, you'll leave the maneuvers on the beach and head out into one of the easiest and nicest brake points around Puerto Vallarta.
Following the lesson, you'll have some time to relax with drinks and snacks at a local bar before returning to your hotel in Puerto Vallarta.
"JC was an absolute angel! The instructor was extremely knowledgeable, patient, and nurturing. We learned alot and was very touched by how thoughtful he was." – Rafael (read more reviews here)
As this is a private tour, you can decide how long you want to spend practicing surfing or whether you want to split the time between surfing and the beach. There's even the option to keep driving to explore Sayulita!
⭐️ 5/5 Stars (90+ reviews) | 🕐 4 Hours | 🏄‍♀️ Book it here
Offering tours across the bay in locations like Punta Mita and Sayulita, this group surf lesson will find the perfect waves for everyone, whether you're a seasoned pro or a complete beginner.
What sets this surf school apart is their dedication to personal attention. You'll receive one-on-one guidance from professional, active surfers who are experts in water sports.
Plus, they'll pick you up and drop you off close to your hotel, and even provide three free pictures to help you remember this amazing experience.
"SO MUCH FUN! 10/10 definitely recommend for you and your family to enjoy! Im 20 and I went with both of my parents to learn how to surf for the first time and it was amazing." – Nora (read more reviews here)
You won't have to worry about equipment; as they've got everything you need, from surfboards and longboards to boogie boards, stand-up paddleboards, and even umbrellas. Comfortable rash guards are provided to prevent chafing and avoid sunburn.
Thr tour also includes a surfer's breakfast, complete with an energy/nutrition bar, seasonal fruit, and a bottle of water. This isn't just a surf lesson; it's a complete experience curated by passionate professionals ready to make you fall in love with surfing!
If you're visiting Punta de Mita and have the desire to glide across the gentle waves, this surf lesson is a must-try experience.
Your surf adventure may begin at the beautiful Anclote beach or perhaps at La Lancha or Burros, depending on the weather and the group's skill level. The waves in this area are typically small and always safe, making them absolutely ideal for beginners.
" I have been trying to surf for years, he had me up and surfing in 30 minutes. Very friendly respectful instructor." – William (read more reviews here).
What makes this experience so convenient is the flexibility in timing. You can choose a morning or afternoon lesson to best suit your itinerary in Puerto Vallarta. All the necessary equipment, including surfboards and rash guards, is provided, so all you need to do is show up and ride.
Surf shops in Puerto Vallarta
There are a few surf stores in Puerto Vallarta if you need to pick up any gear before surfing in Puerto Vallarta.
Quicksilver is located in Galerias Vallarta, where you can find shoes, bathing suits, backpacks, and surfboards.
Coral Surf Shop is located in the Romantic Zone, one of the cutest neighborhoods in Puerto Vallarta. In addition to all the surf accessories, you can find fabulous beachwear here.
FAQ: Puerto Vallarta Surf Spots
Can you surf in Puerto Vallarta?
Yes, while surfing isn't available in the city center, nearby areas like Sayulita and Punta Mita offer excellent surfing opportunities.
Is there surfing near Puerto Vallarta?
Yes, there are several amazing surf spots near Puerto Vallarta, including Sayulita Beach, Punta Mita, and La Lancha.
Are there good waves in Puerto Vallarta?
While the city center of Puerto Vallarta doesn't have surfable waves, nearby areas offer excellent surf opportunities.
How warm is the ocean in Puerto Vallarta?
The ocean in Puerto Vallarta typically ranges from 70°F to 85°F, depending on the season.
Does Puerto Vallarta have good surfing?
Yes, Puerto Vallarta is close to various surf spots that cater to all experience levels, providing a great surfing experience.
How big are the waves in Puerto Vallarta?
The waves near Puerto Vallarta can vary greatly, with some areas offering small, gentle waves for beginners, and others providing larger waves for experienced surfers.
Where can I learn to surf in Puerto Vallarta?
Surf schools in Puerto Vallarta offer lessons at beaches such as Anclote, La Lancha, or Sayulita.
What month is best for surf in Mexico?
Surfing in Mexico is great year-round, but the best months are generally from March to October, depending on the region.
What part of Mexico has the best surfing?
The best surfing in Mexico can be found on both the Pacific and the Gulf coasts, with top spots including Oaxaca, Baja California, and near Puerto Vallarta.
Where is the best place for beginner surfing in Mexico?
Areas like Sayulita, near Puerto Vallarta are known for gentle waves and are ideal for beginners.
Final thoughts: Surfing in Puerto Vallarta
As you can see, the region around Puerto Vallarta is perfect for surf enthusiasts.
From beginners looking to ride their first wave to seasoned surfers seeking new challenges, the options are abundant. Whether you want to join a group lesson, embark on a surf tour in Punta Mita, or explore the diverse surf spots at your own pace, there's something for everyone.
With warm waters, consistent waves, professional instruction, and breathtaking scenery, your surfing adventure near Puerto Vallarta is sure to be a great experience.
Planning a trip to Puerto Vallarta? Check out these other fun things to do in the water!