This post may contain affiliate links. By clicking and making a purchase through the links, I earn a small commission at no extra cost to you. This allows me to keep the site up to date and expand on resources. Thanks for reading!
Given the fact that Puerto Vallarta is surrounded by the ocean, one of the most popular activities to do in this beautiful paradise is spending time in the sea enjoying the plentiful water-based activities like surfing. If you're wondering about surfing in Puerto Vallarta, this guide has everything you need to know!
There are many beaches around Puerto Vallarta suitable for beginners as well as spots for more advanced surfers. Each location has different characteristics that make it unique! Although the city is surrounded by water, finding the best surf spots is not easy as they are mostly a couple of hours away from the city center.
Best Places to go Surfing Near Puerto Vallarta
Sayulita
Sayulita is among the most popular surfing beach in Rivera Nayarit. The waves here are suited for all levels of surfers, but it can be crowded, so if you're a beginner you may want to go to one of the quieter beaches nearby! Sayulita is just an hour's drive away from Puerto Vallarta.
There are countless surf schools, private lessons, and surfboard rentals, as well as paddleboard rentals. In addition to surfing, it is a town full of life and good vibes. You can find hotels, hostels, restaurants, bars, and much more. It makes a great weekend or day trip from Puerto Vallarta.
Puerto Vallarta Surf Spots: San Pancho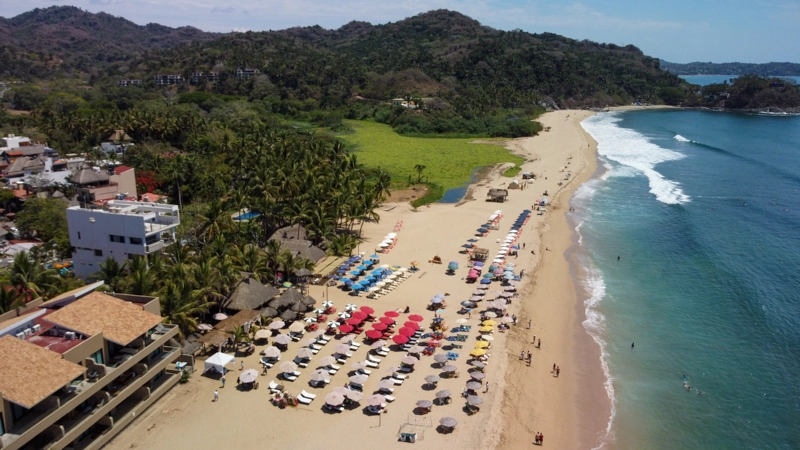 San Pancho is just 5 minutes from Sayulita so the beaches and waves are very similar, however, it has a much more relaxed atmosphere. If you would rather chill than party, this is the better beach to hang out! The ocean will also likely be less busy here, giving you more space to enjoy a surf lesson.
The following beaches are around Punta Mita, less than an hour away from downtown Puerto Vallarta.
Surfing in Puerto Vallarta: Punta del Burro
A place widely recommended by locals, you have to walk through the jungle to get there. Since you will be far from commercial stores and businesses, be prepared with plenty of water, food, and above all sunscreen.
It is an ideal location to spend the whole day surfing waves in a turquoise sea. It is a great option to learn how to surf, and since few people visit it you will have enough space to practice and improve your technique.
El Anclote
El Anclote is a spectacular beach when it comes to recognizing the beauty of its sand, sea, and landscape. It is similar to a virgin beach, so you will be surprised by its natural grandeur. It does not have much depth, so its waves are calm, constant and slow.
If you are looking to enjoy your stay and surf for a while, this is the best option. It is open for both; relax or dance with the waves. You can even snorkel and kayak. This beach is located near to Islas Marietas, and there are boats that will take you there for a fixed fee.
You can find food to eat in the surrounding area, as well as on the shore. The basic food is seafood, fish, in multiple presentations and flavors. It's an excellent place to satisfy your appetite after surfing!
La Lancha
This beach is characterized by its entrance, you have to cross part of a river. Normally it is dry, but in the rainy season you may find enough mud to make you think twice before crossing. It has white sand and clear blue water, great spot to take pictures and videos.
It is one of the best surf spots in Puerto Vallarta for beginners, as the waves are long and consistent. Plus, there is enough space to walk to other small sites where you can get started and not bump into anyone. You can see many animals in the area, turtles occasionally, pelicans in winter season and other types of birds that become part of the landscape.
Los Veneros
Los Verneros is a spot located at kilometer 9.5 of the road to La Cruz de Huanacaxtle. The waves break in different directions, so it will be a lot of fun. Depending on the weather is the type of waves you can face, but on average it is accessible to amateur surfers.
The access is through Rancho Banderas with a little hike, but nothing difficult. Another alternative is through the public beach of Destiladeras.
La Bahia (The Cove)
The Cove is widely considered one of the top surf spot in Punta Mita. To get to this beach it is necessary to catch a panga (water taxi) that will take you 40 minutes, otherwise you'll have to walk over rocks from El Anclote which can be annoying if you're carrying a surf board! There are collective options that leave every few hours.
This bay offers long rights and very fast lefts. You will usually find medium to high tide. It's a great option for people who enjoy surfing and have some experience that favors them in different situations, as during low tides the reef can be exposed which can make it difficult for beginners.
Puerto Vallarta surfing lessons
It is very easy to find surfing lessons in Puerto Vallarta and its surroundings. Here are some of the best ones if you want to book your lessons in advance.
The first option is a certified surf and lifeguard school, with a lot of years of experience in Mexico, as well as in Europe.
When you book a surf lesson, it includes snacks and water, an air-conditioned vehicle, and all the necessary equipment you need to learn to surf.

There are also private instructors who can teach you one-on-one which can be super helpful as a beginner. This is an ideal way to learn the basics and build the fundamentals of the sport. Plus, the instructors here know the whole town of Sayulita, so they can give you very good recommendations to add to your trip.
This private tour includes rash guards, towels, outdoor shower stations, changing rooms, and storage for personal belongings.
You can also book a tour that will take you surfing as well as show you around the towns of Sayulita and San Poncho with a guide. This is a great way to enjoy both towns and the beautiful beaches.
Surf Shops in Puerto Vallarta
There are many small surf stores in Puerto Vallarta if you need to pick up any gear before you go surfing in Puerto Vallarta!
Quicksilver is located in Galerias Vallarta, where you can find everything from shoes, bathing suits, backpacks and even surfboards. It's all in one, you can't go wrong.
Coral Surf Shop is located in the Romantic Zone, one of the cutest neighborhoods in Puerto Vallarta. In addition to all the surf accessories, you can find everything you need for skateboarding.
Planning a trip to Puerto Vallarta? Check out these posts!