This post may contain affiliate links. By clicking and making a purchase through the links, I earn a small commission at no extra cost to you. See my disclaimer for more information. This allows me to keep the site up to date and expand on resources.
If you're a nature lover, one day trip you cannot miss is the Marietas Islands tour from Puerto Vallarta.
All excursions to the islands, including the hidden beach tour, must be arranged with a tour company, so plan ahead if you want to check out the amazing eco-adventures Marietas Islands have to offer.
This post will explain everything you can do on the islands and how to book a tour here!
Why Visit Marietas Islands?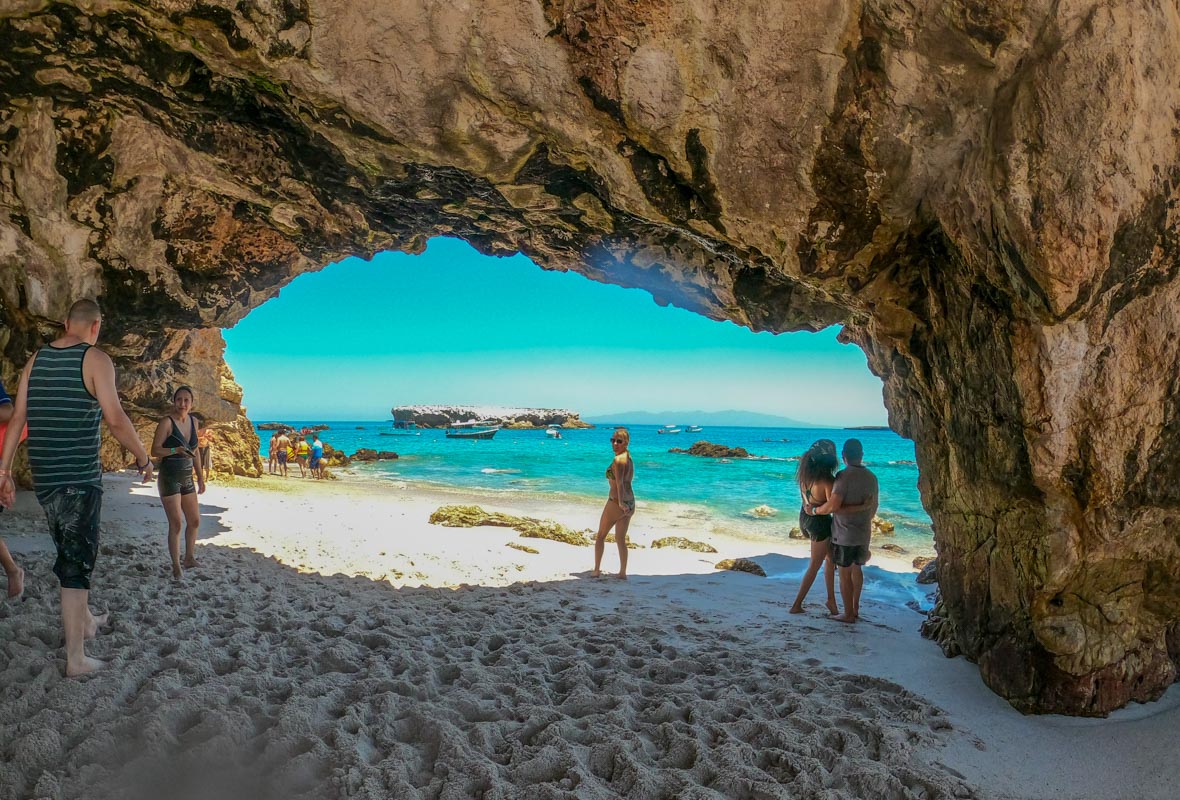 Designated as a National Marine Park and UNESCO biosphere reserve, the Marietas Islands are home to some of the most beautiful beaches in Puerto Vallarta, including Hidden Beach, which is among the most famous in Mexico.
Aside from the beaches, the Islas Marietas are one of the best places to see wildlife around Puerto Vallarta.
They are home to over 90 species of birds and marine animals like dolphins, whales, and sea turtles.
What to expect on a Marietas Islands Tour
We booked this all-day tour to Islas Marietas from Puerto Vallarta for my friend Courtney's birthday in May 2021, which was so much fun. It's one of my favorite Puerto Vallarta day trips!
We met the tour guides at the cruise port in Puerto Vallarta and set off for the islands around 9 am.
They leave on time, so give yourself lots of time as the port is big and confusing. You also have to pay your port fee and fee to enter the islands at the marina (140 pesos total).
The islands are 22 miles (36km) west of Puerto Vallarta, so it takes about two hours to get there.
The time went by quickly, eating breakfast and enjoying the views. Continental breakfast is included, which is buffet-style
The views are gorgeous along the way – keep your eyes peeled as we saw dolphins jumping out of the water!
Species of dolphins you can see here include the Pacific Bottlenose dolphins, spotted dolphins, and spinner dolphins.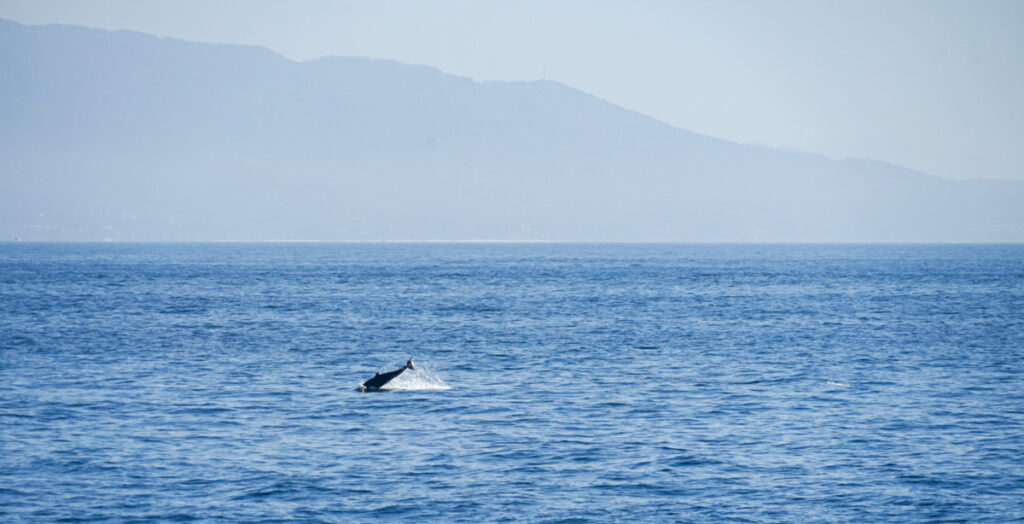 During the winter months, it is also common to see humpback whales in the bay since this is a centuries-old breeding ground for them.
Before arriving at the islands, the guides will ask you if you want to do the extra eco-tour at the islands (see more on that below) or visit hidden beach in case they have permits available to sell.
Once you arrive at the islands, you'll hop in a smaller boat to go on the eco-tour if you booked it.
After that, we hopped in the water for a guided snorkeling tour which was included in the tour. The water here is beautiful and much clearer than anywhere else I snorkeled around Puerto Vallarta.
While you're snorkeling, the staff prepares a deli-style lunch ready to eat when you get back from the water.
If you feel like more adventures, paddleboards and kayaks are also available to take out to explore during that time.
After lunch, we then had some time to explore the beautiful beaches on the island, and those who had permits for Hidden Beach went there.
While Hidden Beach is undoubtedly one of the most unique sights in Puerto Vallarta, the other beaches on the islands are also incredibly beautiful to see. So don't be disappointed if you don't get a permit – the islands are still worth visiting!
Around 2 pm, we headed back to Puerto Vallarta for the journey home. This went much faster than the way there, as they give you unlimited alcohol on the way back.
It was my friend's birthday, and the staff went out of their way to show us a good time.
We played drinking games and by the last hour, the boat had became a massive dance party. It was such a memorable experience!
If you are want to see Marietas islands and all they have to offer, this tour of Las Islas Marietas is a great choice.
Snorkeling and diving at Islas Marietas
The snorkeling at Islas Marietas is easily the best in Puerto Vallarta. The water is crystal-clear, and seeing the rock formations underneath gives you a whole new appreciation for how special these islands are.
I've heard that it's common to see giant rays and sea turtles here, although I wasn't lucky enough to see them. I only saw colorful schools of fish, but still really enjoyed the snorkeling because of the unique underwater landscapes.
You can also go diving at Marietas Islands but you have to book it as a separate trip.
Marietas Islands Eco-tour
At the islands, you have the option to do an eco-tour around the islands for an additional 200 pesos (10 USD). It's absolutely worth it.
They will take you on a smaller boat around the islands to see the birds closer, and a collapsed sea cave.
On the rocks, you can spot the blue-footed booby and some 90 other bird species. It actually made me feel although I'd been transported back to the Galapagos Islands!
The Marietas Islands are home to one of the best beaches in Puerto Vallarta – Playa Del Amor. It's also commonly called Hidden Beach or Secret Beach.
Playa Del Amor is an incredible underground crater beach. Someone posted a photo of it a few years ago that went viral on Instagram and as a result, hundreds of people started visiting the beach every day.
This caused adverse environmental impacts, and the government imposed limits on the number of people that could visit each day in an effort to protect it.
Now, only 116 people are allowed to visit the beach each day, and a limited amount of permits are given to each tour company.
If your heart is set on going, you should do that with the tour company in advance as they do sell out. This company says they have more permits than any other.
On our Marietas Islands tour, the captain told us that two permits were available for an additional 50 USD on the way to the islands.
I didn't go as it was my roommate's birthday and she wanted to go with her friend that was visiting. But they loved it and said it was worth the extra money!
Don't be disappointed if you can't get a permit to go to the beach – the islands are still worth visiting on their own. There are other beaches on Marietas Islands which are just as stunning!
What to bring on a tour to Marietas Islands
Swimsuit
Biodegradable Sunscreen
Towel
Light sweater
Waterproof case for your phone or GoPro
Extra cash for dock fees and photos (they have a photographer there). On top of your ticket, there is an additional 40 pesos fee to enter the marina and 100 pesos to access the islands (government fee).
When planning your itinerary to Puerto Vallarta, be sure to leave a day for a tour to Islas Marietas! These stunning islands are one of the most picturesque places to visit in the Bay of Banderas.
BOOK YOUR TOUR TO MARIETAS ISLANDS
Planning a trip to Puerto Vallarta? Don't miss these posts!