This post may contain affiliate links. By clicking and making a purchase through the links, I earn a small commission at no extra cost to you. See my disclaimer for more information. This allows me to keep the site up to date and expand on resources.
As one of Mexico's top cruise destinations, the Puerto Vallarta cruise port is well set up with amenities and fun shore excursions.
From stunning beaches to extraordinary marine life, there are plenty of Puerto Vallarta cruise port things to do.
Because cruise ships usually stay for a day in a port, you have time to immerse yourself in the city or join one of these fantastic Puerto Vallarta cruise excursions.
TOP PUERTO VALLARTA CRUISE EXCURSION
Don't have time to read this? The Pirate Ship Marigalante, docked in the marina right next to the cruise terminal, is a favorite activity among families.
Puerto Vallarta Cruise Port
Located on the Pacific coast, Puerto Vallarta is a jewel with pristine beaches and crystal-clear waters. It is also one of the safest tourist destinations in Mexico and a favorite beach town for millions of visitors each year.
When you get off the ship in Puerto Vallarta, you will find free WiFi in the cruise terminal, as well as ATMs, cafes, taxis, and tour guides. Nearby you will also find stores like Walmart, Sam's club, and local pharmacies.
If you want to catch a bus instead of a taxi or Uber, go over to the bus stop in front of Sam's club and get on a bus that will take you to the city center. This is an inexpensive and safe way to get around Puerto Vallarta.
The state of Jalisco is famous for its tequila, so don't be surprised to see tequila sold as a souvenir in many stores. Tequila is a great gift to bring back home to family and friends!
The currency is the Mexican peso, but the dollar is widely accepted. However, it is better to exchange dollars for pesos or withdraw cash at the ATM for the most favorable exchange rate.
🇲🇽 Puerto Vallarta Quick Guide 🇲🇽

✈️ Airport – The Licenciado Gustavo Díaz Ordaz International Airport (PVR) airport is a 20-minute ride to the city center. You can book an airport transfer here.

🏩 Hotels – The best websites for booking hotels and resorts are Booking.com and Expedia, which search all properties to find you the best deals. For inspiration on where to stay, head to my ultimate guide to Puerto Vallarta hotels.

🚗 Getting around – Puerto Vallarta is easy to get around by walking and Uber, but renting a car is the best way to explore the surrounding areas. Discover Cars is the best website for finding deals, which searches International and local Mexican companies.

🌊 Things to do – Puerto Vallarta is a paradise for outdoor adventure! Some of the top things to do are whale watching, yacht trips, and ATV tours.

✔️ Don't forget travel insurance! I use and love SafetyWing, which is insurance for remote workers. For shorter trips, I recommend HeyMondo – you can get 5% off by using that link.
Puerto Vallarta Cruise Port Things to do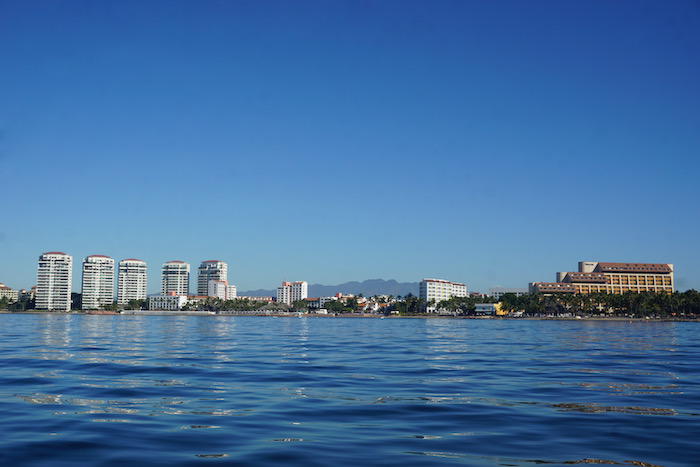 Puerto Vallarta cruise port is located 3 miles from downtown, just below Marina Vallarta, an upscale neighborhood of the city.
It is possible to walk to shopping areas, hotels, restaurants, and beaches from here. Even if you decide to stay near the cruise terminal, you will have a lot of fun.
For those of you who are traveling with kids, they will love a Pirate Ship Marigalante, which is docked in the marina right next to the cruise terminal. You can observe the ship from the outside, admiring this Spanish galleon, or sign up for a boat ride that takes off at 9:30 am daily.
If you want to spend a day on the beach, the closest one is Playa de Oro, which is less than a 10-minute walk from the terminal in the Hotel Zone.
Beach bars and restaurants are so close to the beach that when you need a break from the sun, you can easily hop into one of the restaurants for refreshments and a quick lunch.
If you want to see more of the city, head into the Old Town.
Parroquia de Nuestra Señora de Guadalupe is a gorgeous cathedral for those who appreciate great cultural landmarks. It is located near the Malecón, a mile-long boardwalk decorated with sculptures along the way, where you can enjoy the sun, stop for a swim at the beach, or buy some souvenirs.
Another famous spot in this area is Gringo Gulch, a colorful and authentic neighborhood where Liz Taylor and Richard Burton used to live. From here, you can walk to the best panoramic viewpoint in the area, the Hill of the Cross Viewpoint. It's a lot of steps to get to the top, but the view is worth it.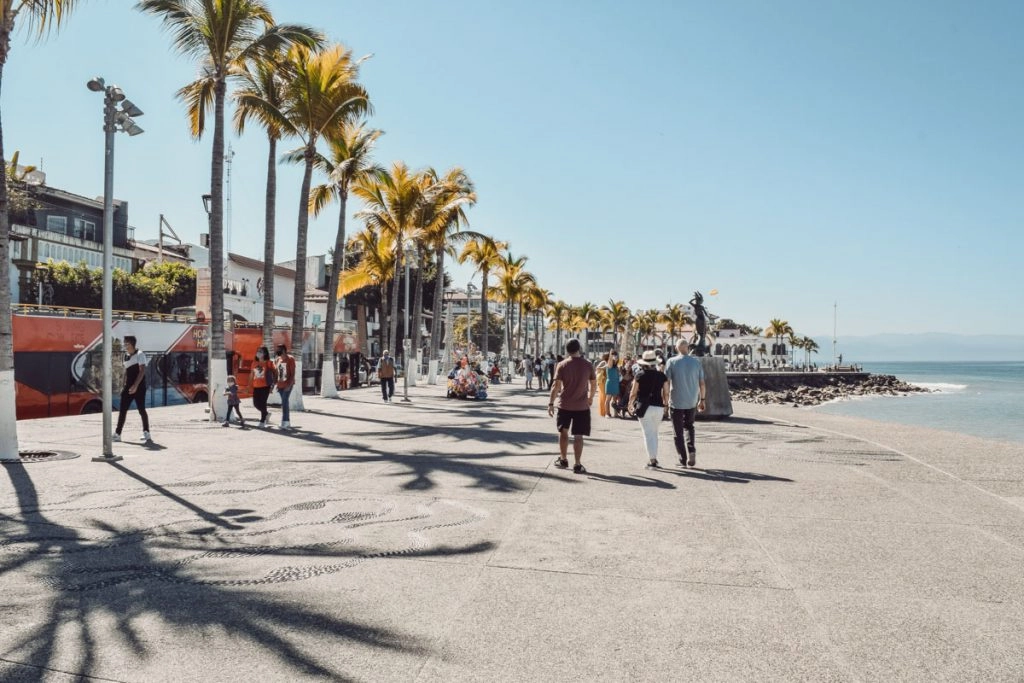 This area is further down from the port, and it is best to take a taxi or join a guided city tour. But if you love walking and want to enjoy the boardwalk and views of the sea along the way, you can get a taxi downtown and walk to Zona Romantica (Old Town) from there along the boardwalk.
Top Puerto Vallarta Shore Excursions
Since you're already spending a lot of time by the water, you may want a change of scenery! In that case, one of the most unique Puerto Vallarta shore excursions is Horseback Riding Tour in Sierra Madre.
This tour takes you on a journey to the protected national park, where you can see exceptional flora, fauna, and several endangered species.
The Sierra Madre's dynamic climate is influenced by the Chihuahuan Desert in the north and west and the tropical forest in the east and south. Be ready for rainfall and different weather throughout your trip, while stunning views will explain why they call this mountain range "Mother Mountain Range" in Mexico.
This tour is a fantastic choice for first-time visitors who want to go further in the land and stay away from busy beaches and city buzz. You will travel through the countryside, and although the tour is not physically challenging, it will feel incredibly adventurous.
Going on this tour will allow you to see incredible views, cascading waterfalls, and small villages that you wouldn't be able to reach otherwise. At the end of the tour, you will have lunch in the jungle and some time to relax before returning to Puerto Vallarta.
Pickup for this tour is at the Starbucks in Marina Vallarta, which is nearby the cruise port.
This was so fun, not your average nose to tail trail ride. So fun for both experienced and beginner riders. Guides were great, food was amazing.

– Katie (read more reviews)
BOOK A HORSEBACK RIDING TOUR BELOW
ATV and RZR Jorullo Bridge Experience is the right choice for adventurers seeking exciting Puerto Vallarta cruise excursions. You will travel to Sierra Madre and have the opportunity to drive ATV and RZR vehicles and cross the longest suspension bridge in Latin America with them, Jorullo Bridge.
Places you will visit on this tour are usually not included in regular cruise excursions, like El Salto waterfall, which you will reach by these vehicles.
The trip's highlight is Jorullo Bridge, from where you will see the most amazing views of the jungle and the mountain and have the opportunity to take photos from the middle of the bridge.
At the end of the tour, you can try authentic tequila at the tequila testing in the jungle before heading back to the cruise ship. This tour takes approximately five hours, so you will probably have some short time for shopping when you return to the port.
This tour meets in the North Hotel Zone, which is a quick drive from the cruise port.
This was one of the best excursions I've been on the tour guides were awesome and the tequila tasting was the best.

– Manuel (read more reviews here).
BOOK AN ATV ADVENTURE BELOW
Do you want to relax and spend time in Puerto Vallarta chilling with your friends with great food, drinks, and views? Then the Hot Spring, Massage, and Mex Grill tour is for you. This tour is a full spa day and authentic food at Nuevo Ixtlan, an extraordinary place with healing waters.
Aguas Termales Nuevo Ixtlan, a small and tranquil hot springs destination that isn't well known even to natives of the area, is situated in the small, western Mexican town of Nayarit. This destination may be the ideal getaway if you're searching for a quiet retreat away from Puerto Vallarta cruise port, where you can unwind and immerse yourself in nature.
You can also explore the lush forests of the surrounding area and breathe some fresh mountain air before getting a massage or into the hot springs. All that relaxation will make you hungry, and that is where Mex Grill steps up with locally sourced tasty grilled food.
This tour meets at Sam's Club, so it's convenient as a shore excursion.
One of the best tours I've ever taken. The hot springs are terrific, the massage on the beach at end was magnificent and all of it was made possible by the amazing host. Highly recommend.

– Paul (read more reviews here).
BOOK A HOT SPRINGS TOUR BELOW
For those wondering what to do in Puerto Vallarta on a cruise with family, exploring the incredible marine life is the best option. This Marietas Islands Snorkel Tour & Hidden Beach is one of Puerto Vallarta's most popular attractions and is sure to create lovely memories for your kiddos.
Even beginners can enjoy this tour because experienced instructors will explain how to use snorkeling gear and provide you with everything you need for a full day of fun. You will see what is below the surface, and if you are lucky, you will even observe some dolphins, turtles, and whales playing if you're visiting Puerto Vallarta from December to March.
Marietas islands' hidden beach is famous for its unique shape because it is located inside a crater and can be reached only by boat.
This postcard-like location is excellent for swimming and snorkeling, and is so popular that the Mexican government had to limit the number of permits it gives out daily – so be sure to book this tour in advance!
Had a great swim & snorkle with our hosts & captain. Friendly and knowledgeable. Making sure we were safe and had a good trip. Saw many fish, whales & dolphins.

– Julie (read more reviews here).
BOOK A MARIETAS TOUR HERE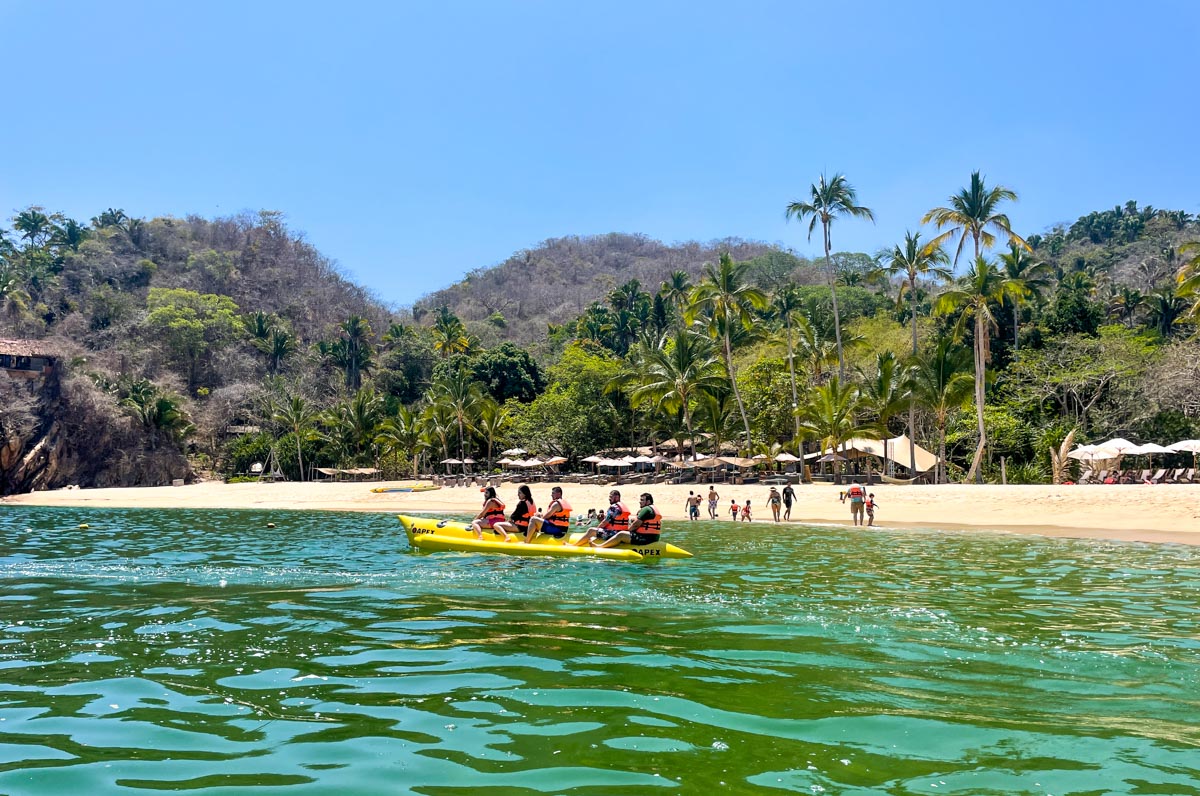 If you can't get enough of the water, then this Yelapa Waterfall & Snorkeling Adventure tour is for you.
Your first stop will be Playa la Piramide which has extraordinary marine life and where you can enjoy snorkeling, kayaking, or paddling. When you get tired, there is a masseuse onboard who will give you a massage, which is included in the trip's price.
On a luxury yacht, you will explore the gorgeous coastline and visit the picturesque village of Yelapa, about 45 minutes away from Puerto Vallarta cruise port.
This idyllic village seems to be frozen in time, and it is completely different from big resort towns along the coast of Mexico. You will have the option to visit Yelapa Falls or stay at the beautiful white sand Yelapa Beach.
The tour ends with cruising around the Bay of Banderas, the second largest bay in the world, where if you are lucky, you can even spot some humpback whales or dolphins breaching from the sea. You will enjoy scenic views on the way back to the port.
The water activities were awesome! The service was excellent. Yelapa was a beautiful destination. And of course the whales always bring the experience to a higher level.

– Joanne (read more reviews here)
BOOK A TOUR OF YELAPA BELOW
FIND MORE SHORE EXCURSIONS BELOW
—
Puerto Vallarta's cruise port is conveniently located so that you have many options for exploring, whether you want to see the city, get in the mountains, or stay by the water – there are plenty of options for things to do around the Puerto Vallarta cruise port.
Planning a trip to Puerto Vallarta? Don't miss these posts!