This post may contain affiliate links. By clicking and making a purchase through the links, I earn a small commission at no extra cost to you. See my disclaimer for more information. This allows me to keep the site up to date and expand on resources.
With a gorgeous beach boardwalk and a functional bus system, getting around Puerto Vallarta is easy.
From public transportation to taxis, this guide will explain the best ways to get around Puerto Vallarta and the surrounding area you may want to explore on day trips.
Read on to find out how to get around Puerto Vallarta like a pro!
Is it easy to get around in Puerto Vallarta?
Yes! Puerto Vallarta isn't a huge city and has a wide range of transportation options, making it easy to get around.
The buses offer an inexpensive and convenient way to get around town, while taxis and car rentals provide more flexibility. And unlike some larger cities in Mexico, you won't spend hours waiting in traffic in Puerto Vallarta.
What is the best way to get around Puerto Vallarta?
The best way to get around Puerto Vallarta depends on where you're going and your budget!
🚶‍♀️If you're in the downtown area, you can get around most places on foot.
🚌 If you want to go further along the coast and are on a budget, the best way is to take the public bus system and water taxis.
🚗 If you want to maximize your time getting between attractions in Puerto Vallarta, the best way is to use Uber, rent a car, or join guided tours that will pick you up at your hotel.
Check out some of the most popular tours in Puerto Vallarta below!
Is Puerto Vallarta walkable?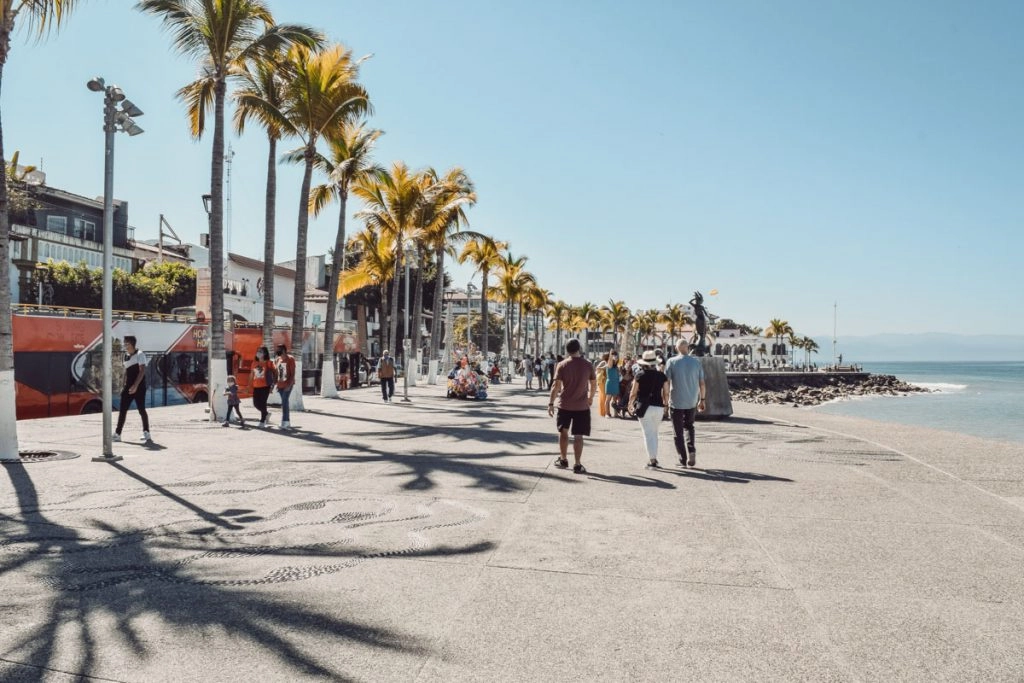 Yes! Puerto Vallarta is a very walkable city thanks to the Malecon, a mile-long stretch of boardwalk along the Pacific Coast.
It starts in El Centro and takes you to Zona Romantica, with many interesting art sculptures to see along the way.
Besides the Malecon, Puerto Vallarta has charming cobblestone streets you can walk around downtown.
Many of these streets have beautiful art murals painted on them, which I love admiring as I walk around the city.
One of the best things to do when you first get here is to join a walking tour to get acquainted with the city.
The Sierra Madre mountains are close to the city, so if you're walking a few blocks up from the water, it becomes steep quickly, which can be uncomfortable in the humidity.
But if you're up for it, you can walk up to the Cerra del Mirador lookout, which is one of the best hikes in Puerto Vallarta.
If you're feeling active, there are coastal walking trails you can take to secluded beaches along the Bay of Banderas.
While the city is walkable, there are times when you'll want to go further than your feet can take you!
🇲🇽 Puerto Vallarta Quick Guide 🇲🇽

✈️ Airport – The Licenciado Gustavo Díaz Ordaz International Airport (PVR) airport is a 20-minute ride to the city center. You can book an airport transfer here.

🏩 Hotels – The best websites for booking hotels and resorts are Booking.com and Expedia, which search all properties to find you the best deals. For inspiration on where to stay, head to my ultimate guide to Puerto Vallarta hotels.

🚗 Getting around – Puerto Vallarta is easy to get around by walking and Uber, but renting a car is the best way to explore the surrounding areas. Discover Cars is the best website for finding deals, which searches International and local Mexican companies.

🌊 Things to do – Puerto Vallarta is a paradise for outdoor adventure! Some of the top things to do are whale watching, yacht trips, and ATV tours.

✔️ Don't forget travel insurance! I use and love SafetyWing, which is insurance for remote workers. For shorter trips, I recommend HeyMondo – you can get 5% off by using that link.
Here are some other options for getting around Puerto Vallarta.
Biking in Puerto Vallarta
Another great way to get around Puerto Vallarta is by bicycle! There are several bike lanes in the city, including the Malecon. If you aren't comfortable biking on your own, there are bike tours you can join.
Renting a car in Puerto Vallarta
One of the most convenient options for getting around Puerto Vallarta is to rent a car, especially if you plan to explore the surrounding areas on day trips, like the charming mountain town of San Sebastian or the vibrant beach town of Sayulita.
While renting a car is a pricier option, you can't beat the convenience and freedom of a road trip.
Scooters are also a fun way to get around the area, especially if you're taking a coastal drive. Motorbikes are also much easier to park, which can be difficult with a car if you're staying downtown.
There are many rental companies with offices in and around the airport, as well as along Avenida Francisco Medina Ascencio. To find the best rates on rentals, look on Discover Cars which searches all the main companies in Puerto Vallarta to find you the best deal.
If you rent a car, book ahead before your arrival to get the best price.
Always lock your valuables out of sight or leave them at home when using the rental.
Can you get around Puerto Vallarta without a car?
Yes, you can get around the city center of Puerto Vallarta without a car by walking and using Uber, public buses, or tour agencies for attractions beyond walking distance.
Are there Ubers in Puerto Vallarta?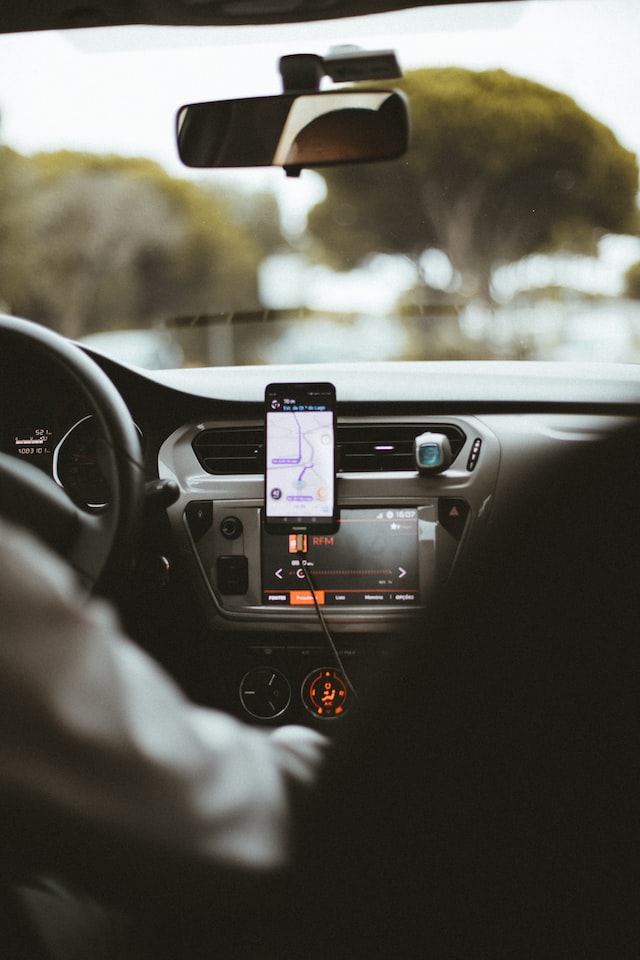 Yes, Uber works in Puerto Vallarta and is a great way to get around the city. I've written an entire guide to using Uber in Puerto Vallarta. This includes how to use it at the airport, as drivers are prohibited from picking passengers up directly at the airport terminal.
While taxis are widely available in Puerto Vallarta, I prefer to use Uber as it's cheaper and safer since you have a record of your driver and several safety features built into the app. Plus, you don't have to spend time haggling with the driver over the price.
There is another ride-sharing app in Mexico called InDriver, which is only available for Android phone users. You put in the price you want to pay, and then the driver can accept or counter with a different price. It is typically cheaper than Uber but has fewer safety features. You must also pay the driver in cash.
Puerto Vallarta Taxis
You will see taxis throughout Puerto Vallarta available for hire. They are not usually metered, so be sure to negotiate the price of where you're going beforehand to avoid any surprises. Fares are charged by zones, so ask the driver for a rate sheet if you aren't sure about the price.
I generally find taxi prices to be about double what Uber is, so I don't use them often. Tipping isn't necessary unless the driver helps with your bags or you want to.
Puerto Vallarta bus
Puerto Vallarta has a great bus system that is one of the most affordable ways to get around the city, as it is only 10 pesos (.50 USD) for a ticket.
It services the main downtown area, as well as the Hotel Zone, Zona Romantica, Marina Vallarta, and the airport.
Each bus in Puerto Vallarta lists the destinations on the windshield where it will stop (in Spanish). If you aren't sure, ask the driver before getting around. This can be a little more complicated if you don't speak Spanish, but if you're on a budget, it's the best way to get around.
The buses run so frequently that I don't even bother to check the times before going to the bus station. They usually show up within five minutes.
Once on the bus, hold on to your ticket, as someone might come around to check it.
The buses can often be crowded and sometimes people on to do performances, which you may find entertaining or annoying. Unfortunately, they also don't always have AC.
From Zona Romantica at the corner of Badillo and Constitución, you can get a bus that takes you south along the coastal highway to Mismaloya, the Botanical Gardens, and Boca de Tomatlan (30 minutes), where you can catch water taxis to secluded beach towns like Quimixto, Majahuitas, and Yelapa.
Public buses also go to nearby beach towns in Nayarit, like Punta Mita and San Pancho, for 50 pesos. They depart frequently from a stop in front of Walmart and outside the HSBC in Las Glorias.
The bus is also one of the best ways to get to and from Puerto Vallarta from other parts of Mexico. From the main bus terminal in Puerto Vallarta, you can get buses to other cities in Jalisco, like Guadalajara, which is a great weekend getaway.
Water taxis from Puerto Vallarta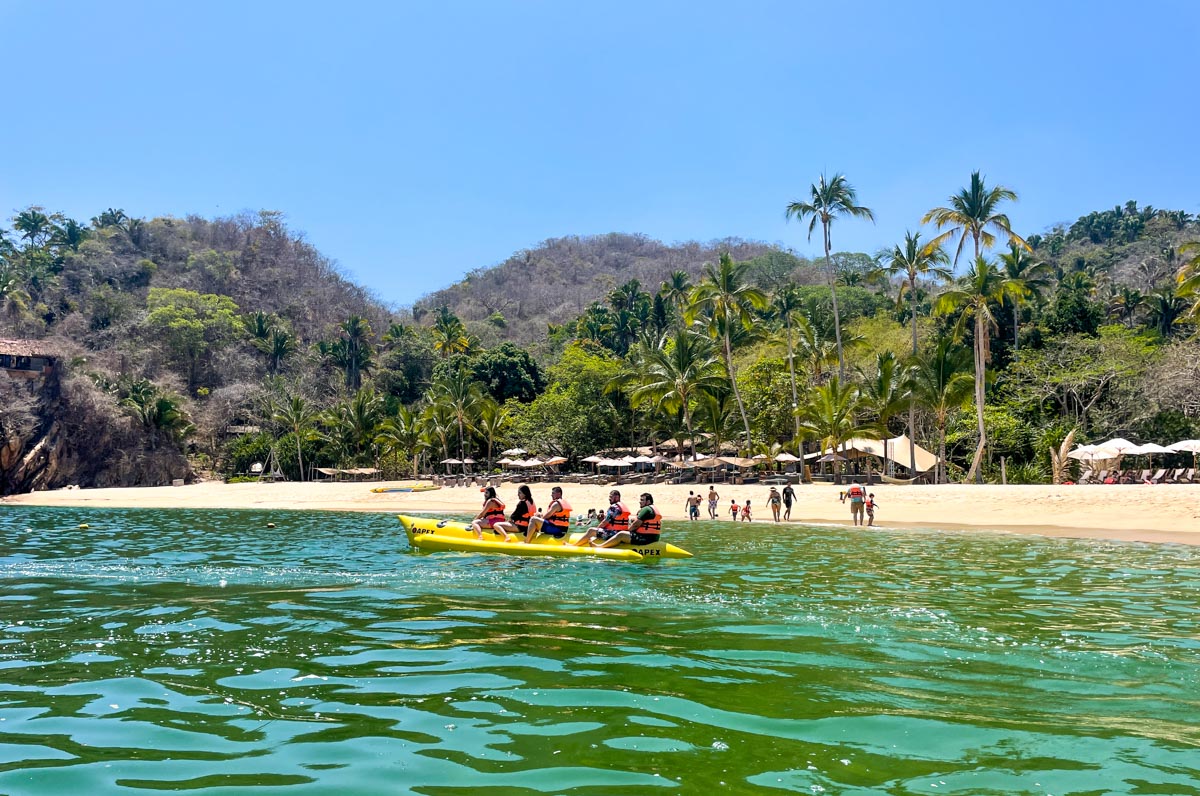 If you want to visit the most beautiful beaches near Puerto Vallarta, the best way to get around is by panga (a water taxi).
You can get these from Playa Los Muertos Pier in Zona Romantica. They make stops at Las Animas (25 minutes), Quimixto (40 minutes), and Yelapa (55 minutes), with round-trip tickets costing around 480 pesos. The boats run around four times a day.
The water taxis are typically a bit more expensive than the bus, but they offer a unique perspective of the city's coastline – and some beaches are only accessible by boat.
From Boca De Tomatlan, there are water taxis that run more frequently. You can either get the local bus from Zona Romantica or an Uber/taxi to get there. It's about half an hour's drive from downtown Puerto Vallarta, but the boat time will be shorter.
Another option is to hire private motorboats, sailboats, and yachts or join a day tour to take you to some of Puerto Vallarta's best snorkeling sites and attractions, such as the Islas Marietas and Los Arcos National Marine Park, where you can go whale watching.
Airport transportation in Puerto Vallarta
The Puerto Vallarta International Airport (PVR) is conveniently located just 15 minutes from the city center and less than ten minutes from Marina Vallarta, where many hotels are.
There are many ways to get from the airport to the city center, including taxis, Uber, buses, and pre-arranged transfers – the easiest option.
—
I hope this guide could help inform you about the best ways to get around Puerto Vallarta!
One of my favorite parts about living here is how easy it is to get around without a car. I love walking around the cobblestone streets and Malecon, soaking up the lively atmosphere of the city,
From the bus system to water taxis to Uber and more, there are plenty of ways to get around and explore this vibrant city. Whether you prefer to take a leisurely stroll, rent a car, or take a guided tour, you'll have the option in Puerto Vallarta.
Discover more things to do in Puerto Vallarta