This post may contain affiliate links. By clicking and making a purchase through the links, I earn a small commission at no extra cost to you. See my disclaimer for more information. This allows me to keep the site up to date and expand on resources.
Looking to get from Sayulita to Puerto Vallarta? Let me help! I live in Puerto Vallarta and visit Sayulita often – here are the best ways to get between these two beach paradises.
Sayulita is around 40 km (25 miles) from Puerto Vallarta's international airport. At its core, it's a small fishing town with a population of under 5,000.
That was, of course, until the surfers showed up. Then the day trippers. Then the yogis. And now the digital nomads…
It's safe to say the secret is out about Sayulita, so don't come here expecting some quiet, tranquil beach town.
As a top-rated day trip destinations, it gets quite busy here – especially on weekends and holidays.
Here's an updated guide on planning a day trip to Sayulita from Puerto Vallarta to help you make the most of your time there.
How to get to Sayulita from Puerto Vallarta
You've got a few options for getting to Sayulita from Puerto Vallarta.
Drive from Puerto Vallarta to Sayulita
Renting a car isn't just about getting from Point A to Point B; it's about the freedom to explore.
When you rent a car, you're not tied to bus schedules or beholden to taxi fares. Want to catch the sunrise at a secluded beach? You can. Feel like lingering in a café? No one's rushing you.
Renting a car in Puerto Vallarta is easy, and it's just an hour's drive to Sayulita along the highway. The only issue is finding somewhere to park in town. I recommend parking further away from the main strip, otherwise you'll end up doing circles looking for a spot.
Ride-sharing apps or taxi
Alternatively, you can always hail a cab or use ride-share apps. I recommend having both Uber and InDriver on your phone.
If you're not familiar with the latter, it's an app where you make an offer that drivers can accept or counter. You need cash for this, but it's usually cheaper, and drivers get to keep more of their earnings.
You can also hire a local taxi driver to take you, but in my experience, they charge almost double what ride-sharing apps do.
Bus from Puerto Vallarta to Sayulita
If you're heading there straight from the Puerto Vallarta Airport to Sayulita, you just need to walk across the bridge outside the airport, and you'll be able to hop on a bus within minutes.
While the bus stops several times and various vendors and performers may hop on and off, that's all part of the adventure. Plus, it gets you up there for just a few bucks (around 50 pesos).
If you're already staying in the city, you can also catch a bus from downtown Puerto Vallarta. I've caught it just outside the HSBC bank in Versalles.
The buses list where they are going in the front of the window, so just look for Sayulita. If you aren't sure, ask the driver when you get on.
Since the bus is a bit slower than driving, it takes about an hour and a half.
Sayulita tour from Puerto Vallarta
If you're short on time or prefer a guided experience, a day tour to Sayulita from Puerto Vallarta could be your best bet.
With a day tour, there's no need to worry about logistics. You get picked up, shown the highlights, and dropped back off. It's travel made easy.
Traveling solo or looking to meet new people? Day tours are a great way to socialize. You'll meet like-minded travelers and share a day of fun.
Plus, tour guides often share insights you won't find in a guidebook. From the best street food to hidden gems, you'll get the local lowdown.
Things to do in Sayulita
Surfing Sayulita
Surfing basically put Sayulita on the map, and that's still the most popular activity here.
With plenty of surf schools and boards for rent along with smaller waves, this is a good place for beginners to surf near Puerto Vallarta. More advanced surfers may be a bit underwhelmed.
Relax on the beach
If that's not your thing, there's still a long stretch of beach to enjoy here. There are plenty of sun loungers that you can rent, as well as beachfront restaurants where you can use theirs as long as you're a paying customer.
Since the main beach can get crowded with surfers, it's nice to walk north to find a quieter stretch of la playa. You can even walk all the way to San Pancho. Just bring plenty of water and sunscreen.
We usually don't make it past Club de Playa Camaron. This place drew us in the first time we visited and we go back every time to chill out and drink some cervesas.
You can also walk in the other direction past the cemetery to arrive at Playa de Los Muertos, not to be confused with the similarly named beach in PV.
There isn't much going on here, so BYO whatever you may want to eat or drink and plop down in the sand.
Hiking
Those who feel like being more active have a few other options here. Climbing Monkey Mountain seems to be a popular hiking trail, but we haven't gotten around to it yet. One of these days…
Yoga
As I mentioned, yoga is pretty big here as well. There are a few different yoga studios in town, including Paraiso and Los Sueños. Yoga retreats and teacher training are also on offer in Sayulita.
Walk around town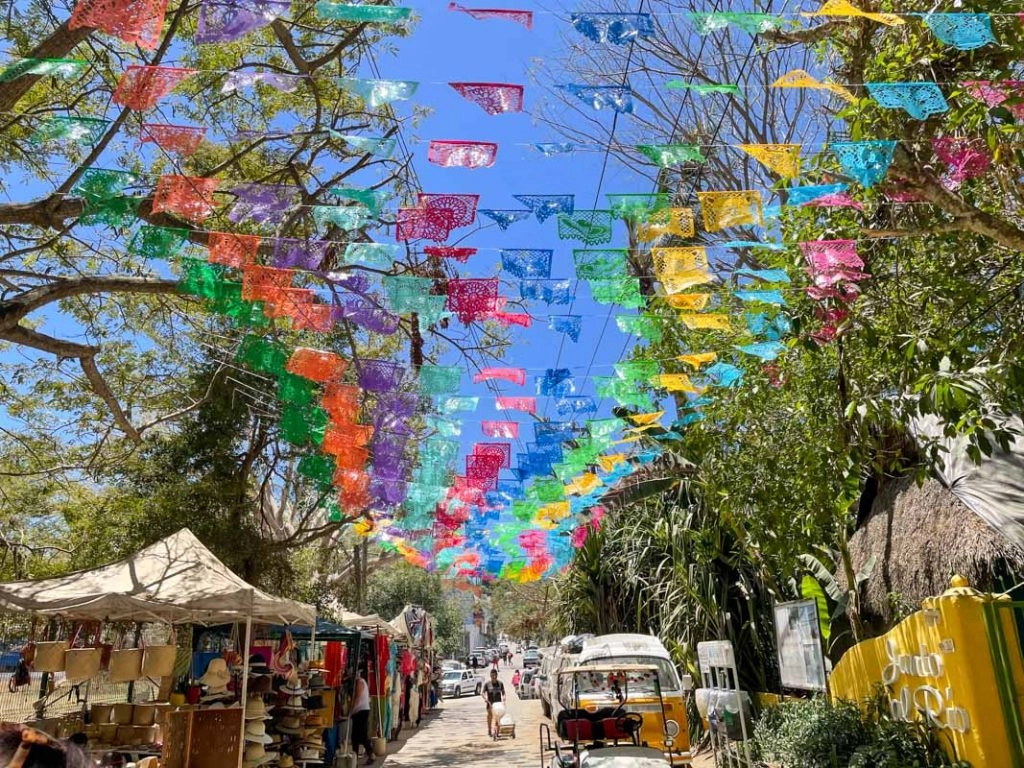 Other than that, just hang out and enjoy the vibe. The plaza always seems to have something going on, especially at night.
Walk around town to peruse the market and bohemian shops, stopping to check out the street art. Should you ever get thirsty or hungry, you've got plenty of options here. I'm dreaming of the fish tacos at Tacos Gaby and a cold beer at Yambak as I write this.
When night falls, there are a handful of fun bars and music venues to hang out in. We've had a great time at Atico with their swing seats and gypsy jazz band.
Where to stay in Sayulita Mexico
For a small town, Sayulita has a wide variety of accommodations available if you want to stay longer than a day.
There are dorm rooms at backpacker hostels, romantic villas, luxury vacation rentals, and more. We even stayed in a tree house last time…
On the budget end, La Redonda is a solid choice. Staying in one of their dorms allows you to meet other travelers and have more money for tacos and beer. And isn't that what it's really all about?
If you prefer a private room and a bit more mellow atmosphere, El Pueblito de Sayulita is worth a look. They have private rooms with balconies as well as a really nice pool.
And for those looking to splash out, Hotel Ysuri looks like a fabulous choice. Their infinity pool overlooking the main beach is the perfect spot to enjoy some good old-fashioned R&R.
Is Sayulita worth going to?
As with many small towns that attract a lot of attention, there have been some growing pains for Sayulita.
It's tough to accommodate everyone who wants to visit this Pueblo Magico (Magical Village), as there really isn't much room for it to grow.
While it's definitely not a sleepy little fishing town anymore, there's still plenty that's magico about this pueblo once you dodge the golf carts and influencers.
While it's true that Sayulita's narrow, cobblestone streets are often clogged with golf carts, and it can be a bit chaotic, it's still a fun place to visit.
Surfing, hiking, yoga, and beach bumming occupy the days here, while evenings are for live music, bar hopping, and of course, delicious tacos, ceviche, and more. There's a reason it has become so popular!
And for all you digital nomads, there are a few coworking spaces if you need to work a bit.
Selina offers day passes, or you can try to work from the cafe. Tabachines is where we posted up when we had to punch in for a few hours.
FAQ: Sayulita from Puerto Vallarta
What is the best way to get from Puerto Vallarta to Sayulita?
The best way depends on your preferences: buses are budget-friendly, taxis and Ubers offer convenience, and car rentals provide freedom to explore.
How far is Sayulita from Puerto Vallarta?
Puerto Vallarta is approximately 25 miles (40 km) from Sayulita, roughly a 45-minute to 1-hour drive, depending on traffic.
How much is an Uber from Sayulita to Puerto Vallarta?
An Uber from Sayulita Mexico to Puerto Vallarta typically costs between $25 and $40, depending on demand and time of day.
What airport do you fly into to get to Sayulita?
The closest airport to Sayulita is Licenciado Gustavo Díaz Ordaz International Airport (PVR) in Puerto Vallarta.
How many days do you need in Sayulita?
You can visit Sayulita in one day, but two are recommended to fully enjoy Sayulita's beaches, food, and activities.
Can you take an Uber to Sayulita?
Yes, you can take an Uber from Puerto Vallarta to Sayulita, though availability may vary.
Is Uber safe from Puerto Vallarta to Sayulita?
Uber is generally considered safe for the trip from Puerto Vallarta to Sayulita, but always check driver reviews and vehicle details.
Why is Sayulita so popular?
Sayulita is popular for its laid-back atmosphere, surfing culture, and vibrant arts scene.
Is Sayulita cash only?
While some businesses in Sayulita accept credit cards, it's advisable to carry cash for small vendors and local shops.
How long is taxi from Puerto Vallarta to Sayulita?
A taxi ride from Puerto Vallarta to Sayulita usually takes around 45 minutes to an hour, depending on traffic.
Is it safe to drive from Puerto Vallarta toSayulitaa?
Yes, the drive from Puerto Vallarta to Sayulita is generally considered safe. The road is well-maintained, and it's a straightforward route.
Final thoughts: Getting to Sayulita from Puerto Vallarta
So there you have it, your ultimate guide to getting from Puerto Vallarta to Sayulita and making the most of your time in this beachside haven.
Whether you opt for the budget-friendly bus, the convenience of a taxi or Uber, or the freedom of a car rental, each mode of transport has its own perks. And don't forget the option of a hassle-free day tour if you're short on time or prefer a guided experience.
Looking for more day trips from Puerto Vallarta? Check out these posts!