This post may contain affiliate links. By clicking and making a purchase through the links, I earn a small commission at no extra cost to you. This allows me to keep the site up to date and expand on resources. Thanks for reading!
One of the best parts about visiting Puerto Vallarta is the plethora of day trips you can choose from. Most revolve around the sun and sea, but if you're looking for something completely different, head up to San Sebastian Del Oeste Mexico.
In this guide, I'll be sharing all the best things to do in San Sebastian Del Oeste, as well as information on how to get there from Puerto Vallarta and where to stay overnight.
San Sebastian Del Oeste Jalisco
What is San Sebastian Del Oeste Mexico?
San Sebastian Del Oeste is a historic mining town in the Sierra Madre mountains.
It's one of nine Pueblos Magicos in Jalisco, a designation the Mexican tourism board has awarded communities that have maintained their original architecture, traditions, history, and culture over time.
San Sebastian dates back to 1605, when it was settled by thousands of silver miners looking for natural resources.
The mines stopped working during the 1910 revolution when the foreign companies moved elsewhere, and since then, the population has dramatically declined. Today, only around 600 permanent residents remain.
Fun fact: It was actually the mining boom in the Sierra that created a need for Las Peñas, which later became Puerto Vallarta!
While the mines are now departed, what makes San Sebastian so special today is that many of the town's original structures and cultural traditions still stand today. It truly feels like you are stepping back in time!
Since the town is nestled in the Sierra Mountain ranges, it also offers cooler mountain temperatures throughout the year, making it the perfect break from the heat of Puerto Vallarta.
It's such a neat sensation to go from tropical greenery to pine trees in under two hours, making it one of the most unique things to do near Puerto Vallarta.
Things to do in San Sebastian Del Oeste
Walk around the town
The pace of life is slow here, but that's all part of the charm. One of the best things to do here is to spend a few hours walking around the cobblestone streets, appreciating that it is a town truly tucked away from time.
Wander through the white houses with red tiles, and check out the well-preserved 18th-century church.
Then, grab a coffee from a local cafe and breathe in the mountain air while sipping on it on one of the benches in the central plaza.
While in town, you can also go shopping for authentic silver at La Plateria!
If you want to learn more about the history of San Sebastian's heyday as a colonial town in the 1700s, you can hire a local to take you on a walking tour.
Visit an organic coffee farm or Tequila Distillery
Since the mines have shut down, San Sebastian is now known for cultivating coffee and agave on its mountainsides.
If you want to learn about coffee production, you can stop at  Cafetalera La Quinta, a XIX century Hacienda on the way into town that still operates as a small family-run coffee plantation. There, you can walk among coffee plans and buy a fresh bag to take home.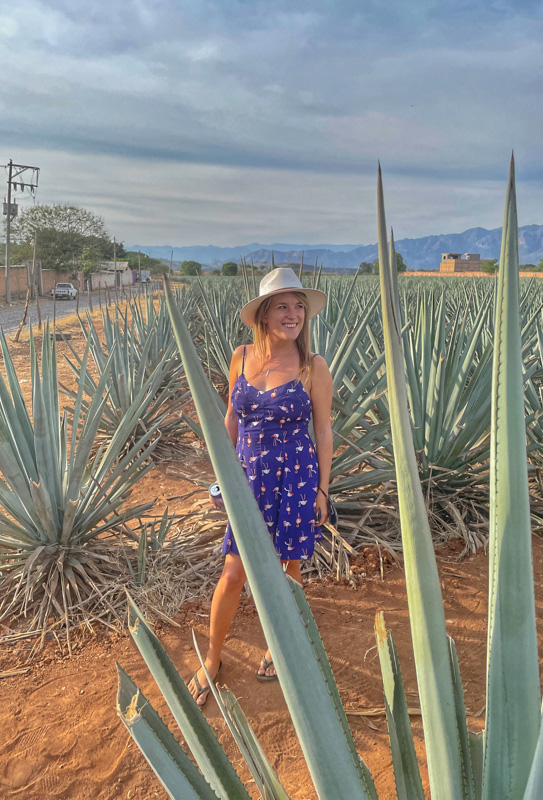 You can also visit a tequila distillery to see the fields of Agave. They have an agave spirit called Raicilla that is only produced in this region!
Although if you want to learn about tequila production in Mexico, the best place to go is the birthplace of it in Tequila Jalisco.
Eat lunch at a local restaurant
While in town, grab lunch at one of the local family-run San Sebastian Del Oeste restaurants. Fonda Eva Maria is a good option, with typical regional dishes.
For a meal with a view, head over to Villa Nogal. They have a beautiful garden and terrace overlooking the Sierra Madre mountains.
Rent ATVs and Drive Up To La Bufa
One of the best things to do in San Sebastian is rent ATVs from town and drive up the mountain to Cerro De La Bufa, a gorgeous viewpoint high up in the clouds.
You'll need 4×4 to get there, but the 45-minute drive up the mountain is so fun.
The views are simply breathtaking. On a clear day, you can see as far as Puerto Vallarta! It was cloudy while we were there, but watching the clouds roll in and out of the mountains was mystifying.
How to get to San Sebastian from Puerto Vallarta
Renting a car
The most convenient option is to rent a car from Puerto Vallarta and drive there yourself, which is what my friends and I did. It's 47 miles away, about an hour and a half drive on a beautiful route through scenic roads, villages, and mountains.
The drive is a massive elevation change as you go from sea level to 4855 feet (1,480m) altitude in just an hour and a half!
When searching for a rental car, look on Discover Cars as they search all vendors so you can quickly find the best deal.
By bus
There are no direct busses to San Sebastian, but you can take those traveling to Talpa de Allende. Then, when you arrive at La Estancia, get off the bus. Here you can grab a taxi to San Sebastián.
Honestly, with getting to the bus station in PV and all the transfers/taxis, I'm not sure the bus would be worth all the hassle. I recommend renting a car or going by tour instead.
Book a San Sebastian Del Oeste Day tour
If you're traveling solo or don't want to drive, one of the best options is to go on an organized tour.
Rather than worrying about navigating and driving, you can sit back, relax, and enjoy the gorgeous scenery.
A local guide will tell you all about the town's fascinating history, and most tours include a stop at a coffee hacienda and tequila distillery before taking you home to Puerto Vallarta. Below are the most highly rated ones:
This tour with Vallarta Adventures leaves from their office in either Marina Vallarta or Nuevo Vallarta. It includes a guided walking tour around the historic town and a stop at a coffee farm and agave plantation. Lunch and beverages are included!
SAN SEBASTIAN DEL OESTE TOURS
San Sebastian Del Oeste Hotels
Since the town is small, one day is sufficient to see San Sebastian. But If you want to spend the night instead, there are a few hotel options.
Hotel Boutique Hacienda Caudillos is a good choice, with a hot tub and concierge service that organizes tours for guests.
Villa Nogal Hotel Boutique offers gorgeous views of the mountains from their outdoor terrace, as well as a variety of amenities, including a restaurant, bar, a shared lounge, a garden, and concierge service.
What to bring
Since San Sebastian has a much cooler temperature than Puerto Vallarta, with an average temperature of 19 degrees Celsius (68 Fahrenheit), you'll want to bring some warm clothes here. So make sure to include them in your Puerto Vallarta packing list if you're planning to visit San Sebastian!
Although it typically rains in the winter, a rain jacket is also a good idea. Unfortunately, it ended up raining on us when we went in early June!
Comfortable shoes for walking/hiking, especially if you plan to rent ATVs, as there are some hiking trails around La Bufa to explore.
Sunscreen – at that elevation, the UV is powerful!
—
I hope this guide can help you plan a trip to San Sebastian Del Oeste! It is one of Mexico's hidden gems and best day trips from Puerto Vallarta, so don't miss it if you're in the area.
Planning a trip to Puerto Vallarta? Don't miss these posts!