This post may contain affiliate links. By clicking and making a purchase through the links, I earn a small commission at no extra cost to you. This allows me to keep the site up to date and expand on resources. Thanks for reading!
You've booked the flight – but now you're wondering what to pack for Puerto Vallarta?
Welcoming millions of tourists every year, Puerto Vallarta is one of Mexico's top beach destinations.
The city has a warm, tropical climate year-round with ample opportunities for outdoor recreation – so you'll want to have the right clothes for Puerto Vallarta to take advantage of all the things you can do here.
This guide will help you plan what to wear in Puerto Vallarta to make the most of your trip, as well as accessories that will make your trip more enjoyable.
What to wear in Puerto Vallarta
The general style of what to wear in Puerto Vallarta is stylish yet casual outfits.
The hot, humid climate calls for lightweight, breathable fabrics, and most people wear items like sundresses, tank tops, light tops, etc.
Life here is all about the sun and the sea, so your Puerto Vallarta outfits should include items suited to those activities.
Swimwear. With the Pacific Ocean right there, there's no shortage of water-based activities to try. Be sure to pack at least two swimsuits to wear at the many pools and in the ocean.
Swim cover-up. A perfect item for any beach destination! After the beach or pool, throw it on over your swimsuit, and you'll be ready to walk into a beach restaurant without having to change.
Rashguard. If you want to check out some of the awesome surf spots around Puerto Vallarta, bring a rash guard, as the Pacific ocean water can be chilly. These are also excellent at protecting you from the sun!
There are some beautiful hiking trails to check out in Puerto Vallarta. Pack comfortable shorts and tank tops to wear outside, along with a suitable pair of shoes. These are also useful to bring if you want to go to the gym or run on the beach!
You'll want to pack t-shirts and plenty of tank tops to stay comfortable walking around in the heat.
These lightweight tees are made of quick-drying polyester and are perfect for hiking and outdoor adventures.
During the winter, temperatures can become cooler at night, so you may want to bring a lightweight sweater (or for wearing on the plane – they always make it so cold).
Puerto Vallarta is known for its nightlife, so there will likely be a few nights you want to dress up and hit the town.
Bring a few nice outfits pieces, depending on how much you plan to go out, along with a nice pair of sandals.
If you are staying in one of the all-inclusive hotels, they may have a dress code for restaurants at the resort.
This is usually smart casual, so pack a few nice lightweight dresses or lightweight button tops and pants if you're a man.
Don't forget your face mask! Some stores and restaurants require a face mark to enter, and many locals still wear them on the streets.
Sunhat. The sun is intense here, so you'll want something to protect you. Plus, it's a great photo accessory!
UV sunglasses to protect your eyes from the sun.
A comfortable pair of flip-flops are a must (I love Havianas). These are perfect for taking to the beach and walking around town.
Water shoes. If your feet are sensitive, these can be helpful. When accessing the ocean in some places, you may find rocky beaches along the coast. I also found these very helpful while hiking to Palo Maria.
Umbrella and raincoat (if you're visiting during the rainy season). I love this packable rain jacket that takes up minimal space in my bag.
Tip: Use packing cubes to organize the types of clothes in your suitcase. These are a lifesaver for keeping you sane while packing and saving space since they compress the clothing.
Puerto Vallarta packing ist
Here are some additional items to consider to complete your list of things to bring to Puerto Vallarta.
Beach towel. One of the best things to do in Puerto Vallarta is to spend time on the beautiful beaches, but you'll want a light beach towel to lay on to keep the sand away.
This beach towel is an excellent option as it's lightweight and folds up compact so that it can be easily tossed into your beach bag.
Snorkel and mask for exploring the underwater world in Puerto Vallarta. If you're joining a snorkeling tour, these will be provided to you, but it can be nice to have your own if you want to go snorkeling at the beach.
Beach Bag. Another beach essential, this item will carry everything you need to the beach, plus it comes with a built-in cooler in the bottom, perfect for keeping your drinks cool under the sun!
Sunscreen and after sun. If you're swimming or going snorkeling in the ocean, use a reef-safe sunscreen (key ingredients to avoid are Oxybenzone and Octinoxate). This helps protect the reefs non reef-safe sunscreen is damaging to the corals.
Waterproof phone case. There are tons of water activities and boat trips in Puerto Vallarta. This waterproof phone case is key for keeping your phone safe while capturing memories.
A waterproof bag can also be helpful for taking more items than just your phone. These are perfect for day trips out on a yacht or snorkeling adventure, so you don't have to worry if it gets splashed.
Grayl water bottle. The tap water in Mexico isn't safe to drink, but instead of using multiple plastic bottles, you can invest in a lifestraw water bottle, and you'll be able to drink tap water safely.
I love traveling with a travel journal to document my trip.
Any medicines you need as well as Advil and medication for stomach issues. Hopefully, you won't get sick on your trip here, but it can happen, so best to be prepared. But if not, Puerto Vallarta is full of pharmacies where you can buy just about anything.
If you're not used to traveling abroad, a helpful product is Travelan. It's a Natural colostrum dietary supplement to promote digestive health when traveling or at home. Activated charcoal can also be very helpful for stomach issues!
Insect repellant. Mosquitos can be annoying here, especially if you're visiting during the rainy season when there's a risk of dengue fever.
Make sure to stay up-to-date on any vaccines recommended by CDC.
It's helpful to bring electrolytes as it's easy to get dehydrated here under the intense sun.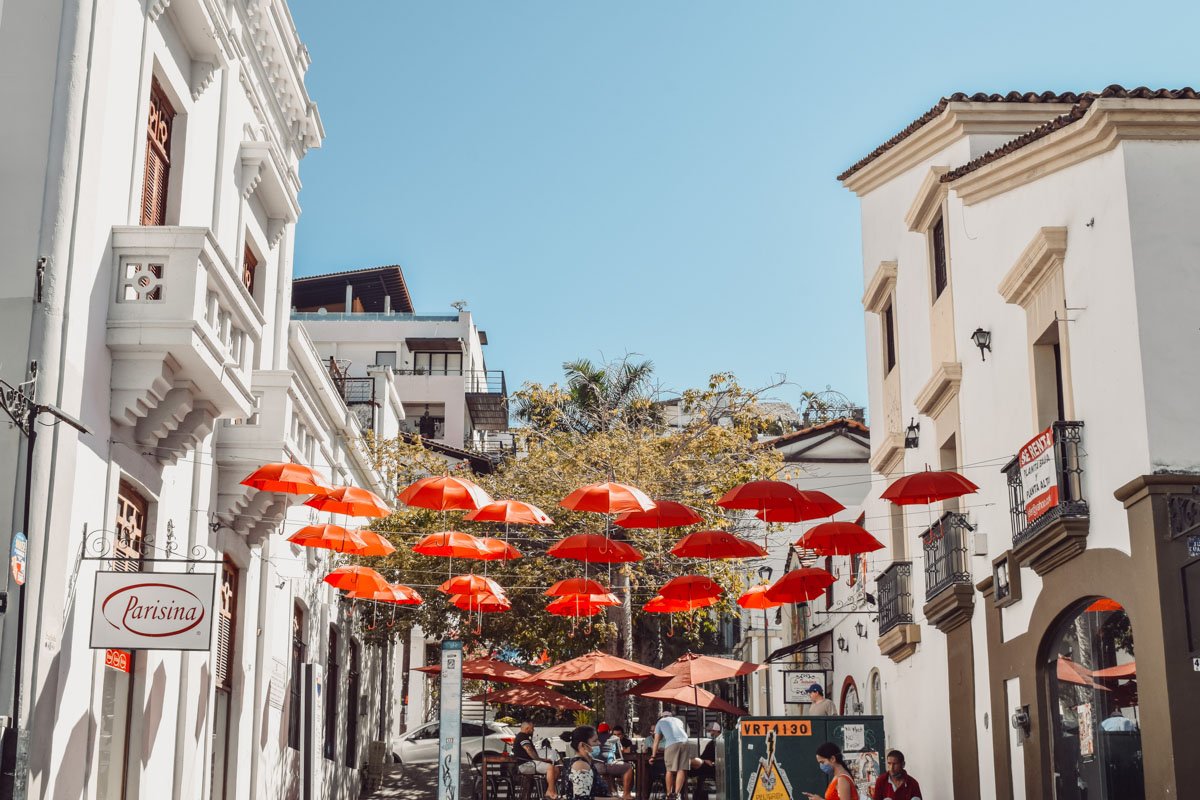 Cash is king in Mexico. The currency used is Mexican Pesos (1 MXN = 0.050 USD).
You can get both from the ATM, and some places accept USD, but I recommend paying for goods and services in pesos; otherwise, you'll get a lousy exchange rate back.
An extra debit card and credit card in case yours get lost (getting one sent to Mexico is a nightmare)
When taking money out of the ATM, make sure to take your card at the end of the transaction. If you don't, the machine may eat your card. This happened to me at HSBC!
A small coin purse for keeping your cash handy. They sell these at the local markets in Puerto Vallarta, so this can be a great souvenir to pick up if you don't have one already!
Belt wallet. Puerto Vallarta is a relatively safe destination, but this hidden belt wallet can help you avoid petty theft, the most common form of crime here.
Electronics
Camera to take home memories (phone cameras are fantastic these days, but I always travel with my Sony Aa7ii for capturing wildlife).
Underwater camera. Puerto Vallarta is home to some fantastic snorkeling and diving spots, so bring an underwater camera to capture the memories! I use and love GoPro.
Your phone and an extra charger. Did you know that a phone charger is the most commonly forgotten item for travelers? Pack an extra one, just in case!
Tip: Download offline maps from Google maps on your phone before leaving so you can still get directions even if you're offline!
Mexico uses the same plug adapter as Canada/USA, but if you're coming from Europe to Asia, you'll need an adapter. I love traveling with this converter because it has multiple USB slots for charging all your electronics simultaneously.
Portable phone charger. There's nothing worse than your phone dying while you're out! Be sure to take a compact, portable charger for recharging your phone, camera, or any other device you might need.
This one is small enough to comfortably fit in your purse or backpack, so you'll always have it with you when you need it!
Waterproof kindle for catching up with your favorite book on the beach.
A laptop if you're working remotely in Puerto Vallarta. There are some great co-working spaces and cafes here!
VPN
One electronic item I never travel without is my VPN.
Essentially, you risk hackers stealing your data, like credit card numbers or saved passwords, whenever you connect to public WiFi on your phone or laptop.
A good VPN will protect your information from being hacked. I use and love NordVPN.
As a bonus, it also means you can still watch U.S. Netflix and other streaming services abroad!
Travel insurance for Puerto Vallarta
One thing you don't want to leave home without is a good travel insurance policy.
Not only does this protect you from unexpected medical expenses, but it can also cover personal liability and theft of personal belongings.
I use and love SafetyWing travel insurance!
When is the best time to visit Puerto Vallarta?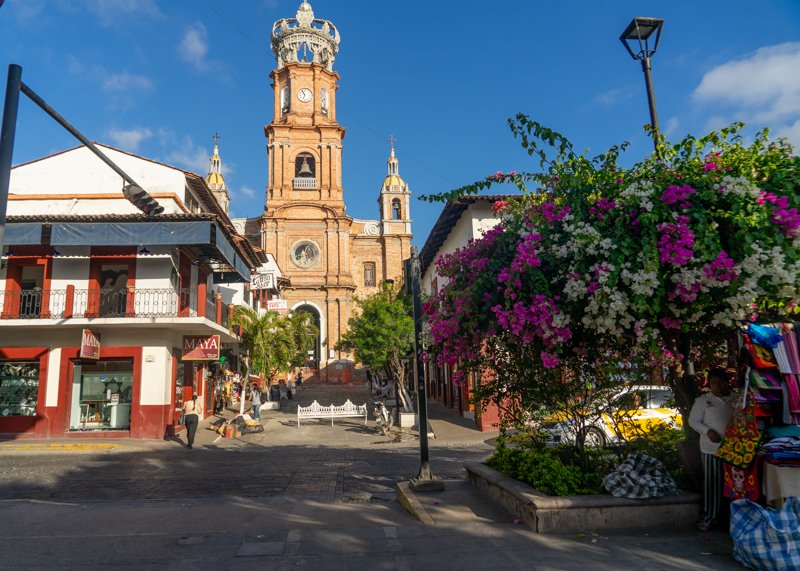 Puerto Vallarta has two main seasons. The dry (high season) runs from October to March when you'll enjoy the nicest weather and popular activities like whale watching.
The weather is great until late spring when temperatures start to become unpleasantly warm, and rain begins.
June is the hottest month, with an average temperature of 81 degrees Fahrenheit (27 degrees Celsius), but the humidity can make it feel hotter. Rain becomes increasingly more intense until October when the dry season starts again.
Read more about the best time to visit Puerto Vallarta

What should I pack to go to Puerto Vallarta?
Puerto Vallarta has a warm and tropical climate, so you should wear lightweight clothing and bring plenty of swimwear and beach accessories. This Puerto Vallarta packing list has everything you need to bring.
Do you need a jacket in Puerto Vallarta?

During the winter, Puerto Vallarta can become cool at night, so you will want to bring a light jacket. In the wet season, you will want to bring a rain jacket.
Do you need water shoes in Puerto Vallarta?
Water shoes can be very helpful in Puerto Vallarta for hiking the waterfall trails and on the rocky coastlines.
Do you need bug spray in Puerto Vallarta?
During the spring and summer months, you will want bug spray in Puerto Vallarta to avoid getting bit by mosquitos.
Can I use American money in Puerto Vallarta?
Yes, many stores accept American money, but it's best to pay in the local currency (Mexican pesos) so you don't lose money on the exchange rate.
Can you drink tap water in Puerto Vallarta?
Puerto Vallarta is one of the few places in Mexico where it is safe to drink tap water. However, most hotels and apartments will supply you with large water gallons you can refill.
—
I hope this of things to pack for Puerto Vallarta was helping with your trip planning!
Don't stress too much if you forget to pack something – there are plenty of shopping malls and even a Walmart and Costco if you forget to bring something on your trip. Have a safe and enjoyable trip!
Planning a trip to Puerto Vallarta? Check out these posts!