This post may contain affiliate links. By clicking and making a purchase through the links, I earn a small commission at no extra cost to you. See my disclaimer for more information. This allows me to keep the site up to date and expand on resources.
Wondering what to pack when going to an all-inclusive in Mexico? You're in the right place! I live in Mexico in a city full of incredible all-inclusive resorts.
Planning a getaway to an all-inclusive resort in Mexico promises an unforgettable experience of sun, sand, and relaxation. But, have you ever found yourself at your dream destination only to realize you've forgotten something crucial? It's a common pain point for many travelers, and I've been there too!
That's why I've put together this essential packing guide, drawing on my extensive travel experience and the little lessons I've learned along the way.
As a seasoned traveler who's visited over 70 countries, including numerous trips within Mexico, I understand the unique needs and preferences of vacationers heading to places like Puerto Vallarta.
Whether it's choosing the right swimwear for those endless beach days or selecting versatile outfits for evening entertainment, this guide is tailored to ensure you pack smart and enjoy every moment of your Mexican paradise without any hitches.
In this article, I'll walk you through a comprehensive list of must-haves for your all-inclusive trip to Mexico. From the essentials everyone thinks of to those often-overlooked items that can make or break your vacation, I've got you covered.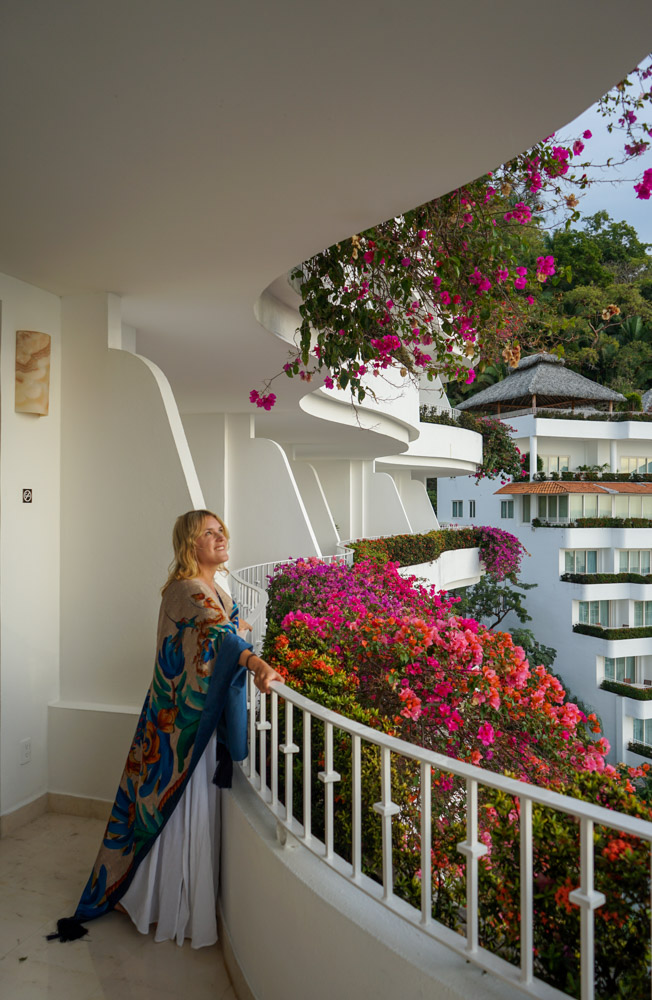 What to Pack When Going to Mexico All-Inclusive
1. Tops
You don't need to pack too many tops as long as you choose ones you can mix and match with different bottoms.
Pack a mix of sleeved and sleeveless tops for greater versatility, but if you are visiting coastal areas where mosquitoes are a problem, sleeved tops will give you added protection.
2. Pants
Even if warm weather is forecast, it's best to take one pair of long pants for cooler evenings or more formal events. Lighter materials like linen or cotton are more comfortable than jeans, especially in the hot and humid summer months.
Leggings are comfortable for traveling and handy to have with you for hikes, tours, or working out on vacation. Lululemon Fast and Free Tights are lightweight and breathable, and they even have a handy pocket for your phone or other essentials.
3. Shorts or Skirts
Two or three of these should do, and if you're planning to pack more dresses, you can probably take just one or two skirts or pairs of shorts.
prAna Halle shorts are fantastic quality and have a touch of Spandex that makes them extra comfortable to wear when traveling or hiking. The hidden zip-fastening pocket is super handy as well!
4. Dresses
If you like wearing dresses, pack two or three for your Mexico vacation, and make one of them a day-to-night dress. Then, you can switch out your accessories and pair your dress with flip-flops for the day or pretty sandals for the evening.
5. Underwear, bras, and socks
Underwear is light, so you shouldn't worry about how much you're packing. A good rule of thumb is to take one pair of underwear for each day of your trip, plus a few extra.
You'll probably need to pack two or three bras for your trip. Remember to take a sports bra if you plan to work out or hike around the Mayan ruins or waterfalls near Puerto Vallarta.
You don't need to take many socks with you to Mexico unless you're planning to go hiking. Some light synthetic socks can be layered up to keep your feet dry and prevent blisters while walking.
Which shoes do you take on your Mexico vacation?
You'll probably spend a lot of time wearing flip-flops on your all-inclusive Mexico vacation. But there are a few other types of shoes that you might need to take with you, depending on the dress code at your resort and the activities you have planned.
6. Sandals
A pair of sandals like Birkenstocks or these Nike sandals will be comfortable enough for hours of walking on your day trips.
A more waterproof pair like these Oofos flip-flops would be a great option for a trip to a cenote or an eco-park like Xcaret.
You might also want to pack some dressy sandals to wear in the evenings.
7. Walking Shoes
For long days out hiking or exploring historic sites like Chichen Itza, a good pair of comfortable shoes is really important.
The popular Ecco Soft 7 shoe is ideal, as they are lightweight but give good support, and the leather-covered cushioned footbed will let you walk a long way without getting sore feet.
8. Water Shoes
Water shoes are perfect for water activities like paddling in the ocean at your beach destination or spending a day out at Xcaret. These water shoes are lightweight, breathable, and quick-drying, with anti-slip soles.
Additional items to pack for an all-inclusive resort in mexico
You'll need more than just tops and shorts for your vacation wardrobe, so here are some of the extra things you will need to pack for your Mexico vacation.
10. Swimwear
Pack two or three bathing suits or bikinis, depending on how much time you plan to spend in the pool or on the beach. A rash guard can also be helpful if you plan to go surfing in Mexico.
It's a great idea to take beach cover-ups for when you're eating lunch or walking back to your hotel room, and a wet bag is handy for carrying wet swimwear back from water parks.
11. Sleepwear
A t-shirt and yoga pants can double up as sleepwear and loungewear, which is a great way to save luggage space.
12. Shawl, Cardigan, or Light Jacket
A light jacket or cardigan is great to have on hand for cooler evenings. But a medium-sized, lightweight shawl is much more versatile, as you can also use it as a beach cover-up, a quick rain cover, or even an emergency towel. It's also handy if the air-con in your Mexico resort is running a little cold!
13. Rain Jacket
If you're visiting Mexico during the rainy season, there might be quite a bit of rain during your vacation. So it's a good idea to pack a light rain jacket or poncho, especially if you're planning a lot of day trips.
Something like this North Face jacket would be ideal. It's waterproof, windproof, and breathable and packs down into its own securely-zipped pocket so it will easily fit into your day bag.
14. Sun Hat or Baseball Cap
A hat is a vital part of your sun protection kit, so it's important to add one to your Mexico packing list.
A wide-brimmed sun hat will help to shade your face and protect the back of your neck from the hot sun, but a baseball cap can be more practical, especially if you're planning any boat trips.
15. Sunglasses
Sunglasses are another must-have for your Mexico all-inclusive packing list, to protect your eyes from the sun's UV rays.
Pro tip: a pair of sunglasses straps will keep your sunglasses close at hand when you take them off.
16. Jewelry
Taking along a few accessories is the best way to make your capsule wardrobe go even further because you can easily switch up the look of your outfit.
A travel jewelry organizer will stop your accessories from becoming a tangled mess.
Toiletries and first aid essentials
You already know which of your regular toiletries you'll need to take, and some silicone squeeze bottles will make it easy to pack them in your case.
Your all-inclusive resort will provide shampoo and conditioner in your hotel room, but if you forget any personal items like deodorant, toothpaste, or a toothbrush, you can usually buy them at the hotel for a small additional cost.
Here are a few small items that will be useful on your all-inclusive Mexico vacation:
17. Leave-in Hair Conditioner
A leave-in conditioner will provide extra protection for your hair against the drying effects of sea and swimming pool water, wind, and UV rays. Pick one suitable for your hair type, or go for a general leave-in hair conditioner.
18. Dry Shampoo
The weather in Mexico can get pretty hot and humid, and dry shampoo can help to keep your hair looking good for longer. A travel-size dry shampoo won't take up too much room in your case.
19. Sunscreen
I don't have to tell you how important sunscreen is, even on cloudy or overcast days. You can generally buy sunscreen at your all-inclusive resort, but it tends to be more expensive than buying it at home.
It's a good idea to make sure that you choose a coral reef-safe sunscreen, to protect the delicate natural balance of Mexico's marine ecosystem. Some tour companies and eco-parks may even insist on you using this type of sunscreen.
And don't forget that your lips can get sunburned too, so make sure that you pack some lip balm with SPF.
20. Insect Repellant
It's a good idea to take some bug spray with you, especially if your Mexico resort is in a coastal area like Puerto Vallarta. If you're planning to go into the jungle, a bug spray with a high DEET content is a good option.
But don't be tempted by 2-in-1 insect repellant/sunscreen sprays, because you won't always need to apply both products at the same time.
21. Hand Sanitizer and Body Wipes
Hand sanitizer gel, hand sanitizing wipes, and body wipes will be useful to have on hand, to keep you feeling fresh on humid days.
22. First-Aid Kit
Your all-inclusive resort will have its own medical facilities, but taking a small personal first aid kit with you is worth it.
Think of the most important things you use at home and pack some to keep in your hotel room. Your kit could include ibuprofen, Tylenol, antihistamines, Imodium, ciprofloxacin, bandaids, eye drops, and dental floss.
If you are planning to take any prescription or over-the-counter medications with you, be sure to check that you will be allowed to bring them into Mexico with you.
Tech must-haves for your Mexico All-Inclusive Packing List
Unless you plan to go completely off-grid, you'll probably take your phone along on your all-inclusive vacation – especially if you're visiting Mexico as a digital nomad.
Here are a few more electronic gadgets and accessories you might want to add to your suitcase.
23. Waterproof Phone Case
Most new phones are advertised as waterproof these days, but that only really offers protection for a short time. If you want to take fantastic underwater photos during your Mexico vacation, you'll need something more robust.
Something like this waterproof phone case will protect your phone up to 50 ft underwater, but be sure to choose a case that will fit your specific phone.
If you just want to protect your phone against accidental splashes or sand damage, the best thing to pack would be one of these waterproof phone pouches.
24. Camera
Your phone camera will probably be good enough for most vacation photos, but if you want something more special, you need to take the right kit along with you. A mirrorless camera like the Sony a6000 a great option.
And the GoPro is hard to beat for taking great underwater photos or filming water sports or adventurous outdoor activities like zip lining. There are lots of accessories available for different shots, like a waterproof case for underwater filming.
25. Portable Battery Pack
Nobody wants their phone to run out of phone battery, especially if it means missing out on a fantastic vacation photo. So you should definitely pack a portable charger to make sure that you always have plenty of charge.
Anker is a reliable brand, and this external battery pack carries enough power to charge most smartphones several times.
And it goes without saying that you need to make sure you take chargers and cables for all your electronic gadgets. You might even want to throw in an extra cable, just in case one goes missing.
26. Travel Adapter
If you're visiting Mexico from the USA, you won't need to use a travel adapter as the outlets are the same. If you're visiting from outside the USA, you will probably need to take a US travel adapter plug with you. This universal adapter is perfect for taking on all your travels around the world.
27. Kindle or e-reader
If you love lounging by the pool with a good read, taking an e-reader is much easier than packing paper books in your suitcase.
The Kindle Paperwhite is a good option that has an adjustable screen light, a battery that lasts a long time, and enough storage to fit thousands of e-books. That's more than even the most dedicated bookworm will get through on vacation!
Travel Documents and Money for your Mexico Vacation
Of course, you'll need to take your important travel documents to your Mexican resort, like your tickets, passport, and visa. Here's a list of things to pack that will help keep you, your money, and your travel documents safe while you're abroad.
28. Travel Insurance
You might think that travel disasters will never happen to you, but it's not worth taking the risk.
A good travel insurance policy will protect you against trip cancellation and loss of passports or luggage. It will cover your medical costs if you get sick or injured on vacation, and it doesn't even have to cost very much.
I use and love HeyMondoy travel insurance.
29. Cash
You'll probably use debit cards or credit cards to pay for most of your spending in Mexico, but it's good to have a mix of pesos and your home currency on hand for any little extra costs.
Pesos are handy for tipping and paying in cash at food vendors or small shops, and you can easily withdraw them from an ATM in Mexico.
30. Travel Belt
It's safer to carry your cash in a money or travel belt instead of your travel backpack or beach bag. This is a handy thief-proof tool that will keep your valuables safe when you're on public transport, shopping, or sightseeing.
The Flip Belt has four easy-access pockets that will carry your smartphone, credit cards, and ID, and because it's designed for running, it's really comfortable to wear as well.
31. Travel Cards
Don't forget to pack your foreign exchange fee-free debit cards and credit cards, visas, and airport lounge access cards.
32. RFID Blocking Wallet or Card Holder
If you don't already use an RFID wallet or card holder, it's a great idea to get one before your Mexico vacation. It will protect the contactless debit and credit cards in your pocket or beach bag so that thieves can't use a portable reader to skim money or personal information from them.
Ultimate Mexico Packing List: Other Travel Essentials
This is an extra list of things that will make your time at your Mexican all-inclusive resort so relaxing you won't want to go home.
35. Water Bottle
It's not safe to drink tap water in Mexico, so you will need to stick to bottled water. But there are several great options to try if you want to avoid having to buy lots of small bottles of water.
You can either buy large bottles of water and use them to fill your reusable water bottle, use a filter water bottle to purify the tap water, or invest in a SteriPEN.
This handy gadget uses UV light to kill over 99.9% of bacteria, viruses, and protozoa in water and will treat around 15,000 liters of water.
36. Travel Pillow
A travel pillow makes airplane sleeping much easier on a long flight, and the TRTL travel pillow is really comfortable and more packable than most options.
37. Laundry Bag
Travel laundry bags will make it easy to keep your worn clothes away from clean clothing in your hotel room. It's also worth taking some concentrated laundry soap with you if you want to avoid using the expensive hotel laundry service.
38. Foldable Shopping Bag
Reusable shopping bags are environmentally friendly and also let you avoid paying for bags in stores (most places in Mexico no longer give out plastic bags). You could use your day bag or beach bag, but a foldable shopping bag will fit easily into your luggage.
39. Portable Neck Fan
If you struggle in very humid weather, the cooling breeze from a portable neck fan will feel much more comfortable. A Chill Pal cooling towel is another easy way to keep cool when the temperature is soaring.
40. Travel Towel
Of course, you will have towels provided in your hotel room, but not all resorts provide beach towels. A travel towel is light, quick drying, and easily packable, so it's great to have on hand for beach days, water sports, or a day trip to a water park.
It's also a good idea to pack some towel clips to keep your towel firmly secured to your sunlounger, even on windy days.
41. Door Lock
A portable door lock slips easily into your luggage and will give you extra security and peace of mind.
An all-inclusive vacation in Mexico is one of the best ways to see the country without spending a fortune. And now that you know what to pack for an all-inclusive Mexican resort vacation, you'll be able to relax and really enjoy your trip.
Tips to Pack for an All-Inclusive Resort in Mexico
Before you start deciding what to pack for all-inclusive resort in Mexico, it's a great idea to check out the resort's restaurants to see if they have a dress code.
Fine dining restaurants in all-inclusive resorts tend to require smart clothes and don't allow casual clothes like shorts or flip-flops.
You should also consider the weather forecast for your beach vacation and the activities you will be doing on your all-inclusive trip to Mexico.
If you're planning lots of off-site tours and outdoor activities, you'll need to pack different clothes than you would for a vacation by the pool. But resort casual is the safe option in general.
A set of packing cubes will make packing easier, but most people pack too many clothes for a beach destination.
If your clothes are washable, you can probably take at least one or two outfits out of your suitcase. The good news is that it will give you more room to bring back souvenirs!
Best Places For an All-Inclusive Vacation in Mexico
Now that you know what to pack for going to an all-inclusive resort in Mexico, you may be wondering which one to book!
Call me biased, but I truly believe Puerto Vallarta is one of the best places for an all-inclusive vacation in Mexico with its incredible beaches, sunset, and activities on offer.
Use these posts to find the best resorts in Puerto Vallarta:
Other popular destinations for an all-inclusive trip in Mexico are on the Yucatan Peninsula, particularly Cancun and Playa Del Carmen.
Check out this guide if you're trying to decide between Cancun or Puerto Vallarta.
FAQ: What to Pack When Going to Mexico All-Inclusive
Should I bring a yeti to an all inclusive resort?
While not a necessity, bringing a Yeti or similar insulated cup can be handy for keeping your drinks cold and refreshing in the Mexican heat.
How much should I bring to an all-inclusive?
Budget for tips, off-resort excursions, and souvenirs; around $200-$300 for a week's stay is a good starting point, but adjust based on your spending habits.
Do I need to bring shampoo to an all inclusive resort?
Most all-inclusive resorts provide basic toiletries like shampoo, but if you have specific hair care needs, it's wise to bring your own.
Is there a dress code for all-inclusive resorts?
Yes, many all-inclusive resorts have dress codes, especially for dinner; think smart-casual, with some requiring more formal attire for certain restaurants.
Should you bring your own towels to an all-inclusive resort?
It's not necessary to bring towels, as resorts typically provide them for both the room and pool/beach use.
What medication should I bring to Mexico?
Bring any prescription medications in their original containers, along with common remedies for stomach upsets, sunburn, and dehydration.
Can I bring Tylenol to Mexico?
Yes, you can bring Tylenol or similar over-the-counter medications to Mexico, but keep them in their original packaging.
Is it rude not to tip at all-inclusive resorts?
While tipping is often included, it's still considered polite to tip for exceptional service at all-inclusive resorts in Mexico.
Can you eat all day at an all-inclusive resort?
Yes, one of the perks of all-inclusive resorts is that you can typically eat and snack throughout the day at various dining venues.
Should I bring cash to an all-inclusive?
Bringing some cash is advisable for tips, local shopping, and off-resort activities, even though most of your needs are covered at the resort.
Final thoughts: Packing list all-inclusive Mexico
When it comes to your packing list for your all-inclusive adventure in Mexico, remember that the key is to pack smart, not heavy.
With the right items in your suitcase, you're setting yourself up for a hassle-free vacation where you can fully immerse yourself in the beauty and relaxation that Mexican resorts offer. From the sunny beaches to the lively evenings, being well-prepared means you can enjoy every moment to the fullest.
Whether it's your first time visiting an all-inclusive resort in Mexico or you're a seasoned traveler, I hope this guide helps you pack confidently, ensuring you have everything you need (and nothing you don't).