This post may contain affiliate links. By clicking and making a purchase through the links, I earn a small commission at no extra cost to you. See my disclaimer for more information. This allows me to keep the site up to date and expand on resources.
As one of Mexico's premier vacation destinations, there are plenty of options for all-Inclusive resorts in Puerto Vallarta for adults only.
The beautiful coastal city of Puerto Vallarta on Mexico's west coast is a hugely popular destination for tourists, and with good reason!
It offers stunning vacations filled with spectacular beaches, water sports, marine life, delicious cuisine, and some of the most beautiful all-inclusive resorts in the world.
In this article, we'll look at the eight best Puerto Vallarta all-inclusive resorts for adults only, offering an overview of their amenities, services, dining, entertainment, and activities. Find the perfect resort for your next getaway and leave the kids at home!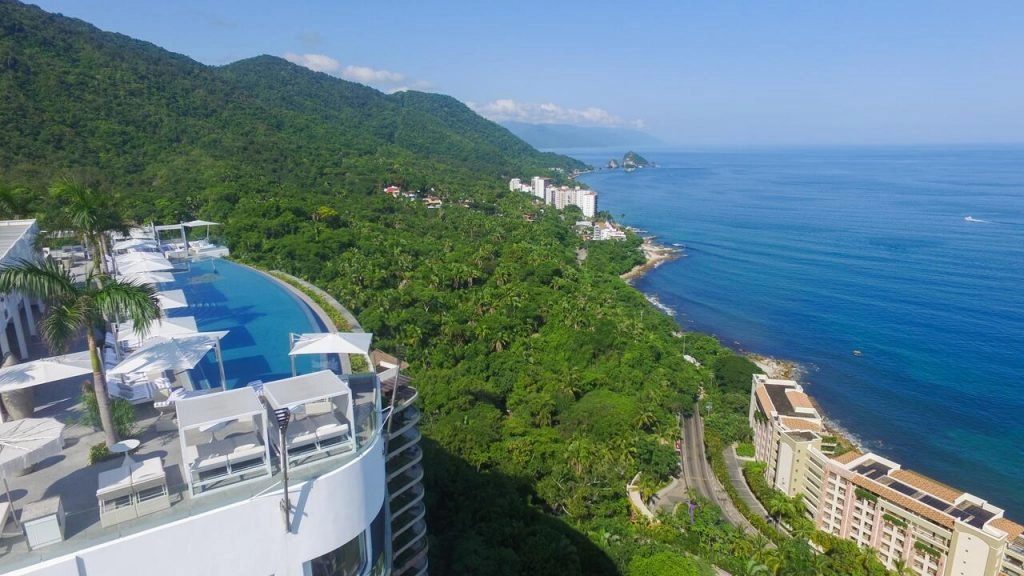 Best All-Inclusive Resort Puerto Vallarta Adults Only
Don't have time to read this? Hotel Mousai is the best option for all-inclusive Puerto Vallarta resorts for adults only.
Best All-Inclusive Resorts Puerto Vallarta Adults Only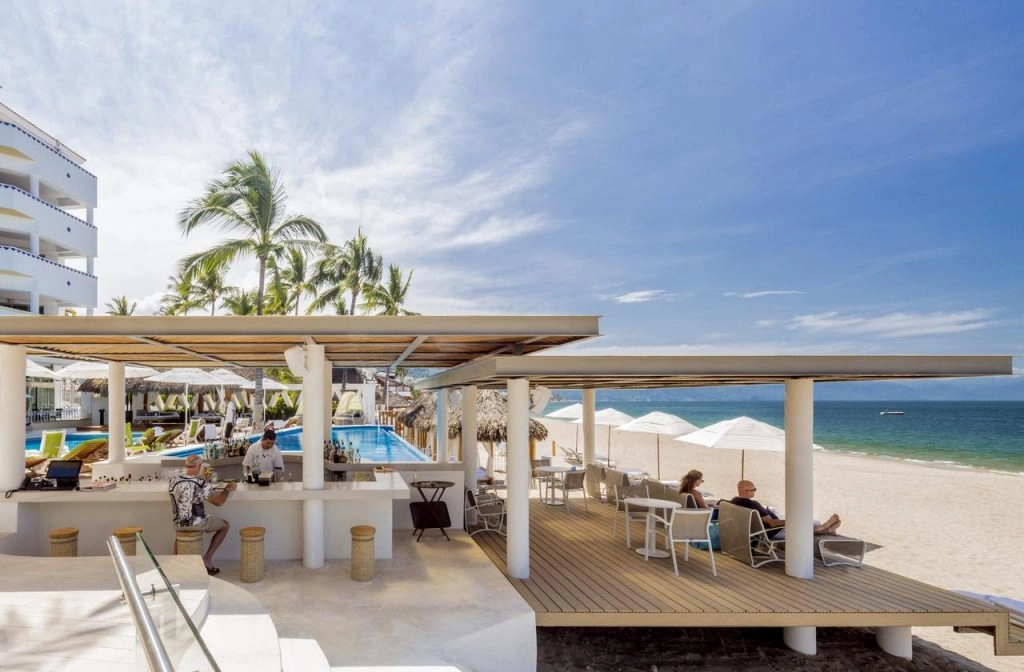 ⭐️ Rating: 9/10 |📍 Location: 5 Di Diciembre | 🏩 View on Expedia
The Villa Premiere Boutique Hotel & Romantic Getaway is in a neighborhood of Puerto Vallarta called Colonia 5 Di Diciembre. It is a beachfront aparthotel within a short drive of the Cruise Ship Terminal and Banderas Bay.
This hotel has everything you could need for a romantic getaway. Outdoor pool, sauna, steam room, and spa services, including massages, facials, couples treatment rooms, and more.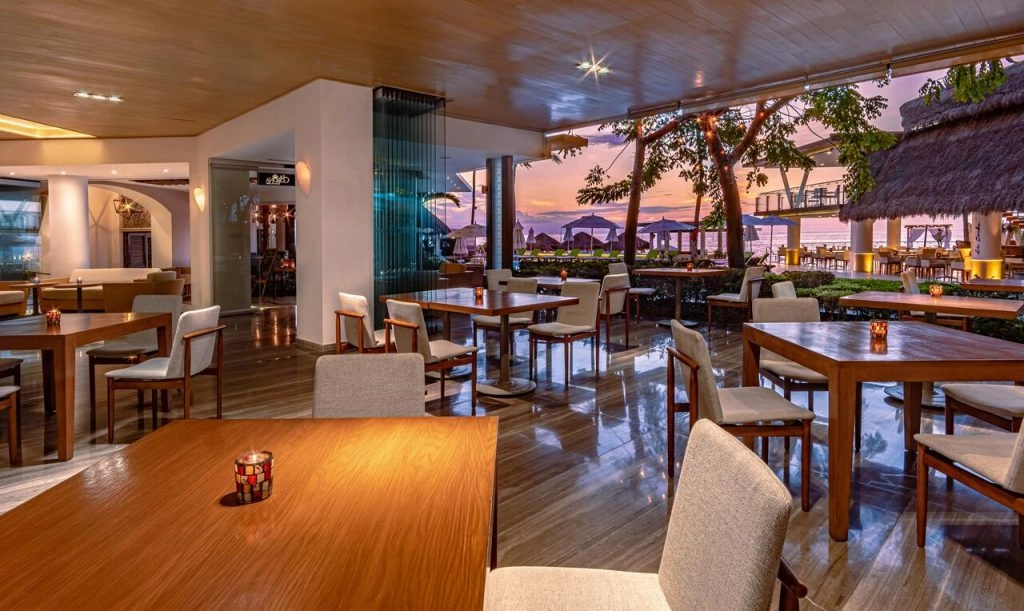 For evening entertainment, choose from live music, eat at one of the three gourmet restaurants, at the chef's table, or even have a romantic dinner for two.
Want a quiet night in? Guest rooms include 42-inch flat-screen TVs and free wi-fi. Onsite food and beverages are included in the inclusive package.
Daily activities include cycling, swimming, paddleboarding, yoga, and of course, you can access all the water sports activities and beautiful beaches Puerto Vallarta offers.
Stay at this hotel, and you can also get 20% off at the nearby golf courses!
This place was beyond nice! Clean, modern and the location was excellent for what we were needing. The staff was excellent by being overly helpful, polite and attentive! The room was comfortable and overlooked the ocean.

– Ashley (read more reviews here)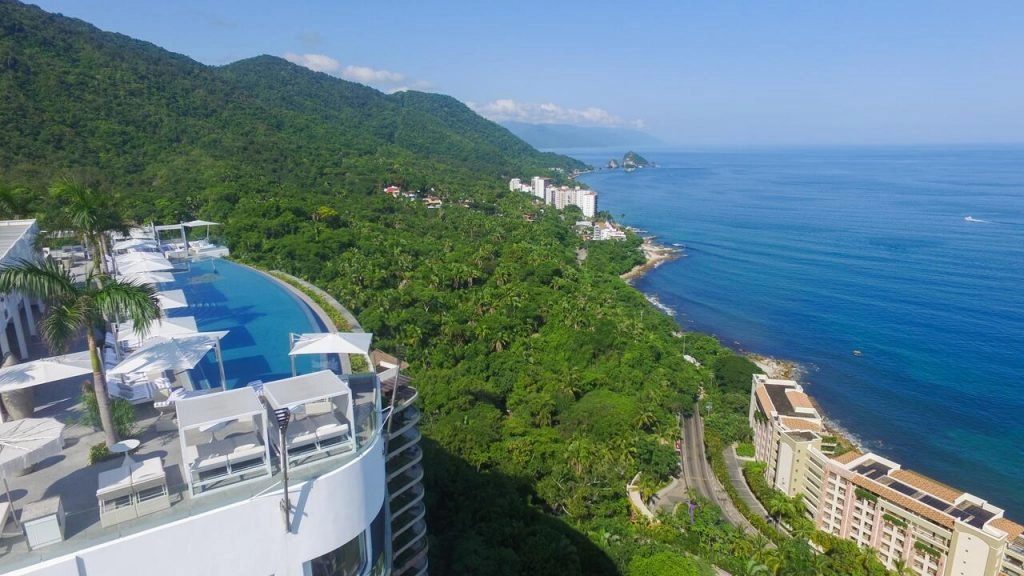 ⭐️ Rating: 9.4/10 |📍 Location: South of Puerto Vallarta | 🏩 View on Expedia
Hotel Mousai is located on the beach in the South Shore Hotel area nearby attractions such as Palo Maria waterfall and Mismaloya Beach. This is a 5-star all-inclusive resort in Puerto Vallarta for adults only.
Depending on which direction you look, there are spectacular views of both the mountains and the jungle. This is another one of only very few hotels in Puerto Vallarta that has been awarded 5 Diamonds by AAA.
The world-class Spa Imagine is the perfect choice for anyone looking for the absolute best in spa treatments and therapies. There is also a state-of-the-art gym and outdoor activities, including basketball, tennis, squash, and more.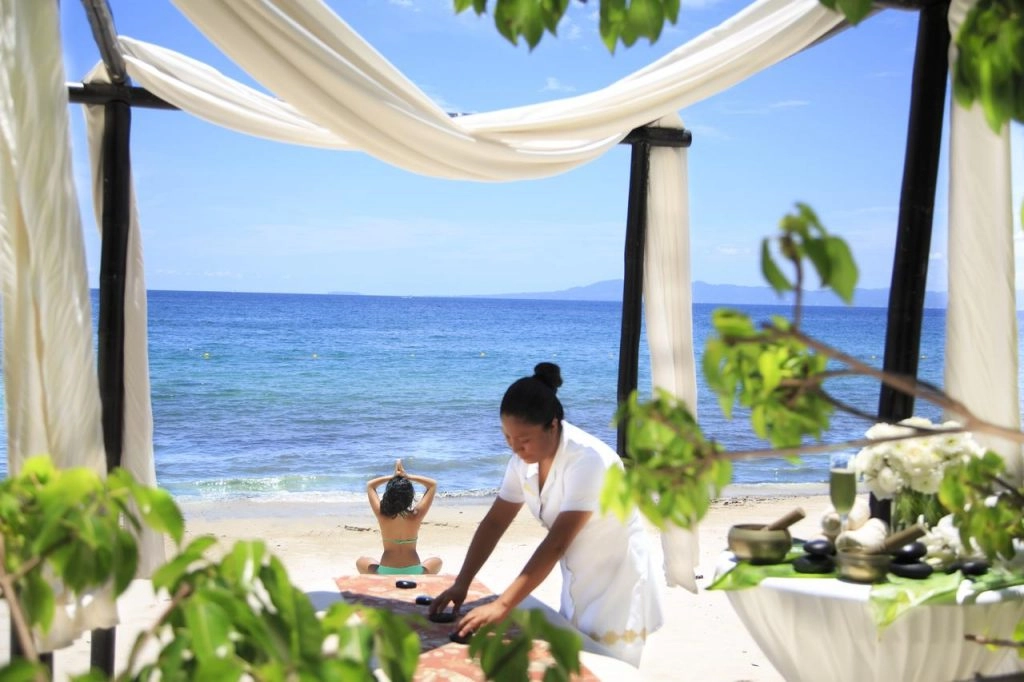 This hotel has a wide variety of rooms at different price points, including penthouses, suites, and ultra suites, all spacious rooms with modern amenities and contemporary design.
For the ultimate in luxury, try the Master Mousai Suite South for wraparound floor-to-ceiling windows, bespoke designer furnishings, a steam room, and a private terrace. It's not cheap, but it will definitely be an experience to remember!
There are six fine dining on-site restaurants to choose from, along with a choice of poolside bars for drinks and snacks. Expect nothing less than five-start service here. There are on-site live performances and entertainment in the evenings.
Everything was so beautiful! I felt so pampered and catered to! The grounds were immaculate! The staff was wonderful!

– Michelle (read more reviews here)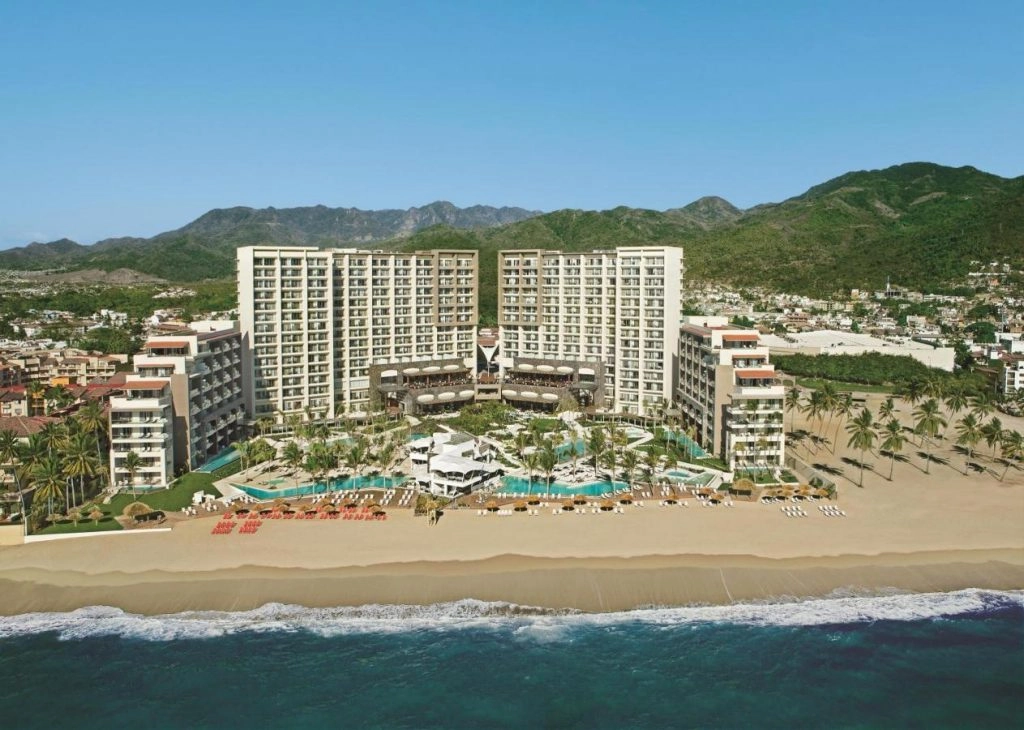 ⭐️ Rating: 8.7/10 |📍 Location: Hotel Zone | 🏩 View on Expedia
Secrets Vallarta Bay Puerto Vallarta (Adults only) is a 4.5-star hotel located on the beach in the Hotel Zone neighborhood. With their Unlimited Luxury plan – absolutely everything is included! Gourmet food, top-shelf international drinks, 24-hour room service, free wi-fi, and lots more.
There are 271 suites with stunning garden or ocean views, private balconies, and luxury amenities. Pamper yourself with a visit to the spa or go for a swim in one of the three outdoor pools.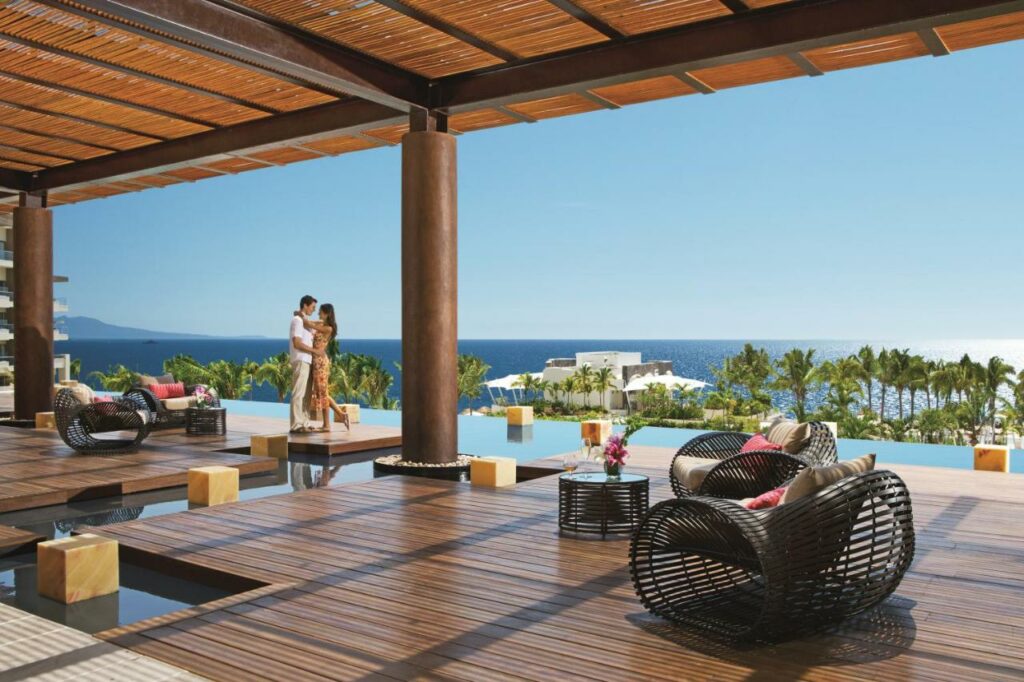 Activities available include tennis, beach volleyball, and a fitness center. You can also indulge in water activities such as kayaking, surfing, snorkeling, and body boarding. There are live shows and on-site nightclubs for nighttime to keep you entertained.
Visiting downtown Puerto Vallarta is a must while staying at any of these luxury resorts. Art and galleries, street performers, delicious food, downtown bars, and nightclubs are all to be found. Plus, you can book tours, water sports, and outdoor adventures. There is always lots to do in Puerto Vallarta!
EVERYTHING! It was my first time to Mexico and I believe I chose one of the best resorts in the country. I went with a group of 4 friends and we were all impressed with this property.

– Sylvia (read more reviews here)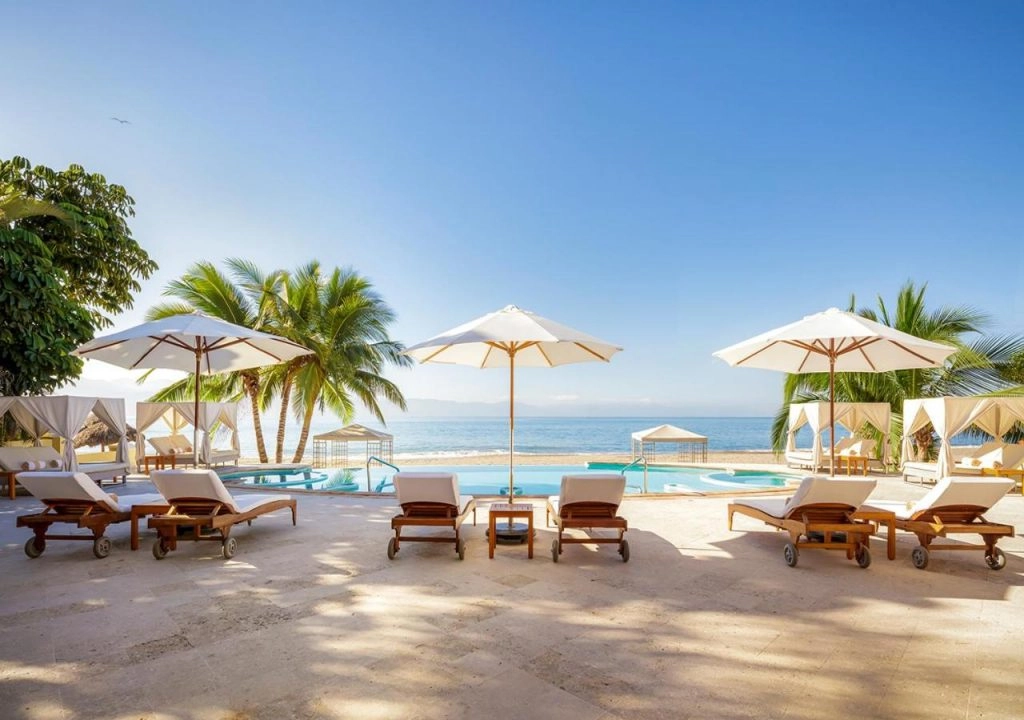 ⭐️ Rating: 9.6/10 |📍 Location: Marina Vallarta | 🏩 View on Expedia
Rated as exceptional, this 4.5-star adult Only boutique hotel is located near the beach in Marina Vallarta and only an 11-minute drive from the Puerto Vallarta airport. It is also a 14-minute walk from the popular Marina Vallarta Golf Club.
This hotel features beautiful tropical gardens with lush greenery and palm trees. It's the perfect spot for relaxation in the heart of natural surroundings.
The ABJA spa offers a variety of spa treatments and therapies for relaxation and wellness. Suites are decorated with traditional Mexican design and contain private plunge pools, hot tubs, and scenic views of the lush gardens and golf course. A swim-up bar and outdoor swimming pool are also onsite.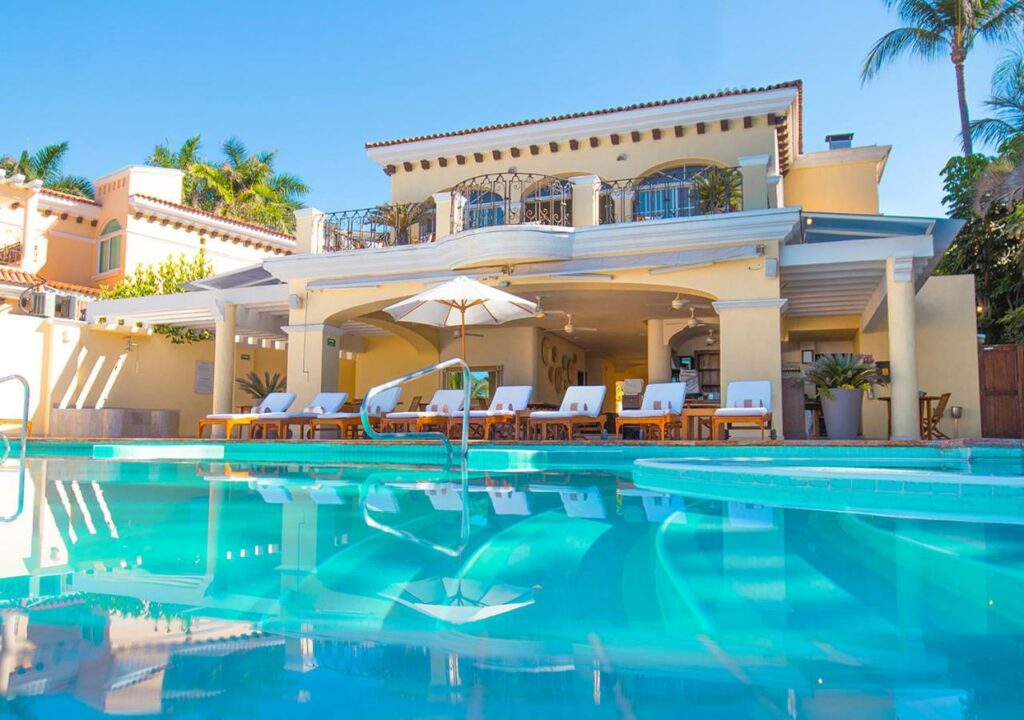 Their award-winning Emiliano restaurant serves gourmet Mexican cuisine in a beautiful, relaxed setting. You can even eat outside on the terrace surrounded by koi ponds!
It's also near one of the best beach clubs in Puerto Vallarta – Táu Beach Club.
It features a bar and restaurant and can be visited by shuttle. Try their refreshing cocktails and enjoy beachfront dining overlooking the Pacific Ocean with your loved one. The beach club also has a jacuzzi and pool with shower facilities.
Daily activities include yoga lessons, tequila tasting, cooking lessons, art workshops, dining events, and lots more. The perfect way to experience Mexican culture!
I wish I could give this 10 stars instead of five. This resort is amazing! Everything about it is perfect. It's gorgeous, the staff is more than accommodating and friendly. It's like having your own personal assistant because they are so attentive. The pool is amazing, the food is great and the location is perfect! This definitely exceeded all of our expectations. And no kids doing cannon balls in the pool!

– Sandy (read more reviews here).
⭐️ Rating: 7.2/10 |📍 Location: Hotel Zone | 🏩 View on Expedia
Crown Paradise is a 4-star all-inclusive property near the Cruise Ship Terminal and on the shores of Banderas Bay. It's a 2-minute drive from the Vallarta Casino for anyone who wants to try their luck and just 5 minutes from the airport!
Amenities include two outdoor pools, three specialty restaurants and one buffet, a spa, free wi-fi, a nightclub, spectacular live shows, tennis courts, and a gym—everything you could possibly need for the perfect relaxing vacation.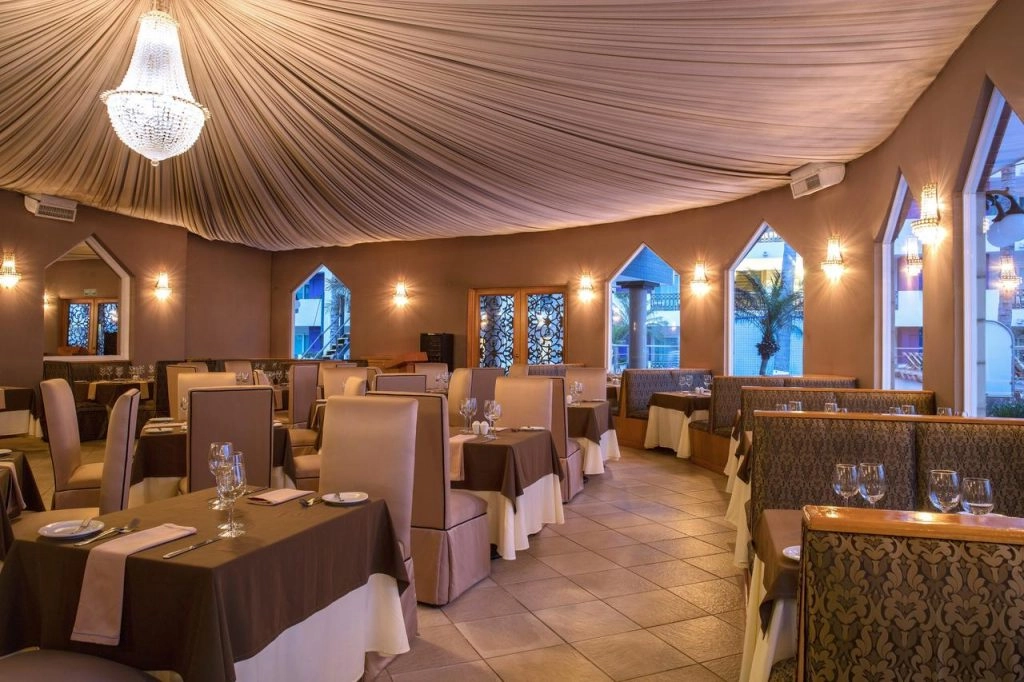 The restaurants cater to all occasions, from fine dining to authentic Mexican dishes to Mediterranean flavors. There is also a pool bar and beach bar with a variety of drinks from around the world. Snacks are also available throughout the day.
Local activities and excursions include whale watching, a visit to the Islas Marietas (an exotic white sand beach), turtle release (between the months of July and December), and more. The most popular activities for tourists to Puerto Vallarta are water sports and a visit to the golf courses.
A very nice Hotel within the beach, beautiful view, people from all over the world. Great service of the staff.

– Margarita (read more reviews here)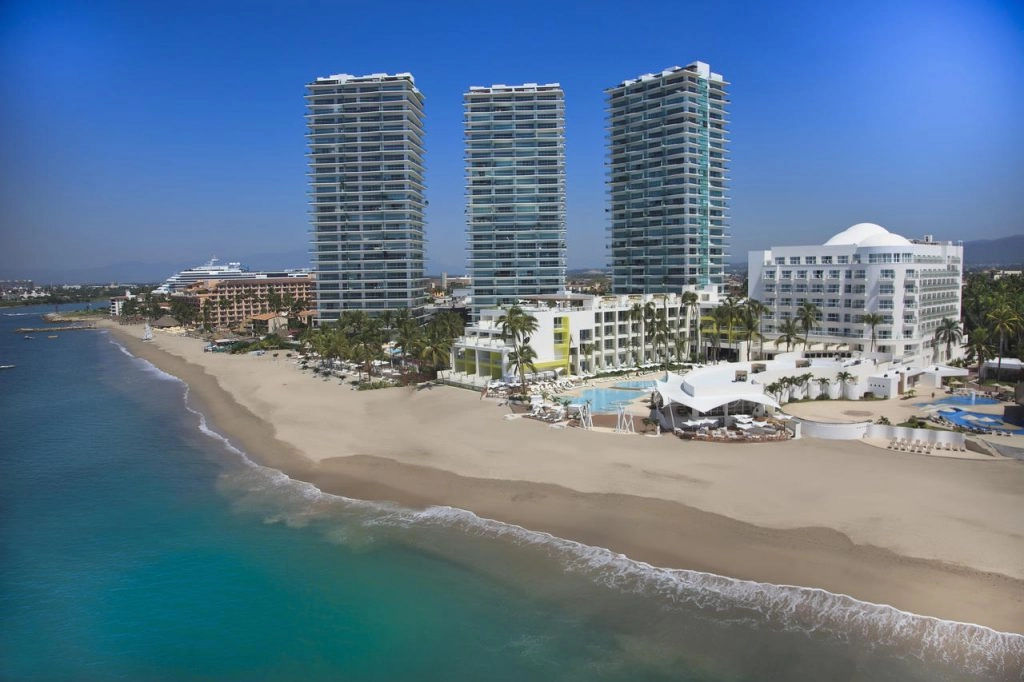 ⭐️ Rating: 8.4/10 |📍 Location: South of Puerto Vallarta | 🏩 View on Expedia
No hotel list could be complete without a Hilton, and there is indeed an Adults Only All Inclusive Hilton in Puerto Vallarta.
Situated between the beaches of Bahia Banderas and downtown Puerto Vallarta, this 4.5-star hotel has spectacular ocean views. All-inclusive includes daily breakfast, lunch, dinner, and snacks, as well as unlimited drinks and cocktails at one of the many bars.
This is the perfect place to soak up some sun with a swim-up bar, poolside bar, and beach bar. There is beachfront dining and even beach massages! The onsite spa offers lots of different treatments, including facials and aromatherapy.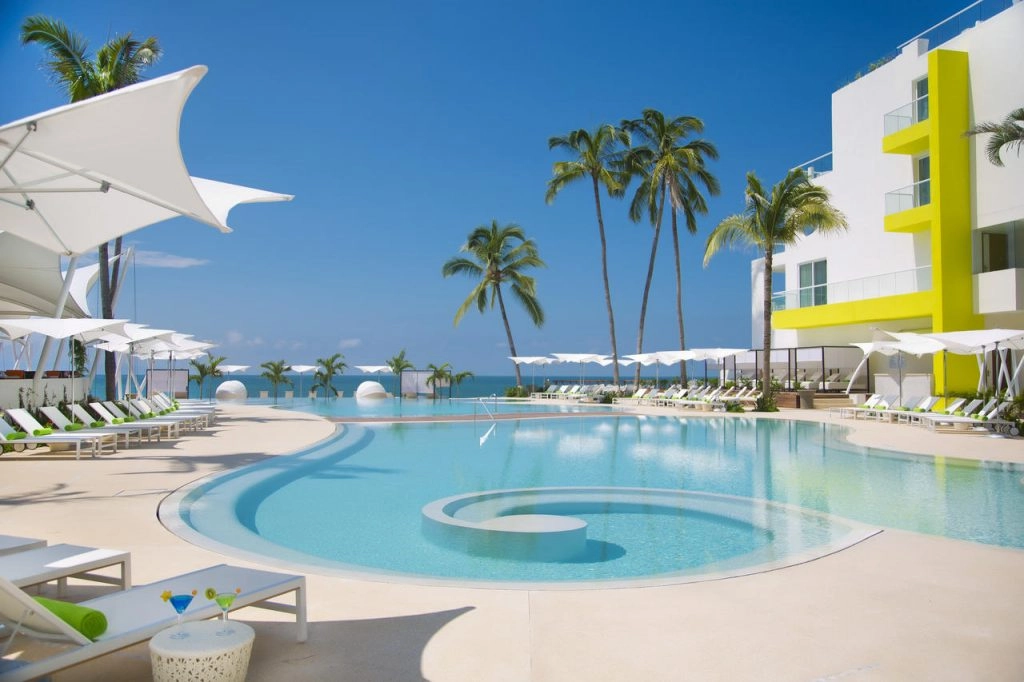 The Hilton is a huge establishment with 444 rooms, each containing premium bedding and 50-inch LCD TVs. Each has a private balcony and are overlooking the beautiful Bay of Banderas and the Pacific Ocean.
There are many different restaurants to choose from, including Italian, Asian, Seafood, International, Grill, Fusion, and more. You could eat in a different restaurant every day! There are snack bars and in-room dining when you want something outside of meal times.
Daytime activities include beach games and sports tournaments, cultural arts and crafts (jewelry making, ceramic painting, etc.), and pool parties with DJs and cocktails.
Nightly entertainment include cultural fiestas, live shows and performances, and multi-sensory tasting experiences. Fire shows, live DJs, and discos are among the evening musical activities.
The staff was super attentive and friendly. They always make you feel like you where their priority. The ocean vew from my room was incredible best way to wake up.

– Hansel (read more reviews here).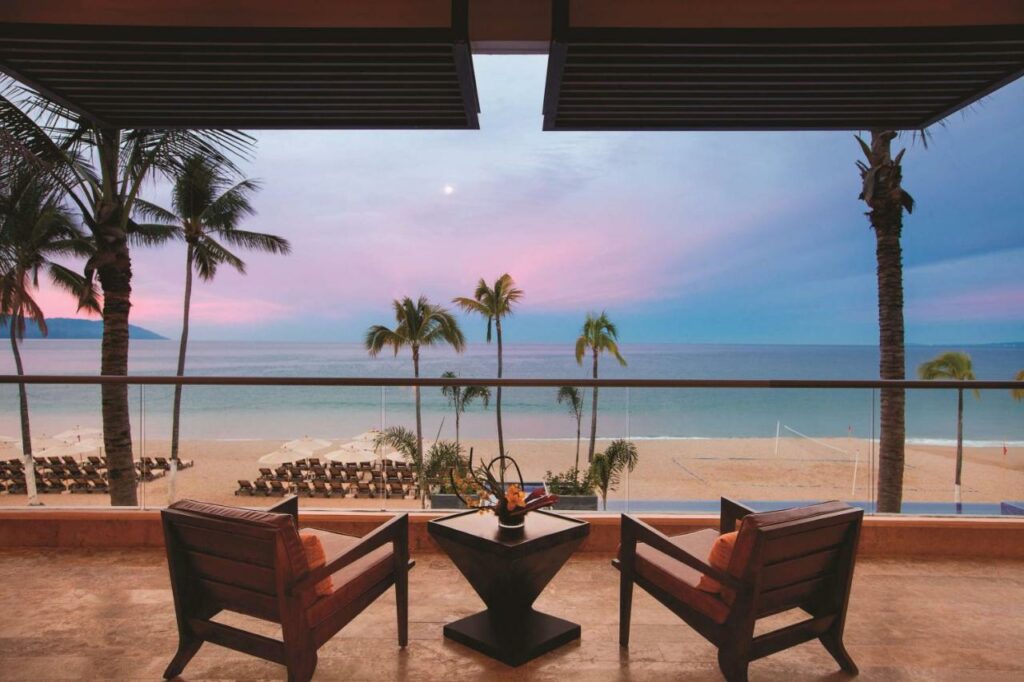 ⭐️ Rating: 8.8/10 |📍 Location: Conchas Chinas | 🏩 View on Expedia
The 4.5 star luxury Hyatt Ziva Puerto Vallarta is located on the beautiful (and exclusive) Las Estacas beach. It is in an urban area but with picturesque ocean views and is surrounded by the majestic Sierra Madre mountains.
This resort has something for all ages. For the adults, there are five infinity pools and a scenic infinity hot tub. A fabulous swim-up bar overlooks Banderas Bay. For sports and fitness fans you can sweat it out at the fitness center or join one of the many daily fitness classes available, including yoga, HIIT classes, Zumba and more.
If you do decide to take the kids along there are kids clubs, teen clubs, and lots of sports activities organized for the younger ones.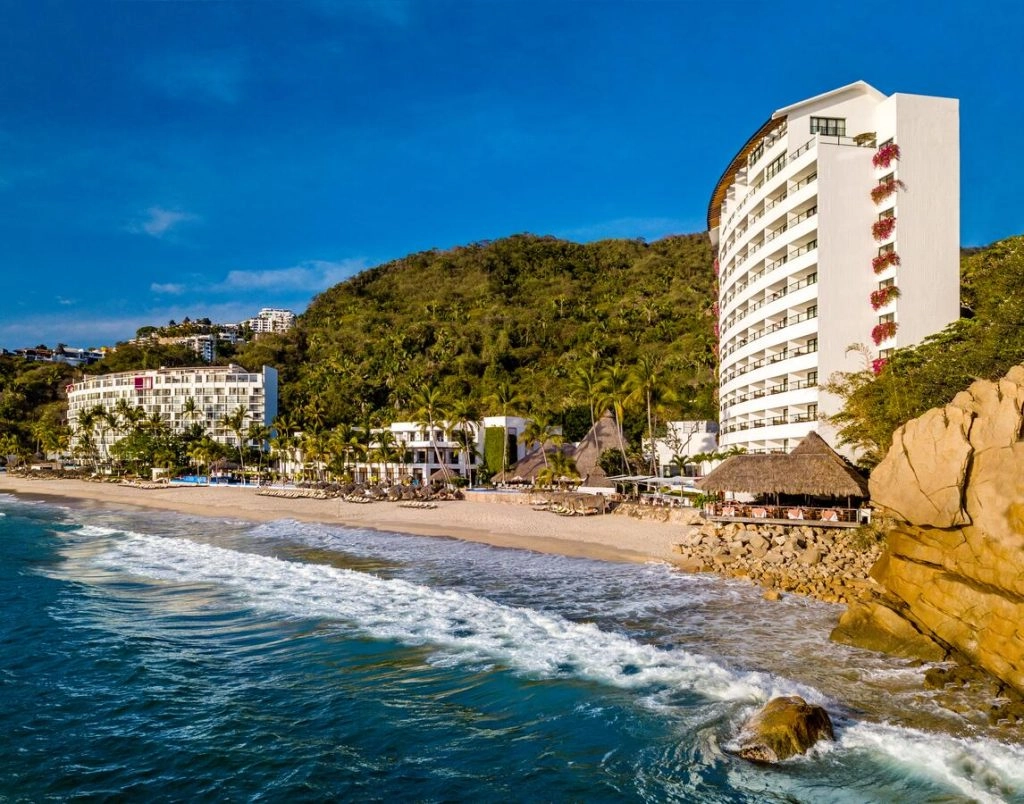 A world-class spa offers relaxing massages and treatments for guests. Premium suites have their own private plunge pools, with king-sized beds and luxurious bathrooms.
The five onsite restaurants feature a range of dining options, including delicious Mexican cuisine and more. The inclusive plan means all buffet and à la carte meals, snacks, and drinks are included. Live entertainment at night includes different performances, from acrobatics to interpretations of Mexican folklore.
In addition to the resort's many amenities, guests can also participate in various activities and excursions, including jet skiing, scuba diving, horse riding, and skydiving. Seasonal whale watching and sea turtle excursions are also available.
10

Liked · I loved absolutely everything! this was the most incredible vacation. We stayed in the club tower and the views were amazing, but I don't think there would be a bad view from anywhere here. Not only was the ocean beautiful but the mountains were just as gorgeous. Very clean facility. The BEST staff! we were treated like a king and queen. I am booking another stay right now. I see many more trips here in my future!

– Megan (read more reviews here).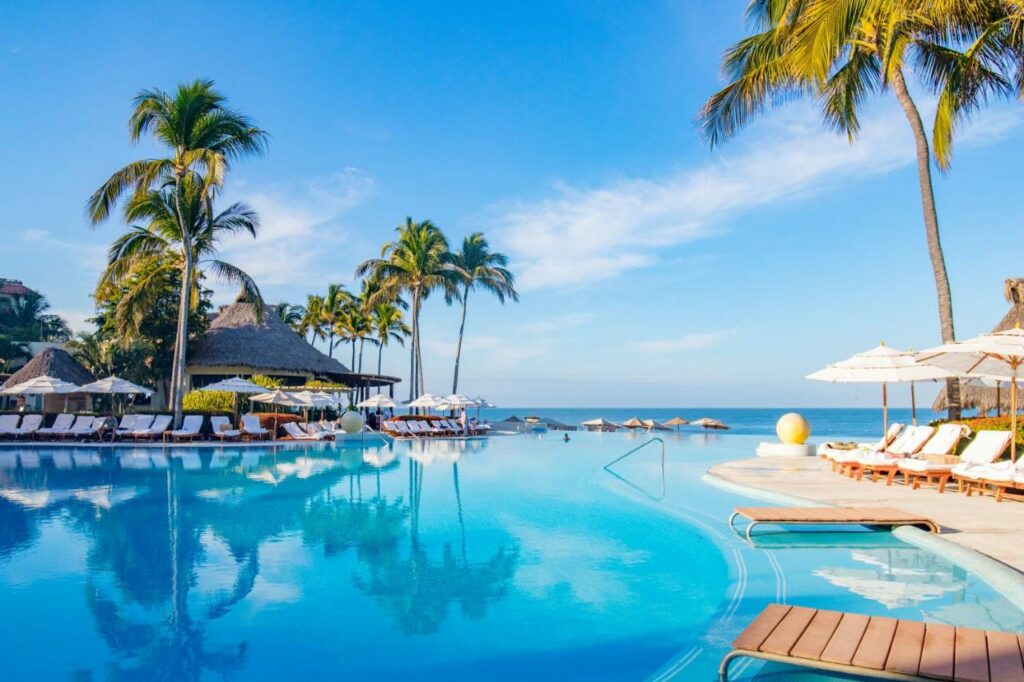 ⭐️ Rating: 9.6/10 |📍 Location: Nuevo Vallarta | 🏩 View on Expedia
This stunning 5-star property is one of the only all-inclusive resorts on the Mexican Pacific to be awarded 5 Diamonds by AAA.
This award is given to luxury hotels that provide top-class design, amenities, and exceptional service to their guests. Located in Nuevo Vallarta, this hotel is on the beach and just a short 22-minute drive from the airport.
There are recreational activities available for all ages (this is a family-friendly hotel). Try water activities such as kayaking or boogie boarding. Visit the rooftop infinity pool or the infinity jacuzzi for a relaxing afternoon. There is also a full-service spa and wellness center with a wide range of spa treatment options available.
While this hotel is not exclusively adults only, it has pools and "adults only" activities, so you can still enjoy a quiet, child-free holiday.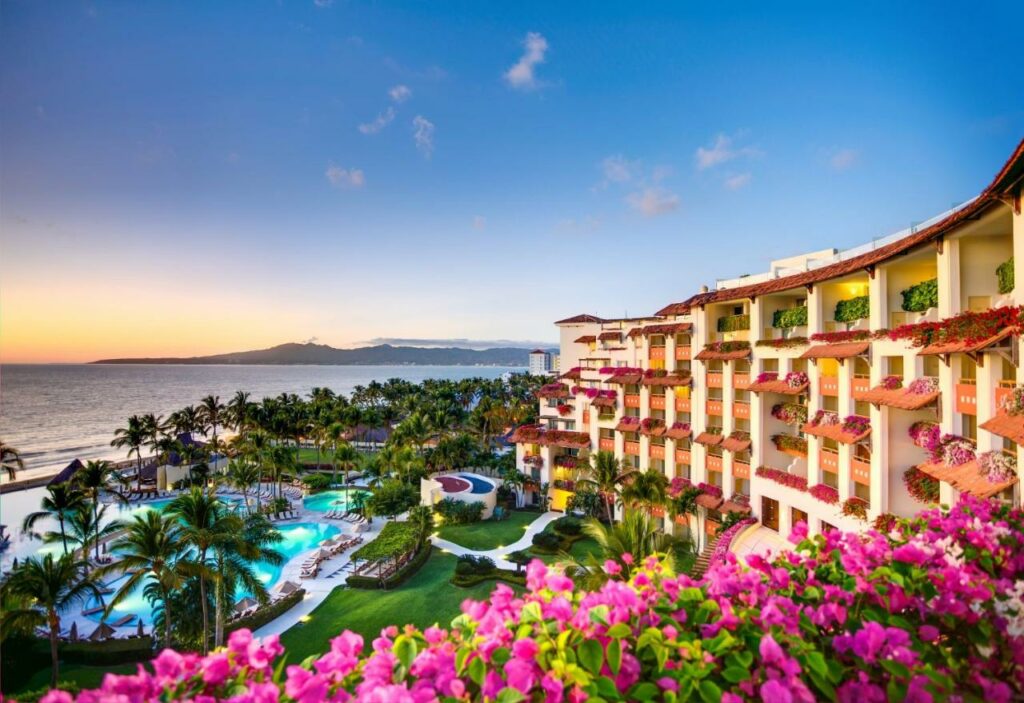 Eat in one of 4 signature a la carte restaurants and choose from delicious Mexican cuisine, French, Asian, or Mediterranean food. Breakfast, lunch, and dinner is included, as well as premium brand local and international drinks.
This hotel is perfect for the golf lover as it is just a short walk from the famous Marina Vallarta and Vista Vallarta golf clubs.
If you want to be near a world-class golf course, then this might be the hotel for you! As with every other hotel on this list, there is a wide range of water sports that you can enjoy in Puerto Vallarta, including diving, snorkeling, kayaking, and more.
Best all inclusive I've ever stayed at! Truly a 5 star experience from everything to the food to the service. 24 hour concierge is assigned to you upon arrival for any of your needs during your stay. The food was AMAZING, every dish we had was even better than the last. The room was beautiful with an amazing view and you can tell they paid attention to every detail. I will never stay at any other resort during my stays in puerto Vallarta!

– Sanam (read more reviews here)
When is the best time to visit Puerto Vallarta?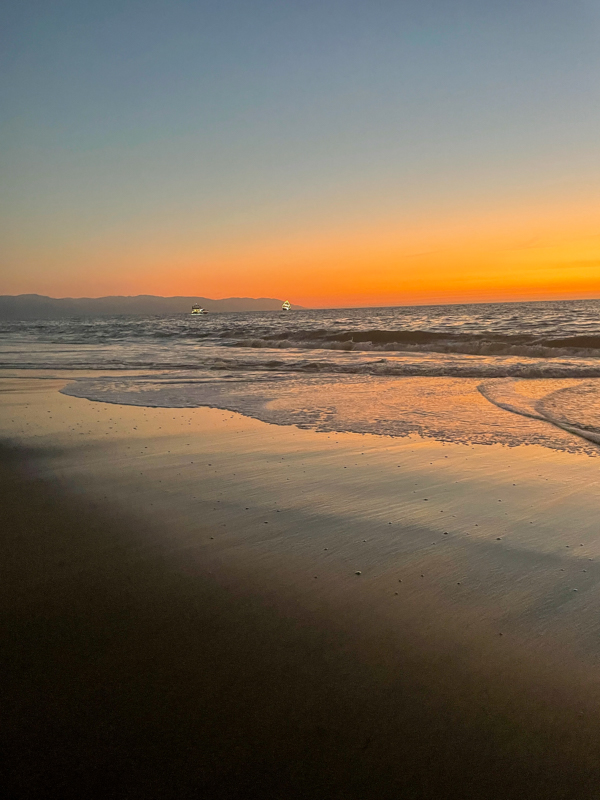 Puerto Vallarta is a beautiful place to visit all year round, but the most popular times to visit are from December to March when the weather is perfect every day, and you can do seasonal activities such as whale watching.
The baby turtle release program, popular with guests to Puerto Vallarta, runs from July to December. July to September is the low season with hot and humid temperatures, grey skies, and rain.
—
The best all-inclusive resorts in Puerto Vallarta for adults only offer something for everyone, from stunning beachfront locations to luxurious amenities and services, to delicious dining and exciting activities.
You can even hike through tropical rainforests, as the Sierra Madre Mountains are in Puerto Vallarta's backyard. It truly is a fantastic location for a holiday to remember.
Whether you're seeking peace and relaxation, or excitement and adventure, these beautiful adults-only Puerto Vallarta resorts are the perfect place for a good time and wonderful memories to take with you.