This post may contain affiliate links. By clicking and making a purchase through the links, I earn a small commission at no extra cost to you. This allows me to keep the site up to date and expand on resources. Thanks for reading!
Cancun vs Puerto Vallarta – where should you go for your next trip in Mexico?
Cancun and Puerto Vallarta are two idyllic beach destinations in Mexico both offering incredible accommodation options, fun activities, and beautiful beaches.
At the same time, they both offer different experiences that make them unique from one another.
In this article, we'll compare Cancun and Puerto Vallarta across safety, costs, and things to do so you can evaluate which one is the best choice for your dream Mexico vacation.
Which destination is more popular?
Cancun is one of the most popular tourist destinations in Mexico. Even during the pandemic, the airport registered 6.4 million visitors since the reopening, of which 2.7 million were Americans.
The beautiful white sand beaches, comfortable and aesthetic accommodations, party scene, touristic spots, and historic Mayan ruins are some of the main reasons that give this area such an irresistible appeal.
Like Cancun, Puerto Vallarta is one of Mexico's most popular tourist destinations. Over 5 million tourists came in 2019!
Puerto Vallarta's beaches are the main attraction that draws people in, but the city's colorful downtown, art-filled boardwalk, vibrant neighborhoods, and fun atmosphere are what make people stay.
Getting to Cancun Vs. Puerto Vallarta
Both Cancun and Puerto Vallarta have an international airport, making it easy to plan a vacation from Canada or the United States with many direct flights to both cities.
Travelers in both regions can go on to explore other parts of Mexico.
From Cancun, you have the advantage of also being close to Belize; its feasible to travel overland from Cancun to other parts of Central America.
Americans and Canadians are given a six-month tourist visa on arrival, making Mexico an attractive and easy country to visit for an extended period of time.
In addition, during Covid-19, Mexico has had some of the world's most relaxed entry requirements, with no test, insurance, or quarantine required.
Puerto Vallarta Beaches vs Cancun
Cancun is on the Caribbean side of Mexico, whereas Puerto Vallarta is on the Pacific Coast. Both offer completely different, but equally amazing, beaches and water sports.
I love the sunsets in Puerto Vallarta, as you can see the sun dip directly over the Pacific Ocean.
In the city center, you can find buzzing beaches like Playa Los Muertos, where there's always a party, but there are also more secluded, quieter beaches you can either hike or take a water taxi to along the Bay of Banderas.
Colomitos, with its golden sand and emerald-green water, is one of the most popular beaches in PV.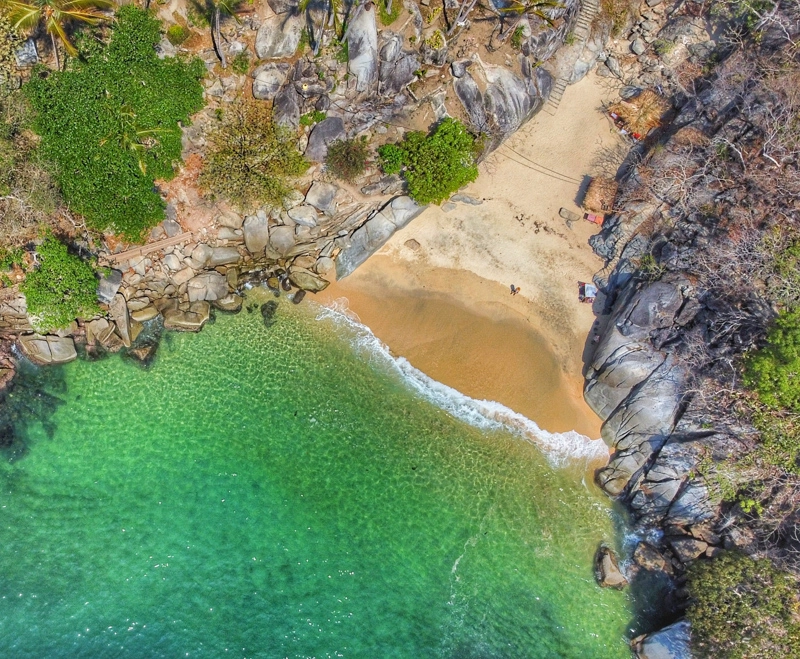 Puerto Vallarta is also the gateway for one of Mexico's most famous beaches – hidden beach on the Marietas Islands. The beach has become so popular that the government now limits permits to 116 a day, so make sure to book ahead if you want to visit.
On the other hand, Cancun is famous for its tropical white-sand beaches and turquoise waters.
Playa Linda, Playa Bonita, and Playa Tortugas are the perfect spot to relax under the sun on gorgeous white sand beaches. The water temperatures are typically warmer in Cancun compared to Puerto Vallarta.
Another aspect that makes Cancun attractive is that some of the best places to visit for picture-perfect beaches are nearby, like Isla Mujeres.
One thing to note is that Cancun is currently facing a massive problem with seaweed washing up on the beaches, which Puerto Vallarta does not have.
Both cities offer endless opportunities for paddleboarding, jet skiing, kayaking, snorkeling, deep-sea fishing, swimming, and diving.
Diving near Cancun offers more exciting opportunities for large marine animals, including whale sharks and bull sharks. However, in PV, you can go swimming with dolphins in the wild and see humpback whales breach from the water from December to March.
Life in Puerto Vallarta is all about the water, and there's no shortage of amazing ways to enjoy it here.
If you are a surfer, then Puerto Vallarta is a better option. While you can't surf right in the city, there are plenty of surf spots near Puerto Vallarta, like Sayulita and San Pancho.
Is Puerto Vallarta cheaper than Cancun?
Cancun tends to be a little pricier compared to other Mexican destinations due to its high demand and popularity.
The city's accommodation options are broad. You can choose from hotels, hostels, all-inclusive resorts, Airbnb's, monthly rentals, and hotel boutiques that range anywhere from 10 USD to thousands per night.
The daily average expense for solo travelers and couples goes from 50 to 100 USD, and for families from 90 to 2OO USD – it all depends on how fancy or discreet you want your trip to be. The longer the stay is, the cheaper it can be.
Compared to Cancun, the prices in Puerto Vallarta are lower. Mexico is a cheap place to travel in general, but here the deals are even better.
Daily costs can range anywhere from 10 to 350 USD, depending on the kind of stay you choose. If you choose to stay at one of the many wonderful luxury hotels, your expenses will be higher!
The approximate daily average expense for solo travelers is from 33 dollars, 70 for couples, and 160 for families, which are considerably lower than Cancun's.
If you live in Puerto Vallarta as a digital nomad, the cost of living can be extremely affordable.
Cancun vs Puerto Vallarta Activities
There are always enjoyable things to do in Cancun and the surrounding areas, either for free or for a reasonable price.
Cancun is nearby some incredible cenotes (natural deep-water wells), which is one of the best reasons to visit the Riviera Maya. Mexico is home to over 6,000 cenotes, but the majority are found in this region.
Another reason you might want to visit Cancun is for the incredible ruins that you can see nearby.
Once home to the Mayan civilization, Cancun is now is a perfect gateway to learn more about the fascinating Mayan history, with plenty of tours and excursions available.
You can take a day trip to Tulum to visit the archaeological zone, or even see one of the 7 Wonders – Chichen Itza.
Puerto Vallarta, on the other hand, does not have as many historical sites to visit.
Compared to Cancun, Puerto Vallarta is mostly a beach-focused location. There are no ancient touristic attractions or cenotes to explore, but the city does have a rich culture with many art galleries to explore.
And with the Sierra Madre mountains as the backdrop, there are also plenty of opportunities for outdoor adventure like zip-lining, hiking, and ATV Tours. You can also can head up to the charming mountain town of San Sebastian, which is one of Mexico's magic towns.
Last but not least, Puerto Vallarta is also a world-class destination for golf courses.
Is Puerto Vallarta safer than Cancun?
Even though Mexico is often portrayed as an unsafe country by the media, there are plenty of places to visit in Mexico that are safe to visit – including Puerto Vallarta and Cancun.
Many tourists wonder is it safe to visit Puerto Vallarta? And the short answer is yes, it is safe.
Millions of tourists come to Puerto Vallarta every year and enjoy a safe vacation. Not only does Puerto Vallarta have a lower crime rate than many other cities in Mexico, but also compared to major cities in the U.S., according to data from Numbeo.

In addition, Puerto Vallarta is one of the safest destinations for LGBTQ+ travelers in Latin America, with an extremely active community and one of the largest pride events in Mexico every May.
Comparing Cancun to Puerto Vallarta on Numbeo, Cancun has a higher crime index and lower safety scale than Puerto Vallarta by about 20 points, ranking Cancun as moderate and Puerto Vallarta as low.
If you look at the U.S. state department Mexico travel advisories (last updated October 5th, 2022), it says to reconsider travel to Jalisco but notes that there are no other restrictions on travel for U.S. employees in tourist areas, including Puerto Vallarta.
It says to exercise Increased caution in the state of Quintana Roo but notes that there are no other restrictions on travel for U.S. employees in tourist areas, including Cancun. Personnel are "advised to exercise increased situational awareness after dark in downtown areas of Cancun, Tulum, and Playa del Carmen, and to remain in well-lit pedestrian streets and tourist zones."
Cancun has faced some bad press for safety issues and has gone as far to deploy 300 soldiers to keep tourists safe. Despite the media, it seems most tourists in Cancun are pretty much safe unless they are looking for trouble.
Overall, Puerto Vallarta is safer then Cancun when you look at the numbers. While I don't think Cancun is dangerous, I do feel safer being in Puerto Vallarta.
Despite both cities being safe, it's always best to follow basic safety tips and avoid walking late at night, especially alone. Keep an eye on your belongings at all times, carry just the money you need, and never leave your drinks out of sight.
Puerto Vallarta vs Cancun weather
The best time to visit Puerto Vallarta is between December and April during high-season, and before March if you want to go whale watching.
During these months, you'll experience pleasant temperatures in the late 20s, with little to no rain.
December to April is the busiest period for Cancun as well, which coincides with the most pleasant temperatures.
Rainy season, from June to September, affects both regions.
Puerto Vallarta vs. Cancun food and nightlife
Both destinations are party cities, and you won't have trouble finding a good time in either.
Cancun's nightlife area is concentrated around the district, where you can find big clubs offering unlimited drinks for a set fee.
Puerto Vallarta's nightlife scene is concentrated around Zona Romantica, where you can drags shows, buzzing clubs, cocktail bars, and a great craft beer scnee.
The busiest weekend for partying here is during easter, so avoid coming at this time if you don't like crowds!
Cancun vs Puerto Vallarta hotels
Both Puerto Vallarta and Cancun offer some of the best hotel experiences in Mexico.
Cancun was designed with tourists in mind, with many 5-star luxury hotels in the Cancun hotel zone.
Still, despite Puerto Vallarta growing from a small fishing village, it's made its mark with incredible all-inclusive hotels on the beach, and a designated hotel zone.
Puerto Vallarta also has a number of charming boutique hotels and LGBTQ+-friendly accommodations, which differ from the big-name hotels you find in Cancun.
If you're looking for an all-inclusive resort experience, check out some of these hotels.
Le Blanc Spa Resort was named one of the top 100 in the world, offering a world-class experience for travelers in Cancun. Check the availability of Le Blanc Spa on Hotels.com and Expedia.
Which is better, Cancun or Puerto Vallarta?
Personally, I prefer Puerto Vallarta over Cancun. But if you want to experience Mexico's cenotes and historical sites, then Cancun might be a better option.
If you just want to kick back on the beach and relax while enjoying Mexico's cuisine, or are on a tighter budget, then Puerto Vallarta is the best choice.
Or better yet, get the best of both worlds and visit both cities on your Mexico itinerary. With low-cost airlines serving frequent flights between the two, you can easily travel between them.
No matter which city you choose, you'll be immersed in the magic of Mexico and sure to have the adventure of a lifetime.
Planning a trip to Mexico? Check out these posts!