This post may contain affiliate links. By clicking and making a purchase through the links, I earn a small commission at no extra cost to you. See my disclaimer for more information. This allows me to keep the site up to date and expand on resources.
Looking for the best art galleries in Puerto Vallarta? Let us help you! We live in Puerto Vallarta and love exploring the local galleries here.
If you need a break from the sun, visiting the art galleries in Puerto Vallarta is one of the best things to do in this artistic city.
There are plenty of fun things in Puerto Vallarta to fill your itinerary. From snorkeling in a national marine park to horseback riding in the mountains to just lounging on la playa, you'll never be bored here.
But did you know that it's also a very artistic city? In this post, we'll take a look at some of the top Puerto Vallarta art galleries
New to Puerto Vallarta's art scene? Tour the best of PV's street art without getting lost in this introductory tour to the city's top murals led by a local guide!
Best Puerto Vallarta Art Galleries
1. The Malecon
While technically not a traditional gallery, the Malecon is a must-see for art lovers. This oceanfront esplanade is full of unique sculptures and is one of the top things to do on any visit to Puerto Vallarta Mexico.
The best way to experience the art on the Malecon is to walk the entire thing. Start at the north end by Hotel Rosita, where you'll find the spiraling "Los Milenios" (The Millenia).
From there, just head south and enjoy a leisurely stroll along the mile-long Malecon. There are dozens of sculptures to see along the way, including the famous "Boy on the Seahorse," which sits in the middle of the colorful Puerto Vallarta sign.
If at any point you feel like taking a break, there are plenty of cafes, restaurants, and beach bars to choose from. There are actually several art galleries on or near the Malecon as well. You can definitely spend the better part of a day taking it all in.
Another option for experiencing all the art on the Malecon is joining the weekly free walking tour. Just show up at the aforementioned spiraling sculpture at 9:30 on Tuesday morning through April 19th.
It's for a good cause as they collect donations for Los Mangos – a nonprofit library and culture center in PV. It's just one of the many free activities in Puerto Vallarta!
For a detailed guide to all of the sculptures on the Malecon, click here.
2. Galeria Colectika
Monday to Friday 10 AM-7 PM, Saturday 10 AM-5 PM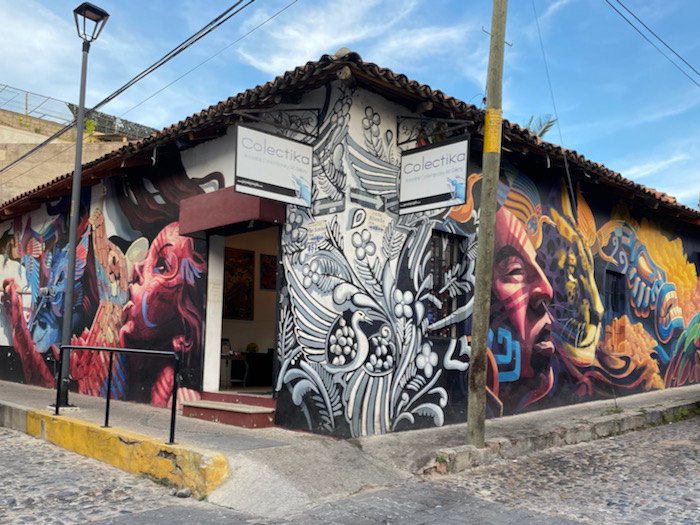 It's hard to miss this awesome Puerto Vallarta art gallery, thanks to the impressive mural that adorns the front of the building. This gallery is full of unique folk art, such as some incredible Day of the Dead ceramic skulls.
You can find out more information about their collections on their website, Peyote People.
3. Galeria Uno
Monday to Saturday, 10:30AM-5 PM
Galeria Uno is the original Puerto Vallarta art gallery dating back to 1971. It's a 2-story building with plenty of paintings and sculptures from 30 different contemporary Mexican artists.
With four decades of experience, the owners here definitely have a knack for discovering up-and-coming artists. They're located just off the Malecon and are also a stop on the ArtWalk.
4. Galerie des Artistes
Monday to Saturday, 10 AM-9 PM
For art lovers, this little corner of PV is a must-visit. This gallery will catch your eye from the street with its colorful mural out front.
Inside, you'll find some very unique sculptures and paintings. It's the perfect place to visit before or after a meal at Cafe des Artistes across the street. The restaurant itself is a work of art that's worth checking out – it's one of the best restaurants in Puerto Vallarta with a view!
5. Corsica Galería de Arte
Monday to Saturday 10 AM-9 PM
On the other corner, across from the restaurant, you'll find one of the most beloved Puerto Vallarta galleries. Founded by Jean Pierre Renucci, Corsica has been a staple on the PV art scene for 20 years.
Focusing on contemporary Mexican fine art, they always have something new from world-class artists here. Keep an eye on their Facebook page, as they often host special events.
6. Galeria Pacifico del Arte
Monday to Saturday from 11:30 AM – 7 PM
This excellent gallery in Centro has been around since 1987. Here you'll find an eclectic mix of paintings and sculptures, mostly from Mexican contemporary artists. There are also works from foreign artists living in Mexico.
Owner Gary Thompson is also the one behind the free walking tour of the Malecon. Be sure to join them on Tuesday mornings in the high season to raise money for the city's nonprofit library and culture center.
7. Galeria Robles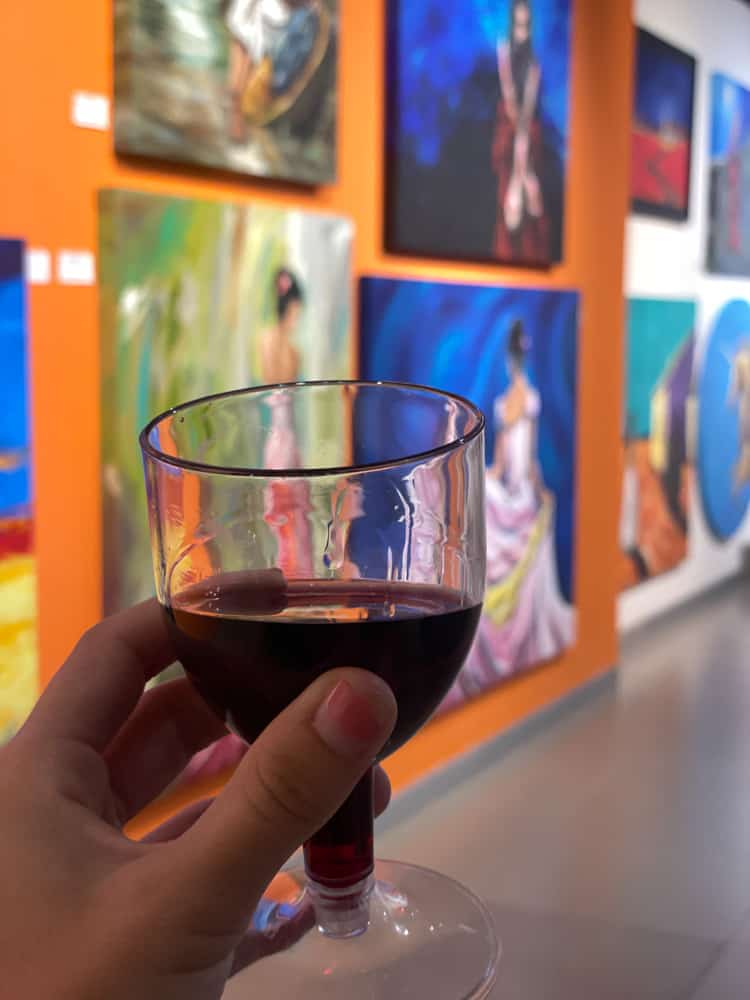 C. Juárez 400, Centro
Monday to Saturday from 9 AM – 10 PM, Sunday 11 AM – 6 PM
This beautiful gallery is owned by Michael Tolleson Robles, who picked up a brush for the first time 10 years ago only to discover he could produce quality art with no formal training.
He's a globally recognized Autistic Savant Artist whose works of art are based on powerful color and emotion. He has painted more than 1500 gallery-worthy paintings in his short career and is able to complete paintings in just a few hours.
It's extremely impressive to see and fascinating to talk with if you get the chance. As a bonus, they also have complimentary wine and cheese there!
8. Tierra Huichol
No post about Puerto Vallarta art would be complete without mentioning Huichol – the intricate bead art that this area is famous for. The Huichol, also known as Wixárika, are an indigenous group that calls the Sierra Madre mountain range home.
Tierra Huichol has two locations in Puerto Vallarta where you can peruse some incredible collections of this unique art form, in the Romantic Zone and on the Malecon. Before visiting, you can learn more about their artists and the works currently on display on their website.
9. Studio Gallery J.A.R.
Mon, Tues, Thurs, Fri from 11 AM-7 PM, Wed from 5-10 PM, and Sat-Sun from 9 AM-5 PM
This studio and gallery by Mexican artist J. Armando Reyes should be your first stop if you're looking for original oil paintings. He has some great works that capture scenes of the city and Mexican culture. You can see some pieces on the Facebook page.
10. Galleria Dante
Monday to Friday 10am to 5pm, Saturday 10 am to 2 pm
Galleria Dante is one of Puerto Vallarta's largest and most eclectic art galleries. It's been on the scene for 30 years, and represents more than 60 artists. You can see a complete list of artists an works for sale on their website.
11. Qulture
Monday to Sunday from 12-10 PM
Restaurant, bar, and art gallery rolled into one; this place really checks all the boxes! Go for their excellent Happy Hour and a delicious meal, then stick around to peruse the many galleries.
Here you can find painters, sculptors, visual artists, photographers, and jewelers all under one roof. Learn more about the artists they have on display here. Afterward, head out for a night on the town in Zona Romantica, where you can find the city's best nightlife.
Puerto Vallarta Art Walk
One of the best ways to experience art in Puerto Vallarta is on the Puerto Vallarta Art Walk.
During this event, most galleries will be open past regular hours to exhibit works by national and international artists. It's a great place to pick up gifts to bring home, as you can find paintings, sculptures, fine ceramics, and jewelry on offer.
It happens every Wednesday evening from 6-10 PM from October 25th, 2022 through June 26th, 2024. It begins at Colectika and continues on to 15 other art galleries in Puerto Vallarta you can see listed on their website.
I had so much fun on the PV art walk, drinking wine and talking with the local gallery owners.
Final thoughts: Art galleries in Puerto Vallarta
Puerto Vallarta is a vibrant destination that boasts an incredible art scene, with its numerous art galleries offering a diverse range of artistic expressions. From traditional Mexican folk art to contemporary masterpieces, each gallery is a testament to the rich cultural heritage of the region and the immense talent of its artists.
Exploring these art galleries is not only an opportunity to immerse yourself in the beauty and creativity of the artworks but also a chance to engage with the local art community. The passionate gallery owners and artists are often present, ready to share their stories, insights, and artistic processes, making the experience all the more enriching and personal.
Planning a trip to Puerto Vallarta? Don't miss these other fun things to do!