This post may contain affiliate links. By clicking and making a purchase through the links, I earn a small commission at no extra cost to you. This allows me to keep the site up to date and expand on resources. Thanks for reading!
As a touristy city, you might think that everything in Puerto Vallarta comes with a price tag attached to it. But that's not true at all! There are many free things to do in Puerto Vallarta, from gorgeous coastal hikes to free entertaining performances.
Mexico is already an incredibly affordable country to visit, but you can save even more money when you take advantage of free activities. If you're looking to save some cash on your next trip to Puerto Vallarta, check out these 10 free things to do!
Free Things to do in Puerto Vallarta
Stroll the Malecon
This is a Puerto Vallarta activity that never gets old. The Malecon (oceanfront promenade) is the stretch of boardwalk which runs for about 1 mile along the water. It's always busy and entertaining for people watching.
Along the Malecon, you'll pass by shops, art installations, statues, street performances, restaurants, beaches, and more.
On the boardwalk's north end, you can catch the free Voladores de Papantla show. Every half-hour, they perform a pre-Hispanic ritual that involves four men attached by ropes swinging upside down from a 20m pole. It's impressive to watch! While the show is free to watch, they do welcome tips.
On the other end (south), you can often catch free concerts and performances at the Los Arcos amphitheater. If you get hungry (or thirsty) while walking along the Malecon, then stop at one of the many food vendors who sell tacos and margaritas for $1.
Tip: If you plan to do a lot of walking around Puerto Vallarta, then the best time to visit is during the winter or shoulder seasons. Otherwise, the heat will be too unbearable!
Cerro de la Cruz Lookout
If you're looking to get some exercise while in Puerto Vallarta, then take a walk up the Cerro De La Cruz lookout for what is easily one of the best views of the city. It's completely free to visit – you just pay in sweat.
To get there, walk from the Malecon uphill along Calle Abasolo. You'll reach a series of stairs which you climb up to the top, where there's an observation deck with stunning panoramic views of downtown Vallarta and the surrounding Banderas Bay.
Tip: Go at sunset for an even more incredible view and a cooler descent.
Watch the Sunset
Mother nature puts on one of the best shows in Puerto Vallarta every night, and it's completely free to watch! The sunsets on the Pacific Coast of Mexico are fantastic, and Vallarta is no exception.
Head to any of the beaches in Puerto Vallarta to see this spectacular show of nature, or for a different view, head up the hill from downtown and see the sunset from the Cerro de la Cruz Lookout or one of the many wonderful rooftop restaurants.
Take a Coastal Hike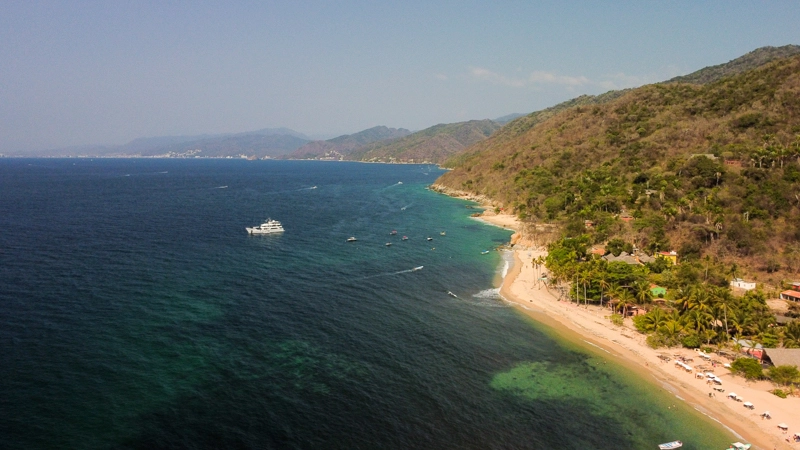 One of my favorite free Puerto Vallarta activities is hiking along the gorgeous coastline, especially as a solo traveler. There are several secluded (and not so secluded beaches) that you can hike to from Boca Del Tomaltan.
To get to Boca Del Tomaltan, you can get a bus from Zona Romantica at the corner of Constitución and Basilio Badillo for $1 or take an Uber. It shouldn't be more than $5. From Boca, there's a trailhead that takes you to Colomitos Beach and then continues to Las Animas and Quimixto.
Pack a picnic and chill out at Colomitos for the day – it's completely free but offers a million-dollar view. If you want more of a party atmosphere, continue for another hour to Las Animas, where you'll find restaurants and beach bars.
If you have a lot of energy, you can even continue the trail all the way to Quimixto, which has a nice waterfall you can swim in. If you don't feel like hiking back, you can get a water taxi for 100 pesos (5 USD).
Hit the Beach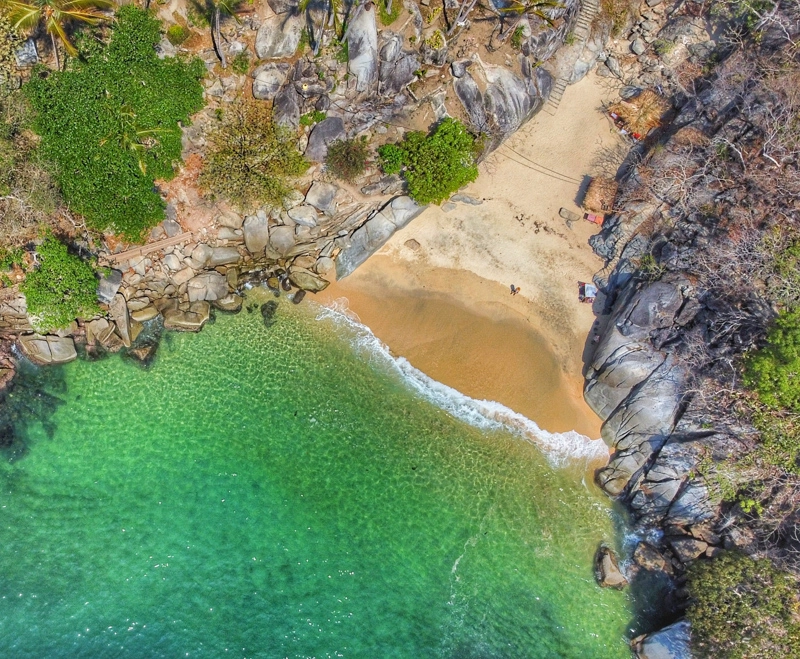 That's probably one of the main reasons you came to Mexico anyway! While the beaches within the city limits aren't spectacular, they still provide a place to tan, swim in the ocean, and catch up on your favorite book (or margarita). And they are 100% free to visit!
If you're looking for finer sand and clearer water, head north or south of the city. You can get the bus to Sayulita or San Pancho for 2.50 USD, both of which offer nicer beaches and fabulous surf conditions. They are both perfect day trips from the city!
Alternatively, you can hike to Colomitos or Las Animas, which are by far the best beaches in Puerto Vallarta.
Free Things to do in Puerto Vallarta: Art Walk
Every Wednesday evening from 6-10 pm there's a free art walk you can take part in Centro Puerto Vallarta. There you can find beautiful artwork by important national and international artists, remarkable paintings, exceptional sculptures, fine ceramics, and jewelry.
It's completely free to attend and makes for a great date night in Puerto Vallarta! This year's event runs from October 28th to July 26th, 2021.
Self Guided Street Art Tour
Puerto Vallarta is home to some fantastic street art, which you can easily see while walking around on your own. Over the last few years, dozens of colorful murals have been painted throughout Centro and Zona Romantica. Spend a few hours admiring the work and snapping some Insta-worthy pics!
Watch the Fireworks
Every night you can see a show of fireworks over the ocean that come from the Pirate Ship. While the ship is not free to get on, the fireworks they put off every night are free to watch.
The fireworks don't happen at the same time every night but usually go off between 9:30-10:30 pm. The fireworks happen over the water, so stop anywhere on the Malecon to admire them or from one of Puerto Vallarta's many rooftop bars.
Explore the Markets
One place you'll definitely want to check out while visiting Puerto Vallarta is Isla Rio Cuale, a traffic-free sand island between Centro and Zone Romantica where you can find shaded trees, riverside restaurants, cafes, and a flea market selling everything you could ever want.
The market is on every day from day to night and is a great place to buy souvenirs. It's free to look, and you can negotiate some great deals here.
Another market worth checking out in Puerto Vallarta is the Old Town Farmer's Market which happens every Saturday at Lázaro Cárdenas Park. There you can find local produce, handicrafts, and delicious snacks.
Free Walking Tour Puerto Vallarta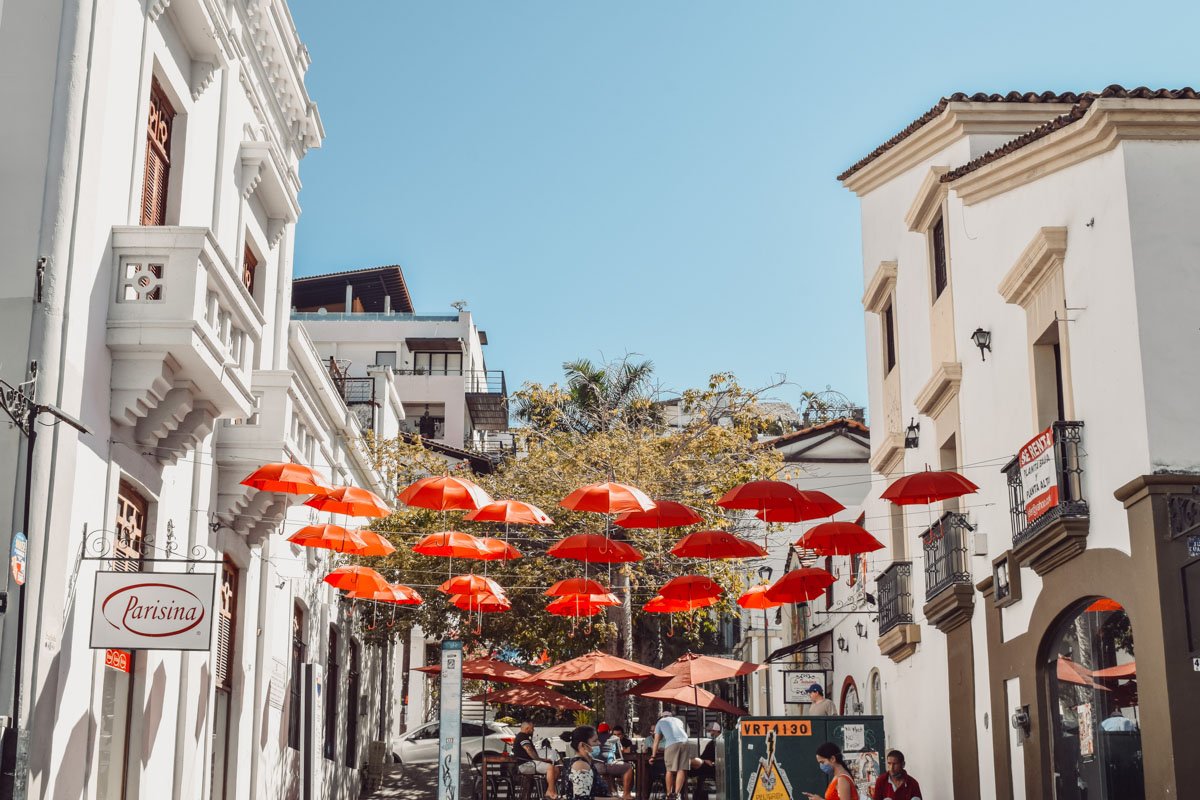 If you want to learn a bit more about the city of Puerto Vallarta, including its culture and history, then join a free walking tour with a knowledgeable guide!
Every Tuesday, Wednesday, and Saturday, you can join a 2-hour walking tour sponsored by the Municipal Tourism Office that's led by a certified guide.
The tour takes you on a lively stroll through the streets of Puerto Vallarta's historic downtown, covering information about Vallarta's architecture, culture, history, famous people so much more.
The meeting points for the walking tour is downtown (Centro) at the Municipal Tourism Office in the Old City Hall building, across the street from the north side of the Main Square and a half-block west of Our Lady of Guadalupe Church.
There's also a free Malecon Sculpture Walking Tour in downtown Puerto Vallarta every Tuesday morning from mid-November through mid-April, run by a gallery owner. The tour begins promptly at 9:30 a.m. at the north end of the Malecon in front of the Millennium sculpture, next to the Hotel Rosita.
That's it – the top 10 free things to do in Puerto Vallarta! Did I miss any free activities in Puerto Vallarta that you know of? Let me know in the comments below!
Planning a trip to Puerto Vallarta? Don't miss these posts!