This post may contain affiliate links. By clicking and making a purchase through the links, I earn a small commission at no extra cost to you. See my disclaimer for more information. This allows me to keep the site up to date and expand on resources.
Looking for the best free things to do in Puerto Vallarta? You're in the right place! I live in Puerto Vallarta and love saving money, so I've found plenty of free things to do in the city to keep me busy.
As a touristy city, you might think that everything in Puerto Vallarta has a price tag. But that's not true at all! There are many things to do in Puerto Vallarta for free, from gorgeous coastal hikes to self-guided art tours.
If you're visiting Puerto Vallarta on a budget, check out these fun and affordable things to do in Puerto Vallarta.
Free things to do in Puerto Vallarta
1. Stroll the Malecon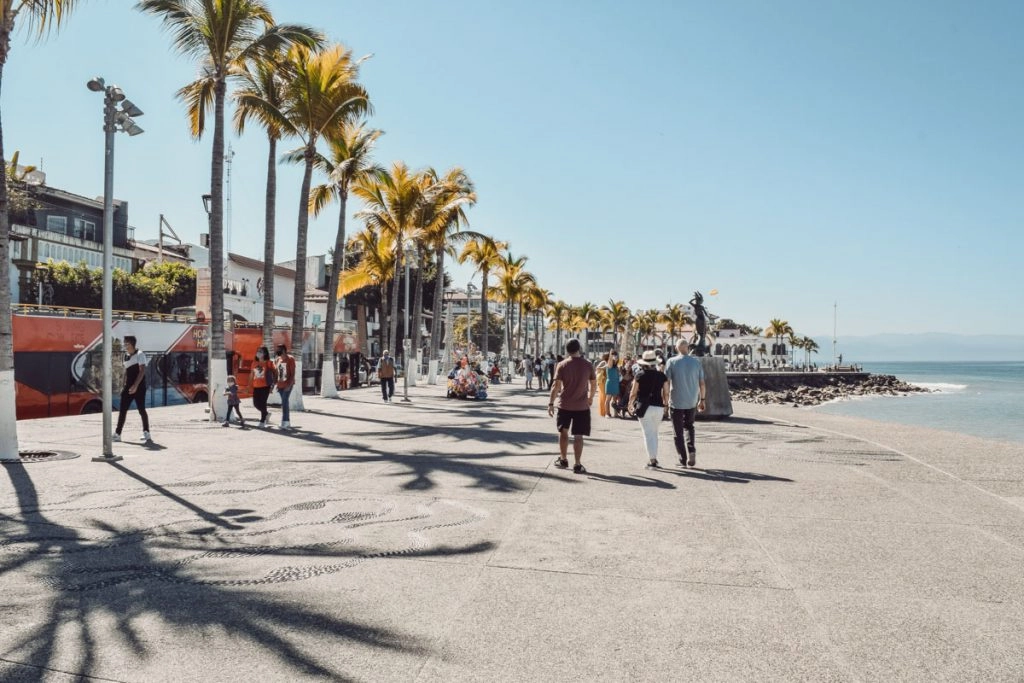 This is a Puerto Vallarta activity that never gets old. The Malecon (oceanfront promenade) is the stretch of boardwalk along the water. It's always busy and entertaining for people-watching.
Along the Malecon, you'll pass by shops, art installations, statues, street performers, restaurants, beaches, and more.
On the boardwalk's north end, you can catch the free Voladores de Papantla show.
Every half-hour, the Papantla Flyers perform a pre-Hispanic ritual that involves four men attached by ropes swinging upside down from a 20m pole. It's impressive to watch! While the show is free to watch, they do welcome tips.
In the evening, The Malecon comes alive with various street performances in the main square, Plaza de Armas. Enjoy everything from traditional folk dances to modern fire shows, all for free.
If you get hungry (or thirsty) while walking along the Malecon, stop at one of the many food vendors selling tacos and margaritas for less than a dollar.
Tip: If you plan to do a lot of walking around Puerto Vallarta, the best time to visit is during the winter or shoulder seasons, otherwise, it will be too hot during the day.
2. Hike the Cerro de la Cruz Lookout
If you're looking to get some exercise while in Puerto Vallarta, take a walk up the Cerro De La Cruz lookout for what is easily one of the city's best views. It's completely free to visit – you just pay in sweat.
To get there, walk from the Malecon uphill along Calle Abasolo. You'll reach a series of stairs and climb up to the top, where there's an observation deck with stunning panoramic views of downtown Vallarta, the surrounding Banderas Bay, and the Sierra Madre mountains.
Tip: Go at sunrise or sunset for an even more incredible view. It's also much cooler at these times – if you go during the day, you'll be drenched in sweat.
3. Watch the sunset
Mother Nature puts on one of the best free things to do in Puerto Vallarta every night.
The sunsets on the Pacific Coast of Mexico are some of my favorite in the world, and there are many beautiful places to watch the sunset in Puerto Vallarta.
Head to any of the beaches to see the sunset over the pacific ocean. Playa Los Muertos is always buzzing with life, and you can enjoy a delicious cocktail while watching the sun go down. For something quieter, head further south down the coast towards Conchas Chinas.
While the beaches are great for sunset, there's also something special about taking it from higher above and seeing the entire city.
The Cerro de la Cruz Lookout is a great choice, as are any of the many rooftop restaurants. I love the sunsets from Barcelona Tapas while enjoying a glass of red wine!
4. Take a coastal hike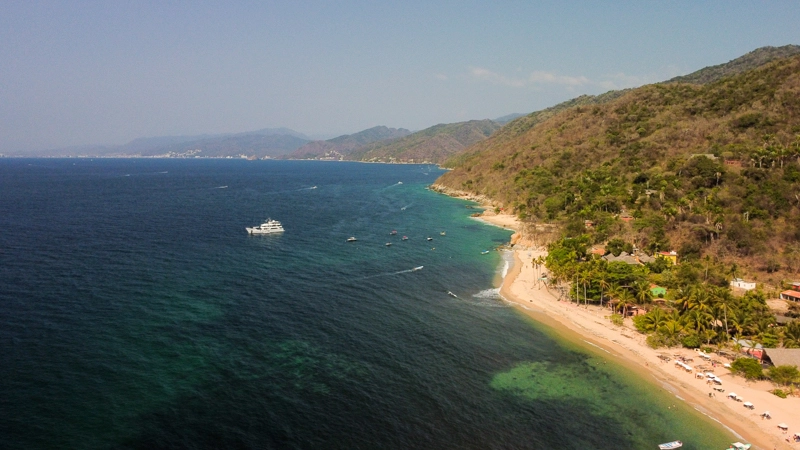 One of my favorite free Puerto Vallarta activities is hiking along the gorgeous coastline. There are several secluded (and not-so-secluded beaches) that you can hike to from Boca Del Tomaltan.
To get to Boca Del Tomaltan, you can get the local bus from Zona Romantica at the corner of Constitución and Basilio Badillo for 10 pesos or take an Uber.
From Boca, there's a trailhead that takes you to Colomitos Beach and then continues to Las Animas and Quimixto.
Pack a picnic and chill out at Colomitos for the day – it's free but offers a million-dollar view.
If you want more of a party atmosphere, continue for another hour to Las Animas, where you'll find restaurants and beach bars.
If you have a lot of energy, you can even continue the trail to Quimixto, which has a lovely waterfall you can swim in. If you don't feel like hiking back, you can get a water taxi for 100 pesos. It's one of the best cheap things to do in Puerto Vallarta!
5. Hit the beach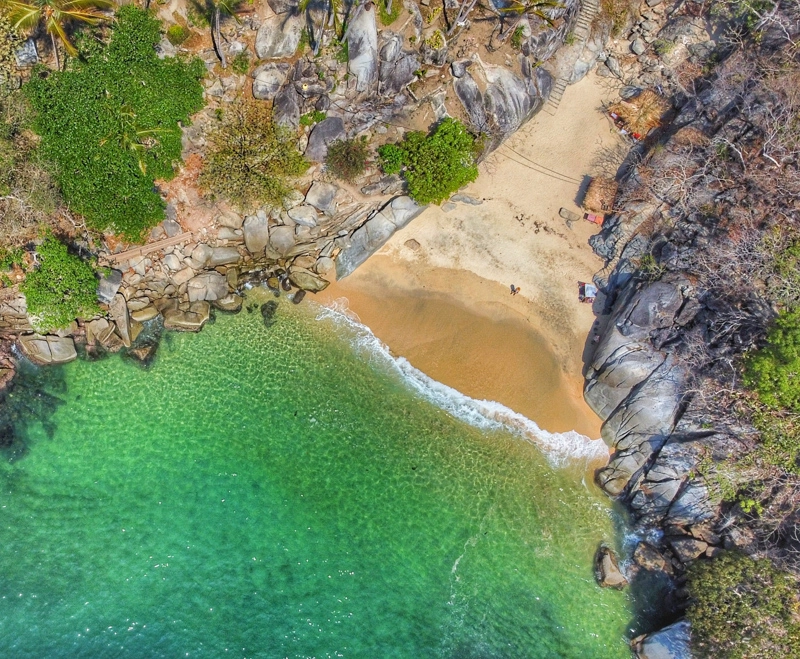 That's probably one of the main reasons you came here anyway!
While the beaches within the city limits aren't spectacular, they still provide a place to tan, swim in the ocean, and catch up on your favorite book (or margarita). Relaxing on the beach is by far one of the best things to do in Puerto Vallarta for free!
If you're looking for finer sand and clearer water, head north or south of the city. You can get the bus to Sayulita or San Pancho for 50 pesos, two beautiful beach towns that offer some of the best surf near Puerto Vallarta. They are two of the best day trips!
Alternatively, you can hike to Colomitos or Las Animas, which are by far the best beaches in Puerto Vallarta.
6. Art walk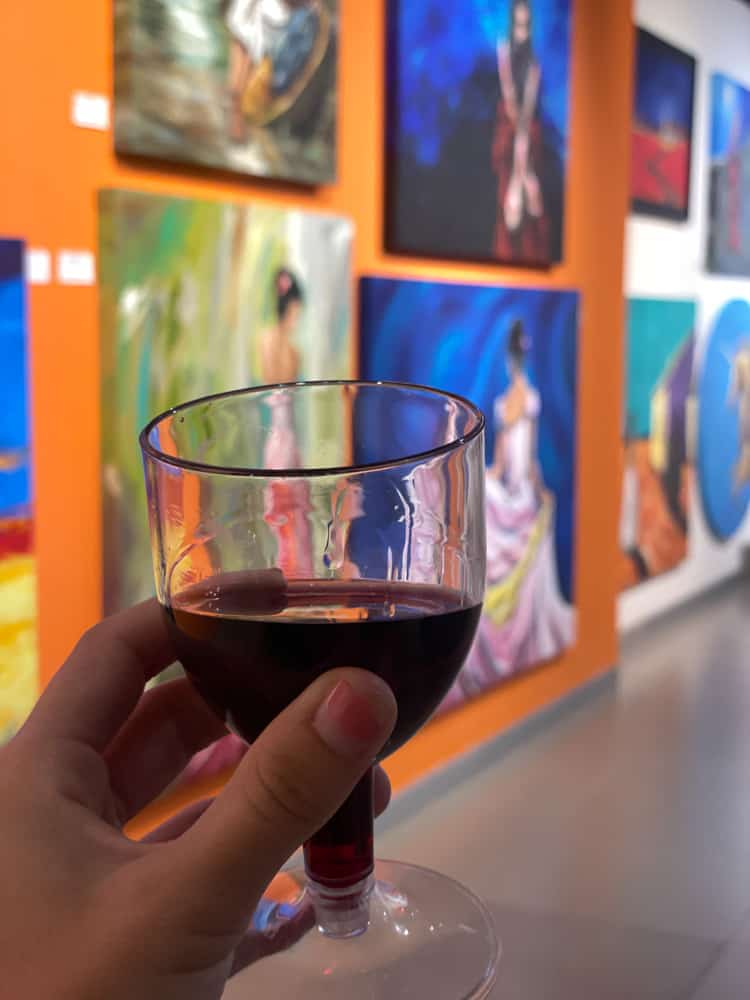 Every Wednesday evening from 6–10 pm, there's a free art walk you can take part in Centro Puerto Vallarta.
There you can find beautiful art galleries with pieces by influential national and international artists, remarkable paintings, exceptional sculptures, fine ceramics, and jewelry.
From traditional Mexican art to contemporary installations, there's something for every art lover here. A few galleries even offer free wine and cheese!
It's free to attend and makes for a great date night in Puerto Vallarta! Next year's event runs from October 26th to June 28th, 2023.
7. Take photos of the street art
If you appreciate urban art like I do, then El Centro is your playground. It's brimming with vibrant street murals that'll seriously up your Instagram game. These pieces, created by local and international artists, give the city its unique character.
I suggest going on a self-guided walking tour and uncovering these art gems – it's a free, open-air gallery just waiting to be explored!
8. Watch the fireworks
One of the best free things to do in Puerto Vallarta is to watch the fireworks from the Pirate Ship. While the ship is not free to get on, the fireworks they put off every night are.
The fireworks usually go off between 9:30–10:30 pm. They happen over the water, so stop anywhere on the Malecon to admire them or from one of Puerto Vallarta's many rooftop bars.
It's like a surprise party the city throws for you every night! I've lived here for three years and am still not sick of them.
9. Explore the markets
One place you'll want to check out while visiting Puerto Vallarta is Isla Rio Cuale, a traffic-free sand island between Centro and Zone Romantica where you can find shaded trees, riverside restaurants, cafes, and a flea market selling everything you could ever want.
The market is daily from day to night and is a great place to buy souvenirs. It's a great place to soak up the local atmosphere, even if you don't plan to purchase anything.
Another market worth checking out in Puerto Vallarta is the Old Town Farmer's Market which happens every Saturday at Lázaro Cárdenas Park. There you can find local produce, handicrafts, and delicious snacks.
10. Free walking tour Puerto Vallarta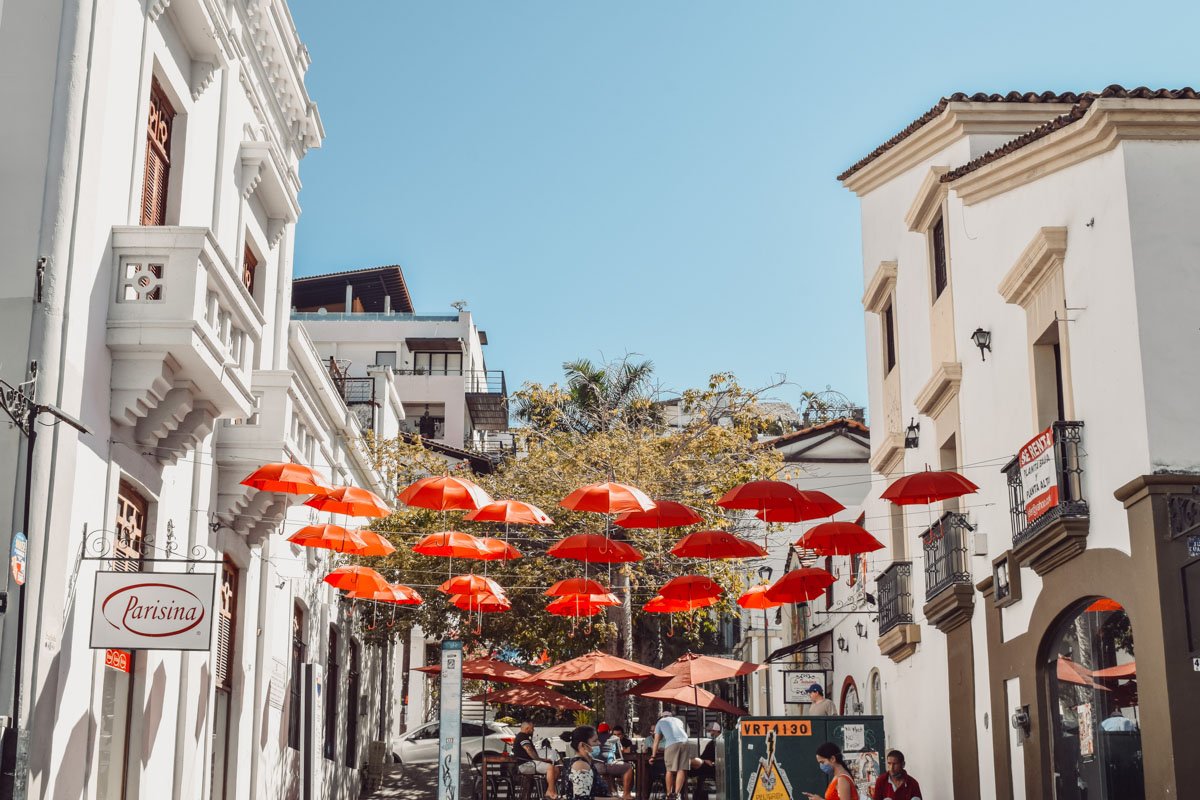 If you want to learn a bit more about the city of Puerto Vallarta, then join a free walking tour with a knowledgeable guide!
Every Tuesday, Wednesday, and Saturday, you can join a 2-hour walking tour sponsored by the Municipal Tourism Office and led by a certified guide.
The tour takes you on a lively stroll through the streets of Puerto Vallarta's historic downtown, covering information about Vallarta's architecture, culture, history, famous people so much more.
The meeting point for the walking tour is downtown (Centro) at the Municipal Tourism Office in the Old City Hall building, across the street from the north side of the Main Square and a half-block west of Our Lady of Guadalupe Church.
There's also a free Malecon Sculpture Walking Tour in downtown Puerto Vallarta every Tuesday morning from mid-November through mid-April, run by a gallery owner.
The tour begins promptly at 9:30 am at the north end of the Malecon in front of the Millennium sculpture, next to the Hotel Rosita.
11. Look for humpback whales from the shore
If you're visiting Puerto Vallarta during whale watching season (it usually begins in December and ends by March), don't miss the chance to see a humpback whale!
There are many whale-watching tours to see these magnificent giants up close, but you can also spot them from the shore.
Head to any beach or rooftop restaurant and keep your eyes peeled for breaches and tail flips. They are quite the performers! I remember this one time I spotted a mother and calf playing near the shore!
12. Take a walk through the neighborhoods
As Puerto Vallarta continues to grow in popularity, so do the neighborhoods. Take some time to explore each one as they each have their own personality and unique charm.
The Romantic Zone (Zona Romantica), also known as Old Town, is the official gaybourhood and heart of the LGBTQ+ scene in Puerto Vallarta. It's always a party here, and you can find countless fun bars to dance the night away.
The Romantic Zona is also a great place to explore during the day, with many cute boutique shops and cafes. I'm a big fan of A Page In The Sun, which has extensive bookshelves of books you can read in a comfortable atmosphere.
If you're a foodie, you'll definitely want to check out Versalles. This neighborhood is quickly growing as one of the most liveable for digital nomads, and it seems a new restaurant is popping up each week. You can get everything from the Caribbean to Greek here!
13. Learn salsa
If you're traveling through Latin America, you may want to learn salsa because you'll find this fun dance everywhere you go.
A great place to learn and practice is La Bodeguita del Media, a colorful Cuban-style car in the city center with fabulous live music.
They offer free salsa classes at 7 pm on Tuesdays and Thursdays, which is a fun way to meet people and burn off some of those vacation calories.
Then, once you feel confident, you can come back any night to practice your moves! There are always people there looking for dance partners.
14. Gringo Gulch
Gringo Gulch is a historic neighborhood in El Centro. It's a great place to take photos with its charming cobblestone streets and red-roofed houses, but it also has some interesting history.
Back in the day, Hollywood royalty Elizabeth Taylor and Richard Burton fell in love while filming "The Night of the Iguana" here. They even bought houses on opposite sides of the street!
There's this cute little footbridge known as "The Love Bridge" that connects the two homes. It's a bit of Hollywood history right in PV. And let's be real, who can resist a good love story?
15. Marina Vallarta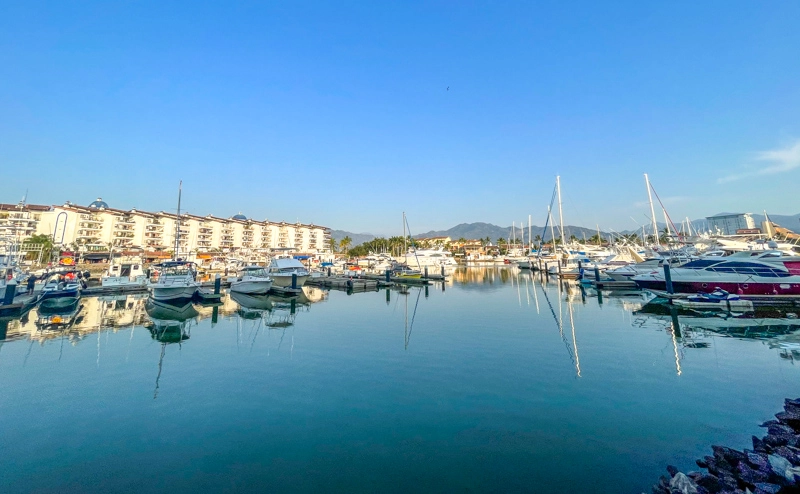 I absolutely love the Marina Vallarta Boardwalk. It's got this relaxed vibe with amazing yachts docked on one side and a lineup of great restaurants on the other. It's one of the best places to go for seafood!
It's even more fun on Thursday nights when the boardwalk transforms into a buzzing night market with vendors selling everything from handmade crafts to mouthwatering street food. It's the perfect spot to snag a unique souvenir and grab a tasty bite.
16. Los Muertos Pier
Los Muertos Pier is one of the most photographed places in the city.
This modern pier, with its iconic sail-like structure, lights up at night, creating a beautiful, almost magical, backdrop. It's the perfect place for an evening stroll, a mid-day chill, or even a yoga session.
I mean, who wouldn't want to do a sun salutation with that view? I love my evening yoga classes by the beach with Yoga Vallarta!
After checking out the pier, spend time chilling on Los Muertos Beach. You can swim, sunbathe, or just relax and watch the world go by.
17. Plaza de Armas
Plaza de Armas, the city's main square, is a must-visit. It's where the locals hang out, and trust me, there's always something happening.
Right there, towering over the square is the Our Lady of Guadalupe Parish. The beautiful church with its stunning crown is definitely a sight to behold. Stepping inside feels like a calming escape from the bustling city.
18. Take a Day Trip to Bucerias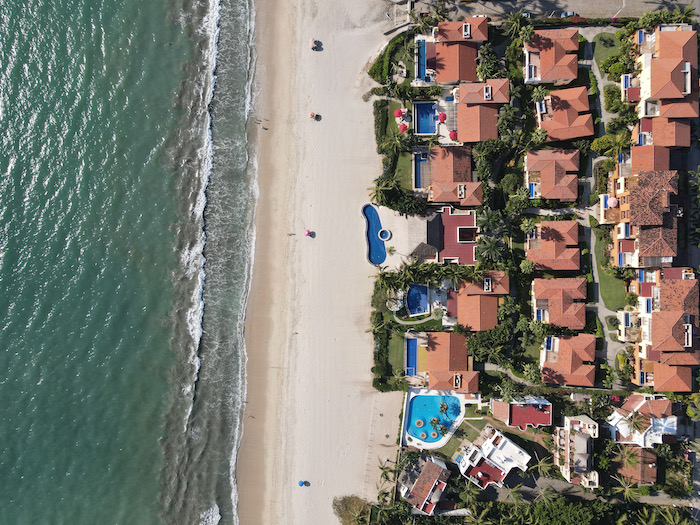 If you're game for a short day trip, hop on a bus to Bucerias.
This charming little town, just north of Puerto Vallarta, has this chill beach-town vibe that's just perfect for a day of exploring. There are even some local breweries here to check out! And the beach? It's serene, less crowded, and gorgeous.
19. Self-guided taco tour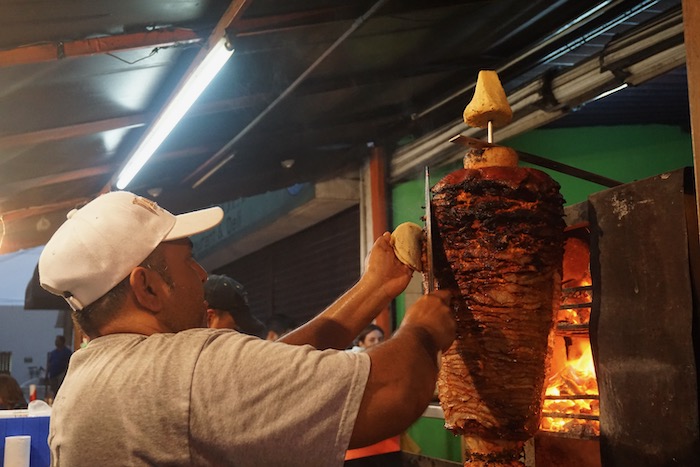 One word: Tacos! When in PV, you've got to try the street tacos. Seriously, these stands whip up some of the best food you'll have in the city.
Tacos de pastor, fish tacos, you name it; they're all delicious. Most of my nights out in Puerto Vallarta end at the taco stand! For a list of where to go, check out this post on the best tacos in Puerto Vallarta.
20. Olas Atlas Farmers' Market on Saturday
If you're in town on a Saturday, make sure to hit up the Olas Atlas Farmers' Market.
It's an awesome way to support local farmers and artisans; plus, you get to try all kinds of fresh, organic produce and homemade goodies. I always find delicious vegan food here!
21. Saturday Flea Market
Also on Saturday is the giant flea market in Santa Maria (get directions here).
You can find literally everything here, from clothes and accessories to home decor and local crafts. Bargaining is part of the fun, and you might just score some amazing deals. I got an entire new wardrobe when I moved back to Puerto Vallarta for less than 50 bucks.
22. Botanical Gardens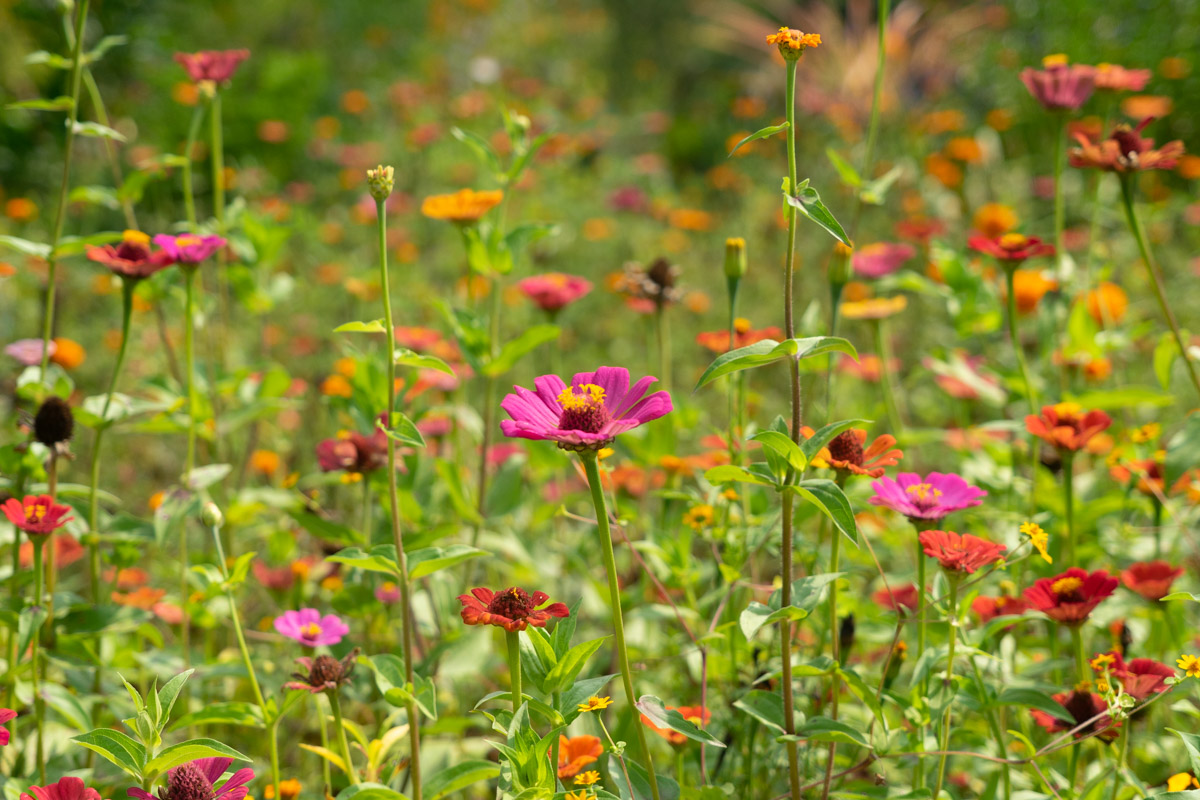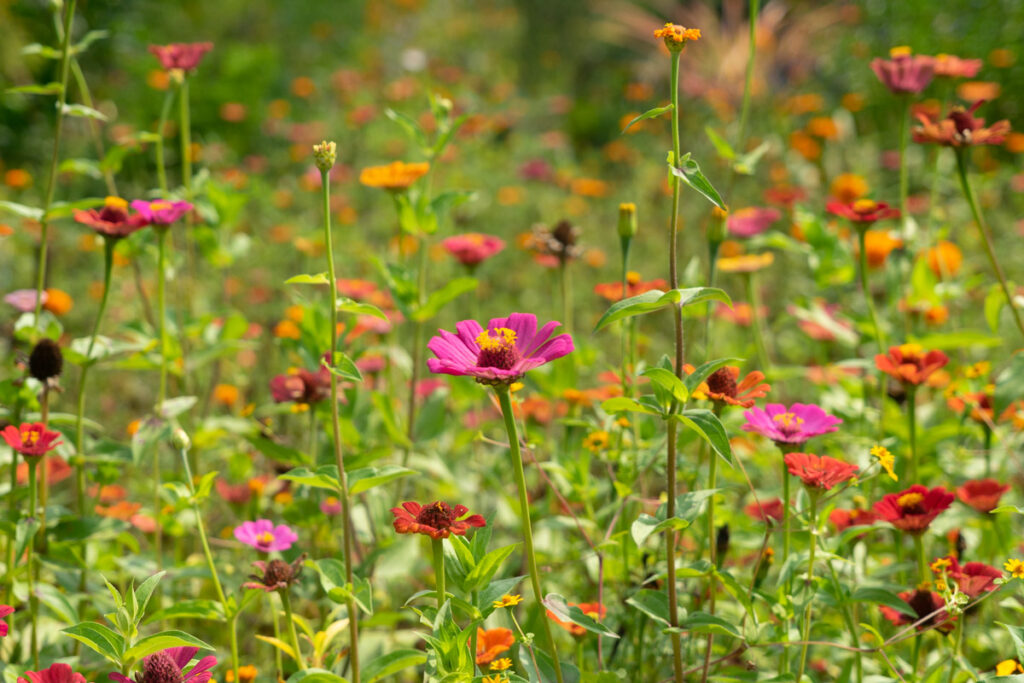 The Vallarta Botanical Gardens are some of the most impressive in Mexico. It's a lush paradise with thousands of different plant species that you can walk around.
While it's not free to visit, the cost is low and goes back to the gardens. It's one of the best cheap things to do in Puerto Vallarta, and you can take the public bus there from Zona Romantica.
23. Free Live Music
If you're into live music, you're in for a treat! Many bars around town, including Roxy's, have free live music nights. From rock to reggae to jazz, there's something for every music lover.
It's a great way to experience the local music scene, and hey, it's free!
24. Play volleyball with the digital nomads
Here's a fun way to meet new people – join the digital nomads for a volleyball game! A bunch of us remote workers regularly get together at Playa Del Holi for a friendly match.
It's a great break from the laptop screen and gets pretty competitive! Plus, nothing beats jumping into the ocean after a high-energy game.
If you're new to the city or just passing through, come on over. It's a fantastic way to make friends and become part of the Puerto Vallarta digital nomad community.
25. Pet cats on the Isla Cuale
There's something incredibly peaceful about taking a leisurely stroll along the Isla Cuale River Walk. Nestled in the heart of the city, it's a lush green island crisscrossed by footbridges and dotted with vendors selling local crafts.
Tucked away on the island is a special haven for cat lovers – a cat park by Rico Indian restaurant. The owner of the restaurant graciously feeds the cat every day! If you like Indian food, this is also a great place to eat – it's the best Indian food in PV!
The cats are used to friendly visitors, and you might even get a cuddly hello. As a cat person, I've spent many peaceful afternoons there petting the cats and enjoying the serene surroundings.
Final thoughts: Best free things to do in Puerto Vallarta
Traveling on a budget doesn't mean you have to compromise on experiences.
As you can see, there are plenty of free things to do in Puerto Vallarta that can give you a real taste of the city's vibrant culture and stunning natural beauty.
From immersing yourself in local art to spotting wildlife and exploring street markets, there's a whole host of free activities that allow you to experience the real charm of this beautiful city.
Planning a trip to Puerto Vallarta? Check out these other fun things to do!