This post may contain affiliate links. By clicking and making a purchase through the links, I earn a small commission at no extra cost to you. See my disclaimer for more information. This allows me to keep the site up to date and expand on resources.
Are you wondering about the Boca to Las Animas hike? Let me help! I live in Puerto Vallarta and love hiking, so I've done this trail a number of times.
If you're looking for a hike or a way to spend an afternoon in Puerto Vallarta, look no further than the Las Animas hike.
This gorgeous coastal hike takes you from the small fishing village of Boca de Tomatlan to Playa Las Animas, passing by several secluded beaches and hidden gems that I'll tell you about in this post.
#1 BOCA TO LAS ANIMAS HIKING TOUR
⭐️⭐️⭐️⭐️⭐️
✅ Guided hike from Boca to Las Animas
✅ Bus ride, water taxi, and snacks included
✅ Get photos and meet other travelers!
How to get to the trailhead from Puerto Vallarta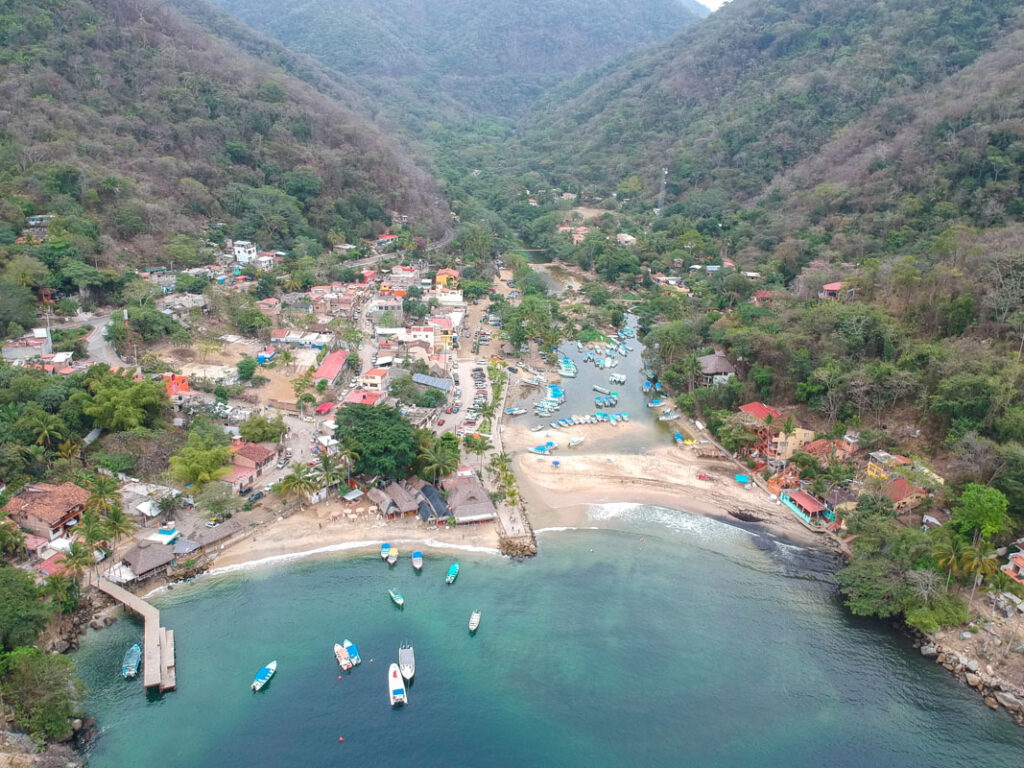 The Las Animas hike trailhead starts from Boca de Tomatlan, a small fishing village just outside of Puerto Vallarta that locals refer to as 'Boca.' To get there, you have a few options.
Boca to Las Animas guided hike
If you are visiting Puerto Vallarta, the easiest way to experience this hiking trail is by booking a guided tour. Here is the most highly-rated tour for this hike.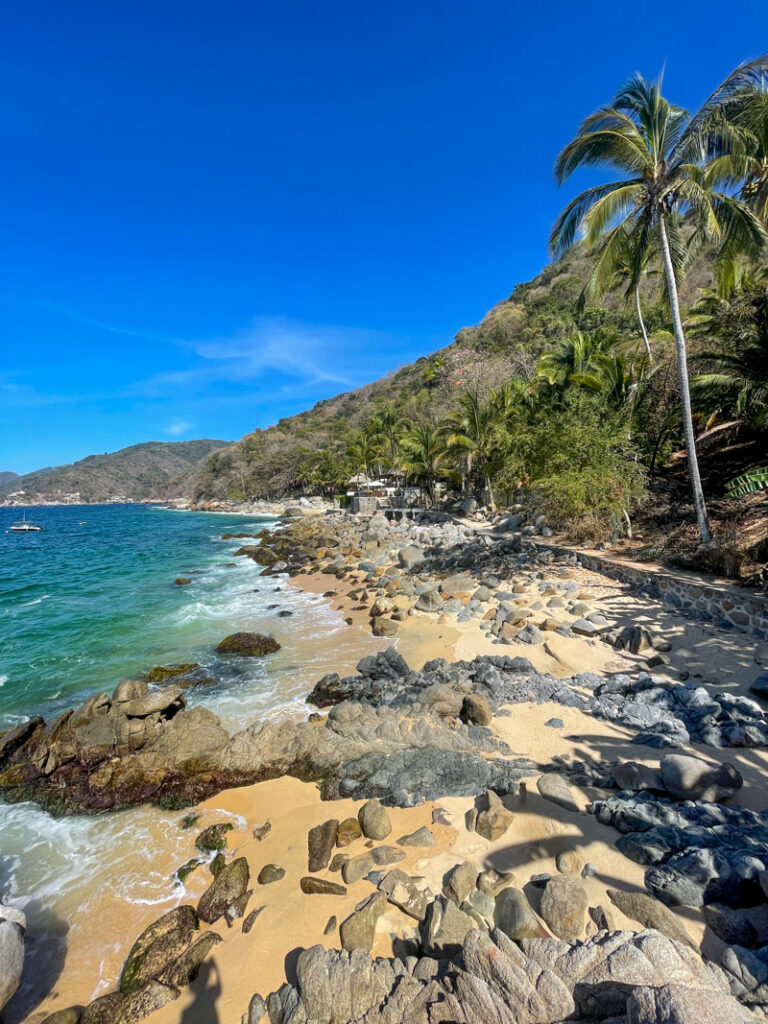 ⭐️ RATING: 5/5 Stars | ⏳ TOUR LENGTH: 6 hours | ✅ Book it!
This highly-rated tour meets in the Romantic zone, where you'll take a ride on public transportation to Boca de Tomatlán (the first beach).
Then you'll be hiking approximately 30 min to the smallest beach known in Mexico. After a refreshing dip, you'll your way to the next four beaches.
"The whole experience was terrific and the hike was truly beautiful. Rocco lead us through the journey with great care and genuine warmth. We saw beaches that few ever get the chance to see." – Edward (read more reviews here).
After hiking through the jungle and beaches, you'll end at Las Animas beach, where you'll get to try some of Puerto Vallarta's best seafood. After a tasty meal, you'll take the boat back to Boca, passing by scenic beaches along the way to see the bay from a different perspective.
By Bus, Uber, or Car
If you're renting a car or lucky enough to know someone with wheels, driving is the easiest way. Take Highway 200 from downtown Puerto Vallarta, which follows the coastline. From Zona Romantica, it's about 16km (10 miles) to Boca or about 25 minutes in normal traffic.
Take an Uber or InDriver (a local car-sharing app). The price will depend on where you're coming from in the city and the demand, but it should cost you 200-300 pesos (10-15 USD).
Take the local bus. It departs from Zona Romantica at Basilio Badillo & Constitution here. The buses are white and should have Mismaloya written on the front window. Just ask the driver 'Boca?' if you aren't sure. The bus costs 10 pesos (50 cents). It can be crowded in the afternoon, stopping several times along the way.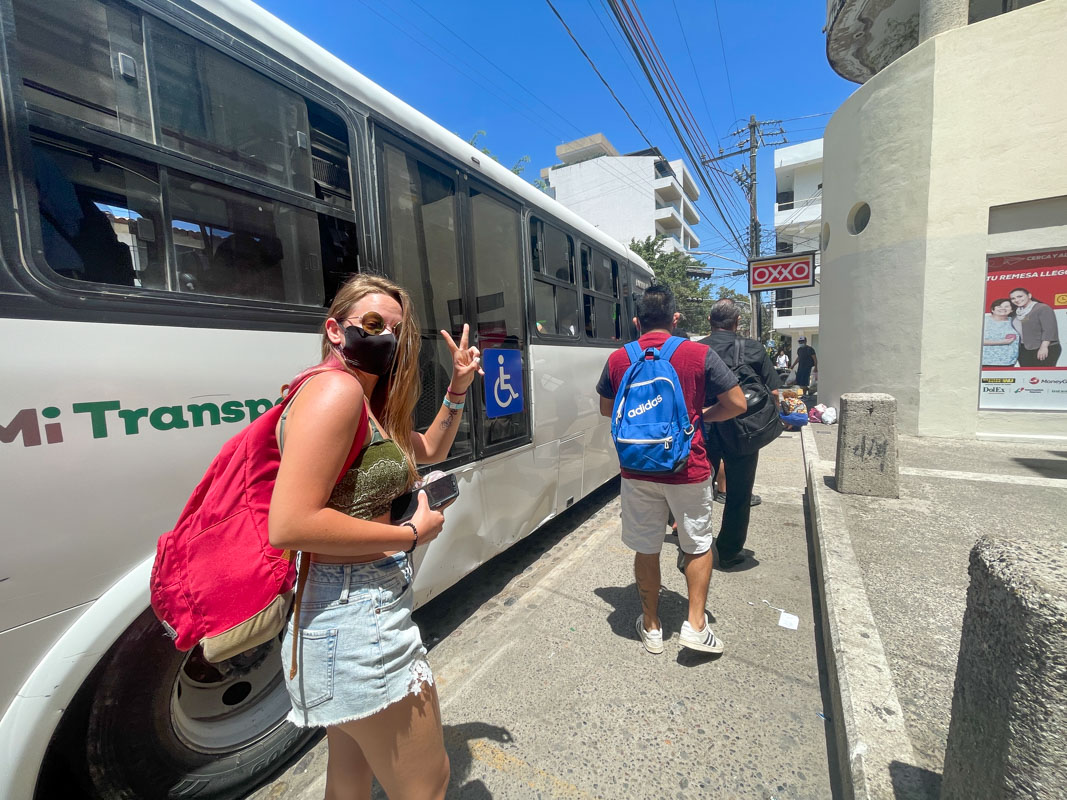 You could also catch a boat from Los Muertos Pier to Boca on the Yelapa run. You can check the schedule here. If you want to arrange a private boat, this is also possible but usually costs anywhere from 1500-3000 pesos.
Boca de Tomatlan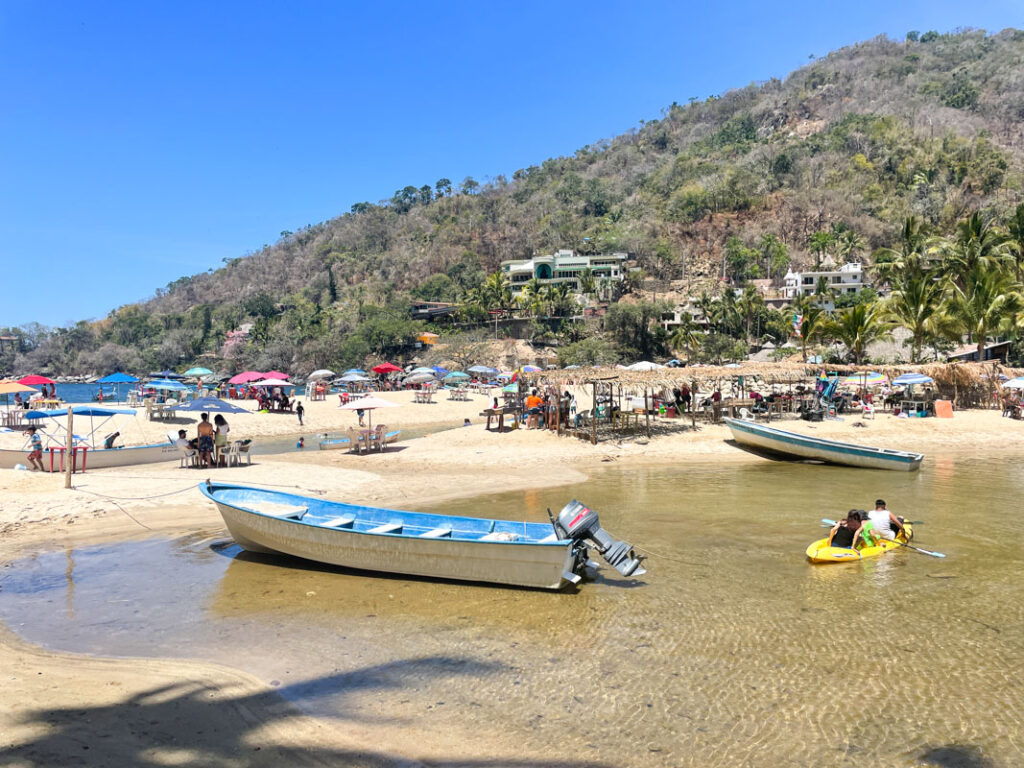 Boca de Tomatlan is a quaint and lovely traditional fishing village, which many use as a starting point for trips to the south beaches of Puerto Vallarta.
The bus will drop you off at the top of the hill, and then you walk down the stairs to get to the pier. A local woman sells fresh fruit right outside the bus stop, which is a nice snack to pick for the Las Animas hike.
If you're hungry beforehand, there are also traditional beachside restaurants you can stop at in Boca and some small convenience stores where you can get water.
If you take the boat here from Puerto Vallarta, it will drop you off at the pier on the north side of the beach. To reach the trail, walk down the dirt road to the mouth of the river.
If you're driving, there is a parking lot to park by the river.
Boca to Las Animas Hike
The Boca to Las Animas hike is broken into two sections: The Colomitos Beach Hike and the Colomitos Cove Trail to Las Animas.
Boca to Colomitos Hike
The first part is the trail to Colomitos Beach, which is about halfway to Las Animas. There's also the option to do this part of the hike as a guided tour.
From the bus stop, walk down the street into town until you reach the last road adjacent to the river (named Horcones River). This is also where the parking lot is.
You need to cross to the other side of the river to get to the trail. You can do this by either walking up the street to the left and walking across the bridge or walking/swimming across the beach and up some rocks.
The latter may be difficult depending on the tide, so I recommend taking the bridge.
Follow the edge to the right once you are on the other side.
The trail is marked with sporadic signs showing the way there, but it does pass by some locals' houses, so be sure to stick to the right side and not wander into someone's backyard.
The trail is one of the most popular hikes in Puerto Vallarta, so you're likely to run into other tourists and locals to ask if you get confused about which way to go. Everyone is very friendly in Vallarta!
You'll start the trail walking through the jungle, which is the most strenuous part of the hike as there are many ups and downs.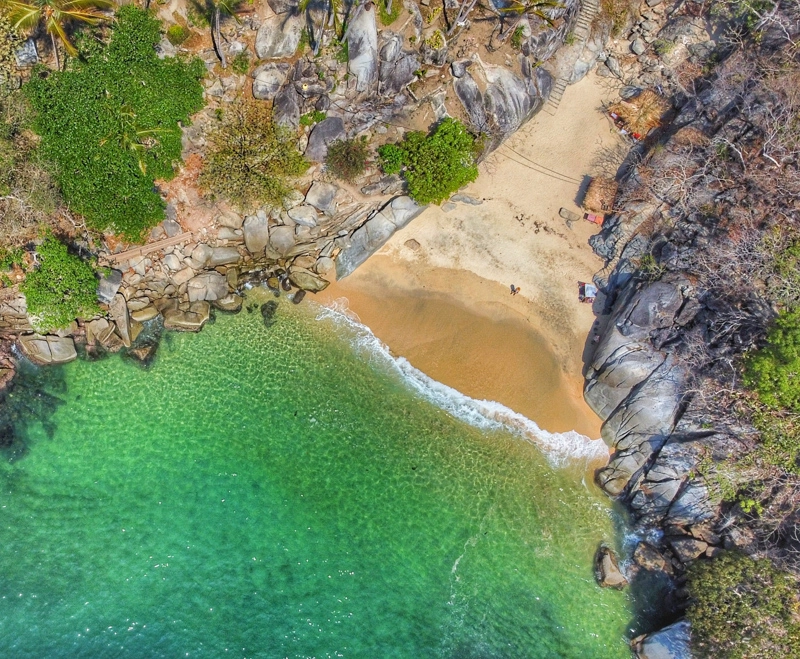 After about 40 minutes, you'll reach the first beach, which is Playa Colomitos. The trail descends a small set of stairs, and you'll see the shimmering emerald green water from the top.
It's a stunning color and a great place to cool off and swim. Granted, the first time I went here, I had it all to myself and thought it was this amazing secluded spot.
However, the second time I did the Colomitos hike, it was packed with tourists, which I've since realized is usually the case as you can now get water taxis to Colomitos. There are even people selling food here!
There's also a restaurant called Ocean Grill, one of the best Puerto Vallarta restaurants with a view. Reservations are recommended!
The beaches get progressively more beautiful and quieter as you continue hiking, so keep walking if Colomitos is too packed. There isn't much shade there.
Colomitos Cove Trail to Las Animas
The Colotmios Cove trail to Las Animas continues on the other side of the cove. Follow the cement staircase on the west side of the beach back into the jungle.
Another path diverges into the jungle, but make sure to stay right along the coast.
You'll pass through a few more beautiful secluded beaches with palm trees.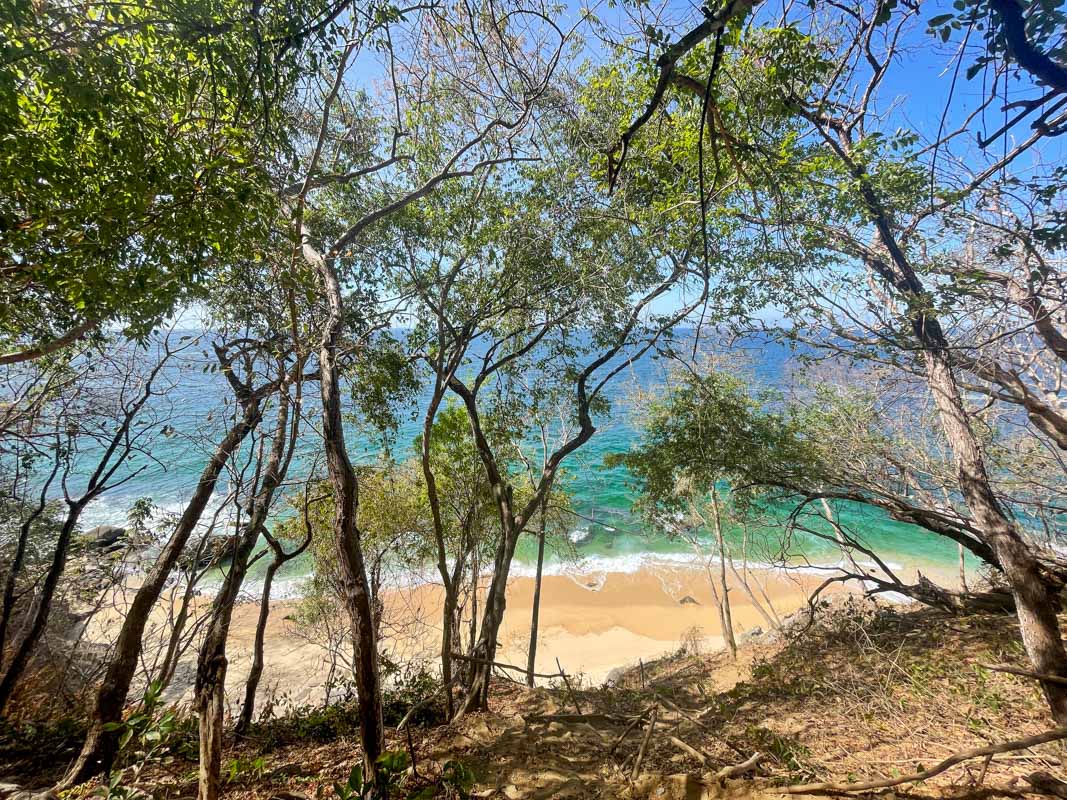 The next one after Colomitos is Playa Escondida, just 0.5km (0.3 miles). Once you get past Playa Escondida, you are done with the most challenging parts of the hike!
You'll walk beside Playa Hacamiya shortly after, dotted with huge rocks.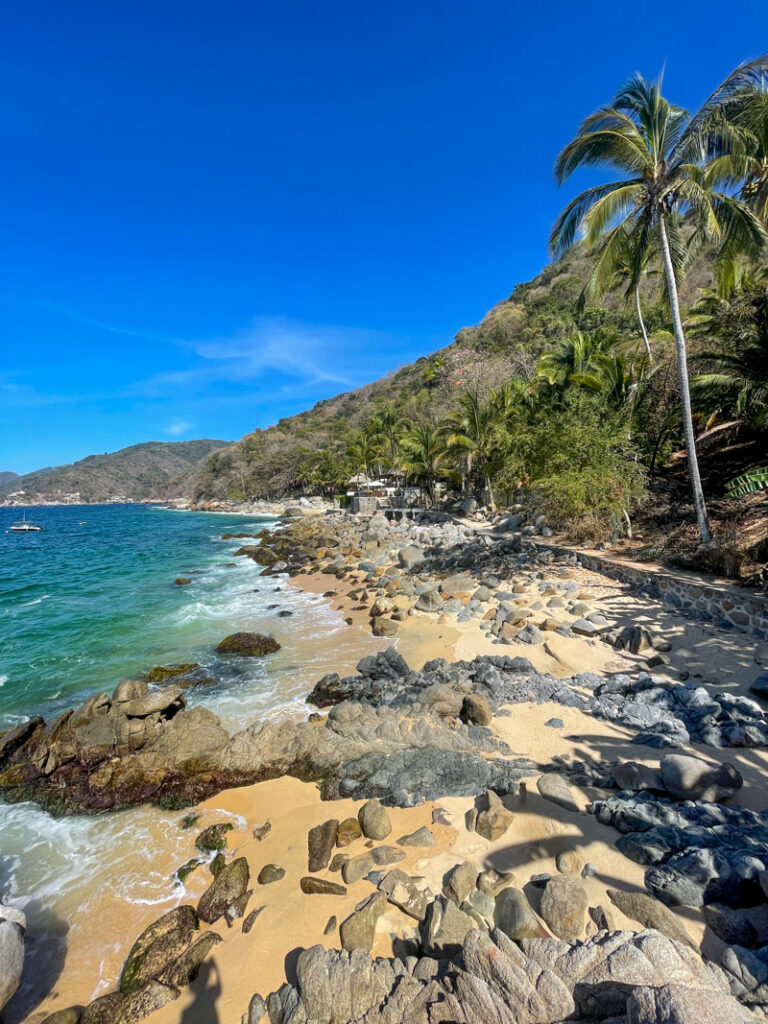 The next part of the hike is easier. It's 1.2 (0.75 miles) to Casa Marikas, which you'll start to hear music coming from as you get closer.
Casaitas Maraika is an amazing restaurant/boutique hotel. The vibe here is wonderful, and it's a great place to grab a drink or snack and relax, so be sure to factor some time into your hike to spend here.
We spent hours here once, never making it to Las Animas and instead just getting a boat back from Casa Marika with new friends.
Las Animas is about a 20-minute walk from Casa Maraika across Playa del Caballo. It looks further on the map, but it's really not.
Playa del Cabolla is a huge, secluded beach just a 5-minute walk from Playa Las Animas. So if you're looking for more peace and quiet, soak it up here because Las Animas is very busy.
Las Animas Beach Puerto Vallarta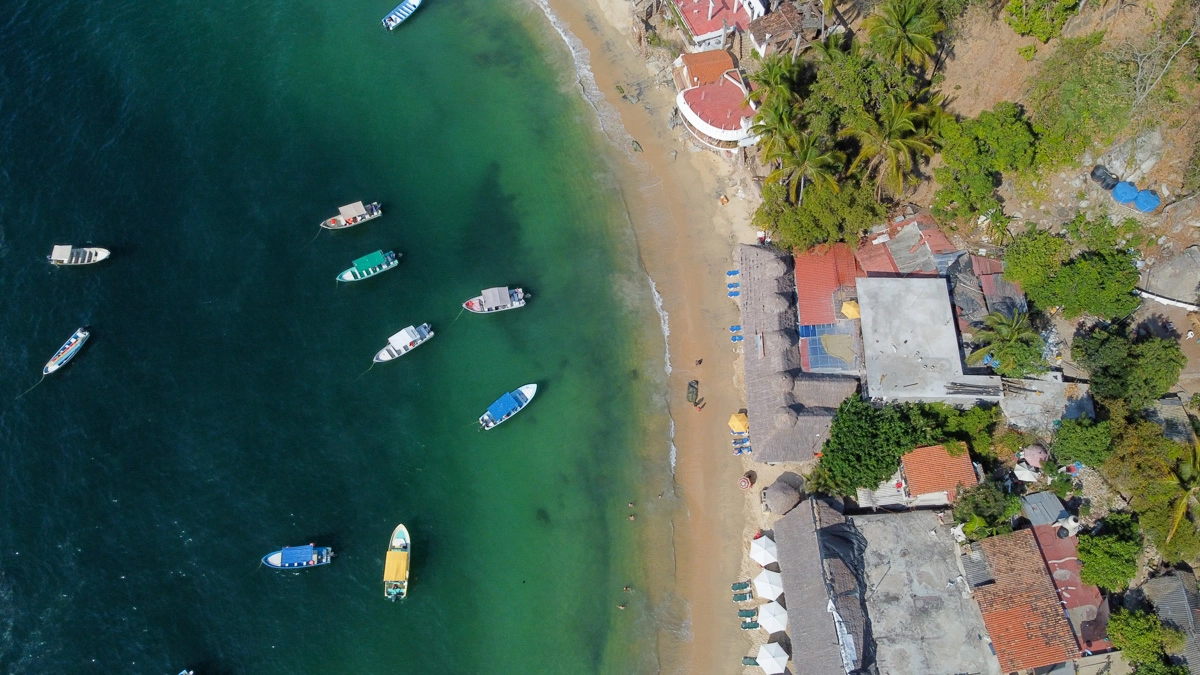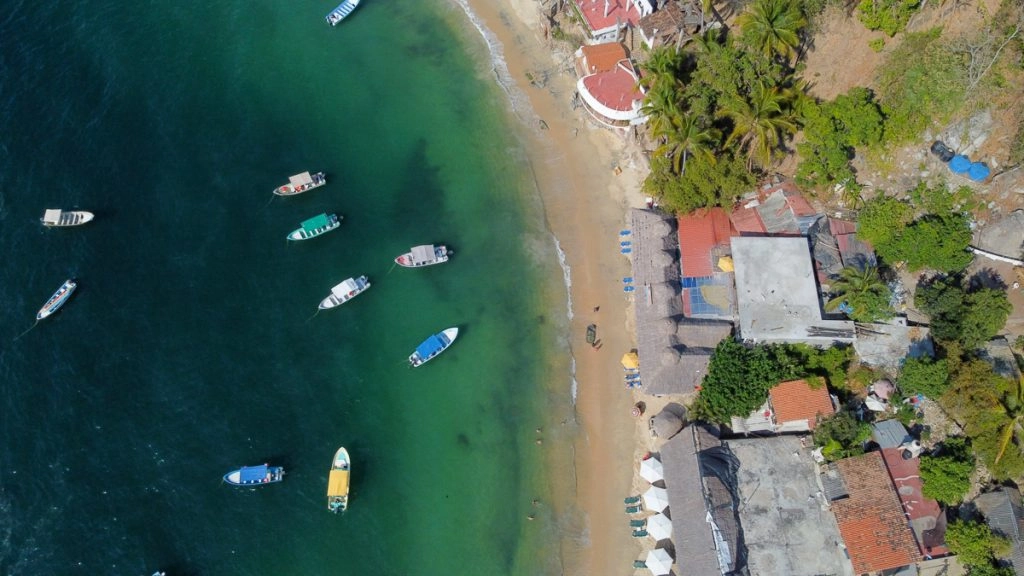 When you reach Las Animas, stop at any local beachfront restaurant for a cold beer and fresh seafood before taking a water taxi back. But make sure not to miss the last one!
From Las Animas, you can either hike back the same way or take a shared boat (called Panga) back to Boca. The water taxi from Las Animas to Puerto Vallarta takes about 20 minutes and should cost around 100 pesos.
Ask any of the boat drivers for the last boat time; it's either at 5 pm or 6 pm, depending on the time of year. You can get boats back after this time, but they are considered private and much more expensive.
You can always hike back to Boca from Las Animas, but I recommend enjoying your time on the beaches/restaurants and getting the boat back to Puerto Vallarta instead.
The trail also continues to Quimixto, but this is quite a bit further, so you'll make sure you have plenty of daylight left to do this. I haven't hiked to Quimixto yet.
Find directions for the Boca to Las Animas hike on AllTrails here. Download the offline version, as there isn't great service for much of the trail.
FAQ: Boca to Las Animas Hike

How long is the hike from Boca to Las Animas?
The hike from Boca de Tomatlan to Las Animas takes 2 hours if you don't make any stops. Plan for 4-6 hours to take your time swimming and enjoying the beautiful beaches.
How far is the hike from Boca de Tomatlan to Las Animas?
The trail from Boca to Las Animas is 4.5 miles (7.2 kilometers).
How do you get to Las Animas Beach?
You can get to Las Animas Beach by hiking from Boca de Tomatlan or taking a boat from Boca or Los Muertos Pier in Puerto Vallarta.
How to get to Boca de Tomatlan?
You can get to Boca de Tomatlan by driving on Highway 200 or taking the public bus.
Where is Playa las Animas?
Playa Las Animas is located along the southwestern coast of Mexico, near Puerto Vallarta.
What to bring on the Las Animas hike:
It's a rocky path along the coastline with some incline/decline (215m elevation gain), so wear comfortable shoes or sturdy sandals for this hike. I've done it in flip-flops before, but it's not ideal.
Water – There are restaurants in Boca/Las Animas you can buy some, but I recommend taking about 1L as it's hot and sunny, and you'll want to stay hydrated.
Swimsuit to enjoy the beautiful beaches.
Sunscreen, sun hat, and sunglasses.
Towel
Mosquito repellant
Change of clothes for after swimming.
Light snacks. Don't worry about bringing a full meal; there are great restaurants along the hike and many places to eat in Boca and Playa Las Animas.
Get a complete Puerto Vallarta packing list here!
For more information about the hike, check out this video from Sasha!
Final thoughts: Boca to Las Animas hike
The beautiful part about the hike to Las Animas beach is that you can customize the day to your liking.
The first time I did this hike, we made the mistake of leaving late in the day, around 3 pm and having to rush through it because we were worried about making the last boat back.
The second time I did the hike was much more enjoyable because we got to stop and spend time swimming on the secluded beaches and enjoying the fantastic atmosphere of Casa Maraika.
Whether you join a guided tour or hike it yourself – you'll love this gorgeous trail!
Planning a trip to Puerto Vallarta? Check out these other day trips!