This post may contain affiliate links. By clicking and making a purchase through the links, I earn a small commission at no extra cost to you. See my disclaimer for more information. This allows me to keep the site up to date and expand on resources.
Looking for the best boutique hotels in Puerto Vallarta? You're in the right place! I live in Puerto Vallarta and love boutique hotels, so I've stayed in many of the boutique hotels during my trips to paradise over the years.
While Puerto Vallarta is world-famous for its luxurious all-inclusive resorts, it has an equally impressive collection of boutique hotels. Unlike the resorts, these intimate accommodations offer personalized experiences that make you feel like you've stumbled upon a hidden gem.
In Puerto Vallarta's charming streets and coastal hideaways, you'll find boutique hotels that blend authentic Mexican architecture with modern amenities, artisan craftsmanship with world-class service, and local flavors with international finesse.
With so many unique hotels to choose from, it can be hard to pick the best one! I've rounded up the top Puerto Vallarta boutique hotels to make your choice a little easier.
Top 3 picks: Boutique hotels in Puerto Vallarta
✅ Former home of Hollywood legends Elizabeth Taylor and Richard Burton
✅ Nine individually designed luxurious suites
✅ Prime location offers easy access to art galleries, markets, restaurants, and beaches
✅ Stunning views of Guadalupe Church and the ocean from the rooms
✅ Intimate setting with just four suites decorated with local art
✅ Connected to La Capella, one of the best restaurants in the city
✅ Located in Zona Romantica, steps away from restaurants, bars, and galleries
✅ Rooftop jacuzzi with views of the sunset
✅ Artistic interior is perfect for taking photos
Best Boutique Hotels in Puerto Vallarta
⭐️ Rating: 9.8/10 |📍 Location: El Centro | 🏩 View on Expedia
Nestled in the charming cobblestone streets of Puerto Vallarta's historic Gringo Gulch, Casa Kimberly Boutique Hotel is one of the most iconic hotels in the city.
Originally the home of Hollywood legends Elizabeth Taylor and Richard Burton, Casa Kimberly's walls are imbued with a timeless love story.
From the famous "Puente del Amor" bridge connecting Elizabeth's house with Burton's to the preserved rooms they once inhabited, the hotel offers a unique connection to Hollywood's golden age. Night of the Iguana was the movie that put Puerto Vallarta on the map!
Casa Kimberly boasts nine individually designed suites, each offering an unrivaled level of luxury and comfort. Imagine soaking in a clawfoot bathtub with stunning views of Banderas Bay or enjoying breakfast on your private terrace amidst fragrant bougainvillea.
The on-site restaurant, The Iguana, is one of the most beautiful restaurants in Puerto Vallarta. Offering gourmet Mexican cuisine and an extensive selection of tequilas, it's a dining experience you won't forget.
The sweeping views of the city and bay from the open-air terrace add to the enchanting atmosphere, making you feel although you've stepped into a fairytale.
Casa Kimberly's prime location offers easy access to Puerto Vallarta's vibrant art galleries, bustling markets, and lively beaches. Yet, within its walls, you'll find a serene oasis, perfect for unwinding after a day of exploration.
As the outstanding reviews attest, there are so many reasons why this is regularly ranked one of the top Puerto Vallarta boutique hotels.
Enchanting is how I would describe our stay at Casa Kimberly! From the moment we arrived, we felt like we had the property to ourselves. The entire staff was welcoming and quickly made us feel at ease! I highly recommend this hotel and look forward to coming back.

– Damien (see more reviews here)
⭐️ Rating: 8.8/10 |📍 Location: El Centro Puerto Vallarta | 🏩 View on Expedia
With only four suites, Bellview offers an intimate setting perfect for a romantic getaway.
Hotel Bellview's interior is adorned with works from local artists, showcasing Puerto Vallarta's rich artistic heritage. From the sculptures in the lobby to the paintings in each room, art is the soul of this hotel.
Each suite is furnished with elegant and antique style, king-sized beds, and unbeatable views of the city and ocean right from your bed.
Enjoy a quiet evening here dining at their on-site restaurant La Capella, which is an Italian restaurant that's regularly ranked as one of the top restaurants in Puerto Vallarta. After a romantic dinner, head out for a night on the town to one of the many bars and nightclubs nearby.
Bellview Boutique Hotel is located in El Centro, so this is the perfect base if you want to be in the heart of the action. You'll be just behind the stunning Guadalupe cathedral, which you can see from the many hotel terraces and some rooms.
Stunning views with easy access to surrounding areas. Loved the two private patios connected to our room.

– Julia (see more reviews here)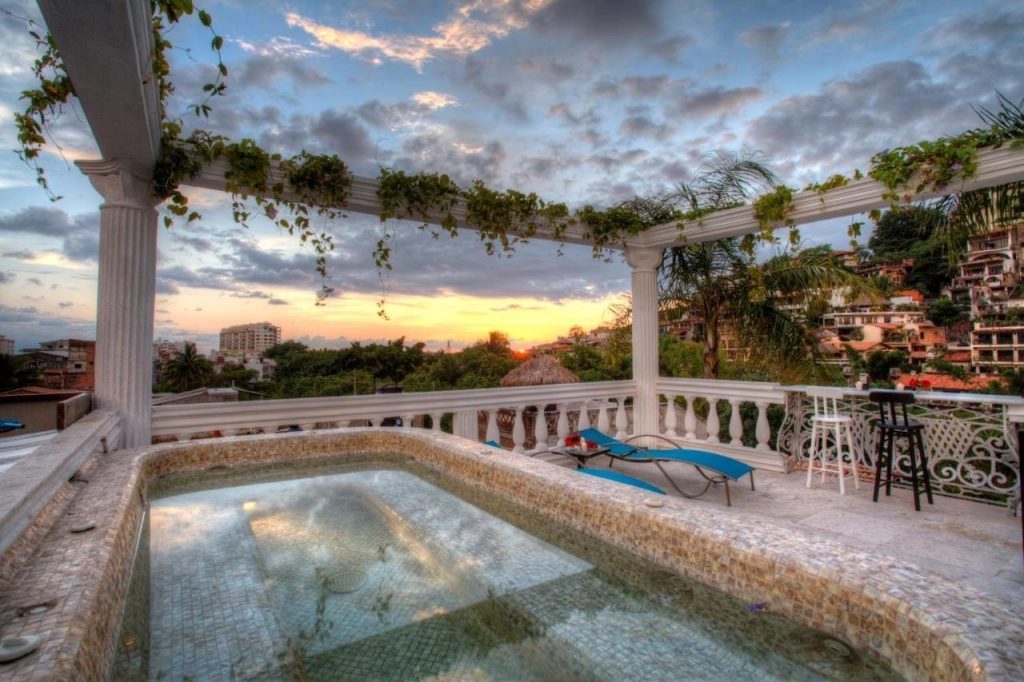 ⭐️ Rating: 9.2/10 |📍 Location: Zona Romantica | 🏩 View on Expedia
This boutique hotel in Puerto Vallarta is dripping with over-the-top decadence. Previously the home of local art legend "Silver" Maria Cortez, each of the eight rooms is unique in its eclectic design.
There's a rooftop jacuzzi rimmed with hanging vines for you to watch sunsets over the horizon while sipping on a fruity cocktail from the pool bar.
The whole place is so beautiful; it's been chosen for the backdrop of several Vogue and Elle photoshoots.
Plus, the location of this hotel can't be beaten. It's located right downtown in the heart of Zona Romantica, so the city's top restaurants, nightlife, and things to do will be right outside your doorstep.
Everything!! Amazing little gem in the heart of Romantic zone Puerto Vallarta. The hotel is full of character & charm. Staff go out of their way to make you feel comfortable and welcome.

– Mike (see more reviews here)
⭐️ Rating: 9.2/10 |📍 Location: Zona Romantica | 🏩 View on Expedia
Brighten up your stay with dazzling splashes of color in this boutique hotel in Puerto Vallarta.
Casa Maria has a rustic Mexican style that brings energy and quirkiness to this adults-only hotel, featuring traditional architecture fitting for the romantic sector location. It's the perfect place to take an Insta-worthy snap!
Terraces look over the year-round outdoor pool, where you can enjoy a complimentary coffee.
Only a short walk to the beach, bars, and clubs, Casa Maria a perfect choice for an adventurous and exciting stay in Puerto Vallarta. It's easily one of the best Puerto Vallarta hotels on the beach!
I loved staying here before my long-term apartment was ready in Puerto Vallarta. I felt very safe even as a solo traveler, and it was so convenient being right off the Malecon.
Lovely little hotel near the beach and restaurants but on a quiet side street. The staff are exceptionally helpful and the room had everything I needed and more. I loved the courtyard and pool area!

– Claire (see more reviews here)
⭐️ Rating: 9.6/10 |📍 Location: Zona Romantica | 🏩 View on Expedia
ZoneZ is an affordable boutique hotel in the heart of Zona Romantica, just five minutes (800m) from Los Muertos, one of the most popular beaches in Puerto Vallarta.
This hotel features eight unique guest suites and one bi-level townhouse suite tastefully furnished with modern Mexican decor.
Features include private keyless entrances, modern bathrooms, and in-Suite kitchenettes. But why even bother cooking when there are so many great dining options steps from your door?
With an on-site spa, wellness facility, rock wall swimming pool, and private balcony to watch the breathtaking sunsets, you can't help but relax here.
As a bonus, they are part of Booking.com's Travel Sustainability Program, which means the hotel is making extra efforts to be eco-friendly.
The staff was very nice. I found the hotel to be very well located. It is on top of a hill in a quiet area, but close to all the action and the beach.

– Isabelle (see more reviews here)
⭐️ Rating: 9.4/10 |📍 Location: Zona Romantica | 🏩 View on Expedia
Casa Nicole is an excellent choice for a boutique hotel, with a prime location in Zona Romantica and all the amenities you need on-site.
One perk of staying here is that it comes with a concierge service that can assist you with any Puerto Vallarta tips you need to ensure your stay is unforgettable.
There's also an on-site pool perfect for enjoying the non-stop sunshine or catching up on your favorite book on the lounge chairs. This hotel also features a well-equipped gym and meeting room!
No need to go far to get something to eat here as the hotel has an on-site restaurant called Nicole's kitchen, which features traditional American fare with a Mexican twist.
Retreat to your room after a delicious meal and enjoy a relaxing evening in the soaking tub and private balcony.
Perfect quiet central location, great staff, and amazing breakfast. Daniel was extremely helpful and accommodating.

– Jevaughn (see more reviews here)
⭐️ Rating: 9.6/10 |📍 Location: Marina Vallarta | 🏩 View on Expedia
Fancy floating in a huge, circular pool without the risk of getting splashed by squealing children? This upscale, adults-only resort might be for you.
With a swim-up bar, golf course, and access to the Táu Beach Club, the goal here is to create an environment of complete relaxation and indulgence.
The spacious rooms ooze elegant glamour and are decorated with traditional Mexican art. Set a little further away from the center of town in Marina Vallarta, you can escape from it all and unwind here after a big day of sightseeing.
Excellent staff, they went out of their way to ensure that we had everything that we needed and that we had a comfortable stay. The concierge worked wonders to get us reservations to popular restaurants and to help us schedule excursions.

– Allen (see more reviews here)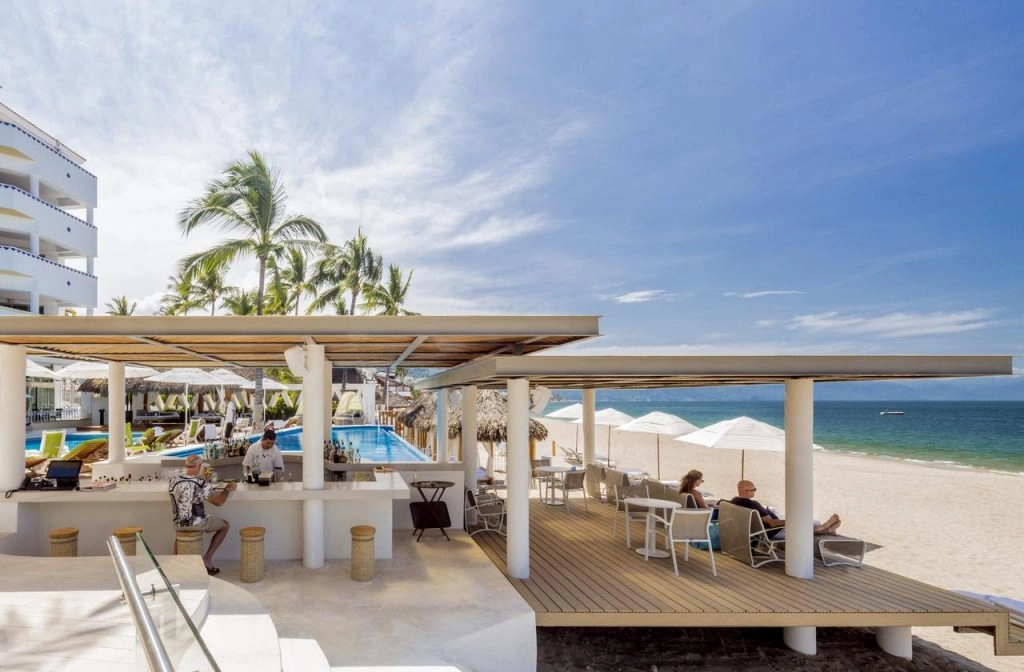 ⭐️ Rating: 9.0/10 |📍 Location: 5 de Diciembre | 🏩 View on Expedia
When it comes to the top hotels in Puerto Vallarta, it's almost impossible to find a list that doesn't include the Villa Premiere Boutique Hotel.
This hotel is luxury at its finest. You'll be greeted with a glass of champagne and a massage on arrival and a butler to show you to your suite with unbelievable oceanfront views.
Each room is customizable, starting with a pillow and scent menu based on aromatherapy.
You'll love the on-site amenities, including a spa, a hot tub, a sauna, an oxygen bar, daily yoga classes, and a swim-up outdoor pool.
Located in the 5 di Diciembre neighborhood, it's a prime location right in the middle of the city. You'll be steps away from Playa Camarones and incredible restaurants.
The friendliness and attention of the staff was outstanding, I liked the food a lot, the rooms are comfortable, well equipped and very clean.

– Nathali (see more reviews here)
⭐️ Rating: 8.0/10 |📍 Location: El Centro | 🏩 View on Expedia
Will you get the bright purple room, the red wall, or the yellow room? Each room at Capital O Hotel 522 has a distinctly bold theme to set it apart from the rest.
Guests say the beds here are amazingly comfortable, and they love the rooftop terrace views and comfy common rooms.
A shared kitchen means you can cook for yourself if you can resist the array of restaurants within walking distance of this centrally located hotel.
It's conveniently located in El Centro, steps away from everything you need.
Very spacious room with a huge bed and large roof top patio to enjoy the sunsets, perfect place really. Very friendly staff. Would definitely stay here again.

– Nigel (see more reviews here)
⭐️ Rating: 8.8/10 |📍 Location: El Centro | 🏩 View on Expedia
Only two blocks from the enticing Malecón (boardwalk) in El Centro, Hotel Porto Allegro has a lovely rooftop garden terrace with amazing views of the surrounding mountains and city streets. Plus, a mini outdoor pool if you need to cool off from the Puerto Vallarta heat!
The understated rooms are classic and comfortable, furnished in clean neutral colors.
A fabulous buffet breakfast is included in the reasonable price, although there are oodles of fantastic cafes and restaurants within walking distance to choose from, too. A 24-hour fitness center is available if you feel like you've indulged just a little too much.
The breakfasts were very nice, location is great and everyone accomodated my walker very well. Elevator always came promptly. Room was cleaned every day.

– Lois (see more reviews here)
⭐️ Rating: 9.0/10 |📍 Location: Zona Romantica | 🏩 View on Expedia
Casa Cupula is a gay-friendly hotel boasting many awards for its style and friendly hospitality.
Set a bit further back from the beach in Amapas; this hotel is nestled amongst lush tropical forests up on the mountainside.
This remote location provides you with some breathtaking views from the rooms and the two pools, hot tub, spa, and terrace.
The on-site Taste restaurant doesn't miss out on the views while serving Mexican and American-style cuisines. On Sundays the have a super fun drag brunch!
They invite everyone to come in and "play hard, relax hard," even allowing your fur babies to stay with you! Not babies, though – this place is for adults only.
Great location 'up the hill.' Lovely boutique feel to the place

– Jeremy (see more reviews here)
⭐️ Rating: 9.6/10 |📍 Location: Carretera Barra de Navidad | 🏩 View on Expedia
If you want to stay a bit further away from the city, check out Villa LaLa in Boca de Tomatlan.
This hidden gem is one of the most romantic hotels in Puerto Vallarta, with its awe-inspiring natural setting and luxury infinity pool.
Inside the suites, you'll find 1800 thread Egyptian cotton sheets, king-sized beds, tantra sofas, and incredible ocean and sea views.
The location is ideal for exploring some of the best day trips PV offers. You'll be able to quickly grab a boat from the pier at Boca to one of many beautiful beaches along the Bay of Banderas like Quimixto or Yelapa, where you can enjoy a relaxing day in the sun or go hiking to waterfalls.
Still, you're just a 25-minute drive from downtown PV, which only costs a few dollars on Uber or a 50-cent bus ride.
Everything from spacious room, gardens and pool, gorgeous view, great staff and delicious food

– Katarina (see more reviews here)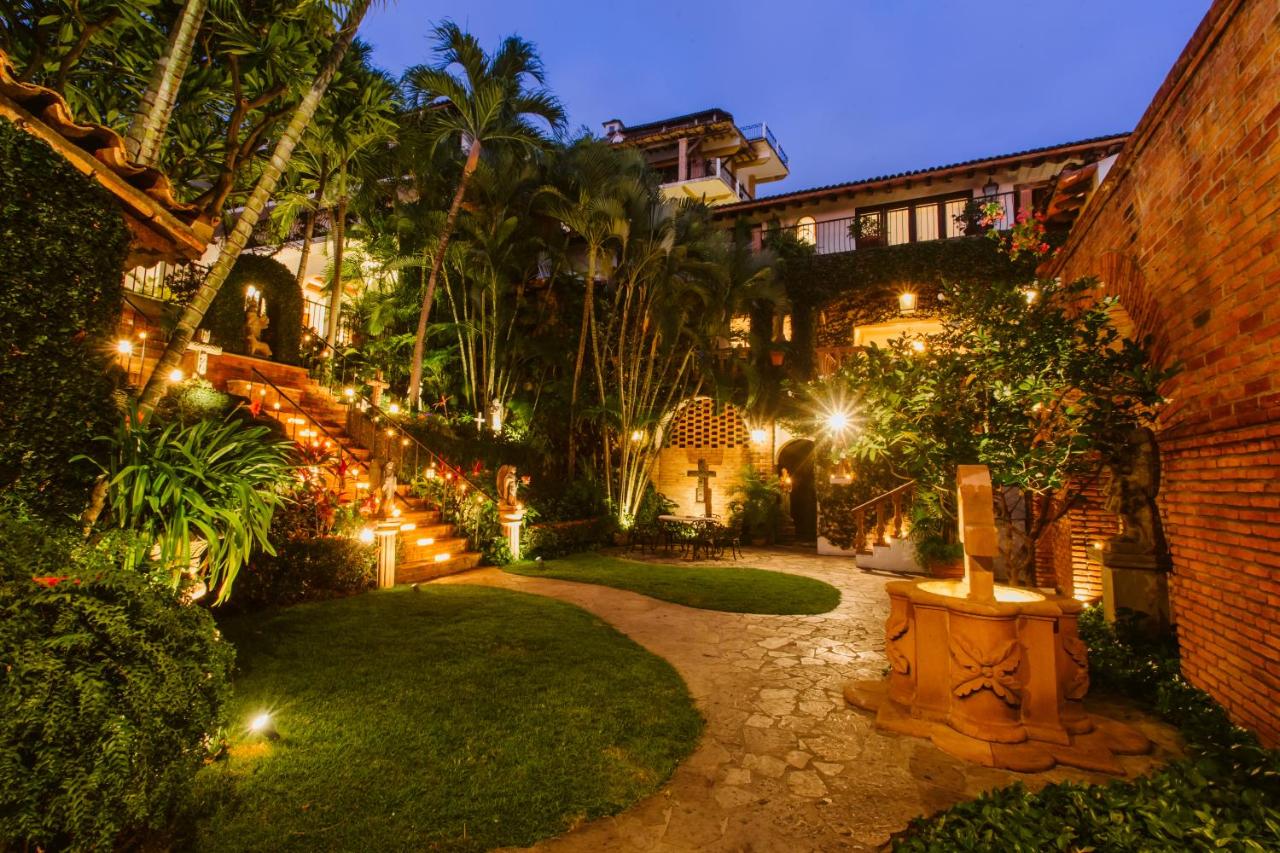 ⭐️ Rating: 9.6/10 |📍 Location: El Centro | 🏩 View on Expedia
The Hacienda San Angel is a luxury boutique hotel situated on a hilltop above the streets of Puerto Vallarta. The 12 beautifully decorated and spacious suites, including a world-class presidential suite, offer stunning views of Banderas Bay and the Sierra Madre Mountains.
A lush botanical garden full of tropical plants and foliage makes this a picturesque and charming setting for a glamorous and romantic getaway.
The main villa at the Hacienda was a Valentine's gift from the actor Richard Burton to his wife, Susan. In 1990 she sold it to the current owners, who renovated it and bought surrounding properties, which have since evolved into what we know today as the Hacienda San Angel.
The Hacienda San Angel Gourmet restaurant offers an exquisite dining experience, impeccable service, and a traditional Mariachi band that plays live music for entertainment.
Everything about this hotel was wonderful. I can't say enough about how helpful and friendly the entire staff was, especially at the front desk. We can't wait to return next year.

– C (see more reviews here)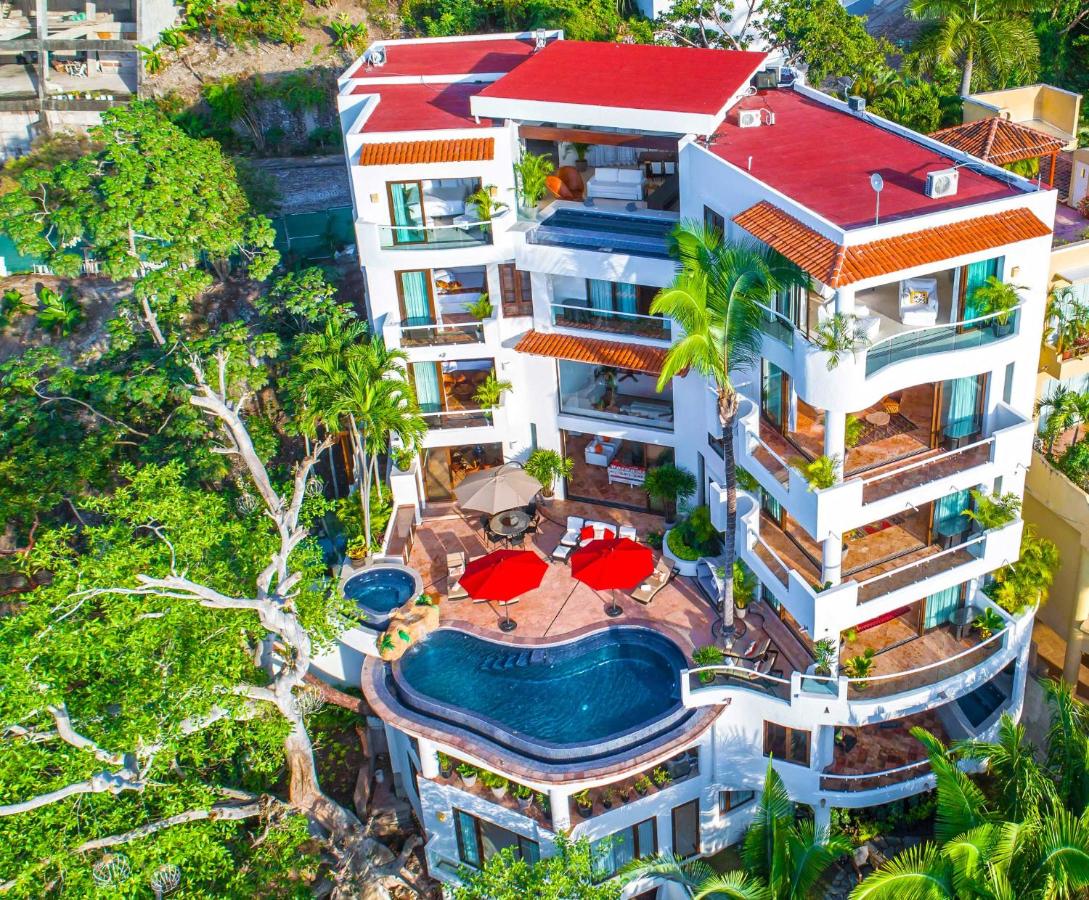 ⭐️ Rating: 9.8/10 |📍 Location: Conchas Chinas | 🏩 View on Expedia
The Villa Divina Luxury is a tranquil self-contained villa 2.6km from the center of Puerto Vallarta with a 3-star hotel rating. Within walking distance is Conchas Chinas beach and Amapas beach.
The hotel is suitable for all – from individuals to couples to groups. Groups can rent the whole hotel with seven rooms, a kitchen, an outdoor pool, and a fully equipped gym.
The Penthouse, with two rooms, an infinity pool, and a jacuzzi, is perfect for small families or couples on a romantic break. The property also provides a beautiful Mexican-style garden and barbecue facilities.
The chef prepares dinners on demand, and you can eat outdoors or indoors. Breakfast is also prepared daily by the staff.
Villa Divina is a great boutique hotel just outside of zona romantica. Incredible views from any room and the infinity pool is beautiful. Highly recommend!

– Carrie (see more reviews here)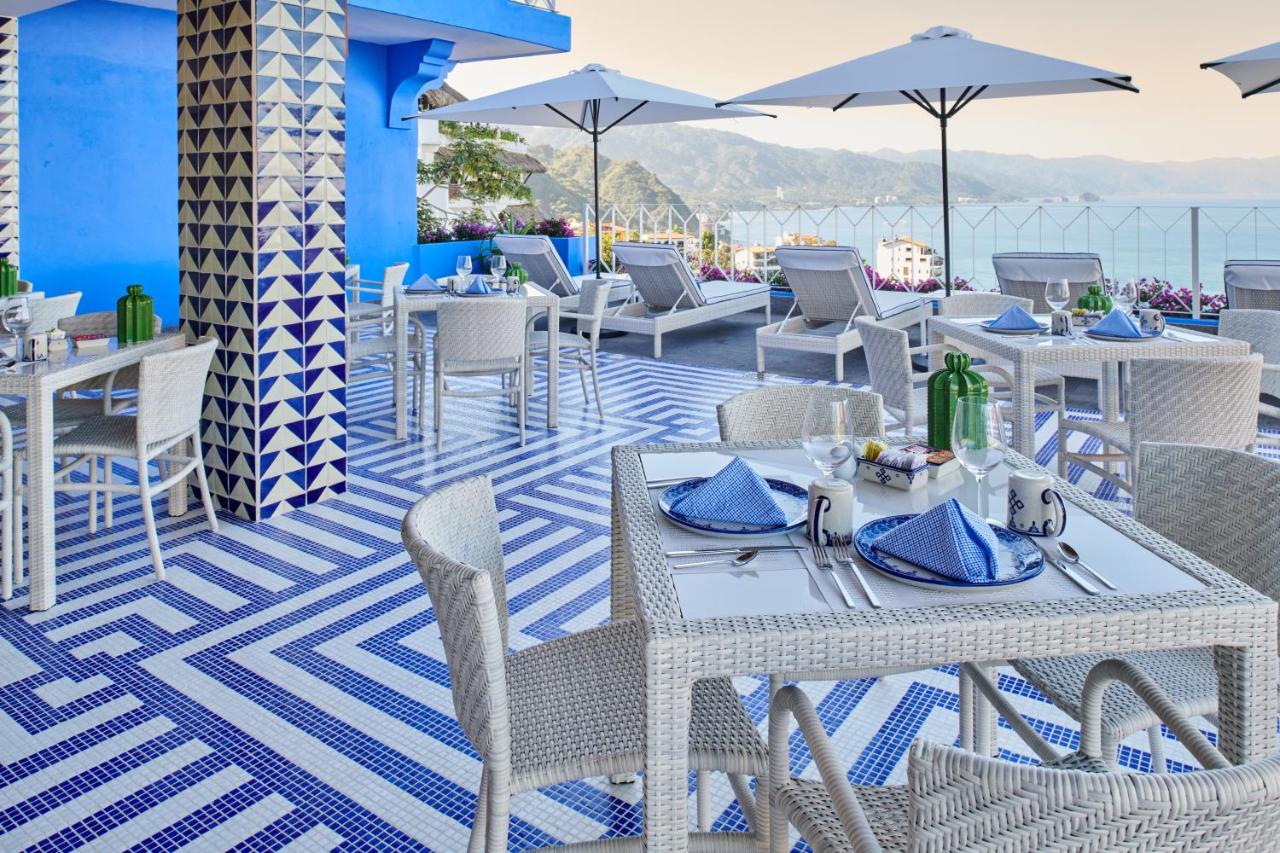 ⭐️ Rating: 9.2/10 |📍 Location: South Shore Hotel Area | 🏩 View on Expedia
The Patio Azul Luxury Hotel is an adults-only hotel with 18 luxury suites and stunning ocean views in the South Shore Hotel Area. It is an easy 20-minute downhill walk to the Zona Romantica, but you might want to get an Uber afterward unless you enjoy an uphill hike!
Room décor pays homage to Mexican culture and folklore, each individually decorated in bohemian chic. Every floor has a jacuzzi, and each room has premium bedding, heated floors, air conditioning, wi-fi, a safe, a 49-inch TV, and a minibar.
You can enjoy a body scrub, manicure, massage, or facial at the on-site spa. Visit the gym for a quick workout, swim in the outdoor pool, or enjoy drinks at the bar.
Full breakfast is available (there is a surcharge). If you contact the hotel in advance with your requirements, they can prepare a fully personalized romantic dinner to your specifications. This is the perfect way to celebrate a special occasion or create a beautiful memory to take home with you!
Great location with amazing views. Friendly and welcoming staff. Close to beaches, landmarks and Zona Romántica.

– Daniel (see more reviews here)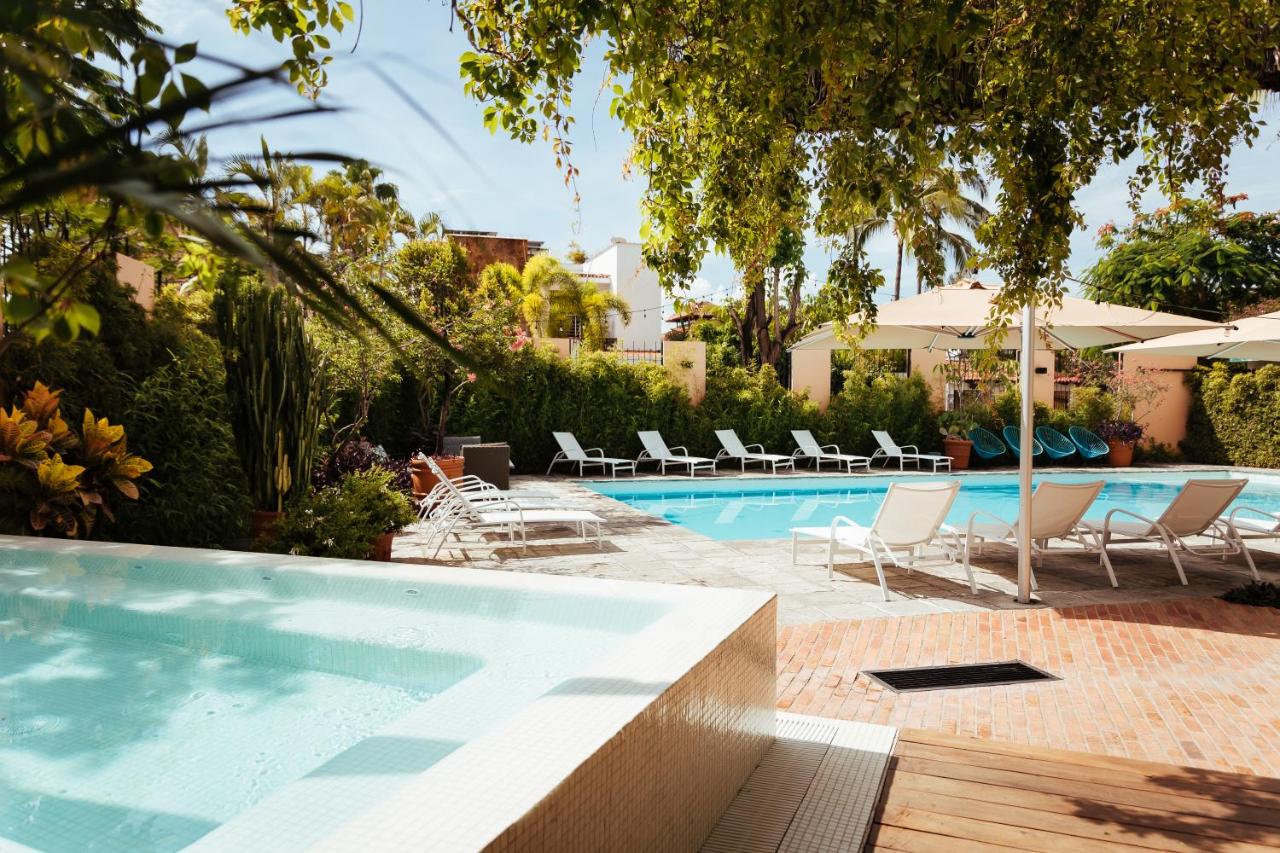 ⭐️ Rating: 9.6/10 |📍 Location: Marina Vallarta | 🏩 View on Expedia
San Trópico Petit Hotel & Peaceful Escape is in Marina Vallarta and is within walking distance of many of Puerto Vallarta's best attractions. Bikes are also available for guests who want to experience the fresh air but use a faster mode of transport!
This hotel is a particular favorite with golf lovers as it is just a 15-minute walk from the famous 18-hole golf course at the Marina Vallarta Golf Club.
The hotel has two different types of suites – the Superior Suite and the Luxury Suite. Both have two king bedrooms, two bathrooms, a well-equipped kitchen, a private balcony, and a living room.
The Luxury suite, however, has vaulted ceilings, making the room look and feel larger. It is also located on the third floor for more impressive views of the sunsets, the ocean, and the mountains. This hotel also has rooms called the Royal Studio and the Wild Studio, which have décor that reflects their names.
If you want to spend a day at the beach, you'll find that you'll have to travel a bit further than usual. The San Trópico is close to the Marina rather than the sea. You can access the Sabal Beach Club in Nuevo Vallarta for a fee.
This gives you access to all their amenities, including lounge chairs, heated pools, kayaks, and the restaurant. Unfortunately, the hotel doesn't provide a shuttle service, but it is only a 20-minute ride in a taxi or Uber and is worth it for a fun day out.
Well kept, stylish boutique Aparthotel in a quiet neighbourhood, at walking distance from the marina.

– Robina (see more reviews here)
⭐️ Rating: 9.4/10 |📍 Location: Garza Blanca Beach | 🏩 View on Expedia
As one of the only Five Diamond adult-only AAA hotels right in Puerto Vallarta, you won't find a better choice than Hotel Mousai.
Here, you can indulge in a range of five-star amenities not limited to concierge service, 24 Hour Room Service, professional wedding services, personalized check-in, ocean-view gym, outdoor play and fitness areas, and infinity pools with panoramic sea views, and live music, DJ sets, and entertainment.
It's located in Garza Blanca Beach, which is one of the most beautiful in Puerto Vallarta. You'll be just a 10 minute's drive from Puerto Vallarta's main square and nightlife, and 10 minutes by boat from Los Arcos, one of the top dive and snorkeling spots.
Be sure to make use of the luxury spa facilities, which include a state-of-the-art hydrotherapy circuit and personalized spa treatments and therapies focused on balancing the body, mind, and spirit.
The views were amazing and the staff attitude was very welcoming. Food was amazing too.

– Michael (see more reviews here)
Final thoughts: Best boutique hotels in Puerto Vallarta
Puerto Vallarta's diverse and vibrant charm isn't limited to its breathtaking landscapes and lively streets; it's beautifully mirrored in the boutique hotels that nestle within its heart.
Each hotel offers not just a place to rest your head but an immersive experience that connects you to the local culture, history, and artistic flair.
Whether you're seeking romance, relaxation, or a cultural exploration, Puerto Vallarta's boutique hotels cater to your unique desires.
Planning a trip to Puerto Vallarta? Check out these other things to do!