This post may contain affiliate links. By clicking and making a purchase through the links, I earn a small commission at no extra cost to you. See my disclaimer for more information. This allows me to keep the site up to date and expand on resources.
Looking for the most romantic hotels in Puerto Vallarta?
As one of Mexico's top honeymoon destinations, there's no shortage of hotels for couples in Puerto Vallarta that will bring your love to a whole new level.
Puerto Vallarta hums a sweet melody of love amidst the town's colorful Mexican culture, glorious sunsets/sunrise, magnificent ocean blues, and colonial architecture.
The mist of romance in the streets of Puerto Vallarta is enchanting— you enter a trance sitting at the glittery beaches of the coastal town, under the shade of many palm trees in your lover's arms.
Savor every second of the town and create beautiful memories in these romance-blooming lodges.
Romantic Boutique Hotels in Puerto Vallarta
⭐️ Star rating: /10 | 🗺️ Neighbourhood: Zona Romantica | ✔️ Book it here
Rivera Del Rio is simply majestic— every corner resembles a detailed masterpiece that will leave you dazed.
Drenched with extravagant luxury and classical heirlooms, this boutique hotel in Puerto Vallarta is no less than a palace adorned with antiquity dripping at every footstep.
Designed by the local art legend Silver Maria Cortez and used as the backdrop for Vogue and Italian Elle, this hotel features 18 unique suites and rooms.
– (read more reviews)
The rooftop jacuzzi will take you back to ancient Greece— historic Greek columns adorn its borders, and climbing vines flatter its overall beauty.
River Del Rio gives you the best 360° view in the whole of Zona Romantica. Plus, the location allows you to access many great restaurants, bars, markets, and Malecon beach walk.
As if the location and the hotel weren't enough, Rivera Del Rio's staff and services are top-notch and highly welcoming. The rooftop pools have a cozy bar with delicious food and a delectable cocktail range.
⭐️ Star rating: /10 | 🗺️ Neighbourhood: Zona Romantica | ✔️ Book it here
A cozy branch of the famous Playa Los Arcos resort, Casa Dona Susana is a Mexican delight. It's in a historic building, with arches, vines, victorian-style lights, Mexican-style courtyards, and tree roots covering the lengths. This hotel is definitely the fairytale backdrop of your romantic gateway.
Casa Dona Susana is your affordable rental in a great location — only steps away from Playa Los Muertos, which is a hub for fun water activities and day trips to secluded beaches from the Pier. Additionally, you can access all sister-hotel's common areas as a guest.
– (read more reviews)
Each of the hotel rooms is furnished with warm, cozy, Mexican decor — each accompanied by beautiful patios/balconies.
Casa Dona Susana also features a warmly-lit terrace for romantic dinners, and an inviting pool to view the starry night and dreamy sunsets in Puerto Vallarta.
⭐️ Star rating: /10 | 🗺️ Neighbourhood: El Centro | ✔️ Book it here
Blending perfectly with the traditional downtown cobblestone streets, Hacienda San Angel is a beautiful Mexican colonial space where ancient arches and lush courtyards greet you at the entrance.
The classic red-tiled roofs, antique wall lamps, chandeliers, angel statues/sculptures, and harmonizing vegetation surround you at the hotel.
However, that's only the surface! Hacienda's love-blooming history goes back to 1977, when the late Richard Burton purchased this house for his wife, Susan, as a valentine's gift— every footstep in the manor will introduce you to endless romance.
– (read more reviews)
The boutique hotel turns into a Victorian palace at night— no light in the vicinity is turned on, only candles and candles greet you throughout your walk in Hacienda. The dark of the night contrasts beautifully with the soft glow of the infinite candles at the hotel, creating a perfect romantic setting.
The 12 suites in the hotel are just as equally gorgeous as the porches and gardens outside. Inside, you'lll find a rustic space with antique chandeliers, Peruvian paintings, a jacuzzi, and a massive patio with lounge chairs.
The beautiful gardens and secluded pools are perfect for romantic dates in the hotel. You can spend hours sitting beside the pools under the glow of a thousand candles.
All-inclusive Romantic Resorts in Puerto Vallarta
⭐️ Star rating: /10 | 🗺️ Neighbourhood: South Zone | ✔️ Book it here
With over 300+ rooms and suites, Hyatt Ziva is one of the biggest hotel resorts in the southern zone. It's located just south of Conchas Chinas, on its own exclusive beach.
The amenities at the hotel are immense, from an oceanfront gym to non-motorized water sports, outdoor basketball, on-beach pools, five massive infinity pools, hydrotherapy spas, and oceanfront suites.
– (read more reviews)
Hyatt Ziva resides on their exclusive beach, Las Estacas, where you can experience romance-blooming water sports with your partner.
You'll love waking up in the Japandi-minimalist-modern contemporary design; it's warm, bright, and spacious. Some suites may also have a bohemian/industrial interior with in-suite spas and huge oceanfront patios.
From the ground floor, you can directly access the sea. The ocean is absolutely gorgeous and glittery under the sun, and the sunsets paint the sea and Hyatt Ziva in mesmerizing shades of red, orange, and lilac.
Their all-inclusive plans are incredible; they include five restaurants, unlimited beverages, an in-suite minibar, five bars, five lounges, international liquors, fitness classes, and so much more!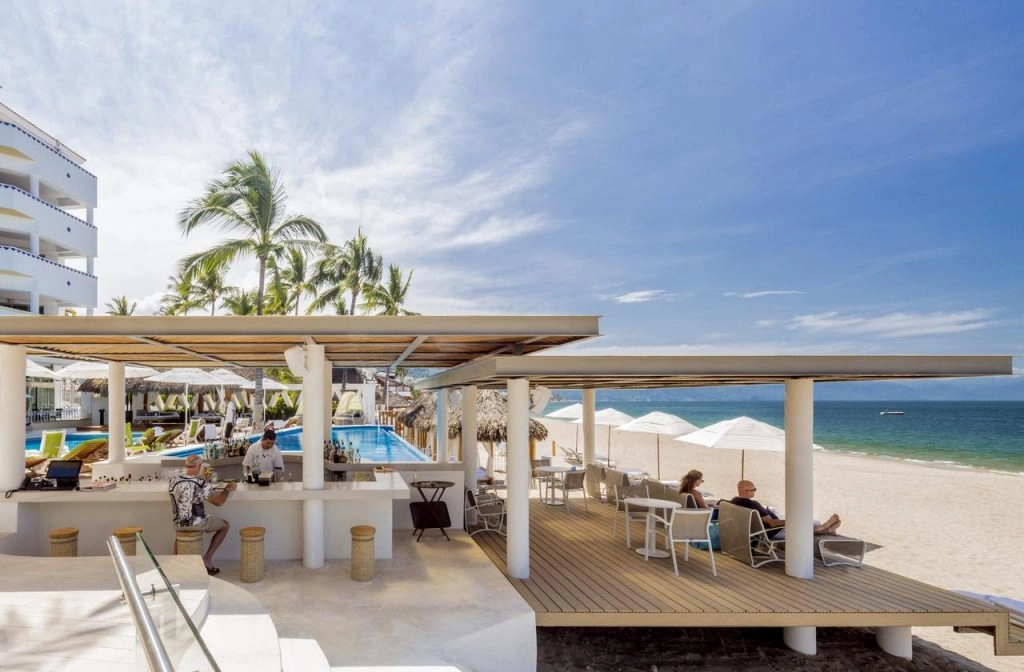 ⭐️ Star rating: /10 | 🗺️ Neighbourhood: 5 de Diciembre | ✔️ Book it here
A modern ambiance, contemporary interior, and beachfront access awaits you at Villa Premiere boutique hotel.
With over 83 rooms, this hotel is an adult-only escape for all the couples visiting Puerto Vallarta. This small resort and an even cozier beach are perfect for individuals looking for a romantic resort stay.
They have three on-site restaurants, a modern lounge bar, and a swim-up poolside bar.
– (read more reviews)
Take delight at their al fresco Mexican restaurant right at the beach, La Ceiba, or join the delectable chef's table at the jetty.
The setting is as romantic as anything can get— the dining area is decorated with curtains, a rustic wooden frame, candlelights, and an overall warm hue. The waves, the cold wind, and the warmth of your partner beside you in the middle of the ocean is everything you could wish for in Puerto Vallarta.
Amongst all the amenities the hotel provides, their welcoming massage and Balinese beds at the sandy beach will win your heart.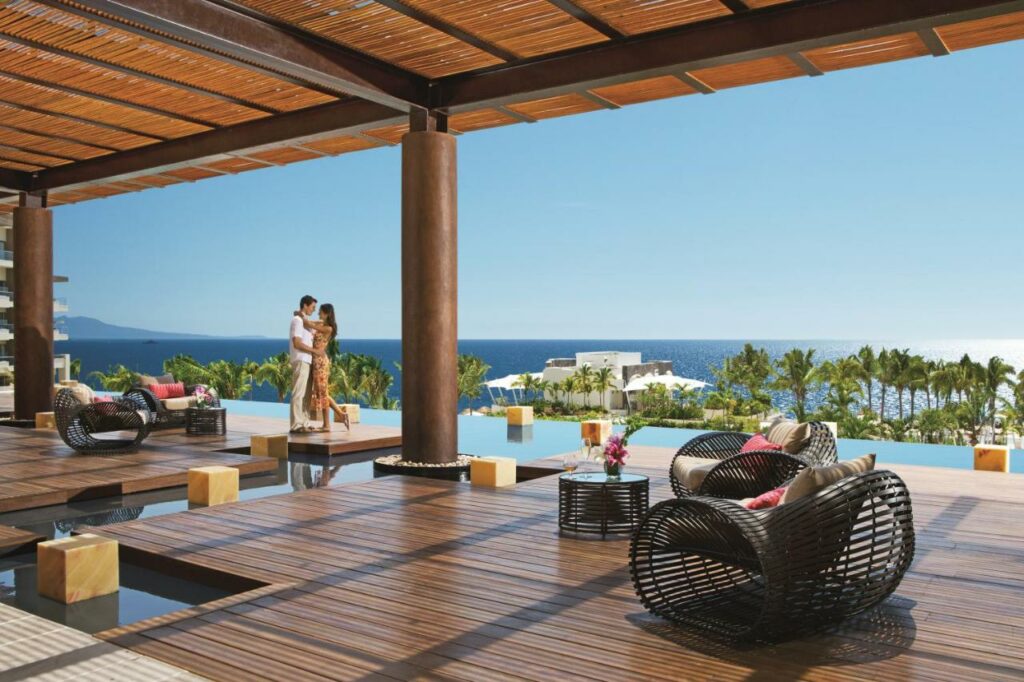 ⭐️ Star rating: /10 | 🗺️ Neighbourhood: Zona Romantica | ✔️ Book it here
In the Hotel Zone, it's challenging to find romantic space amidst all the family-oriented resorts. However, Secrets Vallarta Resort and Spa is one such rare adult-only escape. Situated on acres of privacy, you'll enjoy intimate moments here.
With 250+ suites and eight specific room varieties, you can choose and design the perfect stay in Puerto Vallarta. The tower's exterior may look blank; however, the suites are bright in Mexican colors and furniture.
– (read more reviews)
You'll love relaxing with your partner in the poolside and beach cabanas, or dining at the fantastic Himitsu Asian restaurant. The culinary, heritage pottery and traditional seating arrangement is paradise to those who enjoy experiencing new cultures.
The most romantic areas in Puerto Vallarta
For a romantic getaway in Puerto Vallarta, there are no better neighborhoods than Zona Romantica and Conchas Chinas.
Zona Romantica (the romantic zone), also popularly known as the old town of Puerto Vallarta, is a colorful neighborhood holding the very Mexican essence of the city. It's affectionately known as the "gaybourhood" of Puerto Vallarta, so many LGBTQ+ couples choose to stay at this location.
The romantic zone is best explored on foot— you can witness art galleries, beaches, and of course, the majestic boardwalk. The music continues to spark the night, and the shores offer a soothing contrast to the city.
Plus, Zona Romantica's food game is top-notch— it has some of the best restaurants where you can find delicious local and international cuisine.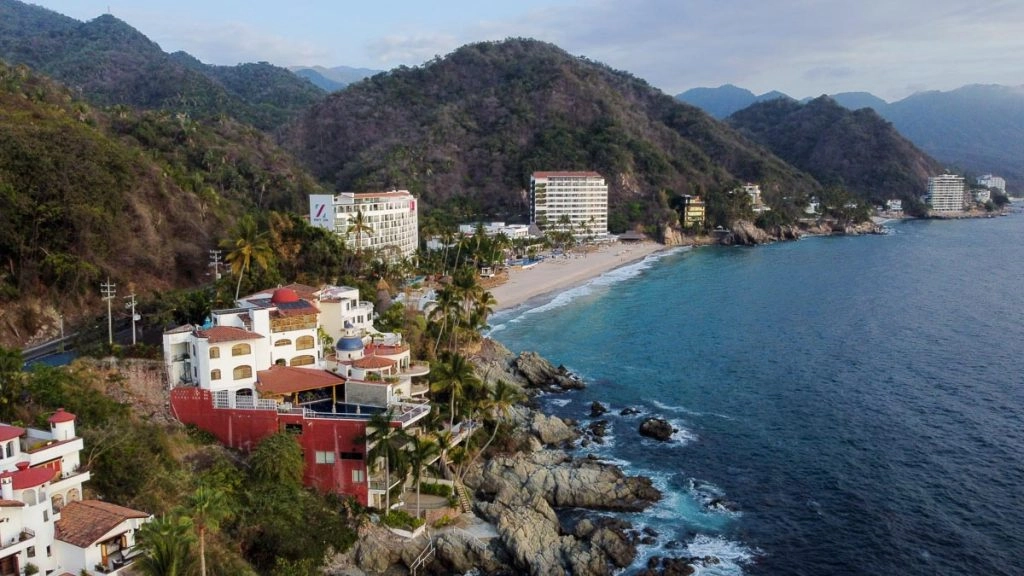 If you prefer a quieter escape, head to Conchas Chinas, where the beauty of Sierra Madre meets the Pacific ocean's crystal water.
Conchas Chinas is your romantic getaway— you live at the footsteps of the mountain and are steps away from the beach. It's the perfect place to witness Puerto Vallarta's mesmerizing sunrise and sunsets.
That's the beauty of Conchas Chinas; there's beauty wherever you look. You can witness the entire bay from the top, and it doesn't get any more spectacular than this.
The lush jungle and wide range of flora will make it difficult to leave your hotel – but if you feel like getting out, Conchas China is the perfect gateway to nearby off-the-beaten beaches like Quimixto and Yelapa.
Romantic things to do in Puerto Vallarta
Are you looking for some romantic activities to complement your time here? Check out these romantic tours!
FAQ: Romantic hotels in Puerto Vallarta
Final thoughts: Romantic hotels in Puerto Vallarta
Planning a trip? Check out these other guides to places to stay in Puerto Vallarta!