This post may contain affiliate links. By clicking and making a purchase through the links, I earn a small commission at no extra cost to you. See my disclaimer for more information. This allows me to keep the site up to date and expand on resources.
Curious about Conchas Chinas Puerto Vallarta? Let me help! I live in Puerto Vallarta in the neighborhood next to Conchas Chinas and visit often. In this guide, we're sharing everything you need to know about Conchas Chinas, including the best things to do, and where to eat and stay.
Conchas Chinas Puerto Vallarta is one of the nicest neighborhoods in the city, with a backdrop of beautiful rolling mountains, turquoise waters, and dreamy vacation homes steps from the golden-sand beaches.
This picturesque and exclusive area is a true gem of the city, offering a blend of natural beauty, luxury, and charm that captivates every visitor.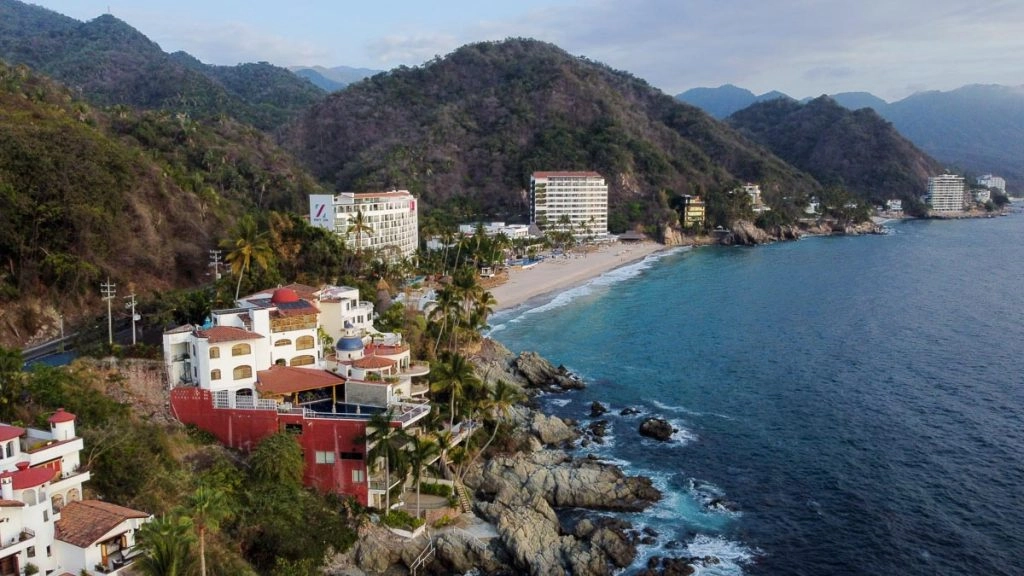 Where is Conchas Chinas Puerto Vallarta?
Conchas Chinas is just south of the Romantic Zone on Highway 200.
On the way down to other towns like Mismaloya and Boca de Tomatlan, the first neighborhood you pass is Conchas Chinas. It's about a ten-minute drive from Zona Romantica.
Due to its geography, this neighborhood is quite different from the other areas in Puerto Vallarta. It's mostly a collection of gated communities perched on the hillside. There are some condos down by the beach and a handful of hotels.
This is definitely one of the more exclusive, affluent neighborhoods of Puerto Vallarta. We're talking million-dollar homes!
It's well out of our price range for most expats living in Puerto Vallarta, but it is fun to dream about living here!
As far as the name goes, it actually means "Chinese Shells." It's not like there are shells from China on the beach here, though, so what's the deal?
Apparently, "chino" also means "curvy." Grab some shells when you hit the beach here and see if you find them to be curvy. I was just disappointed to get down there and not find any dumplings or noodles.
Things to Do in Conchas Chinas Puerto Vallarta
Conchas Chinas Beach
This little slice of Puerto Vallarta is famous for its beach. First of all, you've got the rolling green Sierra Madre mountains in the background. Swim out a little and turn around for a fantastic view of the ocean, beach, and mountains all in one.
You'll also find natural tidal pools here. These are formed in between the rocky outcrops and are fun to sit in, like some sort of natural jacuzzi. Plus, it's a solid opportunity to get that perfect snap for the 'gram.
Take photos
For a nice photo opp where you can remain dry, head to this viewpoint just off the beach. It's not hard to get to, and in fact, it's literally on Easy Street.
To be honest, there isn't much else to do in this small neighborhood. Head a bit further south, though, and there are many excellent options.
Beach hop
If you stay in Conchas Chinas, it's easy to beach-hop down the coast.
Going south, you can visit several chilled-out beaches – Las Estacas, Punta Negra, Palmares, and Gemelas.
Nogalito Ecopark
Another fun thing to do in the area is take a day trip to Nogalito Ecopark. Here you can hike to waterfalls or soar through the trees on a zipline course.
Palo Maria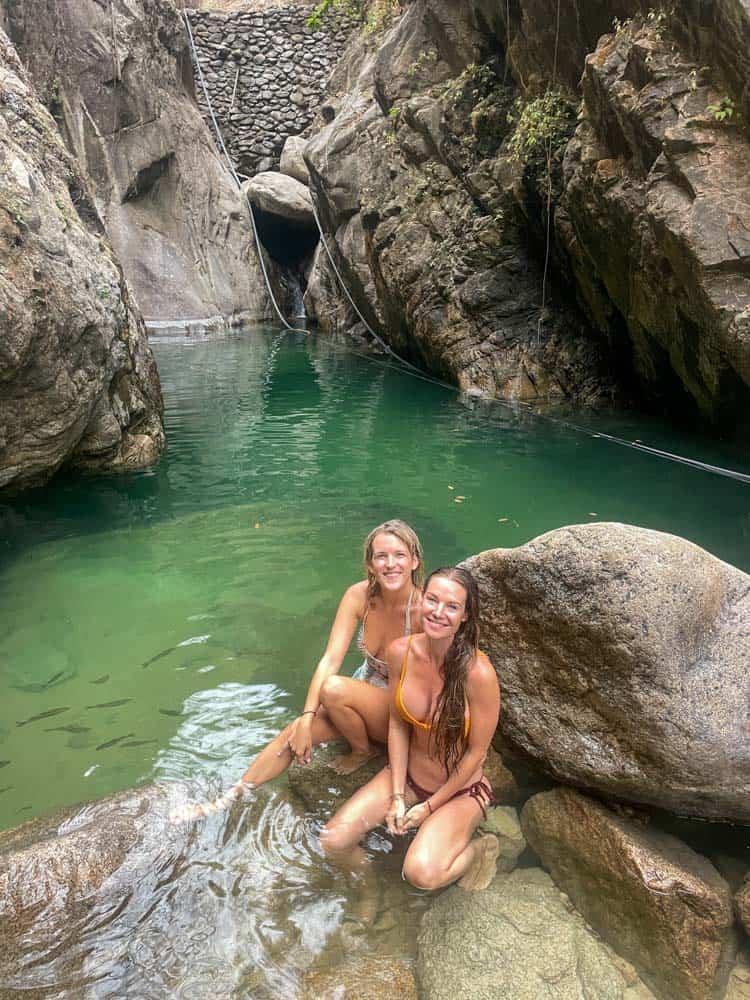 Speaking of hiking in Puerto Vallarta, you can also head out on a hike to the Palo Maria waterfall.
It's just over a mile and a half out and back on a trail that starts on the left side of the highway.
While it's not a very long trail (about half an hour), it can be difficult depending on the water levels.
You'll want good shoes (ideally water shoes) and plenty of water for this one. Check All Trails for more information.
Snorkeling in Los Arcos
There are plenty of other options for outdoor adventures if you head a bit further south.
Doing a SUP and snorkel tour from Mismaloya to Los Arcos is easily one of my favorite things to do in PV, and it's pretty easy coming from Conchas Chinas.
Boca to Las Animas hike
Those who enjoy hiking can continue to the town of Boca de Tomatlan and take the coastal trail.to Las Animas. It takes you along the coast, in the trees, and across some remote beaches.
Eventually, you reach Playa Las Animas, where you can grab some lunch and a margarita to celebrate finishing the hike.
From there, it's possible to catch a water taxi back to Boca, Mismaloya, or even the pier in the Romantic Zone.
Visit the most beautiful OXXO on the bay
If you're down in that part of the bay, you have to visit the OXXO (this one). I'm well aware there's an OXXO on just about every corner, but this one is special.
Seriously, this OXXO is known as the "most beautiful convenience store in the country" thanks to its epic ocean views.
Drop-in for a cup of coffee and a snack, or just crack a beer. This is the cheapest drink with an ocean view that you'll find in town!
Conchas Chinas Restaurants
One of the downsides about staying or living in Conchas Chinas is that there isn't much in the way of food and beverage. You'll be traveling to the Romantic Zone to eat and drink for the most part.
There are also some solid options in Mismaloya and Boca de Tomatlan if you want to make a day trip. Here are some of your best options in the area:
Conchas Chinas Hotels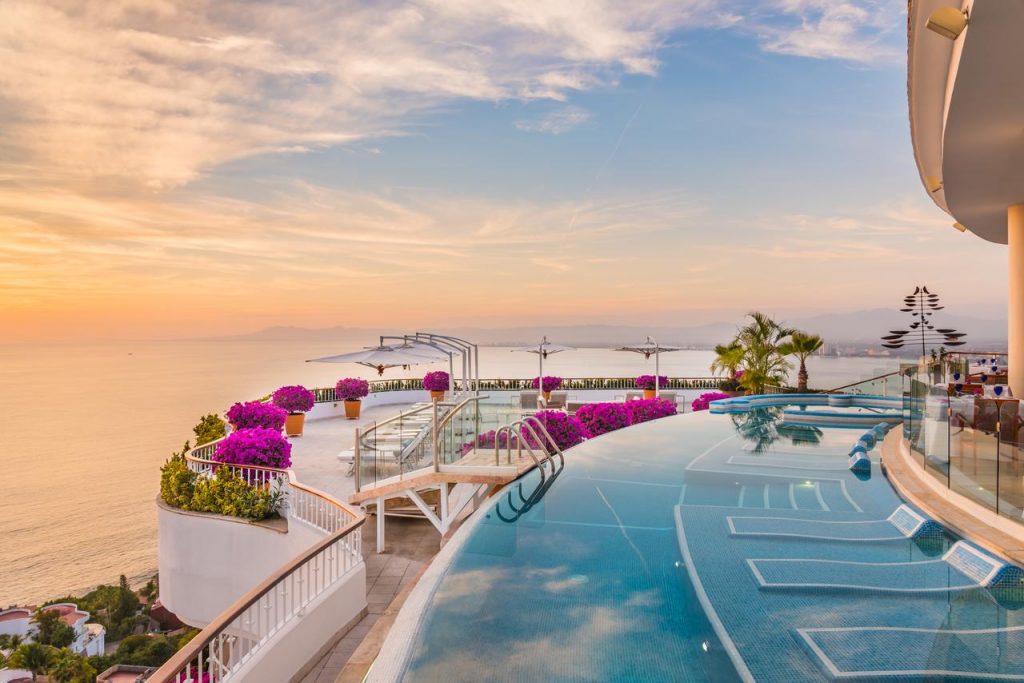 Grand Miramar is a swanky luxury resort and the place to stay if you want to splash out. Speaking of splashing, they've got a fabulous infinity rooftop pool here. I loved staying here – you can read my full review of the Grand Miramar here!
Quinta Maria Cortez is located right on Conchas Chinas Beach and has excellent reviews. It's adults-only and features a lovely outdoor pool.
Patio Azul is a lovely boutique hotel located up in the hills and offers epic views from its namesake patio.
Final thoughts: Conchas Chinas Puerto Vallarta
If you're looking for a quiet, scenic place to stay, Conchas Chinas is an excellent choice. If you don't mind traveling to find restaurants and bars (or just using Uber Eats), you'll love it here. Especially if you're looking for a luxury vacation!
Other Puerto Vallarta Neighborhoods
We've been exploring the best Puerto Vallarta neighborhoods one by one. For more guides, check these posts: