This post may contain affiliate links. By clicking and making a purchase through the links, I earn a small commission at no extra cost to you. See my disclaimer for more information. This allows me to keep the site up to date and expand on resources.
Looking for the best coffee in Puerto Vallarta? You've come to the right place! I live in Puerto Vallarta and love drinking coffee.
The city's cafe scene is expanding rapidly as it grows, and this guide has everything you need about where to find the best Puerto Vallarta coffee.
Whether you're looking to sample the local favorite Cafe de Olla or a flat white, you can find it in Puerto Vallarta. Here are the best coffee shops in Puerto Vallarta beyond Starbucks.
Best Coffee Shops in Zona Romantica
We'll start downtown in Zona Romantica and work our way north. Here are some of the best places for a cup of coffee in the city's bustling tourist center.
1. A Page In The Sun
Lázaro Cárdenas 169, Zona Romántica, Emiliano Zapata, 48380 Puerto Vallarta, Jal. – get directions here
This cafe-bookstore is a Puerto Vallarta institution. They've been around for over 20 years as people continue to flock here to sip roasted coffee and turn pages.
For coffee connoisseurs, this place is a dream come true. They've got hot, cold, and frap options, all of which can be tweaked to your liking.
This coffee shop is also an excellent place for brunch in Puerto Vallarta as they have an all-day breakfast, light food and snacks, and a bakery. Check out their extensive menu here.
Beyond the delicious coffee and food, it's just a great place to hang out. This is especially true on the frequent hot and rainy days in PV you'll find in the summer months.
2. El Sofa
Venustiano Carranza 306, Zona Romántica, Emiliano Zapata, 48380 Puerto Vallarta, Jal. – get directions here
If you're looking for a living room vibe, look no further than El Sofa. This cozy place downtown has, as you may guess, a comfortable sofa to plop down on. They also have an adorable little dog.
I love going to this place to grab a bite, then sticking around for a cappuccino. Sometimes I bring the Chromebook and headphones; other times, I bring a friend to enjoy some conversation. Either way, it's nice lingering here for a while.
The pro move is riding the caffeine buzz to be productive here until around 4 when you can stroll to the next corner over for a delicious pint of craft beer during Hoppy Hour at Los Muertos Brewing.
3. Mi Cafe Restaurant and Coffee Shop
C. Fco. I. Madero 505, Zona Romántica, Emiliano Zapata, 48380 Puerto Vallarta, Jal. – get directions here
This cafe is around the corner from my house in Zona Romantica and is one of my go-to spots for a quality breakfast in Puerto Vallarta.
Their large seating area and welcoming atmosphere make it an ideal spot to enjoy a relaxing cup of coffee. If you're hungry, be sure to explore their mouthwatering menu and try traditional Mexican breakfasts, such as huevos rancheros or chilaquiles.
4. Cafetalito
Púlpito 196-A Colonia, Zona Romántica, Emiliano Zapata, 48380 Puerto Vallarta, Jal. – get directions here
Nestled up the hill from the noise near Pinnacle Residences, Cafetalito is a hidden gem that I recently discovered.
This intimate coffee shop offers a cozy and inviting atmosphere, making it the perfect spot to escape the bustling streets and relax with a cup of joe. They have a few tables inside and outside, with friendly staff.
With its prime location, Cafetalito is the perfect place to start your morning or recharge during an afternoon stroll. Sip your coffee at one of their outdoor tables and soak in the charming surroundings of Zona Romantica.
5. The Sea Monkey
Olas Altas 299, Zona Romántica, Emiliano Zapata, 48380 Puerto Vallarta, Jal. – get directions here
Situated right on the Malecon, this is the perfect spot to grab a cup of coffee on your way to or from Los Muertos Beach. In addition to the caffeine boost, it's a great place to sit down, and people watch. The staff are friendly, and it's got a beautiful view.
They've got all your classic coffee options here and some very delicious frappes with 2-for-1 deals in the afternoon. It's OK – you can burn off the calories by walking the Malecon later!
Best Coffee Shops in Centro and 5 de Diciembre
6. Puerto Cafe
Morelos 540, Proyecto escola, Centro, 48300 Puerto Vallarta, Jal. – get directions here
This little coffee shop in El Centro is one of my favorites, mainly because they have flat whites and cold brew. These are both rarities at PV cafes for some reason.
It's probably the best Puerto Vallarta coffee I've had. They can also fix you a Chemex, V-60, or Aeropress, so this is the ultimate hipster cafe.
I'll often jump off the bus headed downtown just so I can grab a flat white here and hang out for a bit. They don't have many options for seating or food, but they're always playing cool music, and I like the vibe there.
7. Cafe la Ventana
Venezuela 152, 5 de Diciembre, 48350 Puerto Vallarta, Jal. – get directions here
Over in the 5 de Diciembre neighborhood, you'll find this local gem just across from the square. Since it's just a block from the start of the Malecon and is open-air, it's a great spot for people-watching.
Take your pick from their extensive menu of caffeinated goodness, including a latte with ice cream. They can also make Japanese siphon coffee, which looks like a science experiment and tastes amazing.
They also have an indoor seating area with AC and desks set up – it's one of the best cafes for coworking in Puerto Vallarta.
This place is a one-stop shop, as you can also take coffee beans or grounds home with you. Grab some cookies and baked goods, and you're all set for the week! It really is one of the best coffee shops in Puerto Vallarta for all your needs.
8. La Bodeguita del Cafe
Panamá 177A, 5 de Diciembre, 48350 Puerto Vallarta, Jal. – get directions here
In all my years in Puerto Vallarta, this is where I've bought the most coffee. It's the best coffee shop for those living in 5 de Diciembre and is conveniently located right around the corner from the Ley supermarket.
You can buy massive bags of beans or grounds here for a very reasonable price. I also love taking home a few bottles of their agave honey. A bit of that and some almond milk makes a fantastic cup of coffee!
Even if you're visiting, you can drop in here to grab a cup. They have a few tables if you want to linger, and there are some amazing birria tacos next door until around 4 in the afternoon.
9. Calmate Cafe
C. Honduras 218, 5 de Diciembre, 48350 Puerto Vallarta, Jal. – get directions here
We used to live right up the street from this place, and I only wish it had been there many years earlier! It's so good that I'll gladly travel back to that side of town to get a coffee and brunch.
While they make an excellent cortado here, I feel like we always end up ordering the Mono Loco. Yes, that means "Crazy Monkey," and it's absolutely incredible.
It's got cold brew, bananas, peanut butter, chocolate, and milk. If that doesn't get you going, I don't know what will. The food is excellent here as well, and they don't seem to mind if you hang out with your laptop.
Puerto Vallarta Coffee Shops in Versalles
Versalles is quickly becoming its own downtown with the influx of digital nomads and expats moving here, and with that comes the coffee shops.
10. Miscelanea Vallarta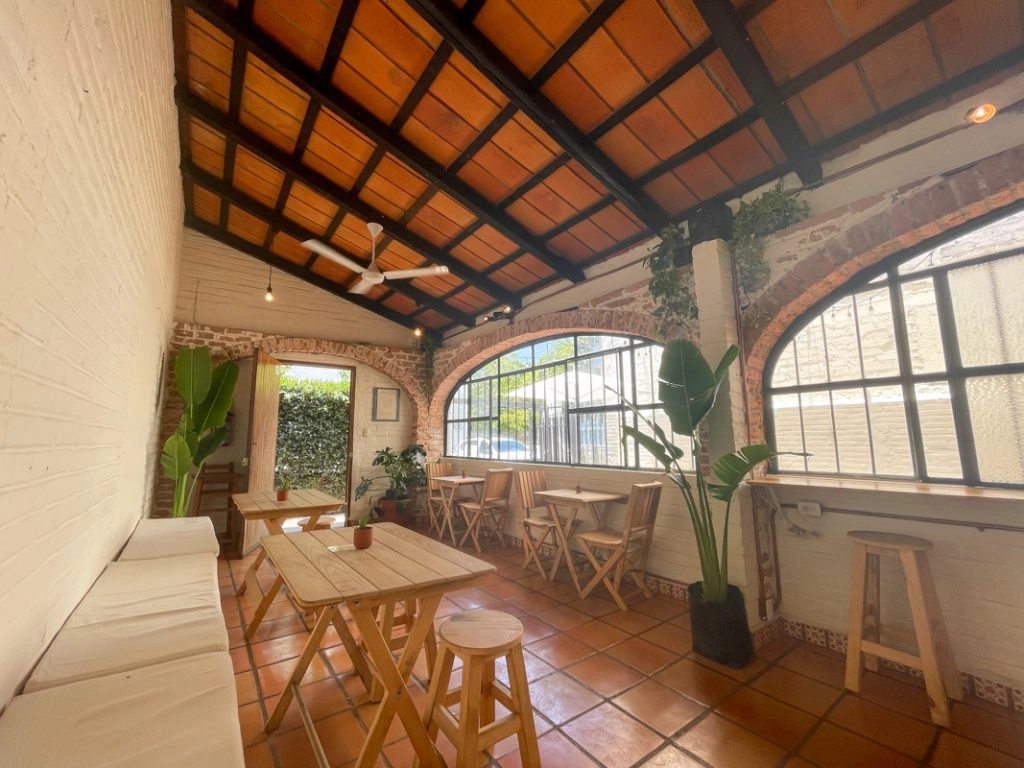 C. Milán #255, Versalles, 48310 Mexico, Jal. – get directions here
In addition to having some of the best coffee in Puerto Vallarta, Miscelanea is easily one of the most Instagramable places in town. From the decor to the presentation, snaps from this coffee shop are sure to get some double taps.
Previously located right off the main road in El Centro, their new Versalles location is much quieter. If you're a digital nomad in the area, this will quickly become one of your go-to spots.
11. Natureza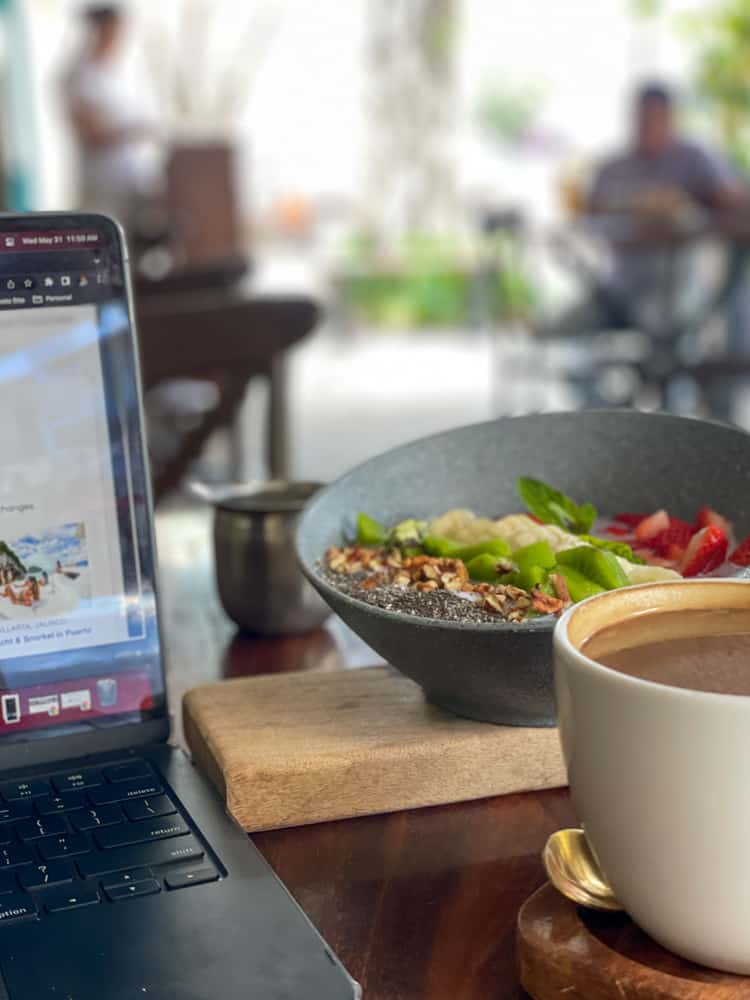 Francia 137, Versalles, 48310 Puerto Vallarta, Jal. – get directions here
With two locations, Natureza makes finding a good cup of coffee in Versalles easy. One is a full restaurant, while the other is a cafe attached to a coworking space.
The restaurant in Versalles has an indoor seating area with AC and an outdoor patio, which is a great place to get breakfast.
I found the coworking space a bit too small for my liking, but it is one of the more affordable coworks in Puerto Vallarta.
FAQ: Puerto Vallarta Coffee
Can you drink coffee in Puerto Vallarta?
Absolutely! Puerto Vallarta has numerous coffee shops where you can enjoy various delicious coffee options.
How much is a coffee in Puerto Vallarta?
The price of coffee in Puerto Vallarta can vary depending on the establishment and the type of coffee you choose. On average, a cup of coffee can range from $2 to $5 USD.
Is there a Starbucks in Puerto Vallarta?
Yes, there are several Starbucks locations in Puerto Vallarta, making it easy to find this well-known coffee chain if you prefer its offerings. But don't miss out on trying the local coffee shops!
Is coffee in Mexico good?
Yes, coffee in Mexico is highly regarded for its quality and rich flavors. The country has a long-standing tradition of producing excellent coffee beans.
Where does the best coffee in Mexico come from?
The best coffee in Mexico often comes from various regions, including Chiapas, Veracruz, and Oaxaca, known for their fertile soil and ideal climate for coffee cultivation.
Is Mexican coffee better than American?
Mexican coffee is known for its unique flavors and profiles, while American coffee has its own distinct characteristics. It ultimately depends on individual preferences and the specific beans and brewing methods used.
As you venture through the charming streets of Puerto Vallarta, don't miss the opportunity to indulge in the city's vibrant coffee culture.
From specialty blends to cozy atmospheres, the best coffee shops in Puerto Vallarta offer a great experience for coffee enthusiasts.
Planning a trip to Puerto Vallarta? Check out these other food and drink guides!