This post may contain affiliate links. By clicking and making a purchase through the links, I earn a small commission at no extra cost to you. This allows me to keep the site up to date and expand on resources. Thanks for reading!
Mexico is quickly becoming a favorite country for digital nomads with fast Wi-Fi, amazing weather, rich culture, and many great cities to live in. While Puerto Vallarta is not as well-known as other beach towns like Tulum or Cancun, it's growing in popularity as more nomads discover the magic of the city.
If you're considering making PV your new home base, this guide has everything you need about becoming a digital nomad in Puerto Vallarta!
Why Live In Puerto Vallarta?
While it may seem touristy on the surface, Puerto Vallarta has a lot to offer digital nomads in Mexico. Walk around the cobblestone streets of Centro, and you'll discover how charming the city is. Mexico boasts one of the best cuisines in the world that you'll enjoy at the many restaurants here.
Puerto Vallarta is on the Pacific Coast of Mexico on the Bay of Banderas, one of the biggest in the world. That gives way to some incredible opportunities for outdoor recreation! You can find incredible beaches right in the heart of the city and ample water-based activities for some fun after work. With the Sierra Madre mountains as the backdrop, it's a paradise for hiking too.
As there's a growing scene of digital nomads and established expats, you'll find it easy to make friends in Puerto Vallarta right away. And not just with foreigners either. Mexicans are extremely welcoming, and the longer you stay here the more they'll integrate you into the community.
Puerto Vallarta makes a great base to explore other parts of Mexico too. There are day trips to surf and mountain towns, or grab a quick flight from the airport and explore an entirely new part of Mexico for a weekend.
As one of the top gay destinations in Latin America, Puerto Vallarta is a mecca for LGBTQ+ travelers. Zona Romantica is the gay neighborhood, where you'll find amazing nightlife and new friends waiting to be met.
My Personal Experience In Puerto Vallarta
I wasn't expecting to live in Puerto Vallarta. Mexico wasn't even on my radar, yet it ended up being my favorite place that I've lived the last year. As soon as I moved here, I felt the magic of Puerto Vallarta (which everyone will tell you about). There's just something about this place. I made friends almost instantly, which led to one of my favorite friend groups I've ever met traveling.
Every day living in Puerto Vallarta, I had to spend some time thinking about how grateful I was to be there. Every aspect of my life improved while I was there, and I couldn't wipe the smile off my face.
Visa for Puerto Vallarta Mexico
It's easy to come to Mexico as a digital nomad because many nationalities (including Canadians and Americans) are given a six-month tourist visa on arrival. And if you want to stay longer, you can do a visa run to a neighboring country like Belize or Guatemala and get another six months on arrival when you come back.
If you are interested in living in Mexico for more than six months without worrying about doing visa runs, you can also apply for the Mexico Temporary Resident Visa.
The visa is initially approved for one year and can be renewed for another 1 to 3 years after a maximum of 4. So if you completely fall in love with Mexico, you can apply for a Permanent Residence Visa after 4 years.
Puerto Vallarta During Covid-19
Mexico has been one of the most open destinations during the pandemic. Aside from a passenger information form, there are no entry requirements to get into Mexico.
While I was living in Puerto Vallarta during Covid-19, most things were business as usual. Masks were required in indoor spaces and some people wear them on the streets, but aside from that and the usual dose of hand sanitizer, things felt relatively normal. I never had an issue with anything being closed due to Covid-19. However, in the last month, Puerto Vallarta has imposed new restrictions due to surging cases.
Where to Live in Puerto Vallarta
While Zone Romantica or El Centro is the most convenient area to live in if you want to be near nightlife, shops, and restaurants, it's also the most expensive.
Many digital nomads rent accommodations in the hotel zone, Las Glorias, or Versailles as rent tends to be considerably cheaper, and it's quieter. Transportation is super affordable, so even if you're using Uber most nights, it's still likely to cost you less than the difference in rent would.
One of the most popular neighborhoods is Cinco De Deciembre, between Zone Romantica and Versailles. You can find great deals on rent here, and it's still close to the beach, restaurants, bars, shops, and cafes with wifi.
Read more: Best Neighbourhoods to Live in Puerto Vallarta
Getting An Apartment in Puerto Vallarta
If you are moving to Puerto Vallarta and don't have anyone to look at apartments for you, it's best to book a short-term rental first, so you can become familiar with the neighborhoods before deciding on where you want to live long-term.
Airbnb is the easiest way to find apartments, but you'll pay about a 30% markup from the actual cost. Instead, book it for a few nights and try to talk with the host directly about renting it longer term. You can also try this Facebook group.
You can find cheaper places by calling numbers posted on apartment buildings! Just look for signs on apartments that say "Se Renta" and communicate directly with the landlord. The only thing to know about this approach is that you'll need to know Spanish fairly well, as most landlords don't speak English.
Outsite is launching a co-living Space in Puerto Vallarta, which you can sign up for notifications about here.
Read more: How to find long term rentals in Puerto Vallarta
Internet in Puerto Vallarta
The internet in Puerto Vallarta can be hit or miss, but there are plenty of places where you can find fast Wi-Fi. Just be warned that not all Airbnbs or apartments come with it, so be sure to check before committing to a place long-term.
Thankfully, there are quite a few co-working spaces and cafes with great Wi-Fi where you can go to work if your apartment doesn't meet your needs. This happened to me while living in Puerto Vallarta, and I actually really enjoyed the separation of home and work.
You can easily get a SIM card in Puerto Vallarta with 4g internet, which can be a good backup by using it as a hotspot to your computer. You can buy them at any Oxxo (convenient store). I paid $25 for 8g of data with Telcel, which lasted over a month as most social apps are unlimited use with the package.
Co-working spaces and cafes in Puerto Vallarta
This post goes into more detail about the co-working spaces and cafes available in Puerto Vallarta. I spent a month in Natureza, which only cost me $45. Vallarta CoWork is another popular one, which offers monthly memberships for $145.
If you don't want to use a co-working space, some great cafes for working are Green Place, Calamata, and Litten Brod.
Best Facebook groups for Digital Nomads in Puerto Vallarta
Facebook groups are one of the easiest ways to integrate into the digital nomad community in Puerto Vallarta.
This group is for digital nomads in Puerto Vallarta. It's a great place to ask questions and network with other nomads. They also host regular coworking, networking, and happy hour events.
'Young & Fun Expats of Puerto Vallarta' is a community of young people (20-40) who have moved to Puerto Vallarta. They host regular events, and it's a great place to meet others if you're looking for a party.
This group is a general group about Puerto Vallarta. You can ask just about anything here, and someone will point you in the right direction.
Lifestyle and Staying Active in Puerto Vallarta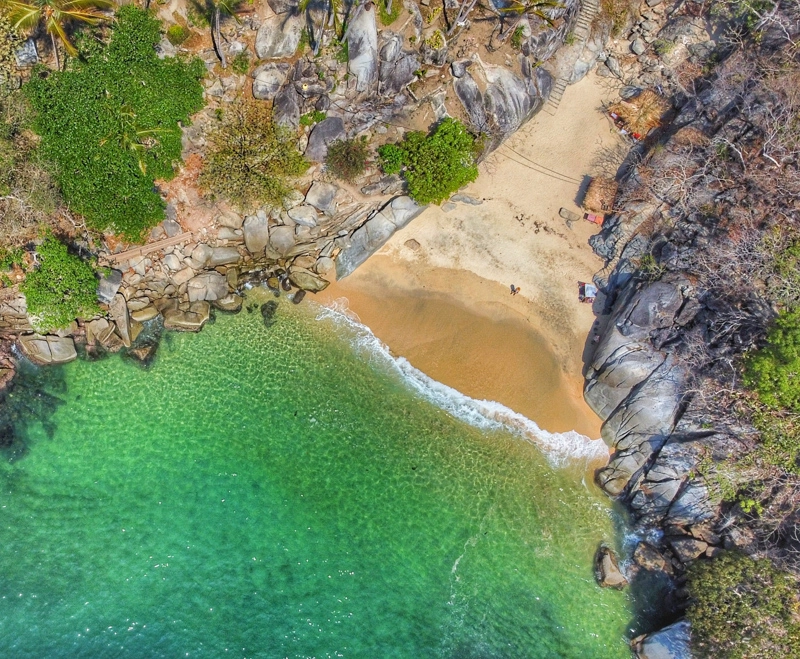 Puerto Vallarta is a party town. Walk along the Malecon, and you'll see tourists from all over the world frequenting the bars and restaurants. The parties here go late into the night too, with many clubs open until 5 am.
All that said, there are plenty of opportunities to live an active and healthy lifestyle in Puerto Vallarta with access to the Pacific Ocean and Sierra Madre Mountains.
There are many hiking trails nearby the city, and many nomads walk up to the Mirador (viewpoint) in town as their daily exercise. You can go also go swimming, diving, or surfing in nearby beach towns.
If you want to go to a gym, they are affordable too. I paid $30 for a one-month gym membership that included daily fitness classes and weights and equipment. If I were willing to commit to a 3-month membership, it would have been only 500 pesos a month ($25).
There are also lots of interesting fitness classes you can try, including pole dancing, kickboxing, and of course, yoga. I LOVED Terra Nuble Yoga Studio. It's on a hill overlooking Puerto Vallarta and the view can't be beaten. They also offer weekly Temazcal ceremonies, which I highly recommend. Finally, many digital nomads stay fit in Puerto Vallarta by taking salsa classes or just heading out to a salsa club at night!
Cost of living in Puerto Vallarta as a digital nomad
Mexico is an extremely affordable country to live in and Puerto Vallarta is no exception. Of course, your exact cost of living will depend on your lifestyle, but most Puerto Vallarta digital nomads spend about 1000-2000 USD a month.
Your biggest expenses will be apartment rentals, which you save significantly on by staying a few months and not booking directly on Airbnb.
Eating and drinking is relatively cheap, and there are plenty of free things to do here. I brown down my exact costs of living in Puerto Vallarta as a digital nomad in this post.
Speaking Spanish in Puerto Vallarta
It's easy to get by in Puerto Vallarta without speaking Spanish, but having some knowledge of the language will definitely enrich your experience. Most service workers will speak English to you, so the best way to practice is by making some local friends!
If you're living in Puerto Vallarta, it's the perfect opportunity to learn Spanish! I took group classes at Spanish School Vallarta, which is in the 5 de Diciembre neighborhood, a popular place for digital nomads to live.
While I enjoyed the classes, I felt that I could have benefited more from private lessons as I mainly just wanted to practice conversations. This is what a lot of my friends did. There are tons of people offering private lessons, and it seemed the rate was around $15/hour.
Unfortunately because of the media (most of which is not accurate), many people write off Mexico because they think it is too dangerous to visit, let alone live in. This is just not true, especially in Puerto Vallarta. Overall, it's a fun, friendly, and safe place to visit that welcomes millions of visitors every year who have a fantastic time.
Since it's one of the main tourism destinations in the country, crime rates are much lower than in other parts of Mexico, as well as many cities in the U.S.! Like any city, you should take some basic safety precautions to avoid petty theft.
Read more: Is Puerto Vallarta Safe?
I hope this guide could inspire you to choose Puerto Vallarta for your next digital nomad destination!
Want more info about Puerto Vallarta? Check out these posts!