This post may contain affiliate links. By clicking and making a purchase through the links, I earn a small commission at no extra cost to you. This allows me to keep the site up to date and expand on resources. Thanks for reading!
As one of Mexico's most desirable beach towns, you may be thinking about making the move and wondering where the best areas to live in Puerto Vallarta are.
I've been living off and on in Puerto Vallarta for the last two years in several different areas. Each offers something unique, and I'll share each neighborhood's pros and cons in this guide.
Puerto Vallarta has long been a popular destination for expats from the United States and is quickly becoming one of the best places in Mexico for digital nomads, with its high-speed WiFi, serene setting in nature, and growing communities.
If you're considering moving, these are the best neighborhoods in Puerto Vallarta to live in.
I've also suggested an apartment in each neighborhood that you can book directly through VRBO, my preferred website for booking long-term apartments.
Best areas to live in Puerto Vallarta
I'll walk you through the best places to live in Puerto Vallarta from south to north.
Marina Vallarta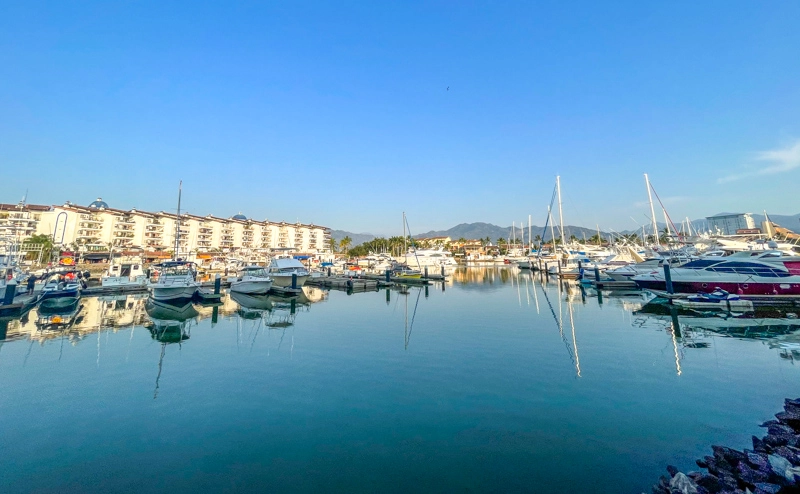 Marina Vallarta is a higher-end neighborhood just a five-minute drive from the international airport. It's one of the safer areas to live in and is popular with families in Mexico.
Its name comes from the nearby cruise ship port that welcomes thousands of visitors annually.
At the Marina, you can find yachts, world-class golf courses, and restaurants and cafes by the water.
It's also near shopping centers and Wal-Mart, making it easy to get everything you need.
Of course, living in this exclusive area comes with a cost. But if you're after a high-end apartment or luxury condo, there's plenty to choose from here.
As a digital nomad in Puerto Vallarta, Marina Vallarta wouldn't be my first choice. It's further away from the best nightlife, and not many other nomads live around here. But if you're looking for something quiet on the higher end, the Marina is a great place to live.
Apartment pick: This sunny modern condo sleeps five and is only a few minutes' walk away from the many beach resorts and right next door to an 18-hole golf course. It also comes with a gorgeous outdoor pool, tennis and basketball course.
Hotel Zone
The hotel south zone (zona hotelera) is predominately made up of luxury hotels and all-inclusive resorts, so it's packed with tourists and not the most 'liveable' neighborhood in this guide.
That said, if you want to live in a hotel – go for it! I know a guy who got a great deal living in the Sheraton long-term during COVID.
Most hotels come with beautiful views of the Pacific Ocean, direct beach access, and on-site security, making this area a very safe choice to live in.
Since the area is built for tourism, you can find everything you need easily around here.
There are some residential areas to live in the hotel zone too. I spent my first winter living in Puerto Vallarta in Las Glorias, the neighborhood behind Secrets Resort at the end of the south hotel zone.
I shared a 3-bedroom apartment with two other girls for 800 USD/month with an outdoor pool and a cleaner that came twice a week – talk about a great deal!
It was just a 5-minute walk to Las Glorias beach, and Versalles was just across from us, where there are many cafes.
This apartment is in a similar area. It's a fully furnished, comfortable, and spacious apartment with air conditioning, just 10 minutes from the beach and boardwalk.
Versalles
If you're a digital nomad looking for a more affordable place to live that's not in the hub of the party scene, Versalles is one of the best areas to live in Puerto Vallarta.
It's become known as the foodie spots of Puerto Vallarta in recent years, with some of the best restaurants the city has on offer. You can find anything from Caribbean to Greek here, and of course, plenty of Mexican options.
What makes Versalles so charming is that it is a traditional residential area that boats many old-world Mexican homes. I love walking around the cobblestone streets here, exploring all the independently owned-shops and cafes.
I lived in Versalles for part of winter 2022 and loved it. My apartment was bright and modern and came with a cleaner and a pool. I subletted it from a friend for 20 USD/night.
Versalles is also close to grocery stores because, believe it or not; you can get sick of eating street tacos.
This two-bedroom apartment is a great choice. It's furnished with modern appliances, including a smart TV, and features an outdoor terrace with gorgeous mountain views.
Fluvial Vallarta
Fluvial is just behind Versalles and is one of the more affordable places to live in Puerto Vallarta. It's an up-and-coming neighborhood for expats in Puerto Vallarta, and there's been a lot of development in recent years.
Fluvial is a convenient place to live because you can find many familiar stores such as Costco, Walmart, and Starbucks.
It's not in the center of the action, but it's an okay place to live if you have your own vehicle or don't mind taking the bus/Uber, which are affordable here. You'll make up the cost in cheaper rent anyways!
There are also a lot of pre-construction buildings here, so if you're looking to buy real estate property in Puerto Vallarta, this is an excellent place to find deals.
5 di Diciembre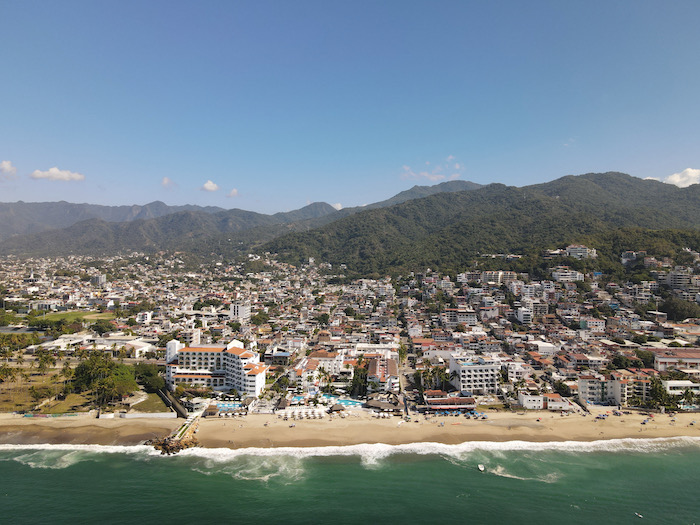 Located between the Hotel Zone and El Centro, this Puerto Vallarta residential neighborhood is one of the most popular areas among digital nomads living here.
5 di Diciembre (5D) is a great choice if you want to be close to downtown but not too close. It's quieter than El Centro or Zona Romantica but within walking distance of many of the best bars when you want to head out.
It's a great place to enjoy the local taco stands and has many cafes for coworking. I love working from The Green Place and Calmate!
The closest beach is Playa Camarones, where you can find many beach bars and beautiful sunsets. The neighborhood extends up from the beach through hilly cobblestone streets, so many apartments here come with stunning views of the city.
You can't go wrong with living in 5 di Diciembre – it's an ideal location for experiencing all that Puerto Vallarta has to offer.
This modern 2-bedroom condo offers spectacular views of Banderas Bay and the North side of town from its floor-to-ceiling windows and gorgeous terrace off the master bedroom and living room. The interior has high-end furnishings, including granite counters and stainless steel appliances.
El Centro
El Centro, aka downtown Puerto Vallarta, is a great place to live if you want to be in the center of the action. It's where you'll find many boutique hotels, art galleries, and local shops.
The area has been a long-time favorite for expats, after exploding in growth in the 70s from movie stars Elizabeth Taylor and Richard Burton came here. It's even earned itself the nickname 'Gringo Gulch' due to the many expats living here.
The downtown area's convenient location makes it an ideal place to explore some of the main attractions around the city center.
El Centro has some of the most beautiful historic buildings and cultural attractions, like the Guadaloupe Church in the main square.
You won't ever find yourself getting bored living in El Centro. Step outside your door, and the best of Puerto Vallarta's activities and entertainment await you!
This open-concept loft is the perfect base to live in El Centro. It's a two-minute walk to the Malcon. Explore and then return back to take in the sunset from the spectacular rooftop pools.

Zona Romantica
Old Town, also known as Zona Romantica or The Romantic Zone, is one of the most desirable areas in Puerto Vallarta.
If you don't mind a bit of noise, it's a great place to live, with many residential apartments alongside boutique hotels.
You'll be within walking distance to many of the top attractions and best things to do in Puerto Vallarta, such as Los Muertos beach, the Malecon, and many of the top bars for nightlife.
There are activities to partake in every night; the only problem you'll have here is going out too much!
Old Town is also the official gaybourhood of Puerto Vallarta and is a top choice among LGBTQ+ expats and nomads.
It's always a party here, so this isn't a place to be if you want some peace and quiet. But if you're looking for a place where you can step out your door and find live music and dance floors, then it's a great choice.
I lived in Zona Romantica in the spring of 2022 and loved having so many restaurants and cafes close by. It made going out at night very easy as we could walk back home without worrying about getting a taxi!
Another benefit of living in Zona Romantica is that you'll be close to Los Muertos Pier, where you can take boats to secluded beaches like Quimixto and Yelapa.
This gorgeous brand-new condo is in the heart of the Romantic Zone. It has an open-concept living & dining space, a fully equipped kitchen, a spacious bedroom with king size bed, and an en-suite bath with double sinks. You'll love the 5-star rooftop amenities, including an infinity pool, hot tub, hammocks, and a gym!
Conchas Chinas
Conchas Chinas is a great place to live if you want to be around some of the best beaches in Puerto Vallarta.
Many homes here are perched high on the hills, offering spectacular views over the Bay of Banderas. Conchas Chinas is an ideal place to take in the stunning sunsets over Mexico's pacific coast.
In the surrounding area, you'll find gorgeous hiking trails in the Sierra Madre mountains, making this a great choice to live in if you want to partake in some of the great outdoor activities Puerto Vallarta has on offer.
It's a bit further away from the action, but still, just a quick 5-minute drive to Zona Romantica when you're ready to hit the town.
When is the best time to live in Puerto Vallarta?
The city enjoys a tropical climate year-round, so there's no bad time to live here, but most people prefer the dry/high season.
High season runs from mid-October to March, when you'll experience the best weather (and whales) and the highest prices.
If you come during the shoulder season from April to June, you can get some fantastic deals on accommodations. This was when I lived in Puerto Vallarta for the last two years, and the rain doesn't typically start until late June.
And honestly, the rainy season is kind of magical. It's when the waterfalls become full again, and the trees bloom in shades of green.
The worst time to live in Puerto Vallarta is probably September/October, as this is the biggest risk of hurricanes, although the Bay of Banderas does a pretty good job of sheltering the city.
For more information about each season, check out this guide on the best time to live in Puerto Vallarta.
What is the cost of living in Puerto Vallarta?
The cost of living in Puerto Vallarta can be very affordable, especially compared to what you would pay in major North American cities. That said, a big part of your monthly expenses will depend on what type of place you get.
If you want a fully-furnished apartment with modern amenities by the beach, you'll pay quite a bit. But if you're willing to have a more outdated apartment a few blocks from the beach, you can get fantastic deals.
Check out this guide on living costs in Puerto Vallarta for a detailed breakdown of what I spent living here.
Finding long-term rentals in Puerto Vallarta
We have another guide for finding long-term rentals in Puerto Vallarta.
If it's your first time here, a good place to start is VRBO or Airbnb, but the best deals are found outside these platforms. Most owners are willing to negotiate off of it if you message them.
The best way to get an affordable apartment is by networking once you're here. Or actually calling landlords when you see apartments with 'se renta' signs (that's how we got ours in 2020).
—
That's it for the best places to live in Puerto Vallarta. I hope this guide can help you pick the right neighborhood for you!
The good thing about Puerto Vallarta is that it's not a huge city, so you'll be able to get between them all easily, regardless of where you choose to live.
Planning a move to Puerto Vallarta? Check out these guides!