This post may contain affiliate links. By clicking and making a purchase through the links, I earn a small commission at no extra cost to you. See my disclaimer for more information. This allows me to keep the site up to date and expand on resources.
Surrounded by Banderas Bay and the Sierra Madre mountains, there are some beautiful golf courses in Puerto Vallarta where you can enjoy a world-class golf experience while taking in breathtaking vistas.
Puerto Vallarta is one of Mexico's top beach vacation getaways, but did you know it's also a world-class golf destination?
Whether you're planning a golf vacation or just want to give it a try, this post will guide you through the best golf courses in Puerto Vallarta and the surrounding area.
Puerto Vallarta golf courses
Vista Vallarta Golf Club
Circuito Universidad 653, 48290 Puerto Vallarta, Jal., Mexico
Vista Vallarta Club de Golf offers two stunning golf courses in the heart of Puerto Vallarta designed by golf greats Jack Nicklaus and Tom Weiskopf.
The Nicklaus course was the first course at Vista Vallarta. It's on the property's highest elevation, so from the course, you get spectacular views of Puerto Vallarta and the whole of Banderas Bay.
The Weiskopf course is the other course on the property, which provides a dramatic contrast from the other.
It's on the property's lower west end, with terrain that includes deep ravines, swift creeks, and dense jungles.
Vista Vallarta also offers world-class golf club services, including practice facilities, a luxurious clubhouse, bar and lounge, golf shop, verandas, on-course beverage service, and an on-site restaurant, 'The Grill,' where you grab classic grill fare when you're done playing a game.
Marina Vallarta Golf Club
Av. Paseo de la Marina Sur 430, Marina Vallarta, 48354 Puerto Vallarta, Jal., Mexico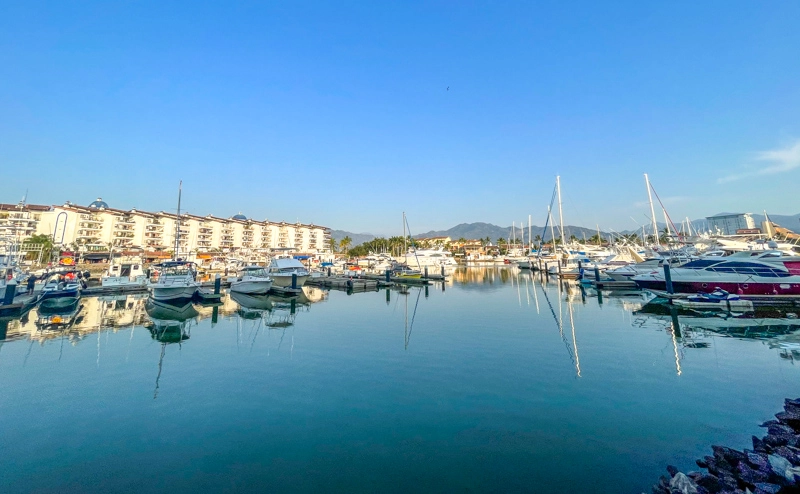 Marina Vallarta is an upper-class neighborhood just five minutes from the airport, where you can find some of the best hotels in Puerto Vallarta.
And right in the heart of Marina Vallarta is one of Puerto Vallarta's best golf courses!
Designed by famous American architect Joe Finger, the Marina Vallarta Club de Golf offers an 18-hole course surrounded by stunning natural scenery.
Other facilities include a hacienda-style clubhouse, golf shop, and driving range.
If you're a big golfer, you'll want to time your trip to come during the International Pro AM in December, which Marina Vallarta Club de Golf hosts. It's one of the top events in Puerto Vallarta!
This golf course is part of Casa Velas, so this is the place to stay if you want to golf here.
In addition to being an adults-only golf resort, you'll also experience gourmet cuisine and a wide range of spa treatments.
Golf courses near Puerto Vallarta
One of the best parts about visiting Puerto Vallarta is the ease of access to explore other destinations on the Riviera Nayarit.
A short drive away will take you to some of Mexico's most spectacular golf courses.
Golf Courses in Nuevo Vallarta
Vidanta Golf Nuevo Vallarta
Vidanta is a gorgeous hotel in Nuevo Vallarta, right next to Puerto Vallarta. On the hotel premises, there are three golf courses.
The Nayar Course is an 18-hole, par 70 course. With seven lakes and 49 bunkers, it's a challenge for even the most experienced golfers!
The second course is the Norman Signature Course, designed by Greg Norman. It's an 18-hole course only accessible by the Ameca bridge with wall-to-wall paspalums.
The last golf course is a 10-hole, par-3 course with some of the most beautiful views at the resort. It's also the only lit course in the region, offering games until 10 PM.
Other amenities at Vidanta include the Vidanta Golf Academy, a pro shop, a restaurant, and the world's longest golf cart suspension bridge.
El Tigre golf club
P.º Paraiso 800, El Tigre, 63732 Nuevo Vallarta, Nay., Mexico
El Tigre golf club is another club in Nuevo Vallarta, so just a short drive away from Puerto Vallarta.
The course was designed by architects Robert von Hagge and Rick Baril and offers a 12-hole course of lush, tropical paradise with water features.
It's known for its beautiful Mayan-inspired design and difficulty. This is a PGA-rated Championship golf course and was even named one of Mexico's top 10 golf courses.
The course is part of Paradise Village, a beautiful all-inclusive resort.
Flamingos golf course
Carretera, Tepic – Puerto Vallarta Km. 145, Bucerías, Nay., Mexico
Flamingos golf course is in Bucerias, next to Nuevo Vallarta.
It was the first golf course in the Bay of Banderas, opened in 1978. Locals love to come here and play on the green, rolling hills with natural lagoons, mangroves, and tropical rainforests.
There are over 1,500 palm trees on this golf course and hundreds of different trees to see, including eucalyptus. This is one of the best courses for nature lovers!
These exotic landscapes frame the greens, creating a challenging 6,853-yard par 72 championship course complete with water hazards and 40 strategically placed bunkers.
The water traps have crocodile inhabitants, so you may want to bring some extra balls here!
Golf courses in Punta Mita
Punta Mita Golf Club House
63734 Corral del Risco, Nayarit, Mexico
Further up the coast in Punta de Mita are two stunning private golf courses that are part of the Four Seasons Resort.
The Punta Mita Pacifico is a gorgeous golf course designed by Jack Nicklaus for golfers of all skill levels.
There you will find the famous "Tail of the Whale" – the world's only natural island green which can only be played at low tide. That's one of for the bucket list!
The Punta Mita Bahia golf course offers a more challenging course, with panoramic views of Bahía de Banderas, lakes, and water features while you play.
If you're new to the world of golf, there's also a full-service golf instructional facility where you can get individual lessons and clinics at the Punta Mita Golf Academy by qualified instructors.
To play here, you'll need to be part of the Punta Mita Golf Club or staying at the Four Seasons Resort, which is an experience in itself. This gorgeous resort was named as one of the 25 Best Resort Hotels in Mexico by Travel & Leisure!
Higuera Golf Club
Punta de Mita km 2, Av, camino ingreso A Litibu Lote 15, Litibu, 63734 Higuera Blanca, Nay., Mexico
Higuera Golf Club was formally known as Litibu golf course and has since gone through a complete renovation.
Another course designed by Greg Norman, Higuera is an 18-course golf course in an exotic environment of flora and fauna combined with modern design.
It's located just a few km away from the four seasons at the Iberostar Litibú Golf Club.
This is a challenging golf course with 130 bunkers, dense vegetation on one side, and the Pacific Ocean coastline on the other.
Planning a trip to Puerto Vallarta? Don't miss these posts!