This post may contain affiliate links. By clicking and making a purchase through the links, I earn a small commission at no extra cost to you. This allows me to keep the site up to date and expand on resources. Thanks for reading!
Welcome to Marina Vallarta, a stunning neighborhood in Puerto Vallarta, Mexico.
In this guide to Marina Vallarta, we'll cover everything you need to know about living and visiting in this up-scale neighborhood, including the best places to eat, sleep, and play.
Things to do in Marina Vallarta
As you might expect in a marina, the top things to do here revolve around boats.
Whale watching tours
Many tours depart from the Marina, including the popular whale watching tours between December and March.
The whales are so famous that a statue of them greets you upon entering the neighborhood.
Every year, humpback whales migrate to Banderas Bay to begin their mating season and give birth.
Seeing these majestic creatures up close and personal is an unforgettable experience. You can also expect to see many dolphins on a tour.
RECOMMENDED WHALE-WATCHING TOUR
This whale-watching tour leaves from Marina Vallarta and is led by a biologist who will tell you about the lives and behaviors of these incredible creatures.
Snorkeling trips and party boats
From the marina, you can also head out on snorkeling tours, sailing trips, party boats, and much more. For those who plan to spend lots of time out on the water, the Marina makes a great home base.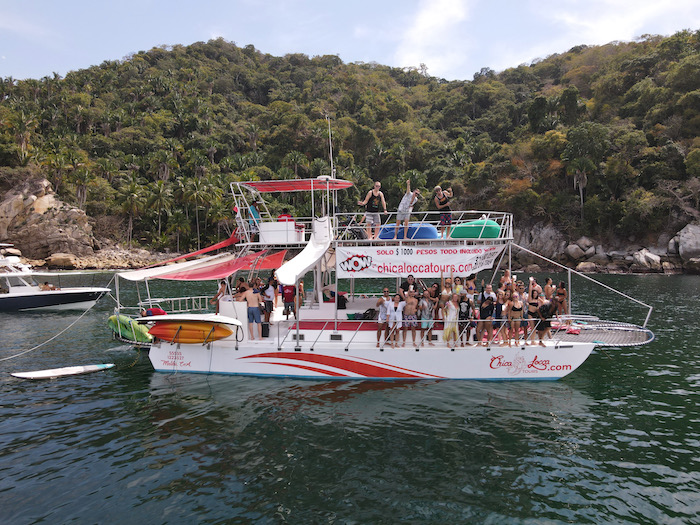 One of the most fun things you can do in PV is rent a private boat. There are tons of options to choose from depending on your group size and budget.
🤿 Go on a snorkeling trip to Isla Marietas, one of the best places to see wildlife in Puerto Vallarta.
🌅 Take a sunset cruise along the Banderas Bay, with cocktails and cheese as you watch the sun dip into the Pacific Ocean.
🌊 Take a jet ski ride over the waves of Los Muertos and the village of Mismaloya.
We rented the Chica Loca party boat for a double birthday bash for a group of 50 friends, and it was the best day ever.
Marina Vallarta Golf Club
Of course, hitting the links is also a popular pastime here.
The Marina Vallarta Golf Club is one of the best golf courses in Puerto Vallarta. It's a gorgeous course with views of the bay and the Sierra Madre Mountains.
Playing at such a nice course will set you back $142 during prime time (7 AM to noon). Twilight rates range from $114 to $65, and they all include the use of a golf cart. Click here if you'd like to book a tee time.
Hit up Tau beach club
Marina Vallarta is home to one of Puerto Vallarta's best beach clubs.
Tau Beach Club is a high-end beach club with a pool by the ocean, sun loungers, Bali beach beds, showers, lockers, and a pool concierge.
You can get a day pass here for 1700 pesos (85 USD) which includes 800 MXN credit to use on cold drinks or from their fabulous lunch and dinner menu with elevated Mexican fare.
Other than that, there isn't a ton to do here. After a boat tour or a round of golf, the best thing to do is simply stroll the pleasant boardwalk admiring the boats and looking for a place to eat and drink.
There's also a famous crocodile that lives in the Marina Pier, so be sure to look out for him while walking around.
Hotels in Marina Vallarta
Marina Vallarta is home to some of Puerto Vallarta's best all-inclusive resorts for families.
Velas Vallarta Suite Resort is located on ten acres of beautiful coastline, with private access to the beach and ocean. It's the perfect place for a family vacation, with a well-equipped kids club, nightly entertainment, and a luxury spa to unwind.
Marriott Puerto Vallarta Resort & Spa offers everything you need for an amazing vacation with its beachfront location, renovated infinity pool, and fabulous on-site restaurants. Plus, you'll earn Marriott Reward point for staying here to use on your next vacation!
Restaurants in Marina Vallarta
For a small area, there are a good number of cafes, restaurants, and bars to choose from in the Marina. Here's a list of some of the best places to eat, drink, and be merry:
Living in Marina Vallarta
Marina Vallarta is the first neighborhood as you head south from the airport. It's literally right across from the runway and just off the main highway, but it feels worlds apart.
This upscale residential community sprang up in the 1980s when Puerto Vallarta became a popular alternative to Cancun and Acapulco.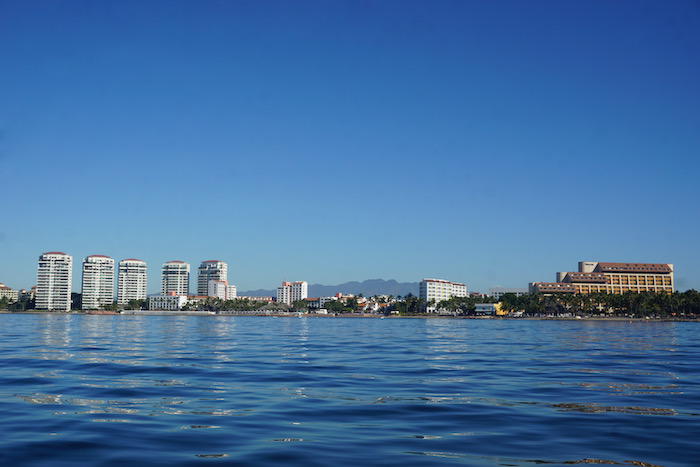 With a new wave of snowbirds coming to Banderas Bay to escape the harsh winters up north, a new luxury neighborhood was created.
In addition to the many resorts and condos, there's an 18-hole golf course and 450 boat slips.
It's fun to visit the Marina just to walk around and gawk at the impressive luxury yachts and sailboats that are parked there.
It should be noted that there isn't really a public beach in the Marina. The beach here is only accessible via the luxury condos and resorts that line it, so this isn't the place you go for a day on la playa.
Marina Vallarta is definitely a little bubble of suburbia in PV. It's sparkling clean, quiet, and peaceful.
For those who find local neighborhoods to be a bit too noisy and chaotic, this is a popular choice. The expat crowd here is a bit older, with many families and retirees calling the Marina home.
One big reason why this neighborhood is so popular with families is that it's home to the American School of Puerto Vallarta.
The school offers a bilingual education to students from kindergarten through 12th grade and is one of the top schools in the city.
In a way, Marina Vallarta is a sort of "Mexico Lite." You're very much in Mexico – and there are plenty of places to eat tacos and drink tequila – but it's secluded and cut off from the rest of the city. Digital nomads and younger expats may find this area a bit boring and white-washed, myself included.
While Marina Vallarta isn't exactly my type of neighborhood, plenty of people live there who love it. If you're looking for some peace & quiet (if that's even possible in Mexico) and a safe place for your kids, then the Marina is for you.
Of course, I would probably enjoy the Marina a bit more if I had a boat. If you're fortunate enough to have one and need a place to park it, this is a pretty fantastic option. Maybe someday I'll pull my luxury yacht up there…
Planning a trip to Puerto Vallarta? Don't miss these posts!