This post may contain affiliate links. By clicking and making a purchase through the links, I earn a small commission at no extra cost to you. See my disclaimer for more information. This allows me to keep the site up to date and expand on resources.
Curious about the Puerto Vallarta hotel zone? Let us help! We have been living in Puerto Vallarta for over eight years and in the Hotel Zone several times. In this insider's guide, discover the best places to stay in the hotel zone, where to eat, and what to do for entertainment.
The Puerto Vallarta hotel zone is one of the most popular areas to stay for tourists visiting the city.
As the name would suggest, the Hotel Zone is mainly composed of hotels, many of them being large, all-inclusive resorts located on beautiful beaches.
There are also plenty of condo buildings and shopping centers. This includes La Isla, the premier mall in Puerto Vallarta, featuring dozens of international shops and a state-of-the-art cinema.
The cruise ship terminal is also located here, which gets quite busy during the high season. To serve this constant flow of people, the immediate area around the cruise port has a Wal-Mart, Sam's Club, casino, and a new shopping area called Puerto Magico (Magic Port).
Staying in the hotel zone? Don't miss Rhythms of The Night! It leaves from the cruise port for an unforgettable night on the water.
Getting to the Hotel Zone from the airport
When you land at Puerto Vallarta International Airport, you're just a short ride away from the bustling Hotel Zone. Here are your options for a hassle-free journey:
Taxis are readily available at the airport, but make sure to negotiate the fare before hopping in. Ubers are cheaper, but you have to walk across the pedestrian bridge to meet them.
For a seamless experience, consider booking a shuttle service in advance. Viator offers a reliable Airport-Hotel Shuttle service that you can reserve online. It's convenient, especially if you're new to the area or traveling with family.
If you're on a budget, local buses are an option. They're not luxurious but get the job done.
Where to stay in the Puerto Vallarta Hotel Zone
The Puerto Vallarta hotel zone is home to some of the best all-inclusive hotels in Puerto Vallarta, where you can enjoy unlimited cocktails in a swim-up bar.
🏨 Villa del Palmar Beach Resort is a solid choice in the area. It's right on the beach with a huge pool, and you can go all-inclusive or not here.
🏨 Fiesta Americana is right around the corner and is where you'll want to be if you're looking for that all-inclusive treatment. There's an infinity pool that's adults only and a kid's club for families.
🏨 Hotel Mio is an entirely adults-only hotel. It's not on the beach and is right off the highway, but there's a nice rooftop pool and a super convenient location at a good price.
Things to do in the Hotel Zone
Most people staying in the hotel zone take advantage of the all-inclusive amenities and spend most of their time at the hotel, making occasional trips into town or going on half-day tours.
If you're staying in the hotel zone, the best tours are those that leave from the cruise port area.
Day Tours
This includes the fantastic Rhythms of the Night (my personal fave). It starts with a scenic boat ride complete with an open bar that takes you to the remote Las Caletas for the performance.
It's a bit like Cirque du Soleil with acrobatics, dancers, and fire jugglers. The venue is a mystical amphitheater set in the jungle, and it's pretty incredible.
You also enjoy a nice buffet dinner and continue the open bar fun all night. Put this one high on your list of things to do in PV at night. It's easily in the top three tours I've done in five years of living here.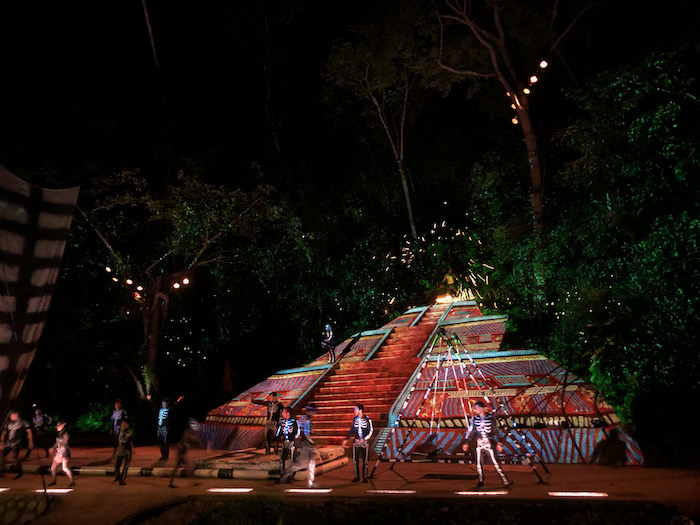 The pirate ship tour also leaves from the port, and it's one of the most popular tours in the city. I've never personally done it, but it's been on my list. It's certainly fun watching the ship pull up to the Malecon and giving a fireworks show on a nightly basis!
Hidden Beach, in the Islas Marietas, is considered one of Mexico's most unique beaches.
You need a permit to enter the beach, which is only accessible by boat. They sell out fast, so book your tour in advance if you want to visit hidden beach!
This is a great thing to do if you're staying in the hotel zone, as the tours leave from the cruise port.
SkyDiving
If you're feeling super adventurous, you could add skydiving to your Puerto Vallarta itinerary.
Skydive Vallarta has its office in the Hotel Zone and runs daily trips. This is definitely one of the most scenic places to go skydiving!
Spa Day
Many hotels in the zone offer top-notch spa services. Whether you want a relaxing massage or a full-day pampering session, you'll find it here.
Shopping at La Isla
If you're in the mood for some retail therapy, you're in luck. The area boasts a range of shopping centers, from high-end boutiques to local markets.
I hate going to the mall, and even I enjoy a stroll around La Isla. It's a pretty cool open-air mall, and it's fun doing some window shopping and catching a movie there from time to time.
Hotel Zone Beaches
The long stretch of beach in the Hotel Zone is public, although it can be difficult to access without going through the resorts.
It starts up by the port and goes all the way down to the Sheraton, with a few public access points. There is one behind the Secrets Resort.
Unlike the beaches in Old Town, there are few places to get a chair and umbrella or dine on the beach. This is mostly a DIY beach day if you come here, however, there are a few beach clubs you can visit.
It is definitely worth it to go to the beach in the Hotel Zone to experience a sea turtle release. These often happen between July and December when sea turtles show up by the hundreds to nest. Even outside of these months, it's possible to catch one if you're in town for a few days.
Restaurants in the Hotel Zone
Since much of the area is taken up by resorts and condos, there aren't many restaurants here. There are plenty of them in the resorts, but you can't just go eat in most of them.
You won't go hungry or thirsty here, though. There are just far fewer options than in other neighborhoods.
Here's a list of restaurants in the Hotel Zone to get you through a trip there:
Pros and cons of staying in the Hotel Zone Puerto Vallarta
Convenience
The Hotel Zone is close to the airport, making it easy for travelers to get settled quickly upon arrival.
Variety
With a wide range of hotels, restaurants, and shops, you'll never run out of options for dining, entertainment, or accommodation.
Safety
The area is well-patrolled and generally considered safe, even for solo travelers or those out late at night.
Family-Friendly
Many hotels offer amenities specifically for families, like kids' clubs and babysitting services.
Drawbacks 👎
Pricey
The convenience and amenities come at a cost. Expect to pay a premium for most services and accommodations in this area.
Touristy
Because of its popularity, the Hotel Zone can get crowded, especially during peak seasons.
Limited Local Experience
If you're looking to immerse yourself in authentic Mexican culture, you might find the Hotel Zone a bit too commercialized.
Traffic
The area can get congested, particularly during rush hours and high seasons, which might be a turn-off for some.
What it's like living in the Puerto Vallarta Hotel Zone
The hotel zone is definitely an area geared towards tourists. There are so many massage parlors, pharmacies, and souvenir shops. Even when I lived in the area for six months, I still felt like a tourist walking around.
That being said, I really enjoyed the condo where we lived. Having a huge supermarket next door and the beach a block away was great. The area lacks restaurants and bars that aren't a part of a hotel, though.
The commute to Old Town definitely got old after a while, but at least it's only 10 pesos to catch the bus there, and cabs run around 100-120 for a ride back, depending on the time of night.
It's generally an older crowd in terms of the expats in the Hotel Zone. Most of my neighbors at the condo we lived in for a season were retirees, many of whom only stayed in PV for the nicest months. As I told them, "I want to be like you when I grow up."
FAQ: Hotel Zone Puerto Vallarta
What is the hotel zone in Puerto Vallarta?
The Hotel Zone in Puerto Vallarta is a stretch along the city's coastline that's packed with hotels, restaurants, and shops. It's a popular area for tourists looking for convenience and a variety of amenities.
Which zone is best in Puerto Vallarta?
The "best" zone depends on what you're looking for. The Hotel Zone offers convenience and amenities, while areas like the Romantic Zone provide a more local experience.
What are the neighborhoods in Puerto Vallarta?
Puerto Vallarta is divided into various neighborhoods, including the Hotel Zone, Romantic Zone, Marina Vallarta, and El Centro. Each has its own unique vibe and attractions.
What zone is Riviera Nayarit?
Riviera Nayarit is not a zone in Puerto Vallarta; it's a separate region located to the north of Puerto Vallarta. It's known for its luxury resorts and beautiful beaches.
Is Puerto Vallarta a walkable city?
Yes, Puerto Vallarta is generally walkable, especially in tourist-friendly areas like the Romantic Zone and El Centro. However, some areas may require a short taxi or bus ride.
What is the safest part of Puerto Vallarta to stay in?
The Hotel Zone and Marina Vallarta are often cited as the safest areas due to their well-patrolled streets and proximity to tourist amenities.
What is the rich area of Puerto Vallarta?
Marina Vallarta is considered the upscale area of Puerto Vallarta, known for its luxury resorts, high-end shopping, and yacht-filled marina.
Where do tourists hang out in Puerto Vallarta?
Tourists often congregate in the Hotel Zone for its amenities, the Romantic Zone for its local charm, and Marina Vallarta for its luxury offerings.
Final thoughts: Puerto Vallarta Hotel Zone
Choosing where to stay in Puerto Vallarta is a big decision, and the Hotel Zone offers a compelling mix of convenience, variety, and safety for tourists and short-term visitors.
From the moment you land at the airport, you're just a short ride away from this bustling area. With a plethora of dining options, shopping centers, and activities, you'll never run out of things to do. Plus, who doesn't love a hotel balcony overlooking the beach?
However, it's essential to weigh the pros and cons to decide if this area aligns with your travel goals.
Whether you're a family on vacation, or a couple looking for an all-inclusive holiday, the Hotel Zone has plenty to offer. But if you're seeking a less touristy experience, other neighborhoods might be more up your alley. Check out this quiz below to help you decide where to stay!
Planning a trip to Puerto Vallarta? Check out these tips!
🇲🇽 Puerto Vallarta Quick Guide 🇲🇽

✈️ Airport – The Licenciado Gustavo Díaz Ordaz International Airport (PVR) airport is a 20-minute ride to the city center. You can book an airport transfer here.

🏩 Hotels – The best websites for booking hotels and resorts are Booking.com and Expedia, which search all properties to find you the best deals. For inspiration on where to stay, head to my ultimate guide to Puerto Vallarta hotels.

🚗 Getting around – Puerto Vallarta is easy to get around by walking and Uber, but renting a car is the best way to explore the surrounding areas. Discover Cars is the best website for finding deals, which searches International and local Mexican companies.

🌊 Things to do – Puerto Vallarta is a paradise for outdoor adventure! Some of the top things to do are whale watching, yacht trips, and ATV tours.

✔️ Don't forget travel insurance! I use and love SafetyWing, which is insurance for remote workers. For shorter trips, I recommend HeyMondo – you can get 5% off by using that link.