This post may contain affiliate links. By clicking and making a purchase through the links, I earn a small commission at no extra cost to you. See my disclaimer for more information. This allows me to keep the site up to date and expand on resources.
No matter what time you visit Puerto Vallarta, you're guaranteed to have a memorable experience. But Puerto Vallarta in March is particularly ideal, offering mild weather, stunning views, and moderate prices.
In this short guide, learn everything you need to know about visiting PV in March, including the weather in Puerto Vallarta in March, whale-watching opportunities, seasonal travel deals, spring break specials, and March festivals and activities.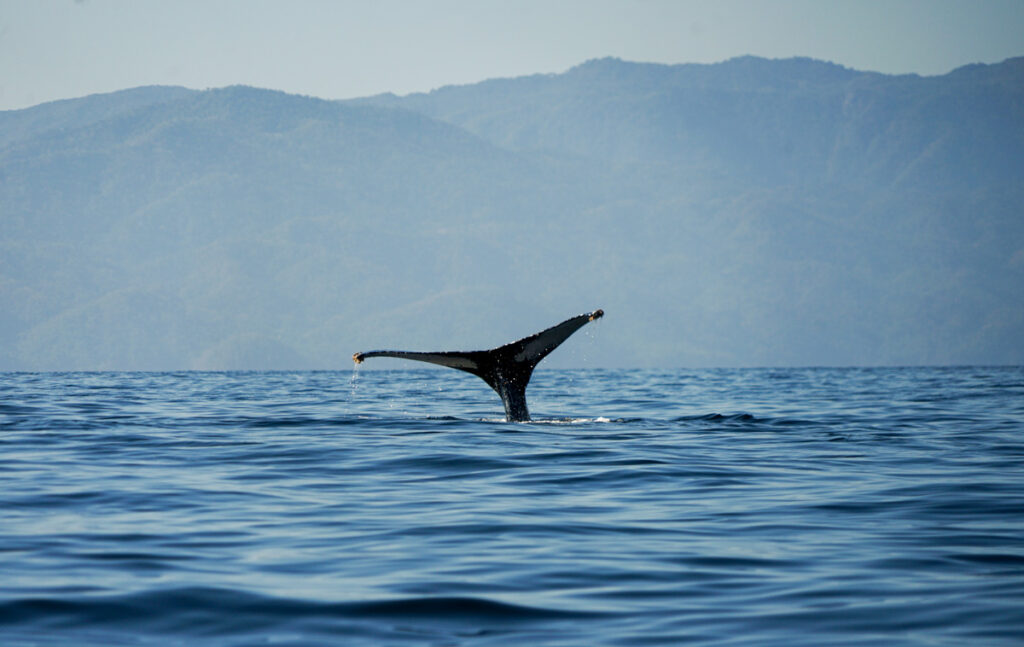 BEST MARCH ACTIVITY
March is the last month that you can see whales in Puerto Vallarta before they migrate – so don't miss the chance to go whale watching if you're visiting in March!
Is March a good time to visit Puerto Vallarta?
March is at the tail end of Puerto Vallarta's high season. From December to March, the city of PV and its surrounding areas play host to travelers from all over the world, primarily the Northern Hemisphere, where winter temperatures are driving people to vacation.
While not as busy as December or January, March is certainly not considered the slow season in PV. That's because the weather is still great, the water is starting to warm up, and the prices are pretty reasonable.
March is also when many colleges schedule spring break. This means an influx of young travelers, many of whom are looking to cut loose on PV's famous Malecon beach or frequent one of many dance clubs. Some people traveling with young families avoid the month of March for this reason.
Puerto Vallarta weather in March
The month of March is when temperatures start to gradually rise in PV. The daytime temperatures are usually in the mid-80s (F) / 30s (C). At this time, the nights and early mornings can still get a little chilly, so it's important to always have some extra layers handy.
Rain is quite uncommon in March, so you can expect dry air and no mosquitos.
The ocean temperatures are still a bit lower in March. They're warm enough to swim in, but the warmest waters don't come until June and July.
I'm living in Puerto Vallarta during March right now, and am constantly amazed at how perfect the weather feels!
Events and Festivals in Puerto Vallarta in March
Puerto Vallarta is ripe with street fairs, live music, food events, and more. But each month is also host to a number of massive, annual events that draw visitors from all over the world.
Here's a look at some of the more popular March events in PV:
Vinoma Wine Festival [Early March]: A wine-lover's ideal event, with wineries and restaurants from all over Mexico. Also includes wine tastings, pairing events, conferences, lectures, and more.
Damajuana Raicilla Festival [Mid March]: A festival devoted to 'Raicilla', a traditional beverage that can be considered the Mexican equivalent of moonshine. A 3-day event held in the heart of PV with tastings, live music, and food trucks. Formerly held in May … Event organizers changed the date to March in 2023 and beyond.
Banderas Bay Regatta [Mid March]: A long-running sailboat racing event in Nuevo Vallarta, with big public parties held at the Vallarta Yacht Club.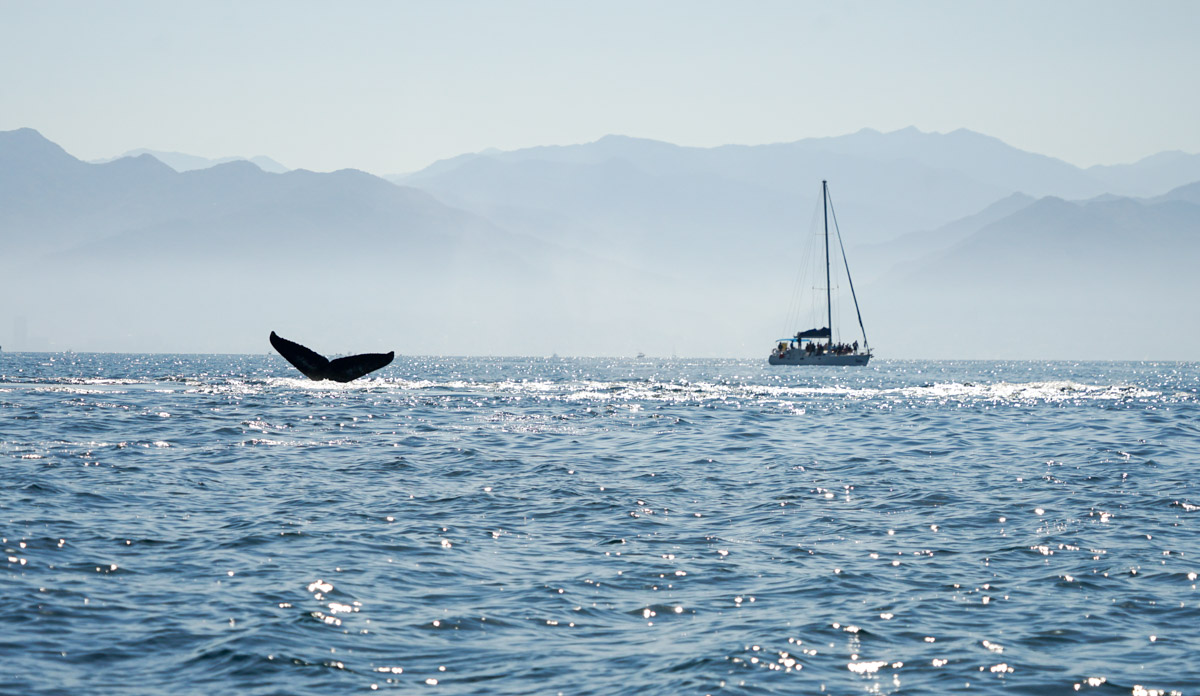 Pros and Cons of Puerto Vallarta in March
PROS:
Mild weather, with average air temps around 80 F / 62 C and water temps around 76F / 25C. Temps start to go up rapidly after March!
Whale watching season, which begins in December and usually lasts through march
Fewer tourists, at least compared to the peak tourist season of December and January
Good surfing, especially for beginner and intermediate riders who aren't looking for massive waves
Dry Air, which makes it possible to explore the famous Mismaloya jungle
CONS:
More expensive, compared to the slower season of April – November
Spring break travelers, who can be harder to avoid if you're looking for a quieter trip or a family experience (but this can also be a Pro depending on your style!)
Overall, March presents a great balance of value for the PV traveler. It's not the cheapest time of year to visit, but many all-inclusive resorts offer spring break package discounts.
In addition, there are still plenty of whales in the sea, making this a good time to schedule a boat tour to Los Arcos or Islas Marietas.
TOP THINGS TO DO IN MARCH IN PUERTO VALLARTA
Puerto Vallarta in March – Frequently Asked Questions [FAQ]
Is March a good month to visit Puerto Vallarta?
March is a great time to visit Puerto Vallarta, as it offers a good blend of warm temperatures, dry air, and bustling nightlife, without being as crowded as the high season of December and January.
What is the weather in Puerto Vallarta in March?
March is the end of the winter season in Puerto Vallarta and across Mexico. This means gradually rising temperatures, with days in the 80s (F) / 30s (C). The ocean water is still colder than average, but it's warm enough to swim or snorkel in.
When is whale watching season in Puerto Vallarta?
Whale-watching season begins in December and extends through March. Most adult whales will begin to depart the area in mid-to-late March. Many of the younger whales will stick around a bit longer. If you are traveling in PV in March and want to see whales, try to arrive at the beginning of the month.
Is Puerto Vallarta a Spring Break town?
Puerto Vallarta is a popular spring break destination. In March and April, college students from around the world descend on PV for its affordable all-inclusive resorts and world-famous nightclubs and dance bars.
When is the cheapest time to visit Puerto Vallarta?
The most affordable time to visit Puerto Vallarta is usually in the "shoulder months", or the time in between the busiest periods. This includes May, June, September, and October.
Does it rain in March in Puerto Vallarta?
Rain is rare in Puerto Vallarta in March. It is usually quite dry. However the nights can still get a little chilly so it's best to be prepared with layers.
Can you surf in Puerto Vallarta in March?
Puerto Vallarta offers year-round surfing opportunities. March is a popular time for surfing in nearby Sayulita, although it can be quite crowded with spring breakers. Most professional surfers choose to visit later in the summer, when the waves are at their peak, and the water is warmest.
Find more things to do in Puerto Vallarta below
Planning a trip to Puerto Vallarta? Check out these posts!