This post may contain affiliate links. By clicking and making a purchase through the links, I earn a small commission at no extra cost to you. See my disclaimer for more information. This allows me to keep the site up to date and expand on resources.
Nuevo Vallarta vs Puerto Vallarta – which city should you visit? I've been living in Puerto Vallarta for the last three years and have spent time exploring both.
One of Mexico's most popular beach destinations, Puerto Vallarta is known for its decadent resorts, bustling nightlife, warm water, and beautiful beaches. But only a few miles up the coast of the Bay of Banderas lies its biggest competition: the resort community of Nuevo Vallarta and its growing collection of golf courses, restaurants, and aquatic attractions.
Over the years, Puerto Vallarta and Nuevo Vallarta have grown closer together, with hotels, housing, and shopping centers running the entire distance between them. But for the first-time traveler, they can be hard to distinguish.
Knowing the difference between Puerto Vallarta (PV) and Nuevo Vallarta (NV) is key to getting the most out of your trip to the Bay of Banderas.
This guide will provide a brief background on the two destinations, highlighting the key advantages, attractions, and tips for each one.
Puerto Vallarta vs. Nuevo Vallarta: Where Should I Stay?
Here's the good news: Puerto Vallarta and Nuevo Vallarta are close enough that it's possible to enjoy both communities on the same trip. The Bay's public buses make it easy to get from one to the other in no time, and it's never difficult to hail a cab or get an Uber.
But when it comes to booking hotels, meals, and attractions, it's essential to know how these two areas differ.
Nuevo Vallarta Vs Puerto Vallarta
🏨 Accomodation: Puerto Vallarta has more houses, condos, and short-term rentals. Nuevo Vallarta, a planned vacation community, has more resorts and all-inclusive resorts.
🏖️ Beaches: Downtown PV has the popular public beach known as the Malecon, as well as the world-famous boardwalk. NV, on the other hand, boasts a continuous 3-mile pristine beachfront.
🎭 Attractions: Nuevo Vallarta has great golf courses and watersports like jet skis and parasailing. Puerto Vallarta has museums, festivals, and beachside shopping and dining. There's no reason not to take advantage of both!
Puerto Vallarta Overview
Unlike the larger resort destinations of Cancun or Cabo, Puerto Vallarta is known for its unique character and charm.
It only takes one stroll down the boardwalk to feel the magic of this place, which is a blend of adventurous mystery and small-town authenticity.
Puerto Vallarta's cobblestone streets are a great place to enjoy a day of shopping. The boardwalk is packed with bars, restaurants, and clubs bustling late into the night. It's not uncommon to find yourself in the middle of a festival or concert.
PV's public beach is called the Malecon. While it can get pretty busy at times, it's a great place to spend a sunny day or enjoy a plate of fresh ceviche.
While there are plenty of places to stay in Puerto Vallarta proper, it has fewer large or all-inclusive resorts. This is why many people plan on booking a hotel in Nuevo Vallarta and planning day excursions into Puerto Vallarta.
🇲🇽 Puerto Vallarta Quick Guide 🇲🇽

✈️ Airport – The Licenciado Gustavo Díaz Ordaz International Airport (PVR) airport is a 20-minute ride to the city center. You can book an airport transfer here.

🏩 Hotels – The best websites for booking hotels and resorts are Booking.com and Expedia, which search all properties to find you the best deals. For inspiration on where to stay, head to my ultimate guide to Puerto Vallarta hotels.

🚗 Getting around – Puerto Vallarta is easy to get around by walking and Uber, but renting a car is the best way to explore the surrounding areas. Discover Cars is the best website for finding deals, which searches International and local Mexican companies.

🌊 Things to do – Puerto Vallarta is a paradise for outdoor adventure! Some of the top things to do are whale watching, yacht trips, and ATV tours.

✔️ Don't forget travel insurance! I use and love SafetyWing, which is insurance for remote workers. For shorter trips, I recommend HeyMondo – you can get 5% off by using that link.
What's Unique About Puerto Vallarta
🚶‍♀️The Boardwalk: The Malecon Boardwalk is a must-see for anyone visiting the Bay of Banderas. This is a 12-block esplanade right in the heart of the city, with shops, restaurants, and cafes on one side and the ocean on the other.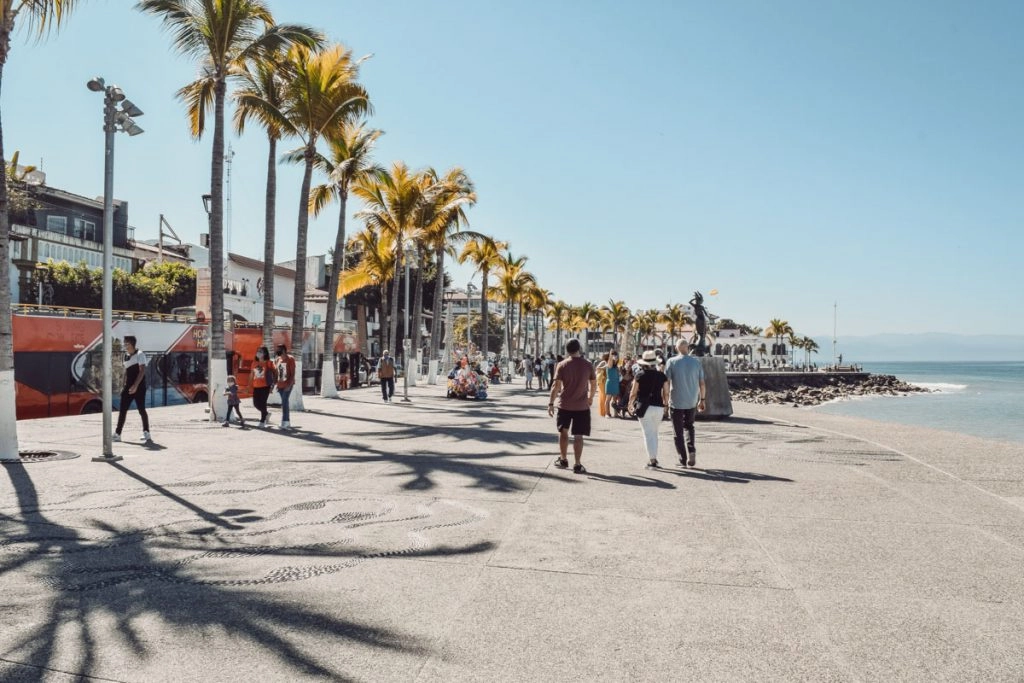 At night, the boardwalk is electric with energy. You'll find painters, street musicians, food vendors, and some of the best sand castle art you've ever seen. The boardwalk also provides easy access to the wider downtown area with its historic churches and museums.
🎉 The Nightlife: Puerto Vallarta is a party town; there's no doubt about it.
It has some of the best nightclubs in Mexico, offering hip-hop, electronica, country, and more. On any given night, you'll find travelers from dozens of countries bar-hopping and dancing the night away.
Or, spend an evening on a rooftop patio drinking margaritas and watching the cruise ships go by.
🧫 The Culture: The original townsite of Puerto Vallarta was established sometime in the 1850s. That means that it has had plenty of time to grow into its own, developing a rich history and vibrant local culture.
This is where you go if you're looking for lively shopping arcades, outdoor festivals, and perhaps most importantly, street tacos and cheap local food.
Nuevo Vallarta Overview
Nuevo Vallarta is located to the north of Puerto Vallarta by about 10 miles or 14 kilometers. It's separated from Puerto Vallarta by the Ameca River.
Importantly, this river also serves as the border between the Mexican states of Nayarit (to the North) and Jalisco (to the South).
Nuevo Vallarta is a planned resort town built specifically to accommodate the increasing number of tourists to the Bay of Banderas.
For this reason, it has a distinct character from Puerto Vallarta. The biggest difference is that NV has more golf courses, resorts, and vacation rentals.
NV has everything that you need to enjoy a Mexican vacation. In addition, its status as a government-planned vacation district makes it exceptionally safe for tourists. However, it does lack some of the charm of Puerto Vallarta city, as well as the outdoor shopping centers and traversable nightlife.
What's Unique About Nuevo Vallarta
🏩 Better resorts: Without a doubt, Nuevo Vallarta is the place to go to find a great deal on an all-inclusive family hotel.
Places like Paradise Village and the Riu Hotel provide unlimited R&R for great prices. These hotels are bustling with activities, games, and theme nights, and most have multiple in-house restaurants to dine in.
It's not uncommon for visitors to spend their entire vacation on resort grounds. This is especially true of travelers looking for nothing but a good place to relax in a safe and catered environment, knowing they'll always have a personal palapa and beach chair.
⛳️ Golfing: While there are over a dozen respectable golf courses up and down the Bay of Banderas, Nuevo Vallarta is the place to go if you're looking to hit a few balls. There are six different championship-level courses in the area and easy transportation between them and the hotels.
🏄‍♀️ Punta Mita & Sayulita: To the north of Nuevo Vallarta are several smaller vacation towns that are well worth the excursion.
Punta Mita is a private peninsula with a number of world-class resorts, condos, and vacation homes.
Sayulita is an adorable surf town about 1.3 hours north of Nuevo Vallarta via bus. Stronger waves make it a destination for novice and advanced surfers alike. It's also home to a large number of artisans and galleries and has a distinctly bohemian style.
Which is better – Nuevo Vallarta or Puerto Vallarta?
Choosing between Puerto Vallarta and Nuevo Vallarta is actually quite easy if you know what kind of vacation you're looking for.
Puerto Vallarta has better shopping, more diverse dining, and a lively nightlife. It also has easy access to some of Mexico's best destinations via highway. This makes it a good choice for anyone looking to add adventure and excitement to their next trip.
Puerto Vallarta also has a lot more small short-term rentals and AirBnBs. For individuals who are traveling on a budget and don't need extra amenities, it's possible to find a very affordable rental right in the heart of the city.
Nuevo Vallarta is the place to go if you're looking for a relaxed, luxurious vacation. The resorts tend to be larger and more affordable and can provide you with everything you need for a great vacation. It's also right up the road from Puerto Vallarta, making it very easy to take a day trip into town if the mood strikes.
What's more, these resorts can book you on all the same tours and activities as you can get in town and even provide transportation.
Puerto Vallarta vs Nuevo Vallarta Frequently Asked Questions [FAQ]
Which is better, Puerto Vallarta or Nuevo Vallarta?
Both Puerto Vallarta and Nuevo Vallarta have a lot to offer visitors. Puerto Vallarta is more well-known for its shopping, dining, and culture, while Nuevo Vallarta has more large resorts and golf courses.
Are the beaches nice in Nuevo Vallarta?
Nuevo Vallarta has a 3-mile beachfront that is smooth and clean. This makes it great for sun tanning, swimming, running, and walking.
What is the best month to visit Puerto Vallarta / Nuevo Vallarta?

The months of April, May, and June are prime vacation time for Puerto Vallarta and Nuevo Vallarta. During these months, there is good weather, fewer tourists, and generally lower hotel rates.
The months of November / December / January are still beautiful in PV.
These are also the best months for whale watching. However, the increased volume of North American tourists makes it a more expensive time to visit.
Are the beaches swimmable in Nuevo Vallarta?
Nuevo Vallarta's beachfront is great for swimming, boogie boarding, jet skiing, parasailing, and much more. There is little to no seaweed, and the water is very clean.
Is Nuevo Vallarta safer than Puerto Vallarta?
Because of its well-staffed resorts and increased municipal oversight, Nuevo Vallarta is perceived by many to feel safer than Puerto Vallarta. However, the Bay of Banderas communities generally tends to be very safe.
How far is Nuevo Vallarta from Puerto Vallarta?
Nuevo Vallarta is approximately 10 miles North of Puerto Vallarta. It takes 30 minutes to travel between them on public buses and even less in a private taxi.
Is Nuevo Vallarta the same as Puerto Vallarta?
While close in proximity, Nuevo Vallarta and Puerto Vallarta are two distinct tourism destinations. Nuevo Vallarta is a newer planned resort district with more hotels and places to relax, while Puerto Vallarta is a bustling city dating back to the mid-1800s.
Cheap public transportation and numerous taxis make it easy (and necessary) to enjoy both areas on the same trip.