This post may contain affiliate links. By clicking and making a purchase through the links, I earn a small commission at no extra cost to you. See my disclaimer for more information. This allows me to keep the site up to date and expand on resources.
There are so many reasons to love Mexico – the food, the culture, the landscapes, and of course – the parties. If you're looking for a fun holiday, head to one of these party cities in Mexico for an unforgettable time.
Whether you're looking to party by the beach or in a cosmopolitan city, Mexico has it to offer.
From the Yucatan Peninsula to the Pacific Coast, these are the best places to party in Mexico.
Best party cities in Mexico on the beach
Puerto Vallarta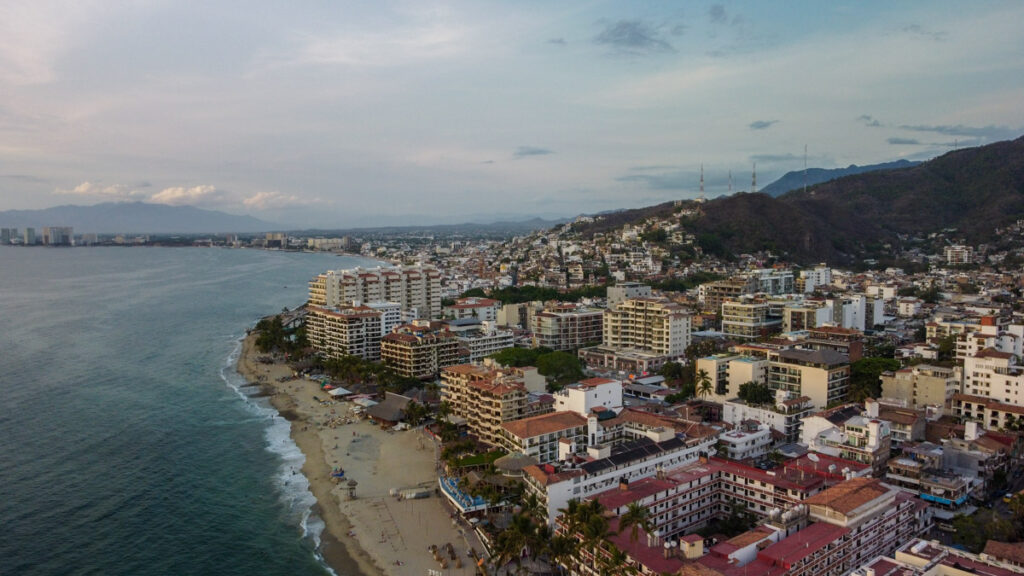 Call me biased, but Puerto Vallarta is hands down one of the best party cities in Mexico. This is especially true for LGBTQ+ travelers, as it's the gay capital of Latin America.
Zona Romantica is the official gaybourhood of the city, where you'll find many of Puerto Vallarta's best nightclubs.
There you can find live music, eccentric drag shows, and late-night clubs open into the early hours of the morning. I've had many late nights dancing at Flamingos!
Zona Romantica is always a fun time for people-watching, especially during pride week at the end of May every year when thousands of people come to the beautiful city to celebrate. Gay beach clubs like Mantamar are out of control during this time!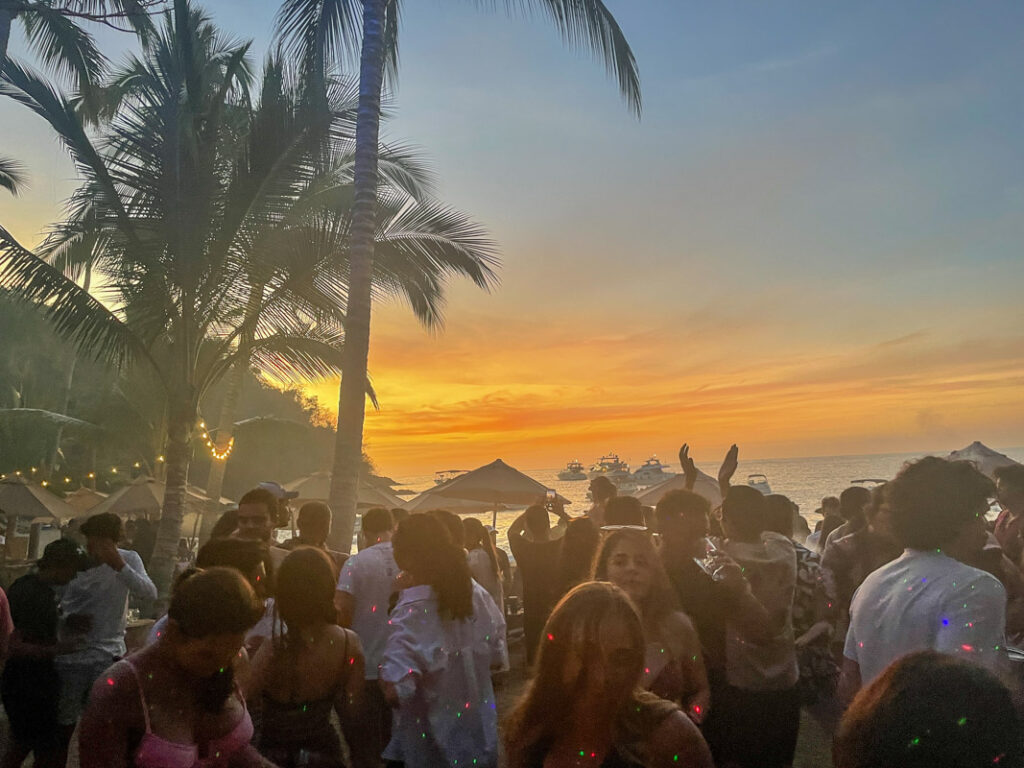 Speaking of beach clubs, head to one of these places if you're looking to party during the day in Puerto Vallarta. After all, you're probably here to enjoy the beautiful beaches.
After the sun sets, still along the Malecon (boardwalk) to find some of Puerto Vallarta's wildest nightclubs, such as Zoo, La Vaquita, and Mandala.
From the outside, you can see people in cages dancing and getting absolutely wild on the dance floor. If you're looking for a fun place to party with your bachelorette squad, this is an excellent place to go.
For something a bit tamer to start your night in Puerto Vallarta, head to one of the many cocktail bars or craft breweries in the city center. A slushie from Blondies is always a good start to the night!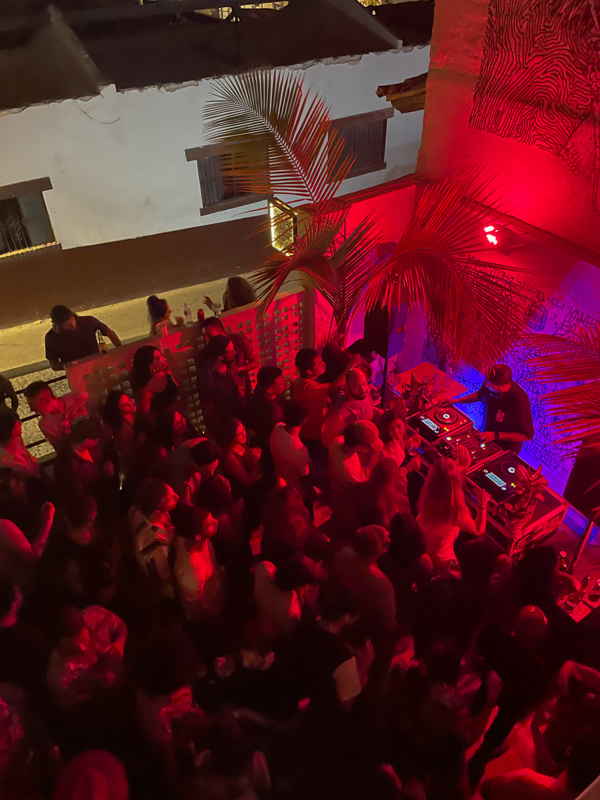 My favorite bars for dancing in Puerto Vallarta are Yambak in 5 di Dicembre, with DJs spinning good music and vibes on the weekends. Saturday nights at El Sonador are also super fun!
Be sure to save some energy to enjoy the many activities Puerto Vallarta offers. Situated on the Pacific Ocean, the city is a hub for water sports.
Sayulita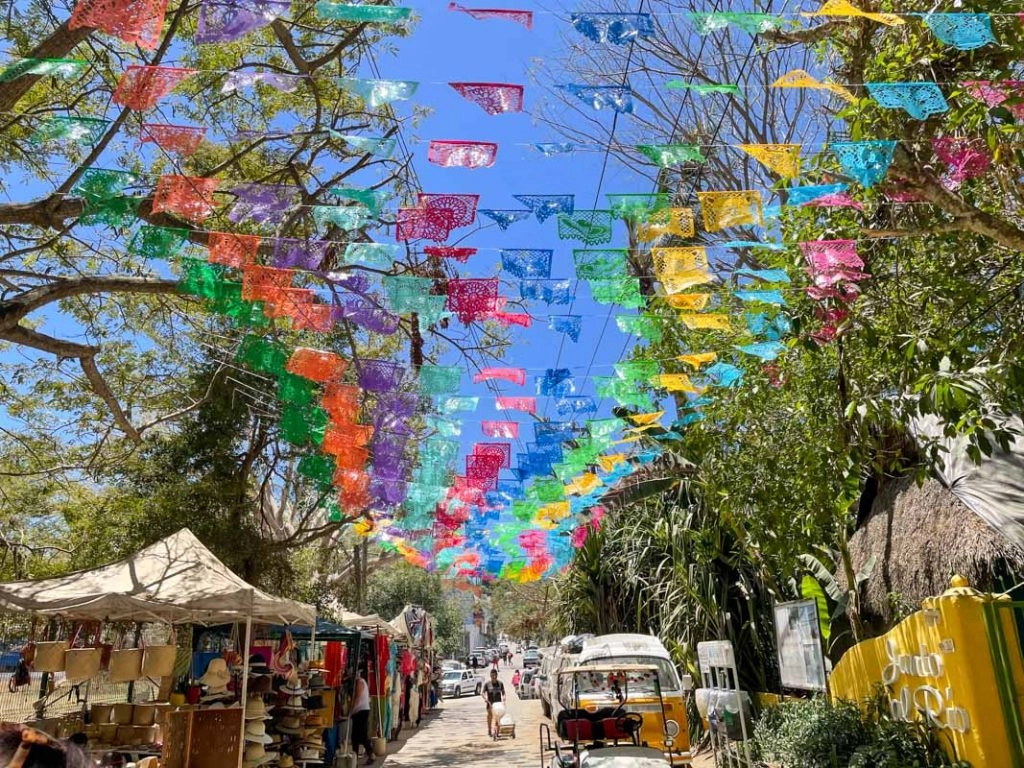 If you happen to get bored of partying in Puerto Vallarta, you don't have to go far to find a new place to party in Mexico.
An hour up the coast is the town of Sayulita. While it may be small in size, it has anything but a small-town vibe.
Sayulita has become massively popular in recent years thanks to its great surf conditions and party vibes.
Start off sipping margaritas on the beach while the sun goes down, and then take a self-guided tour through the town's bars. Yambak is always a great time!
While staying overnight is an option, you can also visit Sayulita as a day trip and return to Puerto Vallarta after a night of partying. The buses won't be running, but Ubers and taxis are available.
Cancun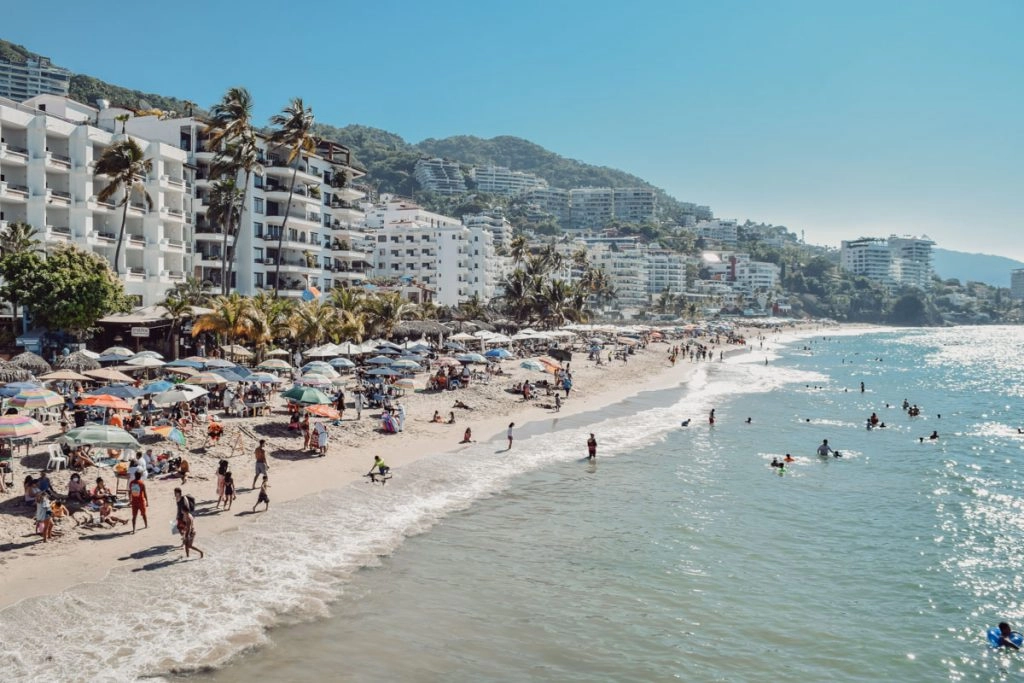 Famed for its wild spring break parties, a list of party cities in Mexico wouldn't be complete without mentioning Cancun.
It's long been a favorite of Americans coming to Mexico to get loose. It's a bit too touristy for my liking, but if you're looking for a fun holiday, then Cancun is a solid bet. There's a reason it was nicknamed the Las Vegas of Mexico!
When deciding where to party in Cancun, it comes down to going downtown or staying in the hotel zone. This part of Cancun was built specifically for tourism, and it's where you can find a strip of hotels, restaurants, and bars.
If you're staying at an all-inclusive resort in Cancun, one of the perks is that you don't have to worry about overspending – you can just enjoy the unlimited booze!
Many resorts in Cancun have their own DJs and clubs inside them, so this can be a great option if you're traveling with a group of friends.
If you're starting the party early, the beach bars are the best places to go in Cancun. Places like Congo Bar and Coco's Beach Club offer day bed packages that you can split with a group.
If you're visiting Cancun, don't miss the chance to see Chichen Itza, one of the seven wonders of the world nearby that can be visited as a day trip.
Check out this guide if you can't decide between Cancun or Puerto Vallarta.
Playa Del Carmen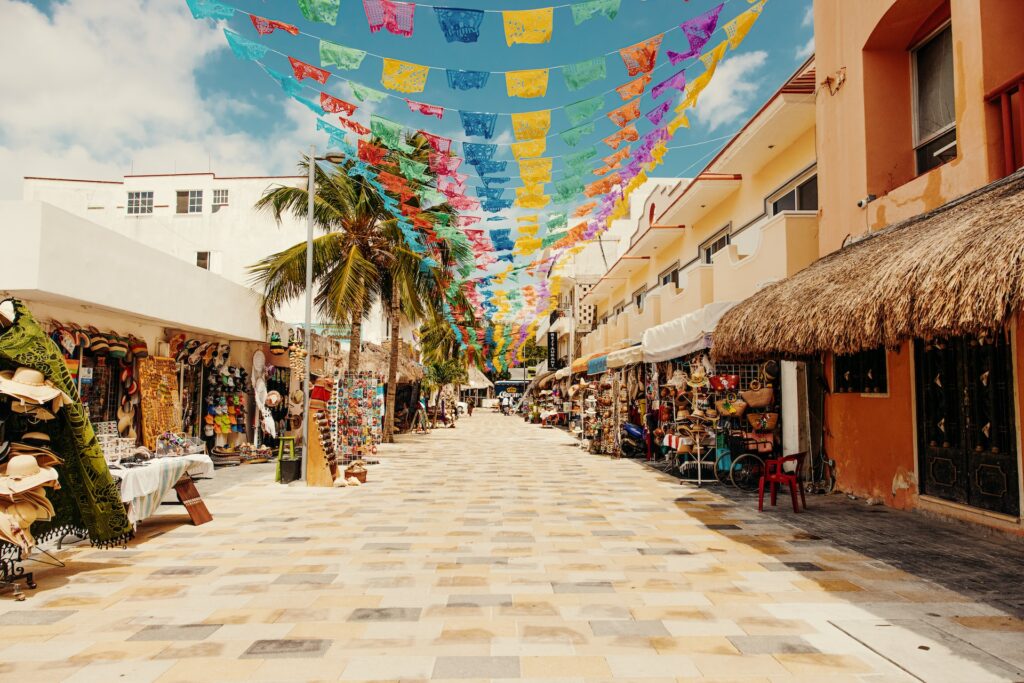 About an hour south of Cancun on the Yucatan Peninsula, you'll find Playa Del Carmen.
This part of Mexico doesn't have as many all-inclusive resorts but instead offers vacation apartment rentals and boutique hotels by the beach.
Although it was once a sleepy beach town, Playa Del Carmen has definitely become known as a party spot in Mexico. It's a bit more chill than Cancun but is growing rapidly.
Spend your day sipping Mojitos at one of the many beach bars, such as Zenzi or Cool Beach Bar. Then, when happy hour comes around, head to 5th Avenue to find a drink special. You'll be able to party here for the rest of the night – or find some food to soak up all that alcohol.
If you're not too tired the next day, be sure to check out some of the cenotes around Playa Del Carmen. These sinkholes are one of Mexico's most impressive natural wonders, and the cool water will help beat your hangover.
Tulum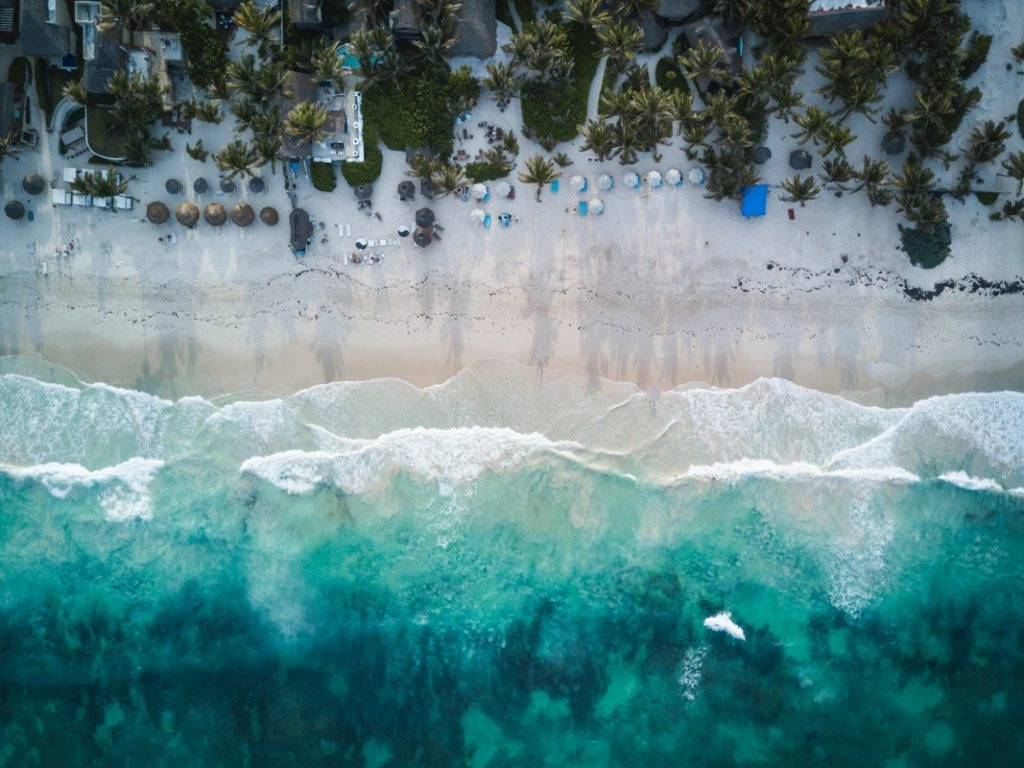 If there's a city that's changed the most in Mexico over the last decade, it's Tulum. I first came here as a backpacker in 2015 when Tulum was just a sleepy beach town. In fact, I actually used it as a place to recover from my party nights in Cancun and Playa Del Carmen.
Oh my, how things have changed. Tulum is now widely known as one of the best party places in Mexico, much in part due to the vast amount of digital nomads in Mexico that decided to call it home during the pandemic.
Parties in Tulum are centered around the downtown area and the beach strip. It's also known for its jungle parties, where you can spend the night dancing under the stars to deep house and techno beats.
Unfortunately, Tulum's growing popularity also means a change in prices. Tulum is not the place to go if you're looking to party on a budget, but it is fun.
Puerto Escondido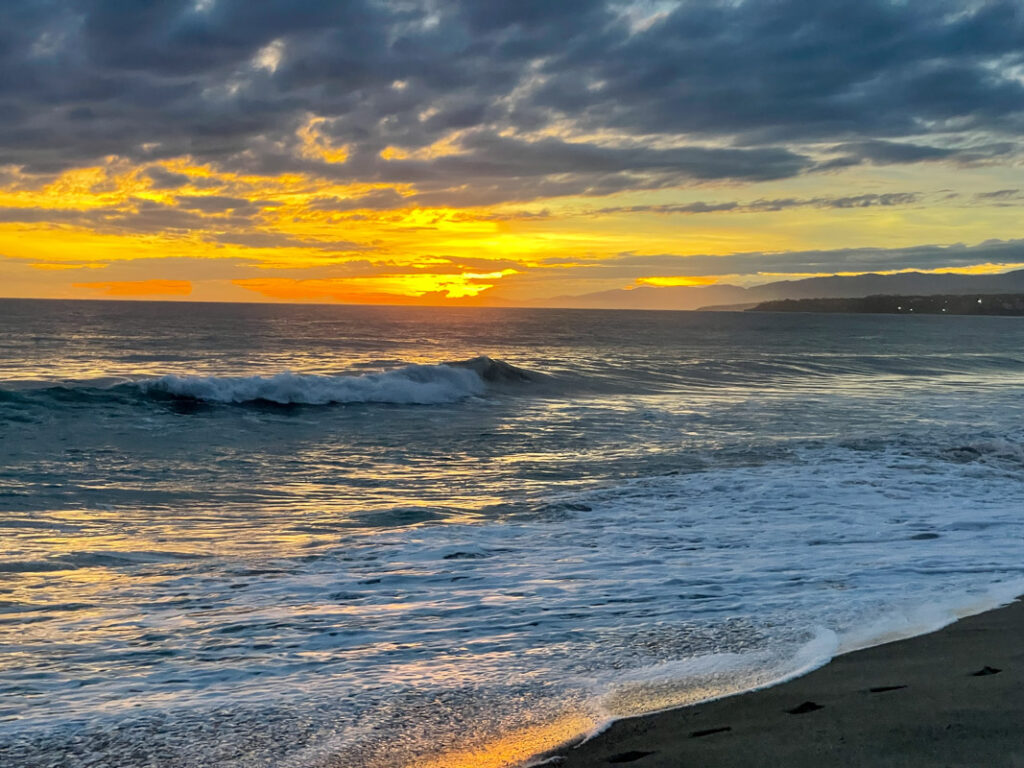 Puerto Escondido is a small surf town in the state of Oaxaca on the Pacific Coast.
While it's not a bustling city, Puerto Escondido's growing party scene is making its reputation among digital nomads and backpackers in Mexico. Because where there's good surf, there are parties.
This town seems to get more popular by the day! After the surfers come in from the ocean, the city becomes alive at night with parties that go well into the early morning hours. La Punta and Zicatele are the two main areas with bars, but like Tulum, you can also find crazy jungle parties here.
As a bonus, Puerto Escondido has pristine beaches with some of the prettiest sunsets I have seen in Mexico. It's also one of the best places to release baby sea turtles – a wholesome activity after a night of debauchery.
So if you want to surf and party, look no further than Puerto Escondido.
Cabo San Lucas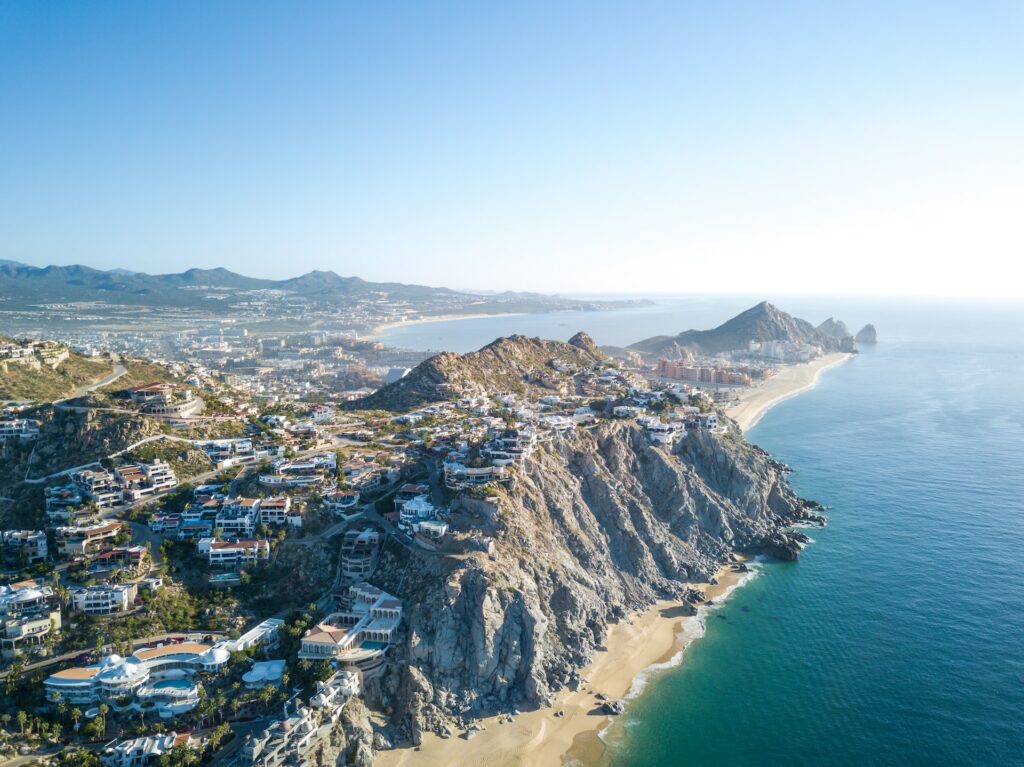 Another Spring break favorite, Cabo San Lucas is a great place for nightlife in Mexico near the beach. It's located on the southern tip of the Baja California Peninsula, with many beautiful beach clubs to indulge in during the day.
At night, the place to go is downtown Cabo. Around Plaza Bonita, you'll find endless bars and nightclubs.
After a night of partying, enjoy relaxing on the sandy beaches and taking in the breathtaking scenery of the unique rock formations that stick out of the ocean.
Best cities in Mexico to party
Mexico City
As the country's capital, you can bet that Mexico City is one of the best party destinations in the country.
While you won't find any beach clubs here, this cosmopolitan city has more than enough options. Take your pick from the local cantinas, rooftop bars, nightclubs, and more.
However, the city is massive, and you can spend hours just waiting in traffic top in-between neighborhoods. It's best to stick to one area in Mexico City when choosing where to party.
Roma and La Condesa are where most expats and digital nomads hang out, with many trendy bars and nightclubs. Polanco is an upscale neighborhood where you can find small underground clubs on streets just off the main avenue.
One of my favorite memories of partying in Mexico City was taking a boat trip down the Xochimilco river. I did this on my 31st birthday with a group of friends, and it was so much fun floating down the river drinking beers as Mariachi bands serenaded us.
Guadalajara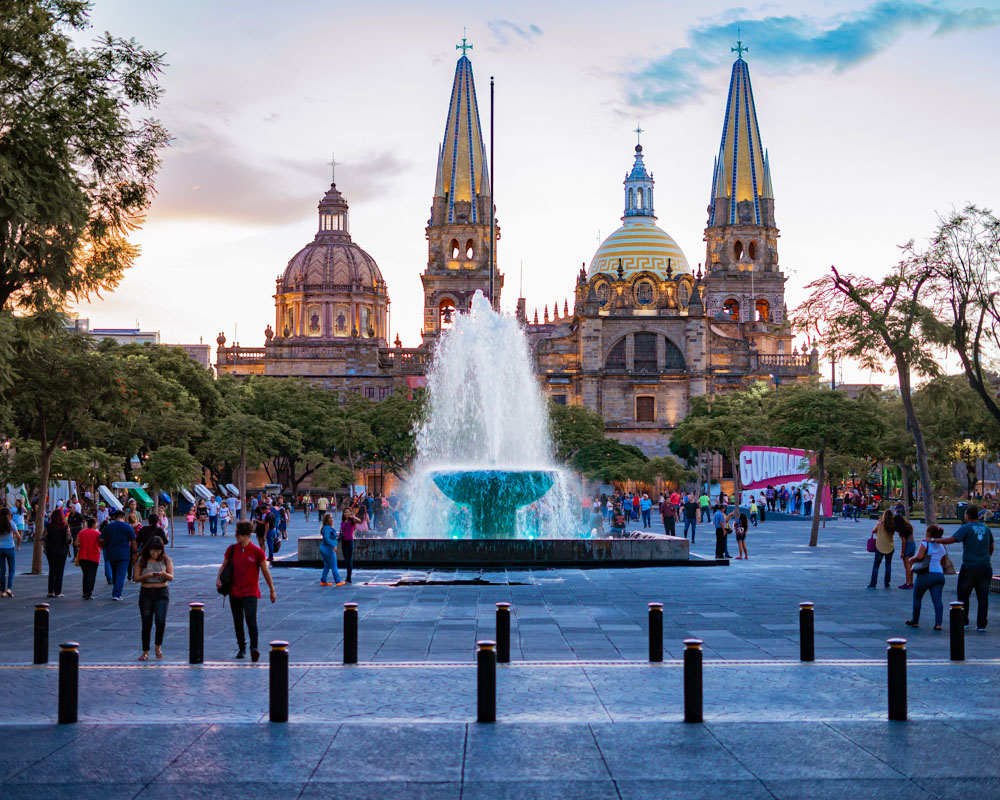 Guadalajara is Mexico's second-largest city and doesn't disappoint when it comes to nightlife, thanks to its large population of college students.
It's in the state of Jalisco, four hours away from Puerto Vallarta, making it a perfect weekend trip idea. Here's how to get to Guadalajara from Puerto Vallarta.
One of the best things to do when you're in Guadalajara is visiting Tequila which is the birthplace of, you guessed it – Tequila!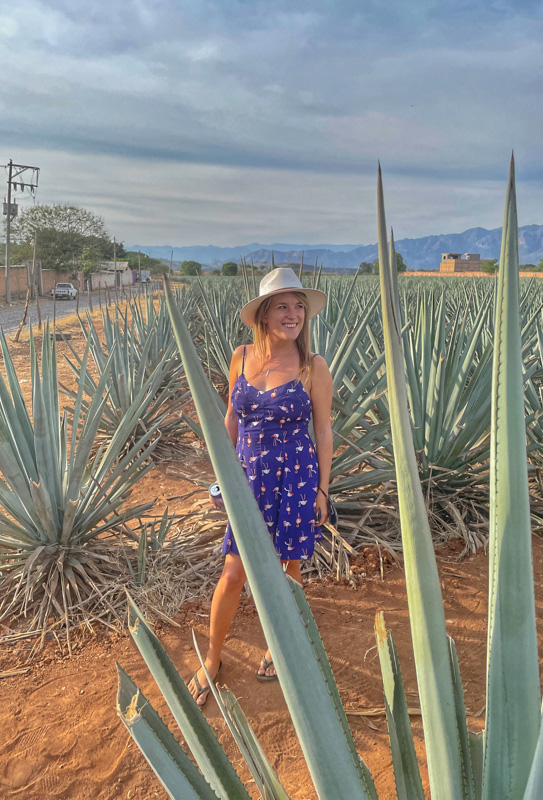 Take a tour to see how Mexico's most iconic drink is made from the agave plant into alcohol, and of course, try as much as you like. Then, after a day of drinking tequila, head back to Guadalajara, where you'll have no trouble finding a party.
The best nightclubs in Guadalajara are Zapopan and Chapultepec Avenue. Bar Americas is a great place to go dancing into the early hours of the night, but my favorite place to start the night in Guadalajara is Galgo speakeasy. They have fabulous cocktails and live music!
If you're looking to party, one of the best times to visit is during Corona Capital, a 2-day music festival that happens just outside the city. I went in 2022 and had a blast! They also have it in Mexico City during the fall.
San Miguel de Allende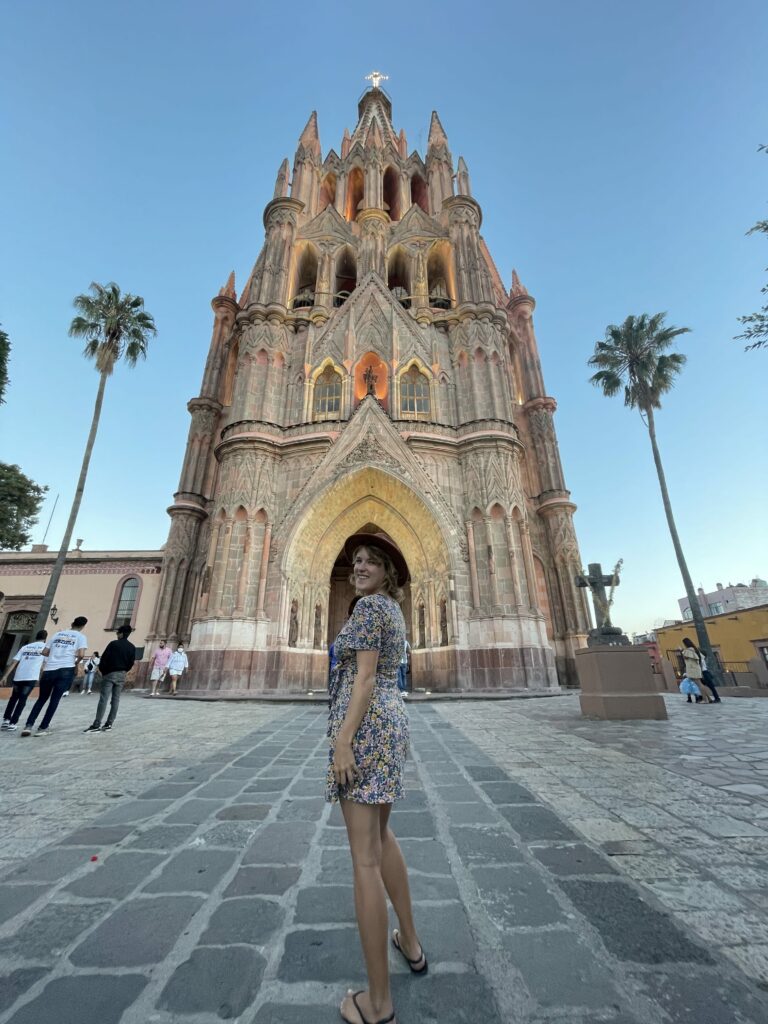 While not as crazy as some of the other cities in Mexico on this list, San Miguel de Allende deserves a spot on this list.
Mainly because I'm not sure there is a more picturesque place to party than the Instagram-worthy town of San Miguel de Allende. Seriously, it's impossible to walk around a corner here without wanting to take a photo!
The colorful houses, the cobblestone streets, and the historic buildings – this place looks like it came straight out of a fairytale. It's no wonder it was named a UNESCO world heritage site.
The stunning scenery has drawn more tourists into San Miguel de Allende, which means the nightlife has also picked up.
Although it's not as nearly as crazy as Mexico City or Guadalajara, this is a great place to enjoy a more relaxing nightlife atmosphere amongst stunning colonial architecture. La Mezcaleria or Mama Mia are two good options to start your night!
Tijuana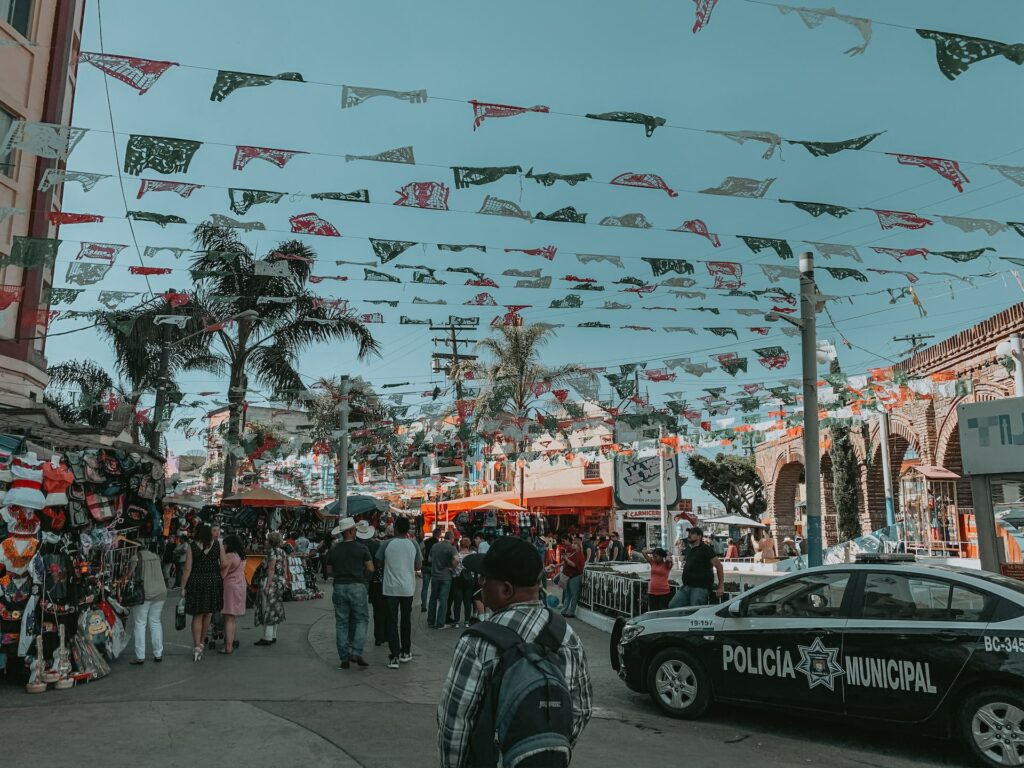 While Tijuana has had a reputation for being dangerous in the past, the city is now coming into its own.
It's having a renaissance of sorts, with many new art galleries, museums, and culinary restaurants popping up each month.
But still, it retains its reputation as one of Mexico's most infamous nightlife destinations. This is partly because it's only two hours away from LA and 30 minutes from San Diego, making it a quick getaway from the United States.
Tijuana's red light district is almost as famous as Amsterdam, but if you want to immerse yourself in the nightlife here, head to La Zona North to experience a more authentic side of this party city in Mexico.
Which city in Mexico has the best nightlife?
Mexico has many cities with great nightlife. For LGBTQ+ travelers, Puerto Vallarta is one of the best cities for nightlife. While those looking for a close escape from the U.S. might head to Tijuana. Check out this guide to help you decide which party city in Mexico to visit.
Is there a party city in Mexico?
There are many party cities in Mexico! Puerto Vallarta, Cancun, and Mexico City are some of the top places in Mexico to party.
Is Tulum a party town?
Yes. Although it was once a sleepy beach town, Tulum is now one of the biggest party towns in Mexico.
—
There you have it, the best party cities in Mexico!