This post may contain affiliate links. By clicking and making a purchase through the links, I earn a small commission at no extra cost to you. See my disclaimer for more information. This allows me to keep the site up to date and expand on resources.
Cabo vs Puerto Vallarta – which is better for your Mexican vacation?
Puerto Vallarta and Los Cabos are two of the most popular vacation destinations in Mexico and possibly the world.
Both destinations offer great beaches, resort-style accommodations, exciting tours, and bustling nightlife.
Choosing between Cabo and Puerto Vallarta can be difficult for this reason.
While I personally prefer Puerto Vallarta over Cabo (there's a reason I moved here), neither city is inherently superior to the other for a vacation; It's all about deciding what kind of trip you want.
In this post, I'll break down the differences to help you decide which one is best for you.
Los Cabos versus Puerto Vallarta key differences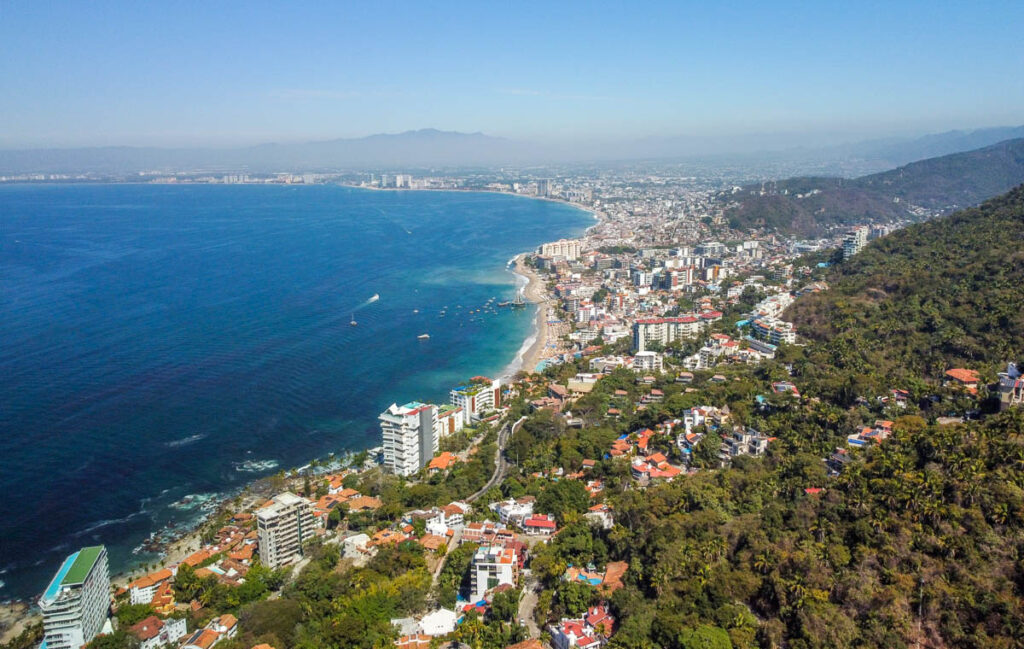 Puerto Vallarta (PV) is located on the Pacific ocean coast in the state of Jalisco.
One of the best parts about visiting PV is that it's a great base to explore the wider Bay of Banderas area, which includes nearby towns of Nuevo Vallarta, Sayulita, Ixtapa, Bucerias, San Sebastian, and more small fishing villages along the bay.
PV is known for its unique bohemian vibe and rich local history. The cobblestoned downtown area in Zona Romantica boasts a world-famous nightlife scene and a dense pedestrian shopping district that can take days to explore.
Los Cabos is a region at the southern tip of Baja California peninsula that includes Cabo San Lucas as well as the smaller town of San Jose Del Cabo a few miles up the coast.
Cabo San Lucas is a dense tourism-focused area, unlike Puerto Vallarta, which is more spread out and has more of a city vibe.
Cabo definitely has a reputation for being a party town. It has dozens of amazing beaches and plenty of access to snorkeling, surfing, and fishing.
It boasts more luxury / high-end resorts than Puerto Vallarta, and you can generally expect to spend more in Cabo. However, it's still easy to find a great deal on a short-term rental or all-inclusive resort if you're trying to save money.
Differences between Puerto Vallarta vs. Los Cabos
Choosing between Cabo and PV isn't hard once you have the facts. They're both great places to visit, but you'll know which one to choose based on how the following factors align with your vacation goals:
Cabo vs Puerto Vallarta beaches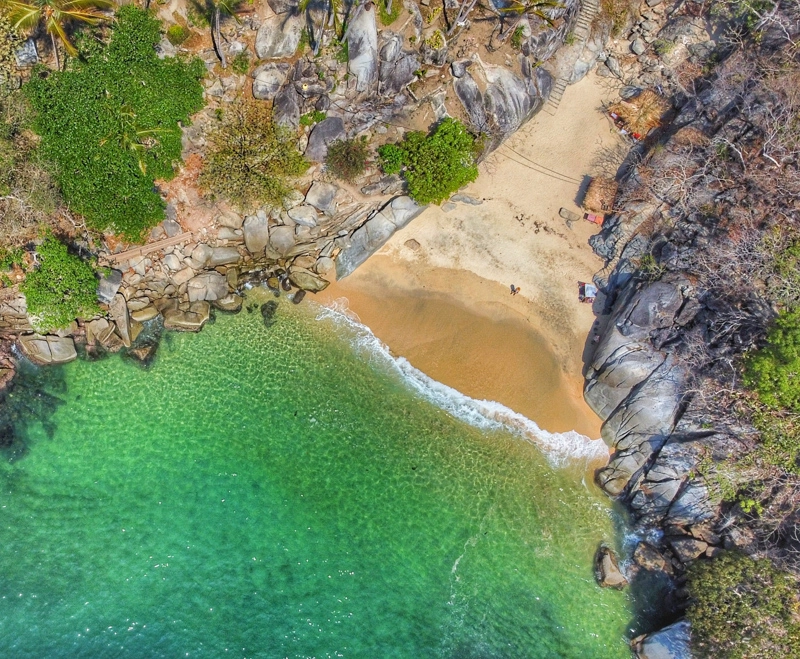 Cabo's beaches are longer and more numerous, with finer sand and generally clearer water. Puerto Vallarta's beaches tend to be much safer for swimming and snorkeling.
Both Cabo and PV have great beaches … no question there. But they differ a bit in size, water quality, safety, and the total number of beaches.
Cabo has more beachfront to offer than Puerto Vallarta, even if you include the awesome stretch of beach in Nuevo Vallarta to the north.
In most times of the year, Cabo's water is also a bit clearer. On the other hand, Cabo's beaches face both the open ocean and the nearby San Andreas faultline.
Combined, these two geographic features make Cabo's waves bigger, and the riptide stronger. So there are fewer places to swim safely or go snorkeling (but there are still some good options).
Puerto Vallarta benefits from the protection of the Banderas Bay. This makes the waves smaller and also significantly reduces the riptide. Combined with the relative lack of jellyfish, PV's beaches and surrounding bay are home to some of the best snorkeling spots in Mexico.
PV is also where you can take a day trip to the Marietas Island, home to one of the most unique beaches in all of Mexico – hidden beach, also known as playa del amor. If you want to visit, be sure to book one of these hidden beach tours in advance, as they do fill up quickly!
Atmosphere
Cabo San Lucas is a non-stop party town, but the nearby village of San Jose Del Cabo offers a quieter atmosphere.
Puerto Vallarta has a world-renowned bar, restaurant, and club scene, but it's very centralized and easy to avoid.
The atmosphere is incredibly important when planning your vacation. If you're looking for a serene escape from the grind of daily life, then the last thing you want is to be surrounded by spring breakers. Conversely, if you're looking to cut loose, you need to know where the best spots are.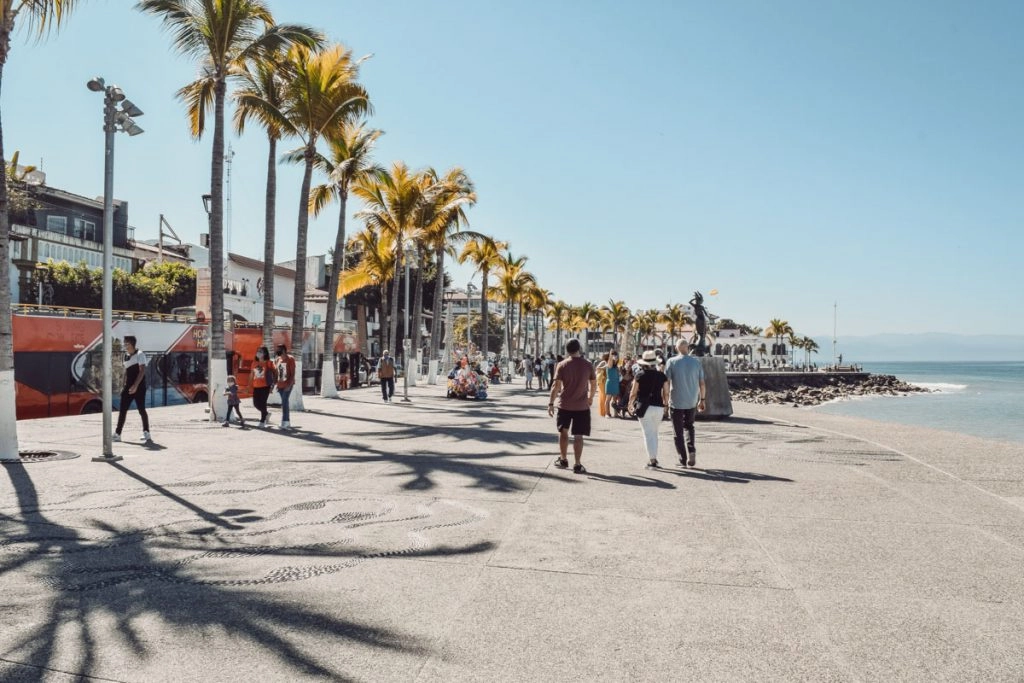 Puerto Vallarta has plenty of places to go clubbing, and the Malecon boardwalk is bustling with activity at night. But PV also has an expansive, thriving city with a unique personality.
Even in the middle of spring break, it's easy to find a quiet coffee shop or local restaurant with no tourists.
Cabo, on the other hand, has a reputation for being party-central. The downtown district is full of loud music and energetic revelers.
Yachts and cruise ships are also playing music and shining lights, and the party can seem to last 24 hours a day.
But there are plenty of luxury hotels in Cabo that can protect your serenity if that's what you're looking for. Alternatively, head up the road a few miles to San Jose Del Cabo and enjoy the more relaxed vibe.
Activities
As two of the most popular resort towns in Mexico, both Cabo and PV offer many of the same activities, including snorkeling, surfing, deep-sea fishing, parasailing, hiking, ATV tours, and more.
Puerto Vallarta's surrounding jungle gives it an advantage for hikers and explorers, while Cabo's party infrastructure makes it better for yacht tours and clubbing.
Both Cabo and PV offer all the usual Mexico vacation activities. This includes surfing, snorkeling, shopping, parasailing, jeep tours, tequila tasting, street fairs, and way more. Both locations are also famous for their marine life and whale watching tours.
One of the biggest differences between the two in terms of activities has to do with geography.
Los Cabos is situated at the tip of a desert peninsula, surrounded by desert, and it feels like a desert. Whereas Puerto Vallarta is surrounded by a lush and humid cascading jungle scape.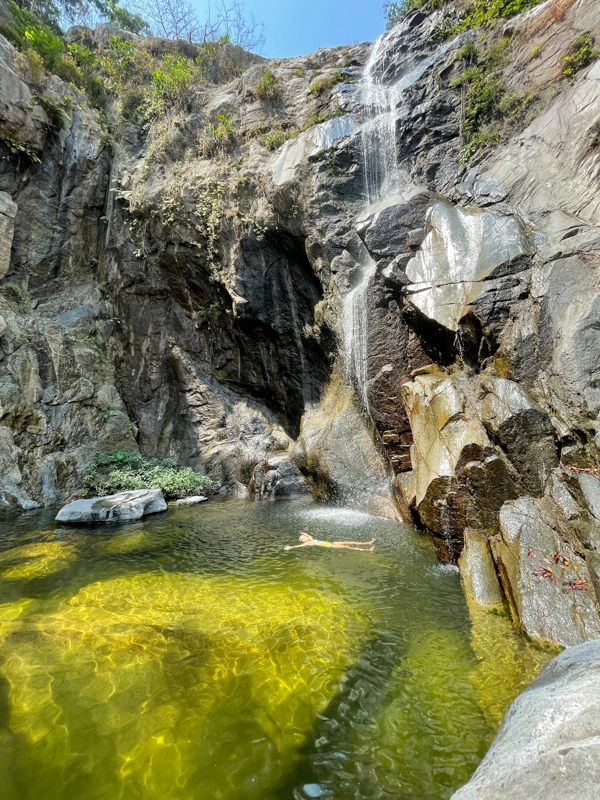 The result is that PV has better hiking trails, waterfalls, more humidity, and it is surrounded by interesting little villages like Sayulita, Punta Mita, and dozens of others. Discover some of the top things to do in Puerto Vallarta below.
On the other hand, Los Cabos is drier and more secluded. Unfortunately, that means there are fewer day trip options for anyone considering renting a car and exploring the area. But it does have an advantage over PV when it comes to surfing, with stronger and more reliable waves.
Check out some of the most popular day trips in Cabo below.
Los Cabos vs Puerto Vallarta Nightlife
While both PV and Cabo have exciting and vibrant nightlife, Cabo's tends to be louder and more widespread. PV's excellent nightclubs are mere blocks from quieter, more rustic parts of the city.
Cabo is synonymous with nightlife and has been for decades. The town's Plaza Bonita, the main shopping area, is surrounded by two square blocks of restaurants, bars, dance clubs, and tasting rooms. As of 2023, the bars and restaurants in Cabo are allowed to serve until 5AM.
Puerto Vallarta's nightlife is no slouch either. Mandala is just one of several VIP dance clubs where guests can reserve a table to have private drink service and plenty of space to dance the night away. But PV has an even higher number of trendy cocktail bars and craft breweries.
Accommodation
Both locations offer both high-end luxury and budget-friendly mega-resorts.
Cabo has a slight advantage for higher-end hotels and resorts, while PV wins for more vacation rentals and a greater choice of all-inclusives, like the stunning Grand Miramar and Sheraton Bungavilias.
Cabo San Lucas is home to multiple 5-star luxury resorts, including the decadent Montage and the world-famous Waldorf Astoria. This is where people from all over the world come to enjoy a luxury vacation, dropping as much as $3,000 per night for certain rooms.
But you don't need to be rich to enjoy Cabo. Resorts like the Hotel Riu and the Solmar resort offers all-inclusive accommodation for under $200 per night if you book at the right time.
Puerto Vallarta offers a mix of luxury and budget-friendly resort options. But the cities geography gives it a few advantages over Cabo for people seeking a good deal.
The first is the very nearby Nuevo Vallarta resort district, where dozens of all-inclusive resorts for families are competing to provide the best deals and most memorable experience.
The other advantage of PV is that its spread-out city area has much more room for houses, apartments, condos, and bungalows. As a result, it's easier to rent cheaper private accommodation in PV, especially if you're renting long-term.
You can find also great deals on Instagrammable boutique hotels in the Romantic Zone and El Centro.
Puerto Vallarta Vs Los Cabos Comparision
Still need help deciding between Puerto Vallarta and Cabo? Maybe this will help:
Things Puerto Vallarta has that Cabo doesn't:
The Malecon: Puerto Vallarta's famous cobblestone beachside shopping district, packed with shops, breweries, restaurants, nightclubs, street vendors, and taco stands.
Tequila Tours: By law, Tequila can only be produced in Jalisco, Mexico. PV travelers can book a Tequila Tour to visit local producers and even visit the town of Tequila on a day trip.
LGBTQ+ community: PV is known as being the gay capital of Latin America, so it's an excellent choice for gay travelers – especially if you come during pride month in May!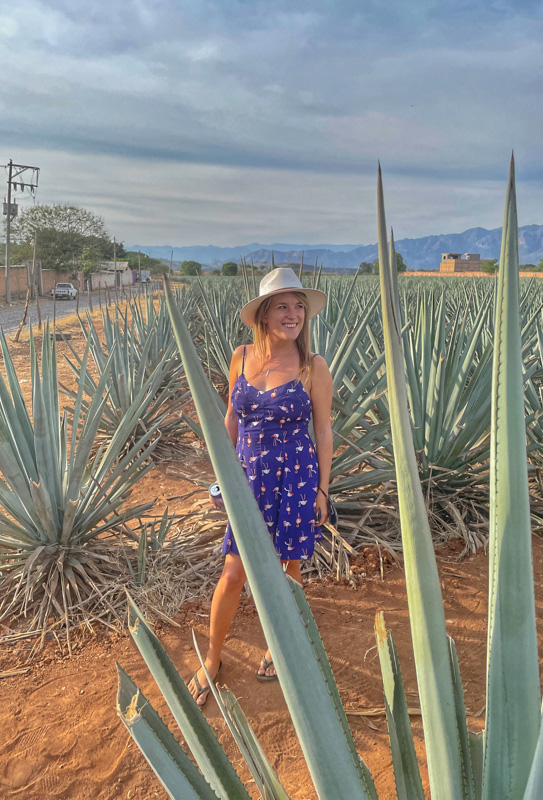 Things Los Cabos has that Puerto Vallarta doesn't:
Party until dawn: Cabo San Lucas has bars and nightclubs that keep the party going through most of the night, closing later than anywhere else in Mexico.
Elite pampering: Cabo has some of the most exclusive and highly rated spas in the world.
San Jose Jazz Weekend: A free annual event in nearby San Jose Del Cabo, usually held at the iconic and breathtaking Playa Hotelera in late May.
Frequently Asked Questions [FAQ] – Puerto Vallarta vs Cabo San Lucas
Is Puerto Vallarta or Cabo better?
Both Puerto Vallarta and Cabo San Lucas are populat tourist destinations in Mexico. They offer many of the same amenities and activities and share a similar ecosystem. The key differences are that Cabo tends to be a bit more tourist-oriented, with a greater number of luxury options, while Puerto Vallarta has more of an established city type of feel.
Is Cabo San Lucas the same as Los Cabos?
Cabo San Lucas is one of two main cities that make up the "Los Cabos" area, the other being San Jose Del Cabo. It's not uncommon for people to refer to this wider area as just "Cabo".
What is the difference between Puerto Vallarta and Cabo?
The biggest differences between Puerto Vallarta and Cabo are the geography and the atmosphere. Puerto Vallarta is located in a lush jungle area, while Cabo is nestled in a desert of rocky cliffs. In addition, Puerto Vallarta has a more spread-out urban center, while Cabo is a more contained resort community.
Why is Los Cabos so popular?
Los Cabos, including Cabo San Lucas and the nearby San Jose del Cabo, is known for its pristine beaches and a lively party atmosphere.
Is Los Cabos or Puerto Vallarta better for families?
Both Cabo and PV have plenty of safe, family-oriented resorts, restaurants, and activities. However, Cabo is known to be a bit louder and busier, as well as more popular with spring break travelers.
Which is better for surfing, Cabo or Puerto Vallarta?
Both Cabo and Puerto Vallarta have world-class surfing beaches within a short distance (Todos Santos and Sayulita, respectively). Surfing enthusiasts find that Cabo has larger and more reliable surfing waves. This could be due to Puerto Vallarta's location inside of a protected Bay, while Cabo faces the open ocean on two sides.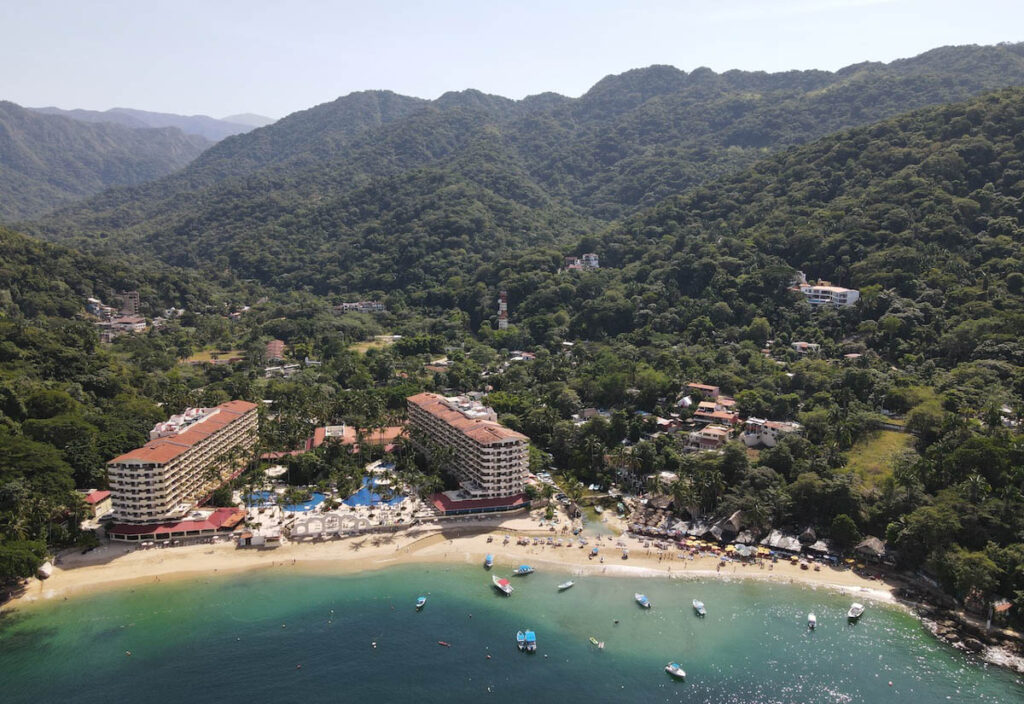 Final thoughts: Puerto Vallarta vs. Los Cabos
Choosing between Puerto Vallarta or Cabo comes down to personal preference. If you're looking to cut loose and indulge in the luxury treatment, there's no doubt that Cabo has the finest resorts and spas available.
But if you want something a little less structured and with more Mexican culture, the city of Puerto Vallarta is the place to go.
Of course, don't forget to factor in your budget and compare rates ahead of time. Finding a killer deal on a hotel room or activity could be more important than choosing between Cabo vs Puerto Vallarta, as it will leave you with a lot more spending change to enjoy yourself with.
Planning a trip to Mexico? Check out these posts!