This post may contain affiliate links. By clicking and making a purchase through the links, I earn a small commission at no extra cost to you. See my disclaimer for more information. This allows me to keep the site up to date and expand on resources.
Looking for a Grand Miramar Puerto Vallarta review? Let me help! I live in Puerto Vallarta and recently had the chance to stay at this luxurious hotel.
In the post, I'll provide everything you need to know about the Grand Miramar to help you decide if it's the right hotel for your Puerto Vallarta vacation.
Perched high in the hills of Puerto Vallarta, the Grand Miramar provides a stunning panorama of the Bay of Banderas. It's a tranquil escape, yet just minutes away from the vibrant downtown area. Here, you'll feel the heartbeat of Puerto Vallarta's cultural scene.
With luxurious rooms, delightful dining options (including some fabulous vegan meals), one of the best rooftop pools in the city, and top-notch service, I quickly fell in love with this place.
Whether you're visiting Puerto Vallarta for the first time or you're a seasoned traveler to this beautiful city, this post will help you decide if you should book the Grand Miramar for your next vacation to Puerto Vallarta.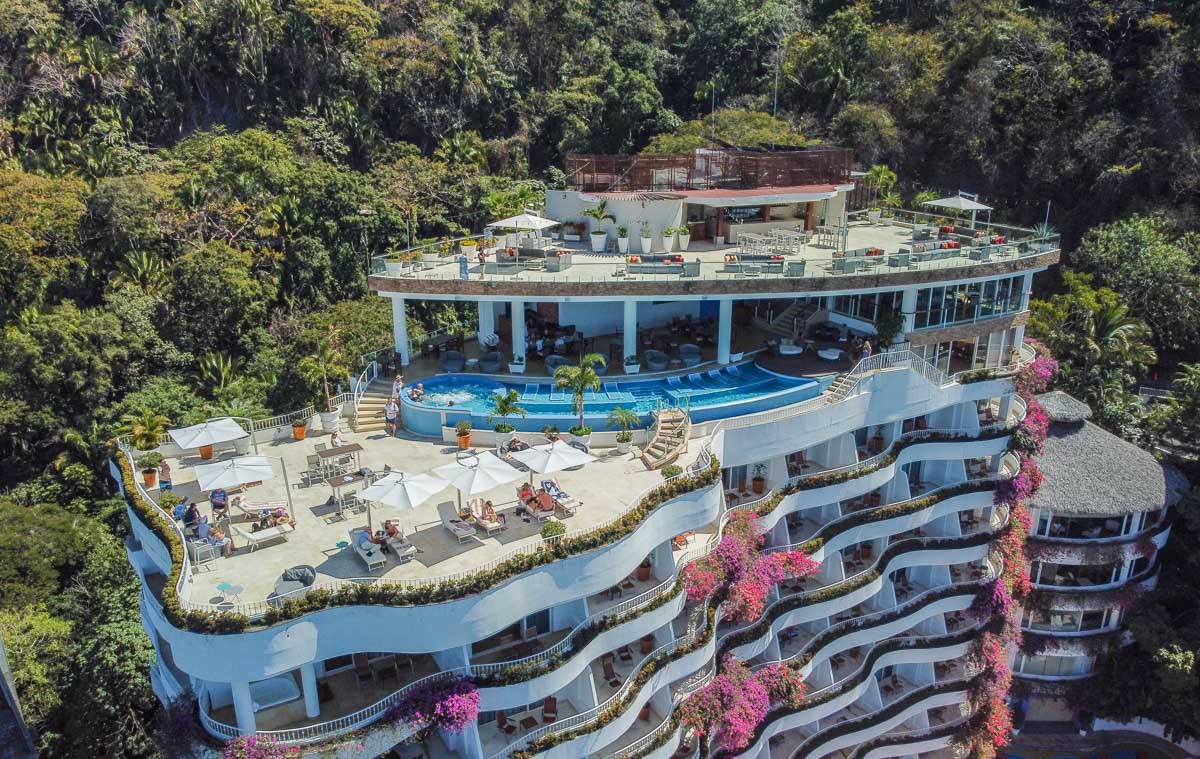 Grand Miramar Puerto Vallarta Review
Rooms at the Grand Miramar
The Grand Miramar offers a variety of room types, including junior suites, master suites, 2-3 bedroom suites, and a luxurious penthouse that can fit up to 8 people!
I stayed in a grand junior suite, which was extremely comfortable. The room had a king-sized bed, a seating area with a day bed and table, and a large balcony with stunning ocean views.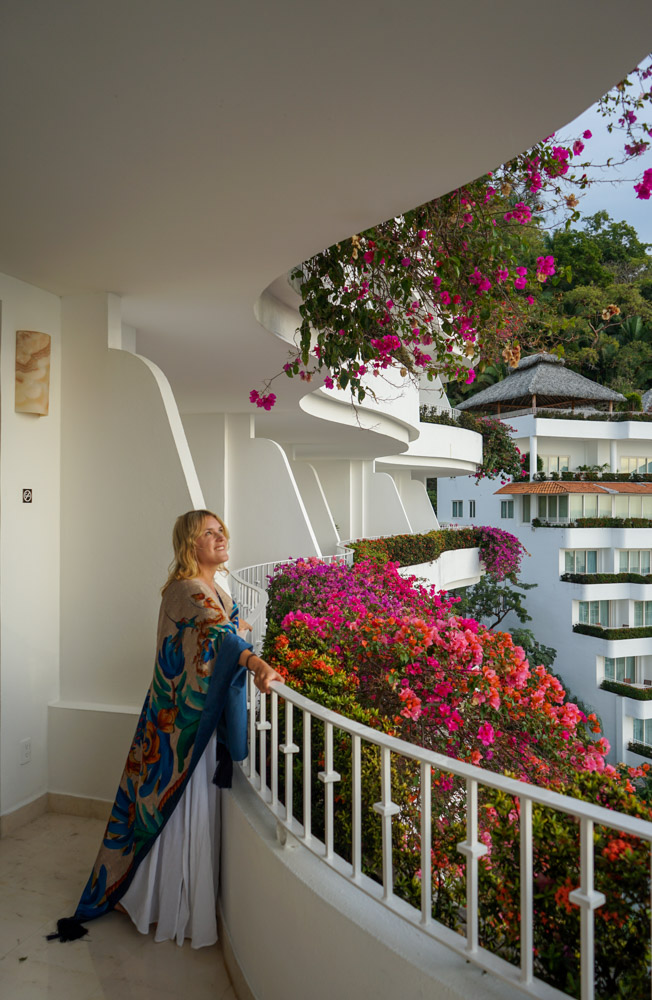 "Miramar" translates as "ocean-view" or "look at the ocean," which is what you'll spend most of your time at the Grand Miramar doing. I loved relaxing on the balcony, looking at the ocean and all the bright flowers that decorate the balconies of each room.
If you're visiting during the whale-watching season from December to March, be sure to keep an eye out for humpback whales breaching in the water.
The bathroom was also spacious, with a double vanity, a walk-in shower, and a separate jacuzzi bathtub.
The room was equipped with all the amenities you would expect from a luxury hotel, including a flat-screen TV, a minibar, and a safe. The bed was incredibly comfortable, and I slept well every night.
Amenities at the Grand Miramar Puerto Vallarta
The Grand Miramar has a wealth of amenities to keep you entertained and relaxed throughout your stay, although if you want to go into the city, you aren't too far away (more on that below).
There are multiple swimming pools, but the best is the rooftop infinity pool with sweeping views of the ocean and the city.
It has numerous sun loungers by it, so this is the perfect place to hang out with a freshly made spicy margarita and watch the incredible Puerto Vallarta sunsets.
There's also a rooftop terrace above the infinity pool, which you can rent for weddings and events. The view of the city is fantastic from here!
On the lower ground, there is another pool, a hot tub, and a well-equipped fitness center.
I also got to test out the WiFi while catching up on some work here and had no issues with speed, so this resort is a solid choice if you're a digital nomad in Puerto Vallarta taking a workcation.
Working from the Grand Miramar
The resort's spa, 'The View Spa,' is also top-notch, offering a variety of treatments and services, including massages, facials, body treatments, and couples experiences.
The spa also offers a flotation experience, where you can experience what it's like to float in water with the same density as the dead sea.
Unfortunately, the spa was under renovation while I was there, so I didn't get a chance to try it out. However, with this resort's AAA Four-Diamond certification, I'm sure it delivers on quality.
Although the resort was almost at max capacity while I stayed there, it didn't feel crowded. In fact, at times, it felt like we were the only people there.
Restaurants at the Grand Miramar
The Grand Miramar has several on-site restaurants, each offering a unique dining experience.
I had the breakfast buffet at Cielito Lindo each morning, which included a selection of fresh fruits and juices, pastries, bread, cereal, and a variety of hot dishes, including traditional Mexican breakfast items like chilaquiles. They also offered a la carte items like omelets and made-to-order vegan meals.
One of the best parts about staying at the Grand Miramar Puerto Vallarta is dining at Eugenia, the restaurant on the rooftop by the infinity pool. They serve a variety of international dishes with a focus on fresh seafood. The tuna was particularly excellent, and they also had an extensive vegan menu.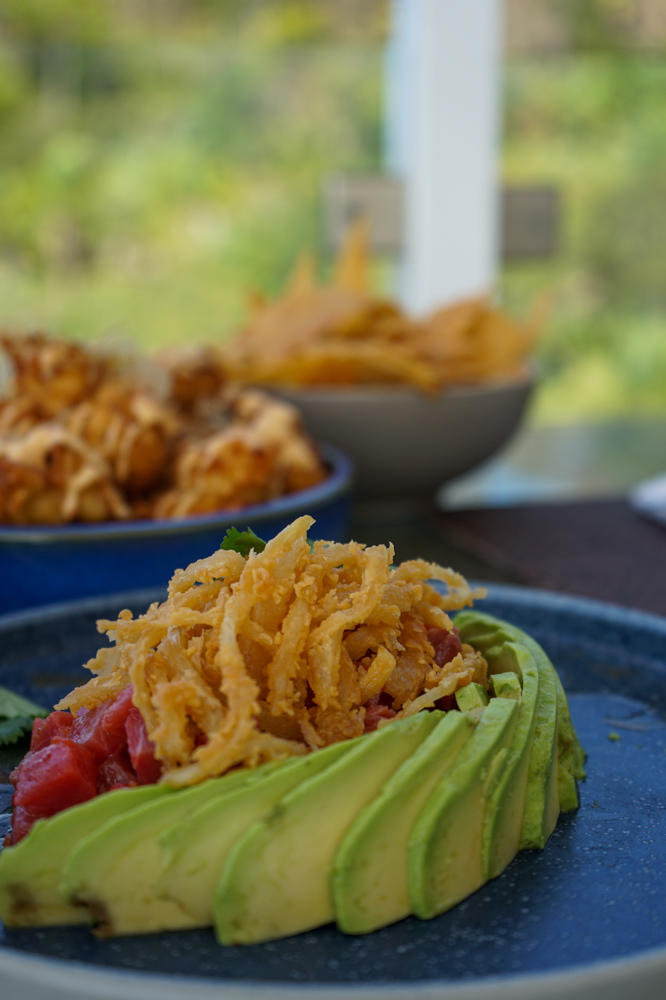 The restaurant has a beautiful outdoor seating area with panoramic views of the ocean and the city, making it perfect for a romantic dinner or night out with friends.
The restaurant is open to the public, so even if you're not staying here, it's worth coming to Eugenia during your stay as it's easily one of the best restaurants with a view in Puerto Vallarta.
Eugenia is open from 6 to 11 pm every night, but if you get hungry during the day and don't want to leave the resort, a poolside snack bar and room service are available.
Service at the Grand Miramar
The staff at the Grand Miramar was exceptional. From the moment I arrived, I was greeted with a warm smile and a friendly welcome. The check-in process was smooth and efficient, and the staff was happy to answer any questions I had about the resort.
The staff was always available to assist with anything I needed throughout my stay, and they made some great cocktails. Everyone I encountered was friendly, professional, and genuinely seemed to care about making my stay as enjoyable as possible.
Things to do around the Grand Miramar Puerto Vallarta
The Grand Miramar is in the Conchas Chinas area. Located just south of the city center, this exclusive neighborhood is known for its stunning beaches, luxurious villas, and lush tropical foliage.
While you could easily spend your vacation relaxing at the resort, there are plenty of things to see and do in and around Puerto Vallarta. Thankfully, the Grand Miramar is conveniently located near many top attractions. Here are some of the best things to do in the area:
Visit Old Town
Although the Grand Miramar feels completely immersed in nature, you are just a 10-minute drive from Old Town, and Ubers are readily available. Yes, they will go up the hill!
Zona Romantica is the hub of nightlife in Puerto Vallarta, and there you can find restaurants, live music and entertainment, beach clubs, and bars to dance the night away.
Relax on the Beaches
Conchas Chinas has several beautiful beaches perfect for relaxing and soaking up the sun. Playa Conchas Chinas is the main beach in the area and is known for its soft sand and calm waves.
You can walk to the beaches or drive there in 8 minutes. I recommend walking down and taking a taxi/Uber back up, as the hill is quite steep.
If you're up for an adventure, you can also head to Boca de Tomatlan and take a boat to some of the other secluded beach towns along the coast. They offer some of the best beaches!
Explore the Jungle
Conchas Chinas is located at the base of the Sierra Madre Mountains, which are covered in lush jungle foliage.
You can hike through the jungle to explore its flora and fauna or take a guided tour to learn more. Several tour companies in Puerto Vallarta offer jungle tours, including zip-lining and ATV adventures.
Visit the Botanical Gardens
The Vallarta Botanical Gardens are located just a short drive from Conchas Chinas and are a must-visit attraction for nature lovers. The gardens feature a variety of local plant species, as well as orchids, bromeliads, and other exotic plants.
Whatever activity you decide to do, the resort's concierge service will happily arrange it for you.
FAQ: Visiting Puerto Vallarta
Which part of Puerto Vallarta is the best?
The best part of Puerto Vallarta depends on what you're looking for; the Romantic Zone offers vibrant nightlife and culture, while Conchas Chinas is known for luxury and relaxation.
Where do celebs stay in Puerto Vallarta?
Celebs often choose luxury resorts and villas in areas like Marina Vallarta, Conchas Chinas, and Punta Mita for privacy and top-notch amenities.
What is the safest part of Puerto Vallarta to stay in?
Most of Puerto Vallarta is considered safe for tourists, with areas like Conchas Chinas, Marina Vallarta and the Hotel Zone known for their security.
Where not to stay in Puerto Vallarta?
While most areas are safe, it's best to avoid certain neighborhoods that are distant from the tourist zones.
Is it safe to leave the hotel in Puerto Vallarta?
Yes, it's generally safe to leave your hotel and explore Puerto Vallarta. I've been living here for three years as a solo female traveler.
What is the least crowded beach in Puerto Vallarta?
Playa Gemelas is known for being less crowded, offering a more peaceful beach experience.
What are the rich neighborhoods in Puerto Vallarta?
Marina Vallarta, Conchas Chinas, and Punta Mita are considered affluent neighborhoods known for their luxurious properties.
What is Puerto Vallarta most known for?
Puerto Vallarta is famous for its stunning beaches, lively arts scene, and LGBTQ+-friendly welcoming atmosphere.
What is the best time to vacation in Puerto Vallarta?
The best time to visit Puerto Vallarta is from November to April when the weather is pleasant and the rainfall is minimal.
Is the ocean swimmable in Puerto Vallarta?
Yes, many beaches in Puerto Vallarta have calm and swimmable waters.
Are Ubers safe in Puerto Vallarta?
Uber operates in Puerto Vallarta and is generally considered safe, but always follows standard safety practices, such as checking you are getting in the right vehicle.
Final thoughts: Grand Miramar Puerto Vallarta Review
I would highly recommend the Grand Miramar Resort to anyone visiting Puerto Vallarta looking for a safe and luxurious place to stay.
The hotel's beautiful design, top-notch amenities, and exceptional staff made my stay wonderful. Plus, its convenient location makes it a great base to explore all that Puerto Vallarta has to offer. I loved the two days I spent here, and can't wait to go back for another staycation.
Planning a trip to Puerto Vallarta? Check out these other things to do!