This post may contain affiliate links. By clicking and making a purchase through the links, I earn a small commission at no extra cost to you. This allows me to keep the site up to date and expand on resources. Thanks for reading!
Situated on Mexico's breathtaking Banderas Bay with the Sierra Madra mountains as the backdrop, Puerto Vallarta is one of the best places in Mexico for outdoor adventure. From discovering the marine life underwater on a scuba diving trip to riding ATVs up the mountains, there's no shortage of fun outdoor adventures in Puerto Vallarta.
This post will go over the top outdoor tours in Puerto Vallarta so you can plan a trip full of excitement and adrenaline!
Water Activities in Puerto Vallarta
Surrounded by the sea, Puerto Vallarta offers some incredible water-based activities.
Puerto Vallarta Snorkeling and Diving
If you love marine life, you need to go on a snorkeling or diving tour in Puerto Vallarta! The bay is full of incredible aquatic animals to see.
One of the best places to go is Los Arcos, a natural rock formation that is part of a protected national park called Los Arcos Marine Park.
The rock arch provides a rich habitat for marine life in the area. As you approach it, you'll see many birds flying overhead the warm, blue waters.
When you jump in the water, you may encounter stingrays, manta rays, sea turtles, tropical fish, moray eels, trumpet fish, and more. Thanks to the park's protected status, this unique ecosystem is still well-preserved.
Book a snorkeling tour to Los Arcos here.
Book a diving tour to Los Arcos here.
Another place to see marine life near Puerto Vallarta is Islas Marietas, about two hours away by boat. To get there, you can join a guided tour.
On the way out you'll likely see dolphins from the boat, and then have the chance to snorkel in crystal-clear water among large schools of fish and sea turtles. The islands are also home to some 90 bird species!
Whale and dolphin watching
If you're visiting Puerto Vallarta from December to March, one activity you don't want to miss is whale-watching!
Every winter, northern humpback whales head south to the waters of Mexico to feed and breed, making Puerto Vallarta one of the best places in the world to see these magnificent creatures up close.
On a whale-watching tour, you'll likely see several humpback whales playing and swimming right around your boat. There's also a good chance that you'll see dolphins, and if you're lucky, orcas!
Although there are many places in Puerto Vallarta offering swimming with captive dolphins, please do not do this. These dolphins are taken from the wild and often kept in poor conditions. Instead, go with a responsible tour operator like this one to see the dolphins in the wild.
Jet Ski Puerto Vallarta
For an adrenaline-soaked adventure, rent a jet ski and ride along the coastline to the many beach town.
This jet ski safari tour leaves from Marina Vallarta and takes you along downtown Vallarta where you'll have the chance to stop by the Malecon and admire the old town and its history. From there, you'll head towards Mismaloya beach passing by Los Arcos on the way.
Surfing
While there aren't any places to go surfing right in Puerto Vallarta, you don't have to go far to find some of the best surf conditions in Mexico.
There are many surf spots around Puerto Vallarta, like Sayulita and San Pancho. These towns make excellent day trips, and you can rent surfboards right on the beach.
If you are new to surfing, you can also book a lesson that will pick you up in Puerto Vallarta and take you out to one of the nearby surf spots for a lesson to learn the basics! It also includes free pictures so you can always remember the experience.
Outdoor Activities In Puerto Vallarta
Inland, adventure seekers can go zip-lining through the jungle, hike to hidden waterfalls, or ride ATVs up the mountains.
Hiking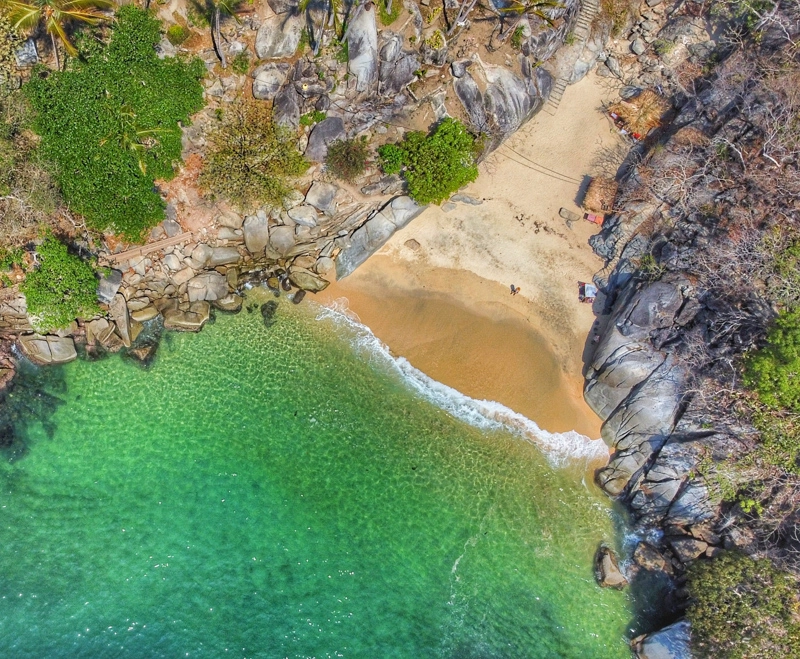 One of the best things to do in Puerto Vallarta is hiking along the coast. For more information about the best hikes in the area, check out this guide. You can hike to secluded beaches, through the botanical gardens, or up to viewpoints overlooking the city.
There are also several waterfall hikes in Puerto Vallarta! My favorite places are Quimixto and Yelapa, two secluded beach towns which both have beautiful falls you can swim under.
Puerto Vallarta Zip line
One of my favorite days in Puerto Vallarta was zip-lining in the jungle. There's no way better way to take in the jungle scenery than soaring over it at high speeds! We did this canopy tour which included multiple zip-lines, each one more exciting than the last.
ATV Tours Puerto Vallarta
Last but not least, one of the best adventure activities in Puerto Vallarta is renting ATVs and exploring the Sierra Madre mountains. On this half-day tour, you'll ride along the Malecon towards the Sierra Madre mountains to explore the river trails.
Another great place to rent ATV's is in San Sebastian Del Oeste, one of the pueblos magicos in Jalisco. This cute mountain town is about an hour away from Puerto Vallarta and makes a great day trip. You can rent them in town and drive them up to La Bufa, a gorgeous viewpoint where you can see back all the way to Vallarta.
Combined Adventure Tours
If you're short on time while visiting Puerto Vallarta, check out some of these combined adventure tours.
This thrilling 6.5-hour outdoor adventure tour takes you on a ride on a super-fast speedboat, rappeling down rushing waterfalls, riding powerful 4×4 jeeps, and soaring over the treetops on zip lines and cross suspended rope bridges hanging high above the jungle. It doesn't get more adrenaline-packed than this!
For an unforgettable day, check out this extreme adventure tour. Departing from central Puerto Vallarta, you'll venture deep into the luscious jungle to an exciting ecological adventure park. There, you'll get the chance to soar over treetops on zip lines, rappel down jungle platforms, go off-roading on river beds, refresh in natural pools, and slide down hillside waterfalls.
For something a little lighter, this half-day combo tour combines an exciting ATV ride through the jungles of Puerto Vallarta, followed by soaring down 12 different zip lines.
Best Time for Outdoor Adventures in Puerto Vallarta
The best time for adventure activities in Puerto Vallarta is during the dry season from November to April, as the jungle will be lush and green from the rain of the previous months but the climate will be warm and dry. If you want to see whales, come before March as they start to migrate after this.
Planning a trip to Puerto Vallarta? Don't miss these posts!