This post may contain affiliate links. By clicking and making a purchase through the links, I earn a small commission at no extra cost to you. This allows me to keep the site up to date and expand on resources. Thanks for reading!
From secluded beaches to hidden speakeasies in the city, get off the beaten path in Puerto Vallarta with these Puerto Vallarta hidden gems.
Puerto Vallarta is well-known for its all-inclusive resorts, and most travelers who come here head straight for popular attractions like the Malecon and Los Arcos.
If you're looking for more unique things to do in Puerto Vallarta where you can get away from the crowds, this is the list for you.
Unique Things to do in Puerto Vallarta
Puerto Vallarta Art Walk
Puerto Vallarta has a fantastic art gallery scene, and one of the best ways to experience it is by joining the Puerto Vallarta Art Walk that happens every Wednesday night from 6-10 pm in Centro.
It will take you around the city's best galleries, where you'll have a chance to buy unique souvenirs and gifts.
Visit a medium
One of the craziest experiences I've had in my life was during my first week in Puerto Vallarta.
We went to Mystic Circle Cafe in Zona Romantica, and as it turns out, the man working there was a medium who was hosting an event the next day (which so happened to be the day before my dad's anniversary).
I didn't know how I felt about mediums before this experience, but I'm so grateful I went because it allowed me to connect with my dad again in a way I never thought would be possible. The whole experience was very intense and powerful for everyone in the room.
Puerto Vallarta is a very spiritual place with an indescribable energy, so if you've never been to a medium before, this is an ideal place to do it.
La Cruz Sunday Market
There's a local farmers' market in PV you can visit on the weekends, but one of my favorite markets in Mexico is just outside of it in La Cruz de Huanacaxtle.
The La Cruz Sunday Market, or the Mercado Domingo, is a favorite among travelers in the Riviera Nayarit.
Set right on the water in the Marina, the vibe here is so lovely. They have live music, fresh farm-to-table products you can take home, artisan crafts, and a great food truck area at the back full of delicious Mexican and non-Mexican things to eat.
Grab a Cocktail at El Colibri
If you're looking for one of the best cocktails in the city in a speakeasy esque-vibe, El Colibri is the place to go.
It's got a fantastic vibe inside with plants everywhere, big tables for lounging with friends, and a live DJ on the weekends.
Join a Temazcal Ceremony
One of my favorite places in Puerto Vallarta for yoga is Terra Noble which has the most breathtaking panoramic views over the city.
They also offer Temazcal Ceremonies, a traditional Mayan healing and purification ceremony that promotes physical and mental well-being and healing.
I did the ceremony in May, which was extremely intense as it was already sweltering outside, and the ritual involved being in a small cave packed full of people and fire.
There are four rounds of chanting, and in between each round, they let air into the cave.
They ask that you don't leave during the ceremony, so be prepared and drink lots of water beforehand (don't make my mistake and come hungover).
Even though it was challenging to get through, I did feel amazing afterward. It's one of the most unique experiences you can have in Mexico, so give it a try!
Eat tacos in a car garage
There are endless taco stands to enjoy in Puerto Vallarta, but one of the most unique places to go is Machuk2 Tacos y Mas, which is actually a car wash during the day.
The stand is located in Versalles, which is becoming well known as the foodie hub of Puerto Vallarta with some of the city's top restaurants.
Go swimming with bioluminescence plankton
There are few places in the world where you can experience the unique sensation of swimming among thousands of bioluminescence planktons that light up as you touch them, and Puerto Vallarta happens to be one of them!
Since the bioluminescence can only be seen in the dark, this is a nighttime tour. My friend arranged one for a large group of us from Playa Mismaloya, which involved cliff diving beforehand and only cost us 200 pesos each.
Afterward, we took the boat to Los Arcos, where we got to swim in the water for about 15 minutes and see the glowing bioluminescence.
Jet's Boat tours also organizes trips, but the cheaper way would be to talk to a boat driver in Mismaloya.
Off The Beaten Path With These Unique Day Trips From Puerto Vallarta
It's no secret that Puerto Vallarta has amazing beaches, but most of them are jam-packed with tourists and locals.
The northern shores of Puerto Vallarta are dotted with secluded beaches only accessible by boat or hiking trails.
Most tourists just go as far as Colomitos or Las Animas, but if you go a little further, you'll be rewarded with far fewer crowds.
Quimixto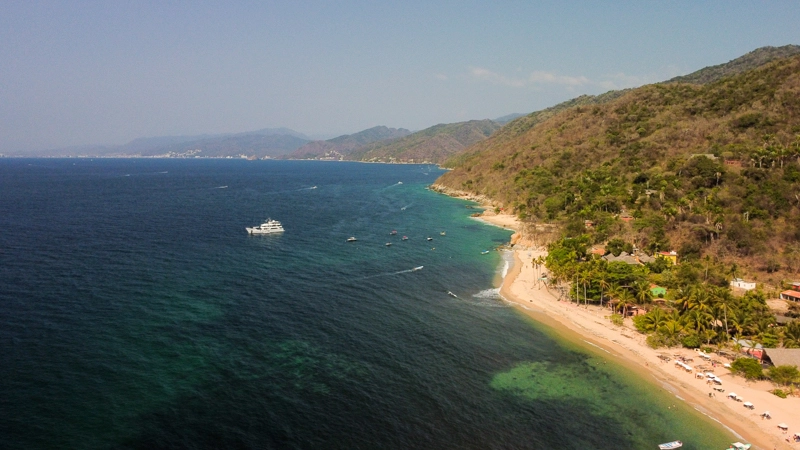 One of my favorite unique places near Puerto Vallarta is Quimixto, a small Mexican town with miles of golden sand and low-key beach bars that serve up some of the best seafood in Puerto Vallarta.
Aside from the beach, there's also a lovely waterfall that you hike to from town. It plunges into a natural pool, and there's a restaurant by the falls.
Quimixto is the perfect Puerto Vallarta day trip. Plan to leave the city by 10 am to make the most of your day, as the last boat back goes at 6 pm and it's about an hour of travel time from the city center. You can get a water taxi from the pier at Boca de Tomatlan.
BOOK A TOUR TO QUIMIXTO
Yelapa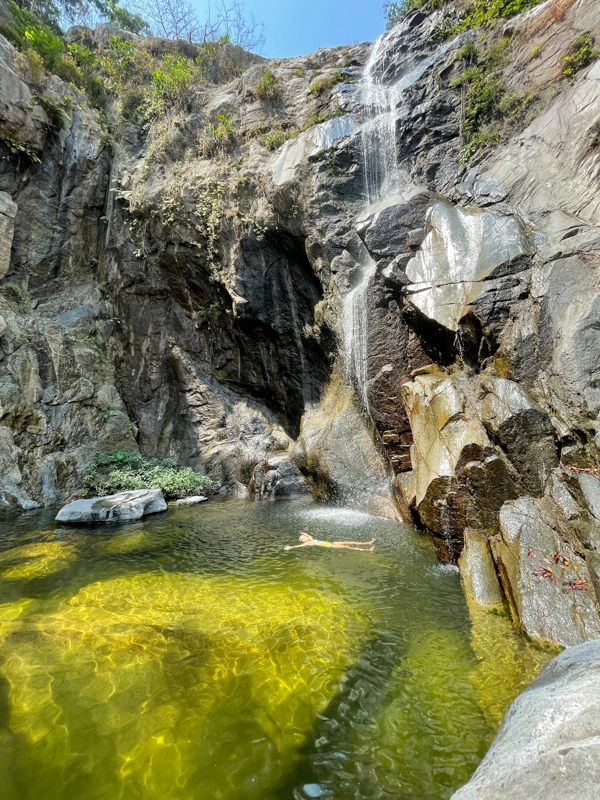 Another Puerto Vallarta hidden gem, Yelapa is often referred to as Mexico's last authentic beach town.
While it can be visited as a day trip, I recommend spending the weekend here as there are several things you can do. It's also the perfect place to relax.
Aside from the beach, Yelapa is one of the best places to go waterfall chasing in Puerto Vallarta. There are several waterfalls; one is just a 15-minute walk from where the boat drops you off.
The other waterfall is an hour hike inland, and there's an even more secluded one four hours inland – but you'll definitely want a guide to get there as it involves several river crossings.
For more information about getting to Yelapa from Puerto Vallarta and where to stay, check out this guide.
Hidden Beach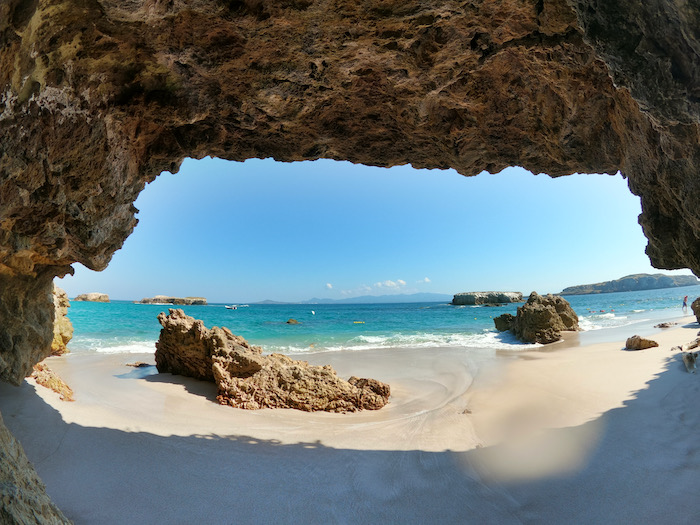 One of Mexico's most unique beaches is Islas Marietas (Marietas Islands), a beautiful nature reserve two hours away from Puerto Vallarta.
The beach has a cove over it and looks like something straight out of a movie, making it one of the most unique places to visit in Puerto Vallarta.
The beach is actually named Playa del Amor, and to protect it from overtourism, the Mexican government restricts the number of visitors to 105 a day.
So if you're planning to visit, you'll need to organize a permit in advance through a tour company, especially during high season.
Playa Mayto
If you're looking for secret things to do in Puerto Vallarta, take a road trip to the beaches of Tehuamixtle and Mayto, which are about a two-hour drive from the city.
It's primarily locals here, but the stretch of beach goes on for miles and miles. There are a few modest hotels and guesthouses to spend the night, but otherwise, this is the perfect place to camp and connect with nature.
San Sebasian Del Oeste
The best places to visit in Jalisco are the Pueblos Magicos (Magic Towns), and one happens to be an hour away from Puerto Vallarta!
San Sebastian Del Oeste is a historic mining town in the mountains that makes you feel like you've traveled back in time.
While the town is worth spending a few hours walking around, my favorite thing to do here is rent AVTs and ride up the mountain to La Bufa.
La Bufa is an incredible viewpoint where you can see as far as Puerto Vallarta across the Bay of Banderas on a clear day. We went on a cloudy day, but it was still mesmerizing with the clouds rolling in and out of the mountains.
Plus, the climate is entirely different than what you get in PV, with fresh, crisp mountain air that makes for a nice break from the humidity.
BOOK A TRIP TO SAN SEBASTIAN
—
There you have it, several ideas on how to get off the beaten path in Puerto Vallarta. Did we miss any hidden gems in Puerto Vallarta? Let us know so we can them to this post!