This post may contain affiliate links. By clicking and making a purchase through the links, I earn a small commission at no extra cost to you. This allows me to keep the site up to date and expand on resources. Thanks for reading!
There are plenty of fun things to do in Puerto Vallarta to keep you busy. One of the most popular activities is going on a snorkeling trip. If you're hoping to do some snorkeling in Puerto Vallarta, read on for a guide to all the best spots.
Best places for snorkeling in Puerto Vallarta
While it's true Puerto Vallarta is a beach town, that doesn't mean there's good snorkeling everywhere. If you put on a mask and snorkel at Los Muertos Beach, you won't see much. Perhaps a stray can of Corona or a lost flip flop, but no marine life.
To enjoy some high-quality snorkeling, you'll need to head out of town. Thankfully there are plenty of excellent options that are just a short boat trip away. Let's dive in and check out some of the best places to snorkel in Puerto Vallarta.
Los Arcos Puerto Vallarta snorkeling
Los Arcos (the Arches) is a national marine park just south of PV. They're actually located right off the coast in the small town of Mismaloya, which you can reach on the orange bus from Old Town for just 10 pesos.
Since it's a protected area, Los Arcos National Marine Park is brimming with marine life such as clownfish, octopus, spotted eagle rays, manta rays, colorful tropical fish, and even the occasional sea turtle. This makes it a fantastic choice for a snorkeling or scuba diving trip.
Los Arcos snorkeling Tours
It's super easy to find a boat tour that will take you to Los Arcos from PV. You can also hop on the bus down to Mismaloya and hire one of the panga boats there. You might want to bring your own gear just in case.
My personal recommendation for a Los Arcos snorkeling tour goes to the awesome SUP & snorkel tour with my friend Felix. All you need to do is meet him in Mismaloya and he provides all the gear.
You'll get to paddle yourself out to Los Arcos and then enjoy some epic snorkeling. He even snaps pictures on his GoPro that he'll send you after the tour. Click here to book his tour on Airbnb.
South of the Bay Snorkeling
If you keep going south past Mismaloya, there are lots of awesome snorkeling spots near Banderas Bay. These include Quimixto, Mahajuitas, and Las Caletas.
All of these places are pretty remote, meaning you'll need to sign up on a tour to visit them. Technically you could walk to Quimixto from Playa Las Animas, but that wouldn't be very fun hauling around a mask and snorkel with a pair of flippers.
Las Caletas is owned by Vallarta Adventures, so the only way to visit is on one of their tours. Their popular Las Caletas Beach Hideaway tour is a full-day adventure with some great snorkeling.
You can also use kayaks and SUPs or just chill out in the hammocks. Oh yeah, there's also a gourmet lunch and an open bar. Click here for more information.
If you don't feel like the paddling part, I recommend checking out Chica Loca tours. They have several options that include snorkeling at either Los Arcos or one of the spots down south and they're tons of fun. We rented one of their boats for a duel birthday bash and it was the best day ever!
Marietas Islands Snorkeling
While they aren't exactly in Puerto Vallarta, the Marietas Islands (Islas Marietas) are still a top snorkeling destination here. In addition to the snorkeling, they're famous for the postcard-worthy Hidden Beach.
These uninhabited islands are actually in the neighboring state of Nayarit and much closer to the towns of Punta de Mita and La Cruz. It's still possible to visit them on a day trip from Puerto Vallarta. Just be ready for an early morning and a long day!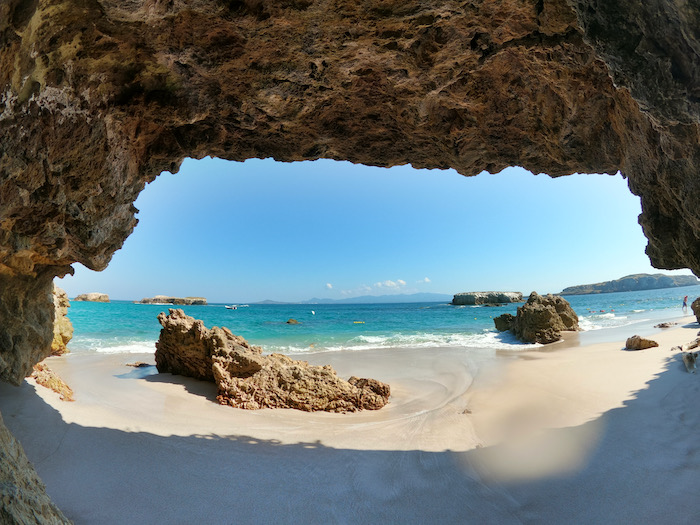 If you're hoping to visit the Hidden Beach, it's important to note that they limit the number of visitors. Be sure to ask your tour operator if you'll be able to go there to avoid disappointment.
There's plenty to see under the water, including butterfly fish and moray eels. You'll also want to set aside some time for bird watching. That's because you can also see the rare blue footed booby here.
It seems like every tour operator can set up a snorkeling trip to the Marietas Islands. We had an amazing trip with Off the Grid Excursions and can confidently recommend them.
It was just our group of four with the owner Javier and the captain on a small boat. We were the first ones at the Hidden Beach, did some great snorkeling, and visited a few other remote beaches as well.
Vallarta Adventures also runs a highly-rated Puerto Vallarta snorkeling tour to Marietas Islands which you can book here.
Best time for snorkeling in Puerto Vallarta
There really is no bad time to snorkel in Puerto Vallarta, just as there is no bad time to visit. That being said, the winter and spring months are generally better.
The water is usually calm this time of year due to a lack of rain, but it can be a little chilly. Just put on your inside sweater and take a sip of tequila when you get back on the boat! So many of the snorkeling Puerto Vallarta tours have an open bar, anyways…
You can still have a great time on a snorkeling tour in the summer months, though you might get rained on heading back to town. You'll already be wet, though, so who cares!?
The good news about rainy season is that the crowds are way smaller and tour operators are usually running deals. It's also fun watching the storms roll across the bay in the evening, with Mother Nature giving a pretty sweet light show in the sky.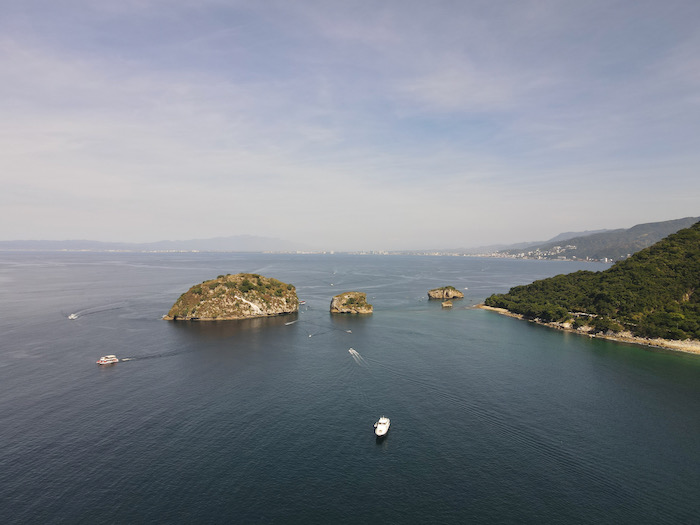 Snorkeling is one of many fun water-based activities that awaits you on a trip to Puerto Vallarta. With the ocean on one side and the Sierra Madre mountains on the other, you've got tons of options for outdoor adventure to fill your days with awesome travel experiences.
Best of all, when you get back from an adventure at sea or in the mountains, you can choose from the hundreds of awesome restaurants and nightlife the city has to offer. This really is a little slice of paradise on the west coast of Mexico!
Planning a trip to Puerto Vallarta? Don't miss these posts!