This post may contain affiliate links. By clicking and making a purchase through the links, I earn a small commission at no extra cost to you. See my disclaimer for more information. This allows me to keep the site up to date and expand on resources.
Looking for the best Puerto Vallarta snorkeling? Let me help! I live in Puerto Vallarta, and going snorkeling in the crystal clear waters is one of my favorite things to do here.
Puerto Vallarta offers some of the best places to snorkel in Mexico's Pacific coast!
While visiting this gorgeous coastal town, head to one of these places to snorkel in Puerto Vallarta for your chance to swim with sea turtles and manta rays.
Let's dive in and check out some of the best snorkeling in Puerto Vallarta.
Best snorkeling in Puerto Vallarta
1. Los Arcos snorkeling
Los Arcos national marine park is one of the best places to snorkel in Puerto Vallarta. For details on how to get there, check out this guide to Los Arcos.
Since it's a protected area, Los Arcos National Marine Park is brimming with marine life around the unique rock formations.
Some marine life you can see are clownfish, octopus, spotted eagle rays, giant manta rays, sea turtles, and a variety of colorful tropical fish.
In addition, there are several caves and tunnels to explore at Los Arcos, which makes it one of the most interesting places to snorkel near Puerto Vallarta.
If you're visiting between December and March, there's also a chance you may spot humpback whales or dolphins on your way to or from Los Arcos. Check out this guide for more information about whale season in Puerto Vallarta.
I love this small group snorkeling tour as it's highly rated, reasonably priced, and led by a marine biologist who can tell you about the marine life you encounter
For something a little different, a great choice is the stand-up paddleboard and snorkel tour in Los Arcos, where you'll get to paddle yourself out to Los Arcos and then enjoy some snorkeling.
Alternatively, You can also hop on the bus from Zona Romantica down to Mismaloya and hire one of the panga boats (water taxis) from there to take you to Los Arcos. You might want to bring your own gear, just in case.
If you keep going south, there are many great places to go snorkeling near Puerto Vallarta. These include Colomitos Beach, Las Caletas, Mahajuitas, and Yelapa.
These places are pretty remote, meaning you'll need to sign up for a tour to visit them or hire a water taxi from Boca De Tomatlan. Technically, you could walk to Quimixto from Playa Las Animas, but hauling a mask and snorkel with a pair of flippers wouldn't be very fun.
2. Colomitos Snorkeling
Colomitos is a small beach with emerald-green water home to tropical fish, colorful coral reefs, sea urchins, and more.
This is an excellent place for free snorkeling in Puerto Vallarta, as you reach Colomitos without a tour by hiking from Boca De Tomatlan.
As there aren't any facilities for renting gear, you'll need to bring your own mask and snorkel and plenty of sunscreen and water to stay hydrated.
I love this guided tour which includes hiking and snorkeling at Colomitos.
3. Las Caletas Snorkeling
Vallarta Adventures own Las Caletas, so the only way to visit is on one of their tours. Their popular Las Caletas Beach Hideaway tour is a full-day adventure with fantastic snorkeling.
You can use kayaks and SUPs or just chill out in the hammocks. Oh yeah, there's also a gourmet lunch and an open bar.
4. Majahuitas Snorkeling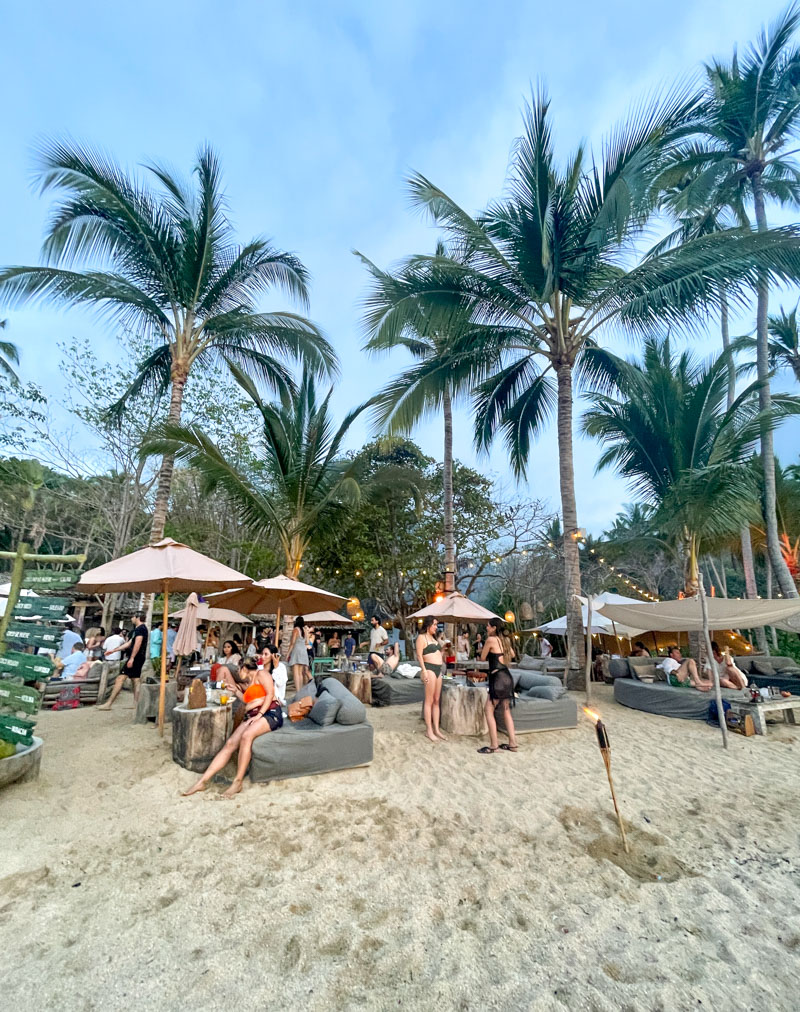 Majahuitas Beach is one of the best Puerto Vallarta snorkeling beaches.
It's home to one of Puerto Vallarta's hottest beach clubs on the weekends, but Vallarta Adventures runs day trips there during the week.
This full-day tour takes you to Yelapa and Majahuitas, where you'll get to go snorkeling in crystal-clear waters and kayaking or paddle boarding!
5. Yelapa Snorkeling
Ah, Yelapa. A picturesque village that truly captures the essence of Mexican coastal charm. If you're considering a snorkeling expedition, Yelapa should absolutely be on your list.
Getting to Yelapa itself is part of the adventure. The village is remotely located and is only accessible by water taxi from Boca de Tomatlan or through an organized tour from Puerto Vallarta.
If you decide to embark from Boca de Tomatlan, you'll find yourself on a 45-minute boat ride across the gorgeous emerald-green Banderas Bay, soaking in breathtaking views of the mountains against the sea.
Once there, you'll discover clear, warm waters teeming with vibrant marine life. It's not uncommon to spot parrotfish, angelfish, and pufferfish.
Yelapa's beach is a serene place to relax and bask in the sun when you're not exploring beneath the waves.
Finally, don't forget to hike up to the Yelapa waterfall for a refreshing dip in fresh water, giving a lovely change of pace from your marine adventure. You can get there in about 15 minutes from the pier, a simple walk through Yelapa's quaint streets.
I love this tour to Yelapa, which takes you on a luxury mega yacht. Open bar and water sports included!
6. Pizota
This tranquil spot is located even further south of Yelapa, making it an ideal destination if you're yearning for an escape from the more frequented beaches.
If you're in Yelapa, you can easily arrange for a water taxi to transport you to Pizota.
Upon arrival at Pizota, you'll notice that the beach is largely untouched, far removed from the usual tourist hustle. With soft sand underfoot and palm trees providing spots of shade, it's a peaceful haven perfect for a day of relaxation.
As for snorkeling, the quiet, clear waters of Pizota are a wonderland. Dive beneath the surface to find a diverse array of tropical fish, swaying sea fans, and vibrant corals that bring the ocean floor to life.
It's worth noting that Pizota's seclusion means amenities here are minimal. Bring everything you'll need for the day, including snorkeling gear, sun protection, water, and snacks.
7. Marietas Islands Snorkeling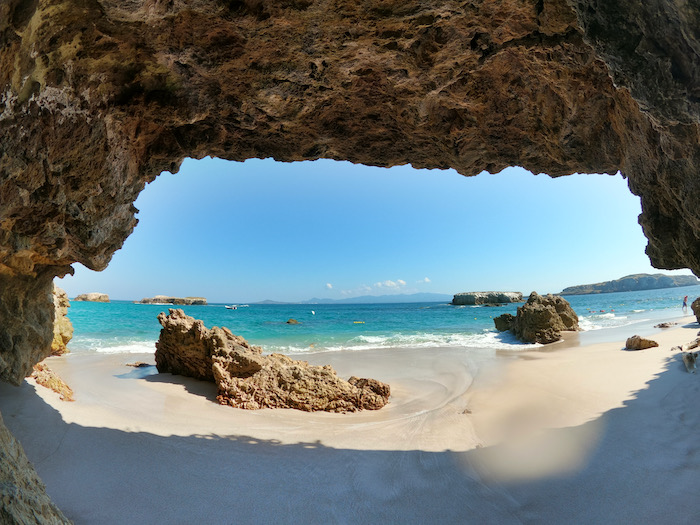 While they aren't exactly in Puerto Vallarta, the Marietas Islands National Park (Islas Marietas) are considered among the best place to snorkel in Puerto Vallarta.
In addition to snorkeling, they're famous for the postcard-worthy Hidden Beach and crystal clear waters.
These small uninhabited islands are actually in the neighboring state of Nayarit and much closer to the towns of Punta Mita and La Cruz.
It's possible to visit them on a day trip from Puerto Vallarta. Just be ready for an early morning and a long day, as it takes about two hours to get there on a boat.
Still, the Marietas Islands are worth the journey as they offer some of the best Puerto Vallarta snorkeling spots. And it's common to see dolphins and whales on the boat ride out!
If you're hoping to visit the famous Hidden Beach, it's important to note that they limit the number of visitors. Be sure to choose a tour that includes hidden beach!
There's plenty to see under the water, including butterfly fish and moray eels. You'll also want to set aside some time for bird watching. That's because you can also see the rare blue-footed booby here.
We had an amazing trip with Off the Grid Excursions and can confidently recommend them.
It was just our group of four with the owner Javier and the captain on a small boat. We were the first ones at the Hidden Beach, did some great snorkeling, and visited a few other remote beaches.
Vallarta Adventures also runs a highly-rated Puerto Vallarta snorkeling tour to Marietas Islands.
Is there good snorkeling in Puerto Vallarta?
While it's true that Puerto Vallarta is a beach town, that doesn't mean there's good snorkeling everywhere. If you put on a mask and snorkel at Los Muertos Beach, you won't see much. Perhaps a stray can of Corona or a lost flip-flop, but no marine life.
To enjoy some high-quality snorkeling, you'll need to head further out of town. Thankfully, plenty of excellent options are just a short boat trip away.
And if you're visiting during the winter whale-watching season, you may get lucky and see humpback whales while you're on the way out!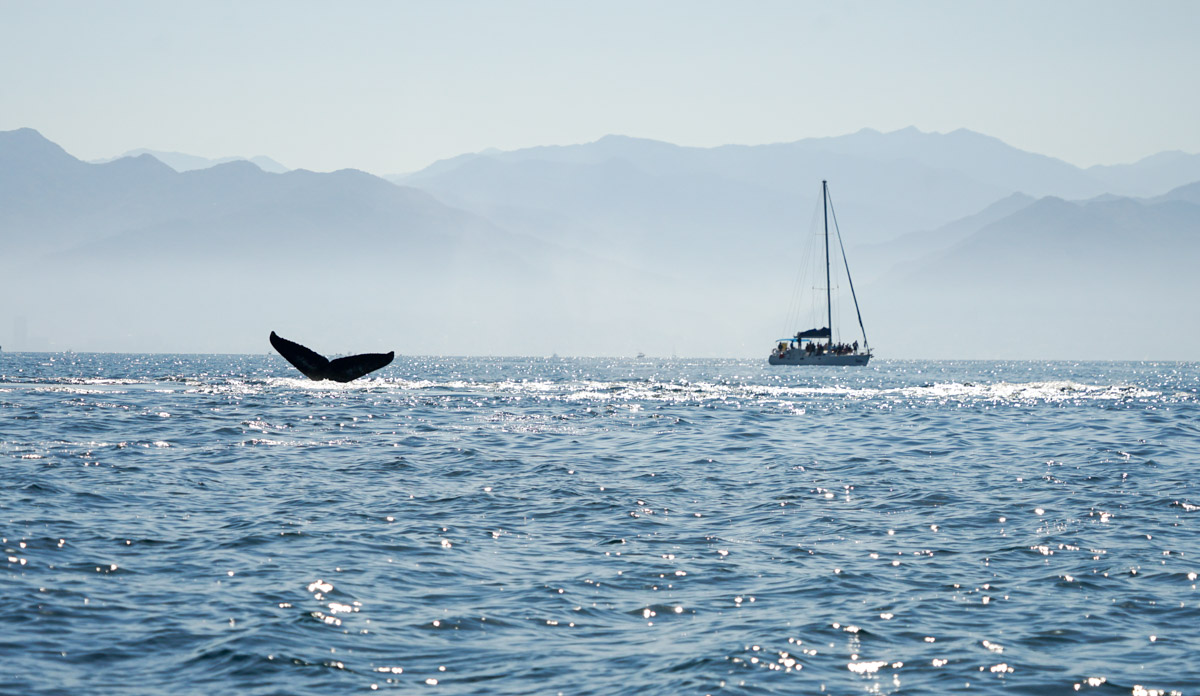 Puerto Vallarta snorkeling tours
There are numerous operators in Puerto Vallarta that offer snorkeling tours. Many of these tours include equipment, guides, transportation, and often lunch.
Some Puerto Vallarta snorkeling excursions even combine snorkeling with other activities like sailing, fishing, or beach hopping. Choose a tour that suits your preferences and schedule.
Best time to go snorkeling in Puerto Vallarta Mexico
There is no bad time to snorkel in Puerto Vallarta, just as there is no bad time to visit. That said, the spring and winter months are generally better, as visibility is at its best around this time due to the lack of rain and calmer waters.
While the water temperature remains warm all year, it can be a little chilly outside when you're coming out of the water. So just put on your inside sweater and take a sip of tequila when you return to the boat! So many snorkeling Puerto Vallarta tours have an open bar, anyways…
You can still have a great time on a snorkeling tour in the summer, though you might get rained on returning to town. You'll already be wet, though, so who cares!?
The good news about the rainy season is that the crowds are way smaller, and tour operators usually run deals. It's also fun watching the storms roll across the bay in the evening, with Mother Nature giving a pretty sweet light show in the sky.
Tips for snorkeling in Puerto Vallarta
Safety
Snorkeling in Puerto Vallarta is generally safe. However, always prioritize your safety by checking the weather conditions before you head out; never snorkel alone, and if you're inexperienced, consider hiring a guide or joining a tour.
Snorkeling Gear
Most tour operators provide snorkeling gear, but if you prefer to bring your own, there are several shops in Puerto Vallarta where you can buy or rent gear. Remember to choose well-fitting equipment for the best snorkeling experience.
Marine Life Protection
Puerto Vallarta is committed to marine conservation. When snorkeling, remember never to touch or disturb the coral reefs or marine animals. Feeding fish is also discouraged as it disrupts their natural behavior. Here are more tips on how to protect marine life while snorkeling.
FAQ: Snorkeling in Puerto Vallarta
Is Puerto Vallarta good for snorkeling?
Yes, Puerto Vallarta offers excellent snorkeling with its warm, clear waters and various marine life, making it an ideal destination for snorkeling enthusiasts.
Does Puerto Vallarta have reefs?
Yes, Puerto Vallarta has reefs, especially around Los Arcos Marine Park and Marietas Islands.
What do you see snorkeling in Puerto Vallarta?
You can spot a wide range of marine life, such as colorful tropical fish, manta rays, sea turtles, and occasionally dolphins.
Can you snorkel in Puerto Vallarta in December?
Yes, you can snorkel in Puerto Vallarta in December. However, you may find the water a bit chilly as this is the winter season.
Is snorkeling better in Cabo or Puerto Vallarta?
Both Cabo and Puerto Vallarta offer excellent snorkeling opportunities with diverse marine life. However, personal preferences, such as water conditions and type of marine life, can sway this decision.
Is Puerto Vallarta ocean swimmable?
Absolutely, the ocean around Puerto Vallarta is very swimmable with its warm, calm, and clear waters, making it a great place for water activities like swimming and snorkeling.
Is Puerto Vallarta water clear?
Yes, the water in Puerto Vallarta is often clear, especially around snorkeling sites, providing excellent visibility for viewing marine life.
What is the best time to go snorkeling in Puerto Vallarta?
The best time to go snorkeling is typically between winter and spring when the water visibility is highest, and the marine life is most active.
What snorkeling in Puerto Vallarta are good for avoiding crowds?
For a less crowded snorkeling experience in Puerto Vallarta, consider visiting secluded beaches such as Pizota.
Final thoughts: Puerto Vallarta snorkeling
Puerto Vallarta is undoubtedly a snorkeler's paradise, with its rich marine life, clear waters, and stunning coral reefs. Whether you're a seasoned snorkeler or a beginner, the underwater world of Puerto Vallarta will leave you in awe.
Snorkeling is just one of many fun water-based activities that awaits you on a trip to Puerto Vallarta. With the ocean on one side and the Sierra Madre mountains on the other, you've got many outdoor adventure options to fill your days with incredible travel experiences.
Best of all, when you return from an adventure at sea or in the mountains, you can choose from the dozens of restaurants and nightlife the city offers. PV is a little slice of paradise on Mexico's Pacific coast!
Planning a trip to Puerto Vallarta? Check out these other fun things to do in the water!