This post may contain affiliate links. By clicking and making a purchase through the links, I earn a small commission at no extra cost to you. See my disclaimer for more information. This allows me to keep the site up to date and expand on resources.
Looking for the best cocktails in Puerto Vallarta? Let us help you! We live in Puerto Vallarta and love drinking cocktails. Whether you're after a margarita or the best mezcal, we've rounded up the cocktail bars in Puerto Vallarta.
It's no secret that Puerto Vallarta is a party town. From rowdy Spring Breakers to the festivities of Pride Week, people flock here throughout the year to let loose and have a good time in this vacation destination.
There's certainly no shortage of places to find a drink here, with bars, clubs, and breweries lining the streets of the Romantic Zone. Not all are created equal when it comes to quality, though.
That begs the question – where does one go to find the best drinks in Puerto Vallarta? After years of diligent "research," I'm happy to present my findings!
#1 PUERTO VALLARTA COCKTAIL TOUR
⭐️⭐️⭐️⭐️⭐️
✅ Expert guide leads you on a food and cocktail tour
✅ Includes five Mexican cocktails served by expert mixologists
✅ Food tastings of tacos and desserts along with the cocktails!
Best Cocktails in Puerto Vallarta
1. Bar La Playa Puerto Vallarta
Lázaro Cárdenas 179, Zona Romántica, Emiliano Zapata, 48380 Puerto Vallarta, Jal. – get directions here
When it comes to delicious cocktails in Mexico, the margarita is the undisputed champion. After all, tequila comes from right here in the state of Jalisco.
I've had my fair share of margaritas in PV, from the watered-down 20-peso to-go cups to the high-end Cadillac Margaritas that cost over 200.
And in my humble, tequila-soaked opinion, the best margarita in Puerto Vallarta is from Bar La Playa. Their Spicy Jalapeño Ranchero is the stuff dreams are made of.
If you can't handle the heat, their classic margarita hits the spot. They're only 70 pesos, and you can add fresh fruit for an extra ten. That's a reasonable price for a delicious drink! They also have some delightful Mezcal cocktails, offering some of the best drinks in Puerto Vallarta.
Pro tip: Drop in from 3–5 pm Monday to Friday for their amazing Happy Hour. Grab a margarita for just 35 pesos and kick off a fun night out on the town.
2. Mezcal & Sal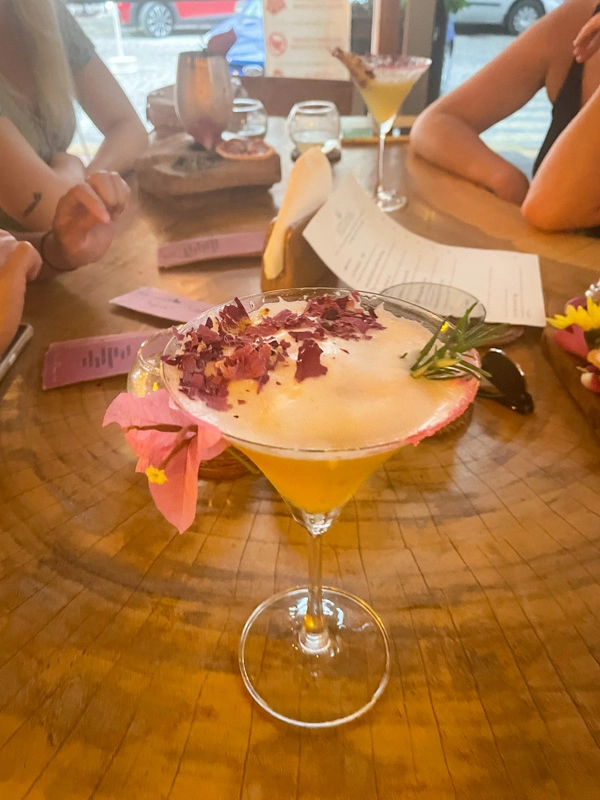 C. Fco. I. Madero 176, Zona Romántica, Emiliano Zapata, 48380 Puerto Vallarta, Jal. – get directions here
We can't talk about tequila without mentioning its cousin. I'm talking, of course, about mezcal.
Just so we're clear – both come from the agave plant. The only difference is that tequila can only be made from blue agave, while mezcal can be made from any kind. #TheMoreYouKnow.
My vote goes to Mezcal & Sal. I mean, it's right there in the name. Not only is this one of the best places for an extensive range of mezcal cocktails but also to enjoy amazing tacos.
They do a great job crafting freshly-made beautiful cocktails with this potent spirit that has an acquired taste. It's the perfect place for mezcal newbs, and the food is fantastic.
3. El Solar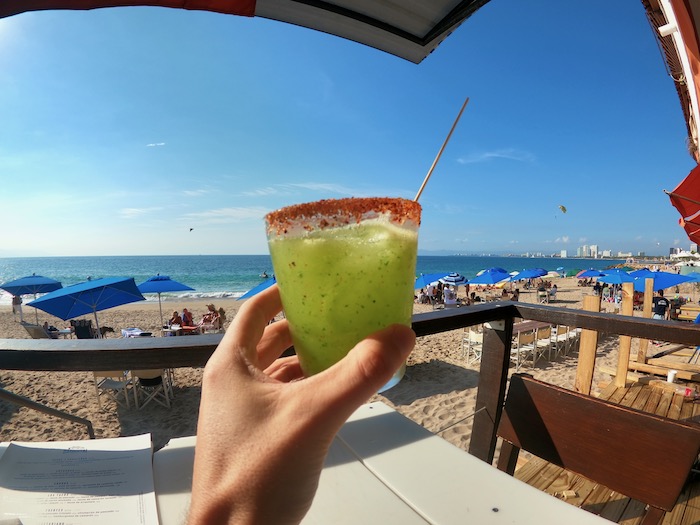 Paraguay 1294, 5 de Diciembre, 48350 Puerto Vallarta, Jal. – get directions here
An honorable mention for the best mezcal cocktail in Puerto Vallarta goes to El Solar. Feet in the sand, cocktail in hand – that's the life, mis amigos!
I love their Jalapeño Mezcalita but often go for the Blackberry one if I'm not feeling the spice. In addition to their excellent selection of cocktails, El Solar is one of the best places to hang out on the beach from day to night. They often have live music!
4. El Colibri Puerto Vallarta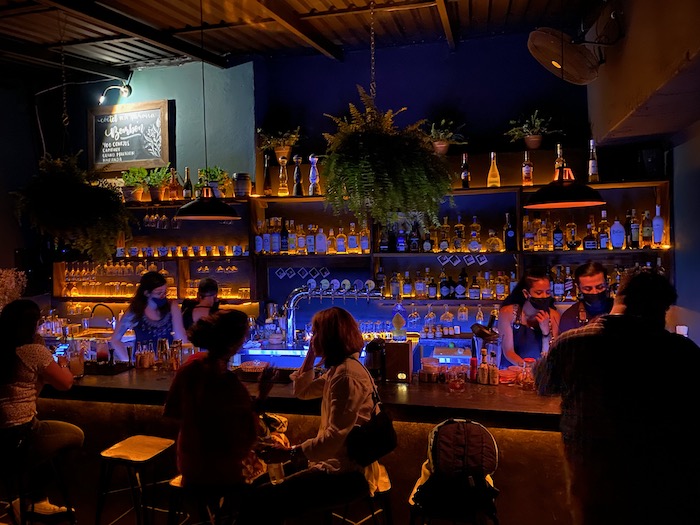 Morelos 582, Centro, 48300 Puerto Vallarta, Jal. – get directions here
You know that old saying "When in Rome"? Well, when in Puerto Vallarta, drink as the locals do. That means trying some raicilla – another spirit we have the agave plant to thank for.
To better understand the differences between the three, I recommend this post as some in-flight reading on your way down.
Raicilla is very much a local favorite in Puerto Vallarta. You can find unmarked bottles of the stuff for dirt cheap, but that's not for the inexperienced…
Instead, I recommend heading over to El Colibri. First of all, it's one of the coolest bars in town and, hands down, has the best cocktails in Puerto Vallarta.
On the weekend, they have a DJ with a dance floor, making this a great place to go on a Saturday night. Secondly, they make some kickass raicilla cocktails that will help introduce you to this unique spirit.
Their Racillalater is a simple, classic cocktail. As the description reads – "Lime, pineapple, raicilla. Enough said." At the moment, they also have a drink called Brebaje N•7, an herbal mix of Balam Costa raicilla, Yolixpa Teepak, lemon juice, and a dash of simple syrup.
5. Twisted Palms
Ignacio L. Vallarta 228, Zona Romántica, Emiliano Zapata, 48380 Puerto Vallarta, Jal. – get directions here
If you're in the mood for something that's shaken, not stirred, look no further than Twisted Palms. This rooftop lounge in downtown Puerto Vallarta is the place to go for a well-made martini in Puerto Vallarta.
An interesting thing about this place is that it's only open during the week. In fact, Monday is probably the best night to go there.
That's because they have Martini Madness Monday! You can choose any of their 15+ martinis for just 85 pesos and enjoy it along with a classic James Bond film.
It looks like they've also added Twisted Tiki Tuesdays this season, which was something missing in PV. This great spot is easily one of the best cocktail joints in town! They are closed for the summer, but keep an eye on their Facebook page for when they reopen in the falls.
5. Elixir Mixology Bar
Basilio Badillo 419, Zona Romántica, Emiliano Zapata, 48380 Puerto Vallarta, Jal. – get directions here
While the classic cocktails are great, sometimes you're in the mood for something fresh. Elixir Mixology Bar is a great place to go for creative cocktails in Puerto Vallarta.
This cocktail bar is the perfect spot to kick off a night out in Old Town, where you'll find the best nightlife. Choose from their extensive list of cocktails and enjoy good conversation with friends and the friendly staff before bar hopping.
They've got so many fantastic drinks here that choosing a favorite is hard. The Fire & Ice is de there. It's got pineapple vodka infusion, elderflower, coconut, and cinnamon.
Then again, I really enjoyed their Magic Mule with vodka, ginger, lime, and bubbles. I advise you to head to their Facebook page to peruse the whole menu of this LGBTQ bar.
6. Blondies
Basilio Badillo 258, Zona Romántica, Emiliano Zapata, 48380 Puerto Vallarta, Jal. – get directions here
It can get pretty hot in Puerto Vallarta, so sometimes you just need a good frozen cocktail. Just a block from Los Muertos Beach, Blondies is there to help you cool off and catch a buzz.
These are a bit sweet for my taste, but it's a good idea after a day at the beach. My go-to is the Big Tease Blondie, which is basically a frozen White Russian.
You can even grab one to go to enjoy your adult milkshake while walking around town. In fact, the time it takes to drink one is just about enough time to get to the other location (Los Otros Blondies) in case you want another.
7. El Tasting Room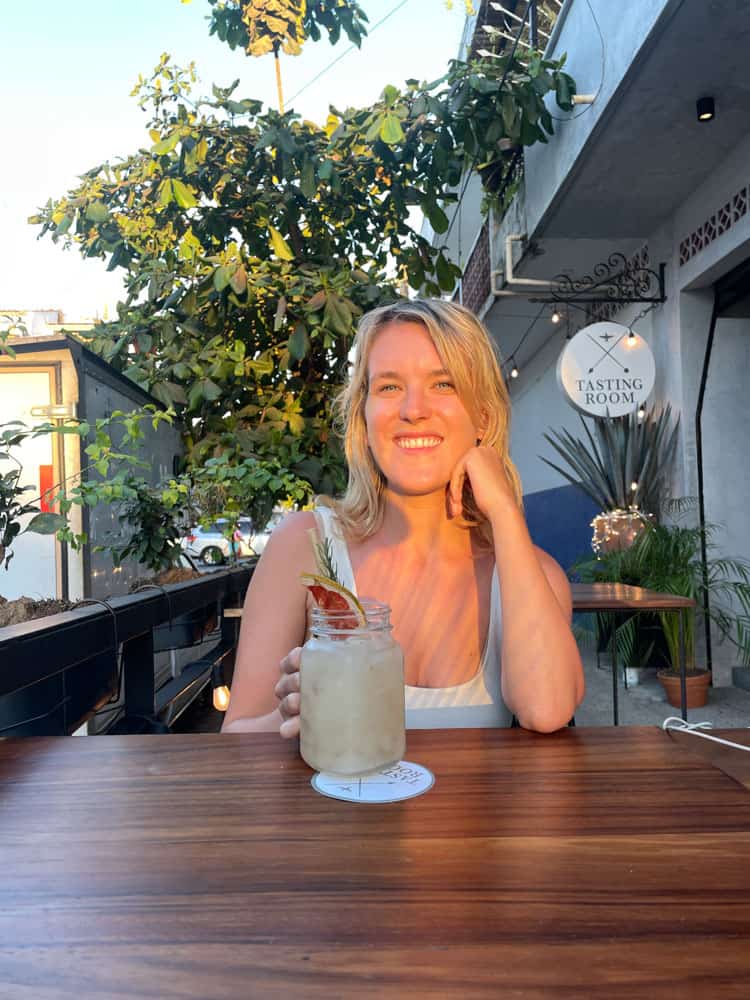 Panamá 134, 5 de Diciembre, 48350 Puerto Vallarta, Jal. – get directions here
Brought to you by the same owners as El Colibri, the nearby El Tasting Room is a fantastic place to get a cocktail with friends.
This cozy and intimate bar prides itself on its carefully curated selection of premium spirits and unique cocktail creations. The skilled mixologists at The Tasting Room blend unexpected flavors and artisanal ingredients to create some delicious cocktails.
They just have a few tables inside and on the patio at the front, but this is a great place to start your night.
8. iK Mixology Bar & Cuisine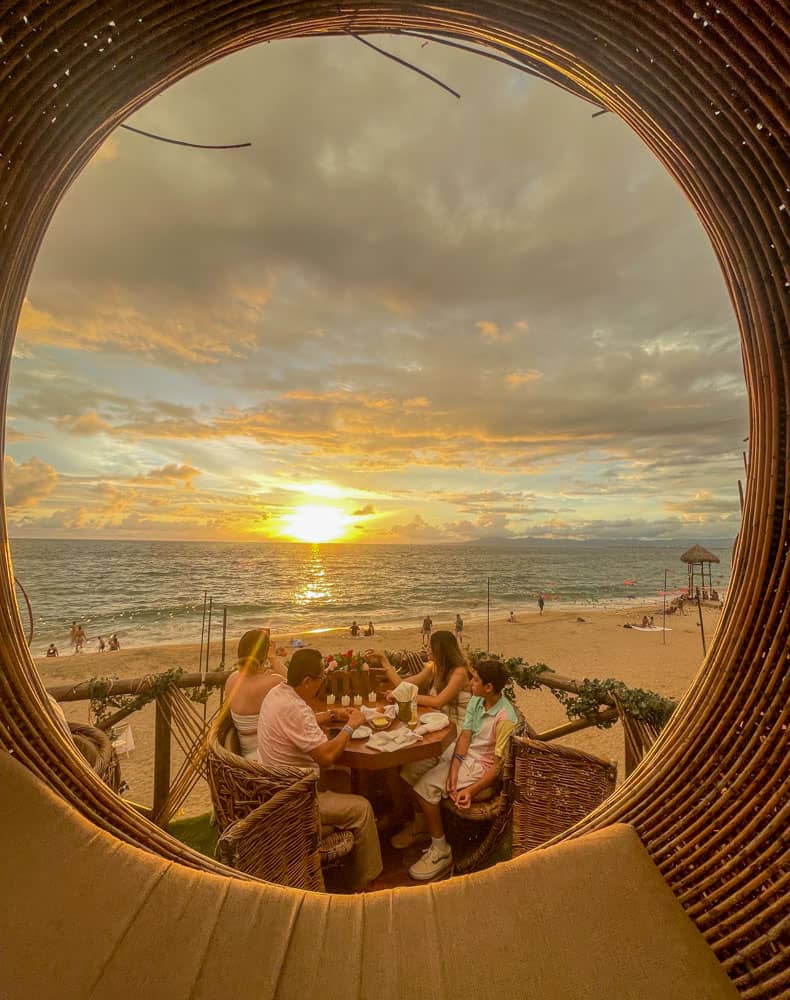 Olas Altas 380, Zona Romántica, Emiliano Zapata, 48380 Puerto Vallarta, Jal. – get directions here
Perched by the beachfront with breathtaking ocean views, IK Mixology Bar and Cuisine is a hidden gem that combines the best of both worlds – exceptional cocktails and delectable food.
This chic bar offers an inviting atmosphere, where you can lounge in comfortable seating while enjoying the serene ambiance of the sea.
They have one of the most Instagrammable spots in Puerto Vallarta, an egg chair with a picture-perfect sunset view. This is the place to go for the best cocktails in Puerto Vallarta with a view!
Their menu features a fusion of international flavors focusing on local ingredients, resulting in dishes that perfectly complement their craft cocktails. From fresh ceviches to tantalizing small plates, the food offerings at IK elevate the entire cocktail experience to a new level of delight.
9. La Palapa
A beloved icon on Los Muertos Beach, La Palapa is not only renowned for its delicious seafood but also its delectable cocktails.
The beachfront bar offers a serene ambiance, with the sound of crashing waves and the scent of salty sea air enveloping you as you sip your drink.
From classic Mojitos to refreshing signature cocktails, their menu celebrates tropical flavors that perfectly complement the beachside setting.
10. Residences Sky Bar at Pinnacle Resorts 220
Púlpito 220, Zona Romántica, Emiliano Zapata, 48380 Puerto Vallarta, Jal. – get directions here
If you're looking for one of the best cocktail bars in Puerto Vallarta with a view, head to the Residences Sky Bar at Pinnacle Resorts. Stretching in every direction, the 360-degree vista captures the beauty of the Pacific waters of Banderas Bay and the charming cityscape of Puerto Vallarta.
While the rooftop of this stunning luxury hotel in Puerto Vallarta is usually just open for guests, they are open to the public during happy hour daily from 5:30 pm to 8:00 pm.
During this time, enjoy 2 for 1 top shelf cocktails and wine while lounging comfortably in the shade of the bar's inviting lounge areas alongside the breathtaking beauty of Puerto Vallarta's sunsets.
How expensive are drinks in Puerto Vallarta?
At local bars and restaurants, you can find domestic beers and basic cocktails at reasonable prices. For example, a domestic beer may cost anywhere from 30 to 70 Mexican pesos, and basic cocktails like margaritas or piña coladas could range from 70 to 120 Mexican pesos.
Upscale bars and hotels in touristy areas may charge higher prices for drinks. Expect to pay more for premium brands and specialty cocktails. The cost of cocktails in such places may range from 100 to 200 Mexican pesos or more. I've seen cocktails as high as 500 pesos in some of the higher-end restaurants!
Many bars and restaurants in Puerto Vallarta offer happy hour specials, which can significantly reduce the cost of drinks during specific times of the day. During happy hour, you might find discounted prices on beers, cocktails, and even some appetizers. Happy hours are a great way to save money while still enjoying the vibrant nightlife in the city.
Puerto Vallarta Cocktail Tours
Can't decide which Puerto Vallarta bar to visit? Join this highly-rated cocktail tour to try tacos, desserts, and five Mexican cocktails from expert mixologists!
"We had a wonderful experience on our tour with Luis. He was knowledgeable, friendly and passionate about his love of the Mexican culture. The food, cocktails and information gained were exceptional. We would highly recommend this tour!" – Joann (read more reviews)
Final thoughts: Best Cocktails Puerto Vallarta
I hope you enjoyed this guide to the best cocktails in Puerto Vallarta. It sure was fun for me to look through all those pictures of fun nights out with friends!
From rooftop bars with panoramic views to beachside gems and intimate hideaways, each venue on our list offers a unique and unforgettable experience.
Whether you find yourself sipping expertly crafted cocktails while watching the sunset over the ocean, enjoying a beachfront paradise with your toes in the sand, or immersing yourself in the artistic ambiance of a chic mixology bar, Puerto Vallarta's cocktail culture has something for everyone.
The talented mixologists in this vibrant city take pride in their craft, skillfully blending local flavors, premium spirits, and creative presentations to create Instagram-worthy cocktails.
For this post, I focused on specific cocktails. Be sure to check out my write-up on the best bars in Puerto Vallarta as well. That way, you'll be ready to party it up in PV!
Cheers to discovering the hidden gems, raising a glass to breathtaking views, and creating cherished memories in Puerto Vallarta's vibrant cocktail scene. Salud!
Planning a trip to Puerto Vallarta? Check out these other places to eat and drink!