This post may contain affiliate links. By clicking and making a purchase through the links, I earn a small commission at no extra cost to you. This allows me to keep the site up to date and expand on resources. Thanks for reading!
Looking to wet your whistle with a tasty adult beverage? Read on for a look at the best cocktails in Puerto Vallarta and where to find them!
It's no secret that Puerto Vallarta is a party town. From rowdy Spring Breakers to the festivities of Pride Week, people flock here throughout the year to let loose and have a good time.
There's certainly no shortage of places to find a drink here, with bars, clubs, and breweries lining the streets of the Romantic Zone. Not all are created equal when it comes to quality, though.
That begs the question – where does one go to find the best drinks in Puerto Vallarta? After years of diligent "research," I'm happy to present my findings!
For this post, I focused on specific cocktails. Be sure to check out my write-up on the best bars in Puerto Vallarta as well. That way, you'll be ready to party it up in PV!
Best Margaritas in Puerto Vallarta
When it comes to delicious cocktails in Mexico, the margarita is the undisputed champion. After all, tequila comes from right here in the state of Jalisco.
I've had my fair share of margaritas in PV, from the watered-down 20-peso to-go cups to the high-end Cadillac Margaritas that cost over 200.
In my humble, tequila-soaked opinion, no one does this classic cocktail better than Bar La Playa. Their Spicy Jalapeño Ranchero is the stuff dreams are made of.
If you can't handle the heat, their classic margarita hits the spot. They're only 70 pesos, and you can add fresh fruit for an extra ten. That's a reasonable price for a delicious drink!
Pro tip – drop in from 3-5 PM Monday to Friday for their amazing Happy Hour. Grab a margarita for just 35 pesos and kick off a fun night out on the town.
Best Mezcal Cocktails
We can't talk about tequila without mentioning its cousin. I'm talking, of course, about mezcal.
Just so we're clear – both come from the agave plant. The only difference is that tequila can only be made from blue agave, while mezcal can be made from any kind. —#TheMoreYouKnow.
Now for the best Mexican cocktails in Puerto Vallarta with mezcal. My vote goes to Mezcal & Sal. I mean, it's right there in the name. Not only is this one of the best places for an extensive range of mezcal cocktails, but also to enjoy amazing tacos.
They do a great job crafting freshly-made cocktails with this potent spirit that has an acquired taste. It's the perfect place for mezcal newbs, and the food is fantastic.
An honorable mention goes to El Solar. Feet in the sand, cocktail in hand – that's the life, mis amigos! I love their Jalapeño Mezcalita and go for the Blackberry one if I'm not feeling the spice.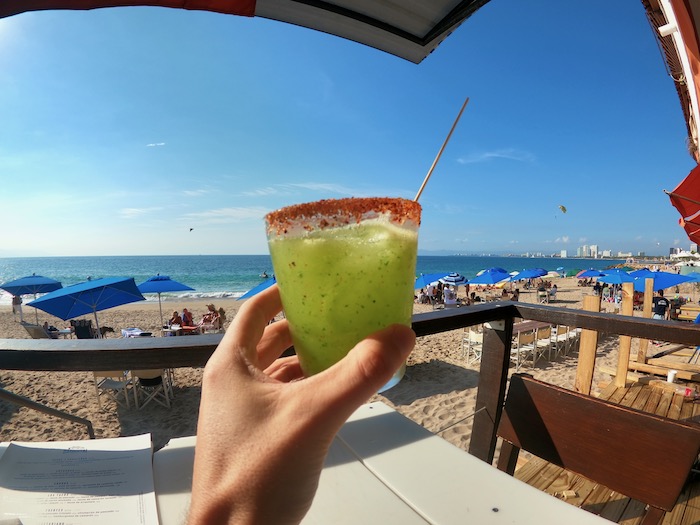 Best Raicilla Cocktails
You know that old saying "When in Rome"? Well, when in Puerto Vallarta, drink as the locals do. That means trying some raicilla – another spirit we have the agave plant to thank for.
To better understand the differences between the three, I recommend this post as some in-flight reading on your way down.
Raicilla is very much a local favorite in Puerto Vallarta. You can find unmarked bottles of the stuff for dirt cheap, but that's not for the inexperienced…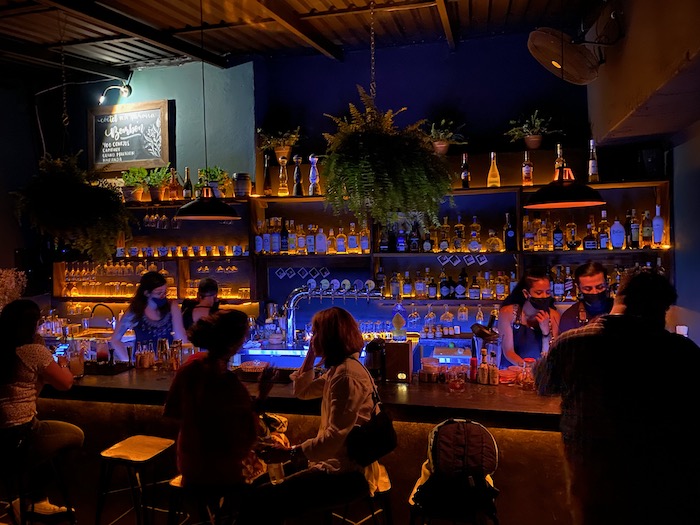 Instead, I recommend heading over to El Colibri. First of all, it's one of the coolest bars in PV. On the weekend, they have a DJ with a dance floor making this a great place to go on a Saturday night. Secondly, they make some kickass raicilla cocktails that will help introduce you to this unique spirit.
Their Racillalater is a simple, classic cocktail. As the description reads – "Lime, pineapple, raicilla. Enough said." At the moment, they also have a drink called Brebaje N•7, an herbal mix of Balam Costa raicilla, Yolixpa Teepak, lemon juice, and a dash of simple syrup.
Best Martinis
If you're in the mood for something that's shaken, not stirred, look no further than Twisted Palms. This rooftop lounge in downtown Puerto Vallarta is the place to go for a well-made martini in Puerto Vallarta.
An interesting thing about this place is that it's only open during the week. In fact, Monday is probably the best night to go there.
That's because they have Martini Madness Monday! You can choose any of their 15+ martinis for just 85 pesos and enjoy it along with a classic James Bond film.
It looks like they've also added Twisted Tiki Tuesdays this season, which was something missing in PV. This great spot is easily one of the best cocktail joints in town!
Best Creative Cocktails
While the classic cocktails are great, sometimes you're in the mood for something fresh. A great place to go for creative cocktails in Puerto Vallarta is Elixir Mixology Bar.
This cocktail bar is the perfect spot to kick off a night out in Zona Romantica, where you'll find the best Puerto Vallarta nightlife. Choose from their extensive list of cocktails and enjoy good conversation with friends and the friendly staff before bar hopping.
They've got so many fantastic drinks here that it's hard to choose a favorite. The Fire & Ice is de there. It's got pineapple vodka infusion, elderflower, coconut, and cinnamon.
Then again, I really enjoyed their Magic Mule with vodka, ginger, lime, and bubbles. I advise you to head to their Facebook page to peruse the whole menu of this LGBTQ bar.
Best Frozen Cocktails
It can get pretty hot in Puerto Vallarta, so sometimes you just need a good frozen cocktail. Just a block from Los Muertos Beach, Blondies is there to help you cool off and catch a buzz.
These are a bit sweet for my taste, but it's a good idea after a day at the beach. My go-to is the Big Tease Blondie, which is basically a frozen White Russian.
You can even grab one to go so you can enjoy your adult milkshake while walking around town. In fact, the time it takes to drink one is just about enough time to get to the other location (Los Otros Blondies) in case you want another.
Puerto Vallarta Cocktail Tours
Why not join this cocktail tour to try food tastings of tacos and desserts along with five Mexican cocktails served by expert mixologists?
I hope you enjoyed this guide to the best cocktails in Puerto Vallarta. It sure was fun for me to look through all those pictures of fun nights out with friends.
If you've got some recommendations please leave a comment and let us hear about them! We're always looking for new places to grab a drink. Salud, amigos!
Planning a trip to PV? Don't miss these posts!