This post may contain affiliate links. By clicking and making a purchase through the links, I earn a small commission at no extra cost to you. This allows me to keep the site up to date and expand on resources. Thanks for reading!
It's no secret that Puerto Vallarta is a bit of a party town. Regardless of what night of the week it is, there's something fun going on. In this post, we'll take a look at some of the best bars in Puerto Vallarta.
There are tons of bars in this town, and the scene is constantly changing. In my five years of being in and out of PV, I've seen a lot of them come and go. To make it as a bar here, you've really got to bring your A-game.
To make this guide easy to navigate, I decided to break these fun bars in Puerto Vallarta into a few different categories.
Let's start things off on la playa, where you'll probably spend most of your time here.
Best Beach Clubs Puerto Vallarta
Let's start our booze-fueled tour of PV off on Los Muertos Beach. My go-to spot here is Swell Beach Bar, as it's just a swell place to hang out.
Bad jokes aside, this really is an excellent beach bar. They make good cocktails, the service is fantastic, and they're just really nice people. They also serve delicious food if you need something to soak up the tequila.
Down at the end of the beach, you'll find Mantamar. It's a happening gay club with an infinity pool, beach loungers, and cabanas. It's part of Almar, one of the top gay hotels in Puerto Vallarta.
This is the kind of place where you need to pay for everything, and it isn't cheap. It's straight-friendly too, and they do have some huge parties there if that's what you're looking for.
Personally, I prefer a more relaxed environment for a beach bar. That's why I love going to El Solar up in the 5 de Diciembre neighborhood.
They make some great cocktails here, including my personal fave – the jalapeño mezcalita. The vibe is a relaxed atmosphere, but they do have DJs playing on weekend nights.
While you have to get a boat to get there, one of the most beautiful beach clubs to dance the night away on the weekend is Mahajuitas. This secluded beach hosts parties every weekend with several live DJs.
It's a fantastic atmosphere and setting to dance in as you watch the sunset from the beach while the jungle gets lit up by magical fairy lights.
The only issue is getting to Majahuitas. You have to arrange your boat transportation to and from, or you might end up stranded on the beach!
Best Gay Bars in Puerto Vallarta
Puerto Vallarta is a major LGBTQ destination, and not just during the city's massive Pride Week celebration. There are dozens of gay bars in the Old Town (Zona Romantica), including the legendary Mr. Flamingo.
This place is rockin' every night of the week, even in the depths of the low season on a rainy night. The dance floor often spills out onto the sidewalk here. While the drinks aren't the best, it's one of the best places to go for a great time, especially on a Saturday night.
Just a few doors down is La Noche, where you'll find go-go dancers and a rooftop garden. This and Mr. Flamingo are just a few stops on the classic PV Gayborhood bar crawl, where you can find many other dance clubs to party the night away, like CC slaughters and Twisted Palms rooftop lounge.
Roxy Rock House is also around the corner, with live music and entertainment.
If you're looking for a more mellow vibe, check out Reinas Bar a few blocks down the street. It's basically a gay dive bar that's not at all pretentious or aggressively loud. Which brings us to our next category…
Best Dive Bars
I don't know about you, but I feel most at home at a dive bar. You know – the kind of place where your shoes stick to the floor, the pool table is slanted, and the beers are cold and cheap.
If those fancy nightclubs aren't for you either, you'll be happy to hear there are plenty of fun bars in Puerto Vallarta that very much fit the "dive bar" mold.
One of my favorite bars in town, El Soñador, is precisely that. We call it our Cheers because we're there so much that everybody knows our names.
They've got a pool table downstairs, a nice rooftop terrace above, and friendly staff. In addition to having some of the best bartenders in town, they have DJs a few nights a week and show NFL football games.
Another of our go-to spots is a few blocks away – Bar La Playa. For such a small space, it sure packs a punch. They might have the best margarita in town here, and it's just a damn fun place to hang out.
If you're looking to start the party early, BLP has a great Happy Hour from 3-5 PM. Grab one of their fantastic margaritas and pull up a bar stool. There's always someone interesting to chat with here!
Another classic PV dive is Devil's Bar on the Malecon. It's literally a hole in the wall right off the famous oceanfront promenade. They make some delicious cocktails, and the people-watching here is top-notch.
Up in the 5D area, I have to give a shout-out to my buddy Sergio and his awesome bar, the Gusto Lounge. They have the cheapest beers around, their own tequila (which is great), and an impressive menu for a small bar. I mean, where else can you get a lobster dinner at a freaking dive bar?!
If you make it over to Gusto Lounge, tell them we sent you to get a free drink! While you're there, head downstairs to PoP for some of the best pizza in PV.
Best Rooftop Bars
Who doesn't love a cold drink with ocean views and palm trees? Thankfully, there are several fun rooftop bars in Puerto Vallarta that overlook the stunning Banderas Bay and beautiful beaches.
One of the best bars for an elevated adult beverage is the Residences Sky Bar at Pinnacle Resorts. The panoramic view alone is worth the trip.
That being said, the drinks aren't amazing, and they're a bit pricey. Be sure to come between 5:30-8 for their 2-for-1 Happy Hour. Have your drinks, take your selfies, watch the sunset, and move on to the next stop.
For some reason, there are two bars with basically the same name here. If you accidentally end up at the Top Sky Bar, it's not such a bad thing.
This rooftop gay bar has a few jacuzzis and great nightly events. There's also a full menu if you need to grab a bite to eat to keep the party going.
Another great place to party on a roof is Yambak. Not only is it one of the best breweries in Puerto Vallarta, but it's also an awesome live music venue on the second floor.
The combination of local craft beer, delicious wood-fired pizza, and a rooftop terrace with dirty house beats until the wee hours of the morning makes this one of my favorite spots in town.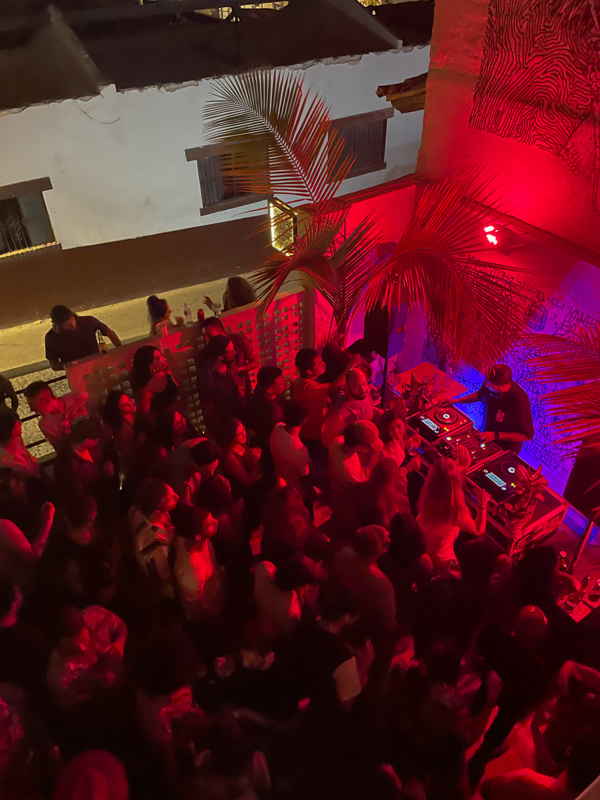 Best time to visit for Puerto Vallarta nightlife
While you can always find a party in Puerto Vallarta, there are some times of the year when it feels like the entire city is one cohesive vibe.
If you're looking for that kind of atmosphere, come during spring break, Semana Santa (easter weekend), or Christmas and New Year. During that time, the Malecon will be packed with people on the streets pouring out from the bars.
If you're looking for the best LGBTQ+ parties, come during pride week at the end of May each year.
Looking for more Puerto Vallarta nightlife? Check out these posts!