This post may contain affiliate links. By clicking and making a purchase through the links, I earn a small commission at no extra cost to you. This allows me to keep the site up to date and expand on resources. Thanks for reading!
Famed for its party culture, there are plenty of things to do in Puerto Vallarta at night.
Puerto Vallarta has been one of Mexico's top travel destinations for decades. Situated on the breathtaking coast of the Mexican Pacific in the Bahia de Banderas, it's a region of idyllic beaches, thick, wild jungles, and a rich history intertwined with its local culture, arts, and cuisine.
While the city is known for its beautiful beaches and endless water activities during the day, it also offers a lot to do at night.
Once the sun goes down, the streets of Puerto Vallarta become alive with bars, clubs, and special events. It's not hard to party until the early morning here!
From brewery crawls to firework shows and art walks to concerts, here are the best nighttime activities in Puerto Vallarta.
Best areas for nightlife in Puerto Vallarta
Puerto Vallarta is home to several neighborhoods worth exploring, but when it comes to nightlife, the best places to be are El Centro or Zona Romantica (the gay district). The North Hotel Zone is also home to some clubs, although I didn't spend much time here.
If you're on the Malecon, you don't have to go far for night entertainment. Restaurants, bars, and nightclubs line the streets, and you'll be able to find a party quickly.
Plus, fireworks go off every night over the water, which adds to the magical ambiance. I've had amazing nights in Puerto Vallarta just drinking by the water with friends!
Any good evening in Puerto Vallarta starts with watching the beautiful sunsets. Head to one of these gorgeous sunset spots and enjoy a margarita as the day turns to night.
Best bars and clubs in Puerto Vallarta
Yambak
Abasolo 169, open 4:20 pm-1:30 am/2:30 am weekends, closed Mondays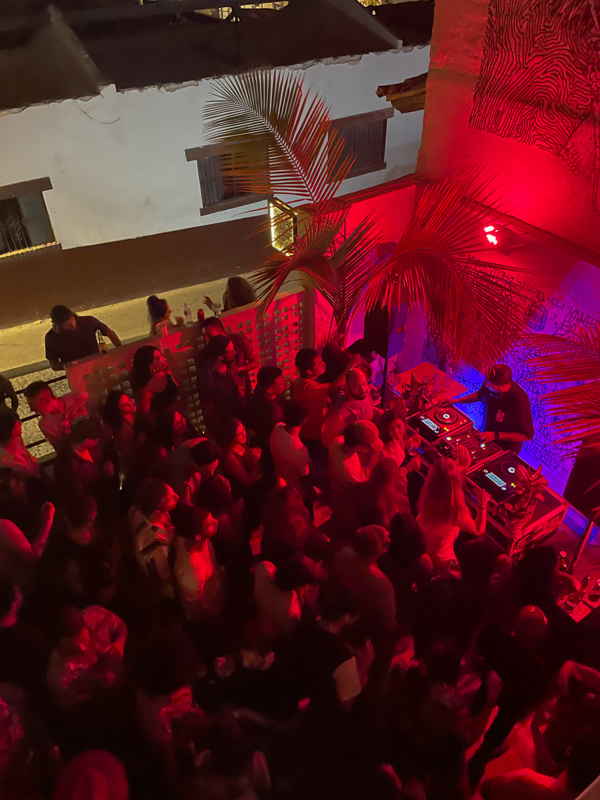 Yambak is a three-story bar in El Centro. They have live DJs on the weekends spinning electronic beats on the second floor, which always turns into a giant dance party. But if you want to chill, there's a rooftop terrace on the top floor. It's a fun place to go dancing on the weekends, with excellent cocktails!
El Colibri Cocktail Bar
Morelos 582, open 8am-2pm
El Colibri is one of my favorite bars to go to for a drink with friends. As you enter, you'll see a sign that says, "welcome to the jungle," When you go through the next door, you'll know why!
It's full of beautiful jungle plants that give this place a cozy tropical atmosphere with speak-easy vibes. They have some of the best cocktails in town with a constantly changing menu.
Elixir Mixology Bar
Basilio Badillo 419, open 6 pm-12 am, closed Monday and Tuesday.
Another great LGBTQ+-owned cocktail bar with a cozy atmosphere. It's a great spot to go for a date or with friends before heading out for a night on the town in Zona Romantica.
Aloha Bar
Ignacio L. Vallarta 228-L9, open 5pm-2am, closed Mondays
Aloha Bar is a fun place to start the night in Zona Romantica. They sell beer in giant 5L containers, making it very affordable if you split with a group.
They also have tables you can use for beer pong, flip cup, and swings, so it's a fun atmosphere overall.
Los Muertos Brewing
If you're looking for a place to get cheap pizza and beer while watching a sports game, Los Muertos Brewing is the spot.
They have happy hour specials and delicious pizza, so this is a great place to go for dinner before heading out on the town. Plus, it's only a few blocks away from Monzon Brewery, so you can hit up both on a self-guided brewery tour!
El Sonador
Ignacio L. Vallarta 229, Zona Romántica
El Sonador is a Canadian-owned bar popular with digital nomads in Puerto Vallarta. While the inside may not seem like much when you walk in, the second floor turns into a dance party every weekend with a great DJ on Saturdays. This is the type of place to go where everyone will start to know your name.
La Bodeguita del Medio
Paseo Díaz Ordaz 858, Centro, 11am-3am
If you're looking to participate in some salsa dancing while in Puerto Vallarta, then check out this lively Cuban bar.
They have fantastic live music nightly, and you'll quickly find a salsa partner here. They also offer free salsa classes a few nights of the week.
a.m. bar
Calle Allende 116, Centro, 8:00 pm-4 am, closed Mondays
Puerto Vallarta has some great live music bars, but a.m bar is the place to go for jazz. It's got an intimate ambiance, and you'll often see people dancing here. They also have fantastic cocktails!
Mandela
Paseo Díaz Ordaz 633, 6 pm-2 am
Mandela is one of the biggest clubs in Puerto Vallarta. It's in El Centro, directly on the Malecon.
It's the type of club where you will be packed in with crowds, but if you're looking for a lively spot to dance with hundreds of others amongst loud music and caged dancers, this is it.
Right next to Mandela are two other huge nightclubs – La Vaquita and Zoo. Walking along the Malecon, it's impossible to miss them. They blast music onto the boardwalk, and people dance in the cages at the front.
Yes, these clubs are a bit touristy, but that's all part of the fun! They often host special events like foam parties or ladies' nights, so keep an eye out for these.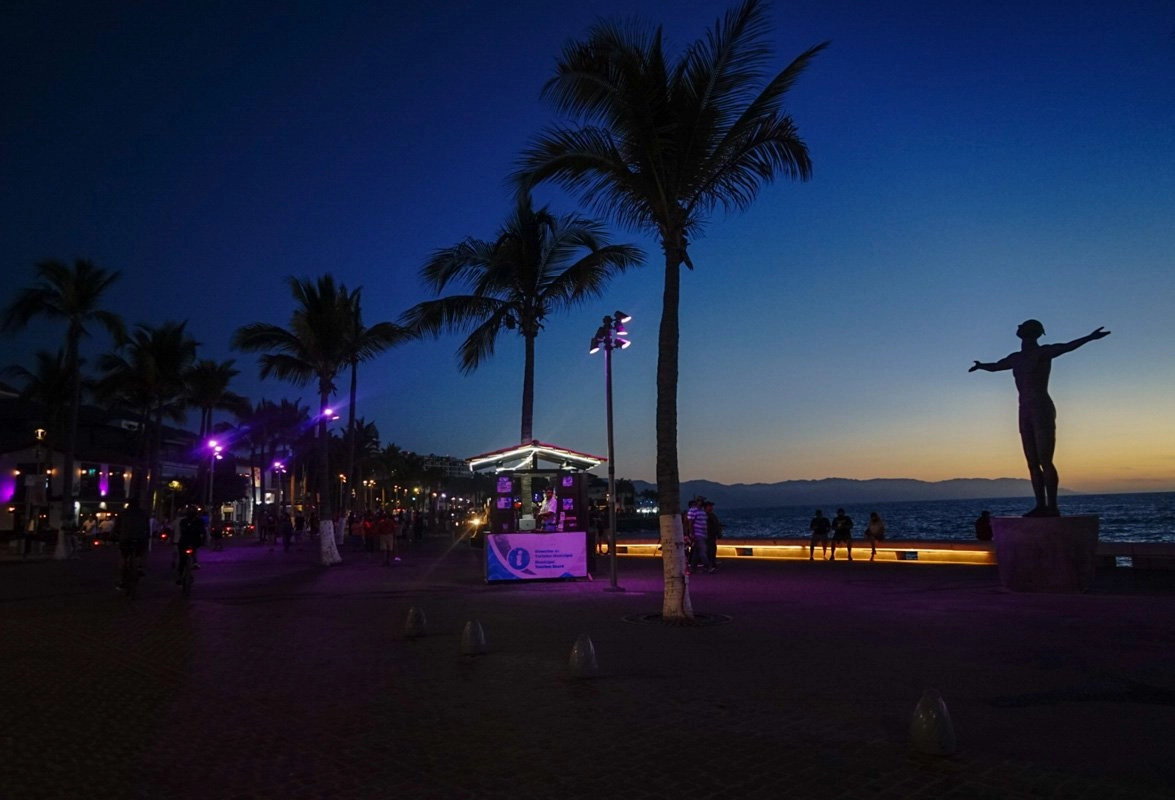 Other things to do at night
If you're looking for something to do outside the bars and clubs, check out these fun activities at night in Puerto Vallarta.
Rhythms Of The Night Puerto Vallarta
Rhythms of the Night is one of the most popular shows in Puerto Vallarta.
Vallarta Adventures is the host for this world-class night show that can be compared to the most prestigious spectacles in Vegas, and there is a good reason for that: the co-creator of Cirque du Soleil is behind it.
About half an hour on a boat is all it takes to get to Caletas beach, where the magic begins as you approach from the distance, and you can only see torches and candles.
The setting is second to none. The show is a feast for the senses, a celebration of acrobatic skills, wonderful dance, fabulous costumes, fire, color, and a breathtaking interpretation of Aztec history.
The Pirate Show
If you're already in Puerto Vallarta, you've undoubtedly witnessed the fireworks that happen every night over the water from a pirate-themed boat.
While they are fun to watch from the shore, an even better experience is to see them from the boat aboard the Marigalante on The Pirate Show.
You can join this nightly tour and go back to the times of pirates and conquerors. It's not just fireworks! A delicious dinner and open bar are included, along with a pirate-themed show, which you can even participate in. This show is easily one of the best things to do in Puerto Vallarta at night!
Puerto Vallarta Art Walk
If you're looking for free things to do in Puerto Vallarta, check out the art walk in Centro every Wednesday evening from 6-10 pm.
The art walk takes you through the best art galleries in the city, where you'll find beautiful artwork by national and international artists, local paintings and sculptures, fine ceramics, and gorgeous jewelry. This is a great time to pick up souvenirs!
It's free to attend and makes for a great date night in Puerto Vallarta! The Art Walk typically starts in late October and runs until July.
Trivia nights at Monzon Brewery
Every Wednesday, Monzon Brewery hosts a Trivia Night. You can win prizes like free beer and t-shirts, and of course, bragging rights. It's a fun place to go with friends and is one of the best craft breweries in the city.
Swim with bioluminescent plankton
One of the most unique things to do in Puerto Vallarta is swimming at night with bioluminescent plankton, which you can see by Los Arcos marine park.
This is one of the best places to see marine life in PV but going at night is an entirely different experience..
We organized a trip to see the plankton with a local boat from Mismaloya beach. Unfortunately, I can't find anywhere you can book this online, so if you want to go, talk to the local water taxis.
Go on a night dive
Puerto Vallarta is a fantastic destination for diving, and you can go at night with Silent World Divers to discover the thrill of night diving at "El Bajo del Cristo."
By diving at night, you'll see unique marine creatures like lobster, octopus, and moray eels. Plus, you'll get to experience the magic of the bioluminescence plankton, which look like sparkling lights under the water!
There you have it, the best thing things to do in Puerto Vallarta at night!
Planning a trip to Puerto Vallarta? Check out these posts!