This post may contain affiliate links. By clicking and making a purchase through the links, I earn a small commission at no extra cost to you. See my disclaimer for more information. This allows me to keep the site up to date and expand on resources.
Wondering if the Rhythms of the Night tour in Puerto Vallarta is worth it? In this post, Sasha will walk you through exactly why this tour deserves to be on your PV itinerary.
There are so many fun things to do in Puerto Vallarta that planning a trip here can be overwhelming. You've got ATV tours, yoga, whale watching, hiking, ziplining, and more.
While you have many choices for spending your time (and pesos) here, one thing you can't miss out on is the incredible Rhythms of the Night dinner show.
Whenever people ask me what they should do in Puerto Vallarta, this show always makes my recommendations list.
We've been a few times already and would gladly go back again for round three. It really is that good. Plus, it's far more than just a dinner show.
Let's take a closer look at Rhythms of the Night and why you should include it in your Puerto Vallarta itinerary.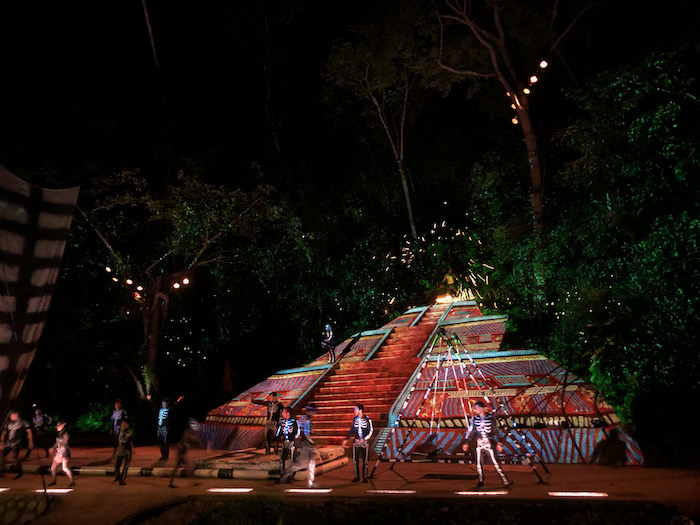 IS RHYTHMS OF THE NIGHT WORTH IT?
Don't have time to read this? Yes, this tour is 100% worth it – reserve your spot online here!
Rhythms of the Night Is Not Your Average Tour
Rhythms of the Night is one of the most popular tours in Puerto Vallarta and for a good reason.
It's a 5-hour excursion that includes a sunset cruise, open bar, candlelight dinner, and a fantastic acrobatics, dance, and music performance.
I was pleasantly surprised the first time I went on this tour. While it seemed like fun, I tend not to enjoy these kinds of big group tours with a buffet dinner. Let's just say I've had many less-than-stellar experiences over the years.
This isn't your average tour, though. The dinner and drinks are impressive, especially considering it's an open bar and buffet. Meanwhile, the entire setup of the hidden beach, with its open-air restaurant and amphitheater, is stunning. You'll have to see this place to believe it.
As far as the actual show, it's got a serious Cirque du Soleil vibe about it. The stage looks like an ancient pyramid, and it becomes illuminated by a sea of colorful lights throughout the performance.
The hour-long show combines acrobatics, music, dance, and storytelling. There's also some pretty amazing fire spinning that makes for a magical night.
I've seen several Cirque shows in Vegas, and this tour can hold its own. The costumes, makeup, lights, music, and choreography are all on point, and the performers give it their all.
What to Expect on the Tour
The Rhythms of the Night Puerto Vallarta Tour has departures from both Nuevo Vallarta and Puerto Vallarta. During the high season, there's an early and a late show.
They depart at 17:30 and 19:00, respectively. In other months there is only one show per night. Looking at their calendar for 2023, it seems that they take most Sundays off during the low season, from May to October.
Ensure you get to the Puerto Vallarta cruise port early enough to go through security and get on the catamaran on time. You must also pay the dock fee (around 30 pesos), so be sure to bring some small change.
Once on the boat, you can order a margarita or an ice-cold cerveza and just enjoy the scenery. There's just something awesome about being on a boat watching the sunset, isn't there?
If you're on a tour between December and March, you may even spot some whales as you cruise across Banderas Bay. Make sure you bookmark our post on the best whale-watching tours in Puerto Vallarta while you're at it.
Cruising to Las Caletas
The sunset cruise takes about an hour to reach the remote Las Caletas, one of the most beautiful beaches in Puerto Vallarta. This is a private beach that belongs to Vallarta Adventures and is only used in their tours.
It's a beautiful jungle oasis that is well-decorated and cared for. Listen to the palm trees sway, and the waves crash as you follow the torchlight upon arrival.
There are hammocks on the beach to relax in, which is highly recommended if you get the chance on the tour. They also do tours here during the day where you can spend more time on the beach and in the water.
Dinner and a Show
First up is the candlelight buffet dinner, which also features an open bar. As I mentioned, the food is pretty impressive for how remote this place is and the fact that it's a big group tour.
We just had a couple of margaritas on the boat and then beers at Las Caletas, so I can't say much about the quality of the liquor and wine, but the margaritas were pretty good.
Sometimes the show happens first, and then you have dinner. This depends on the season and the weather. Most of the time, it's dinner first, followed by the performance of Alma.
The show lasts about one hour, and it goes by quickly. Its story follows the legend of the keeper of this hidden pyramid, which serves as the stage for the show.
There are several different acts with some incredible performers doing acrobatics, dancing, and spinning fire. While you can take pictures during the show, please remember to turn your flash off, as it can be distracting and dangerous for the performers.
When the show wraps up, it's time to get back on the catamaran for the return trip to PV or Nuevo Vallarta. If you feel like keeping the party going, the bar is still open on the way back. And there's always something fun going on at night in Puerto Vallarta if you still have energy when you return!
Is Rhythms of the Night Worth It?
This is the question I always get from people when they see what it costs. While that may seem a bit steep, consider what you are getting for that price:
Sunset catamaran cruise (possible whale/dolphin watching)
Open bar
Gourmet buffet candlelight dinner (with more drinks)
Private beach with hammocks
An amazing show
Helpful and fun tour guides
Considering all this tour comes with, it's definitely worth the money. I don't know about you, but I can get my money's worth with an open bar and buffet, that's for sure! It's one of the top party boats in Puerto Vallarta.
And with a solid 4.5/5 rating on Viator, it seems most people agree. Here's a review by another guest that attended recently:
This is well worth the money. The show on the island (and the ones on the boat) were absolutely amazing! The staff across the entire experience are helpful, upbeat, and definitely there for the custome

– Jennifer (read more reviews here)
Overall the Rhythms of the Night tour is one of my favorite things to do in Puerto Vallarta. I can't recommend it enough, and I'm sure you won't be disappointed if you add it to your PV itinerary.
Planning a trip to Puerto Vallarta? Don't miss these posts!